Deadlift shin guards come in various shapes and sizes. You can get them from materials made of leather, neoprene, plastic, and even nylon. They also cover different parts of your foot, ankle, and shin, depending on the product. Lastly, there is the versatility issue to consider, as some provide more usage than others.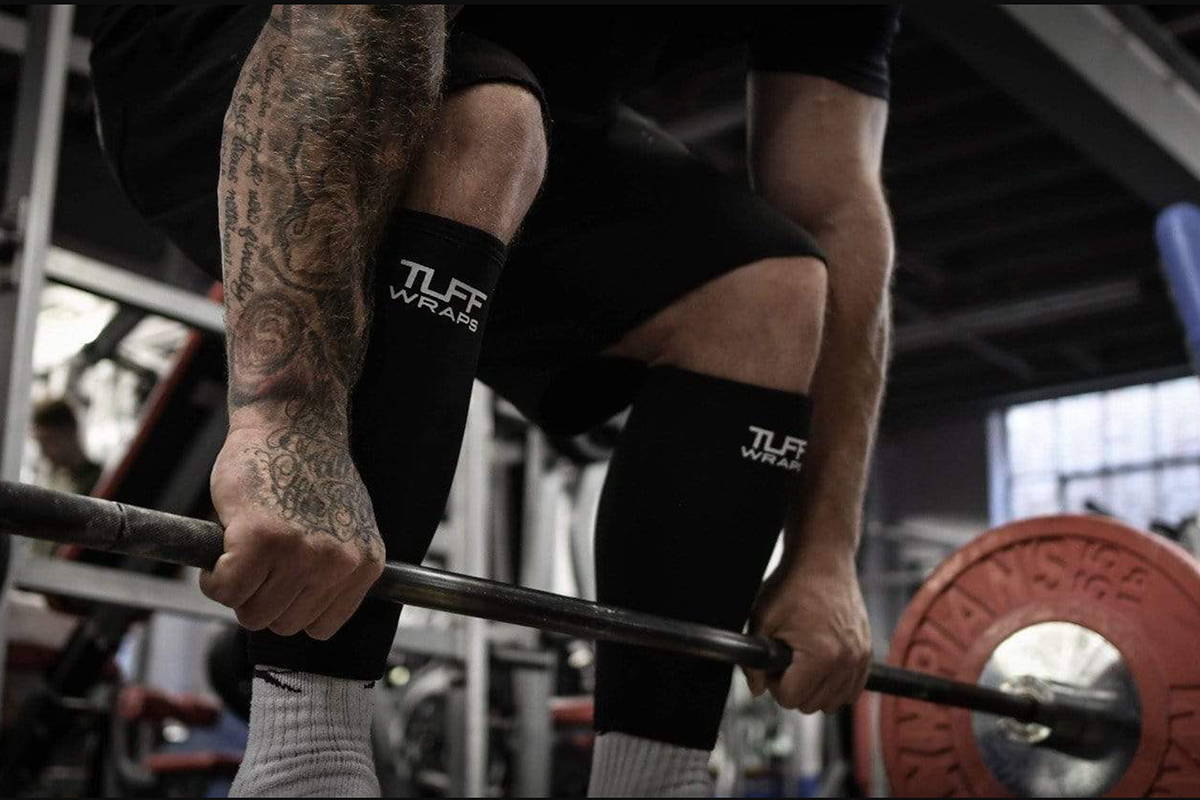 Top 5 Best Deadlift Shin Guards Reviewed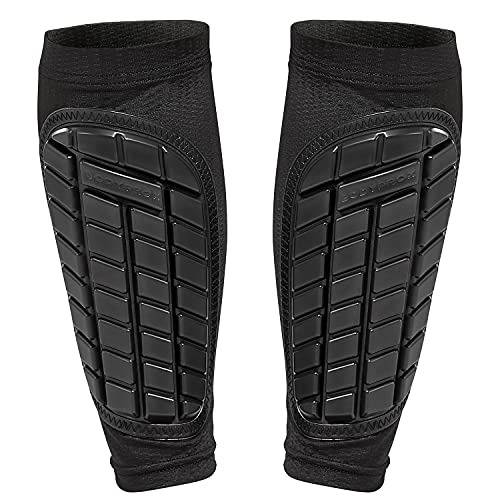 THEFITGUY is a fitness company that looks to provide their customers with the accessories they need in order to reach their lifting goals. This includes various gym attachments, belts, and deadlift sleeves.
Type: Slip In
Material: Neoprene
Sizes: One size fits most
Protection
When it comes to shin guards for deadlifting, THEFITGUY product does the job. These shin guards are specifically made with deadlifts in mind as they are built with a durable 5mm neoprene material. So, you can do exercises such as deadlifts, box jumps, cleans, and snatches without the worry of damaging your shins.
Comfort
They are very comfortable to use as you can put them on and take them off without removing your shoes first. There are adjustable straps in the back which assist with this unique function. However, if you have wide calves, then you might find the shin guards to be tighter than you'd like.
Durability
If you use the product for what they intended it for, then durability shouldn't be an issue. Neoprene is typically durable and tear resistant, so you can use the shin guards without the fear of damaging the product too quickly.
THEFITGUY typically has the best priced shin guards.
(Show More)
Protective neoprene layers
Might not accommodate all body dimensions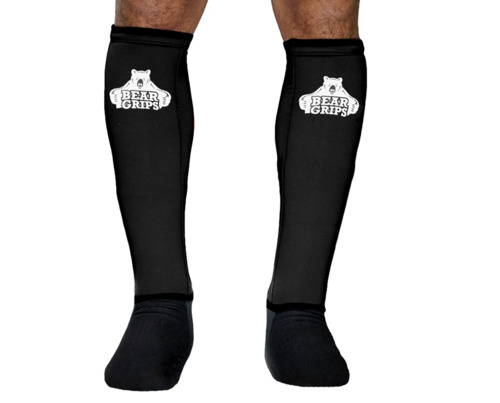 Bear Grips is a company that has versatility in mind and is regarded as having the best shin guards for fitness. So, if you're an athlete who likes to train in that style, enjoys things like climbing ropes and box jumping, then they have the right accessory tools for you.
Type: Shin Socks
Material: Neoprene
Sizes: Small to extra large
Protection
Often you'll find deadlift socks lack proper padding, but that's not the case with the Bear Grips product. These socks come with 5 times the padding of a normal shin sock. Typically, other shin socks have only 1 mm of neoprene in them, while these have 5 mm of neoprene.
Plus, the product is also versatile. So, you can not only use it while deadlifting but also when you're doing activities such as box jumps, biking, hiking, and even MMA training.
Comfort
An issue with shin socks can be that they roll down in the middle of your workout, making them uncomfortable to wear. But Bear Grips has found a way to avoid this problem by placing a silicone band at the top of the sleeves. They even guarantee a no roll down.
Plus, the elastic foot harness keeps the bottom of the shin socks in place as well. While the contouring material stretches to fit any calf size, so there shouldn't be any issue with comfortability.
Durability
When a company will offer money back guarantee if you don't like the product, then they're pretty confident in the durability. As they should be because neoprene material is more than strong enough to handle the wear and tear of deadlifts and other activities.
Also, ‌that you can wear them for bike rides and MMA training, shows that they are built for heavy impact and usage.
Bear Grips just came second in our best affordable deadlift socks ranking.
(Show More)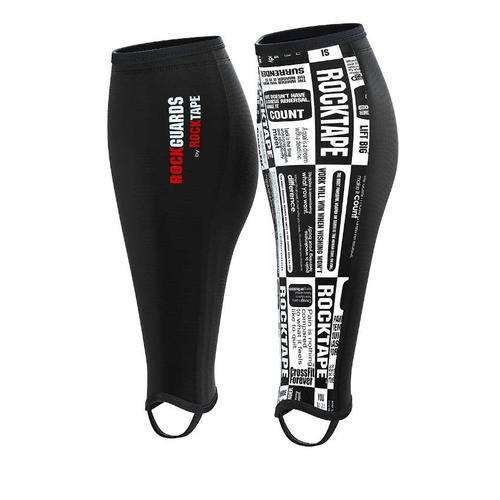 RockTape is a company that specializes in safety and recovery equipment. Their aim is to make sure their athletes are pain free through their specialized kinesiology tapes, as well as compression equipment like knee wraps and shin guads. Their shin protectors for deadlifts are a very popular option.
Type: Compression sleeves
Material: Neoprene
Sizes: Small to large
Protection
The compression sleeves are made ‌of thick neoprene material to provide extra protection for your shins. So, you can use the product for such activities as deadlifting, rope climbing, and box jumping. The 5 mm neoprene cushion will help keep your shins healthy, so you don't have to compromise your workouts because of any pain or discomfort.
The compression sleeves also cover the top of the foot all the way to the bottom of the knee, so there won't be any exposed areas for the barbell to potentially scrape or bruise.
Comfort
Often, a shin guard can be uncomfortable because it moves around while you workout. So, you have to stop your workout to readjust it all the time. However, the compression nature of these shin guards keeps it in place while you workout. Eliminating that one discomfort factor.
The compression guard compresses and conforms according to your body dimension, giving you a comfortable feeling during your workouts. It is also fast drying, so the front of the compression guard should stay dry and comfortable the entire time.
Durability
Neoprene is a long-lasting material, so there shouldn't be any durability issues. However, because you can use it for so many activities, there is a possibility that you might overuse it quicker than say just a deadlift shin guard.
RockTape shin protectors for deadlifts are a very popular option.
(Show More)
Potential durability issues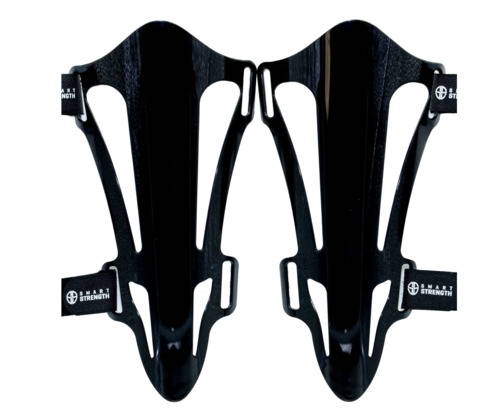 Smart Strength is a company that curates its product towards finding solutions for weightlifting problems. This includes their unique shin shields, which are made to guard a specific area of the shins, making them excellent weightlifting shin guards.
Type: Shin shields
Material: Plastic
Sizes: Small, medium and large
Protection
These shin shields are tested out and approved by champion dead lifters, so the protection is valid. Compared to a neoprene shin guard, these only give you 2.5 mm of protection. However, this is considered more than enough, especially because it allows you to keep the bar path of a deadlift as close to your body as possible.
You're likely to scrape or bruise the upper half of your shin, which is exactly where the shin shield is set. So, you don't have an extra layer of protection that you might not need.
Comfort
The set comes with elastic straps in the back, so you don't have to remove your shoes to put the shin shield on. Plus, you can adjust the shield to a level that you prefer, so there isn't extra tightness that causes discomfort for your calves.
Durability
There could be possible durability issues because the product is made of plastic. So, depending on how many times you deadlift or if you use the product for another exercise like box jump, it can degrade quicker than some of its competition.
These shin shields are tested out and approved by champion dead lifters, so the protection is valid.
(Show More)
Possible durability issues
As the name would suggest, Pure Athlete is a company that attempts to provide the necessary equipment, apparel, and accessories to match your athletic needs. This includes everything from skiing, to running, to weight lifting.
Type: Shin socks
Material: Nylon
Sizes: Small to extra large
Protection
The shin socks come with anti-abrasion yarn. The aim of the product is to protect shins during weight lifting, so the front panel is made of yarn that is 10 times stronger than your average cotton material. This will prevent your shins from being bruised or scraped from the weightlifting bar.
The socks reach all the way to your knees, so the bar won't have any place where it can possibly damage you.
The sock also comes with gripping features, which will allow you to get a better grip on the platform underneath you, securing you in a stronger deadlift position.
Plus, it can provide protection with various physical activities, so you're not bound to just deadlifting with the product.
Comfort
An issue with socks can be that the moisture inside of them can cause blisters. However, the padded cushion heel, sole, and toe can prevent this from occurring. The sock also has moisture wicking properties to keep you comfortable and protected.
The socks come with an anatomical fit, which favour a comfortable fit no matter your body dimensions.
Durability
Typically, socks made of nylon are considered highly durable. Especially compared to cotton, polyester, and wool. However, in comparison to other shin guard materials like neoprene and leather, they might break down faster.
However, the fact that you can wear the socks in so many different environments, that does tend to lean towards durability.
If you're just looking for nice and simple workouts, just to stay in shape, these are worth the price.
(Show More)
Possible durability issues

Not as protective as other shin guard materials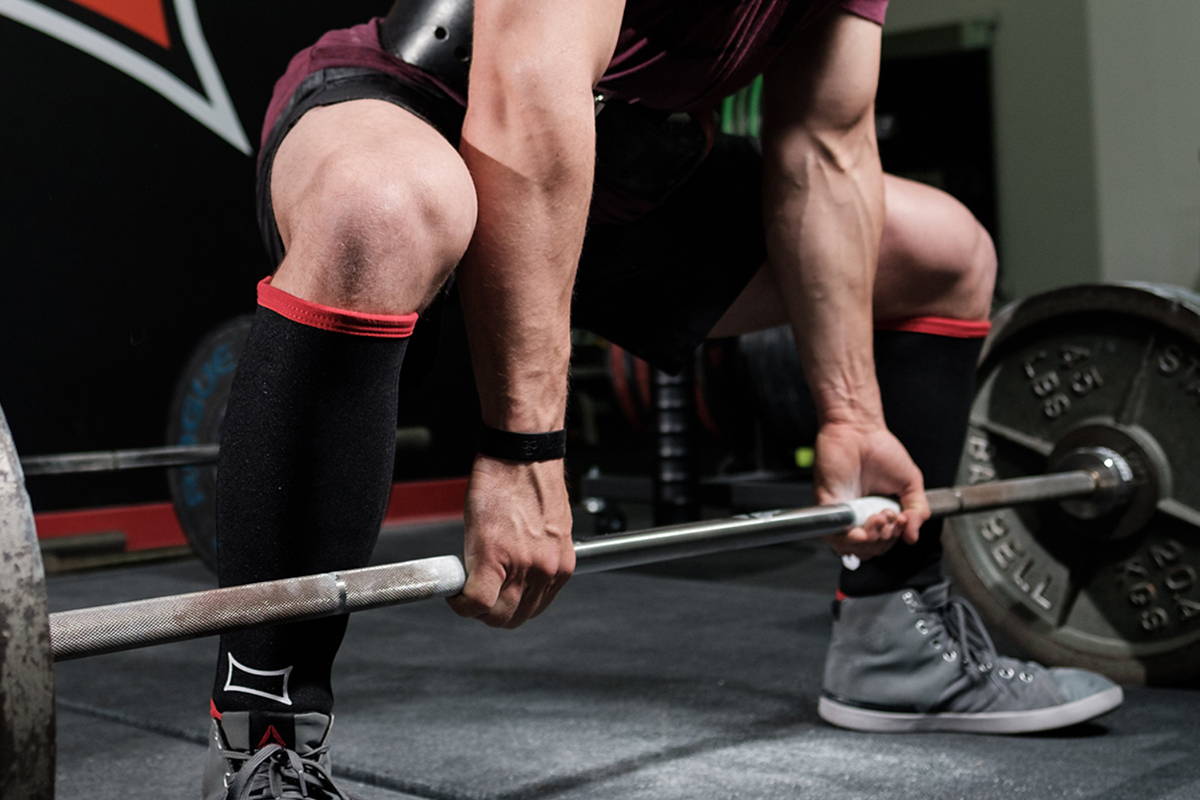 Do You Need Shin Guards For Deadlift?
When deadlifting, it is advised to keep the bar as close to your body as possible because it is easier to maintain tightness in your lats, upper back, and core this way. However, when doing this, you often see the bar scraping against the shin, causing bruising and even bleeding. So, a way to prevent this is to wear shin guards or deadlift sleeves. That way, you can keep that bar path close, your body tight, and avoid the extra pain.
Why Do Shins Bleed When Deadlifting?
There can be two reasons. One is that your hips are too low, so that your shins are over the bar and the bar doesn't have a direct path upwards and ends up hitting the shins, causing them to bleed.
The other reason is the one mentioned earlier. When you try to keep the bar close to your body, ‌it might scratch against your shins, which is why shin sleeves for deadlifting are popular.
Do Socks Work As Shin Guards?
Yes, and no. There is a possibility that high socks could protect your shins from bleeding if they come in contact with the bar. However, there is also the bruising element involved, which the shin protectors for deadlifts do a better job against compared with regular socks.
Last thing you want is bruised and beaten down shins to interfere with your lifting potential. So, grab yourself a proper pair of shin guards, which not only protect your shins, but are also comfortable and durable to use.
Shin guard // Wikipedia:
https://wiki.alquds.edu/?query=Shinpad
My name is Ihor and I have been a professional weightlifter since 1996. With over 20 years of competition experience, my resume includes European Champion in 2009 and the silver medalist at 2011's Senior World Championships – 105kg division.
I competed at the 2008, 2012 and 2016 Summer Olympics.
After hanging up my own competitive lifting shoes, I decided to share my huge background as a coach. I am currently coaching multiple athletes who are competing at national and international competitions.