In this guide, I've chosen the best deadlift equipment options that can help you to lift more weight. I'll discuss why you should get each one so you can buy the best deadlift gear for your home gym.
If you're looking to improve your deadlift, using training accessories can help you to lift more efficiently and increase your power off the floor. With lifters of all levels now realizing the benefits of the deadlift, the use of deadlift equipment is now more popular than ever.
Deadlift equipment such as lifting belts and knee wraps should be a staple in any gym bag. Alongside these, there are multiple other equipment types available to buy that can increase your lifts when used correctly.
I've picked the best deadlift equipment options that should be included in your gym bag and methodically reviewed each one so you can choose the most suitable ones for you. Let's take a look at the best equipment for deadlifts in more detail.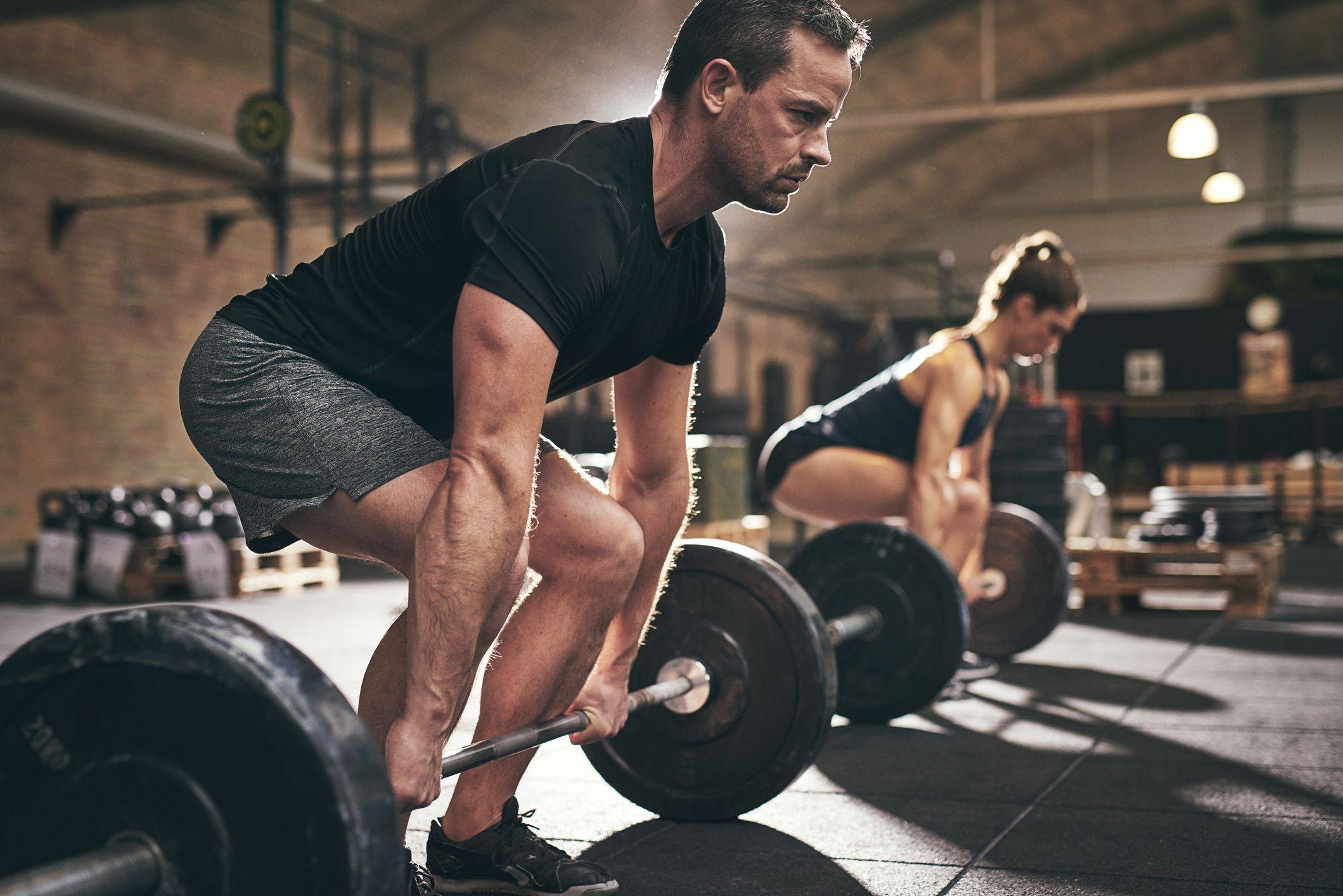 7 Best Deadlift Equipment Options Reviewed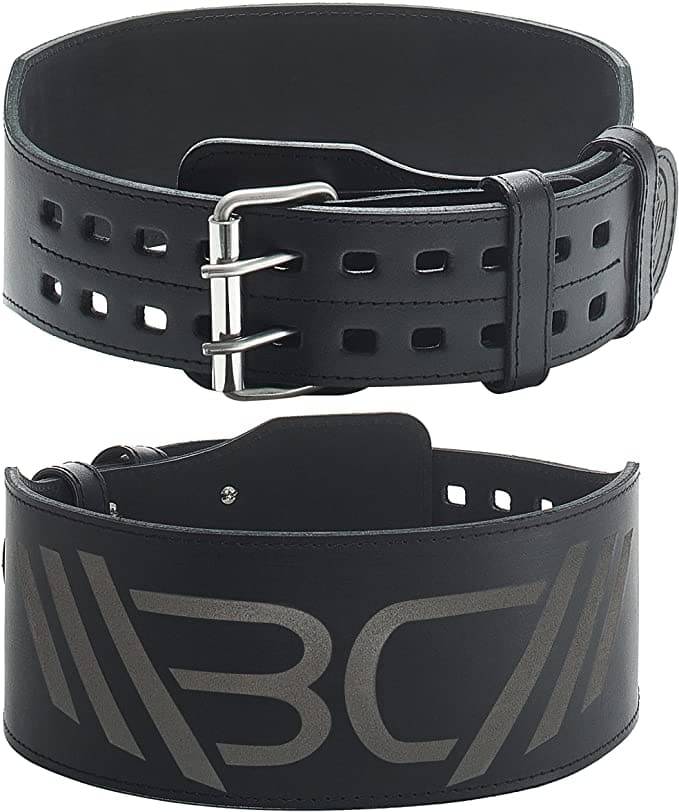 Founded in 2015, WARM BODY COLD MIND is an international brand of sportswear and gym accessories. They produce high-quality products that are designed for use at the highest level.
Initially recognized for their catchy t-shirt slogans, they expanded to produce a range of sports apparel and lifting accessories such as straps, belts, chalk, and gym bags.
The brand philosophy focuses on the balance between the body and mind. The body should be developed to perform as needed and a focused mind should be clear of all distractions. A balance between the two is achieved with physical strength (warm body) and mental toughness (cold mind).
Available Sizes:

S, M, L, XL, XXL

Waist Size Range:

(28-52")

Width:

4"




Thickness:

6 mm




Material:

Premium Leather




Closure Type:

Double Roller Stainless Steel Buckle




Color:

Black



The WARM BODY COLD MIND leather weightlifting belt is a perfect option for different-sized lifters looking for a durable, well-made lifting belt that sits comfortably against the back.
The available sizes go from small up to 3XL, providing a great option for smaller to larger lifters wanting to add to their gym kit.
The softened leather sits securely around the waist without digging in too much and is secured with the double-pronged buckle.
The belt is tapered to provide maximum lumbar support where it's needed. It is approved for competition by the IPL and USAPL, making it a great choice to train and compete in.
Softened leather offers firm support and comfort

Big range of sizing options from S - XXL (28-52")

Double pronged stainless steel buckle keeps the belt secure

Multiple belt adjustment options
A wider range of color options could be offered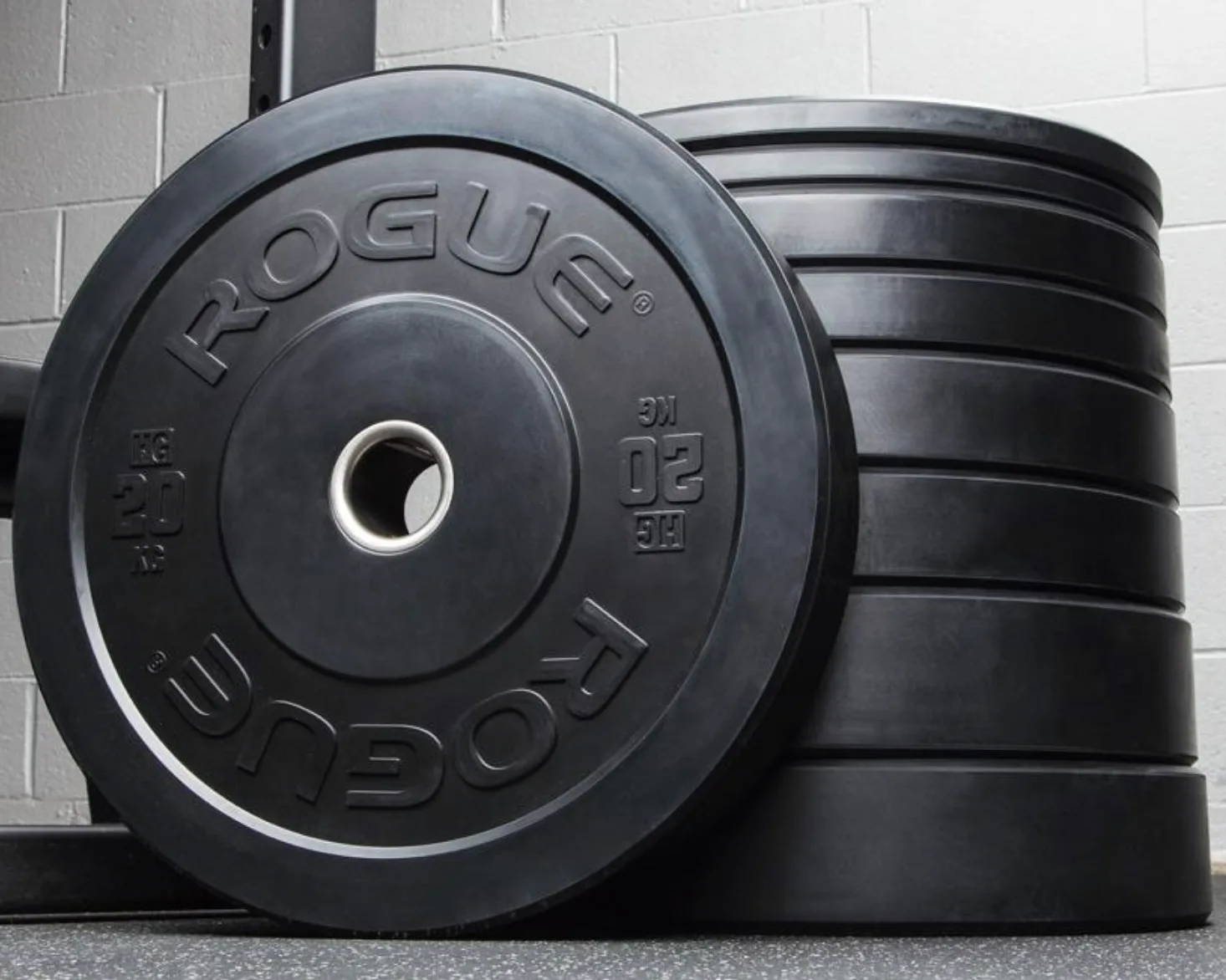 Rogue is a well-known manufacturer of strength and conditioning equipment, including weights, racks, and lifting accessories. They are mostly recognized for being the leading manufacturer of sports events such as the fitness games and the World's Strongest Man events.
The brand is dedicated to supplying athletes at all levels with high-quality gym equipment that can be used in any setting.
Plate Diameter:
450 mm


17.72"

Collar Opening:

50.4 mm

Plate Width:
10 lb Plate Width: 1"
15 lb Plate Width: 1.37"
25 lb Plate Width: 2"
35 lb Plate Width: 2.75"
45 lb Plate Width: 3.25"


55 lb Plate Width: 3.75"

Insert Material:

Stainless Steel


Durometer Scale Score:

88


Plate Type:

Multipurpose


Color:

Black


Warranty:

3 years

When you buy gym equipment from Rogue, you know it's going to be high-quality and rigorously tested - the Rogue HG 2.0 Bumper Plates are no different.
The Rogue HG 2.0 Bumper Plates are the same quality bumper plates offered in the old model with a better design. The high-quality, durable HG 2.0 Bumper Plates are cut thinner than most bumper plates to allow more weight to be fitted on the bar.
The 88 Durometer scale score puts them on par with other weight plate options but at a much lower price point. Being a Rogue product, the plates have been extensively tested at the highest level.
The stainless steel inserts are securely fastened so they can withstand repeated daily use.
Thinner plates allow you to load more weight onto the bar

Good durometer score of 88 at a lower price point than other similar plates

Inner stainless steel ring secured tightly so it doesn't come loose
The plates may have a slight rubber smell when first used
The Ohio Deadlift Bar is another deadlift home gym product from Rogue and is manufactured in the USA. The brand looks to source locally when possible to help local communities find work. They believe a healthy American ecosystem is dependent on the strength of US manufacturing.
Bar Weight:

20 kg

Bar Length:

90.5"

Loadable Sleeve Length:

15.5"

Distance Between Sleeves:

56"

Diameter:

27 mm

Grip Type:

Powerlifting Knurling

Tensile Strength:

190,000 PSI
Barbell Coating:
Shaft: Black Zinc


Sleeve: Bright Zinc

Warranty:

Limited Lifetime warranty
The Rogue Ohio Deadlift Bar is a great value bar that combines durability with attention to detail to give you an excellent end product.
The powerlifting knurling on the 27 mm shaft provides a strong grip that doesn't slip at heavier weights. The thin shaft diameter combined with the longer 90.5" length creates a bar that's easier to grip and designed for increased flex when pulling.
The shaft comes in 3 coating options allowing you to choose your favorite finish. The shaft sleeves use bronze bushings and have a 15.5" loadable sleeve length to load a decent amount of plates on.
If you're looking for a well-made deadlift bar that can handle any challenge, the Rogue Ohio bar does a great job.
Durable powerlifting knurling provides a strong grip that isn't too sharp for your hands.

Thin 27 mm shaft diameter gives increased flex when pulling

High-quality bronze bushings with snap ring construction on the sleeves
The bar knurling might not be suitable for sumo deadlifters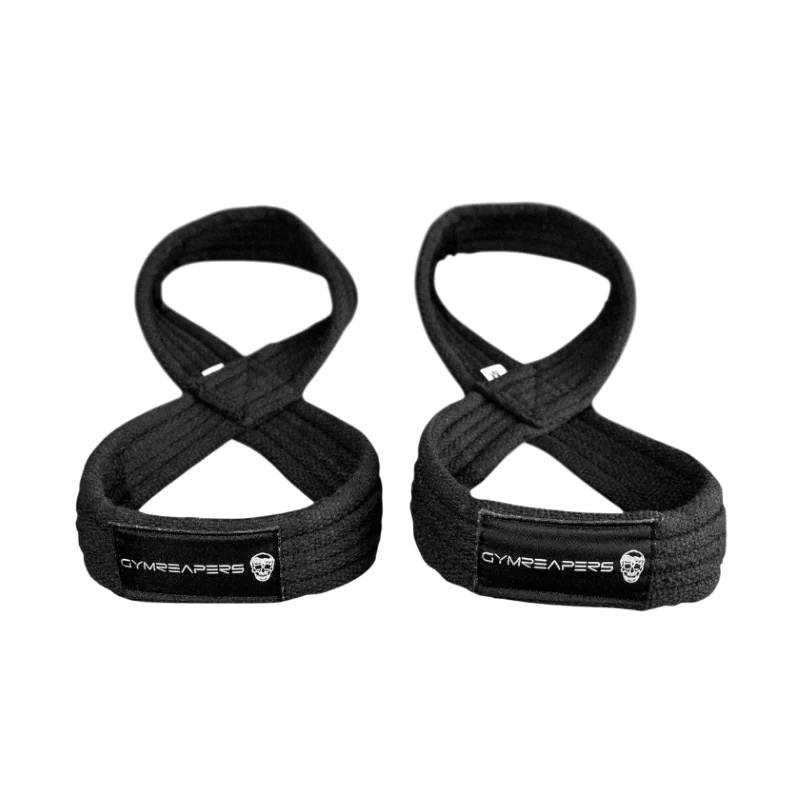 Gymreapers is a purpose-driven brand that looks to create gym equipment with a specific reason in mind. Their gear is guaranteed to provide support, stability, and increased performance.
The brand states that its gear is backed by IFBB pro athletes, record-holding powerlifters, and world-renowned trainers. Their gear is rigorously tested before being released for sale.
Material:

Cotton

Available Sizes:

Small, Medium, Large

Color:

Black

Warranty:

Lifetime
The Gymreapers Figure 8 Lifting straps are reasonably priced and give you a firm grip when going heavy. The figure 8 straps come in multiple sizes, providing a range of options for you to wrap around the barbell and maintain a strong grip.
The thick, heavy-duty cotton material with reinforced stitching can handle large amounts of weight without breaking, giving you the piece of mind to break past plateaus.
If you want to lift heavy, the Figure 8 lifting straps by Gymreapers are a perfect addition to your gym kit.
Reinforced stitching that doesn't break easily

Multiple size options to fit different wrists
The sizing options are big so you need to get 1 size below.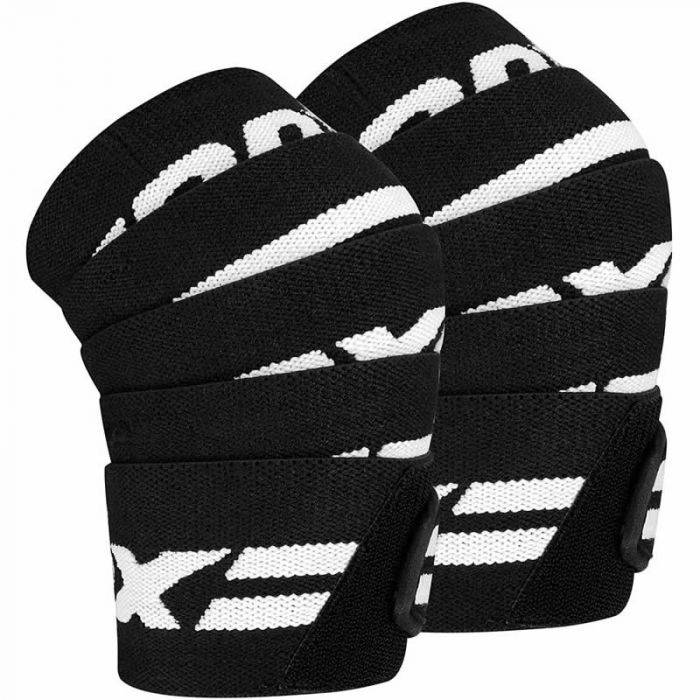 Founded in 1999, RDX Sports manufactures a range of combat sports and gym equipment. They manufacture their equipment so it can be sold at an affordable price for all athletes to enjoy.

The brand motto is 'Move - Improve - Evolve'. This symbolizes their process of self-improvement as a brand that doesn't discriminate and constantly looks to improve.
Material:

Elasticated Cotton-Eglantine

Length:

2 Meters

Width:

3"

Closure type:

Hook and Loop
If you're looking for a durable pair of knee wraps that fit comfortably on your knees, RDX has you covered. The soft, breathable knee wrap material is great for all skin types whilst the high-quality stitching adds the durability needed when you're under a heavy bar.
The wraps are secured with a hook and loop mechanism and velcro that stops them from coming loose or slipping down your leg. If you want to customize the wraps, they are available in six different color options.
Hook and loop mechanism keeps the knee wraps secure when lifting

Multiple color options to match with your other gym gear

Elasticated cotton material sits comfortably against the knees
The strap length might not be long enough for bigger lifters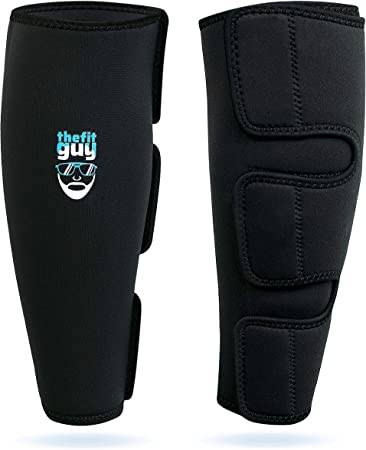 THEFITGUY manufactures lifting accessories designed to protect your body when working out. Their product range includes shin guards, arm guards, equipment attachments, and baseball caps.
Material:

5 mm Neoprene

Type:

Slip in

Size:

One Size Fits Most (11.8" Long)

Color:

Black
THEFITGUY is offering a great pair of deadlifting shin guards that combine durability with functionality at a great price point.
They're made with durable 5 mm neoprene material that fits comfortably against your shins and doesn't tear easily, so you can use them without worrying about them ripping.
The adjustable straps allow you to adjust them to your leg size so they won't come off when you're lifting. With the adjustable straps, there is no need to remove your shoes when you want to take the guards off.
Overall, the shin guards fit comfortably against your skin whilst protecting your shins from scraping against the deadlift bar. They make a great addition to your gym bag.
Soft neoprene material sits comfortably against the shins

The adjustable straps are very user friendly

Easy to slip on and off without much hassle
The style is quite old fashioned
WARM BODY COLD MIND produces a wide range of high-quality gym equipment that's been extensively tested by world-leading athletes and trainers. Their liquid chalk is no different.
Sizes:

50 ml, 250 ml

Drying Time:

15 Seconds

Color:

White

Features:

Mess-Free, Long Lasting
WARM BODY COLD MIND has made a reliable, easy-to-use liquid chalk that comes at a very reasonable price point. Once applied, it dries within 15 seconds (or even less!) and doesn't rub off easily like other chalk options.
When applying it to your hands, a small amount goes a long way. It has a thick consistency that can cover your palms with a small squeeze. On top of this, it has a pleasant citrus odor that masks the alcohol smell.
When you're not using the bottle, it can be easily attached to your gym bag with the convenient carabiner that's included.
It also has a small 50 ml size option that you can try before purchasing the larger one.
Nice citrus smell (no alcohol odor)

Convenient carabiner attachment for your gym bag

Spare cap included if you lose the first one
It can sometimes be hard to squeeze out with the thicker consistency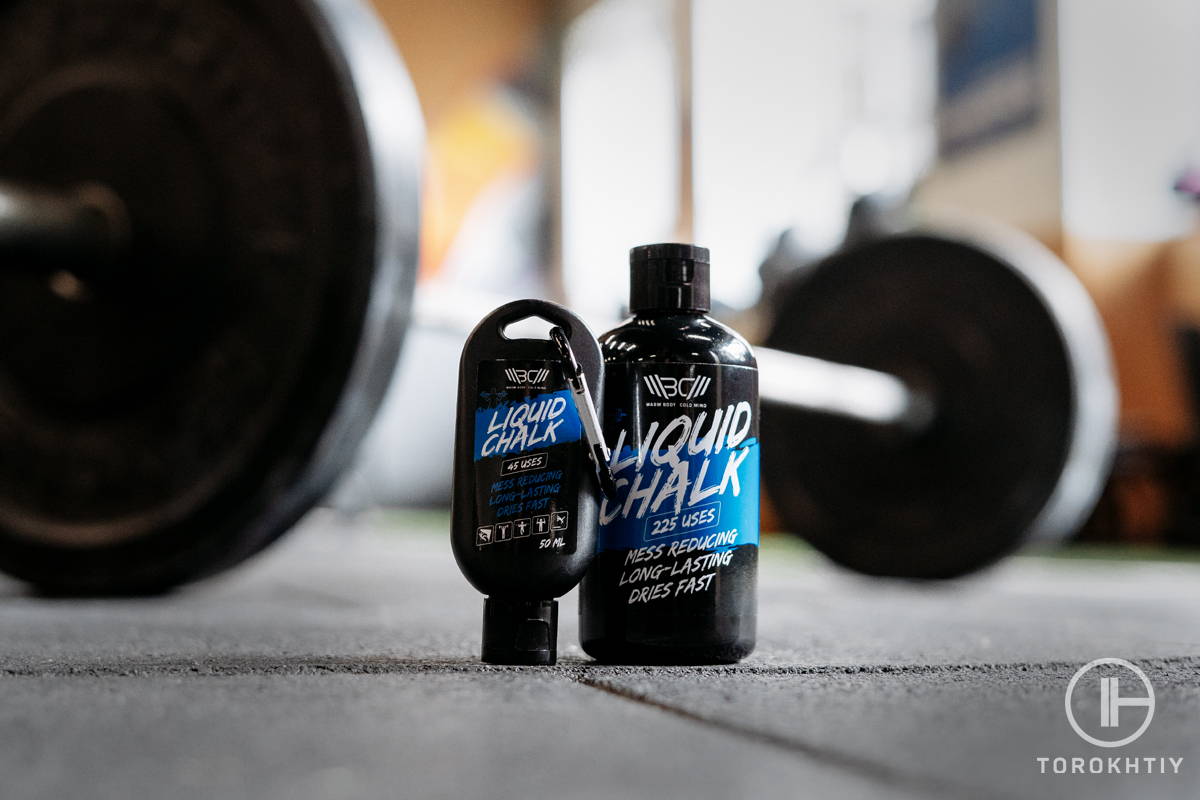 Can you deadlift at home?
Deadlifting at home can be done with no problems as long as they are done correctly. Make sure you have enough space for the bar to move freely throughout the whole movement.
The use of deadlift equipment for home gym settings is now more popular than ever. Using equipment such as bumper plates is a good idea to reduce the impact if you need to drop the weight on the floor.
Do you need a deadlift platform for a home gym?
A deadlift platform is a good idea for your home gym if you're lifting heavier weights or need to drop the barbell onto the ground. A deadlift platform is designed to protect your home gym floor. Consider the strength of your floor and what exercises you'll be performing before deciding if a deadlift platform is needed.
Are deadlifts with dumbbells effective?
Deadlifting with dumbbells allows you to effectively engage your muscles through the whole movement and use a greater range of motion compared to a barbell.
If you're using dumbbells to deadlift, it's likely you won't need as much weight to get a good workout.
Summary - What Deadlift Equipment Should You be Using?
If you want to improve your deadlift, all of the equipment options I've reviewed above make great additions to your gym bag. Each piece has been well designed to provide a different function that helps you to lift safely and securely.
Next time you deadlift, consider purchasing any of the high-quality options above. Let me know what you think of the equipment I've reviewed down below in the comments section!
How to Deadlift With Proper Form // Men's Health: https://www.menshealth.com/fitness/a26568968/deadlift-form/

Your Definitive Guide To Sumo Versus Conventional Deadlifts // Barbend: https://barbend.com/sumo-versus-conventional-deadlift/
The Benefits of Liquid Chalk // Your House Fitness: https://www.yourhousefitness.com/blog/the-benefits-of-liquid-chalk
My name is Ihor and I have been a professional weightlifter since 1996. With over 20 years of competition experience, my resume includes European Champion in 2009 and the silver medalist at 2011's Senior World Championships – 105kg division.
I competed at the 2008, 2012 and 2016 Summer Olympics.
After hanging up my own competitive lifting shoes, I decided to share my huge background as a coach. I am currently coaching multiple athletes who are competing at national and international competitions.