Picture this: you just got a set of brand-new plates, but don't have anywhere to put them. The space in your home gym is limited, but you can't just leave them lying on the floor or tucked in a random closet.
Sounds like you could use the best bumper plate storage to make your life easier. Let's store!
In a hurry and can't keep reading? How about you check out the Rogue 24" Wall Storage Stringer.
The Rogue Wall Storage Stringer is a durable and secure 24'' storage unit made of 11-gauge steel, designed to prioritize safety and protect your weight plates while seamlessly integrating with your Rogue equipment.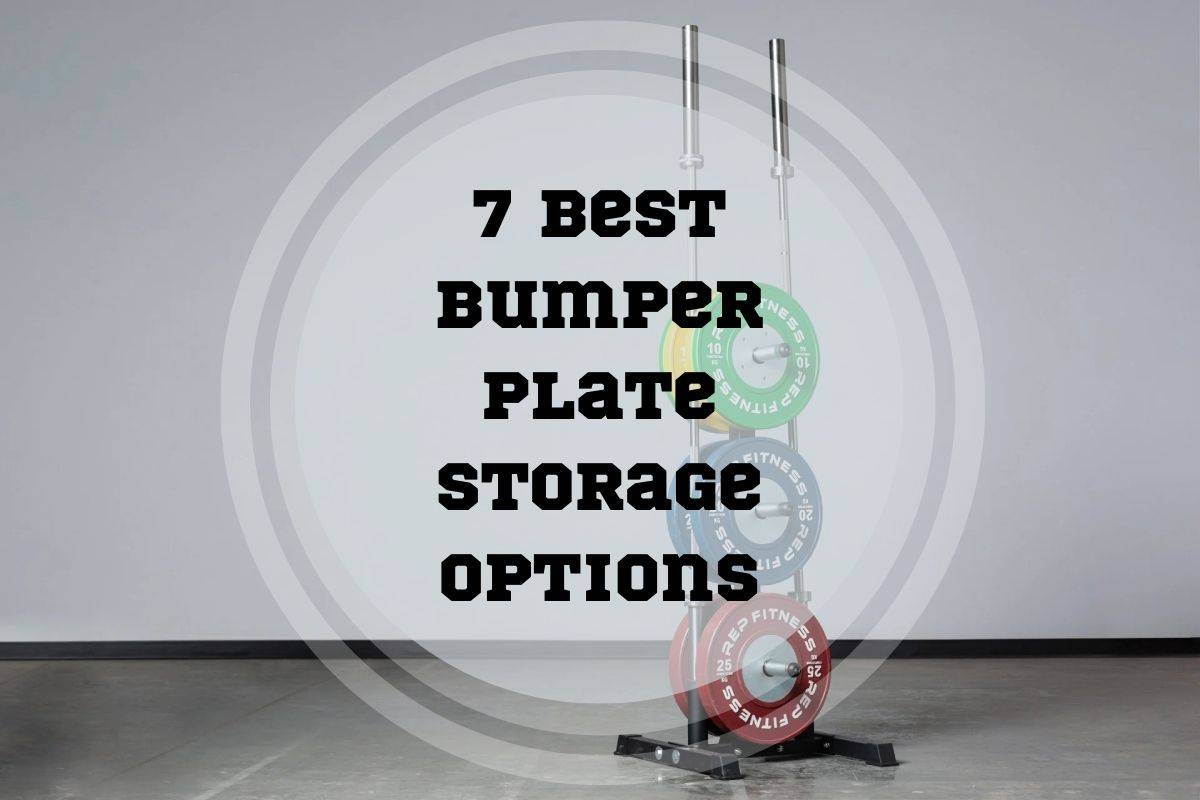 Top 7 Best Bumper Plate Storage Options Reviewed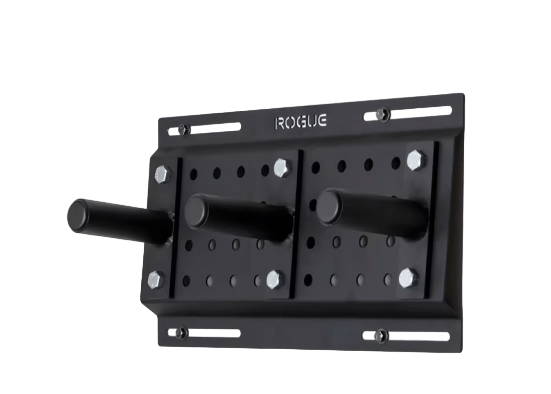 Type: Wall-mounted

Dimensions: 24" L x 13" H, extends 1.5" off mounting surface
Storage Capacity: Available to order on its own, with 3 Short Plate Posts, or with 2 Long Plate Posts
The first thing that you always want to make sure of when getting any kind of storage for your plates is safety. Safety always comes first! After all, having a leg/arm cast can be a slight hindrance when working out - who would've thought?! But, beyond safety, ensuring that whatever you're buying is durable and sturdy is also quite important. You don't want to risk your plates getting damaged or even possibly getting injured by a flimsy storage system(see? Safety, again). The Rogue 24'' Wall Storage Stringer is made of 11-gauge steel and it's as sturdy as it gets.
This storage unit is compatible with Rogue's 5/8'' Infinity and Monster Lite bolt-on Plate Storage Posts so it's going to complement your other Rogue equipment perfectly.
I don't even have to tell you about the precision this is made with, and the laser-cure Rogue branding and sleek black powder coat finish only add to the already great appearance. But the finish is not only for appearance's sake! It adds to the overall durability of the unit. I don't ever worry about scratches or dents with this one.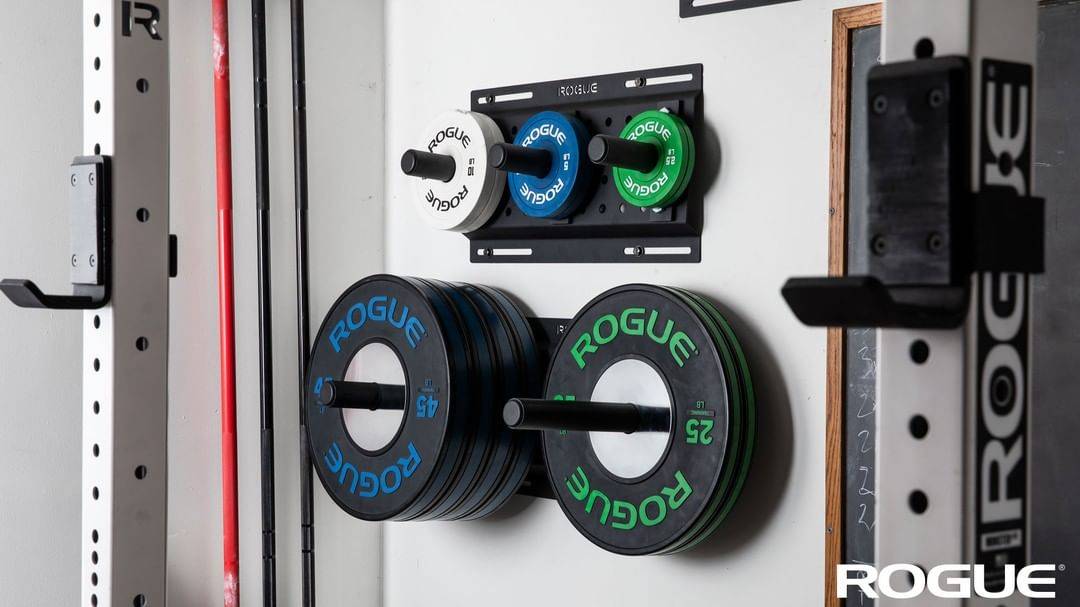 I love that Rogue put so much thought into designing this because you'll be able to adjust it perfectly to your needs. What I mean by that is, the mounting slots are positioned 11.375'' vertically, which allows for 6'' side-to-side adjustment when it's mounted on 16'' studs. This makes the unit so flexible; I really can't see this not fitting in perfectly with any gym.

To be fair, it's not completely flawless and there is one thing I would change: not specifically with the unit, though. It really irks me that plate storage posts need to be purchased separately. It's great that you have the choice of short or long plate posts to get, but I would much prefer it if the posts were included with the stringer.
Other than that, though, I give this a 10/10!
The Rogue Wall Storage Stringer offers exceptional adjustability, allowing you to customize it precisely to your needs with vertical and side-to-side adjustments, making it highly versatile for any gym space.
5-degree tilt for security

All hardware necessary for installation included
Storage posts need to be bought separately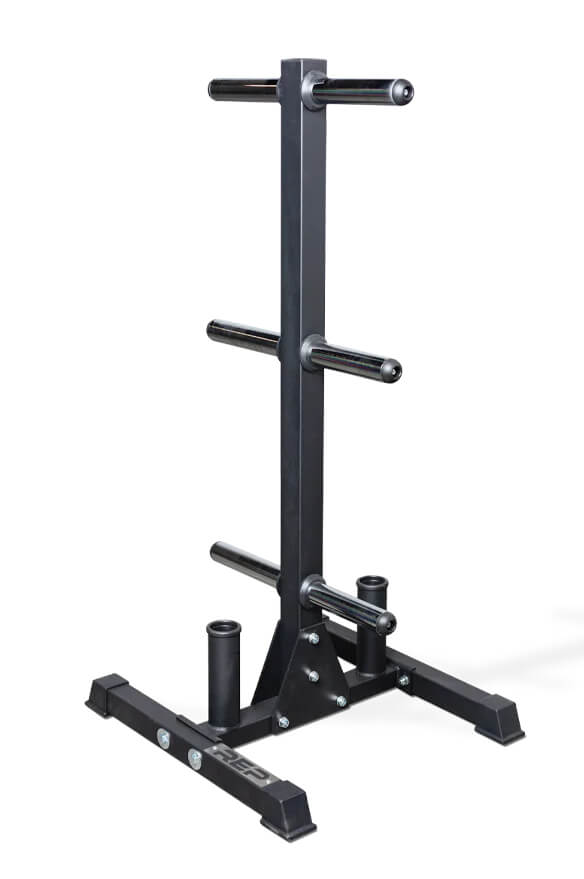 If you're looking for the best free-standing storage unit for your gym, then look no further than this weight plate tree.
Type: Free standing

Dimensions: 24''L x 24''W x 50''H
Weight Capacity: 850 lbs.
Storage Capacity: 3 tiers of plate storage pegs; each tier compatible with full-size, 450 mm plates, Front and rear barbell tube
The six chrome-coated weight horns fit both bumper and iron plates, so you don't have to worry about it being incompatible with your equipment. Also, that chrome coating is probably the best kind of coating you can ask for because the plates can be slided on and off easily, but the paint won't flake and your equipment is safe from corrosion.
My favorite thing about this Olympic plate tree is that it stores barbells as well. If you have a home gym, you most likely have barbells, so a storage unit that stores plates only is not as space-saving as the one that stores barbells too.
Now let's get into something really impressive - the weight capacity. You can store 850 lbs. worth of weights on this unit, and it won't budge. Now, I'm sure you're thinking - what if I accidentally knock it and all those weights fall over? No worries, it's got you covered! This plate tree has rubber feet, so you never have to think about it wobbling, being unstable or even falling over. Not a chance of that happening!
Since this is a review, it's only fair to highlight any flaws, too. I only found one with this bumper plate holder, and that would be the plastic caps on the pegs. These little guys keep popping off when plates slide off the tree. They can be glued back, but you have to admit, it's a bit annoying to slide the plates and the caps come along with them.
Luckily, it does not affect the functionality of this unit at all, so I'd still highly recommend it.
The REP Bar and Weight Plate Tree is a versatile storage solution with chrome-coated weight horns, the ability to store both plates and barbells, a high weight capacity of 850 lbs., and stable rubber feet, making it a recommended choice
Rubber feet for stability

Holds both plates and barbells

Chrome coating prevents flaking
Plastic caps come off when plates are slid off the tree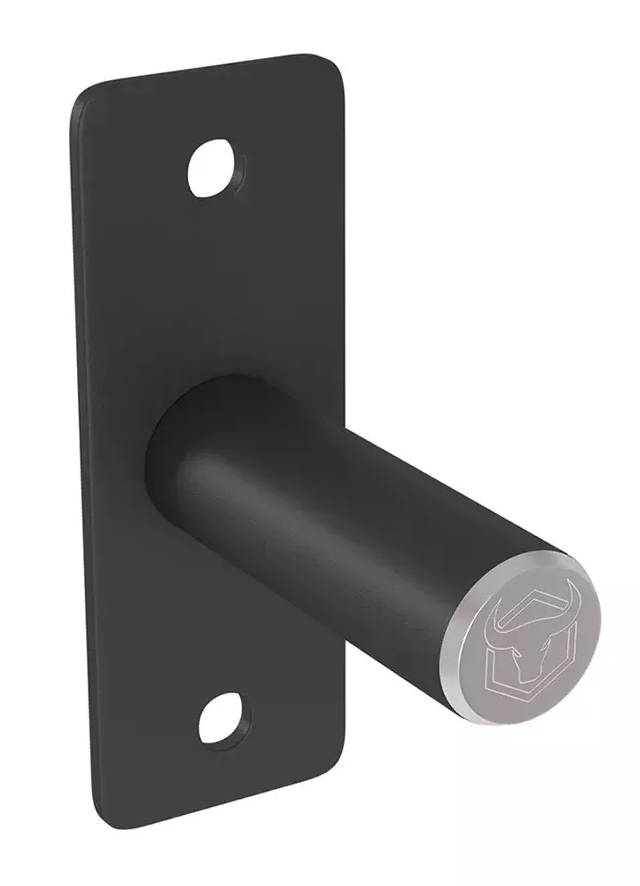 If you have a limited quantity of plates or would like to store them in a specific way at your home gym, then you'll want to read this review because I found them! These are the absolute best storage pins I've ever come across.
Type: Wall-mounted

Dimensions: 3''W x 8''H. 8'' or 12''L
Storage Capacity: Available in two sizes - 8'' and 12'',

Compatible with any 2'' Olympic plates



First of all, they come in pairs - don't worry that you'll be stuck with one single pin if you decide to get these.
They're made of 1.9'' diameter tubing and reinforced steel plates and also feature anodized aluminum caps. Okay, okay, it's a lot of science-y wording, but basically, it means that these are durable and look sleek.
Don't let their compact design fool you into thinking these are flimsy. They're actually very sturdy and allow you to place your plates on a rack, which means they also save floor space.
They're available in two lengths - 8'' and 12'', so you should have no issue fitting these into your gym because you can choose what works best for you.
I did notice one little thing that bugs me, though. The paint is starting to flake off a bit after a few weeks of constant use. This is purely a cosmetic issue; it does not affect the functionality at all. It's not that surprising, because powder coating will flake sometimes, but it's something to keep in mind.
The Iron Bull Strength Weight Storage Pins are a durable and sleek option for storing your plates, with a sturdy design, compact size, and two length options available, although there may be some cosmetic flaking of the paint over time.
Compatible with any 2'' Olympic plates
Powder coating flakes off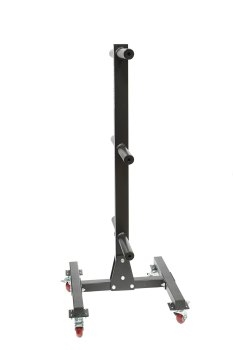 When I look at this vertical bumper plate storage from Vulcan Strength I don't see just another vertical plate storage unit; or a plate tree. Oh no! What makes this one stand out from the crowd are the wheels. And you wouldn't believe just how handy those can be.
Type: Free-standing + wheels

Dimensions: 24''L x 24''W x 56''H
Storage Capacity: 3 tiers

How much gym equipment can you describe as elegant? Not much, huh? Well, add this to your list because this is just an elegant piece. I know, I need to get over it, but look at how beautiful it is! So simple, yet so effective.
Okay, I'm done. Let's get into the important stuff now.
This bumper plate stand is made of solid 11-gauge steel with a powder-coat finish for light rust protection (the powder coat can chip over time and is not covered by the warranty), so you can be sure it's going to last you a very long time! All three levels of the rack are designed for full-sized bumper plates and Olympic plates, which I think is so convenient because there's plenty of room without having to compromise much. And everything is always within reach!
It's compact and will save quite a bit of floor space in your gym and keep it organized. Everything you want from a plate rack, right? This is also very suitable for professional gyms as well.
Now to the start of the show - the wheels! It might seem strange that only four wheels will be able to withstand the pressure of being fully loaded with heavy weight plates. But they are made exactly for that. The heavy-duty wheels allow you to transport the storage unit all over the gym for convenience and also thereby maximizing free space (this is super important if you're limited on space). And the unit itself weighs only 73 lbs, so it won't be a workout just to move the piece around the gym.
And to ensure the tree stays in place it has foot locker tabs that are very convenient to use. Just lock the unit where you want and you've got yourself a nice stationary plate tree.
It will last you a long time and it looks absolutely stunning, and the price is not something that I see bothering a lot of people. If the price is not an issue for you, then by all means, go ahead and treat yourself to one of the most elegant and practical pieces of gym storage equipment I've seen.
The Vulcan Vertical Plate Tree is made of solid 11-gauge steel with a powder-coat finish. It features three levels for bumper plates and Olympic plates, equipped with heavy-duty wheels for easy transportation and foot locker tabs for stability.
Transport wheels for maximum and easy portability
Will not hold 1-inch plates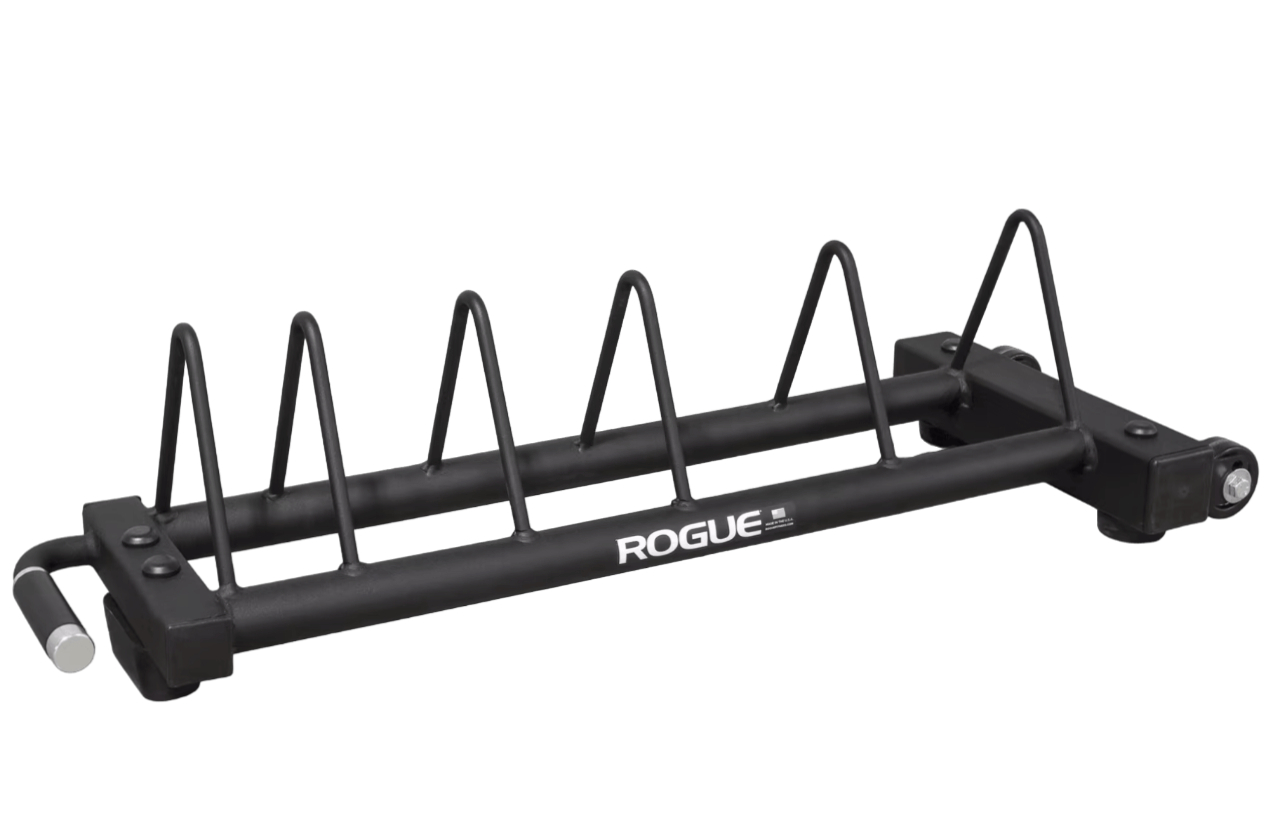 I'm sure there are a lot of you looking for a horizontal bumper plate storage rack so I'm happy to share the best that I found.
Type: Horizontal

Dimensions: 45 ¼''L x 15 ¼''W x 11 ¼''H
Weight Capacity: 310 lbs.
Storage Capacity: Six dividers creating (2) slots for 45LB & 35LB plates, (2) slots for 25LB & 15LB plates, and (1) slot for 10LB and smaller variant bumpers

Rogue has redesigned their horizontal rack and upgraded the design. This newer version looks sleeker and has a wider back end. The back end being wide is great because it makes the rack more stable during transport. And while I'm on the subject of transport, it also comes with an attached handle.
It has six dividers, and it can store all kinds of plates - 45 lbs. and 35 lbs., 25 lbs. and 15 lbs., and 10 lbs. and smaller variant bumpers. You can really make the most out of it because it's so versatile.
And don't you worry about your floors getting scratched from all of these weights! The redesigned rack also has rubber feet which makes it more stable, and also keeps your floors in mint condition.
It's impressive, right? There is, however, one tiny thing that's really annoying. Rogue has decided to put a sticker featuring their logo on the rack and the sticker peels off almost immediately as you take the rack out of the box. I don't have anything against stickers, but I'd like them to, you know… stick to stuff.
I know, I'm nitpicking, but I just want to make the review as comprehensive as possible. Do yourself a favor and peel that sticker off as soon as you get the rack and you're all set.
The redesigned Rogue Horizontal Plate Rack 2.0 is sleek, stable, and versatile, with rubber feet for floor protection and an attached handle for easy transport.
Wide back end for stability

Wheels and handle for easy transport

Stores a lot of different kinds of plates
The sticker with the logo peels off by itself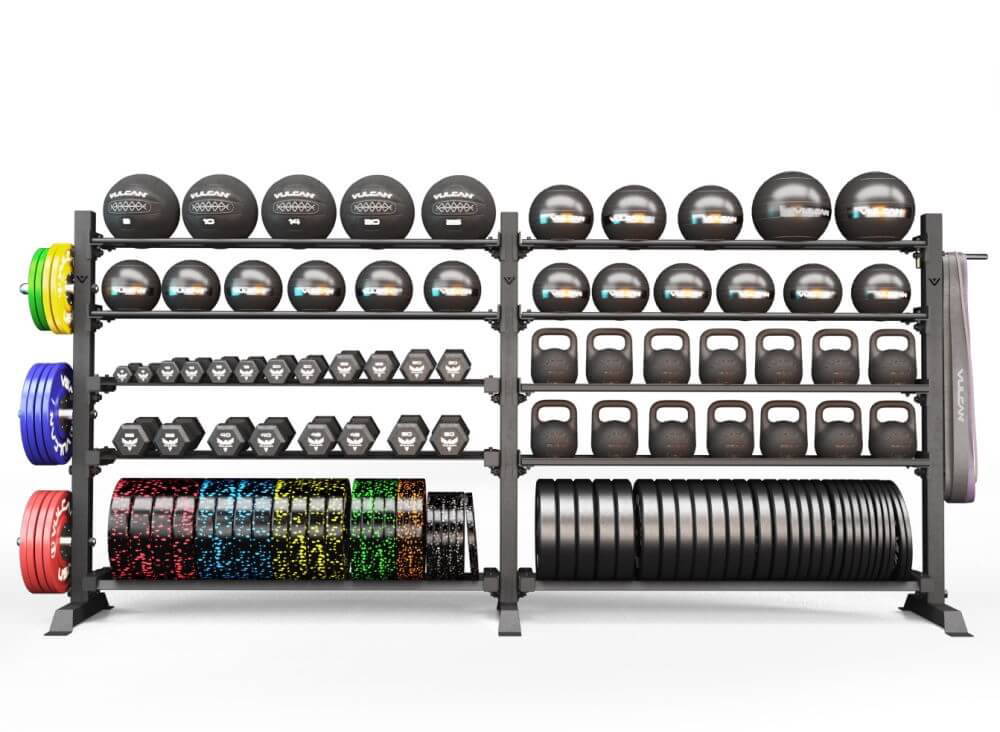 In the second-to-last position is the Vulcan Add-On Mass Storage System. If you're all out of weight plate storage ideas and want a more customizable option, then this is the one for you.
Type: Free standing

Dimensions: 74''L x 28''W x 69.5''H
Weight Capacity: 1000 lbs.
Storage Capacity: Up to 70'' storage space per shelf

This is an amazing add-on that easily stores all my kettlebells, dumbbells, med balls, bumper plates, etc. It's very easy to set it up and make your storage unit fully customized.
It's designed with divider supports, which prevent sagging and keep the plates from dropping through the rack rails. I'm really happy to see divider supports, because what's the use of a plate rack if it's not stable and safe? At 1000 lbs. weight capacity, you want to make sure all that weight is securely stored.
The entire thing is made of steel and the dumbbell is lined with rubber. The med ball rack is specifically designed for med ball storage.
If you glanced at its specs, you may have noticed its size. With a length of 74'', it may not be the best thing for small spaces. Yes, it can store a ton of equipment, but if you're working with a tiny space, consider this rack's size before buying it and make sure it'll fit.
The Vulcan Add-on Mass Storage System is a durable and versatile storage solution for various fitness equipment, featuring divider supports for stability and a high weight capacity, but its larger size may not be suitable for small spaces.
Divider support that prevents sagging and keeps the plates from dropping

Easily stores kettlebells, dumbbells, med balls, bumper plates, barbells, etc.

Steel construction for durability
Not ideal for small spaces
If you like customizing, I'm sure you'll appreciate shelf reviews. If not, you're probably wondering why I'm reviewing a shelf. Well, it's a great shelf that will hold whatever equipment you put on it and it truly deserves to be included in my list.
Type: Free standing

Dimensions: 42'' or 70''L x 14''W
Weight Capacity: 600 lbs.
Storage Capacity: Two durable steel rails that are spaced roughly 7-inches apart

If you already own a mass storage system, this will be a great addition to it. It comes at a very good price and will make your setup customized.
The tubes are robust enough to hold multiple sets of bumper plates and hold up to 600 lbs. You have to admit, that's one impressive shelf. And if you're worried about setting it up, don't be! Titan has included all of the hardware you'll need, so that's one less thing for you to worry about.
You can also choose between two lengths: 42'' or 70''. I prefer the 70'' because it's just more convenient for my gym setup.
I would really like to see a divider included with this shelf, because it would make it so much more convenient. This is a great piece that holds plates, medicine balls, etc., and I want to see them as organized as possible. Dividers would really help with that, but still, this is a great option if you're looking to customize a set up you already have.
The Titan Bumper Storage is a cost-effective and customizable addition to your existing mass storage system, featuring sturdy construction, multiple size options, and easy setup, although the absence of dividers may affect organization.
Suitable for plates and medicine balls
It would be more convenient if it had dividers
What Is Bumper Plate Storage?
Imagine a gym with lots of equipment. You have your dumbbells, kettlebells, plates, barbells… Equipment galore! We all love having tons of choices when working out and a lot of equipment to choose from, right?
Now, imagine all that equipment either lying on the floor or tucked in some closets, falling out of them, rolling on the floor. Would you want to work out in a gym like that? Would you even go in? Probably not.
You also have another option - imagine a gym with all the equipment neatly stored on shelves, storage containers, or some sort of DIY bumper plate storage. I can already see that gym being so much more comfortable and inviting. Basically… that's what bumper plate storage does.
Bumper plate storage keeps the plates organized and secured. No mess and no plates falling off it.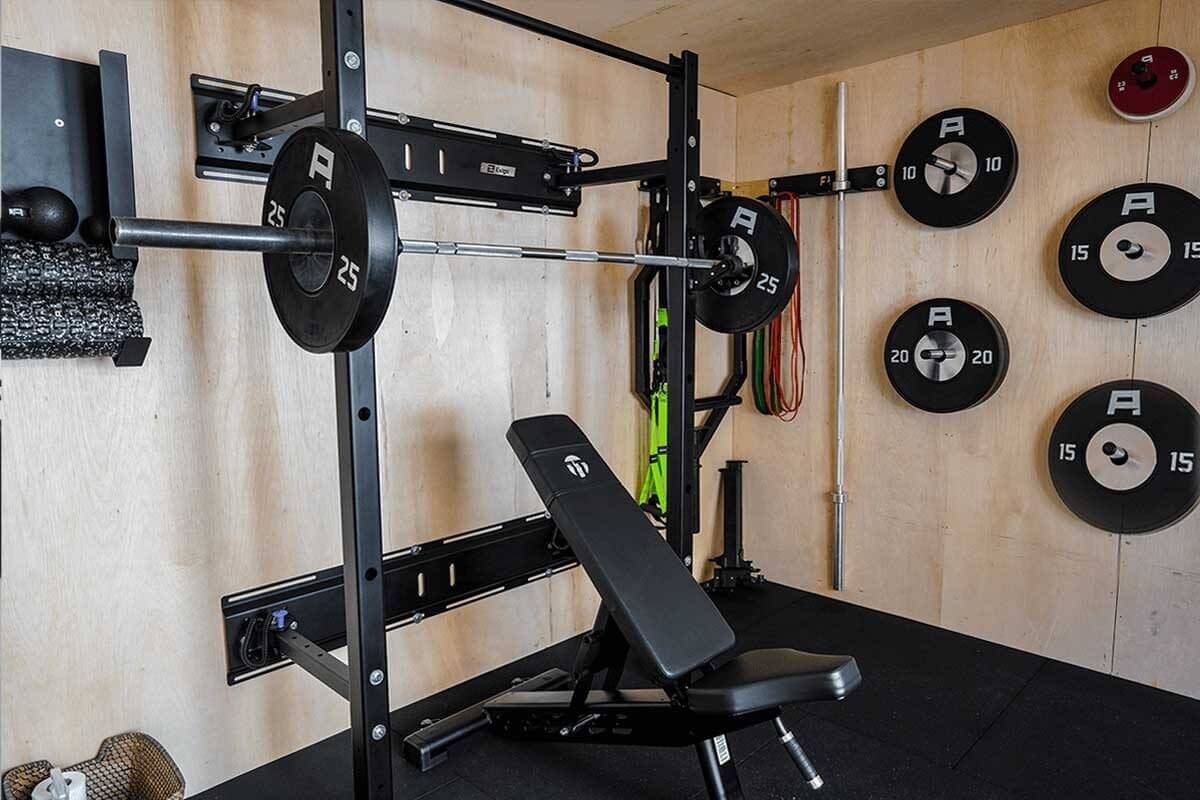 Why Proper Bumper Plate Storage Is Important: 4 Benefits
If your bumper plates are stored safely, there's no worry about them rolling or falling on the floor. Imagine a bumper plate falling on your toes and you'll see why a storage unit is important.
A storage system does a lot more than keeping you safe. It keeps your equipment safe, too! Think about it - if they don't roll around or fall down, there's no scratches or damage.
Home gyms often have to sacrifice some space to be able to store equipment. A storage unit gives you more floor space and prevents your gym from getting messy.
If you always know where your plates are, you never have to waste any time searching for them!
Go back to that messy gym you were picturing, and you'll be able to see how important a storage unit is.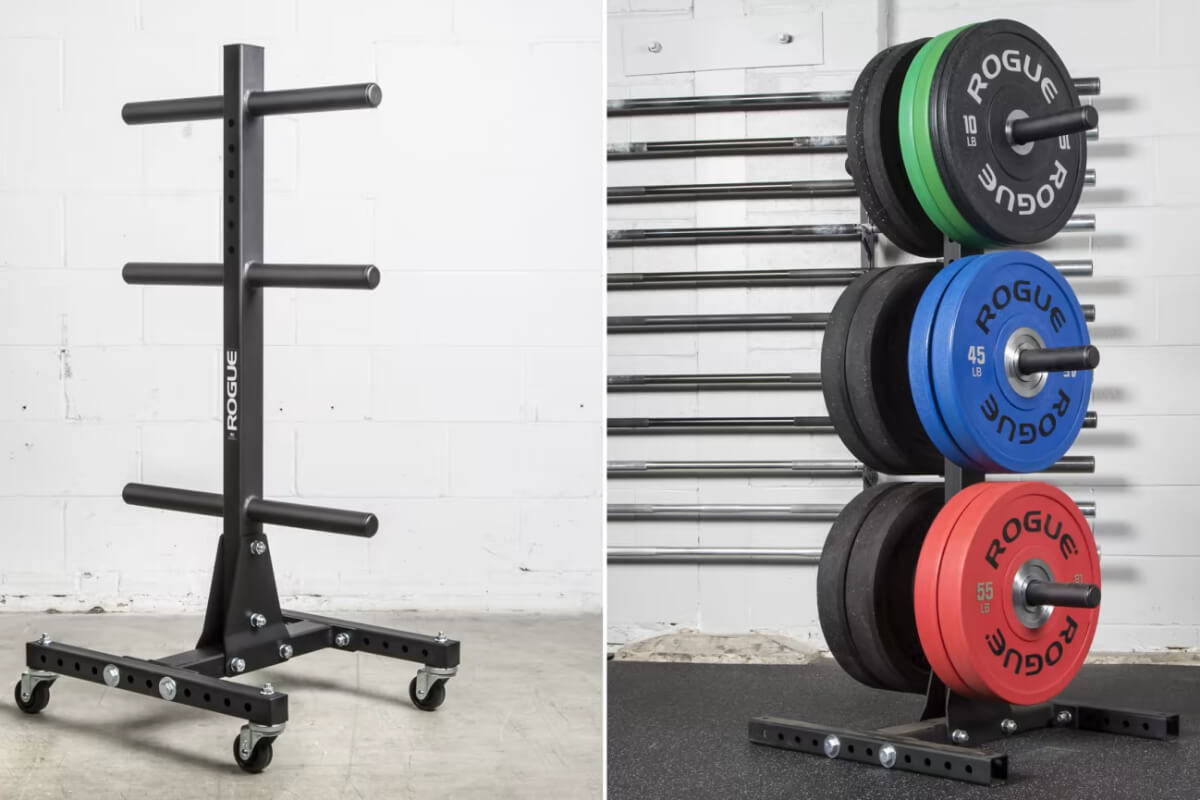 5 Things to Consider When Choosing Bumper Plate Storage
Now you know your gym needs a storage unit and are ready to get one. If you still don't know exactly what you want, my list can help with that. Let's see what you need to pay attention to.
Unless you're a masochist, you'll want something that you can easily load your plates on and off. Racks and shelves with smooth surfaces are your best buddies when it comes to this.
If you own many different kinds of plates (which you most likely do), get a unit or a shelf that's accommodating to different sizes and types of plates, and other equipment such as dumbbells, kettlebells and medicine balls.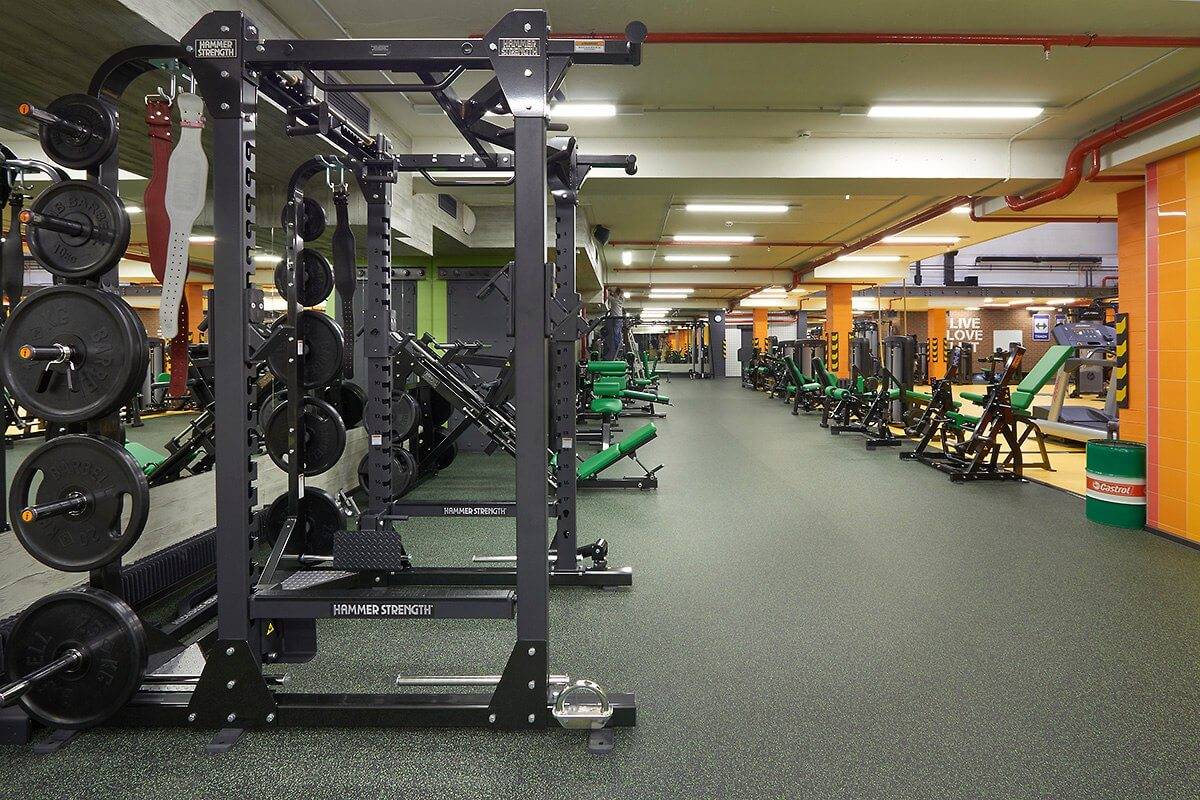 3. Portability/Compactness
If you need to move your equipment often, get something that's easily portable. Something that's lightweight and has handles and/or wheels should do the trick.
This is a no-brainer, because you don't want to spend your money on something that's going to fall apart after a month. Look for steel and heavy-duty plastic as far as materials go and always make sure to check the weight capacity, too. You don't want your unit to bend or break!
You want the most bang for your buck and that's only natural. But strike a balance between quality and price. Of course, you want to consider your budget, but a cheap setup is most likely going to fall apart soon. A durable, reasonably priced unit will last you a long time, without needing replacements or repairs.
How Should You Store Bumper Plates?
To store bumper plates, place them vertically on a sturdy rack or storage system designed specifically for bumper plates.
Are Bumper Plates Worth It for a Home Gym?
Bumper plates are absolutely worth it for a home gym! They're very versatile and durable, especially if you like Olympic lifts or need to protect your floors.
After careful and extensive testing, the ROGUE 24" WALL STORAGE STRINGER is an absolute winner in my book! Its versatility and durability are unmatched, and I never want it to leave my gym.
Do you have a storage unit for your bumper plates? If you don't, will you be getting it? Is there anything that's not on my list that you would like to recommend?
Leave a comment! Happy plate storing!
The Review of Powder Coatings // Researchgate: https://www.researchgate.net /publication/299503055_ The_Review_of_ Powder_Coatings
Research on chrome plating of steel bars // Researchgate:

https://www.researchgate.net /publication/28789023 1_Research_on_chrome _plating_of_steel_bars

Reinforced Steel // Sciencedirect: https://www.sciencedirect.com /topics/engineering/ reinforced-steel
Influence of Exposure Conditions and Particulate Deposition on Anodized Aluminum Corrosion // MDPI: https://www.mdpi.com /2624-5558/ 3/4/40
With over 20 years in Olympic Weightlifting, our team does its best to provide the audience with ultimate support and meet the needs and requirements of advanced athletes and professional lifters, as well as people who strive to open new opportunities and develop their physical capabilities with us.
All products we select are primarily approved and tested by the Olympic Weightlifting Champion Oleksii Torokhtiy. Under his guidance, we provide honest and reasonable assessments of the products we review by checking their characteristics, packaging, design, comfort and durability features, and general product rating. We select products from only high-quality and trusted sports brands, thus vouching for their quality.
The product testing process is described in more detail here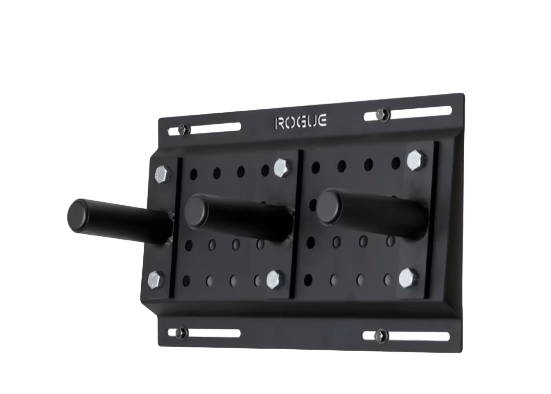 Coach, PRO Olympic Weightlifter
Experience: 26 years
Best Results: Snatch - 208 kg,
My name is Ihor and I have been a professional weightlifter since 1996. With over 20 years of competition experience, my resume includes European Champion in 2009 and the silver medalist at 2011's Senior World Championships – 105kg division.
I competed at the 2008, 2012 and 2016 Summer Olympics.
After hanging up my own competitive lifting shoes, I decided to share my huge background as a coach. I am currently coaching multiple athletes who are competing at national and international competitions.
Olympic Weightlifting Champion
Experience: 21 years
Best Results: Snatch – 200 kg,
My name is Oleksiy Torokhtiy. I am a professional athlete with 20 years of experience in Olympic weightlifting. I have won multiple European, and World titles and have taken part in two Olympic Games (Beijing 2008, London 2012).
After finishing my career, I have committed myself to coach, and as of 2022, I've hosted 200+ weightlifting seminars all over the globe. I'm the founder of an international sportswear and accessories brand, Warm Body Cold Mind (my motto), author, and creator of a series of training programs and eBooks.
If you have any questions/suggestions/any other inquiry, you can reach out to us via email - reviews@torokhtiy.com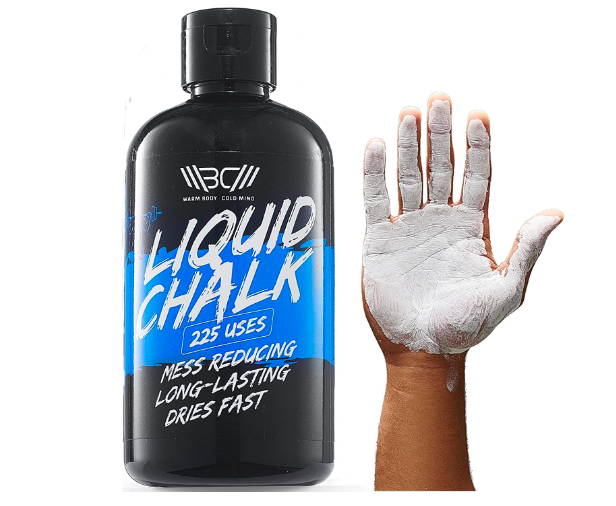 This article was written by our qualified author and proofread by expert with proven experience. When writing the article we use our expertise and data from open sources with strong reputation, scientific or medical based. The list of references is provided at the end of the article.
Our team of authors and experts includes professional athletes (Olympians, winners of European and World titles) PhD in Sport Science, certified coaches, sports nutritionists, CSCP, physiotherapists and other. Read more about the team here, and more about how we test here.