Cycling workouts are among the most beneficial training for the whole body and mind that can be as versatile as possible and fit a wide range of people with various fitness levels, preferences, and sports intentions.
You can choose a type of cycling training that fits your needs: stationary bike indoor workout, group cycling class, or pedaling on your own at home. It's up to your needs and desires what kind of cycling workout you'd like to take up. But, a key point is how to choose the best budget exercise bike that will meet your expectations and won't make a hole in your pocket.
Follow our detailed review of the most popular low-cost indoor exercise bikes, each model's pros and cons, and a comprehensive summary of their features.
In a hurry and can't keep reading? How about you check out the
ProForm 500 SPX Exercise Bike.


Being apparently the best option for squatting with heavy weights, these knee sleeves are an exemplary garment for all-level athletes and gym attendees, and everyone who suffers from pain during workouts.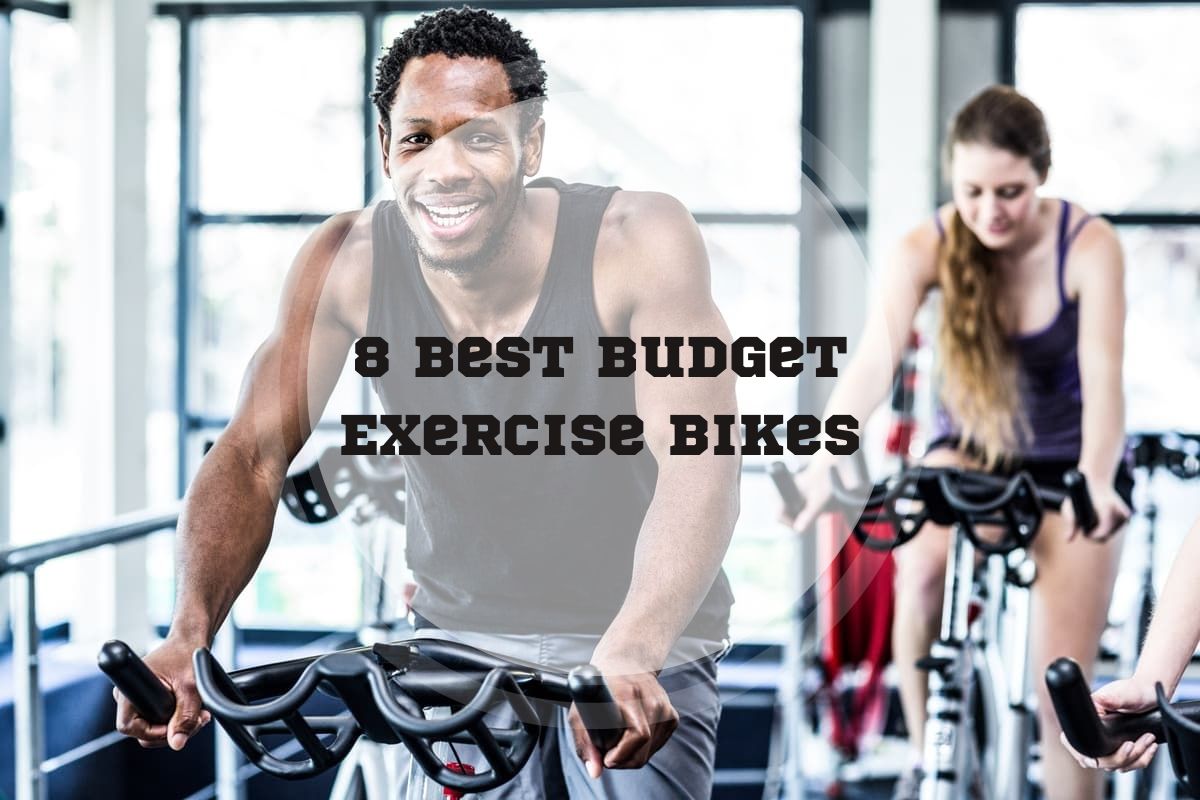 Top 8 Best Budget Exercise Bikes Reviewed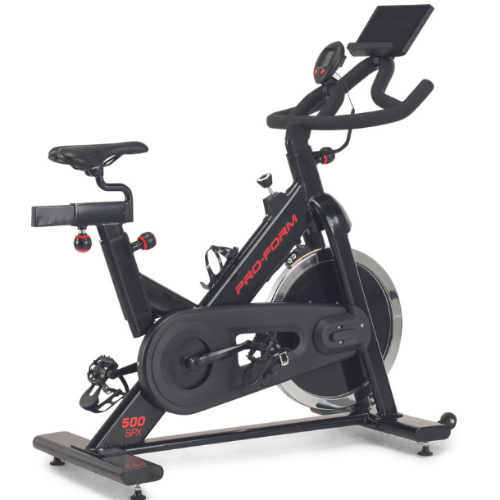 Dimensions:

50"H/20.8"W/49"L

Display:

LCD display, compatible with the iFit app with access to more than 30 workouts

Resistance mechanism:

manually controlled resistance, belt-drive system

Product weight:

107 lb

Noise Level:

silent

Assembly:

easy, requires two persons

Maximum weight capacity:

253.5 lb

Best used for:

general and intensive indoor exercising

Special features:

quick stop braking, tablet holder, water bottle holder, leveling feet, 40 lb flywheel, transportation wheels

Warranty:

2 years for a frame, parts, and labor

Package:

bike, user's manual
This is a good affordable indoor cycling bike for home workouts that has a 4-way adjustable seat and handlebars, and a single-window LCD display enabling you to track your training stats such as the time of your ride, speed, distance, burnt calories, and cadence. The console works with two AAA batteries that aren't included in the package. Additionally, you can change your body position due to non-slip multi-form handlebars, dipped grips, and their vertical and horizontal positioning.
There are quick-stop brakes to stop a bike instantly in case of emergency and control ride intensity. You can manage the resistance level with the help of a manually controlled knob. The belt-drive system provides you with the maximum realistic ride, so you can enjoy a silent ride almost like when riding a road bike. Additionally, a 40 lb flywheel vouches for smooth pedaling. The bike's ergonomic pedals with adjustable straps and toe clips guarantee safe training without feet slipping out during fast riding.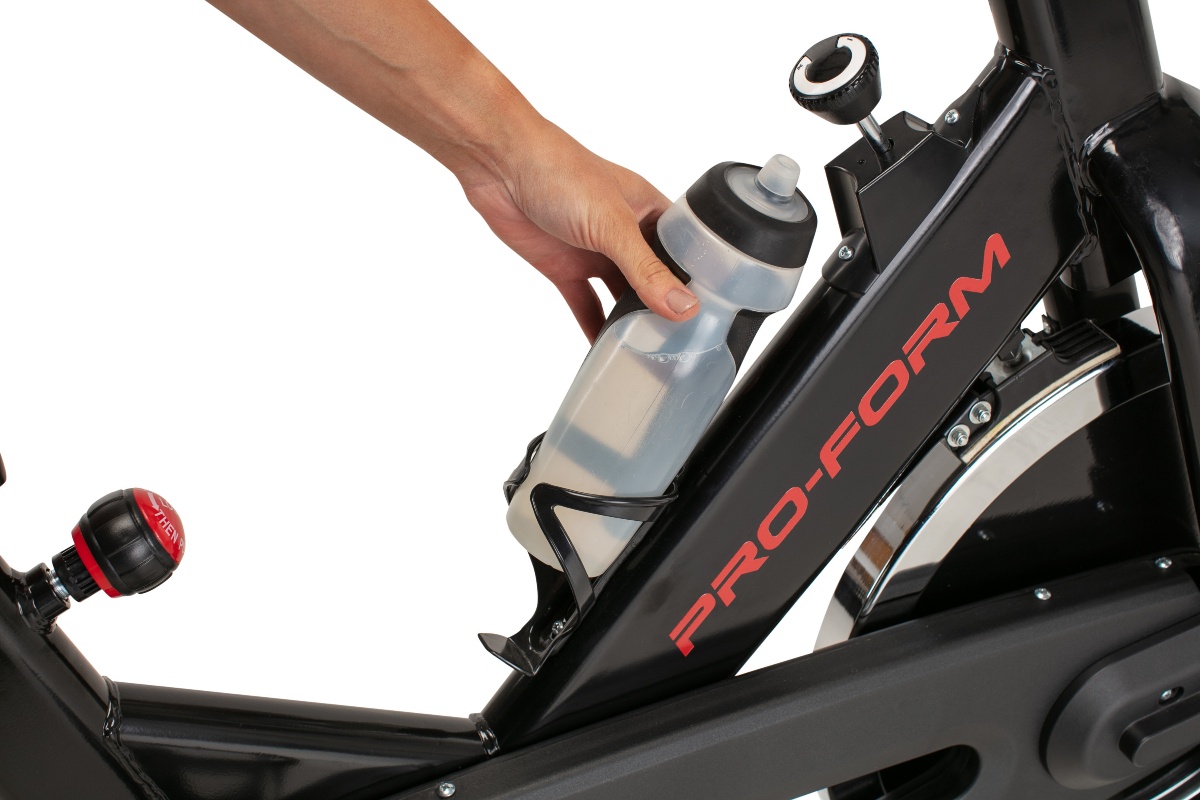 The bike is compatible with the iFit application by giving you access to more than 30 workout videos with a 30-day free trial period, and the ability to create up to 4 user profiles.
Transport wheels that are situated in the front of a bike make it easier to move a training machine wherever you'd like to place it. This exercise bike can be used for burning fat, and losing weight. It's also possible to pass a fitness test via a fitness app, and do intervals for a specific time and distance.
This is a good affordable indoor cycling bike for home workouts that has a 4-way adjustable seat and handlebars, and a single-window LCD display enabling you to track your training stats such as the time of your ride, speed, distance, burnt calories, and cadence
(Show More)
iFit app compatibility, an opportunity to create 4 accounts, 30 days of the free trial included

Fits both for tall and short people

Сan be used for a more intense ride with aggressive position
Hard saddle, so you need to wear padded shorts

more expensive than others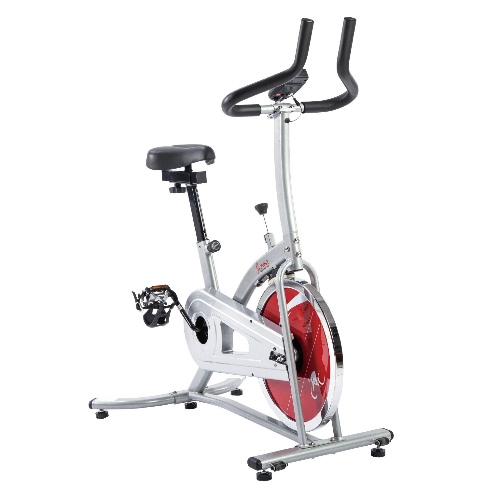 Dimensions:

49"H/24"W/42.5"L

Adjustable height:

26"-32"

Display:

digital monitor, compatible with Sunny app

Resistance mechanism:

chain-drive, felt-pad resistance

Product weight:

62.5 lb

Noise Level:

middle

Assembly:

easy, following the given instruction

Maximum weight capacity:

220 lb

Best used for:

moderate to intensive indoor cycling

Special features:

adjustable resistance, adjustable seat height, 22 lb flywheel, transportation wheels

Warranty:

1 year on the frame and 90 days on other components and parts

Package:

bike, hardware package, 2 AA batteries, user manual
Sunny Health&Fitness indoor bike provides comfortable and effective pedaling for all-fitness level riders. It'll help you to fight belly fat and improve both core and lower body muscles. A digital monitor shows all essential stats: distance, speed, time, and calories to gain your goals gradually. If using it daily, you'll improve your general well-being and range of motion.
The 4-way adjustable saddle guarantees as maximum as possible comfortable fit concerning your body type. Despite being non-adjustable, still, non-slip handlebars allow multiple hand positioning: on the center, side by side, and at the top. Secure feet placement in the pedal cages is a guarantee of an effective safe ride.
A brake pad resistance system enables you to regulate tension level, depending on whether you want more intensive cardio training, or a standard low-impact workout for a recovery. With a 22 lb flywheel, you'll be able to control your ride with the help of high resistance and inertia. So, it feels like you're really on your bike riding through different terrain.
An option to get access to the workout library available on the Sunny Health&Fitness website or YouTube channel. You can synchronize your bike with Sunny Fit App to track your progress. Also, if buying a cadence and speed sensor, you can track how fast you can ride a specific distance and pedaling frequency.
Thus, this is apparently one of the best budget spin bikes you can find that will bring you more than enough resistance to make your body well-shaped.
Sunny Health&Fitness indoor bike provides comfortable and effective pedaling for all-fitness level riders
(Show More)
A heavy flywheel that guarantees maximum smooth ride

You can sync it with a cadence sensor and the SunnyFit app

3 years of warranty for frame
Non-adjustable handlebars

A bike begins to vibrate loud when adding force and speed

Cracking sound while spinning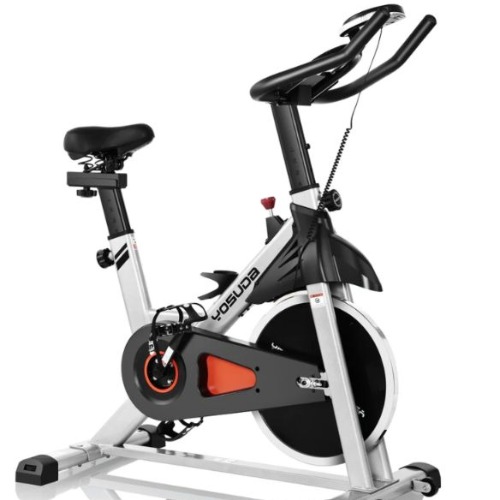 Dimensions:

45"H/40"L/22"W

Adjustable height:

25-35"

Display:

LCD monitor

Resistance mechanism:

friction, belt-drive system

Product weight:

72.75 lb

Noise Level:

silent

Assembly:

easy to assemble

Maximum weight capacity:

270 lb

Best used for:

more intensive indoor cycling

Special features:

35 lb flywheel, iPad holder, water bottle holder, transportation wheels

Warranty:

12 months for parts replacement, 3 months for the framework

Package:

bike, tools, instruction.
Yosuda manufacturers aim to produce high-quality fitness equipment fitting for everyone who strives to become more sporty and endurant. This bike is also among the best cheap exercise bike lists, which provides a convenient way to have a low-intense workout without leaving the house by riding with the target ride duration, resistance level, speed, and training program wholly.
So, you have the freedom to build up a customized ride according to your physical conditioning. What's more, a 4-way adjustable seat (up&down, back&forward) and 2-way adjustable handlebar (up and down), together with 3-way grip variants, bring you more versatility to your positioning on the bike.
A smooth resistance knob allows for mimicking a real road bike ride. The emergency brake lever can be pulled and the bike stops immediately. The belt-driven system brings more silent rides than a chain one, so your workout won't disturb anyone. There's no problem adjusting the saddle height and horizontal distance from pedals. Due to a resistance knob and heavy flywheel, you can enjoy both easy and difficult pedaling to build up your leg muscles and improve general stamina.
It's easy to move through the apartment with the help of transport wheels.
Yosuda manufacturers aim to produce high-quality fitness equipment fitting for everyone who strives to become more sporty and endurant
(Show More)
No bike noise, even with a high cadence

Highly solid construction for maximum stability

The 2nd good bike that can fit for more intense training
No cadence tracking, you need to buy a cadence sensor and lin with a fitness app

Poor resistance consistency, some gaps occur: it may feel too heavy, or too light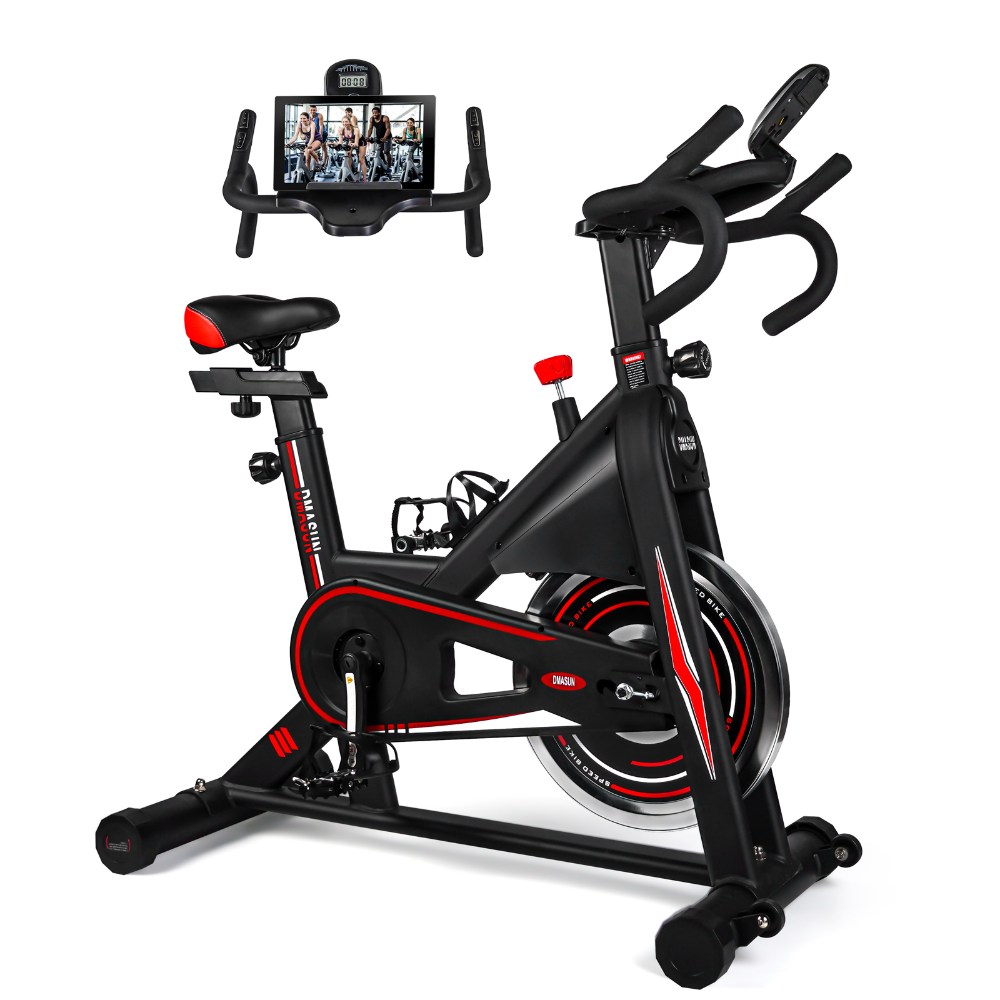 Dimensions:

39"H/40"L/20"W

Adjustable height:

26-35" (inseam), 4.9-6.3"

Display:

digital monitor

Resistance mechanism:

magnetic, belt-drive

Product weight:

90 lb

Noise Level:

quiet, no friction noise

Assembly:

simple

Maximum weight capacity:

350 lb

Best used for:

intensive indoor cycling

Special features:

transport wheels, 40 lb flywheel, iPad holder, bottle holder

Warranty:

12 months for parts replacement

Package:

bike, components, hardware pack
DMASUN specializes in manufacturing exercise bikes of diverse riding styles and targets, rowing machines, and other sports equipment. This affordable spin bike has a highly sensitive micro resistance knob from 0-100%, which allows customizing your workout by varying ride difficulty from flat to the mountain which allows you to diversify the terrain and simulate real road bike rides. You can track your training data: time, speed, distance, calories, odometer stats, and pulse. The bike suits best riders with heights 4.8" to 6.3".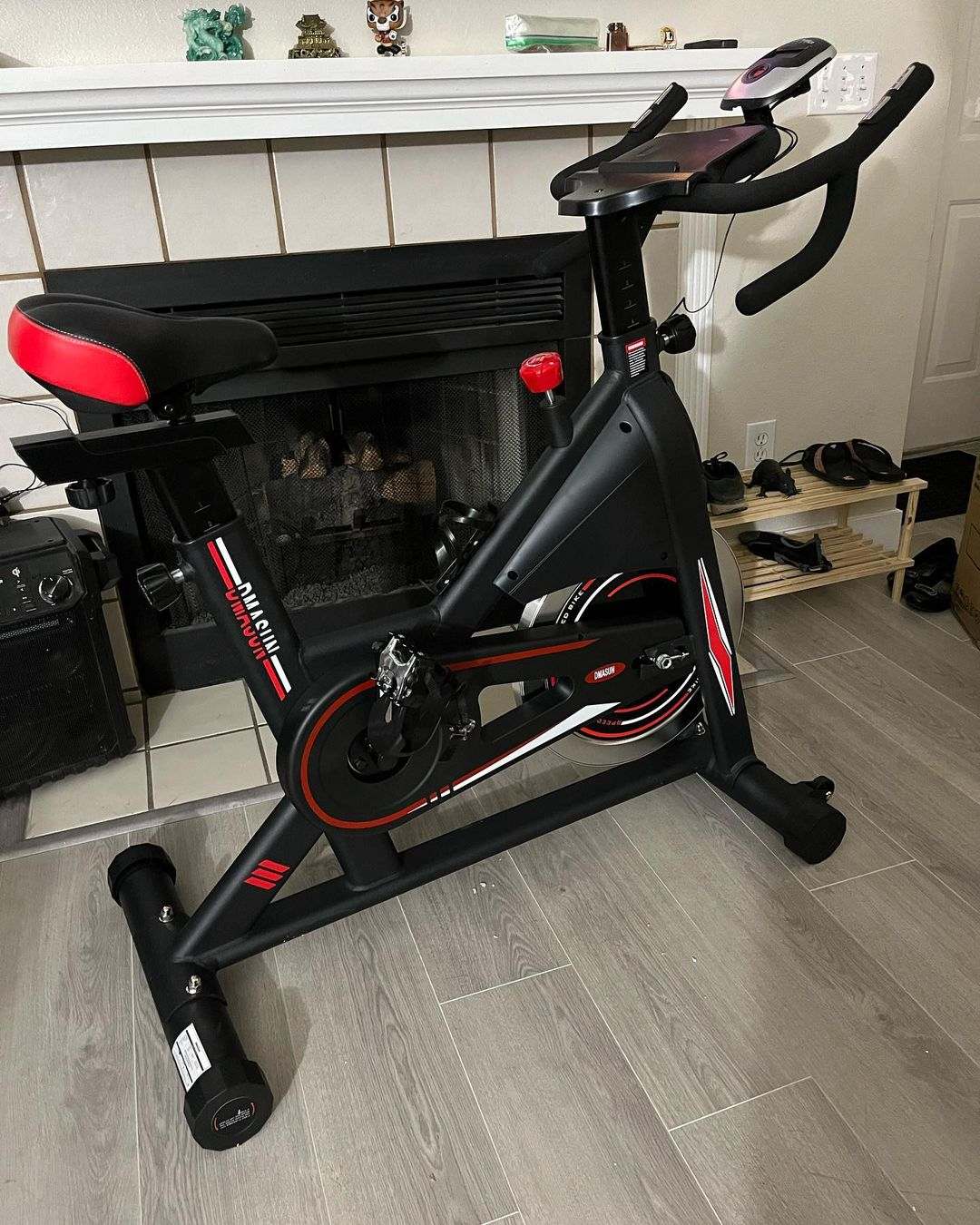 Its advanced handlebar has 3-grip options: stand, flat, and climbing targeting different riding positions. A flat grip is for warm-ups, a stand-ride grip is for a speed-up position for getting more aerodynamics, both sitting and standing, and a climbing ride grip is for a more aggressive position.
This bike is ideal for more intense indoor training due to its design and handlebar form: it makes you lean forward and move more intensively. This option forces a rider to move to the next fitness level. Also, the bike doesn't shake while riding, there's no vibration, and whisper-silent smooth pedaling.
DMASUN specializes in manufacturing exercise bikes of diverse riding styles and targets, rowing machines, and other sports equipment
(Show More)
Built-in heart rate sensors on the handlebars

Perfectly fits both pros and beginners
Heavier than others for 20 lb on average

A predominantly racing position that doesn't fit casual riders

A heavy flywheel that makes it difficult to get started for beginners
Benefits of Budget Exercise Bikes (Cheap vs. Expensive Models)
If you're searching for a low-cost way to take up sports and have cardio training with burning calories, it's not necessary to buy a premium-class exercise bike. A budget stationary bike will be enough for these purposes. An affordable indoor exercise bike costs $100-$300 and its quality is good enough for stable and relatively long-lasting performance (considering how often it'll be used).
You can choose an upright or recumbent bike that will meet your fitness needs fully. These bikes can also offer an intense workout as an advanced spinner does, just twist a resistance knob for a proper level and pedal quickly.
Making Your Training Interactive
A great advantage of a costly exercise bike is the availability of a touch-screen display that brings multiple features, so you can track more training stats than while using their cheap alternatives. Besides standard data, i.e., time, speed, distance, and approximate calories, you'll get an opportunity to see more detailed information on your performance, such as maximum and average HR, fat burn % of calories, training effort rate, etc.
These numbers can matter to those who are keen on sports, workout enthusiasts, and advanced riders. By tracking each training, they see their progress throughout each session, analyze data, and build a personalized training plan.
Compatibility with Devices and Fitness Apps
This feature is closely connected to the previous one that makes an exercise bike highly refined and upgraded compared to cheap workout bikes. This point is important mostly for more professional athletes and riders who know a thing or two about cycling. What can be better than synchronizing your indoor bike with your gadget and linking to a sports app? Such a great perk gives access to even more precise data about each training, including intensity factor, wattage capability, RPM, and used intensity zones during the ride.
Durable and Efficient Resistance Mechanism
Cheap bikes use friction resistance and are equipped with brake pads that are in direct contact with a flywheel when you increase a resistance level. However, this mechanism tends to wear out quickly. Meanwhile, a high-priced indoor bike is tooled up with magnetic resistance parts, i.e., two durable magnets, with a flywheel in between.
This is a touchless, quiet, and friction-free mechanism that can work for a long time and doesn't require any maintenance. It creates more effective braking to a flywheel and a more gradual resistance level making it easier or more difficult to pedal. Thus, a rider can experience a more realistic indoor ride.
Bike Size and its Ability to Comply with Your Living Space
Here we talk about whether you have enough space to place an indoor exercise bike, a stationary, or a foldable one, in your room without sacrificing your personal space. As usual, an expensive workout bike is larger and heavier than a low cost exercise bike because they're stationary mostly, with a tablet-sized display (depending on the model), and is made of high-quality material.
On the contrary, budget exercise bikes are light, have no additional components that may influence their weight, and can be folded easily. This option is important for people who have little space in the room and don't have an extra place to store it.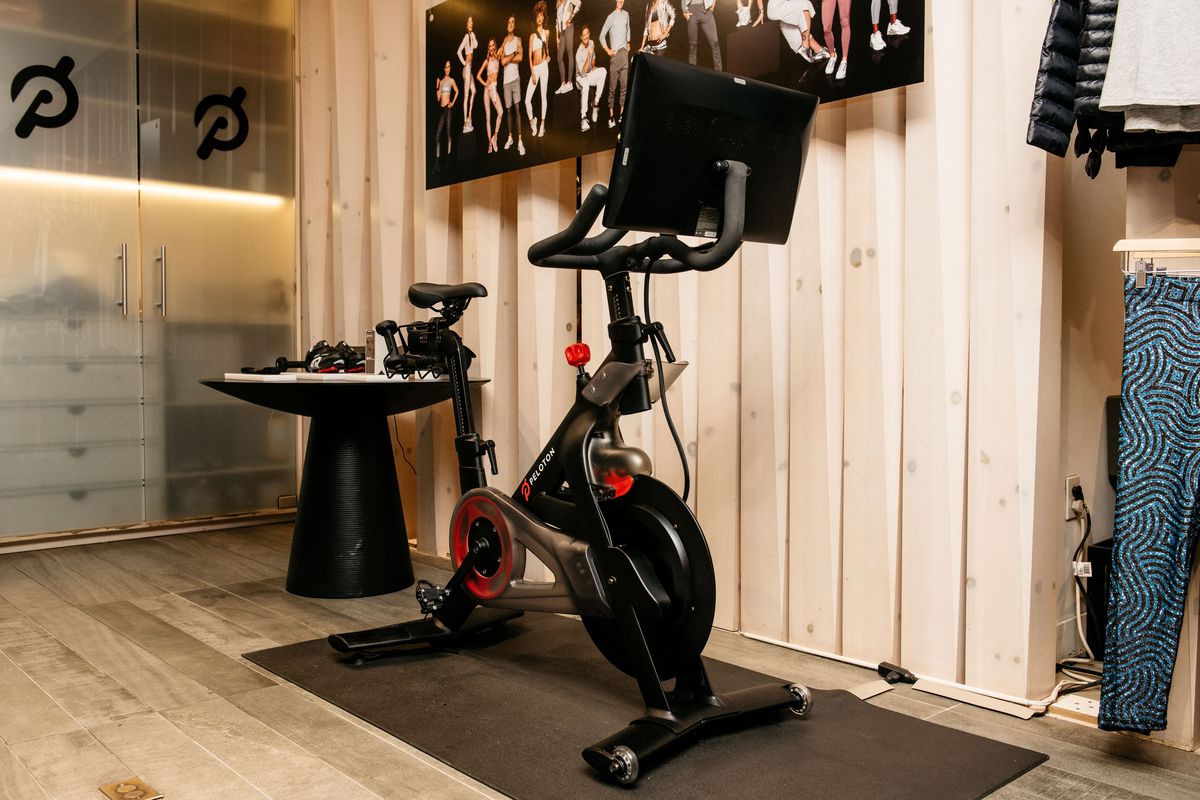 What to Look for in a Budget Exercise Bike
For getting maximum comfort and effectivity from cycling workouts, it's important to adjust a saddle and handlebars up and down, and back and forward. So, when seating, the rider's legs should be slightly bent, as well as arms are. This body position won't put extra tension on knee joints and the upper body. Generally, handlebars should be higher than a saddle to keep a rider's back straight and relaxed to the maximum.
Additionally, handlebars should be at a forearm distance from your body. You shouldn't lean forward too much or backward. Just a slight leaning position can be possible to keep the core tight and upper body muscles fit enough. Thus, 4-way adjustability is perfect for maximum comfort and a productive workout.
To be short, with proper setup and regular maintenance, your exercise bike, both cheap and costly, will serve long with zero or slight malfunctions. With appropriate and careful use, it can last up to 20 years. Additionally, consider the fact that the durability of a workout bike depends on the used resistance mechanism.
Speaking about the bike's comfort, we consider a rider's correct position to accommodate the pressure on the body properly. Almost all tension goes to the inner body and the rest, that is a little percent, comes to the core and arms for stabilization. While riding, your shoulders and arms shouldn't be tense, but your legs should move actively with a properly adjusted resistance grade.
General comfort also depends on pedaling smoothness and speed. This can increase your performance and prevent muscle overload and injuries. A saddle plays a crucial role in enhancing the rider's comfort, meaning not hurting the butt, providing a better quality of the training itself, and further progress by following specific fitness goals.
A well-adjustable position doesn't have to cause numbness in the legs and toes too. Although, comfort position may depend on a rider's preferences: whether they prefer a more aerodynamic aggressive position or a standard one.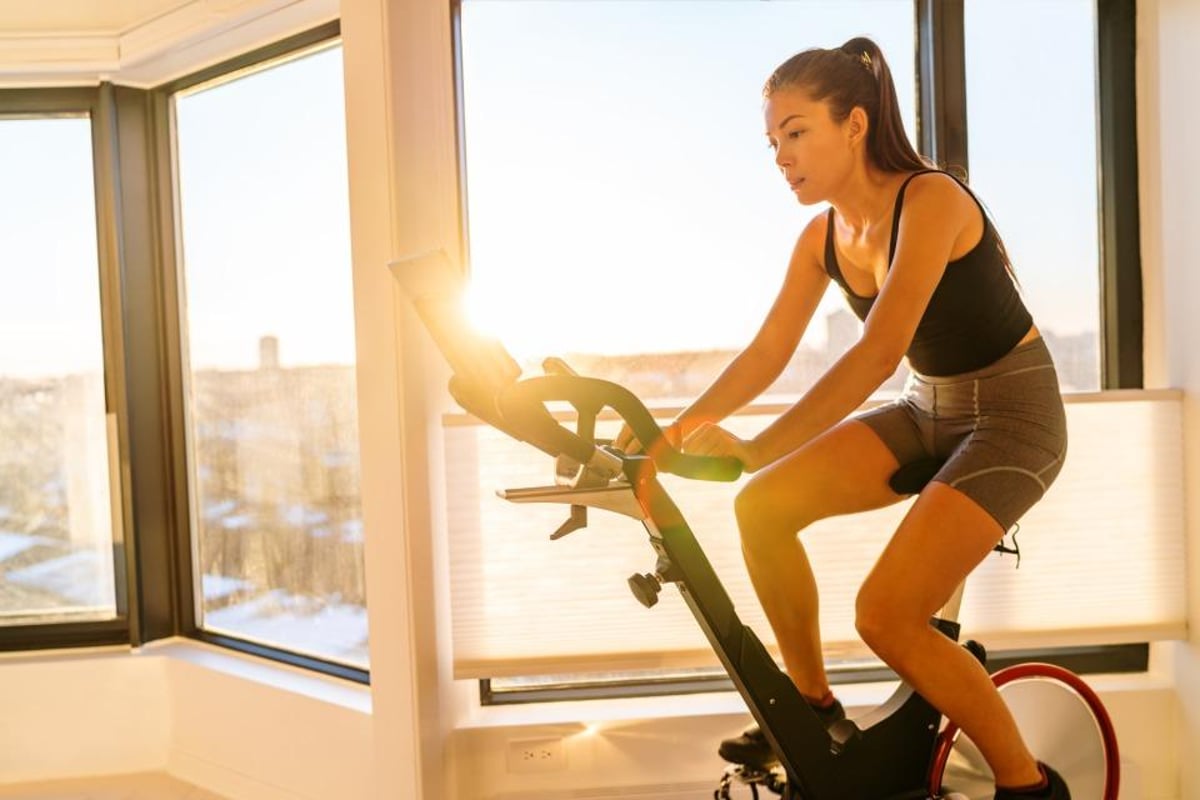 Budget training bikes we observed have a belt-drive system and possess brake pads or magnetic resistance systems. The latter is more advanced and in default increases the bike value. Unlike a friction mechanism, a magnetic one doesn't make contact with a flywheel since a magnetic force works here by varying the resistance degree.
So, the magnets become closer to the flywheel. This creates a highly sensitive resistance knob enabling a rider to apply precisely that resistance level that fits their expectations and training purposes.
Also, this privilege vouches for quiet bike performance, and little to zero maintenance and such indoor bikes are highly durable. Meanwhile, contact resistance, both with felt or leather pad, directly influences the flywheel. If you tighten the resistance to the max, you won't be able to pedal at all.
Such a mechanism provides quite an ineffective resistance level - too light or too difficult pedaling, without gradual switching like with magnets. These brake pads wear out over time and need to be replaced, or lubricated regularly.
When we look for a limited-budget exercise bike for home training, we want to find enough light, easily portable cycle machines that won't require some extra power to assemble. Generally, all exercise bikes we reviewed come with a user's guide where you can find step-by-step instructions on how to assemble a bike, what element to take, and which tools are required (that are included in the package). What's more, generally you can do it on your own or ask a friend to help you. But, the assembly process won't take much time, approximately an hour or two.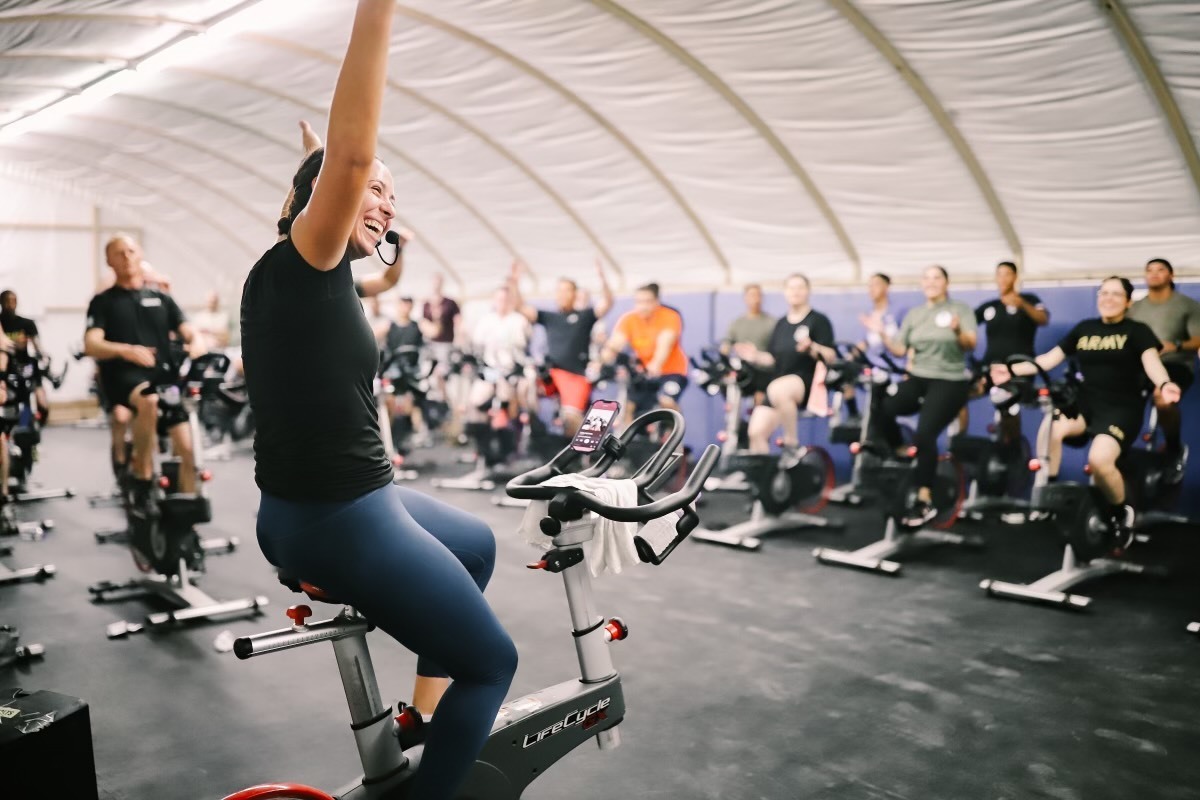 One of the major advantages of affordable exercise bikes is the ability to move them from one place to another without hassle. This feature is important for people who don't want to train every day but to do some pedaling several times a week to keep in good physical shape. If speaking about the reviewed bikes, the lightest ones are XTERRA FB150 and Exerpeutic folding bikes.
Everyone wants to find an inexpensive exercise bike with a good price and quality balance, but it may be a challenging task. Speaking about a low cost workout bike, we presented you with the best options to have a well-balanced home cardio training out of some superb features, premium materials, memberships, and so on.
So, we show that everyone can cycle at home without spending much money and not sacrificing greatly the bike's functionality. It's obvious, cheap exercise bikes have simple mechanisms, second-quality materials, etc., but it doesn't affect your workout if you don't have extraordinary fitness goals.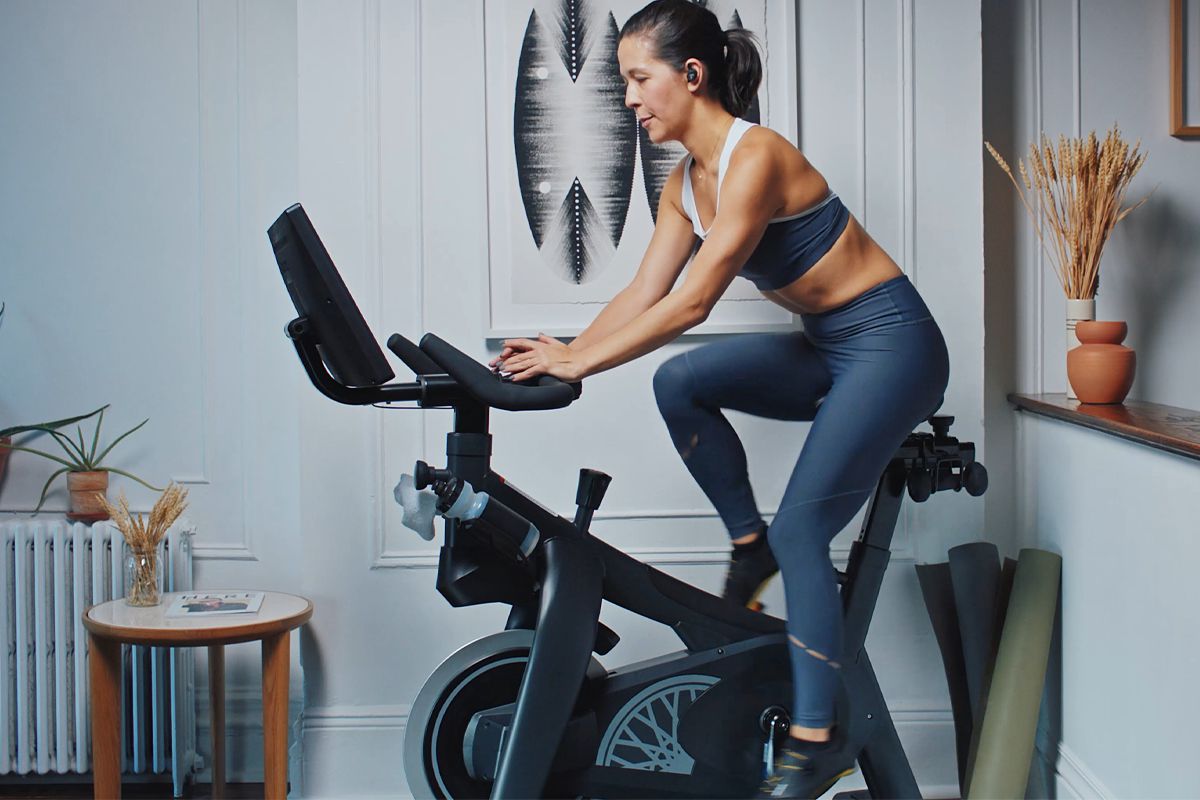 Like more costly models, at-home cheap exercise bikes are also equipped with a much simpler monitor. But, still, it's available and offers a rider to track basic training stats, i.e. the duration of the ride, distance, calories, and speed, more fancy ones have pulse sensors, and so on. As usual, an ordinary workout bike has a one-window LCD display with limited functionality and the absence of Bluetooth and a WiFi connection.
More advanced exercise bikes come with built-in programs or can be synchronized with fitness applications to make the ride more versatile and get more information on their performance. For instance, some of these perks you can find in ProForm exercise bikes, Sunny Health&Fitness stationary and upright bikes.
What is the Difference Between Cheap and Expensive Stationary Bike?
Getting Detailed Data on Your Performance
Compared to the best inexpensive exercise bike that provides standard measures, i.e, time, distance, calories, speed, more expensive smart indoor bikes present much more detailed statistics and metrics during the training itself, and after it uploads to the synchronized fitness app, or your smartphone or wristwatch.
With this option, you get data such as heart rate and its connection to the workout zones, the time you spend on each of them, wattage stat separately and whole for the ride, and intensity factor. Some programs can offer personalized recovery training, considering your performance. A top perk is the ability to connect your indoor bike to the Zwift platform and join the online cycling community to have even more fun and improve your physique greatly.
The Higher Price, the Better Quality, and Comfort
The more money you're ready to spend on tools, equipment, clothes, or workout machines, the better quality they'll be and you'll get more comfort while using them. As usual, more costly indoor stationary bikes offer users maximum adjustable options and full bike functionality to get out the maximum benefit from it and easily gain your destination. High-quality bikes come with fully adjustable saddles that are moderately small yet comfortable and handlebars, which offer you several grip options for diverse riding positions. These features guarantee that a bike will fit anyone of any height, constitution, and riding style.
The Cost Depends on the Style of a Stationary Bike Ride You Prefer
What does it mean? If you're a newbie in cycling and sports in general, then you won't consider some expensive bike models to improve your health state and burn calories. If you search for a stationary indoor bike just for general fitness goals, i.e., to lose weight and get rid of fat, you'd rather look for a standard exercise bike that covers your needs at least at the minimum. On the contrary, if you're a well-trained person, a regular gym attendee, or a professional cyclist, you'll focus on advanced multi-functional indoor bikes to make progress and develop your muscles, or get prepared for some bike competitions.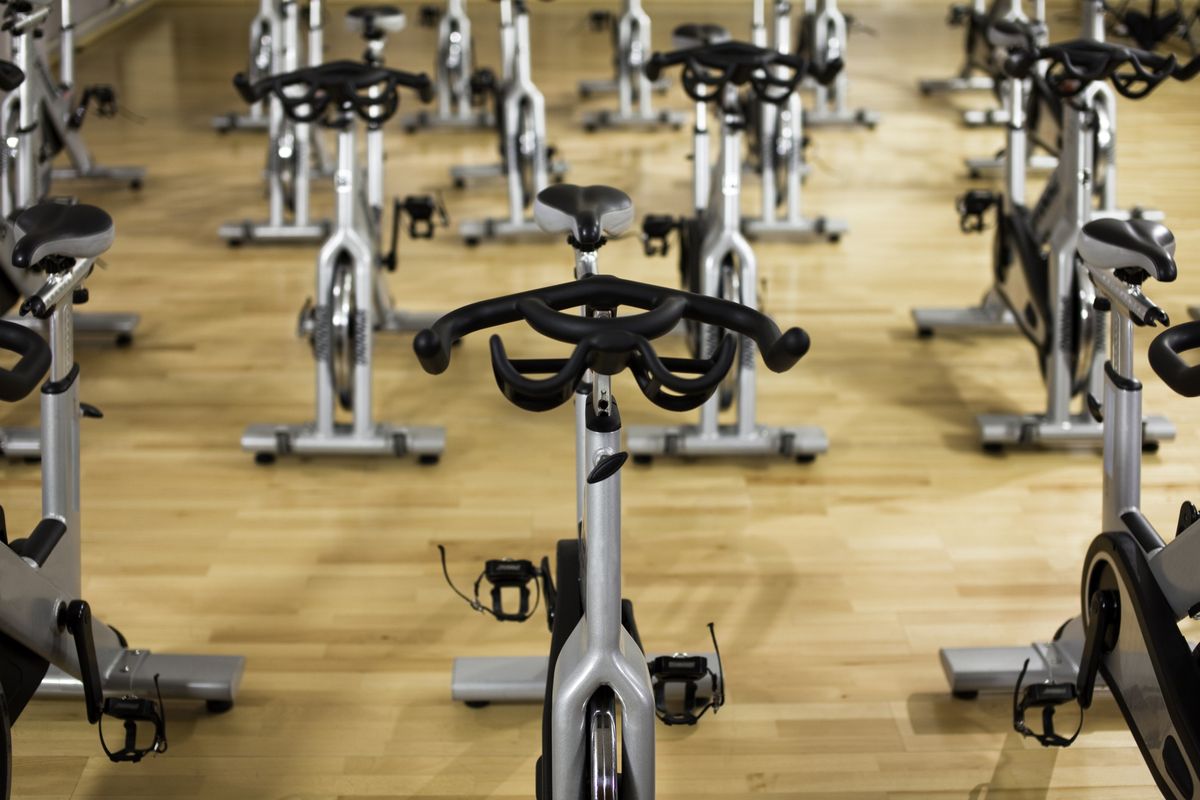 Is a Budget Exercise Bike Worth it?
Buying an inexpensive exercise bike's worth depends on your goals. If you want to have a light, comfortable cycle workout at home to maintain or increase your fitness level, then buy this kind of bike. If you're a more advanced gym-goer or experienced rider, you'd better look for other indoor bikes.
How Much Does a Quality Cycling Bike Cost?
A high-quality multi-functional indoor bike may seem quite costly. Such a cycle machine is fully feature-packed, with numerous adjusting features and mechanisms to guarantee a rider high customization, get the maximum out of the cycling workout, and make considerable progress. Their cost may reach starting from $800-$900 and even up to $2000-$3000, depending on the brand and model.
Having reviewed the most popular exercise bikes and compared them with their expensive counterparts, we highly recommend you to try
ProForm 500SPX bike
that fully meets our criteria as for the best budget exercise bike to make your body fitter and more endurant. With regular use, you'll gain good progress by enhancing your physical form, cardiovascular capabilities, and muscle toning. If you still hesitate, write us in the comments and we'll give you an essential piece of advice concerning what workout bike will meet your goals.
Effect of diet and indoor cycling on body composition and serum lipid // PubMed: https://pubmed.ncbi.nlm.nih.gov/20585735/
How Indoor Cycling Works Muscles All Over Your Body // Stacey Colino: https://www.verywellfit.com/what-muscles-biking-works-1958330
The effects of indoor cycling training in sedentary overweight women // PubMed: https://pubmed.ncbi.nlm.nih.gov/20585293/
Everything You Need to Know About Cardio // Paige Waehner: https://www.verywellfit.com/everything-you-need-to-know-about-cardio-1229553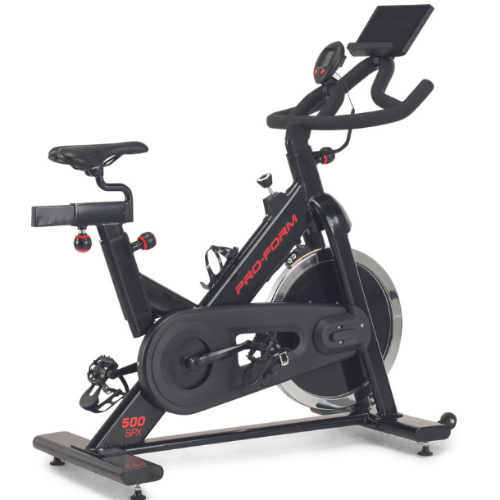 My name is Ihor and I have been a professional weightlifter since 1996. With over 20 years of competition experience, my resume includes European Champion in 2009 and the silver medalist at 2011's Senior World Championships – 105kg division.
I competed at the 2008, 2012 and 2016 Summer Olympics.
After hanging up my own competitive lifting shoes, I decided to share my huge background as a coach. I am currently coaching multiple athletes who are competing at national and international competitions.
It also receives plenty of positive reviews from all kinds of athletes on Amazon and other websites so, no matter what sport you are into, trying it out isn't likely to let you down.
(Show More)