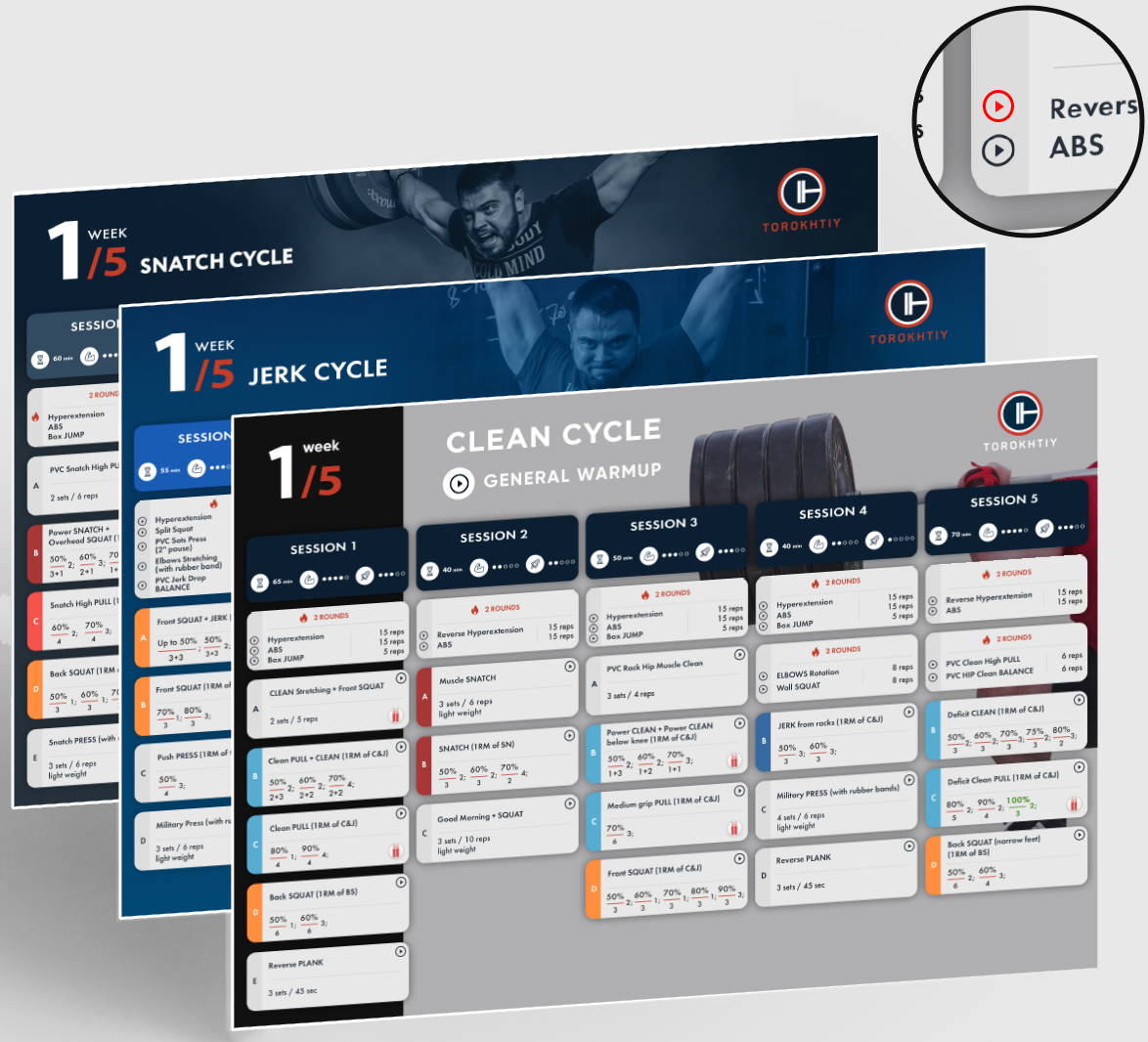 3 target cycles - 15 weeks of programming organised into 75 sessions. The idea of the OLY SET is to gradually and variably increase the load on a weekly basis until maximal result can be achieved. After completing the OLY SET you'll become so much stronger. Not only physically but mentally as well.
* Training program included in the interactive PDF

* Bonus: PDF mobile version

* One Time Purchase for #LifeTime Access.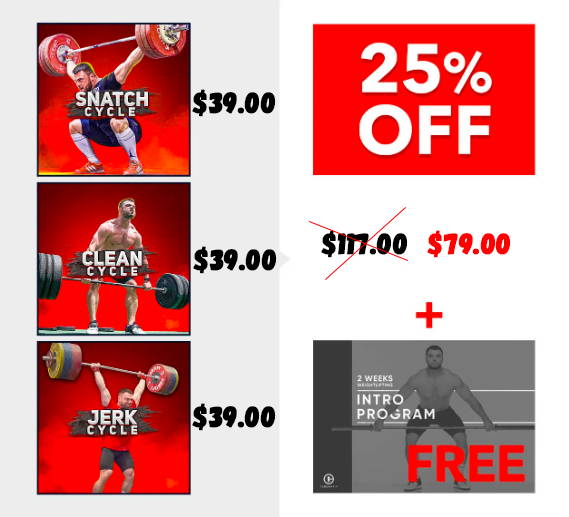 All of our best selling Olympic weightlifting programs now available in one SET! These programs were created to work together! OLY set saves you $22. Go all in and take advantage of this special oly workout offer.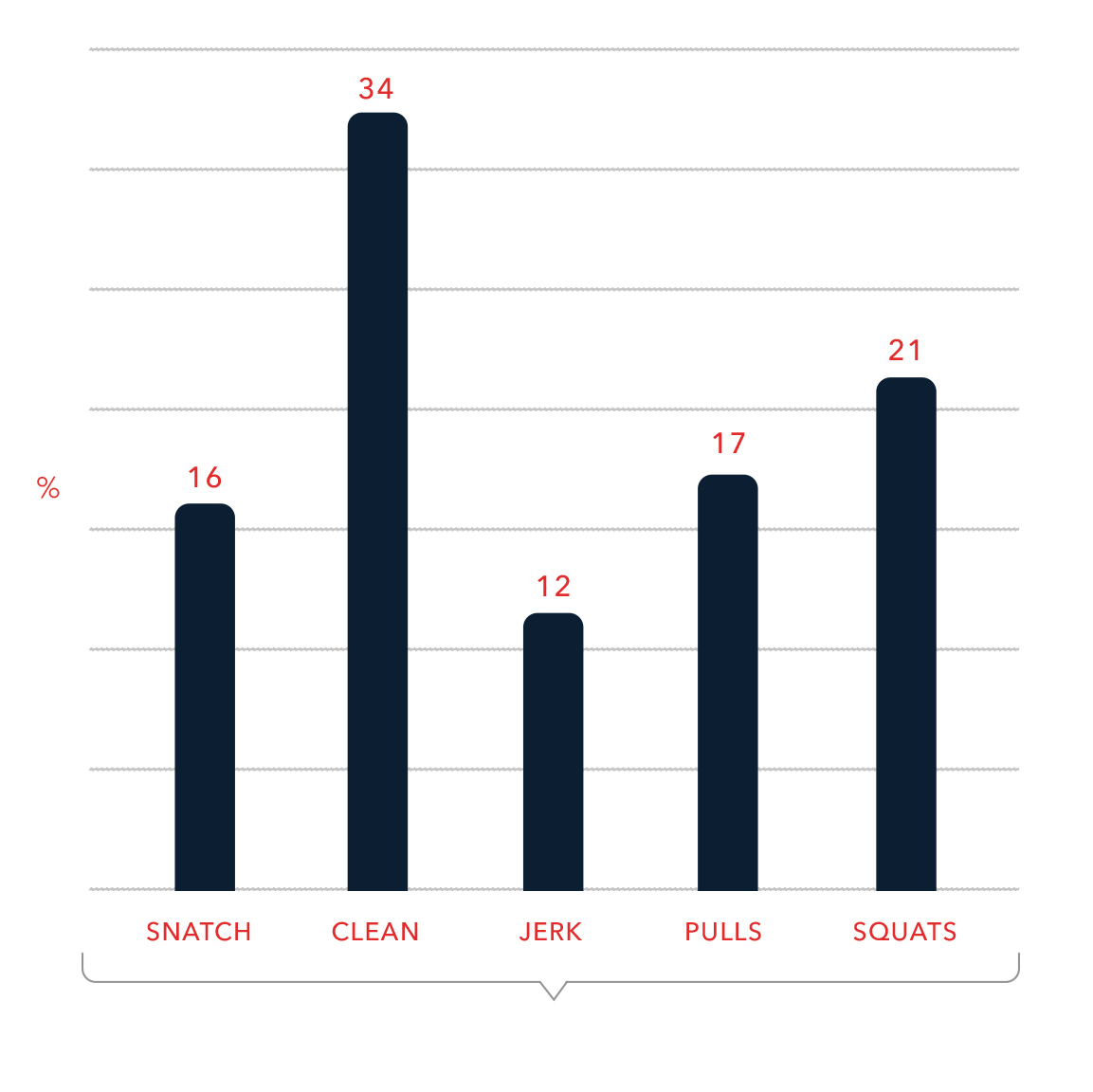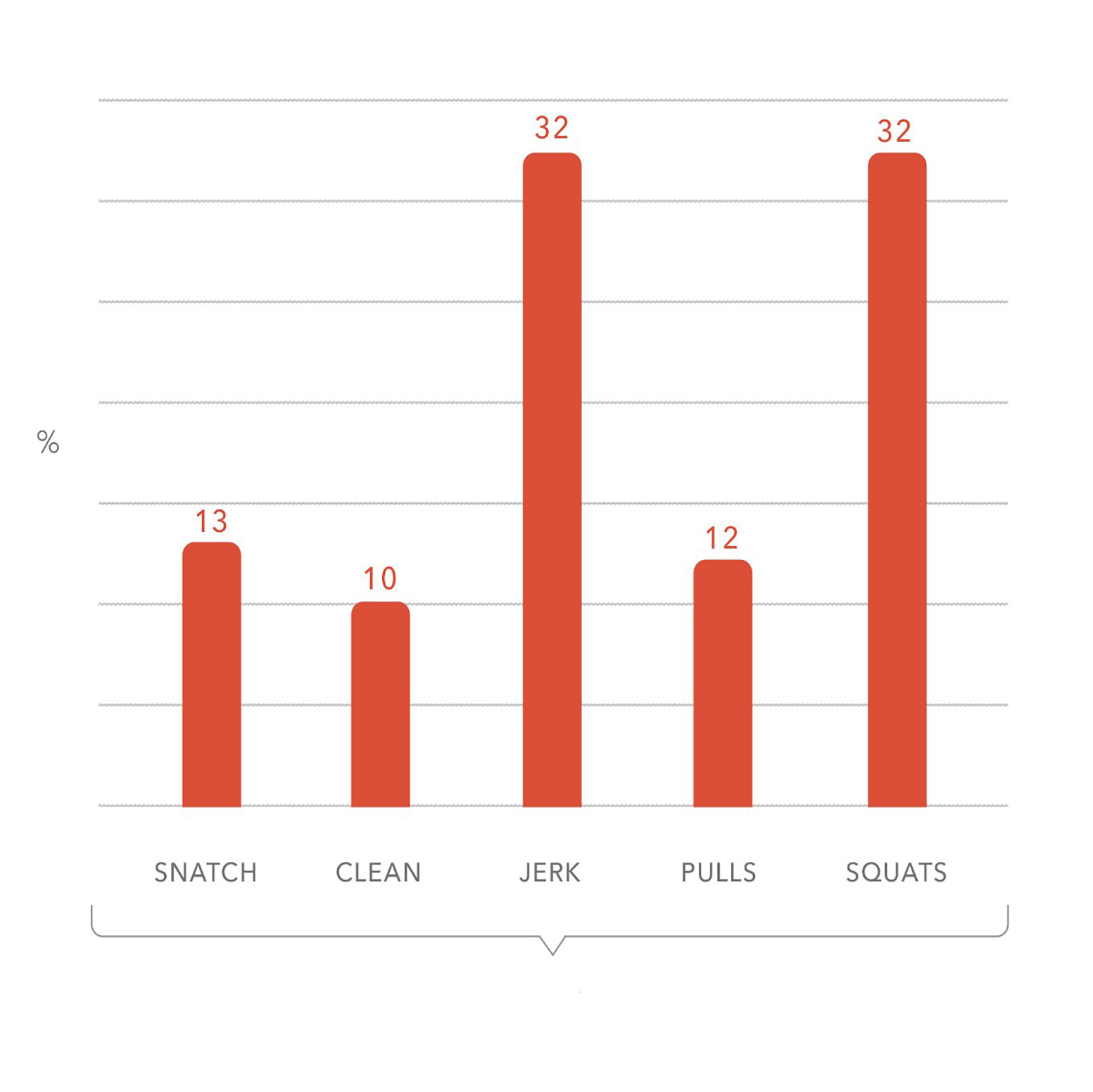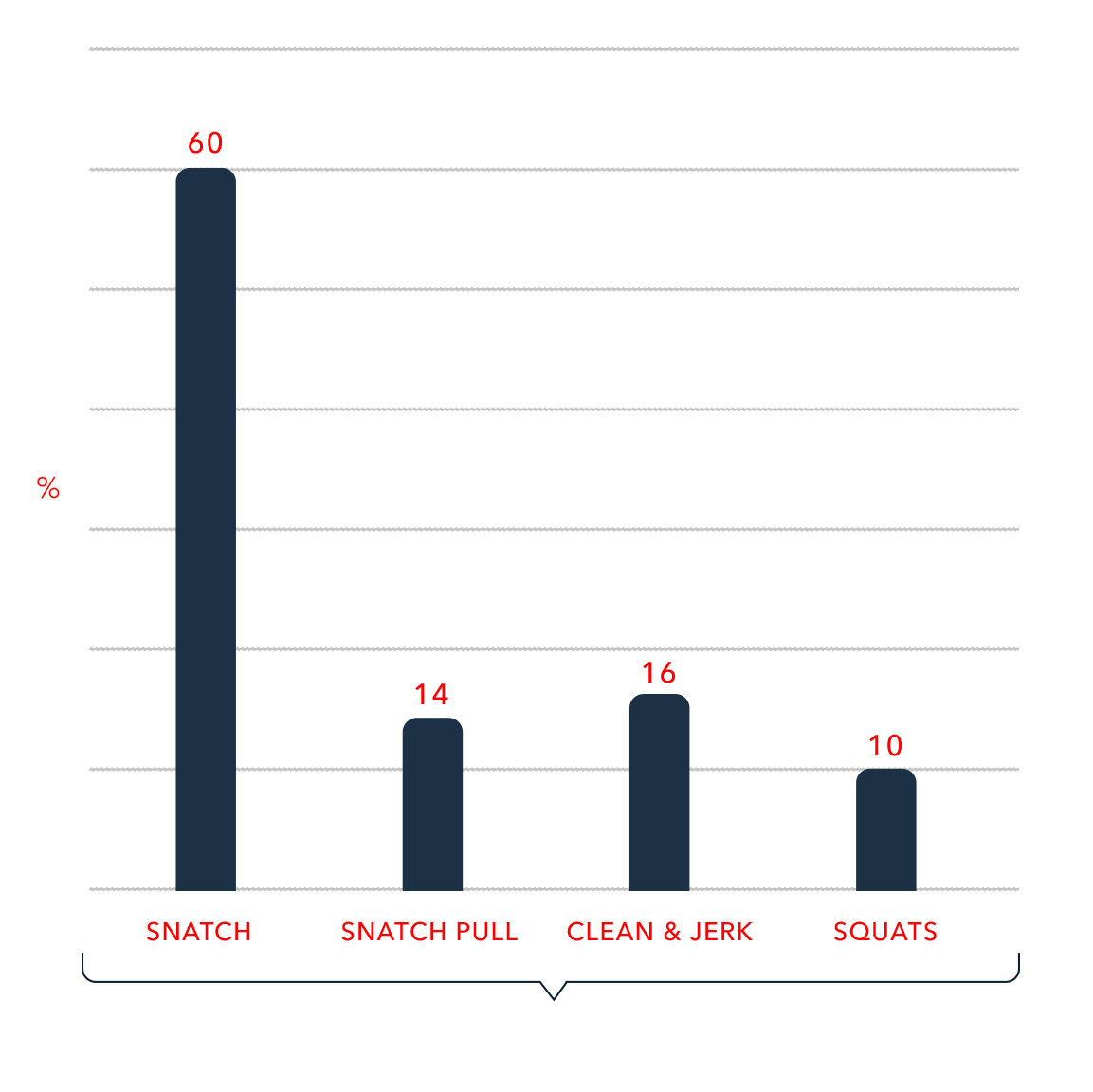 Each program from Olympic lifts program has a specific "asymmetric" load with an emphasis on one of the classic exercises: SNATCH, CLEAN, JERK. The goal of the Oly weightlifting program is not preparation for the competition, but the improvement of individual, physical and technical points of training.

This SNATCH, CLEAN AND JERK PROGRAMS are a long-term solution to gaining extreme strength & performance and KEEPING it.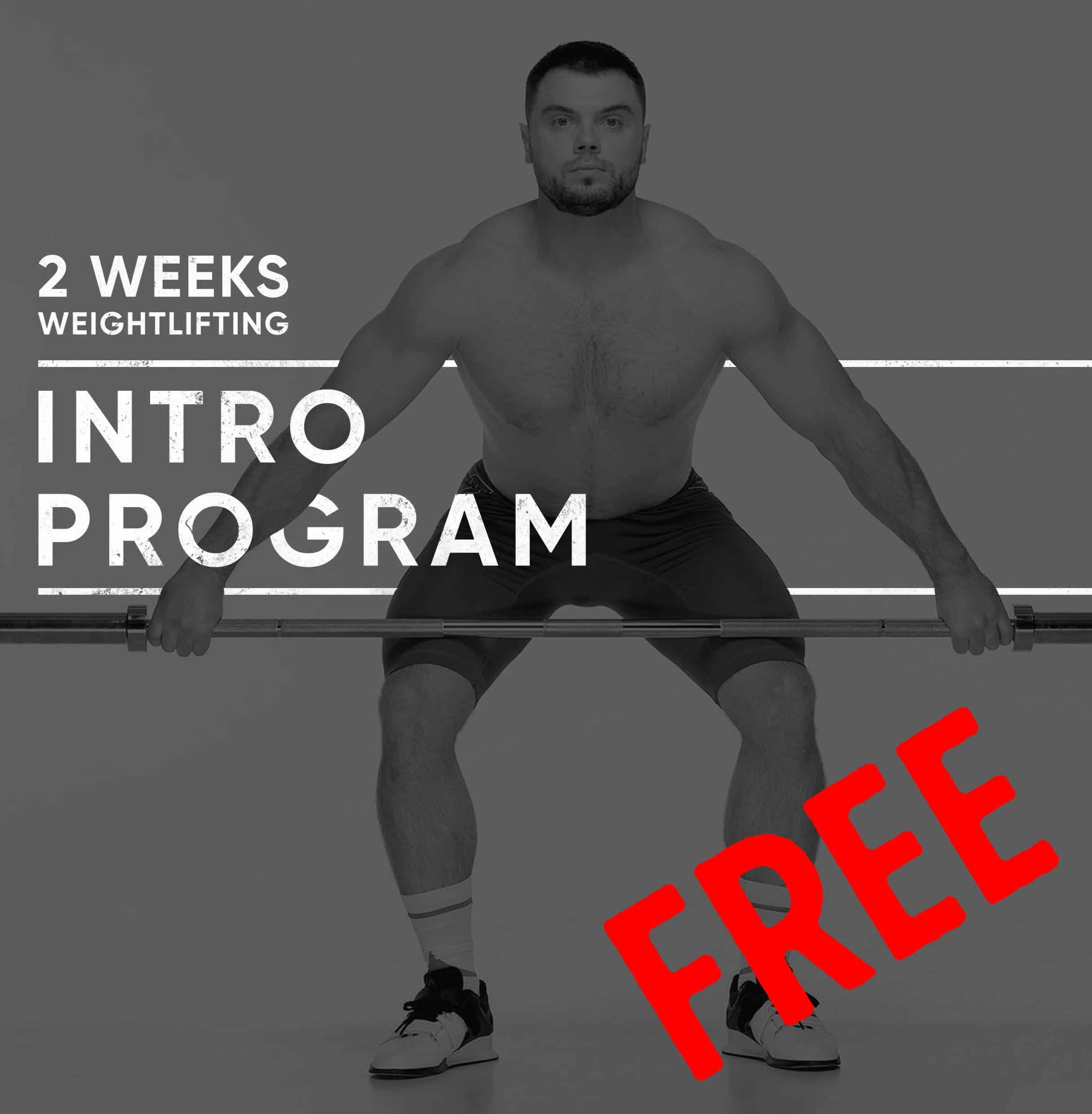 You get a FREE digital copy of our INTRO PROGRAM which is aimed at the beginner's adaptation and preparation for the full training process. If you decide to diversify your training process and go through all three programs in a row, then we recommend doing a recovery deload cycle between them - (1-3 weeks). An excellent solution would be the INTRO PROGRAM.
OLYMPIC WEIGHTLIFTING SET IS GOOD FOR:
✔ intermediate and advanced male/female lifters;
✔ weightlifters and functional fitness athletes during strength stage;
✔ lifters who are stuck and want to develop result in OLY SET.
Can we get a download link
I'm sorry, my computer crashed and I lost everything including emails amd files. Can you resend the workout that I bought to [****]? Thanks!
Did the trick, but I had to modify
I will say that I was able to improve my 1RM in all 3 exercises, but I think that part of it was that I was coming back from a long pandemic related pause in my Olympic lifting. I did learn a lot about the purpose of each exercise. The biggest take back from the program for me was learning that each athlete is different and that these programs may need tweaking for the individual. For me, I had to significantly spend more time at 85 to 95% of my 1RM than the program suggested in order work out my weaknesses and build confidence. Still though, I have no regrets and am happy with the overall result.
Proof is in the pudding
At 56, I just just finished Clean Cycle with a new PR @ 245, previous at 225. I have been stuck at 225 for a long time, and decided to invest my time on Oly lift for a change, very pleased with the progress, programming, and videos to help me technically. This is my first Oly program, ever! Thanks Torokhity Weightlifting!
Don't let age be a factor! I am looking forward to positive gains in the coming years!
It's Okay
I purchased the OLY Set mainly for the Jerk Program. I felt there was too much variation and not enough progressive overload for a program targeted at "intermediate to advanced" lifters.
I did not PR at the end of the program.
FAQ
How to use OLY SET?

We recommend starting OLY SET with a program that will help improve your underdeveloped movement. But if you have another specific goal, start with the program you need.
Can I use all or one of programs several times in a row?

If you decide to diversify your training and go through all three programs in a row, then we recommend doing a recovery deload cycle between them - (1-3 weeks). An excellent solution would be using INTRO PROGRAM. Thus, the total duration of the training can be from 17 to 21 weeks. You can go through one of the programs several times in a row, in order to progress in one of the exercises. In this case INTRO PROGRAM also recommended as a recovery deload cycle in between.
Can I combine OLY SET with other programs?

Yes, you can, but the program's effectiveness largely depends on your responsibility when it comes to the training process, sleep, nutrition, and recovery. Train smart, get enough rest.
What type of equipment is needed for OLY SET?

Barbell and Bumper Plates
Squat Rack
PVC
GHD
Rubber bands
Blocks
Kettlebells
Plyometric Box (approx. 20-24 Inch)
I don't see my question here! What should I do?

More questions? Contact us and we'll take care of you right away.