To choose the best keto pre workout, you need to understand what you should pay special attention to. After all, in order for the product to be suitable for followers of the keto diet, it should ideally contain zero grams of carbohydrates or the minimum possible amount of this macronutrient. In this ranking, you will find 8 keto friendly pre workout supplements that will help improve training performance in the context of a very low carb diet.
In a hurry and can't keep reading? How about you check out the Nitrosurge by Jacked Factory.
Nitrosurge is great carb-free pre-workout due to its balanced formula containing caffeine, beta-alanine, theanine, citrulline, and betaine, with no unnecessary ingredients and a reasonable price per serving.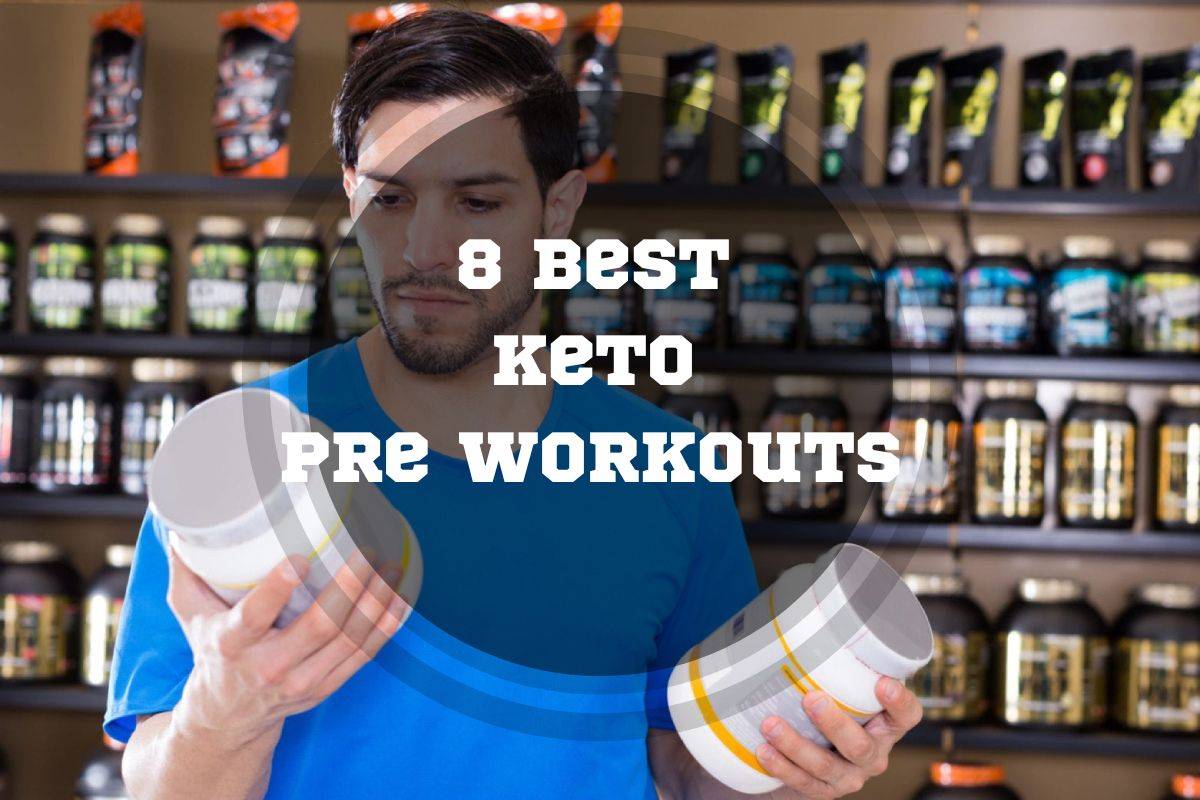 Top 8 Best Keto Pre Workout Reviewed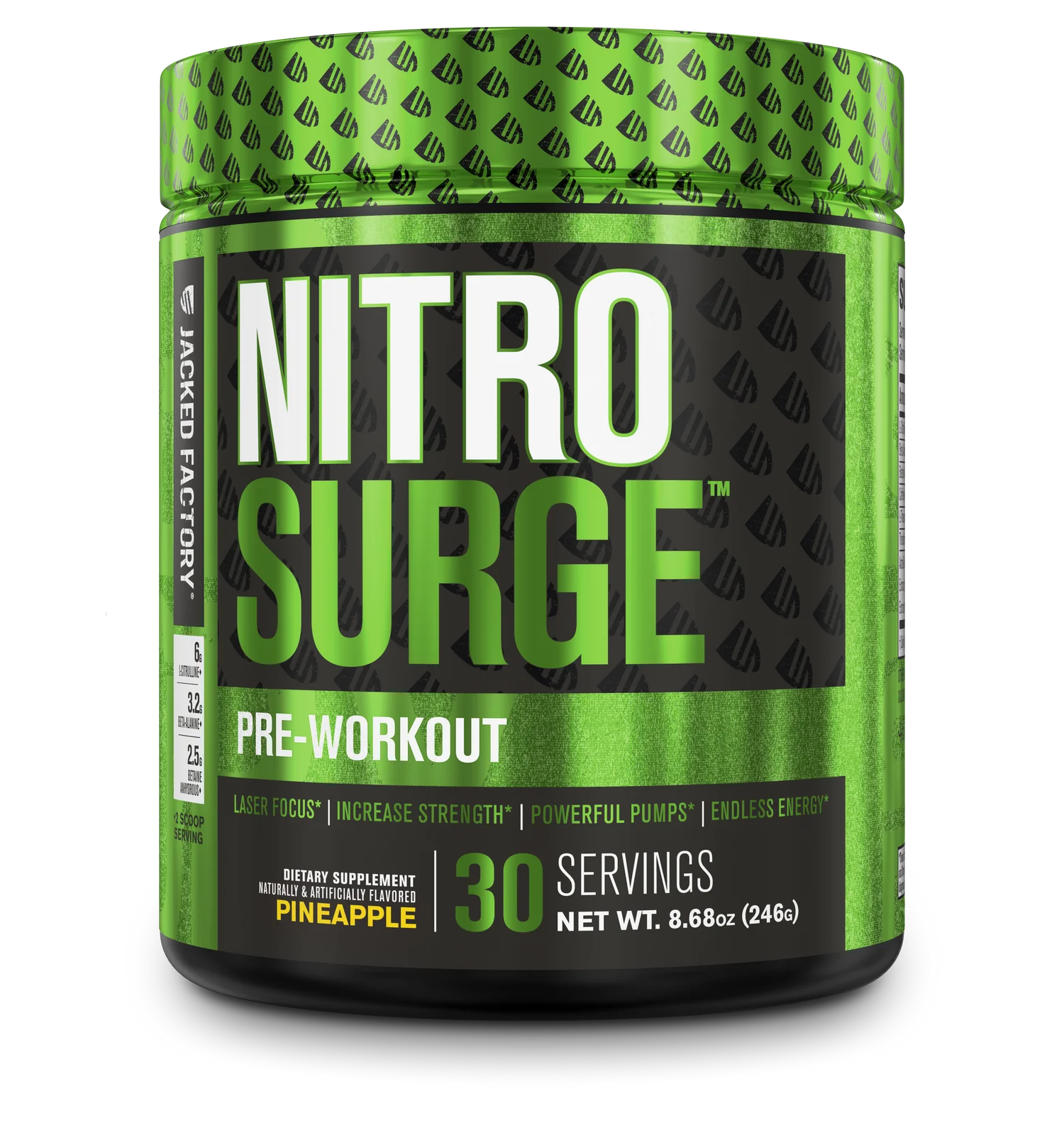 Best For: Overall Athletic Performance, Muscular Endurance, Reducing Fatigue
Flavors: Arctic White, Black Cherry, Blue Raspberry, Blueberry Lemonade, Cherry Limeade, Cotton Candy, Fruit Punch, Grape, Pineapple, Sour Peach Rings, Watermelon
Caffeine

: 180 mg



Special Ingredients: Beta-Alanine, Citrulline, Betaine, Theanine
Package Information: 30 and 60 serving tubs
Serving: ~8 g per scoop
Company Founded: 2015
Recommended By Athletes: Bhuwan Chauhan, Morgan MacDonald
Despite the fact that Nitrosurge does not contain the highest dose of caffeine and other additional ingredients, this product took the highest position. First, it still contains 180 mg of caffeine, which may be more than enough for those who previously took a 100 mg or 130 mg pre-workout.
Secondly, it contains 1.6 g of beta-alanine. With such a dose, we can count on a lower risk and severity of tingling compared to products that contain beta-alanine in a higher single dose. The fact is that the upper threshold, at which the risk of tingling is still lower, is 1.6 g (although the general range is 0.8-1.6 g).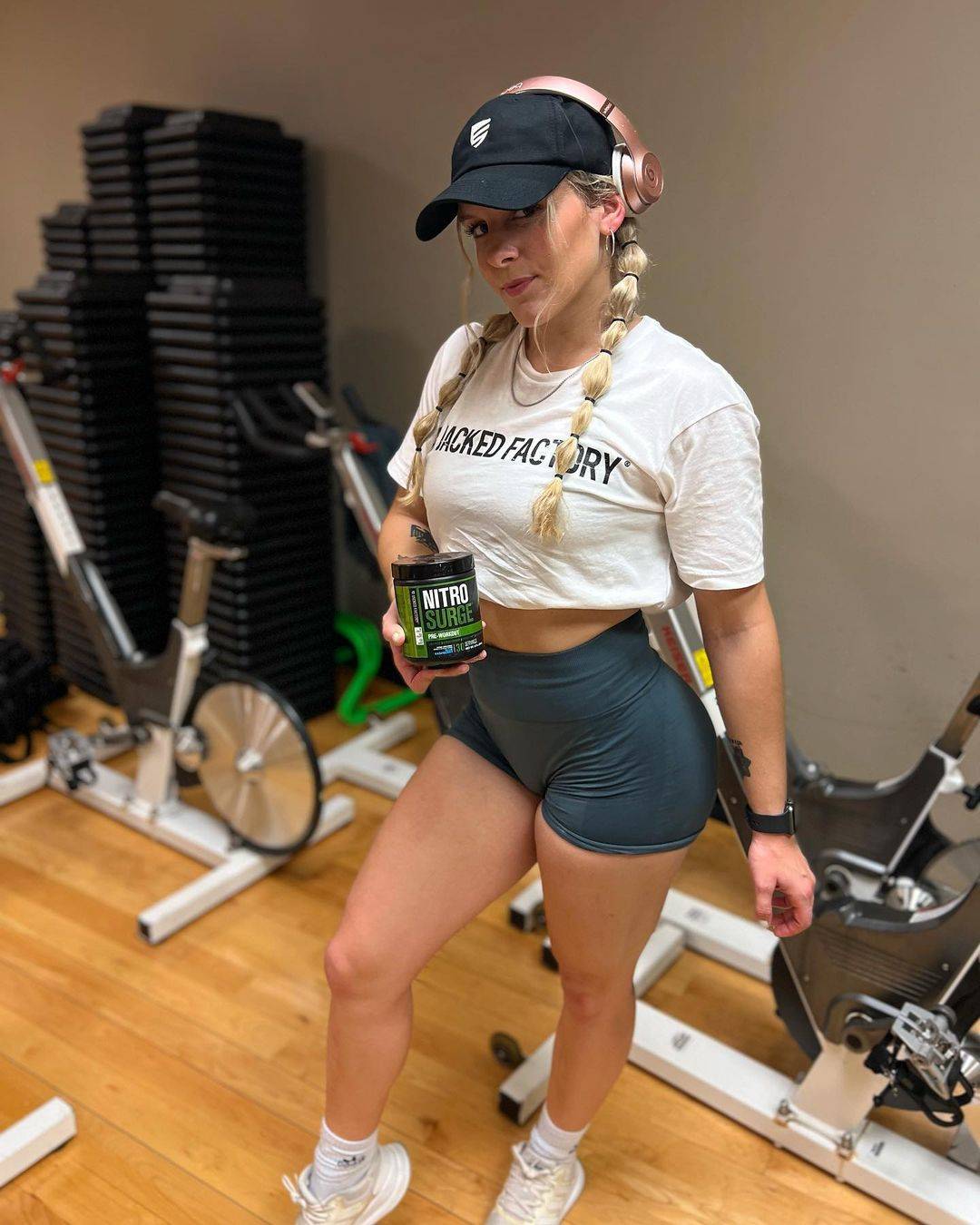 Add theanine, which is able to reduce anxiousness and jitters associated with caffeine, as well as good doses of citrulline and betaine, and you get a well-balanced product. To be honest, I would like to double the dose of betaine. However, this would also affect the cost per serving. Despite this, a single dose of 1.25 g still showed effects in studies.
The brand did not add a huge amount of additional ingredients with a weak scientific basis. After all, this would necessarily make this product more expensive, without guaranteeing tangible benefits. With 11 flavors to choose from, a large 60-serving package, and a cost per serving of less than $1, this carb free pre workout deserves high marks in all categories.
Nitrosurge contains theanine to reduce anxiety and citrulline and betaine in balanced doses, comes in 11 flavors, has a large 60-serving package, and is affordable, although the desire for a higher betaine dose remains.
Nutrition Label Transparency:
9.5
(Show More)
A well-planned formulation of ingredients

Does not contain a large number of additional components with weak scientific support

Available in 60 serving package

11 flavors to choose from
Less stimulation than some other products in this rating

A single dose of betaine could be higher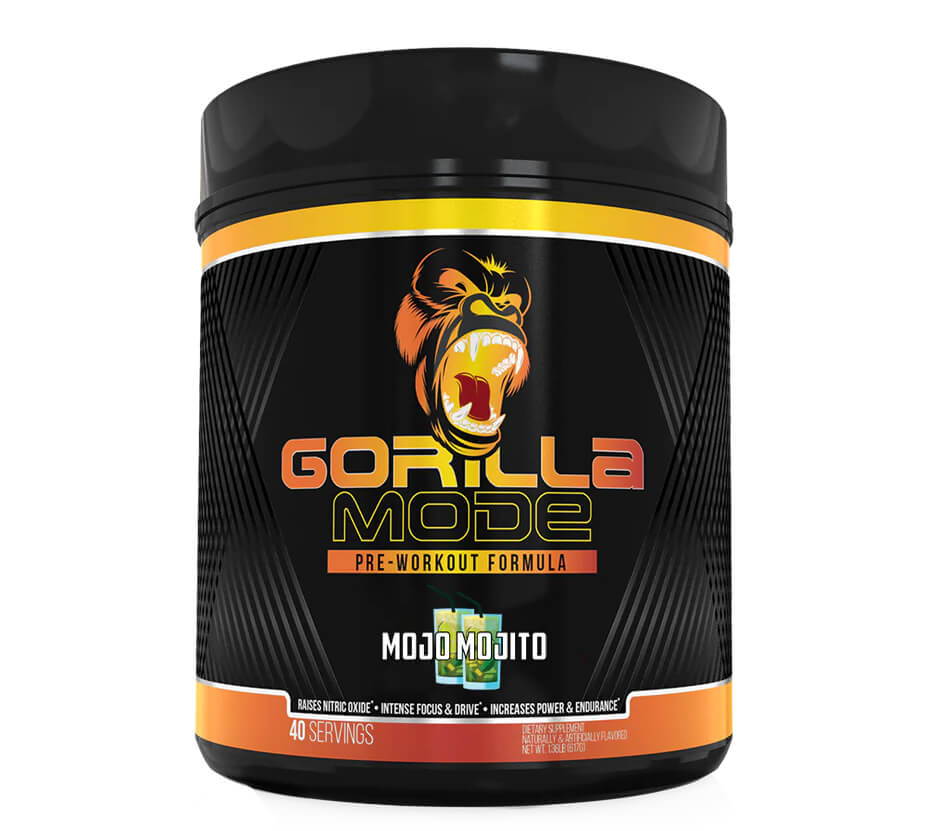 Best For: Overall Athletic Performance, Muscular Endurance, Reducing Fatigue
Flavors: Mouthwatering Watermelon, Bombsicle, Cherry Blackout, Fruit Punch, Jungle Juice, Lemon Lime, Lemonade, Mojo Mojito, Orange Crush, Tigers Blood, Volcano Burst
Caffeine

: 175 mg



Special Ingredients: Creatine, Betaine, Citrulline
Package Information: 40 servings per container
Serving: 15.4 g
Company Founded: 2017
Recommended By Athletes: Eric Ogle, Kayla Manousselis
If you are looking for a keto friendly pre workout without beta-alanine - Gorilla Mode may be your perfect choice. Some people are unable to concentrate during exercise due to paresthesia caused by a large single dose of beta-alanine. Also, you may prefer to take beta-alanine separately - not as part of a pre-workout.
On the one hand, lack of beta-alanine reduces the overall value of the product compared to pre-workouts that contain this ingredient. Note, however, that Gorilla contains the highest dose of creatine of any product in this ranking, which brings back points for the product's overall value.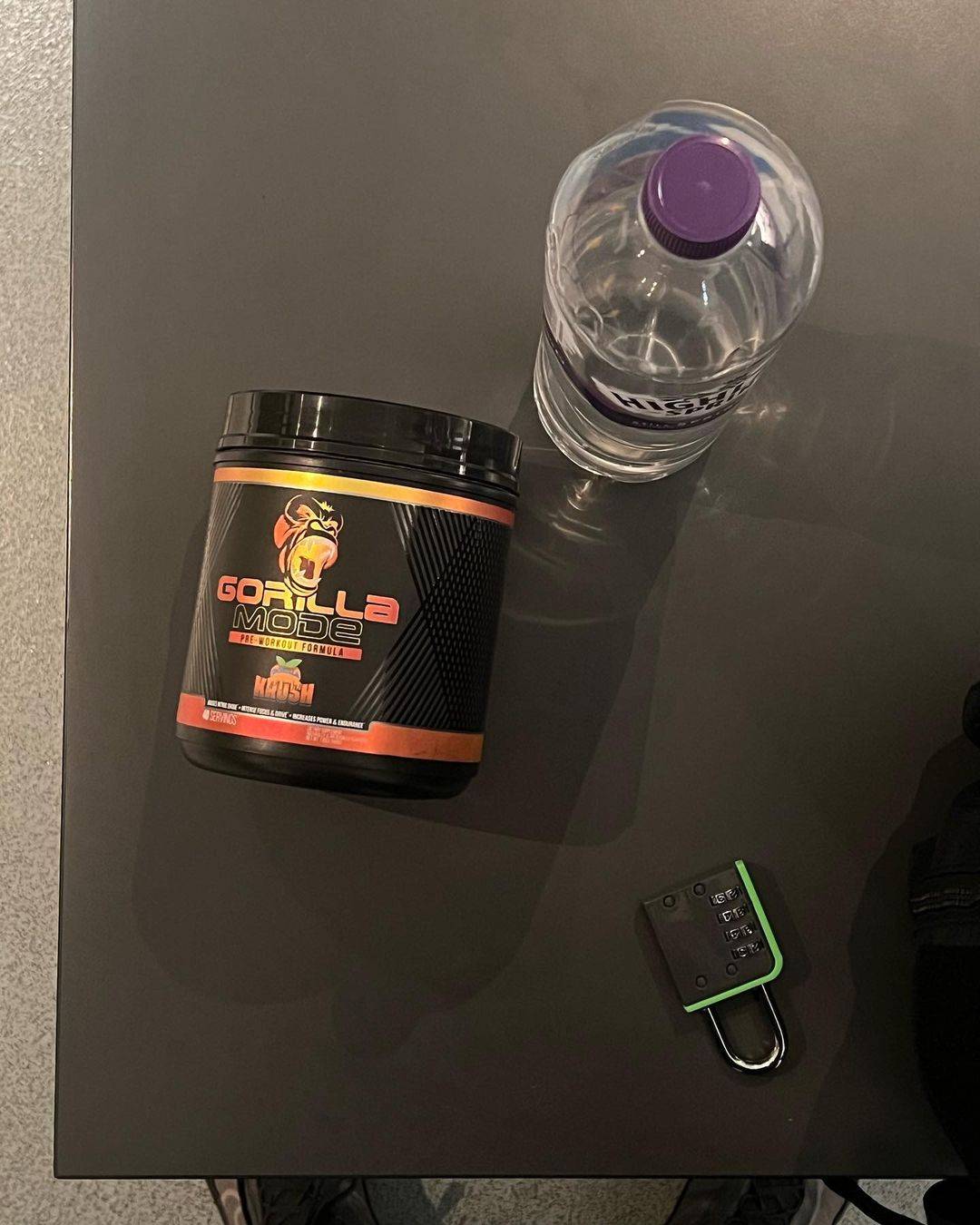 One serving contains 175 mg of caffeine, 2.5 g of the most studied form of creatine monohydrate, as well as 4.5 g of citrulline and 1.25 g of betaine. With Gorilla Mode, you can count on improved high-intensity performance and muscular endurance, as well as enhanced pumping effect.
As with the leader of our rating, I would like to increase the single dose of betaine. Also, this product contains some additional ingredients without solid scientific support. For example, a 2020 review lists Agmatine Sulfate as "Little to No Evidence" under the "Promote Muscle-Mass Gains During Training" category. And in the review from ISSN, the authors note the lack of evidence regarding the impact of Agmatine Sulfate on muscular performance.
Gorilla Mode is a keto-friendly pre-workout supplement without beta-alanine, high in creatine, citrulline, and betaine, with potential benefits for high-intensity performance and muscular endurance, despite some unsupported ingredients.
Nutrition Label Transparency:
9.5
(Show More)
Good dosages of key ingredients

Contains the most creatine of any product on this list

A large selection of flavors to choose from
Does not contain beta-alanine (a relative disadvantage compared to other products)

Suboptimal dosage of betaine

Contains many additional ingredients with little to no scientific support

Many complaints about chalky taste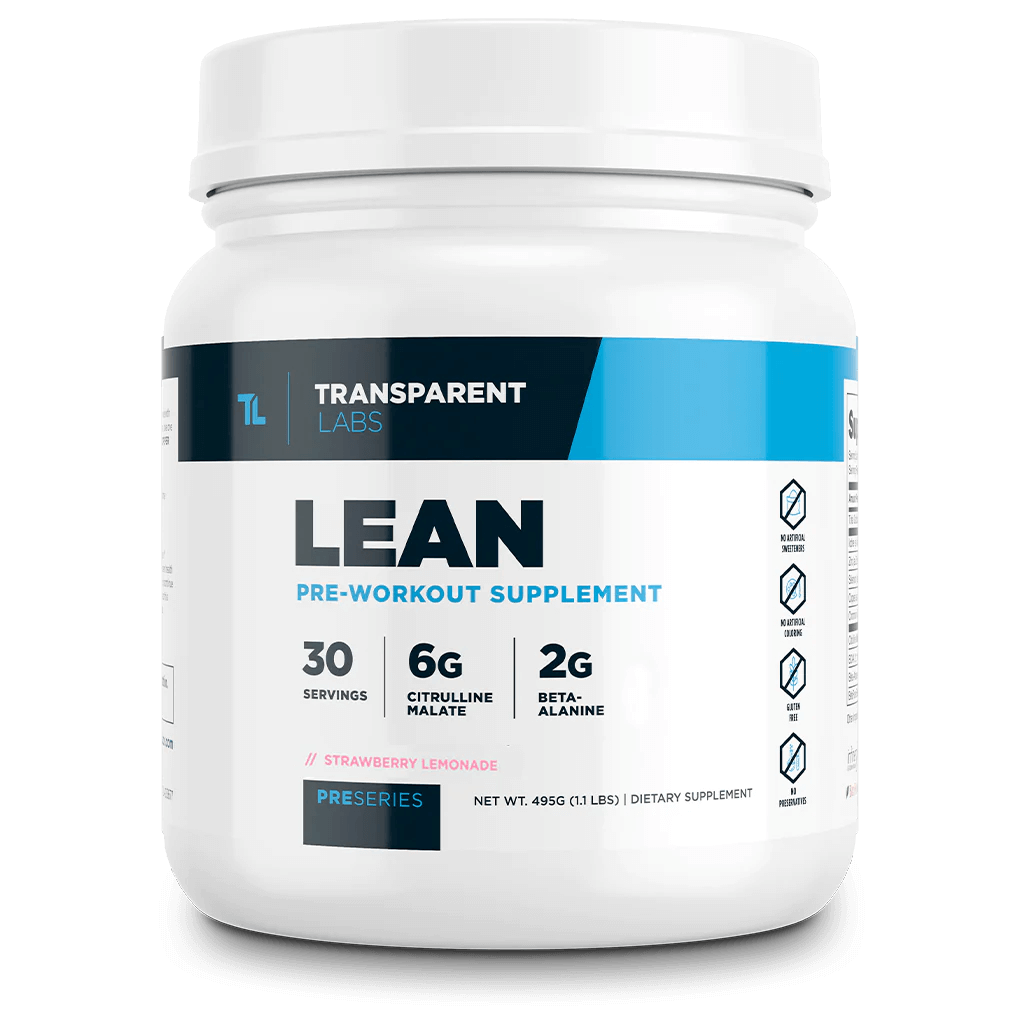 Best For: Overall Athletic Performance, Muscular Endurance, Reducing Fatigue
Flavors: Sour Peach, Green Apple, Cherry Limeade, Sour Grape, Watermelon
Caffeine

: 180 mg + 40 mg DiCaffeine Malate



Special Ingredients: Citrulline Malate, Beta-Alanine, Betaine, BCAA, L-Theanine, Iodine, ZInc, Selenium, Chromium, Copper
Package Information: 30 servings
Serving: 16.5g
Company Founded: 2015
Recommended By Athletes: simonssayslift, P A U L I N A
The third place in the best low carb pre workout ranking is taken by the LEAN formula from Transparent Labs. The combination of ingredients such as caffeine, beta-alanine, betaine, citrulline malate and theanine can help you reach a new level of training and improve your results in the gym.
Note the combination of caffeine + a large dose of theanine, which can work synergistically to improve attention. Also, compared to another great product from Transparent Labs - BULK, the LEAN formula contains 2 times less single dose of beta-alanine. This is still a lot, but considering that the development of paraesthesia is dose-related, a much smaller single dose can cause less discomfort and reduce the severity of tingling.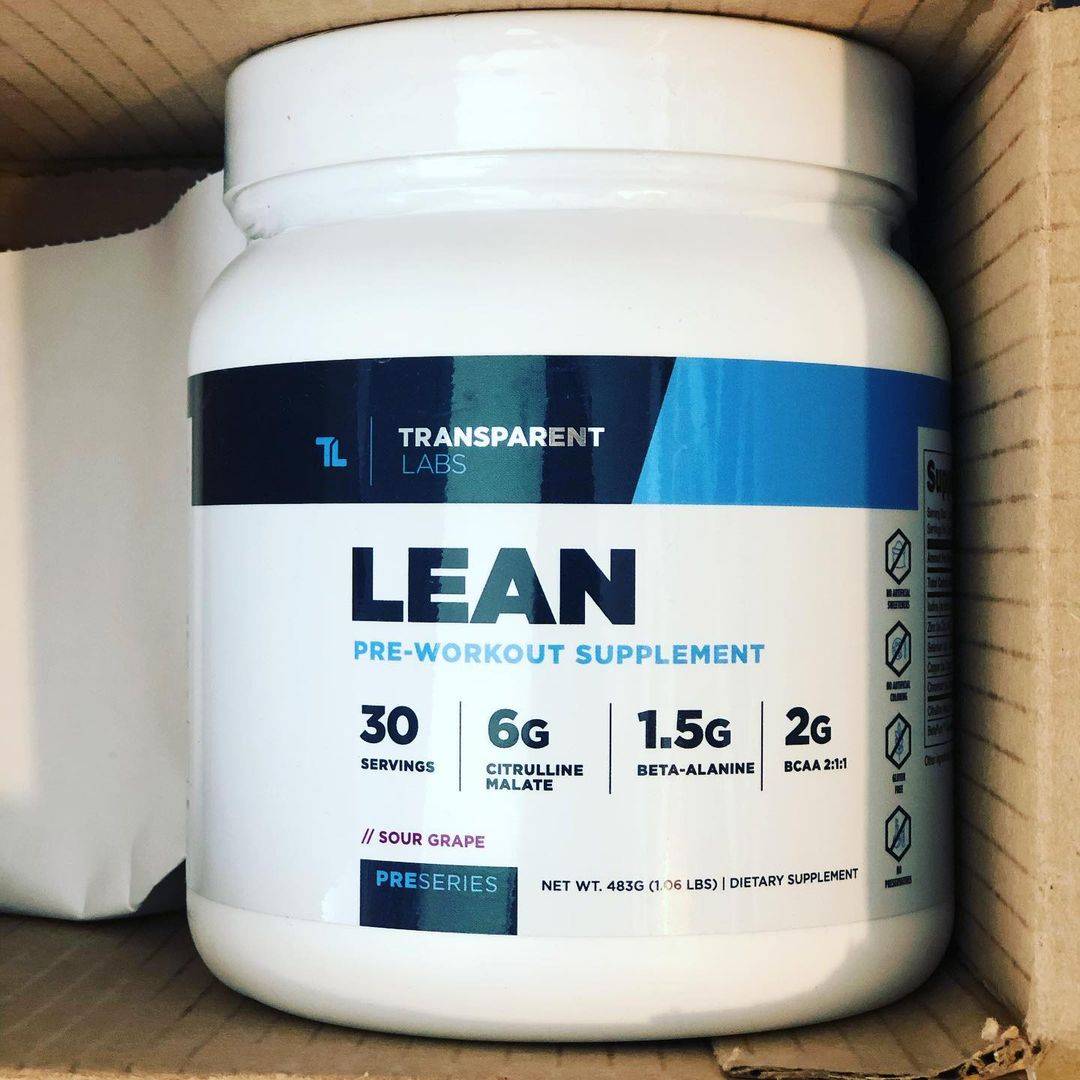 It is also worth noting a slightly higher single dose of betaine than in the previous two products. Also, this product contains large doses of iodine, zinc, selenium, chromium and copper. However, keep in mind that before taking supplements with large doses of minerals, you should first consult a doctor. Ultimately, to minimize the potential risks, it is best to limit the dosage of minerals or vitamins so that they do not exceed 100% of the Dietary Reference Intake.
In general, LEAN is a well-developed formula. In fact, this product should have taken the first or second position, but due to the limited flavors and many complaints about taste it lost its points in the overall score.
LEAN formula by Transparent Labs contains caffeine, beta-alanine, betaine, citrulline malate, and theanine to improve attention, high dose of iodine and minerals, but limited flavor options and taste complaints affect its overall score.
Nutrition Label Transparency:
9.5
(Show More)
One of the best ingredients breakdown in this ranking

Contains a large dose of theanine and slightly more betaine than the leaders of the rating

Great product value, considering the composition of key and additional ingredients
Limited number of flavors

Many complaints about the chemical or medicine-like taste
What are the benefits of pre-workouts for athletes on keto?
Let me remind you that following a keto diet you should consume no more than 50 g of carbohydrates per day (with an overall range of 20-50 g) and a moderate amount of protein (1.2-1.5g per kg per day) to induce and maintain a state of ketosis.
Although there is controversy regarding the effect of the keto diet on performance in strength-trained individuals, since carbohydrates are the vital source of energy during moderate and high-intensity training (including strength training), the keto diet cannot be considered as optimal for maximizing high-intensity performance and strength endurance, which are highly dependent on glycogen stores in skeletal muscles.
For athletes who train at a low intensity, the reduction in performance when following a keto diet may not be as pronounced, however, this still does not make the keto diet optimal in the context of maintaining athletic performance. As the NSCA's Guide to Sport and Exercise Nutrition states: "...adequate carbohydrate intakes are critical for people who desire performance optimization".
Given the above, taking pre-workout supplements before training sessions can help reduce the negative effects of depleted glycogen stores in skeletal muscles. After all, the key ingredients contained in pre-workouts provide an overall energy boost, improve muscular endurance and high-intensity training performance. Thus, using a pre-workout can at least partially offset the negative effects of radical carbohydrate restriction.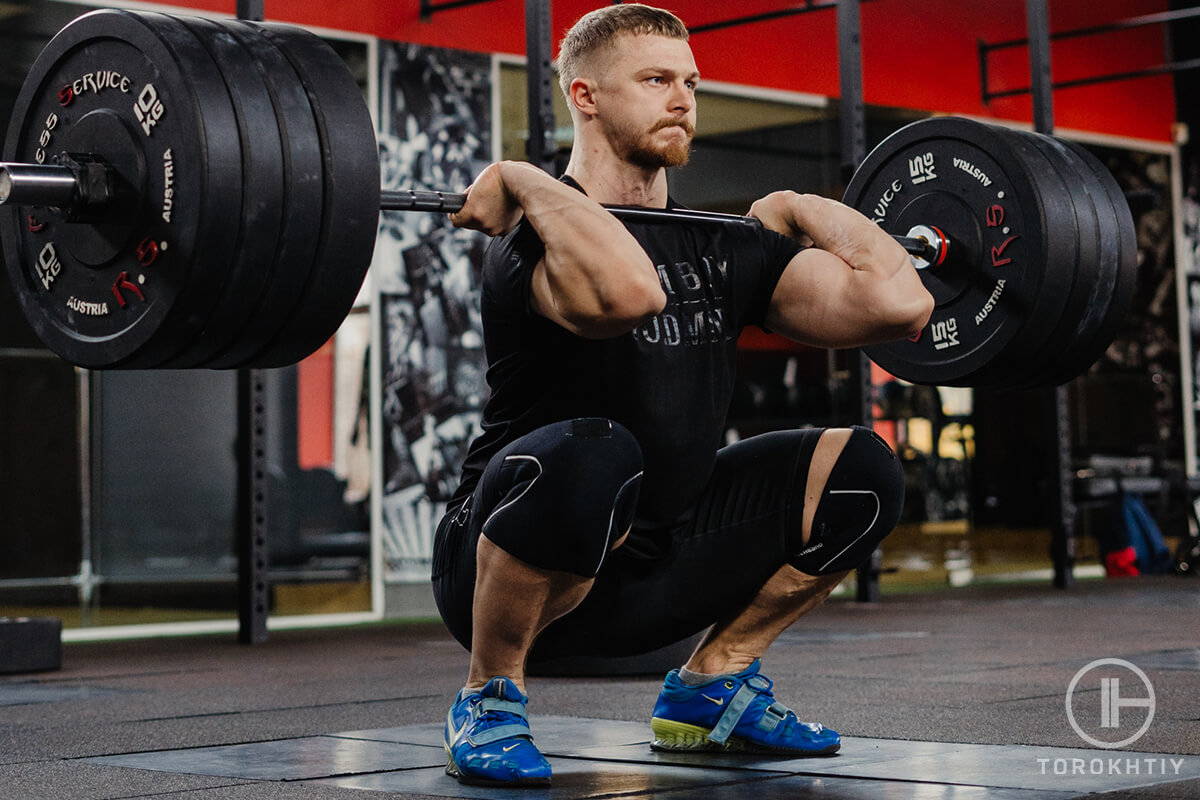 How to find the best keto pre workout?
There's no rocket science here - just choose a supplement that is carb-free or contains the lowest amount of carbohydrates you can find. The rest of the recommendations are the same as those for non-keto eaters. Choose a product with the required dosage of caffeine, starting with the lowest effective dose (1.5 mg of caffeine per 1 kg of body weight) if you have never used this type of supplement before. Pay attention to the beta-alanine, creatine, as well as the required doses of citrulline (3 g for citrulline or 6 g of citrulline malate) and betaine (1.25-2.5g).
Remember that a few grams of carbs from pre-workout on a moderate to high-carb diet doesn't matter much. However, on a keto diet, every gram of carbohydrates counts, especially if you consume carbs in the lowest range. So it is best to use zero carb pre workout. By the way, in this ranking, only one product contains 1 g of carbohydrates - C4 Ultimate®, and the rest of the products are carbohydrate-free. Also remember that Naked Energy is carb-free only in the unflavored version.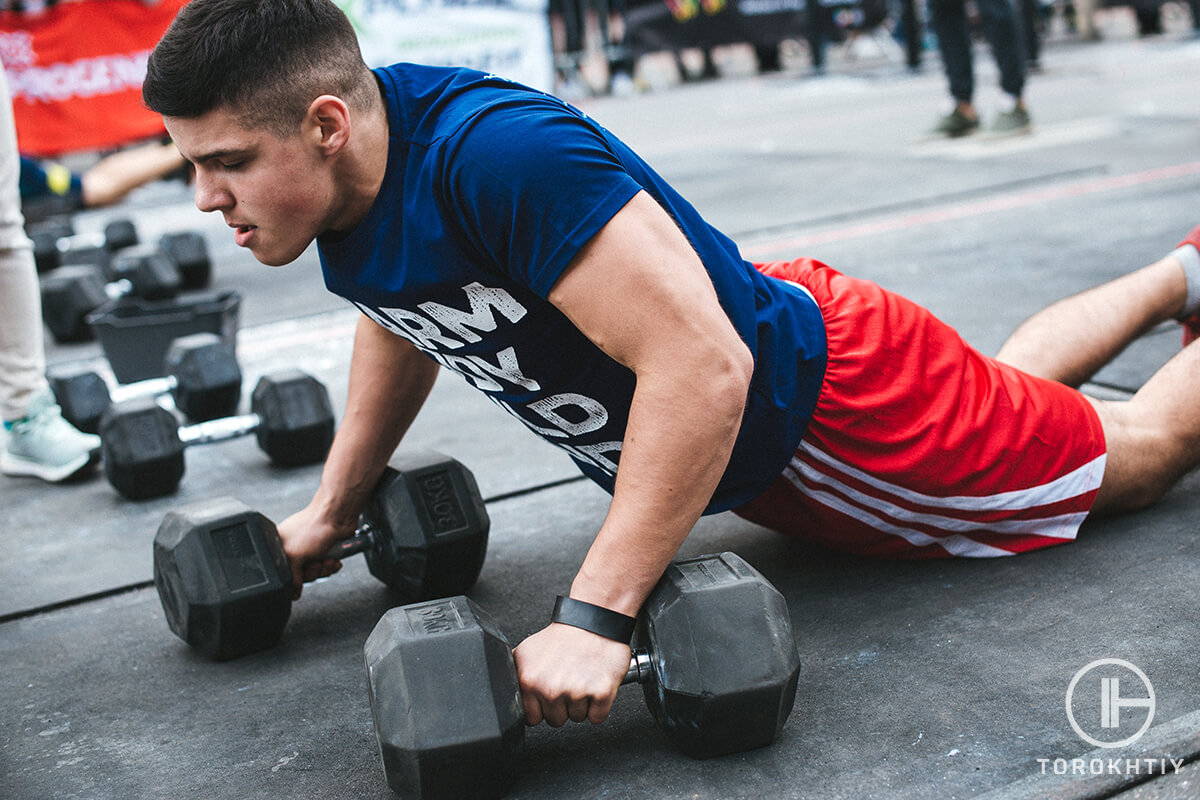 Pre workout tips for athletes on keto
For best results, have your keto pre workout drink 20-60 minutes before your workout. You can experiment and shift the timing within the recommended range to find your perfect routine for the best performance enhancing effects.
Just mix the powder in water, drink pre-workout and you're done!
Does pre-workout break ketosis?
No, because in order to break ketosis, you need to consume more than a certain amount of carbohydrates and / or protein per day. Although carbohydrates in a pre-workout can contribute to increasing total carbohydrates, most pre-workouts contain zero or minimal carbs.
How do I get energy before a workout on keto?
You can get an energy boost from a no carb pre workout that contains caffeine, as it is the key ingredient with an immediate performance enhancing effect (that is, the effect occurs almost immediately after taking it). Also, creatine and beta-alanine make a significant contribution, and citrulline and betaine have possible additional benefits.
Can you build muscle during ketosis?
As long as you adhere to the key factors, which are resistance training with progressive tension overload, calories surplus and sufficient protein intake, muscle mass will grow. However, in general a keto diet may be suboptimal for muscle hypertrophy compared to a normal carbohydrate diet.
If you are a follower of the keto and choose the best keto pre workout, the key focus should be on the number of carbohydrates per serving. Ideally, a pre-workout should not contain a single gram of carbohydrates. However, it should contain a good dose of caffeine (which must be carefully selected individually), as well as additional components with acute effects - citrulline and betaine. The presence of creatine and beta-alanine should be taken into account in the total daily dose.
As the best keto friendly pre workout we recommend Nitrosurge. It is a well formulated product with a great value for money, especially if you buy a pack of 60 servings!
Tell us about your experience of taking pre-workouts on a keto diet! Are you feeling that energy boost?
Supplements // AIS: https://www.ais.gov.au/ nutrition/supplements/group_a



Theanine// Examine: https://examine.com /supplements/theanine/
Strength, Conditioning, and Nutritional Considerations for High-Level Performers // Exerciseandsportnutritionlab: https://www.exerciseandsportnutritionlab.com /wp-content/uploads/2020/03/21616035-Kinesiology-Review-Strength-Conditioning-and-Nutritional-Considerations-for-High-Level-Performers.pdf
ISSN exercise & sports nutrition review update: research & recommendations // NCBI https://www.ncbi.nlm.nih.gov /pmc/articles/PMC6090881/
A Systematic Risk Assessment and Meta-Analysis on the Use of Oral β-Alanine Supplementation // NCBI https://www.ncbi.nlm.nih.gov /pmc/articles/PMC6520041/
Dietary Supplements: Vitamins and Minerals // Colorado state university https://extension.colostate.edu/ topic-areas/nutrition-food-safety-health/ dietary-supplements-vitamins-and-minerals-9-338/
Niacin // NIH https://ods.od.nih.gov/factsheets/Niacin-Consumer/
Effects of Citrulline Supplementation on Exercise Performance in Humans: A Review of the Current Literature // NIH https://pubmed.ncbi. nlm.nih.gov/31977835/
Evaluation of the effects of two doses of alpha glycerylphosphorylcholine on physical and psychomotor performance // NIH https://www.ncbi.nlm.nih.gov/ pmc/articles/PMC5629791/
Ketogenic diets, physical activity and body composition: a review // NIH https://www.ncbi.nlm.nih.gov/ pmc/articles/PMC9244428/
International society of sports nutrition position stand: diets and body composition // BMC https://jissn.biomedcentral.com /articles/10.1186/ s12970-017-0174-y
Low carbohydrate diets // SDA https://www.sportsdietitians.com.au/factsheets/diets-intolerances/low-carbohydrate-diets/
Ais sports supplement framework // AIS https://www.ais.gov.au /__data/assets /pdf_file/0003/1001379/ Caffeine-Infographic-final.pdf
Effects of Combining a Ketogenic Diet with Resistance Training on Body Composition, Strength, and Mechanical Power in Trained Individuals: A Narrative Review // NIH https://www.ncbi.nlm.nih.gov/ pmc/articles/PMC8469041/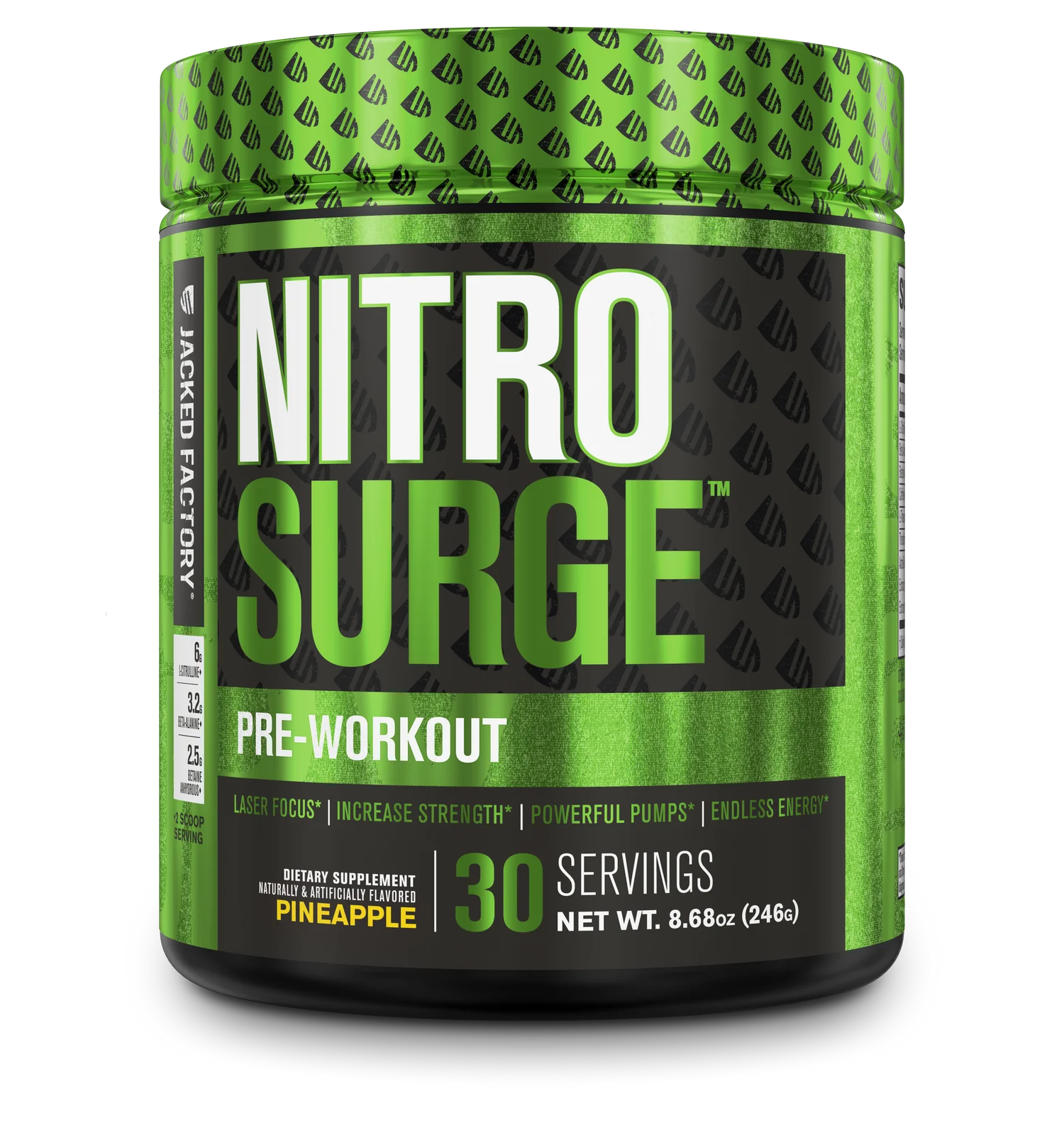 Oleksandr is a professional fitness nutritionist, certified by FPA (Fitness Professional Association). Oleksandr adheres to the principles of evidence-based dietetics and instills in his clients a healthy relationship with food - without strict prohibitions on favorite foods and regular disruptions. His main task – not only get a result for you, but also maintain it for many years, enjoying tasty and delicious food.