Protein shakes are one of the most frequently used supplements in the fitness industry. In fact, a 2020 survey study suggested that up to 80.1% of gym users may consume a protein supplement in western influenced countries.
Many consumers opt to use egg based protein powder over the traditional whey for a variety of reasons. A common one being that eggs are among the highest quality protein sources, yet are free from lactose, which many are sensitive to, as we have highlighted later.
If you fall within this bracket and are considering using an egg based protein powder, you have stumbled across the perfect article. We have reviewed the industry's best egg white protein powder.
In a hurry and can't keep reading? How about you check out the Naked Nutrition Egg White Protein Powder.
Naked Nutrition's egg white protein powder, with 25g of protein per 31g serving and free from artificial sweeteners, colors, gluten, and soy, offers a versatile option for those seeking a high-quality, unflavored egg protein supplement to use in various recipes or as a standalone drink.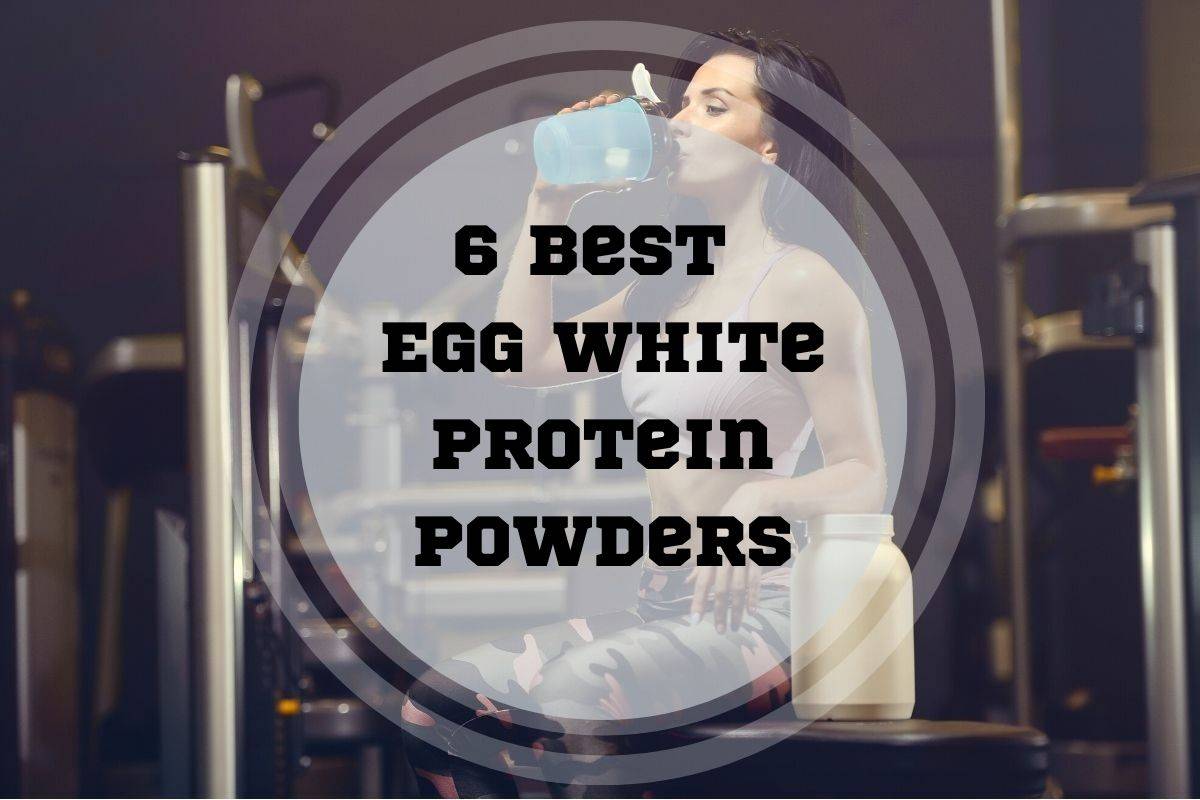 Top 6 Best Egg White Protein Powders Review
We have put together one of the most comprehensive egg white protein reviews by covering 6 of the industries best egg based protein powders.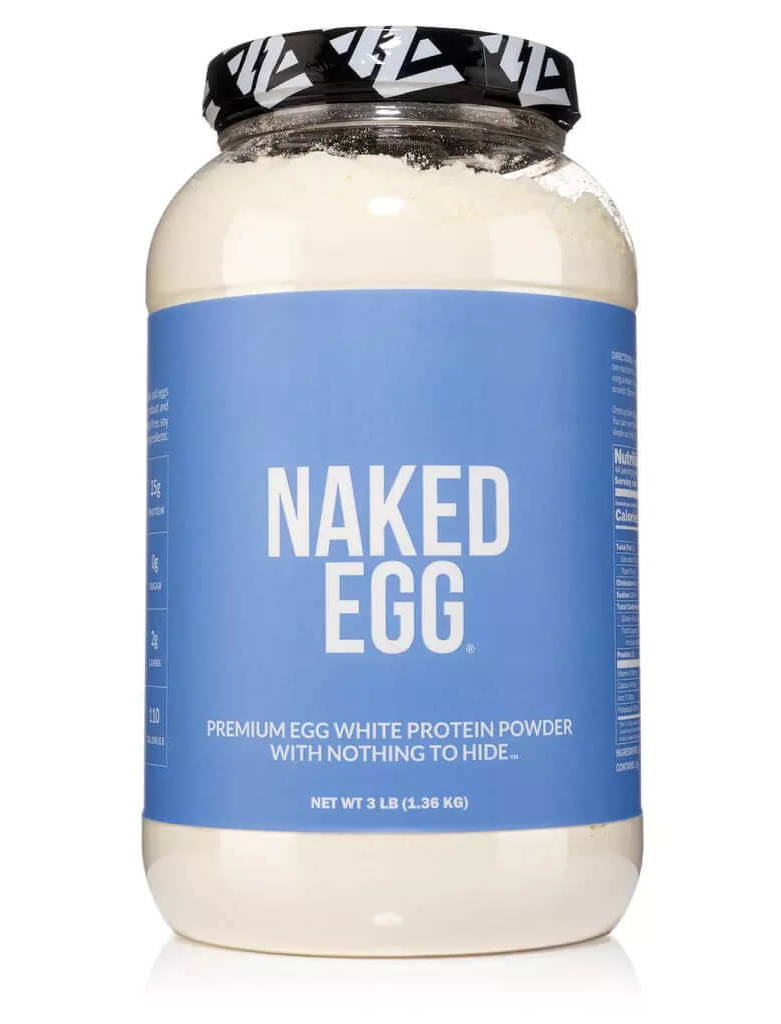 Best for: Building Muscle, Improving Recovery, Cutting

Suitable for Vegans: No
Protein Source: Non-GMO chicken eggs made in the USA
Serving size: 31g (2 scoops)
Price per serving: ~$1.23
Protein-by-Weight Ratio (%): 80.6%
Proteins: 25g
Carbohydrates: 2g
Fat: 0g
Added Sugar: 0g
Company Founded: 2014
Recommended by Athletes: JJ Watt, Chris Paul, Megan Rapinoe
Naked Nutrition is a well established USA based company who pride themselves in developing high quality nutrition supplements like various protein powders, creatine supplements, and BCAAs. Naked nutrition only includes premium quality ingredients free from artificial sweeteners, colors, gluten and soy.
Within a 31g serving of the Naked nutrition egg white protein powder there is 25g of protein, 2 of carbohydrates and no fat.
The egg white protein powder is flavorless. Being unflavoured means that it may not be the best tasting egg white protein powder, but it can be added to a variety of food products, recipes or consumed on its own with 200-300ml of water.
The egg white protein powder is 3rd party tested which supports its authenticity. The egg white are lactose, gluten, GMO, and soy free, as well Keto friendly making it very transparent. We could consider this the best egg protein powder as it has one of the highest percentages of protein per container, yet at the lowest price point when compared to other competitors products.

Naked nutrition has included a small amount of sunflower lecithin, which may improve the solubility of the egg white protein.
The Naked nutrition egg white protein cost ~$1.23 per serving, which contains over 80% protein. We can safely say that this is amongst the best egg proteins, in terms of value for money.
Naked Nutrition's Egg White Protein Powder is a top choice due to its 3rd party testing, lactose, gluten, GMO, and soy-free composition, keto-friendly nature, and excellent value for money with high protein content per serving.
Nutrition Label Transparency:
9
Non-GMO chicken eggs (for those who care)
Unflavoured which may not be admirable

2 scoops per serving isn't too convenient
Best for: Building Muscle, Improving Recovery, Cutting

Suitable for Vegans: No
Protein Source: Chicken egg whites
Serving size: 20g (1 scoops)
Price per serving: ~$2.21
Protein-by-Weight Ratio (%): 80%
Proteins: 16g
Carbohydrates: 2g
Fat: 0g
Added Sugar: 0g
Company Founded: 1968
Recommended by Athletes: Lebrone James, Christiano Ronaldo, Serena Williams
NOW Sports Nutrition is a sports nutrition company that offers a variety of "Informed sports" batch tested products. This supports the safety and usability of their supplements in drug tested sports. Infact, their products are used by arguably the world's best athletes. Moreover, the majority of their supplements are certified organic, non-GMO, and gluten-free.
We are interested in the NOW sports egg white organic protein powder. There are two flavor options which include Unflavoured and creamy chocolate flavor. The creamy chocolate flavor is preferred among customers, but is slightly more calorie dense. The unflavoured version contains 80 calories, whereas the flavored one has 110 calories. For this reason the unflavoured option may be effective when considering an egg white protein powder for weight loss.
Consider the flavorless option. Given the small serving size (20g) you only get 16g of protein, but the protein concentration is quite high. Keep this in mind, if you need larger portions of protein, you'll have to use 1.5-2 scoops per meal.
Being batch tested by "Informed Sports" really adds transparency to the NOW sports egg white protein. Other factors that increase the nutrition labels transparency is that the ingredients are certified organic, non-GMO, and gluten-free.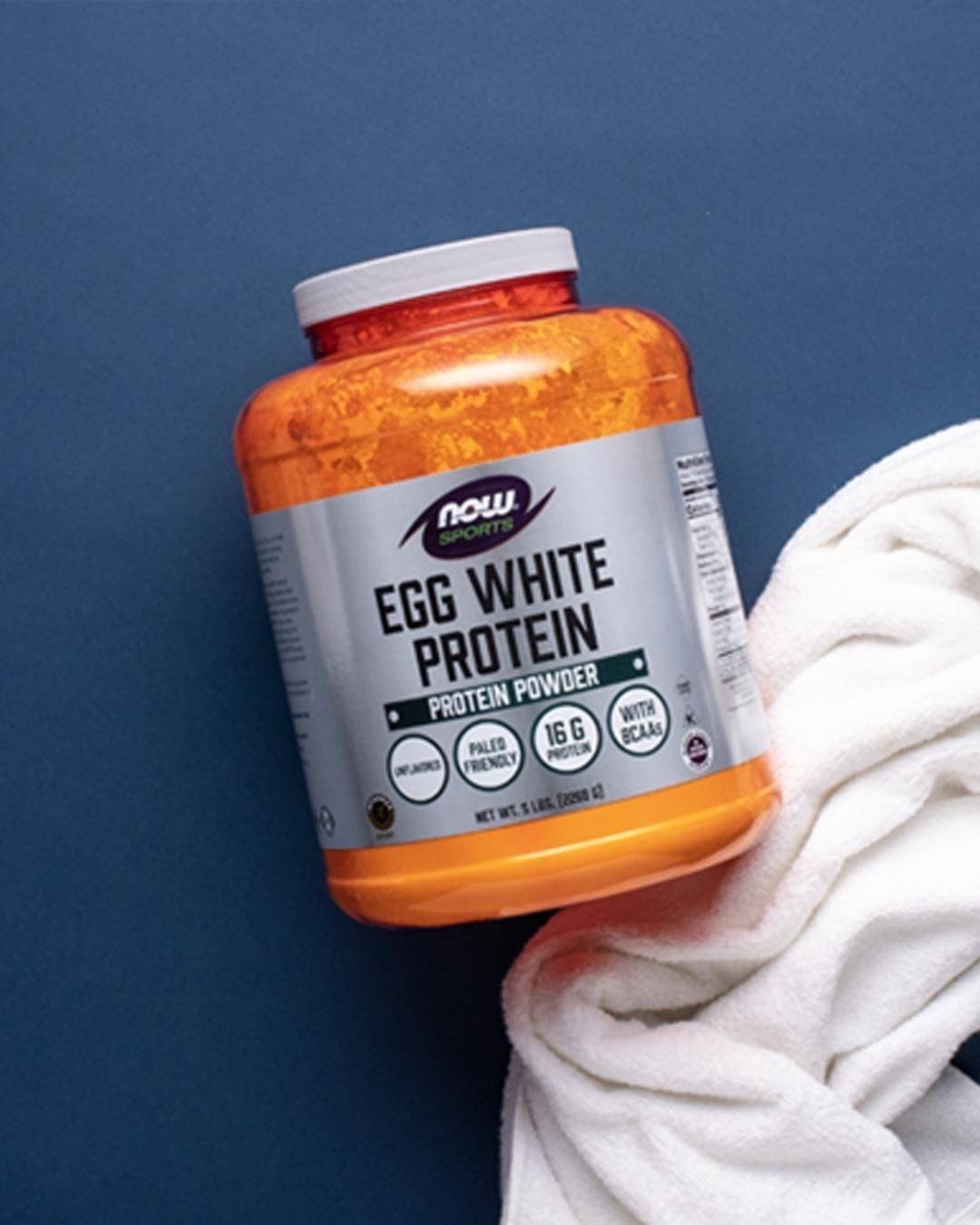 Both egg white options mix well, but the unflavoured option mixes better. Perhaps this is due to being an isolated form of protein with no additional dietary fat or carbohydrates.

The NOW sports nutrition egg white protein cost ~$2.21 per serving, which is slightly overpriced compared to the industry's average, especially considering that the macronutrient composition is similar.
Considering third-party tests and the high quality of the product, this price still seems reasonable. However, a batch tested supplement is only important for athletes who compete in drug tested sports and not for the average consumer.
NOW Sports Nutrition's organic egg white protein powder, batch tested for sports, comes in unflavored and creamy chocolate options, providing high-quality protein with added transparency for athletes in drug-tested sports.
Nutrition Label Transparency:
10
"Informed Sports" certified

Organic high quality ingredients
More variety of flavors would be admirable other than just creamy chocolate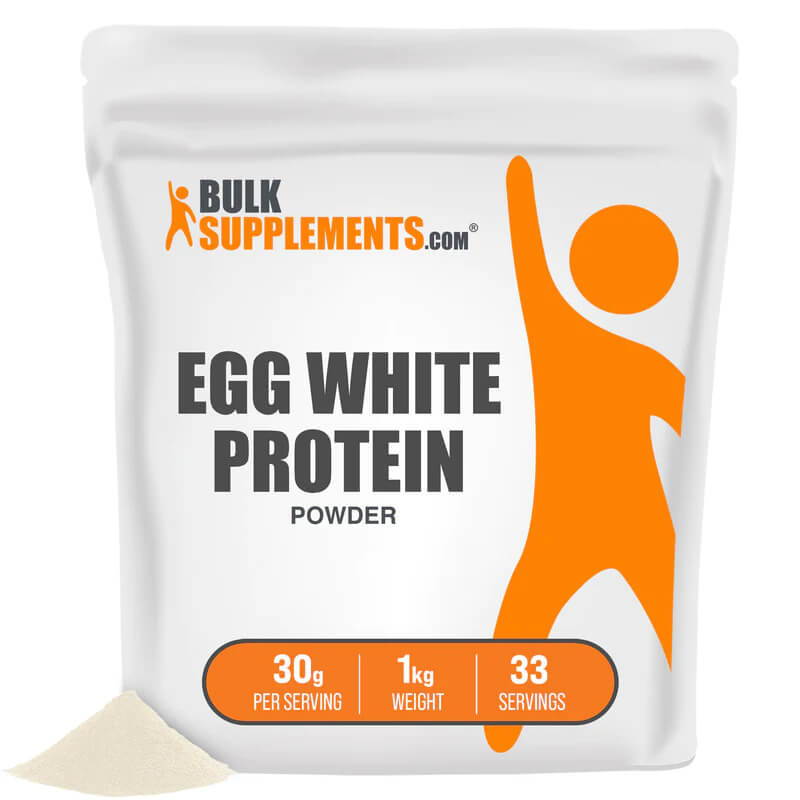 Best for: Building Muscle, Improving Recovery, Cutting

Suitable for Vegans: No
Protein Source: Chicken egg whites
Serving size: 30g
Price per serving: ~$2
Protein-by-Weight Ratio (%): 80%
Proteins: 24g
Carbohydrates: <1g
Fat: 0g
Added Sugar: 0g
Company Founded: 2013
Recommended by Athletes: Arnold Swarzenegger, Ronnie Coleman, Rich Froning
Another well established sports nutrition company recommended by some of the world's famous athletes who also sell protein powders, BCAAs, creatines, vitamins and much more. Bulk Supplements are known for including quality ingredients at reasonable prices.
The Bulk supplements product contains 24g of protein, <1g of carbohydrates, and 0g of fat which makes this a great product for any purpose.
Product is unflavoured so it works great when included into recipes and other food products. The egg white protein at Bulk Supplement mixes quite well with a light beverage or when included into a food recipe, although it can be a little clumpy.
In terms of nutrition transparency, this product is 3rd party tested at multiple stages of development and it meets cGMP standards.
This product is reasonably priced at $2 per serving, this allows us to conclude that it is neither the most under or overvalued product on our product list.

Compared to the leaders of the rating, the product loses a few points to get ahead of the competitors. It does not have a sufficiently affordable price as Naked, and not too attractive packaging and lack of additional flavors compared to NOW. However, it is a very well balanced offer.
BULKSUPPLEMENTS.COM offers a high-quality unflavored egg white protein powder with 24g of protein, perfect for various purposes, and backed by third-party testing and cGMP standards at a reasonable price of $2 per serving.
Nutrition Label Transparency:
9
Reasonably priced for the value

Undergoes 3rd party testing multiple times
Unflavoured, which may not be admired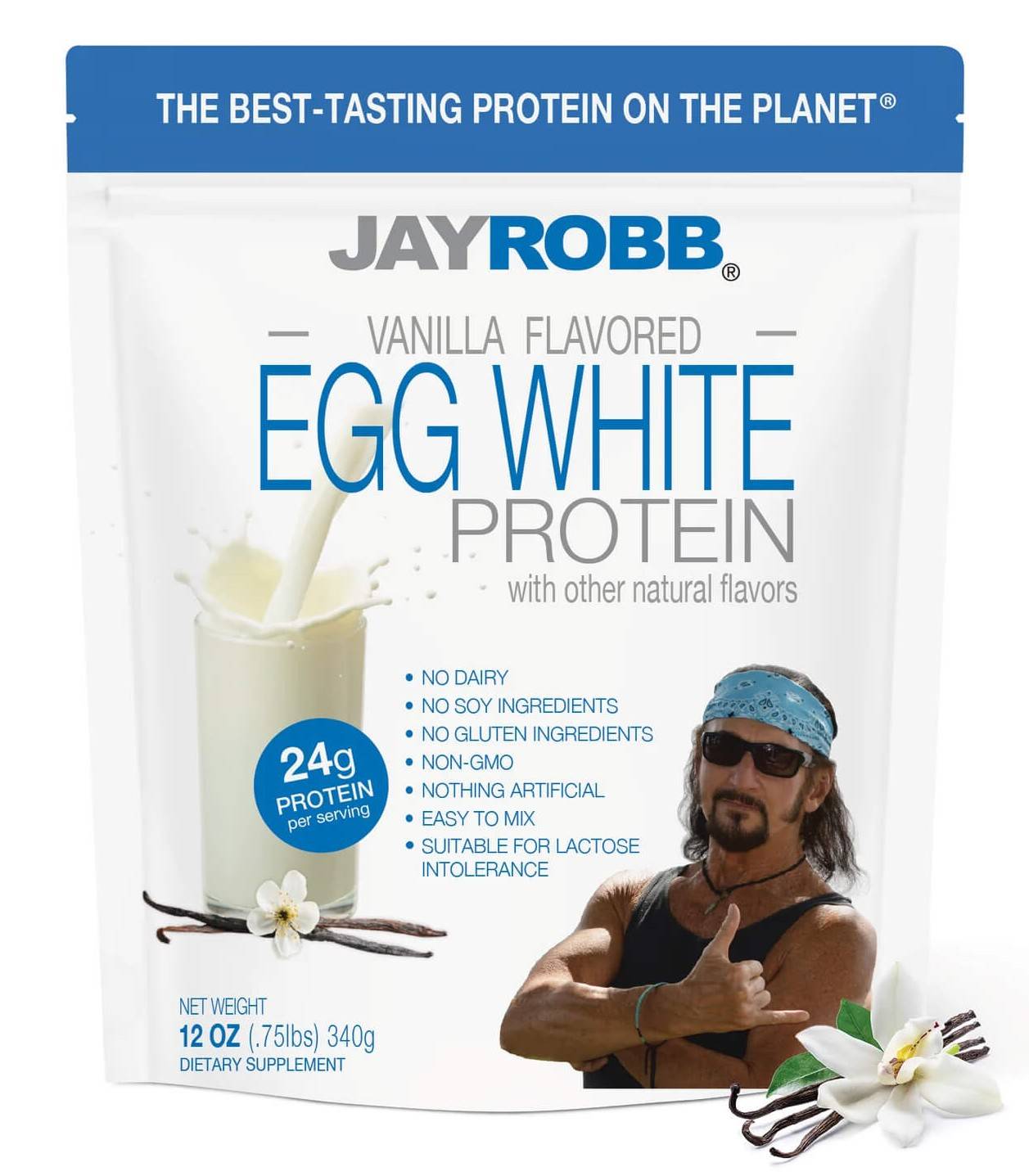 Best for: Building Muscle, Improving Recovery, Cutting

Suitable for Vegans: No
Protein Source: Chicken egg whites
Serving size: 32g
Price per serving: ~$2,5
Protein-by-Weight Ratio (%): 75%
Proteins: 24g
Carbohydrates: 4g
Fat: 0g
Added Sugar: 0g
Company Founded: 1988
Recommended by Athletes: Tony Horton, Tim Tebow, Matt Holliday
This vanilla egg protein was developed by Jay Robb who is a clinical nutritionist and a former natural bodybuilder. He is the founder of the "hang loose" movement and refers to himself as the "guru of peace". Jay Rob formulated a vanilla egg white protein powder to be a tasty and nutritious supplement that can be consumed on its own or mixed into other food products to form a healthy meal replacement.
In contrast to the previous products, there is a slightly lower concentration of protein. Product contains 24g of protein, 4g of carbohydrates, and 0g of fat. The extra carbohydrate portion was probably needed to improve the flavor of the product, with the nutrient balance still good enough for all purposes.
We can not deny that the Jay Robb egg white protein is a smooth and great tasting vanilla product. Other flavor options include strawberry, chocolate or unflavoured. From what we know, the Jay Robb egg white protein powder is very easy to mix in with any beverage. This is likely due to the sunflower lecithin. Furthermore, many users have found that it is easy to blend with any food product.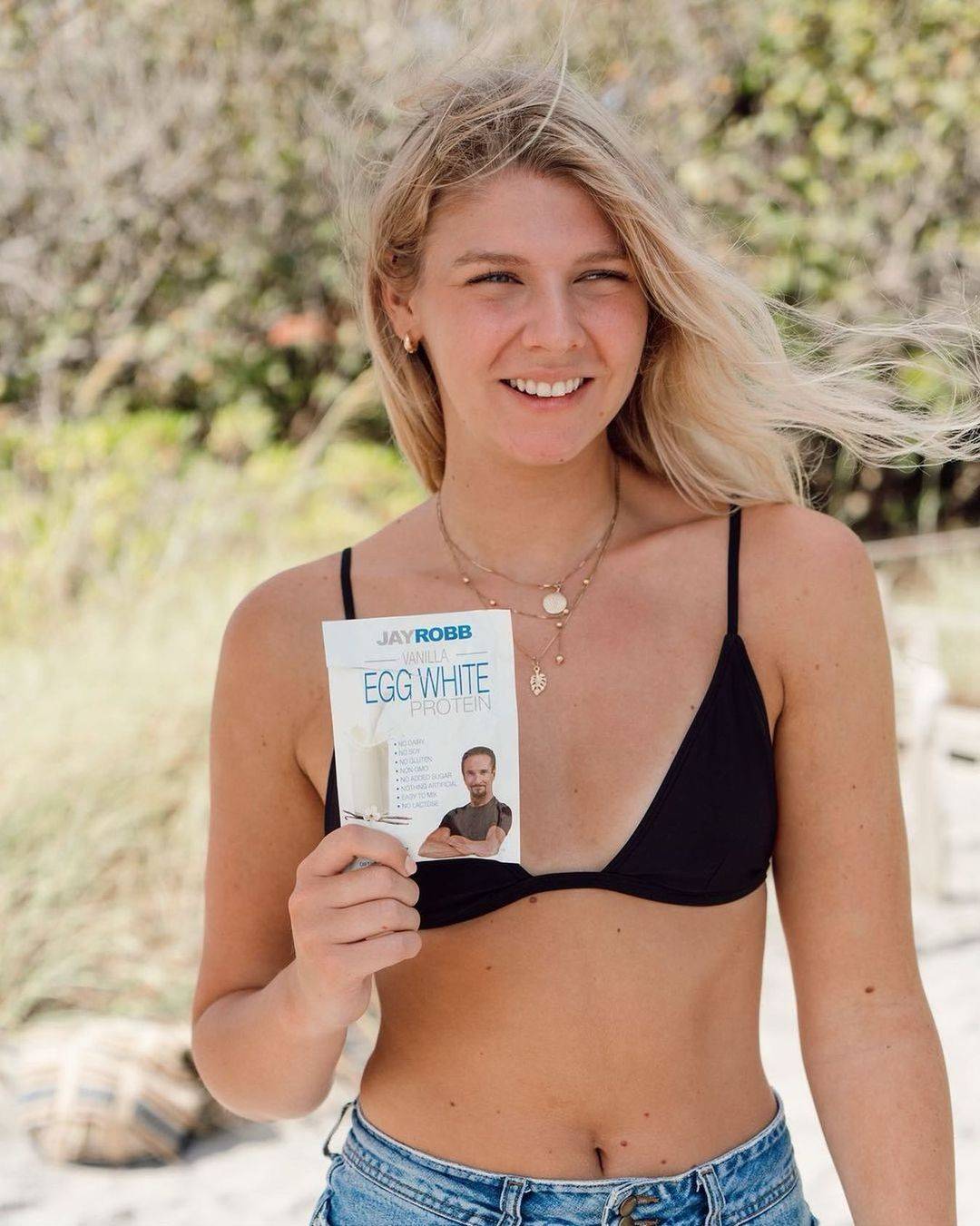 What brings up the transparency of the nutrition label of the Jay Robb egg white protein powder? The label states that the product is free from: MSG, Acesulfame-K, Artificial Flavors, Sweeteners, colors, aspartame, sucralose, and dairy.

Well, it looks like a well-balanced product with pretty cool flavors as for an egg white. But points are lost in terms of affordability, the price is higher than the competition.
Given the lack of third-party testing and not the best macronutrient composition, this looks like a boutique product for those who are energized by the charisma of the company's founder or want to experiment with non-typical mass-market products.
Jay Robb's Vanilla Egg Protein is a smooth and delicious option with a balanced macronutrient profile, making it a versatile choice, although it may be considered a boutique product due to its higher price and lack of third-party testing.
Nutrition Label Transparency:
8
Multiple flavor options, great taste

Prioritizes "health" by not including ingredients that may be harmful
No sign of being 3rd party tested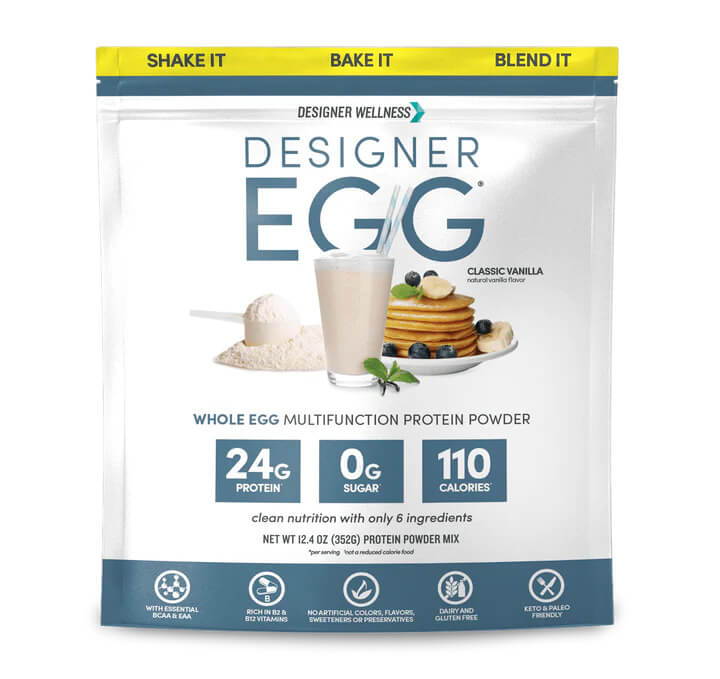 Best for: Building Muscle, Improving Recovery, Cutting

Suitable for Vegans: No
Protein Source: Chicken egg white and yolk
Serving size: 32g
Price per serving: ~$1.98
Protein-by-Weight Ratio (%): 75%
Proteins: 24g
Carbohydrates: 3g
Fat: 0.5g
Added Sugar: 0g
Company Founded: 2004
Recommended by Athletes: Branca Wagner, Ginger Cochan, Honeyboom
Designer Egg is a unique protein supplement brand that produces egg protein powder using the highest quality cage-free eggs. For this reason, their product is packed with protein and vital micronutrients to promote muscle protein synthesis, recovery and good health. Another variant that may make their egg protein "healthy" is that the company does not use artificial flavors, colors and sweeteners.
Designer egg protein powder contains 24g of protein, 3g of carbohydrates, and 0.5g of fat. Similar to the previous product, the carbohydrate content could have been lower, but this is balanced enough for all purposes.
The designer egg protein powder comes in two flavor options that include strawberry and vanilla. Both flavors are delicious either consumed on their own and baked or blended with other food products. Protein powder mixes great with a beverage, bakes or blended with food products. The added sunflower lecithin is one of the reasons why the product mixes with one of the most smoothest textures.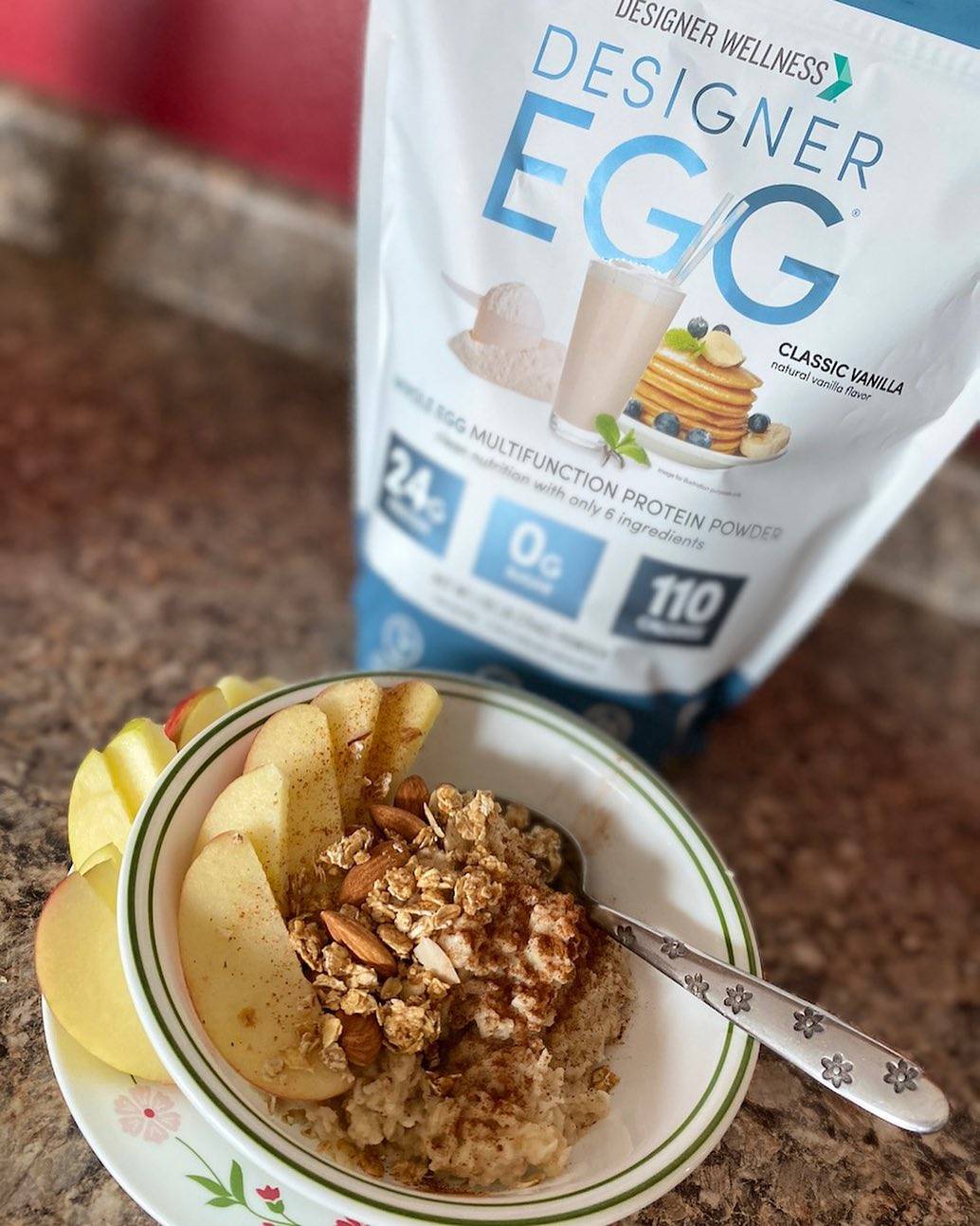 What makes this product stand out, company uses protein from the whole egg, thus consumers reap the benefits from the yolk and white. These benefits of egg white protein include: source of electrolytes, potassium and riboflavin,vitamin b1 & b12. It is difficult to say whether this approach has any real advantages, because most of the useful nutrients in the yolk are in the fat component, which is removed during the manufacturing of this product anyway. But a little extra nutritional value never hurts.

The cost of a serving is on the upper side, which does not give a clear advantage to this product.
Designer Egg offers high-quality egg protein powder sourced from cage-free eggs, delivering 24g of protein and vital micronutrients without artificial additives, making it a healthy and delicious choice for fitness enthusiasts.
Nutrition Label Transparency:
9
Good flavors and mixability

May provide some health benefits of whole egg
Not sign of being 3rd party tested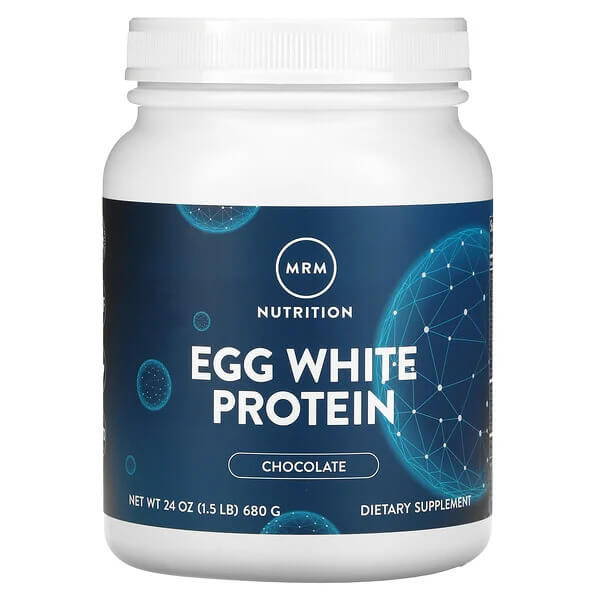 Best for: Building Muscle, Improving Recovery, Cutting

Suitable for Vegans: No
Protein Source: Chicken Egg whites
Serving size: 33g
Price per serving: ~$3
Protein-by-Weight Ratio (%): 69.6%
Proteins: 23g
Carbohydrates: 5g
Fat: 0.5g
Added Sugar: 0g
Company Founded: 1996
Recommended by Athletes: Emily Epps, Mark Olson
MRM Nutrition is a supplement company based in Oceana, California. MRM Nutrition formulates a variety of nutrition supplements, including protein powders, pre-workouts and vitamins. MRM Nutrition have produced a high-quality egg white based protein powder, free from artificial colors, flavors or ingredients. What's unique about MRM Nutrition is that they use sustainable and eco-friendly materials for packaging.
Out of all of the egg protein powders we have reviewed, MRM egg protein has the lowest protein to weight ratio, which reflects the macronutrients. MRM contains 23g of protein, 5g of carbohydrates, and 0.5g of fat. Still good for all purposes, but you will have to be more mindful of the caloric content of the product during weight loss.
There are 3 flavor options, including chocolate, french vanilla, and rich vanilla, which all taste great.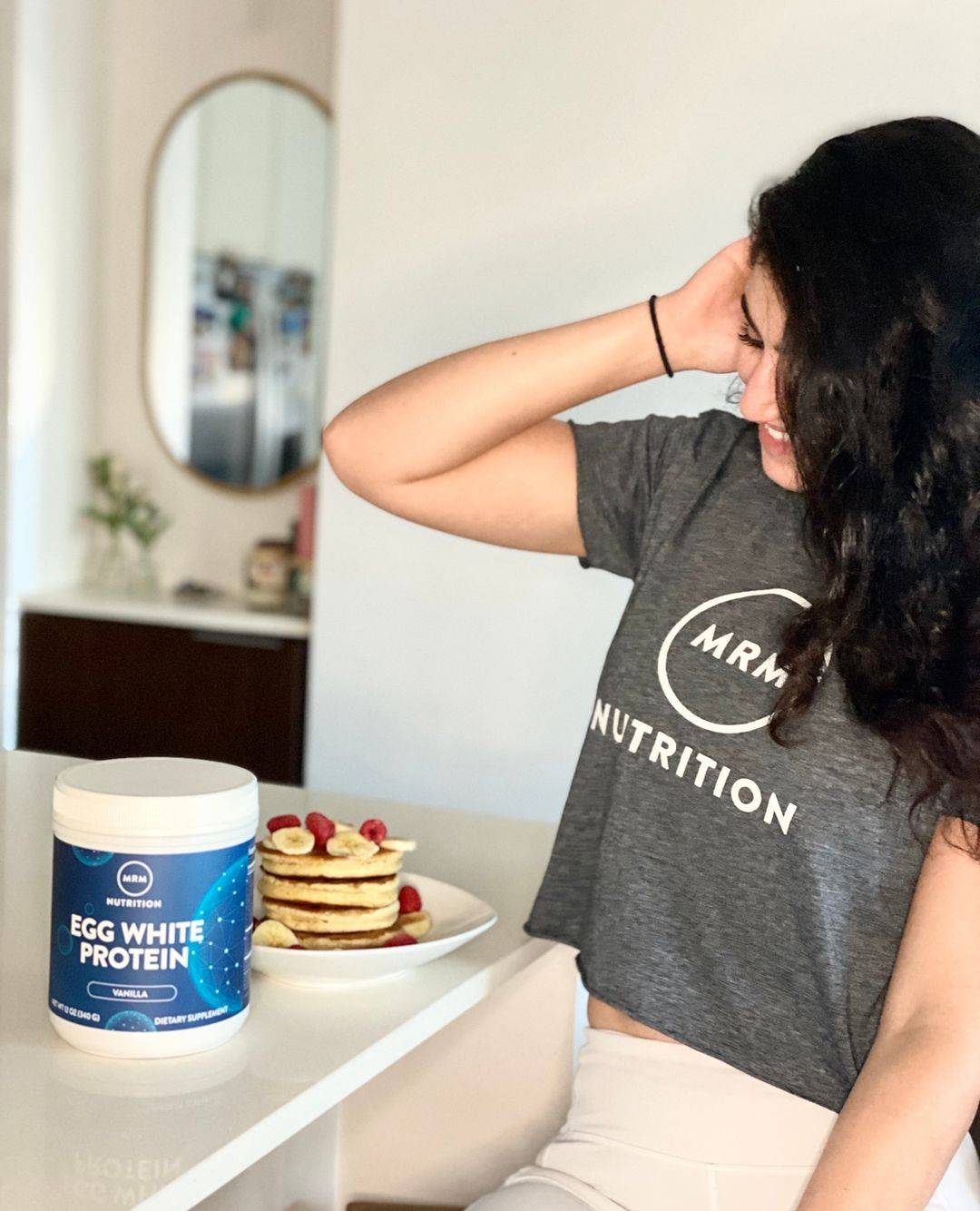 What catches the eye when we think about nutrition label transparency is the number of ingredients that are geared towards flavor, mixability, and texture of the supplement. For example, the supplement contains stevia, xanthan gum, sunflower lecithin, natural flavors etc. The product is not for fans of minimalism, but rather for those who care about the flavor and texture of a protein shake.

The price point ~$3 does not give the best value for money, however, the discounted price can be quite good.
MRM Nutrition presents a high-quality egg white-based protein powder with sustainable packaging and various flavor options, though it may have a lower protein-to-weight ratio and a relatively higher price.
Nutrition Label Transparency:
8
Good mixability and texture
What Is Egg White Protein and How Is It Produced?
As the name suggests, egg white protein is the white portion of whole eggs. In order to form an egg white protein powder, the liquid egg whites are extracted from whole eggs, then filtered to eliminate any impurities. Following this procedure, the liquid egg whites are inserted into a hot chamber where they are spray-dried to remove the moisture. This process leaves behind a dry egg white protein powder that is packaged and distributed around the world to be sold.
Some egg white protein powders are flavored using natural and/or artificial sweeteners, thereby may contain some additional calories.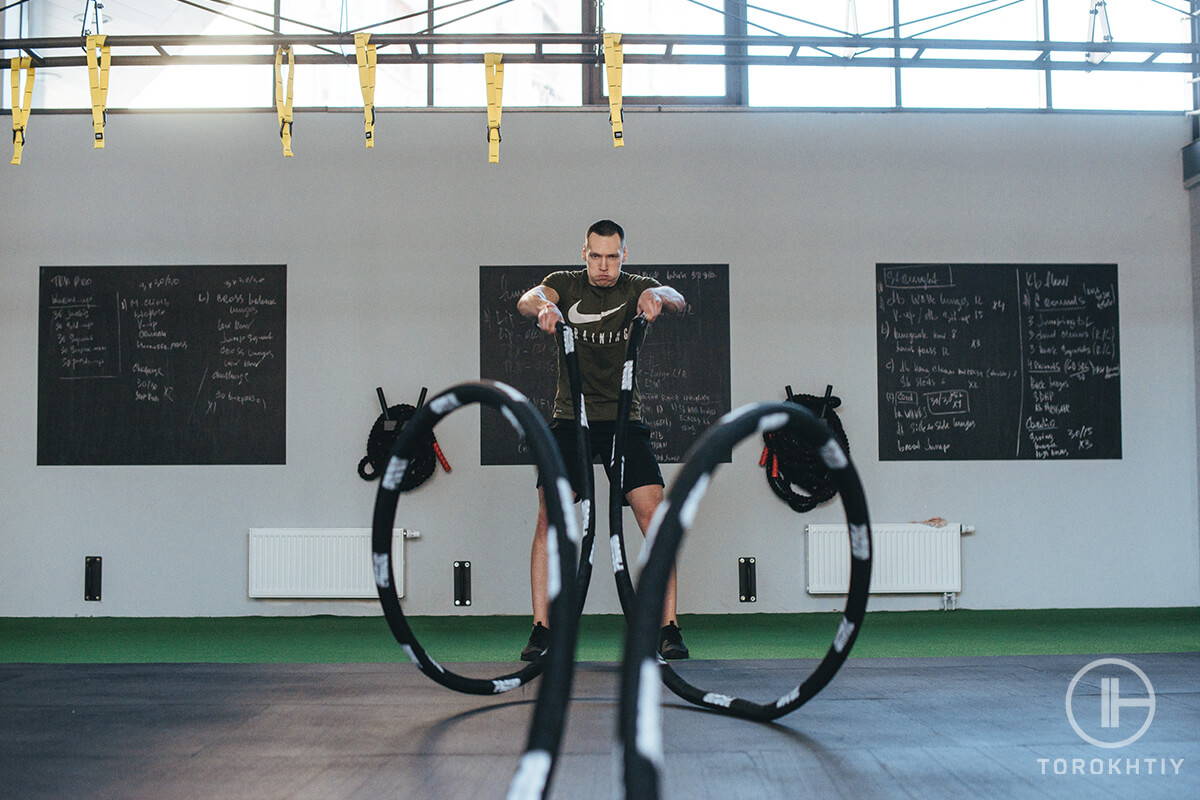 What Are the Benefits of Egg Protein?
There are a variety of sweeteners used in chocolate proteins, but we'll be breaking down the main types used for the products on our list.
✅ Stimulates Muscle Protein Synthesis
Egg based protein powder is one of the most bioavailable protein sources, therefore is a great supplement for muscle building. Not to mention, it is high in amino acids, specifically leucine. Before we get into the relevance of leucine, it is important to mention that egg white protein consists of ~9%, which may rank it within best protein sources for short term muscle protein synthesis, comparable in quality to whey protein.
Leucine is one of three branched chain amino acids, which stimulates muscle protein synthesis. The amount of leucine needed to maximize muscle protein synthesis varies from person to person. As egg whites are high in leucine, they may be more effective for muscle building compared to say non animal based protein sources like wheat or soy.
This is not to discredit non animal protein sources, as the same level of muscle protein synthesis/muscle building may still be achieved, but at the cost of choosing protein sources more carefully and mixing different proteins.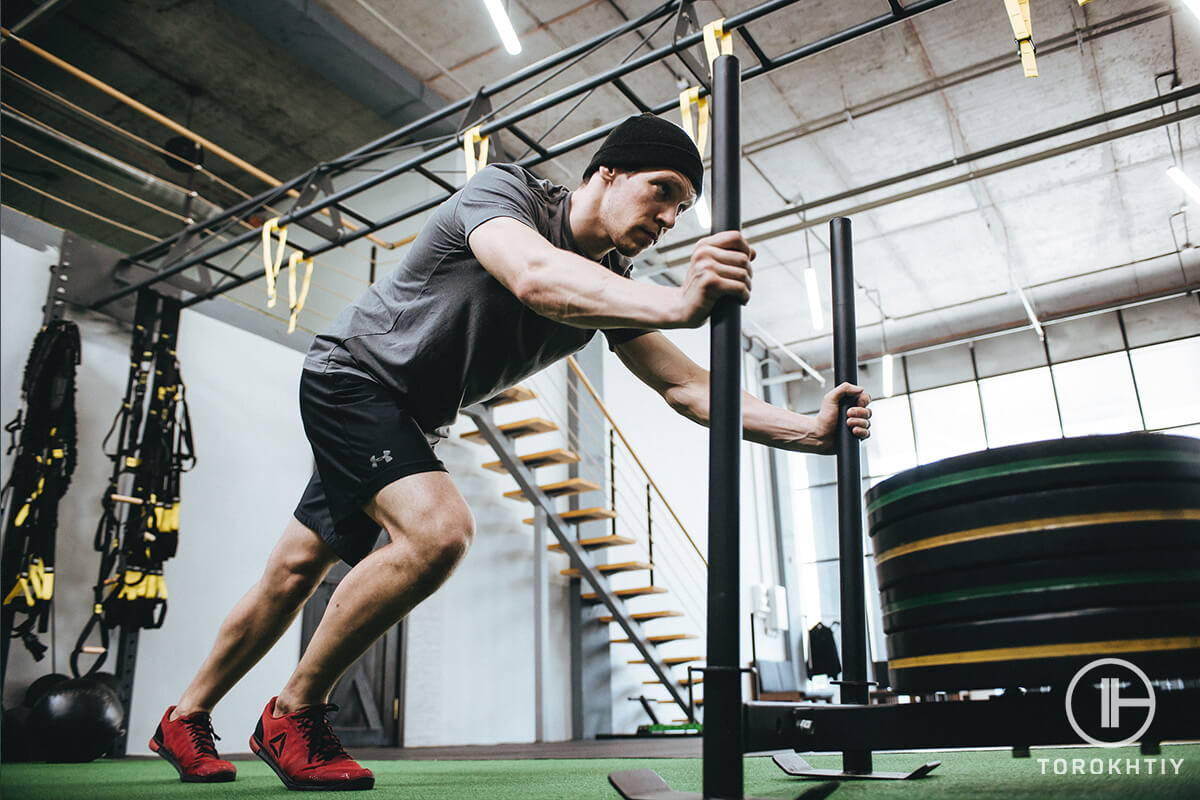 ✅ Great Supplement for Weight Management
Generally, most egg white protein powders are isolated, so it has a very minute amount of dietary fats and carbohydrates, if any. This makes egg white protein powder a lean and low calorie protein option. This is great to manage or reduce weight. Why so? It can provide all of the muscle recovery benefits, yet support a lower calorie diet to drop bodyweight.
✅ Suitable for Those Who Are Lactose Intolerant
Lactose intolerance is a digestive disorder, where the body is unable to digest lactose, which is found in dairy products like milk, or even protein powders like whey and casein. Side effects of consuming lactose for such individuals include bloating, diarrhea, constipation, excessive gas, and feeling sick.
As egg protein powders are free from lactose, Individuals who experience lactose intolerance may be able to reap muscle growth and recovery benefits of protein powder without the side effects.
Egg white protein powder is micronutrient and mineral dense, rich in vitamin B1 & B12 (and other B vitamins), selenium, and riboflavin. This will reduce the risk of certain micronutrient deficiencies needed to stay healthy.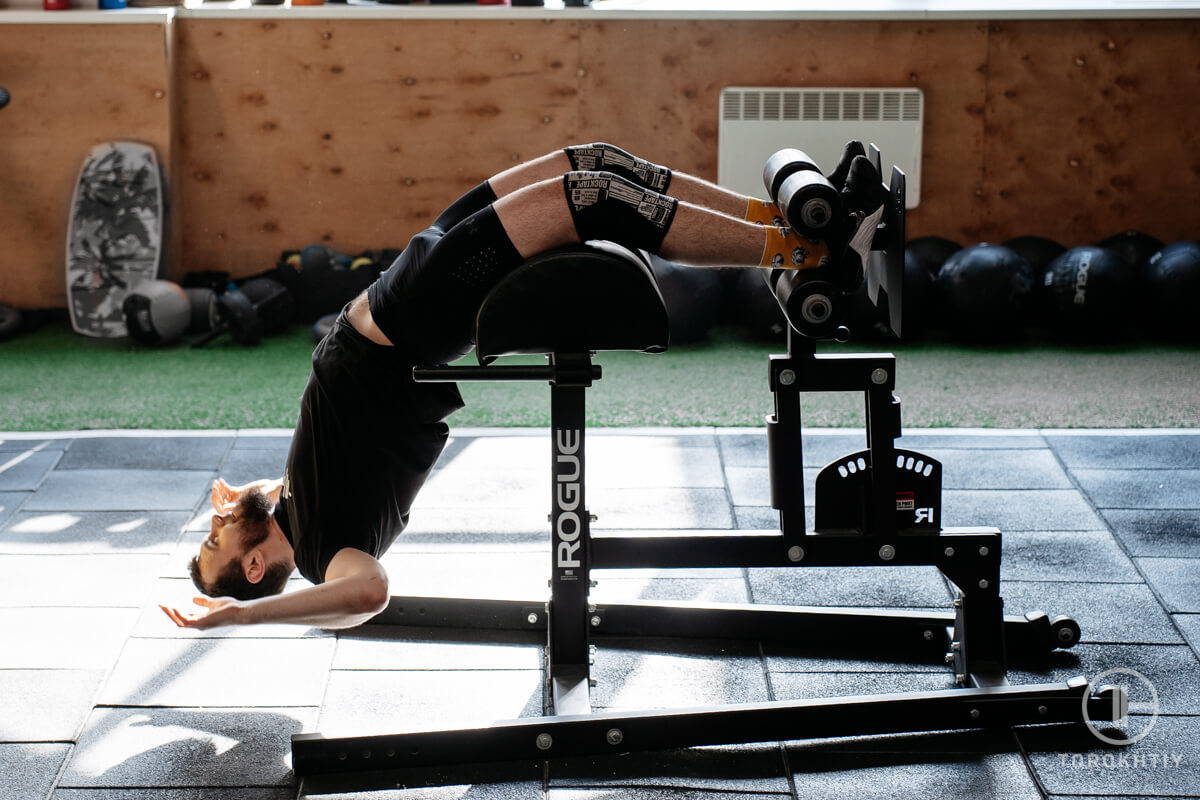 What Are the Disadvantages of Egg Protein?
The immune system of some individuals may overreact to the egg based products, thereby releasing chemicals like histamine. Such individuals may then experience an allergic reaction and break out into skin conditions like rashes, hives and swelling. More severe allergic reactions could include breathing difficulties and anaphylaxis. If you are allergic to eggs, then this type of protein powder is definitely not for you.
Although the price point of protein powders varies from brand to brand, egg protein powder is typically more expensive than other variants like whey. The reason behind this is, egg protein powders are not as widely available and are not as easy to manufacture.
To further elaborate, The production of egg protein powder requires a thorough process of separating the yolk, filtration and air drying. These processes require high-end machinery and are labor-intensive, which all comes at a cost, thus affecting the retail price.
Generally, egg protein is not known for taste, in fact most egg based proteins are unflavoured.If you prefer the texture and taste of milkshake, egg protein may not appeal to you. This may be a disadvantage if taste/flavor is important and you cannot take other more flavorful types of protein powder for whatever reason.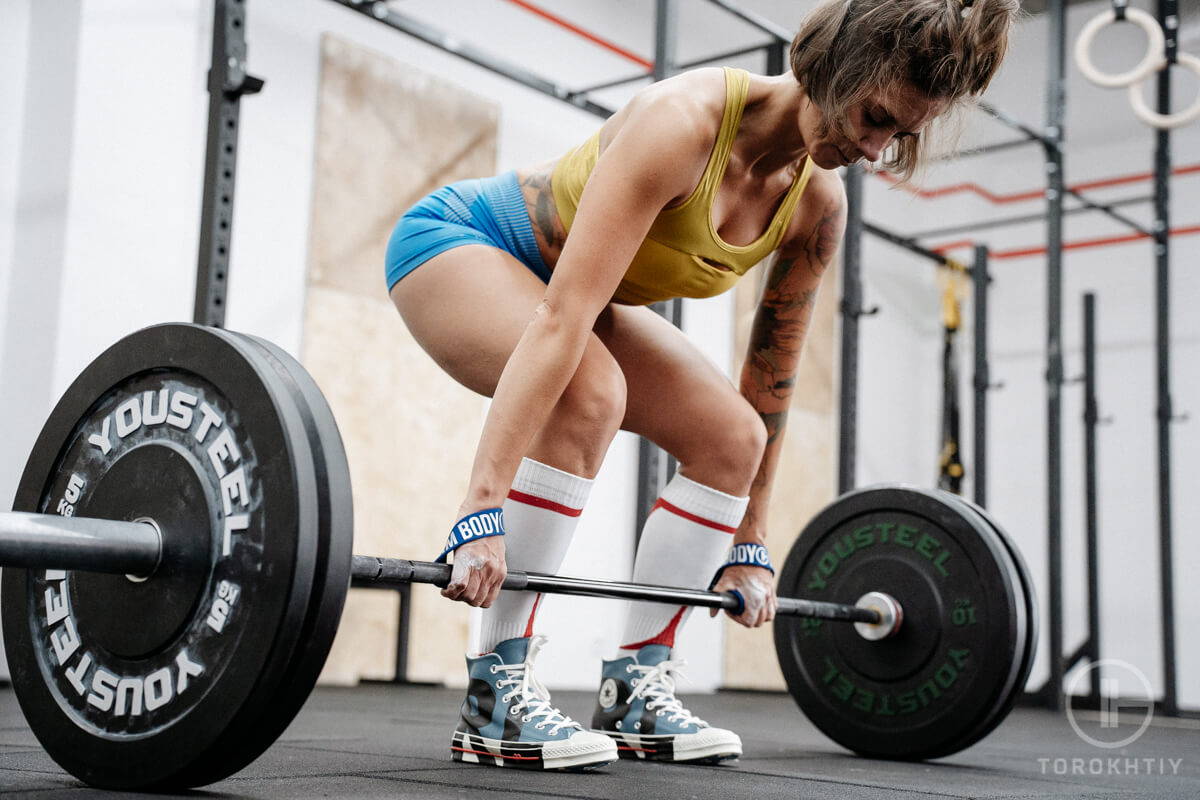 We have compared egg and whey below using 4 different criteria.
1. For Lactose Intolerance
Clearly egg protein powders are the better option for those who are intolerant to lactose found in dairy products like whey. Of course, there are lactose-free or zero-carb whey options, but some people with lactose intolerance react negatively even to these. They may also have an intolerance to cow's milk proteins, so even lactose-free dairy options continue to cause trouble.
2. Effectiveness for Muscle Protein Synthesis
Let's say right away that a single protein shake has very little effect on muscle protein synthesis. It's more a question of the whole diet and sufficient protein intake from different sources.
Research into whether it is possible to increase protein synthesis through increased consumption of certain amino acids is still ongoing. As we already mentioned, leucine has such potential. It appears that whey protein has a higher concentration of leucine. Whey contains 11% leucine, whereas egg protein contains 9%. To get the 3g leucine threshold, you would need 25g of protein from whey or 35g of protein from egg.
Does it make a difference in real life? Hardly significant.
As we have mentioned, whey is much cheaper than egg protein. A 2lb tub of whey would cost $20-$40 which yields around 20-30 servings. An egg protein powder would cost around $30-50 for the same size tub and servings.
This is entirely subjective and will depend on the brand. Many prefer whey protein powder for its milder taste, mixability and texture. However, others may prefer the unique taste of egg white protein powder.
It is worth noting that protein powder can be used not only for shakes, but also for cooking. In this case, the neutral flavor of the egg powder may be preferable for some recipes.
What Is the Best Way to Use Egg White Protein?
A Flavored egg protein can simply be mixed with 12 oz of water or beverage of choice. However, there are other options, especially for unflavoured egg protein powder. If you intend to use egg white protein powder in omelets, pancakes, or bakes, you could mix it with batter, eggs or other dry ingredients. For example, you could replace ⅓ of the baking flour with egg white protein. This would reduce the carbohydrate content and Increase lean protein.
How to Find the Best Egg White Protein Powder?
Generally, we would suggest looking for an egg white protein powder consisting of ~70-80% protein which would equate to around 20-25g of protein per serving.
A high-quality egg protein priced ~$2 or under per serving would be a reasonable price. You could justify paying 20-30 cents over if the product has been batch tested by "informed sports" (if you compete in drug tested sports) or it comes flavored with ingredients that improve the mixability and texture.
Tip #3: Authenticity & Safety of the Product
To make sure the ingredients are authentic you may consider a product that has been 3rd party tested. Similarly, if you compare in drug tested sports, a product that has been batch tested by "informed sports" would be the safest option.
Is Egg White Powder High in Protein?
YES! Egg white protein powders contain around 20-24g of protein per serving
Is Egg White Protein as Effective as Whey?
Despite some difference in amino acid composition and possible benefits for muscle growth of whey protein, when it comes to supplementing a balanced diet with protein, there is no significant difference. The important thing is the total daily protein intake from mixed sources.
Prevalence of dietary supplement use by gym members in Portugal and associated factors //Biomedcentral: https://jissn.biomedcentral.com /articles/10.1186/s12970-020-00342-z
Lactose intolerance //NHS: https://www.nhs.uk/conditions /lactose-intolerance/
Egg white drying: Influence of industrial processing steps on protein structure and functionalities //Sciencedirect: https://www.sciencedirect.com/ science/article/abs/ pii/S0260877407002087
Effects of Amino Acids and their Metabolites on Aerobic and Anaerobic Sports //LWW: https://journals.lww.com/nsca-scj/Fulltext/2012/ 08000/Effects_of_ Amino_Acids_and_ their_Metabolites _on.8.aspx
Leucine supplementation and intensive training //NIH: https://pubmed.ncbi.nlm.nih.gov /10418071/
Food allergy //Nhsinform: https://www.nhsinform.scot/ illnesses-and-conditions/nutritional/food-allergy
With over 20 years in Olympic Weightlifting, our team does its best to provide the audience with ultimate support and meet the needs and requirements of advanced athletes and professional lifters, as well as people who strive to open new opportunities and develop their physical capabilities with us.
All products we select are primarily approved and tested by the Olympic Weightlifting Champion Oleksii Torokhtiy. Under his guidance, we provide honest and reasonable assessments of the products we review by checking their characteristics, packaging, design, comfort and durability features, and general product rating. We select products from only high-quality and trusted sports brands, thus vouching for their quality.
The product testing process is described in more detail here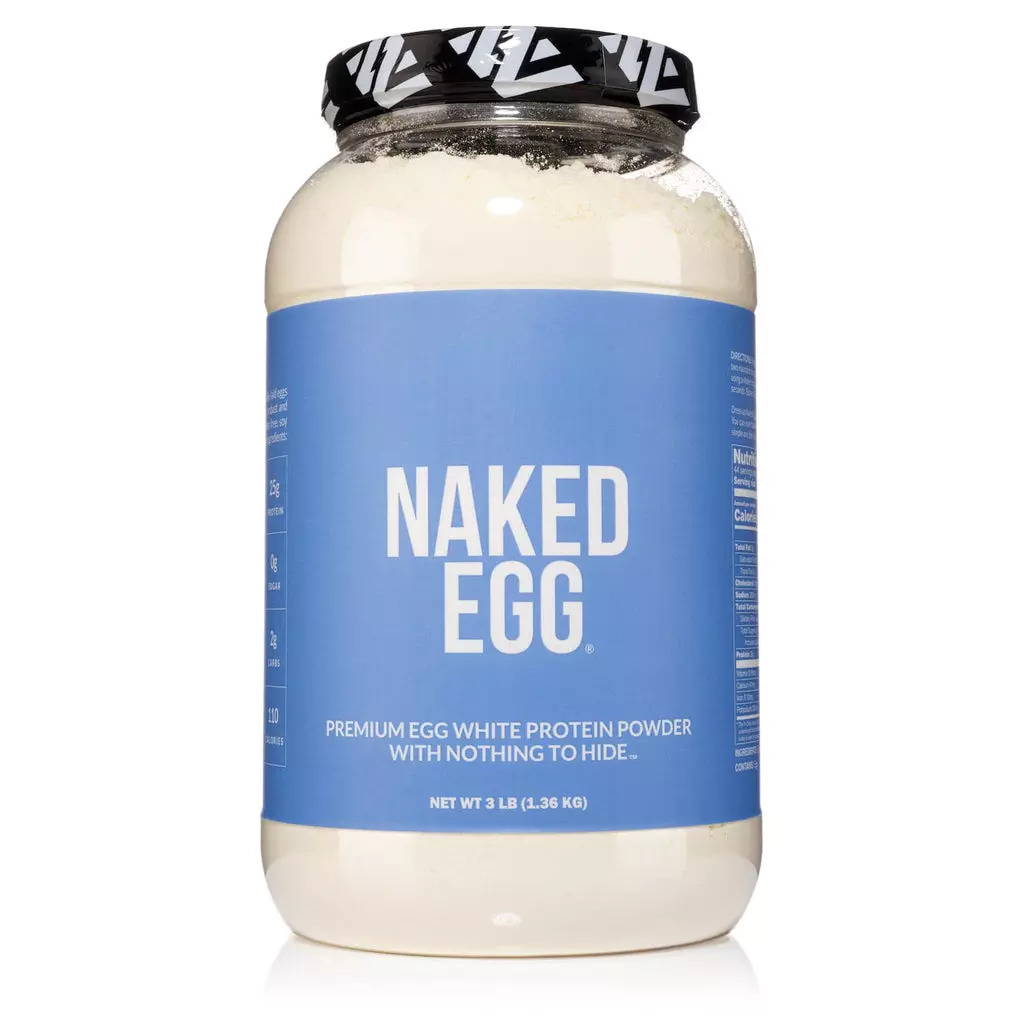 Experience: 7 years
Specializing in: Weight management, Fitness / Sports nutrition
Oleksandr is a professional fitness nutritionist, certified by FPA (Fitness Professional Association). Oleksandr adheres to the principles of evidence-based dietetics and instills in his clients a healthy relationship with food - without strict prohibitions on favorite foods and regular disruptions. His main task – not only get a result for you, but also maintain it for many years, enjoying tasty and delicious food.
If you have any questions/suggestions/any other inquiry, you can reach out to us via email - reviews@torokhtiy.com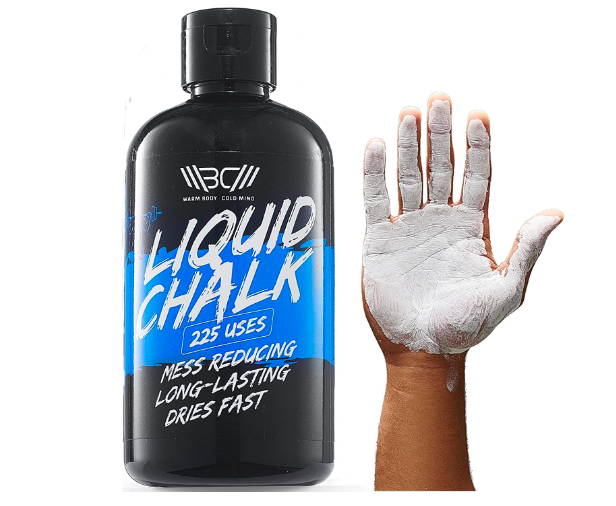 This article was written by our qualified author and proofread by expert with proven experience. When writing the article we use our expertise and data from open sources with strong reputation, scientific or medical based. The list of references is provided at the end of the article.
Our team of authors and experts includes professional athletes (Olympians, winners of European and World titles) PhD in Sport Science, certified coaches, sports nutritionists, CSCP, physiotherapists and other. Read more about the team here, and more about how we test here.