Pre workout supplements have emerged as a popular choice, offering a boost of energy, focus, just when we need it most. A pre workout that uses all the natural ingredients and lists them on the label with their dosage is assumed to be clean. As the demand for more natural options continues to rise, so does the quest for the cleanest pre workout on the market.
Picture this: you're standing in front of shelves lined with clean pre workout supplements, each promising to supercharge your workouts. But you're not just looking for any pre workout; you want one that aligns with your values of natural ingredients, transparency, and optimal performance. That's where our journey begins.
In this exploration, we'll dive into the world of clean pre workout supplements. We'll dissect and analyze the ingredients, formulations, and benefits of six top-tier options that have caught our attention. From plant-based powerhouses to naturally sourced energy enhancers, we'll leave no stone unturned in our quest to uncover the finest and the cleanest pre workout supplement on the market. Below you will see clean pre workout reviews and some tips and tricks on how to tell a clean pre workout powder from others.
In a hurry and can't keep reading? How about you check out the BULK by Transparent Labs.
Our top pick is BULK pre workout by Transparent Labs. This product offers a solution for those looking for enhanced performance during the workout session. Transparent Labs did an impressive job in creating a product with balanced, science backed ingredients that can stimulate physical performance and improve focus during the sets.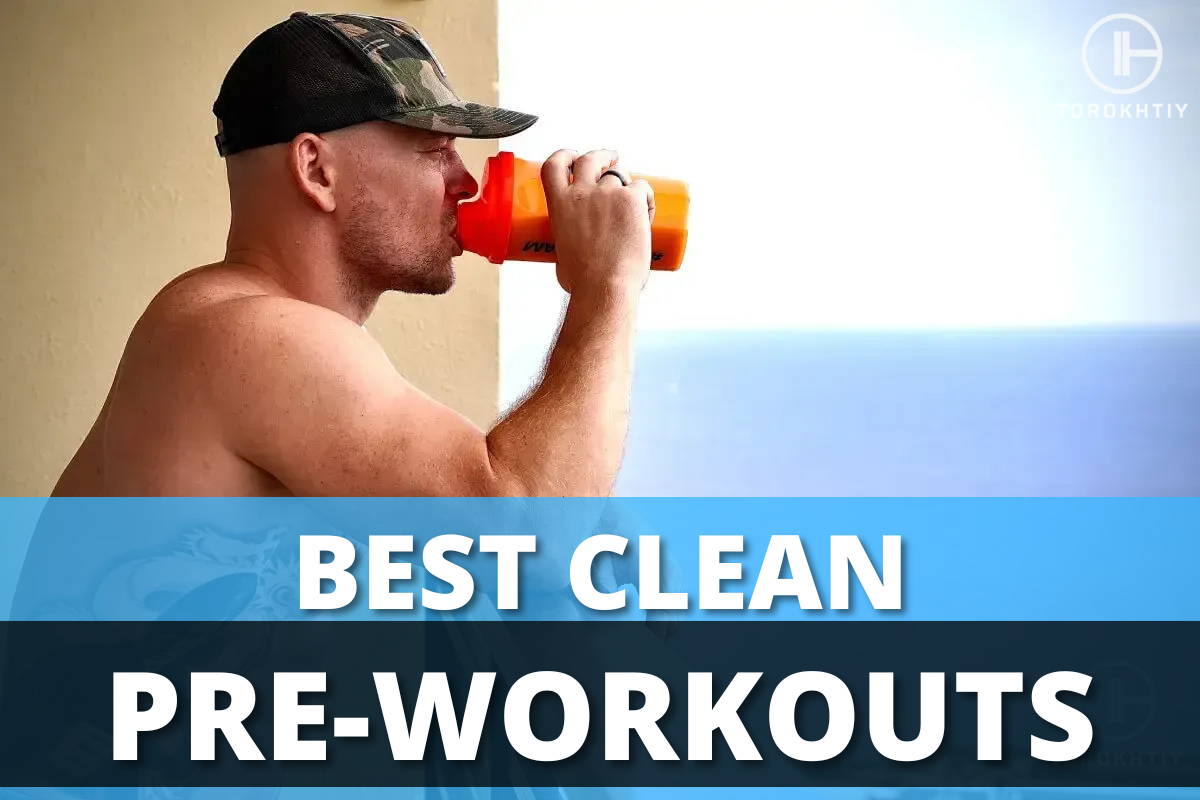 Top 6 best clean pre-workouts reviewed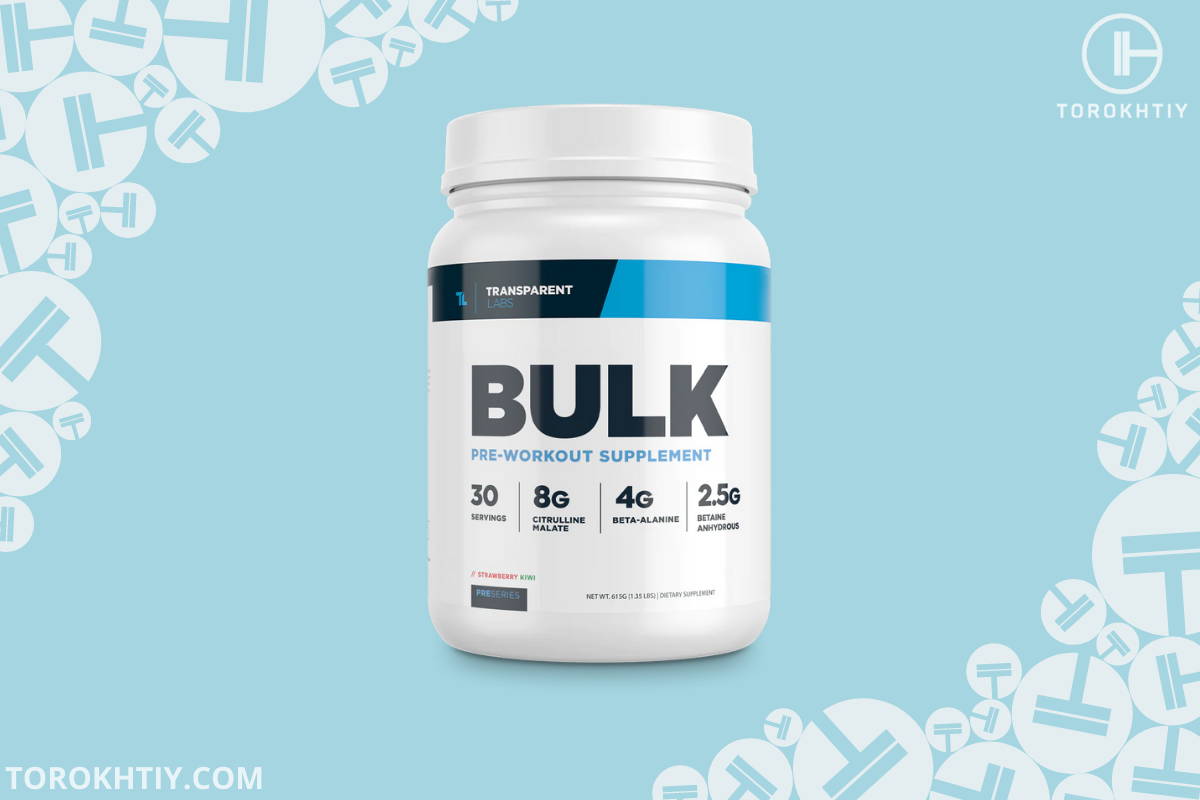 Form: Powder
Best for: Enhanced performance, reduced/delayed fatigue, increased focus
Flavor: Various
Caffeine (mg): 200
Special ingredients: Citrulline malate, Beta-alanine, Betaine, L-tyrosine, L-theanine, vitamin B6 & B12
Package Information: 30 servings
Serving: 1 scoop - 20.5g
Company Founded: 2015
Recommended by Athletes: Grace Gilbert; Erin Ashley; Noah Henry
Our top pick is BULK pre workout by Transparent Labs. This product offers a solution for those looking for enhanced performance during the workout session. Transparent Labs did an impressive job in creating a product with balanced, science backed ingredients that can stimulate physical performance and improve focus during the sets. Recommended serving is a single scoop of powder, which is approximately 20.5g. A package contains 30 servings which equals a month worth pre workout supplementation if you train and take it everyday.
Recommended intake of pre workout is 20-30 minutes before the workout. With the variety of flavors that the producer offers, you could find your preferred taste easily. As the serving size is quite reasonable, it's not an issue to solve the powder into your preferred liquid beverage whether it's water, smoothie or freshly squeezed fruit juice.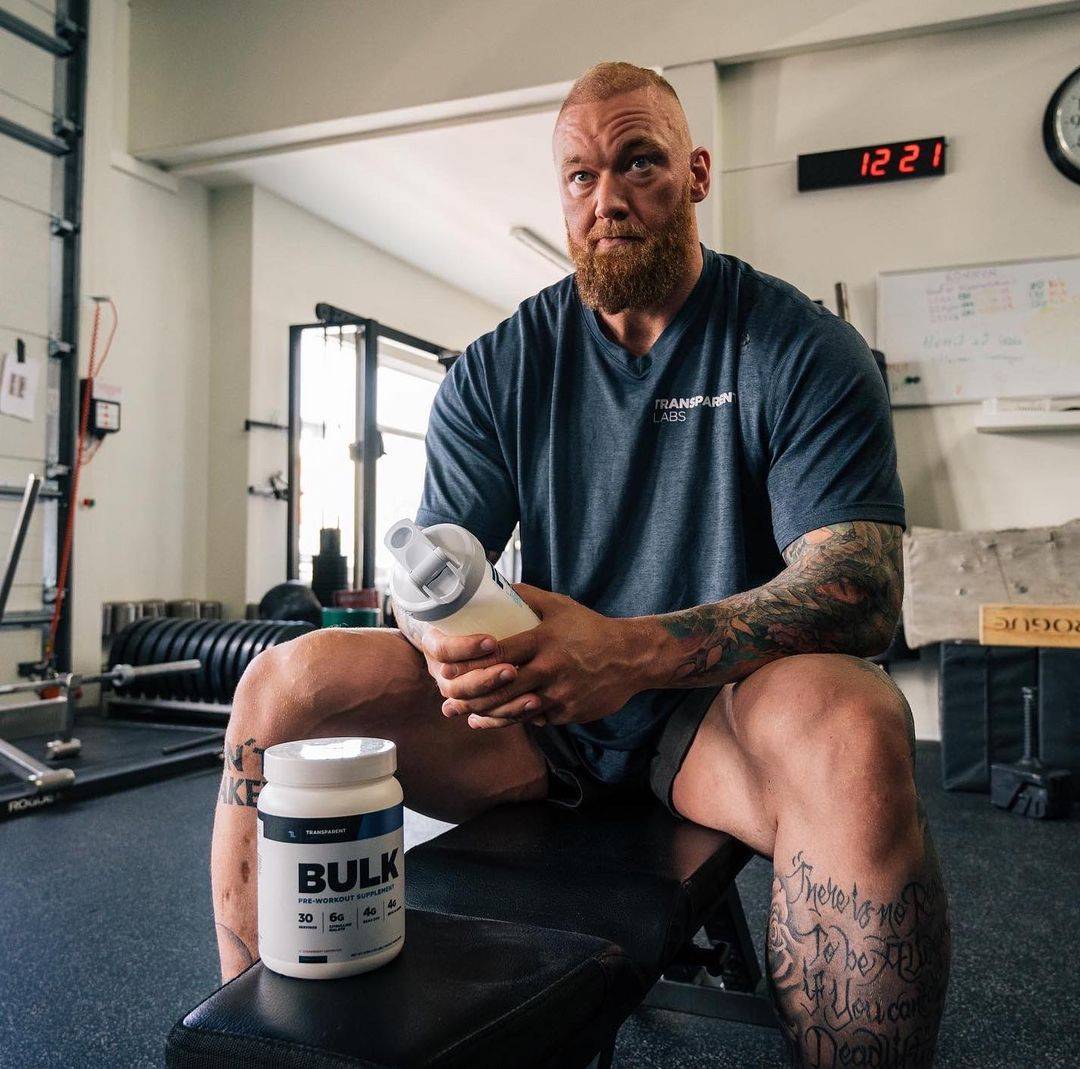 Unlike many pre workout supplements Transparent Labs provides fully clear labeling on the package, showing all the ingredients and their quantities. The caffeine content is sourced from green coffee beans which can provide an energy boost without any crash. A really solid amount of beta-alanine is also displayed (4000 mg), which delays muscle fatigue and is known to increase workout capacity. Nitric oxide boosters such as citrulline (8000mg) and vitamins such as B6 (5mg) and B12 (100mcg) are also displayed on the label, giving a promising picture on increased energy production and nutrient delivery to the muscles.
Transparent Labs' Bulk pre-workout is a top choice for enhanced workout pumps, with key ingredients like beta-alanine, betaine, and citrulline malate, making it an excellent option for maximizing your exercise routine.
Nutrition Label Transparency:
10
Contains a good amount of Nitric oxide boosters

Transparent and clean labeling with key ingredients and quantities
Does not have an unflavored option

Caffeine content might be high for those taking other caffeinated drinks during the day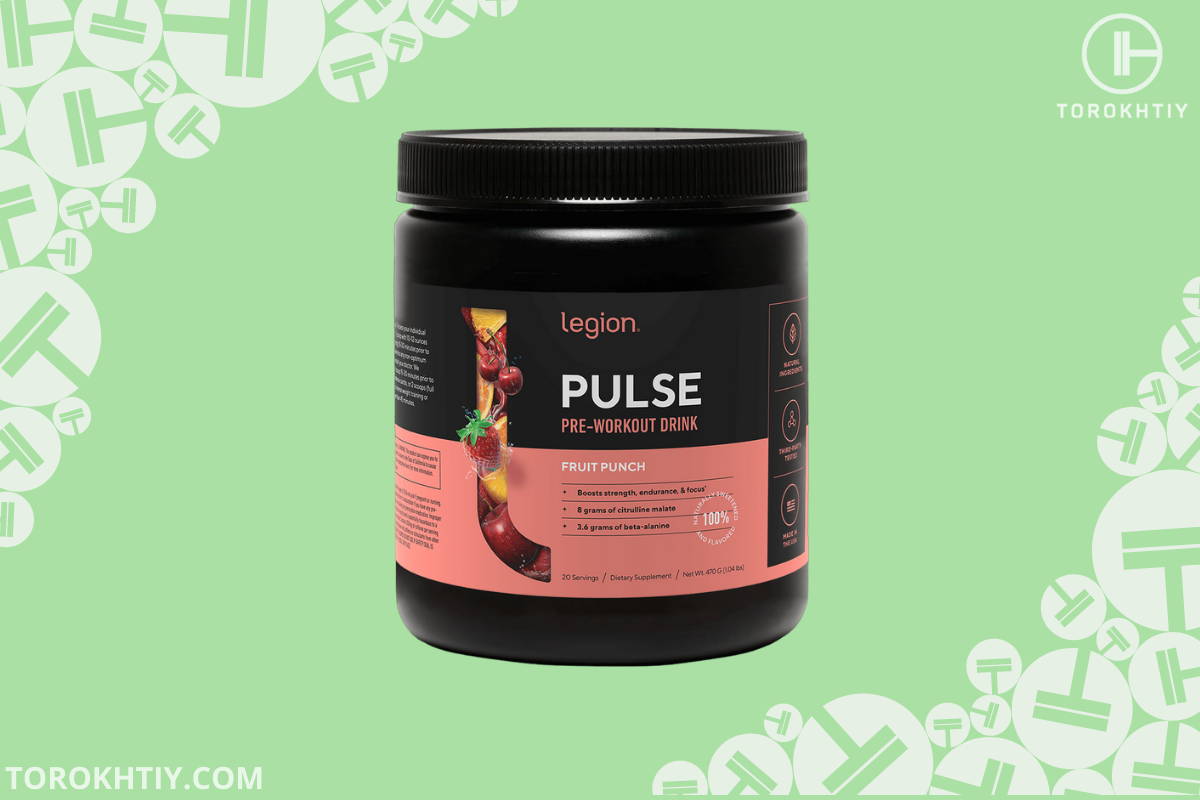 Form: Powder
Best for: Increased strength and muscle endurance, focus
Flavor: Various
Caffeine (mg): 350
Special ingredients: Betaine, citrulline malate, beta-alanine, alphaGPC
Package Information: 20 servings
Serving: 2 scoops - 23g
Company Founded: 2014
Recommended by Athletes: Christiana Parrack; Torrey Penn; Yaresi Yvette
Almost as good as our top pick - Pulse by Legion provides a balanced, science backed ingredient content. The label discloses the content of citrulline malate (8g), beta-alanine (3.6g) which stimulates carnosine production and supports muscle function. This can enhance muscle pumps and overall endurance during the exercise.
With a high content of caffeine (350mg) Pulse provides an immense alertness and focus almost right away. With increased focus and performance caffeine can help with making exercise experience more pleasurable and effective. Those who take other caffeine containing products during the day might consider keeping an eye on the overall caffeine consumption. Not to exceed the recommended daily value, Pulse also provides pre workout powder without caffeine content.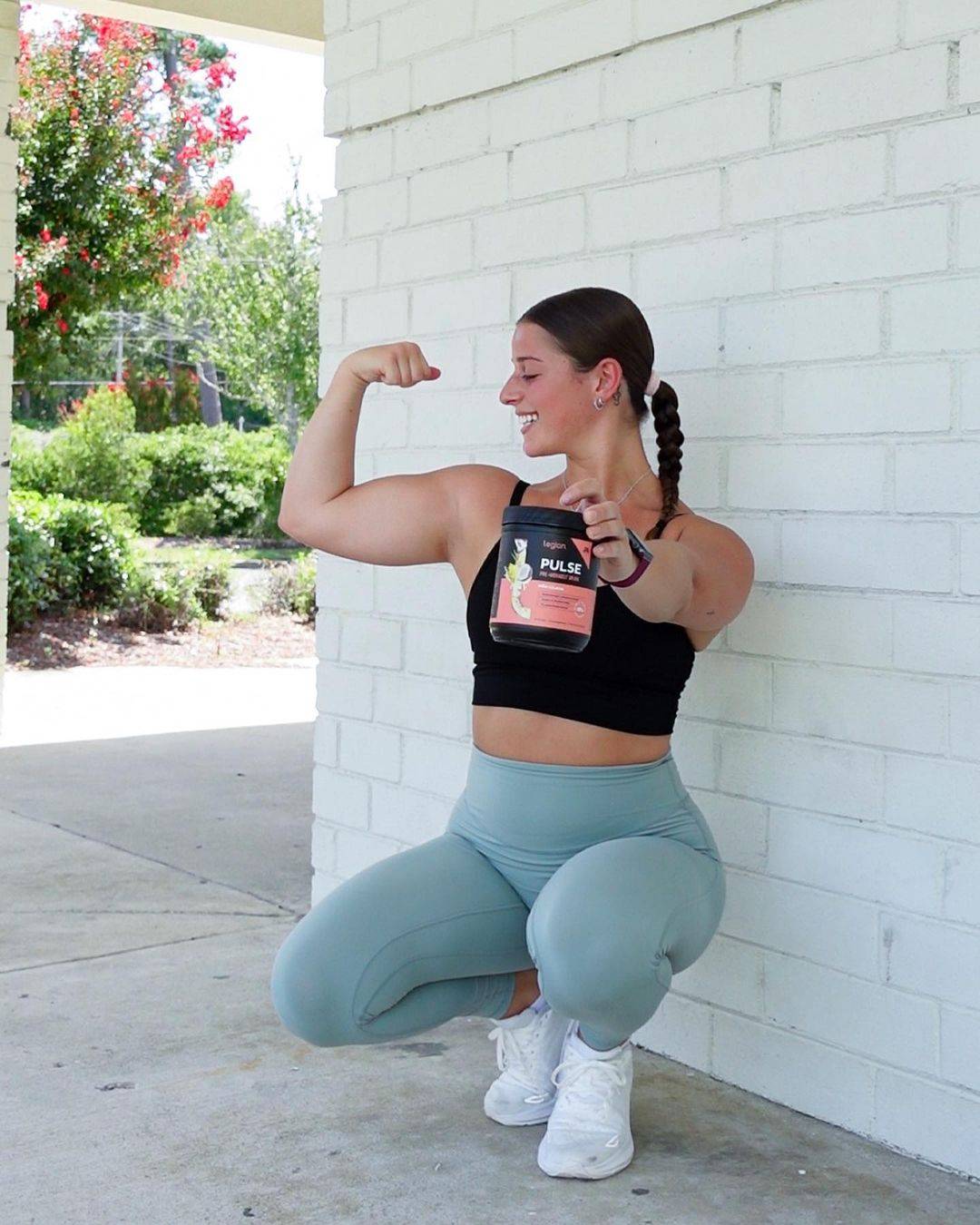 Pulse by Legion is offered in various flavors: fruit punch, apple cider, blueberry lemonade, frosted cranberry and so on. Everyone could find their favorite taste. The powder easily solves in water or any other preferred liquid. Recommended amount is 2 scoops, which equals to around 23.5g.
Legion's Pulse pre-workout offers potent energy and pump effects with substantial doses of caffeine, beta-alanine, betaine, and citrulline malate, available in multiple natural flavors, albeit at a higher cost.
Nutrition Label Transparency:
10
Has option for pre workout without caffeine

Transparent dosage disclosure
Slightly higher price point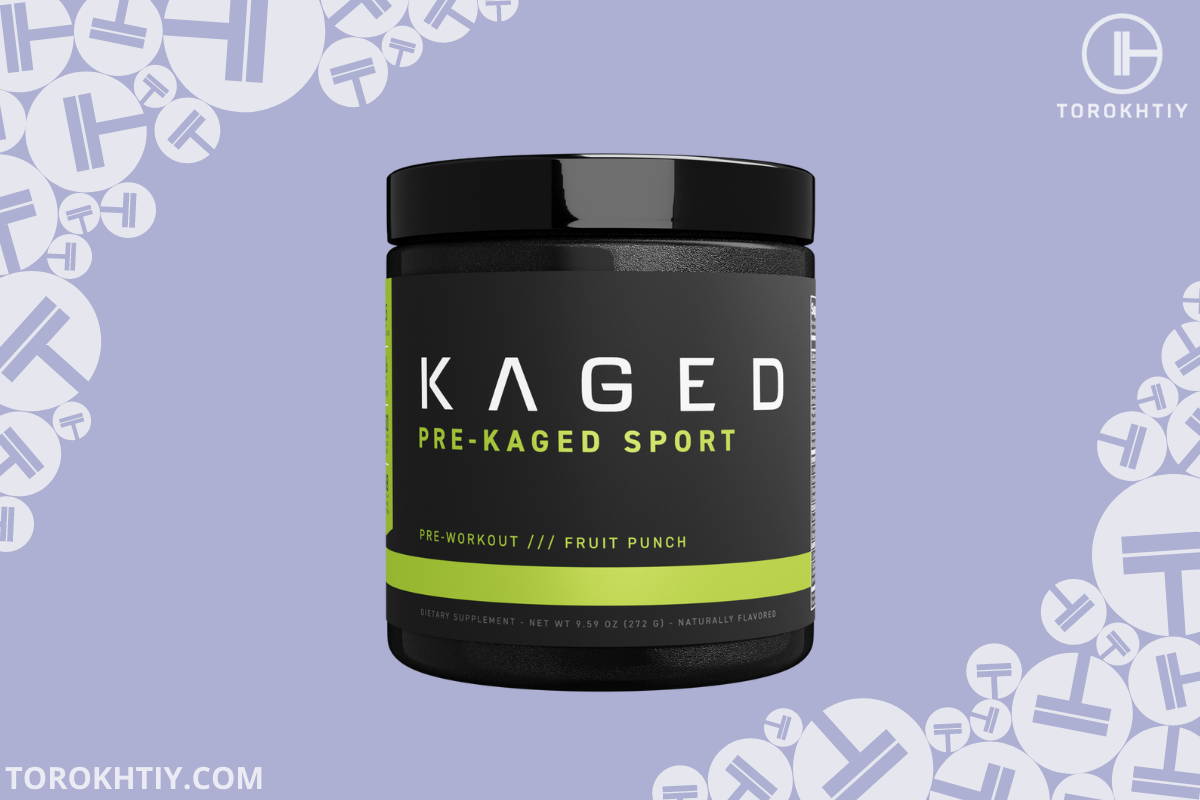 Form: Powder
Best for: Improved endurance and performance, reduced fatigue, improved focus, hydration
Flavor: Various
Caffeine (mg): 188
Special ingredients: Citrulline, beta-alanine, betaine, l-tyrosine, vitamin B6 & B12
Package Information: 20 servings
Serving: 1 scoop - 13,6g
Company Founded: 2014
Recommended by Athletes: Quincey Blair; Alex Gibson; Ally Lima
Pre-Kaged Sport is specially designed for athletes, sports people or for those who have higher athletic goals. This pre workout powder provides only good ingredients for enhanced energy, focus and performance during the exercise.
With clear and transparent labeling, Pre-Kaged pre workout displays an adequate amount of caffeine (188 mg), beta-alanine (1.6 mg) and L-tyrosine (500 mg) content that increases blood flow and muscle performance during the exercise. Plus, this product contains ingredients that could help recovery and cellular hydration, such as betaine (1.25g) and coconut water powder (500 mg) and electrolytes (Mg 20mg, Na 50mg). With these ingredients Pre-Kaged pre workout powder might prevent risk of cramping during and after the physical activity.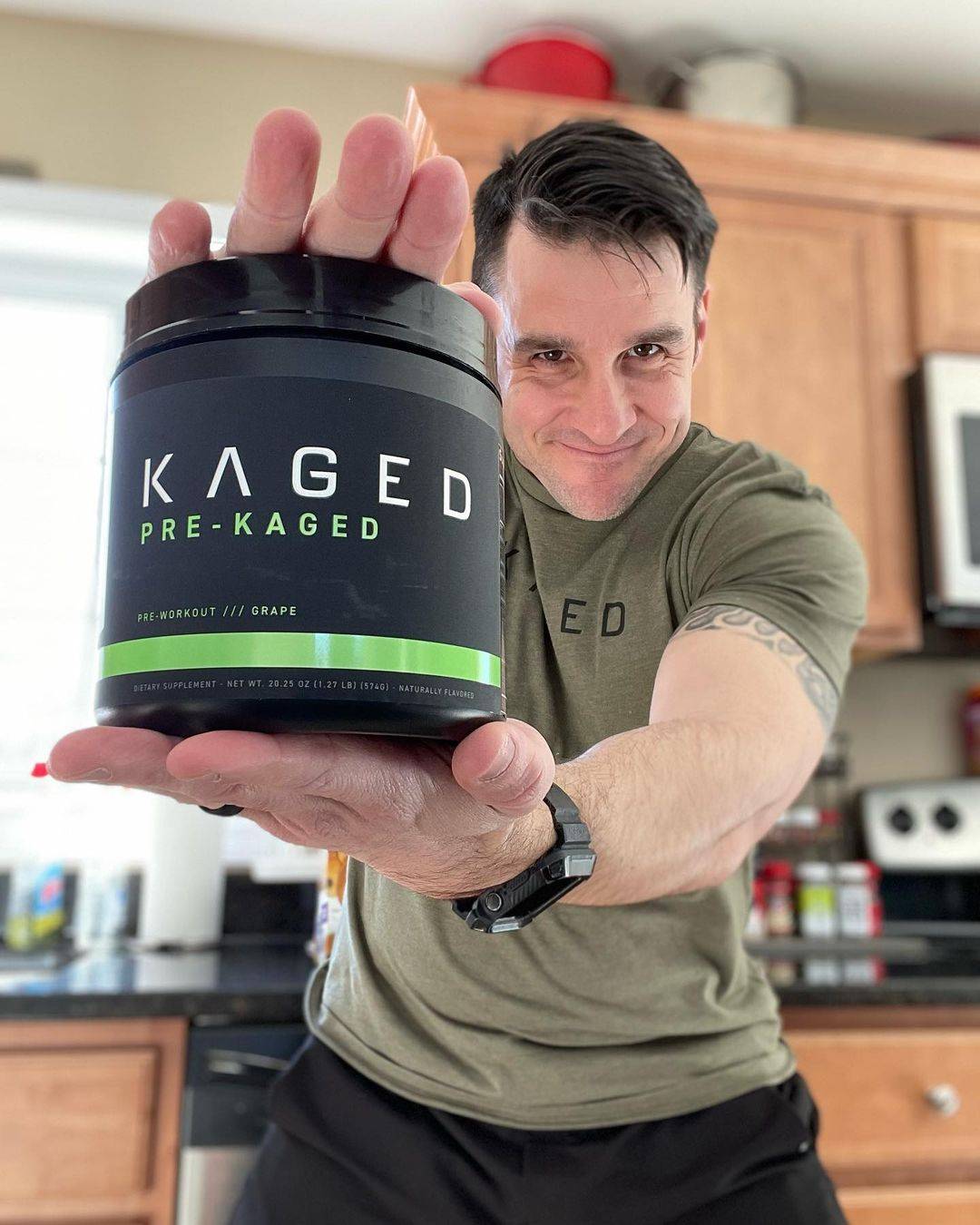 Aside from the performance enhancing ingredients, Pre-Kaged Sports offers multiple flavor options with different fruit tastes. Recommended serving size is 1 scoop which equals 13,6g. With a considerably small serving size, Pre-Kaged easily dissolves in a single cup of water (or other preferred liquid) and provides a smooth texture without clumps.
Pre-Kaged by Kaged offers a balanced pre-workout with moderate caffeine, significant beta-alanine, and powerful L-Citrulline for enhanced pumps, along with an antioxidant ORAC blend, albeit at a higher price and including artificial ingredients.
Nutrition Label Transparency:
10
Caffeine content is not too high

Third party tested and certified
Lower content of beta-alanine and l-citrulline compared to competitors

No option for unflavored powder
Form:

Powder

Best for:

Enhanced energy, delayed fatigue, increased focus

Flavor:

Unflavored, fruit punch and citrus

Caffeine (mg):

200

Special ingredients:

Beta-alanine, creatine, L-arginine

Package Information:

50 servings

Serving:

2 scoops - 4.8g

Company Founded:

2014

Recommended by Athletes:

Alex Joyal; Amy Meinster; Ralph Caggiano
Naked Energy by Naked Nutrition is another clean pre workout option. This is one of the minimalist yet powerful products for those committed to vegan diet and looking for an additional boost before a workout.
Unlike other options, Naked Energy contains creatine (1g - which is a bit low) - a crucial element in providing energy to muscle cells. Creatine is shown to enhance performance during the high intensity exercise as well as recovery due to its potential ability to reduce muscle fatigue.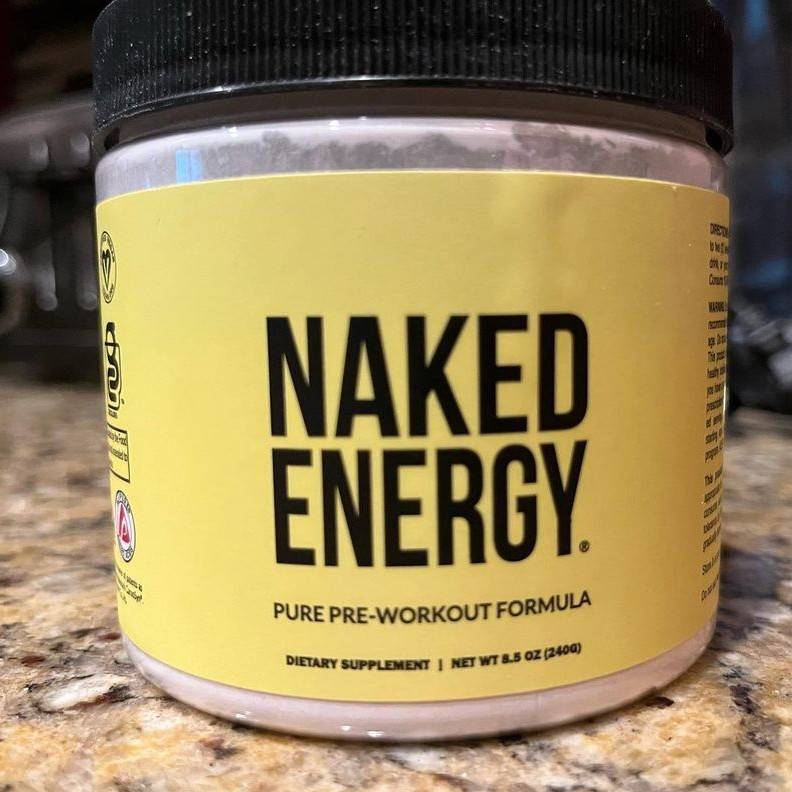 Naked Energy had the lowest recommended serving size - 4.8g, which can seamlessly dissolve in any liquid. They offer unflavored as well as fruit and citrus flavored options for better experience. Naked Energy offers one of the best unflavored pre workout supplements currently. Compared to other products, this powder has a rather limited variety of flavors, however small portion size could outweigh this "flaw".
The Naked Energy has a large amount of vitamin C and some B vitamins. However, consider the 40 mg dose of niacin (vitamin B3), which can cause skin flushing on the face, arms, and chest.
Nutrition Label Transparency:
9
Third party tested for heavy metals
Low creatine, Beta-alanine and L-arginine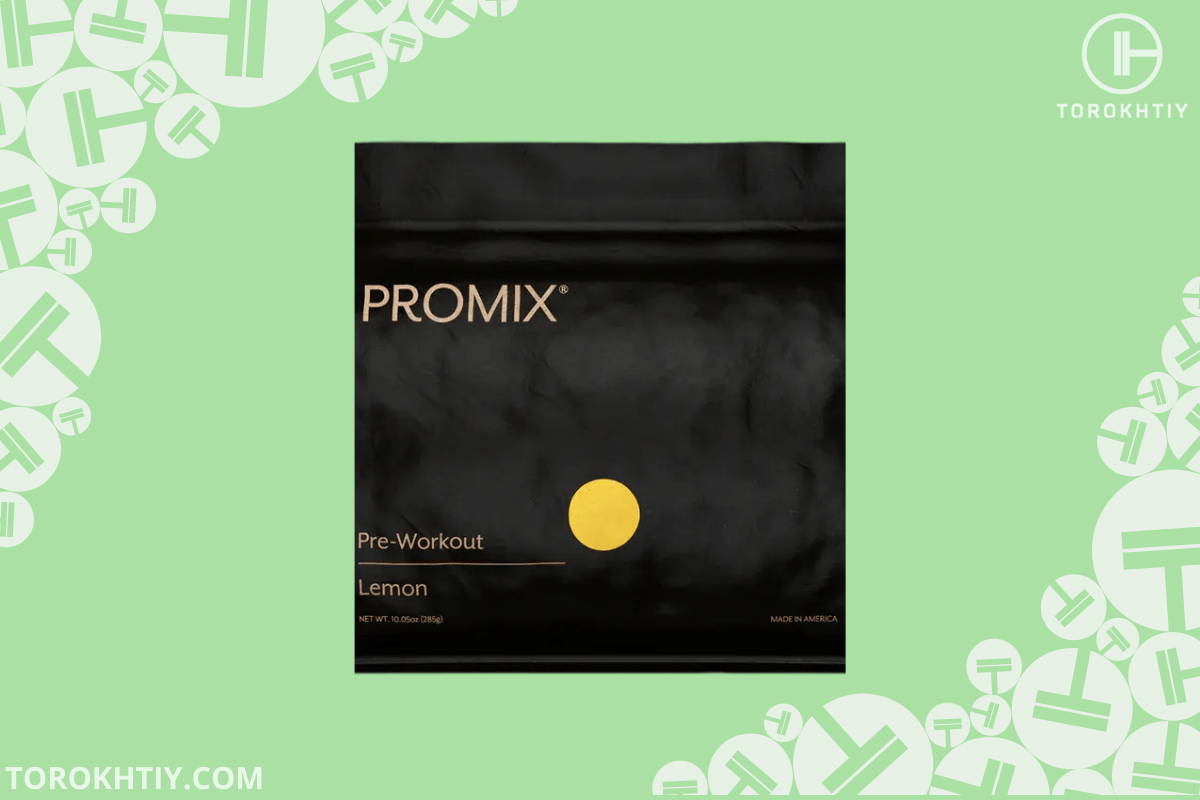 Form:
Powder
Best for:
Improved endurance and focus, delayed fatigue
Special ingredients:
Beta-alanine, L-tyrosine, Vitamin B12 & C
Package Information:
30 servings
The tastiest pre workout option in this list is produced by PROMIX. With various excellent flavor options, such as strawberry lemon, pink lemonade, mixed berry, cherry lime and so on, PROMIX does not disappoint. The powder mixes smoothly and effortlessly, leaving no clumps or unsatisfying texture experience.
While providing a good taste experience, PROMIX does not compromise on ingredient list and content. Apart from endurance enhancers such as caffeine (200mg), beta-alanine (3.2g), this product also contains l-tyrosine (3g) and a significant amount of B12 and vitamin C. They contribute to different aspects of a successful workout experience. Vitamin B12 plays role in energy production, whereas Vitamin C protects cells from damage that oxidative stress could bring.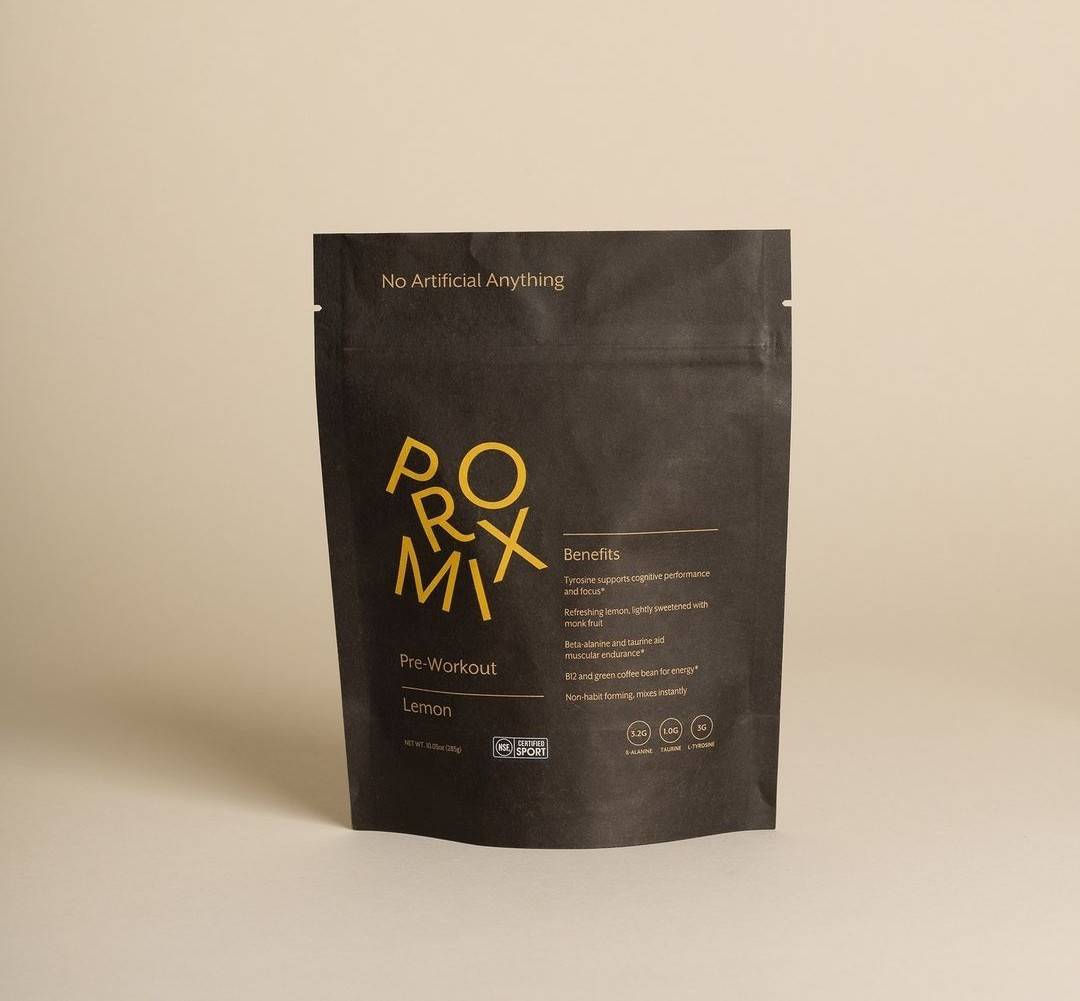 If the ingredient list still is not convincing to commit to this pre workout, there is an option to buy single serving packages. This allows you to try out the product, choose your favorite flavor and then buy a larger size pouch.
Promix pre workout also contains additional ingredients, including taurine, vitamin C and a large dose of vitamin B12.
Nutrition Label Transparency:
10
Tasty and easy to dissolve

Single serving package option

Good source of vitamin C and B12
Lack of Citrulline or any NO boosters

Slightly priceyer compared to other options
What can be considered a "clean" pre-workout?
Claiming a certain product is "clean" can be confusing for multiple reasons. So we give you an overview of the major aspects that could help to find a "clean" pre workout.
A pre workout refers to a supplement or beverage that is formulated to improve athletic performance and energy levels when taken before a workout. A "clean" one should not contain any possibly harmful, banned or artificial ingredients.
Choosing a more natural option over the others should ensure you won't consume any banned substances and not put any risk to your health and well-being. Consuming more gut friendly pre workout with effective but safe doses of ingredients is crucial to not cause any digestive/health problems during or after the workout.
Keep in mind - just because something is natural does not automatically mean it is safe and healthier, same is - just because something is artificial it does not mean by definition it is not healthy or not safe - it is the dose that makes the poison.
To identify whether a pre workout is clean or not, always read the labels and familiarize yourself with the ingredients. Usually, pre workouts contain similar ingredients but in different quantities. Here are the most widely used ingredients that are expected to be in the product.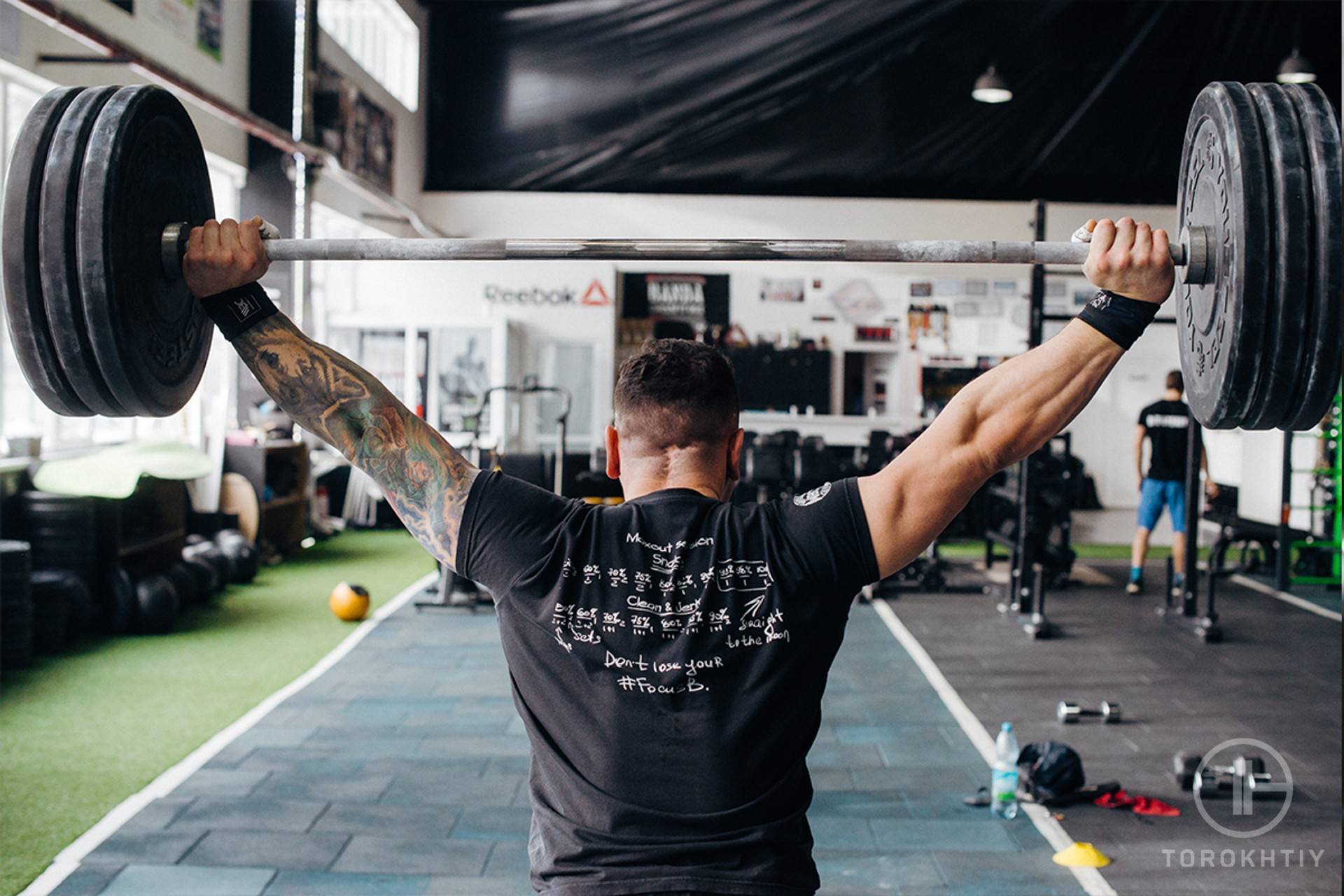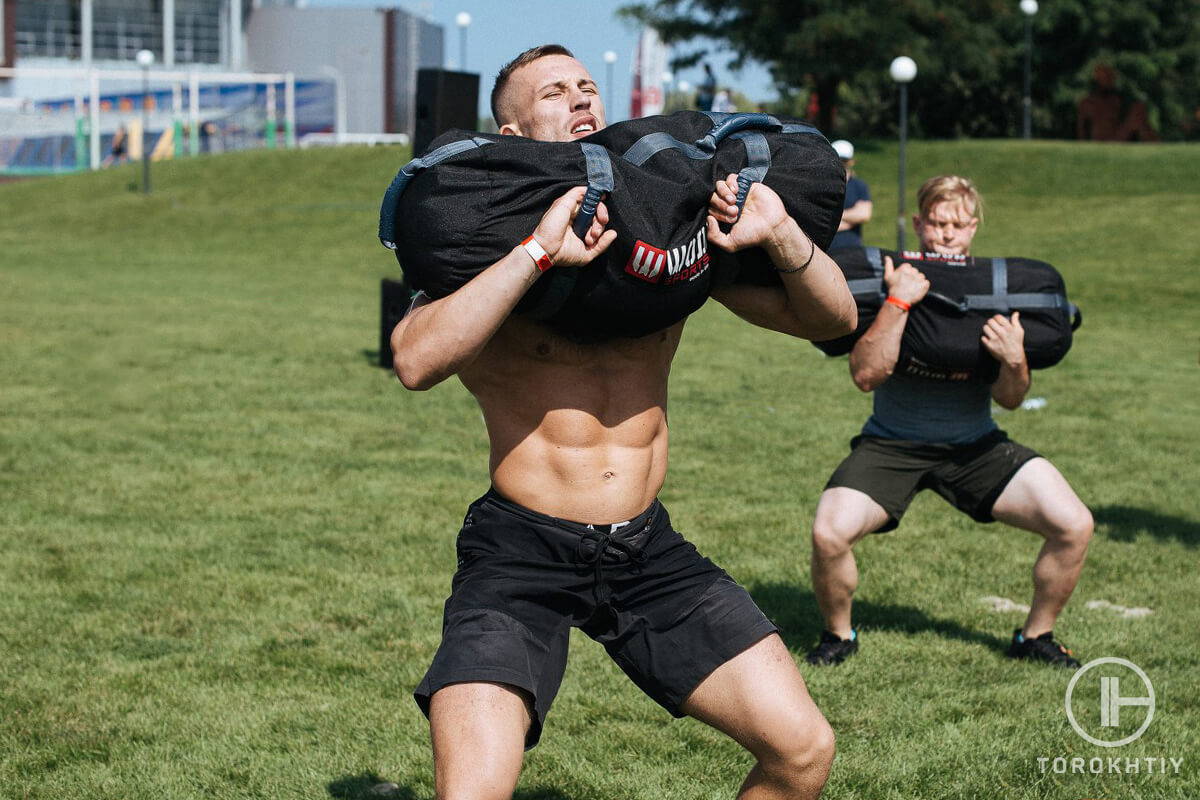 What are the key differences between a clean pre-workout and others?
The main difference between clean pre workout and others is the ingredient list and testing. Equally important is their sourcing and quantities in which they are included in the supplement.
Clean pre workout contains natural and minimally processed ingredients. Producers avoid artificial sweeteners, colorants and flavors. Instead they use naturally available ingredients that could improve the texture, color or taste of the powder. Clean pre workout is often tested by a third party for safety and the certification is displayed on the package.
Other pre workouts may include artificial ingredients, taste and color enhancers. They might incorporate unknown blends that make it difficult to know the exact composition of the product. If such a product clearly displays the ingredients, the list might be overly long including ingredients that are less researched to be beneficial.
Caffeine can be found in almost any pre workout product. Paying attention to its source can be helpful to determine whether pre workout is clean or not.
Clean pre workout uses caffeine that is derived from natural sources, such as coffee beans or green tea extract. Other products may contain synthetic forms of caffeine. Or they may include caffeine in excessively high doses that may lead to jitters, crashes or other serious health consequences.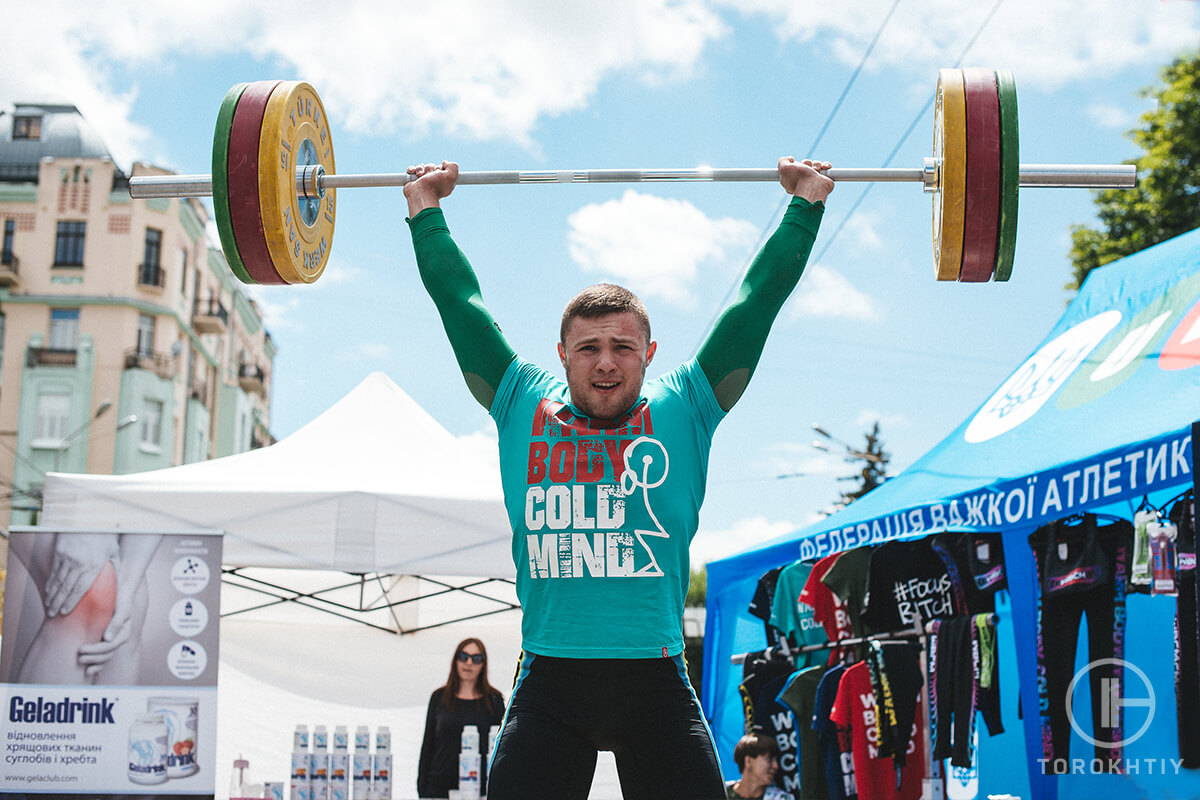 3. Stimulants and additives
Stimulants are among key components of pre workout supplements. They enhance energy production, focus and overall improve workout performance. However using strong stimulants in high concentration might put a health risk on human health.
Clean pre workouts usually contain an organic and balanced amount of stimulants (basically caffeine). This helps to achieve sustainable energy boost during the exercise without putting too much pressure on the body. Clean product should not contain any artificial ingredients, lab generated fillers or additives to improve the product quality.
Unlike to clean pre workout, other products might include excessive amounts of stimulants. More than 400 mg caffeine per portion, for example, can give you a significant boost but might also cause jitters and crashes. Some supplements may also add artificial additives to enhance texture and increase shelf life of the product. As an example, (however it's a bit complex topic as the terminology and terms - artificial, synthesized etc can vary) some brands often use lab synthesized citric acid as a flavor enhancer and preservative in supplements. Pre workout with citric acid that was naturally derived would be assumed to be a cleaner option for some. However, something for our biochem geeks - the molecular structure of citric acid - natural and synthetic - is the same, so from a chemical perspective, both natural and synthetic citric acid are actually identical so whether one is "better", "cleaner" or "healthier" mostly depends on personal preferences, dietary needs, and ethical considerations.
In supplement industry transparency is more than just a marketing trick. It usually reflects the brand's commitment to consumers' health and well-being. With each label they provide a roadmap to navigate through your workout goals and dietary preferences.
Clean pre workout products provide detailed information about each ingredient and their dosage per portion. This level of transparency empowers consumers to make an informed choice about what to put in their body.
In contrast some pre workout supplements take a less transparent approach, using what's known as "proprietary blends". This way they group multiple ingredients under a single label, making it almost impossible to know the precise amount of each component.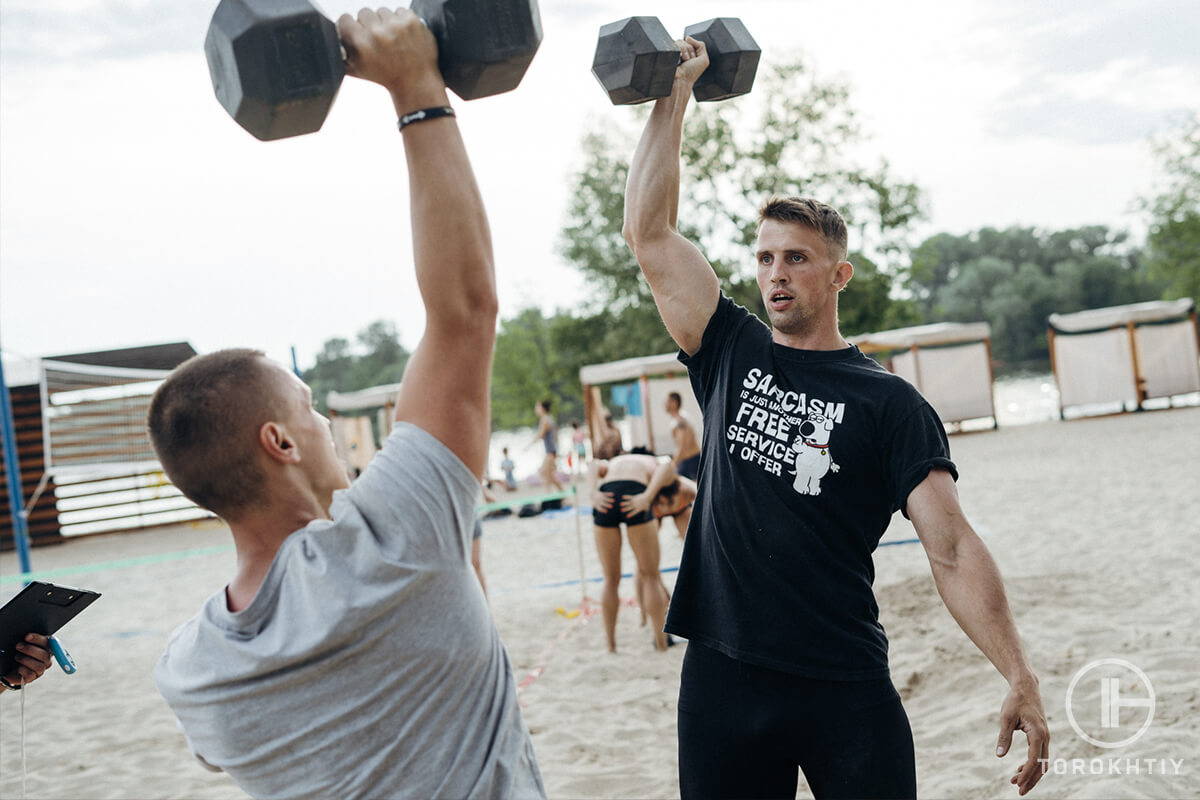 How to find the best clean pre workout?
Finding the perfect and clean pre workout supplement can be overwhelming even with the theoretical information and knowledge outlined above. That's why we did the work and listed 6 best clean workouts in our opinion that are currently available on the market in the beginning of this article. If those 6 are still not for you, we give you a checklist that may be helpful in the search of THE ONE.
1. Ingredients to look for
Natural caffeine

- caffeine derived from natural sources such as coffee beans and green tea. Pay attention that the dosage is no more than 3-5 mg/kg of body weight in a single dose as extensive amounts of caffeine may cause crashes and jitter;

Beta-alanine - fatigue reducer

- amino acid that is associated with increased performance;

Creatine - fuel

- amino acid that may increase muscle strength and overall performance;

L-arginine and citrulline

- nitric oxide precursors - may increase blood flow in muscle tissue, improving nutrient delivery;

Taurine and tyrosine

- may increase cognitive function and focus, delay fatigue;

BCAAs

- might improve muscle recovery and prevent it from breaking down especially when protein intake is not sufficient during the day;

Vitamins and electrolytes

- help body with energy production, protects from oxidative stress and keeps hydrated.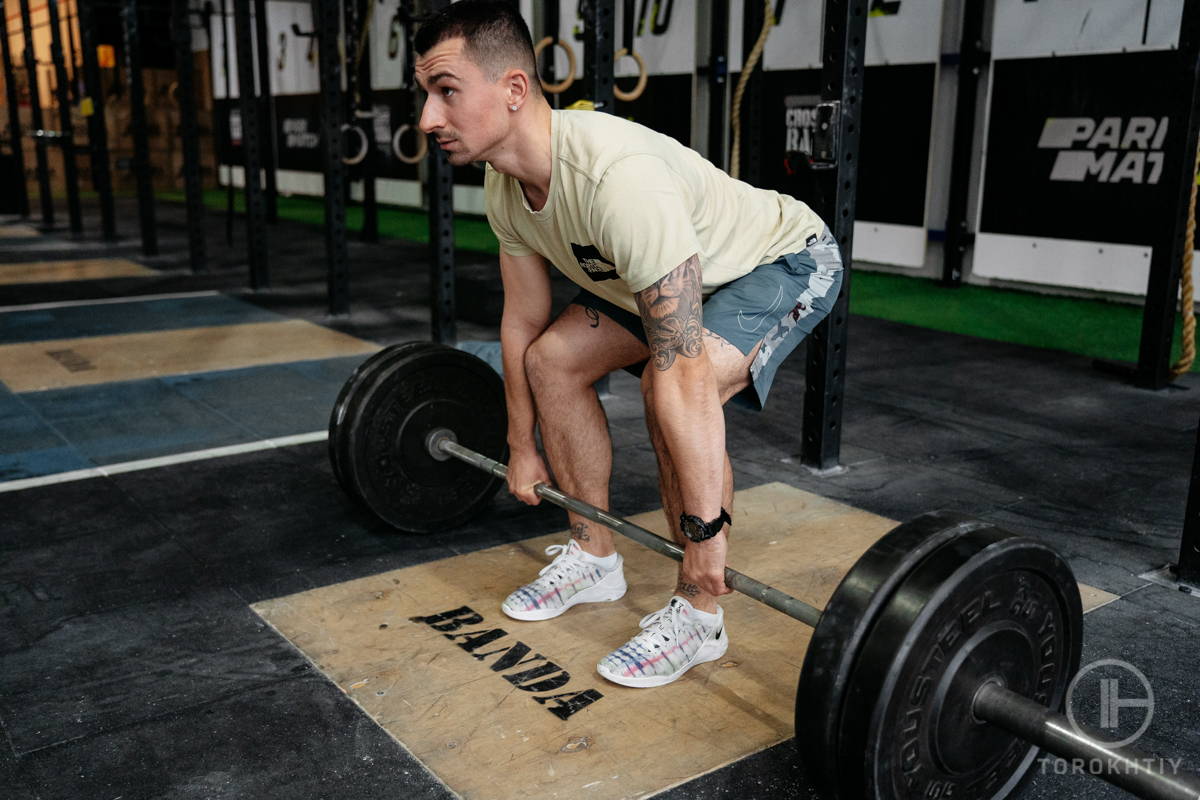 2. Characteristics to look for
Natural ingredients.

There should be recognizable sources for each ingredient on a label of a clean pre workout.

No artificial additives.

Once again, a clean pre workout is all about natural ingredients, so no artificial additives should be used to enhance color, flavor or taste.

Transparent labeling.

Each ingredient should clearly be placed on the packaging, stating their specific dosages. No "proprietary blends" are used in any clean product.

Balanced stimulants.

A right clean pre workout gives a sustainable energy boost through organic caffeine included in science-backed quantities.

Third party testing.

Companies that take pride in producing a clean product often display a third party certification and lab testing. It is important to know that you're buying a non toxic pre workout, free from heavy metals, banned substances and other toxins. So pay attention if such information is present on the label.
When is the best time to take a pre workout?
Timing is non the less important to maximize the effect of a pre workout. So when is the best time to take your energy booster?
The best time for taking a pre workout is around 15 minutes to 45 min before an actual workout (the type of workout you are planning to do also matters in that case). This window allows the ingredients to work their magic. Although, keep in mind that our bodies work differently, the speed of metabolism is widely variable. This timing might not work perfectly for you and try to experiment and find your individual golden time spot.
Also, try to keep your body well hydrated. Hydration is the key for the quality of your exercise as well as for a pre workout to work perfectly.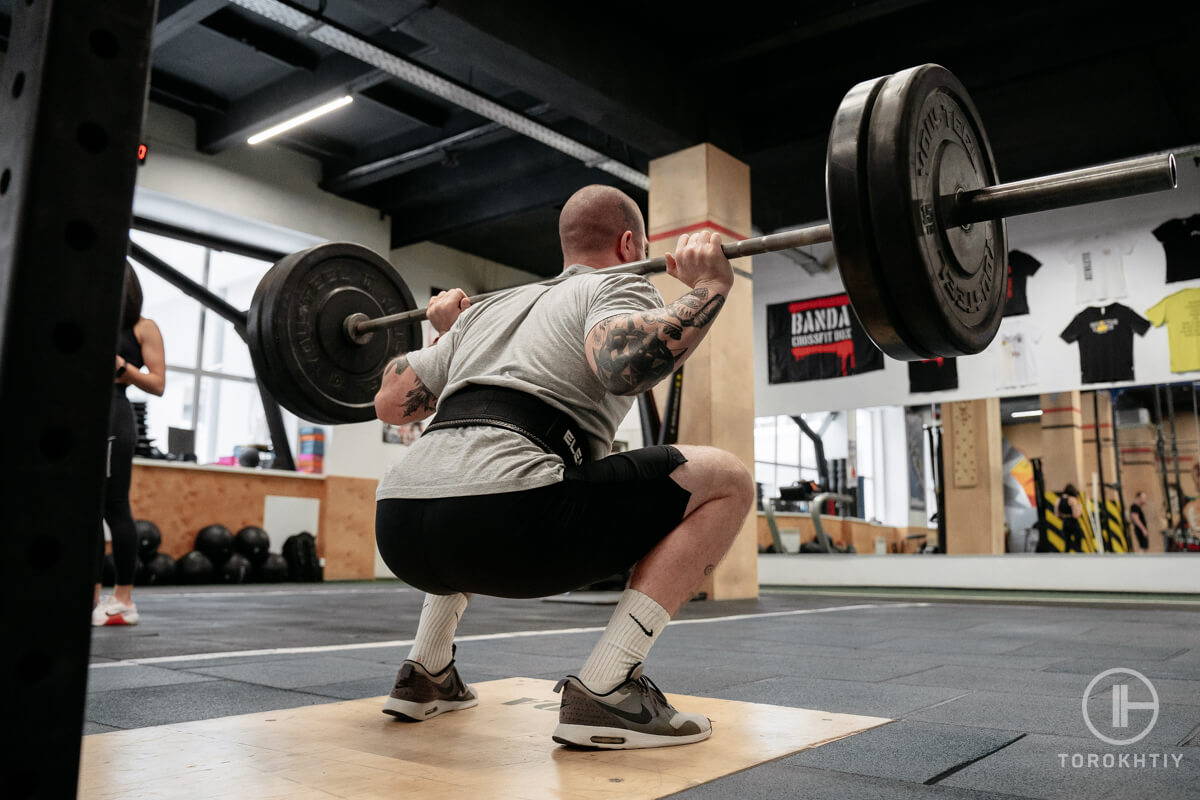 Which pre workout is the most natural?
A pre workout that uses all the natural ingredients and lists them on the label with their dosage is assumed to be clean. No artificial ingredients and additives are welcome. BULK Pre Workout, for example, is built from only organic and natural ingredients in balanced amounts.
Do we really need a pre workout?
It is not a must to take a pre workout. However if you wish to enhance your performance, stay focused longer and help your muscles do the best they can you may consider taking some and see how that works for you.
Can you take a pre workout everyday?
You may take a pre workout before each workout. Although it is very important to stay within the limits of recommended dosage as stated on the label of the product.
In your pursuit of enhanced performance and increased energy during each workout you've uncovered all the truth behind the clean pre workout. With transparency as your handy tool you've learnt what to look for on the labels, telling the real and artificial ingredients from each other. The key - natural ingredients in balanced quantities that energize.
Now with all this knowledge have another look at our review in the beginning of this article. 6 best clean pre workouts that have been reviewed meticulously and graded are at your service. Start from our top pick Transparent Labs BULK Pre Workout all the way to best naturally flavored - Jacked Factory Nitrosurge Natural. If none of those suit you, use our checklist to find the one that is perfect for your personal preferences and fitness goals.
Good luck in your journey and let us know in the comments which clean pre workout is your favorite.
R.V.T Santos, "The effect of creatine supplementation upon inflammatory and muscle soreness markers after a 30km race", ScienceDirect, https://www.sciencedirect.com/science/article/abs/pii/S0024320504005211 (accessed Sep 3, 2004).

aliollah Dabidi Roshan, "The effect of creatine supplementation on muscle fatigue and physiological indices following intermittent swimming bouts", ResearchGate, https://www.researchgate.net/profile/Mahdi-Hosseinzadeh-5/publication/236957459 (accessed August 13, 2019).
Anne-Laure Tardy, "Vitamins and Minerals for Energy, Fatigue and Cognition: A Narrative Review of the Biochemical and Clinical Evidence", NCBI, https://www.ncbi.nlm.nih.gov/pmc/articles/PMC7019700/ (accessed Jan 16, 2020).
Vassilis Paschalis, "Low vitamin C values are linked with decreased physical performance and increased oxidative stress", Springer, https://link.springer.com/article/10.1007/s00394-014-0821-x (accessed Dec 20, 2014).
Louise M Burke, "Caffeine and sports performance," NCBI, https://pubmed.ncbi.nlm.nih.gov/19088794/ (accessed Jan 11, 2017).
Eric T. Trexler, "International society of sports nutrition position stand", tandfonline, https://www.tandfonline.com/doi/full/10.1186/s12970-015-0090-y (accessed Apr 01, 2022).
Juan Mielgo-Ayuso, "Effects of Creatine Supplementation on Athletic Performance in Soccer Players", MDPI, https://www.mdpi.com/2072-6643/11/4/757 (accessed Mar 22, 2019).
Izumi Suzuki, "A combination of oral l-citrulline and l-arginine improved 10-min full-power cycling test performance in male collegiate soccer players", NCBI, https://www.ncbi.nlm.nih.gov/pmc/articles/PMC6469824/ (accessed Feb 16, 2019).
Andrew R. Jagim, "Common Ingredient Profiles of Multi-Ingredient Pre-Workout Supplements", MDPI, https://www.mdpi.com/2072-6643/11/2/254 (accessed Oct 24, 2019).
Jennifer A. Kurtz, "Taurine in sports and exercise", springer, https://link.springer.com/article/10.1186/s12970-021-00438-0 (accessed May 26, 2021).
Nicole A. Coull, "Effect of tyrosine ingestion on cognitive and physical performance utilising an intermittent soccer performance test (iSPT) in a warm environment", springer, https://link.springer.com/article/10.1007/s00421-014-3022-7 (accessed Oct 19, 2014).
E Huskisson, "The Role of Vitamins and Minerals in Energy Metabolism and Well-Being", sagepub, https://journals.sagepub.com/doi/abs/10.1177/147323000703500301, (May 2007)
Shimomura Yoshiharu, "Nutraceutical Effects of Branched-Chain Amino Acids on Skeletal Muscle", ScienceDirect,https://www.sciencedirect.com/science/article/pii/S0022316622080944 (Feb 2006)
Performance architect,
M.Sc.Eng. Biotechnology,
S&C movement specialist
With my 30 years fighting experience, specialization in nutrition coaching for athletes, expertise in metabolic health and dietary strategies, I bring a comprehensive approach to optimizing your performance and well-being. Backed by a master's of science degree in biotechnology, I stay at the forefront of scientific advancements, ensuring that my coaching is always evidence-based and up-to-date.
Olympic Weightlifting Champion
Experience: 21 years
Best Results: Snatch – 200 kg,
C&J - 240 kg
My name is Oleksiy Torokhtiy. I am a professional athlete with 20 years of experience in Olympic weightlifting. I have won multiple European, and World titles and have taken part in two Olympic Games (Beijing 2008, London 2012).
After finishing my career, I have committed myself to coach, and as of 2022, I've hosted 200+ weightlifting seminars all over the globe. I'm the founder of an international sportswear and accessories brand, Warm Body Cold Mind (my motto), author, and creator of a series of training programs and eBooks.
If you have any questions/suggestions/any other inquiry, you can reach out to us via email - reviews@torokhtiy.com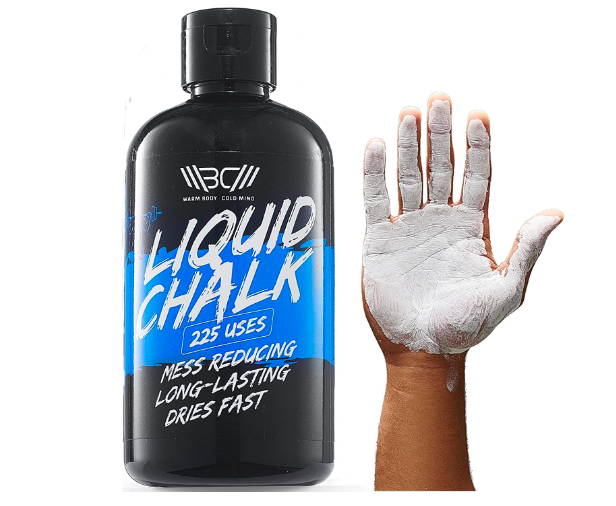 This article was written by our qualified author and proofread by an expert with proven experience. When writing the article we've used our expertise and data from authoritative, scientific, and evidence-based sources. The list of references is provided at the end of the article.
Our team of authors and experts includes professional athletes (Olympians, winners of European and World titles), PhDs in Sports Science, certified coaches, sports nutritionists, CSCSs, physiotherapists, and others. Read more about the team here, and more about how we test here.