Getting the wrong adjustable dumbbells is a nightmare: broken selectors, damaged parts, and paying twice for a product you hoped would be convenient and easy.
In our AtivaFit Dumbbells review, we're looking at one of the best entry level adjustable dumbbells on the market.
We're going to look at the most important features, who they're for, and whether or not they're right for your home workouts.
AtivaFit Adjustable Dumbbells Review: Quick Summary
Number Of Settings: 7
Weight Range: 2kg to 20kg
Increments: 3kg
Dimensions: 16.73" x 7.68" x 8.07"
Adjustment system: "Glide Tech" – rotating selector
Material: Plastic
Additional features: Storage plate; Ergonomic contours
Warranty: 1 year (additional 2-year and 3-year options available)
Weight: 19.96 Kilograms
Color: Black
The AtivaFit Adjustable Dumbbell Pair is a very good affordable adjustable dumbbell system. It offers a 20kg weight maximum, with 18kg of range (2kg to 20kg). This is a good basis for a home gym – especially for new users or first-time gym owners.
20k maximum weight is a little light for most users. However, it is perfect for some lighter weight lifting accessory exercises:
Curls
Shoulder exercises – front raises and lateral raises
Tricep extensions
Lighter dumbbell rows
Light dumbbell overhead presses
Lunges and step-ups
Bulgarian split squats
Calf raises
And more!
These are valuable exercises that can help you train your whole body at home. These are excellent tools to have at home, especially if you're either getting into fitness or using them to add to an existing gym routine.
AtivaFit is a good brand at this price, where it combines good value for the money and reliable designs that do their job. This is all we need for this product, and the customer service and quality assurance are generally very good, making for a good purchase.
Good increments for more training options

Versatile dumbbell choice for home gyms

Much better value than fixed weight dumbbells

Very durable and reliable for the price point
Weight range is quite small for stronger users

Increments are good – but only for weaker people
Detailed AtivaFit Adjustable Dumbbell Review
Weight selection: Weight Range and Increments
The weight selection is a bit of a limitation. It's not going to offer the kinds of weight that bigger, stronger people need for bench press, rows, deadlifts, or squats. A total of 40kg or 88lbs is quite light, especially for "big" multi-joint compound exercises.
This is the main limitation – there are heavier options on the market. They offer a heavier 25kg version, but the total weight capacity is an important consideration. If you're already big and strong, these aren't the dumbbells for you.
You also need to consider that you will get stronger while owning and using dumbbells. You should try and get some 'headroom'. This means having more weight capacity than you're using right now. This is the big 'con' for this product!
Weight Adjustment: Type of Selector and Ease of Use
Due to the size and design, the AtivaFit Adjustable Dumbbells are easy to use and store. They're designed with an ergonomic grip and a simple weight-selector that make changing weights simple. The core of this system may encounter malfunctions but it is quite reliable and well-made.
The whole system is very easy to use, smooth, and simple. It is not the best system on the market but it is good for the price. This value for money is clear in all aspects of this product.
It's an affordable adjustable dumbbell set, which is why the weight limit is lower. All the other features are strong for the price, and it's clear that weight is the only major compromise. This is a comfortable dumbbell to use with good design and ease of use!
Design, Storage, Other Features
Because of the storage plate and the adjustable weight design, AtivaFit dumbbells are very easy to store. They fit into the tray and can be stored in small spaces. They're also not loose, which means they stay put once you store them.
This makes the AtivaFit adjustable dumbbells perfect for small apartments and garage gyms. They don't take up much space and can be stored and used in apartments, flats, and small homes. This is much better than – for example – a barbell and plates.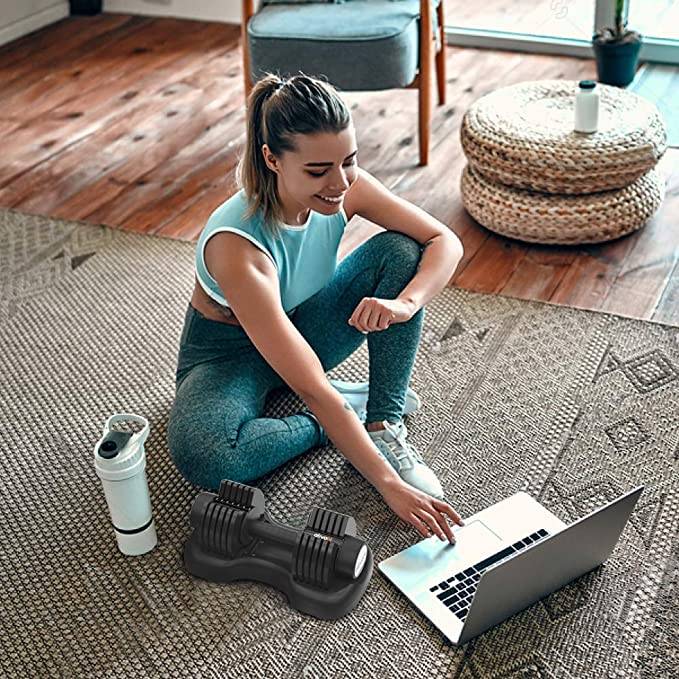 Materials: Quality and Durability
The materials and quality on this product is not the best on the market. Due to the price point, it is not likely to be the highest quality. However, they're well-made and reliable enough to justify the price.
The quality is good compared to some lower-quality products around the same price. This is most important – it's one of the best choices for durability and build quality among its competitors.
As mentioned above, there are some rare problems with the adjustable weight selector. These moving parts are the areas that are most likely to break in any product. At this price, malfunctions are more common than some super-premium products (which cost much more).
The 1-year warranty is good to cover any of these immediate build-quality problems. Optional warranties may be useful – especially the 2-year warranty, which is quite affordable.
Value for Money, Customer Service, and Warranty
The warranty and customer service are both good. 1 year warranty is a standard practice for fitness equipment, but it's still good. The addition of more protection is good for peace of mind, especially because of the moving parts and potential for damage during use.
These expand on the already-good value for money by ensuring you don't have to buy a replacement. This is important when some competitors are low-durability or tend to break under normal use.
Customer service with AtivaFit is also good, according to existing customers. While quality assurance issues do still happen sometimes, AtivaFit are good at resolving customer complaints quickly. This is important just in case – it's good to buy from a company that treats customers well. This also ensures you don't have to spend more money if there are any problems 'out of the box'.
Who are AtivaFit adjustable dumbbells for?
AtivaFit adjustable dumbbells are perfect for two groups: beginners who want to train their whole body at home, and experienced lifters who want a cheap pair of dumbbells for accessory exercises.
These groups have different needs, but AtivaFit is useful for both. These adjustable dumbbells are far cheaper than a full rack of dumbbells, even with the low weight capacity, making them great for many home gym users.
AtivaFit Adjustable Dumbbell Stand
The AtivaFit Adjustable Dumbbell Stand is probably not worth the cost. It's a similar price to the dumbbells themselves, but only holds them. The existing storage plate is fine for most people, and the stand is only useful for switching mid-workout.
However, you can store the flat, secure storage plates on any flat surface. You could equally use a box, weight bench, or other item for the same purpose as this stand – without spending $$$.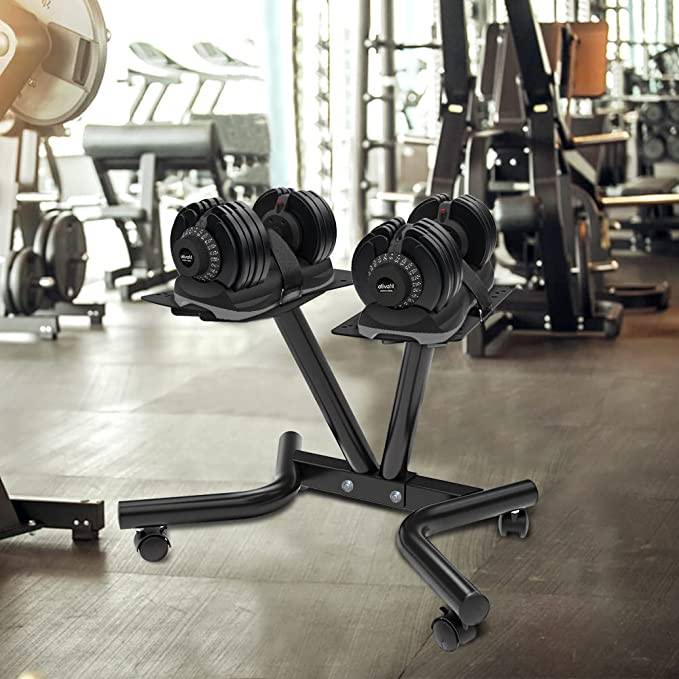 AtivaFit adjustable dumbbells alternatives
The AtivaFit adjustable dumbbells are more affordable than most competitors on the market, but also offer better quality than some. They're a well-balanced product, and they offer more durability than even some more expensive options.
Overall, the AtivaFit competes well – you typically need to spend more money to get a bigger or better dumbbell. The other options, which go up to 71lbs, are also strong competitors at their own price points.
AtivaFit vs BowFlex dumbbells
BowFlex are well-known in the home gym space and their adjustable dumbbells were some of the earlier designs. They have a higher standard weight capacity than the AtivaFit, with a 55lbs standard – only 5lbs more. However, BowFlex adjustable dumbbells are much more expensive than AtivaFit.
The design is basically the same: a rotating core selector that lets you quickly change weights. As with the AtivaFit, this product does require some care to maintain, since these moving parts can get jammed. As a plastic design, it's also susceptible to breaking if dropped during use.
The reason we prefer AtivaFit adjustable dumbbells to BowFlex is that they're cheaper, smaller, and better fitted. Despite the higher cost, Bowflex's adjustable dumbbells feel insecure and poorly locked together. The low-density plates also make them very large dumbbells, which can get in the way of some exercises like curls or tricep extensions.
They're more expensive, but they're not better. For that reason, we prefer AtivaFit's value for money.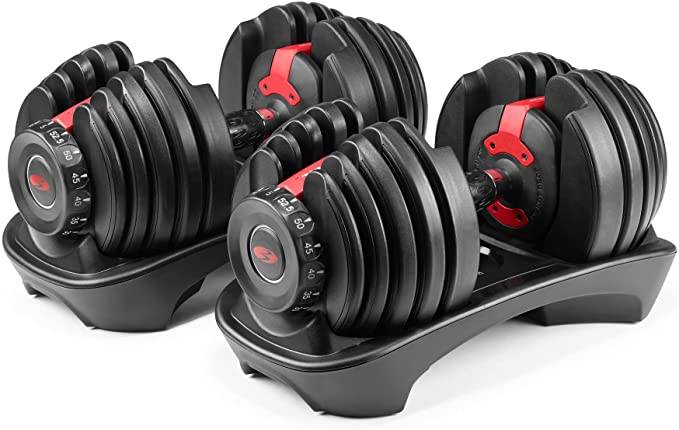 AtivaFit vs Core Fitness adjustable dumbbells
Core Fitness adjustable dumbbells are a great choice for basic use, with a 5-50lbs range, and 2 year warranty as standard. They're more expensive than both the BowFlex and AtivaFit dumbbells, but use a composite aluminium material for better durability.
These are good dumbbells with a decent locking system and a similar, twisting selector core that lets you decide on the weight. They look great and the design has less inherent "wobble" than the BowFlex dumbbells.
The problem is that quality assurance on this product isn't great, and some customers have complained of defects out of the box. This also happens when products are coated poorly, which can lead to rust, chipping, and other damage.
They're a lot more expensive than AtivaFit, but don't justify the extra cost. For this kind of price, we'd want to see a much better system, and a quality assurance that stands up to the competitors!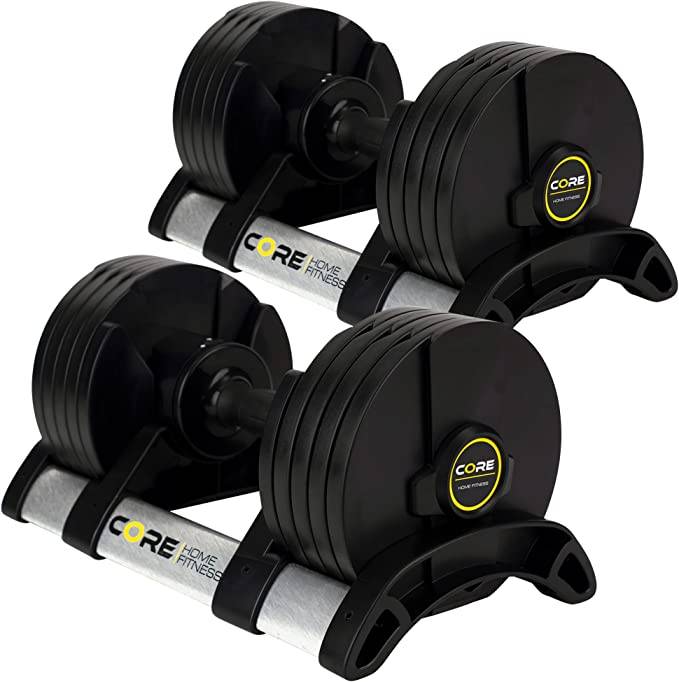 What Happens If I Drop AtivaFit Adjustable Dumbbells?
AtivaFit adjustable dumbbells are likely to break if you drop them. They're made of plastic and have delicate moving parts in the selector core. You should not drop adjustable dumbbells – especially those that are not rubberised.
Are AtivaFit Adjustable Dumbbells Safe To Use?
Yes – AtivaFit's adjustable dumbbells are safe to use, and also very easy to use. They're just like normal dumbbells in most ways, but you can adjust the weight during or between sets.
You should make sure you don't get your fingers trapped in the selection process. You should also avoid dropping them, as they may break.
Are AtivaFit Adjustable Dumbbells Good For Beginners?
AtivaFit adjustable dumbbells are perfect for beginners – they're one purchase that you can use for multiple exercises. You can use them in small apartments or with limited space, and they are perfect for full-body training.
Our AtivaFit Adjustable Dumbbells Review is clear: the AtivaFit adjustable dumbbells are a great choice for beginners looking to get started, or to complement an existing home gym. They offer a light but customisable dumbbell choice that saves you money and space.
They may be too light for some stronger users, but they're an excellent option with good value for money, and strong basic features.
These aren't the heaviest adjustable dumbbells on the market, but they do provide the training options you need, at a price that they are definitely worth.
What Is The Best All-Dumbbell Workout? // Bodybuilding.com:
https://www.bodybuilding.com/content/what-is-the-best-all-dumbbell-workout.html
My name is Ihor and I have been a professional weightlifter since 1996. With over 20 years of competition experience, my resume includes European Champion in 2009 and the silver medalist at 2011's Senior World Championships – 105kg division.
I competed at the 2008, 2012 and 2016 Summer Olympics.
After hanging up my own competitive lifting shoes, I decided to share my huge background as a coach. I am currently coaching multiple athletes who are competing at national and international competitions.