For our Assault Airbike review, we took in several factors, including the steel quality of the bike as it'll affect the durability of the product, how adjustable and portable the bike is as it'll affect the comfortability of the bike, and last, what unique and special features does the Assault fitness airbike have to separate it from its competitors.
With these points taken into consideration, it's easy to see whether or not the bike has value for the money.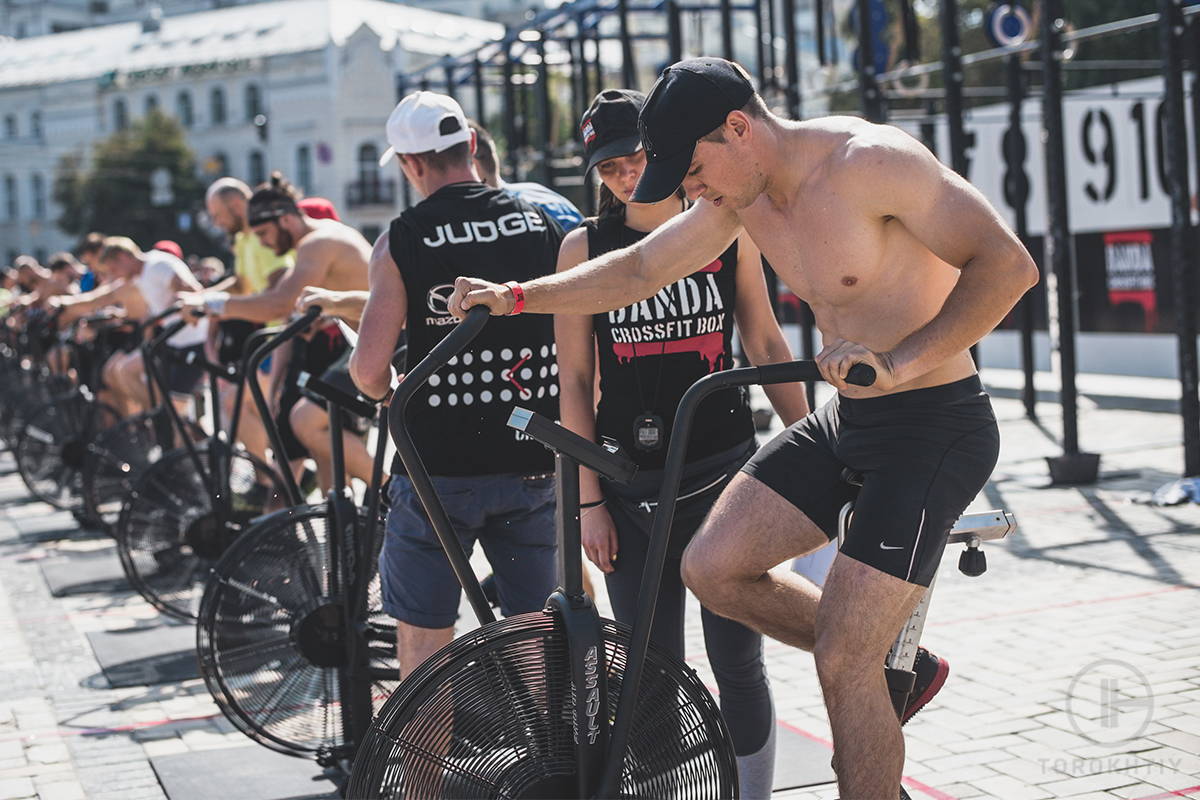 Assault Airbike Review Quick Summary
The Assault Airbike gives you one of the best forms of cardio workout. One thing the assault bike review determined was that the product provides a very high quality product at an affordable price. You'll be able to do all your intense cardio sessions, while saving some real estate at home, as the bike's footprint is smaller than many of its competitors, and being true to your budget.
Resistance Mechanism:

Air

Fan Diameter:

25" diameter steel

Type of drive system:

Chain

Dimensions:

50.95 × 23.3 × 50 inches

Maximum Height:

48.4 inches

Weight capacity:

300 pounds

Monitor:

LCD screen input

Weight:

98.1 pounds

Warranty:

5 years

Color:

Black
Perhaps the best feature of the Assault Airbike is how well it blends several great qualities to offer a product that is well worth the price. It is already cheaper than most of its competitors, but it keeps its quality integrity, while providing several technology features and add-on options to make it great value.
The bike comes with a thick-gauge chro-moly steel frame, with at least 1-2 sealed cartridge bearings. Over 20 of such bearings fill out the airbike to make sure the product is not only long lasting but also that it doesn't wobble when you're using it.
The seat comes with 5 front to back adjustment along with 11 height adjustments. Although others might have more adjustment options, the ones that the Assault Airbike provides should be plenty for you to find the right back and height combination that makes you comfortable.
As mentioned above, the Assault Airbike is made up of very high quality material, so there shouldn't be a lot of durability concerns. If you still have them, then you also get a 5 year warranty, so any durability issues that might come up will be solved through the warranty.
Weighing less than 100 pounds, the airbike is very much portable. Not only is it lighter than most of its competitors, but it comes with two small wheels in front, so when you raise the bike from behind, the wheels touch the ground and you can move it easily to any new location.
The product comes with a LCD display console that allows you to track your heart rate, RPM, speed, calories burned, and time, along with a few other points. It also has a 25" diameter steel fan that will give you the right amount of resistance you need to get a proper workout.
The Assault Airbike gives you one of the best forms of cardio workout. One thing the assault bike review determined was that the product provides a very high quality product at an affordable price.
(Show More)
Seat could be uncomfortable for some
Assault Airbike Classic Review
To start this assault bike pro review, we'll look at the overall build quality. A typical issue assault bikes face is that because they are so frequently used, they can wear down quickly and begin to wobble side to side. This not only hurts your pocket, as you might need to buy another bike or repair the one you have, but also results in an ineffective workout because of the extra wobbling.
In order to avoid both of these problems, the Assault Airbike comes with a thick-gauge chro-moly steel frame, to ensure sturdiness and durability. Along with which, the bike comes with 1-2 sealed cartridge bearings in all the single pivot spots. This includes everything from pedals to the bottom bracket. All in all, there are more than 20 bearings to make sure the bike remains durable and effective for years to come.
Footprint And Portability
The footprint of the Assault Airbike is 50.95 × 23.3 × 50 inches, so you should be able to store the bike in most homes and garages. Compared to several other competitors, the footprint is either smaller or at par with other bikes.
While the portability is excellent as well, as it weighs just under 100 pounds. There are two small wheels in the front of the bike, so when you lift the bike from behind, the wheels make contact with the floor and you can move it around that way.
For safety reasons, you might want to have another person to help you balance the bike as you move it.
One of the pros of the product is that it's pretty easy and straightforward to assemble. Not only do you get all the tools and pieces together, but you also get a manual with clear guidelines. But if you need some more help, the bike comes with a step-by-step instructional video to help you assemble the product. The frame of the bike comes in one piece, so you mostly have to worry about attaching things like the pedals and a few stability pieces.
So, you shouldn't have too much trouble getting the bike ready to go.
Assault bikes ‌come with either belt or chain drive systems. Many prefer the belt system because it's less work to maintain it. Also, a belt driven system is quieter and smoother, too.
However, the Assault Airbike comes with a chain drive system. This means you'll have to spend extra time maintaining, oiling, and aligning it. While also having to deal with the noise it makes during your workouts. You can offset the noise by purchasing an assault wind screen.
A fan is used to provide the main resistance of the workout. The faster you pedal, the more air the fan pushes, creating further resistance. So, the whole point of the workout depends on a high quality fan, which the product has.
The bike comes with a 25" diameter steel fan to give you the workout you need. The fan will blow cool air back at you the harder you go, giving you a resistance level off the charts.
The seat of a bike is another important factor to consider. You're going to be spending a ton of time there, so you want the seat to be comfortable. Although the seat is extra padded, the smaller size of it can be uncomfortable for some.
However, it is an adjustable seat with 5 front to back adjustment along with 11 height adjustments. So, you should be able to find a spot that works best for you.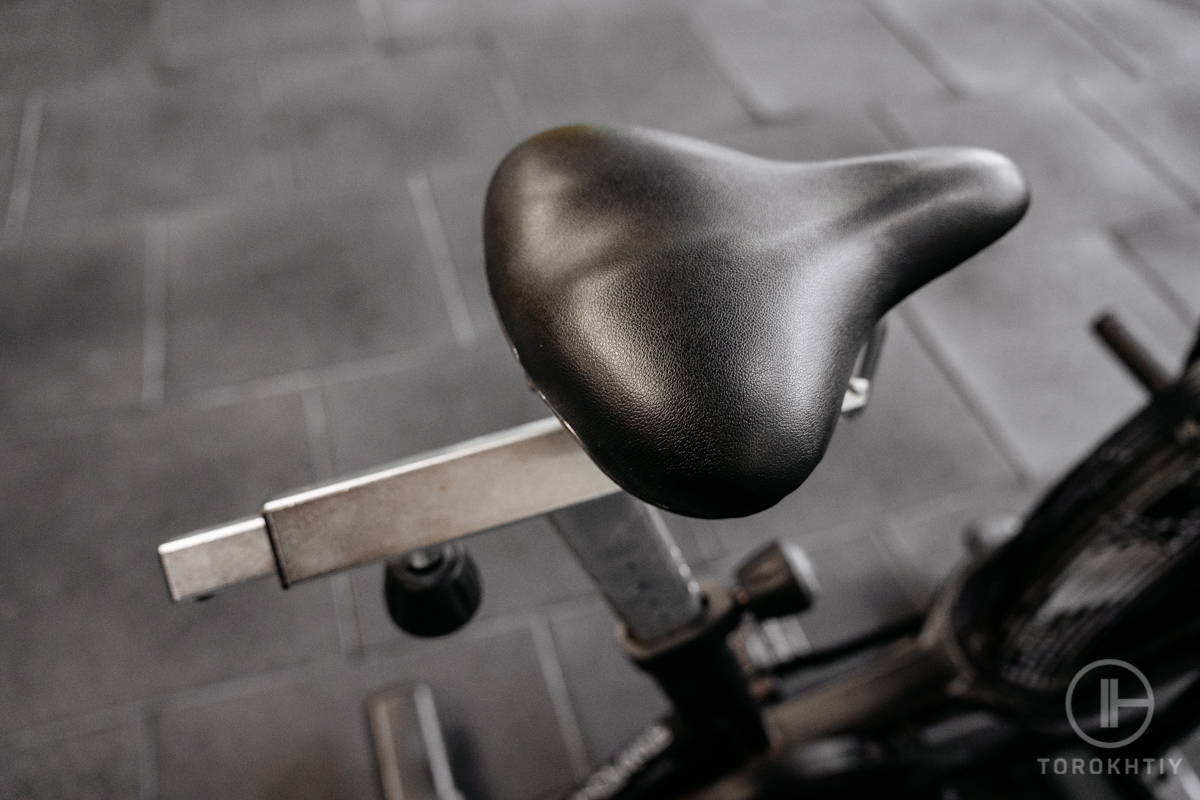 The purpose of an assault bike is to really try and push your limit. So, you'll find yourself cranking down on the pedals hard and the last thing you want is to have them wear out too soon.
To prevent this problem from occurring, the Assault Airbike comes with reinforced pedals and crank. So, none of the pieces of the bike should interfere with your workout and progress.
Also, the sealed cartridge bearings are used to screw the pedals in place, which will prevent them from loosening up or wobbling during your workout.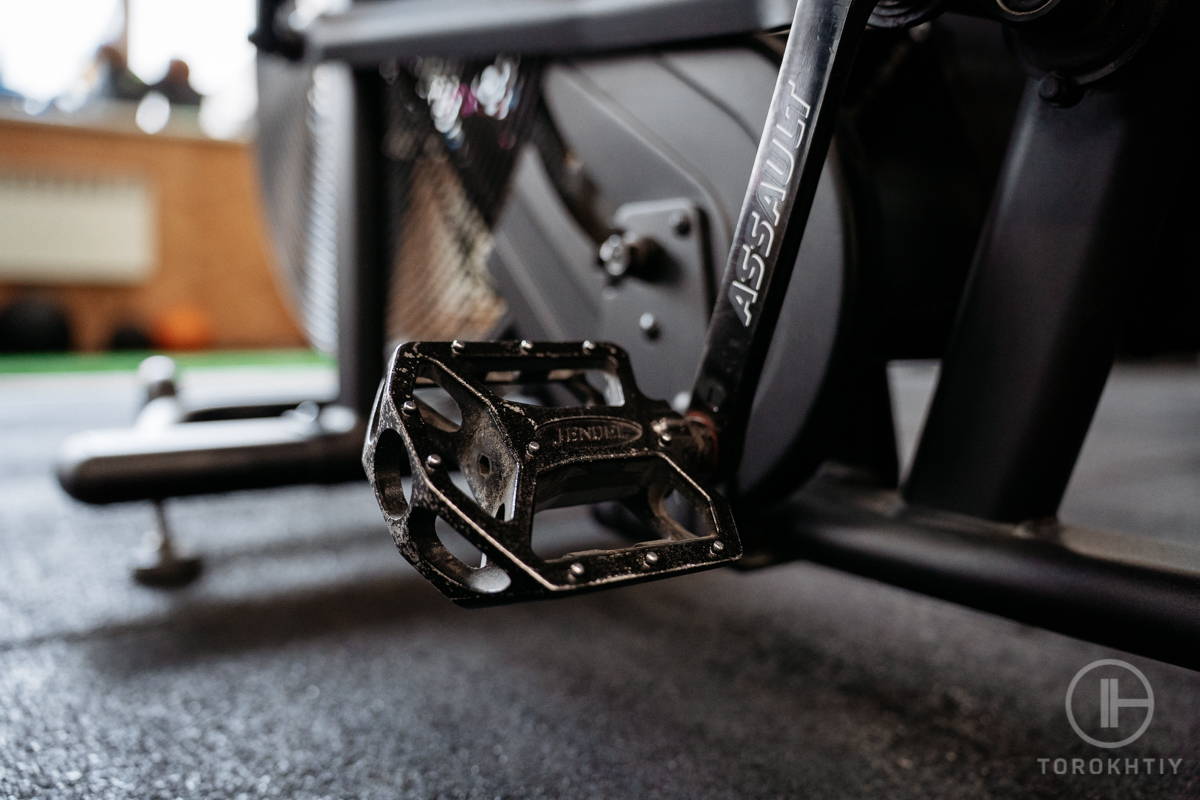 The arm handles are curved at the top to give you an easy grip while you workout. The ends are also padded to make sure your hands to chafe or get calluses from using the machine as you'll be moving the handles back and forth quickly.
The handles are also safely locked in place with sealed cartridge bearings in order to prevent them from shaking or wobbling while you exercise.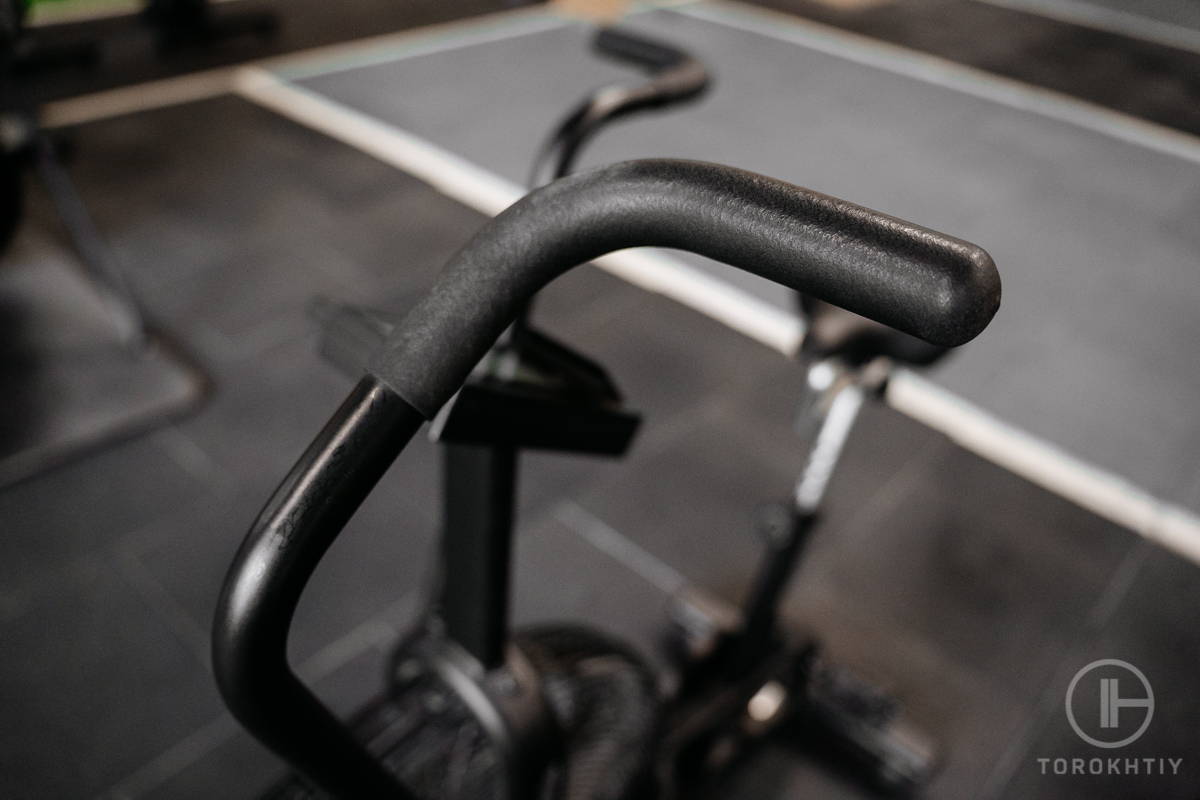 One thing that separates this model from some of the older ones is the technology. Typically, the old models lacked things like monitors and features or had outdated technology on it. Meanwhile, this bike comes with a high contrast LCD screen. The screen can display calories, heart rate, RPM, watts, distance, time, and intervals. All this data will help you take your workout progress to the next level as you get pinpoint feedback on how you performed.
One aspect that makes this bike unique is that you don't have to compromise on quality, technology, or price. You can get a great value of all three things in one piece of equipment.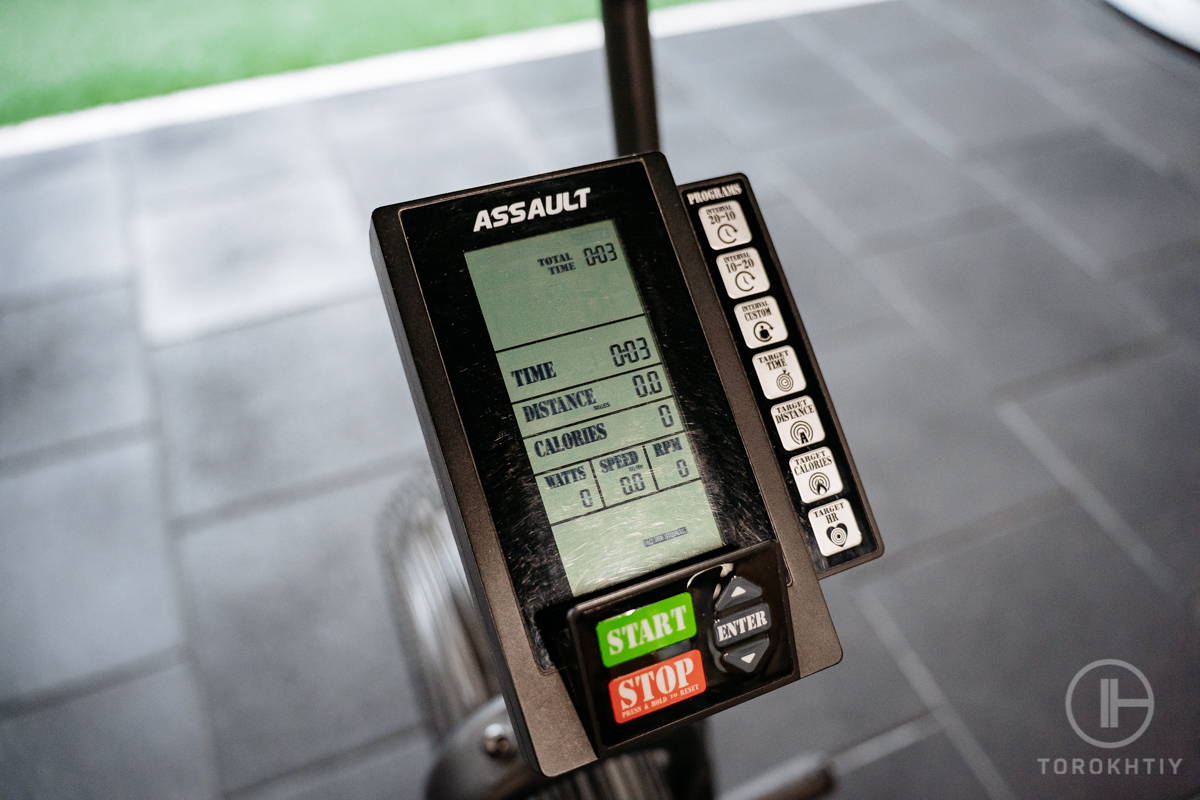 The bike is an excellent base level product, which can be further customized with attachments if you need them. You can add an assault wind screen that blocks the air from the fan from blowing into the user's face and simultaneously reduces the noise of the fan.
Also, there are a couple of customizable bike accessories, as well. These include clipless Shimano PD-EH500 pedals and the Shimano PD-RS500 pedals.
Warranty is an essential part of purchasing something as heavy duty as this equipment. Especially if you're trying to be budget friendly because the last thing you want is to purchase something that breaks down on you too quickly and you're left scrambling to buy another product.
You shouldn't have any of those types of concerns about this product. The bike comes with a 5 year warranty on the frame, while a 2 year warranty on nonwear parts.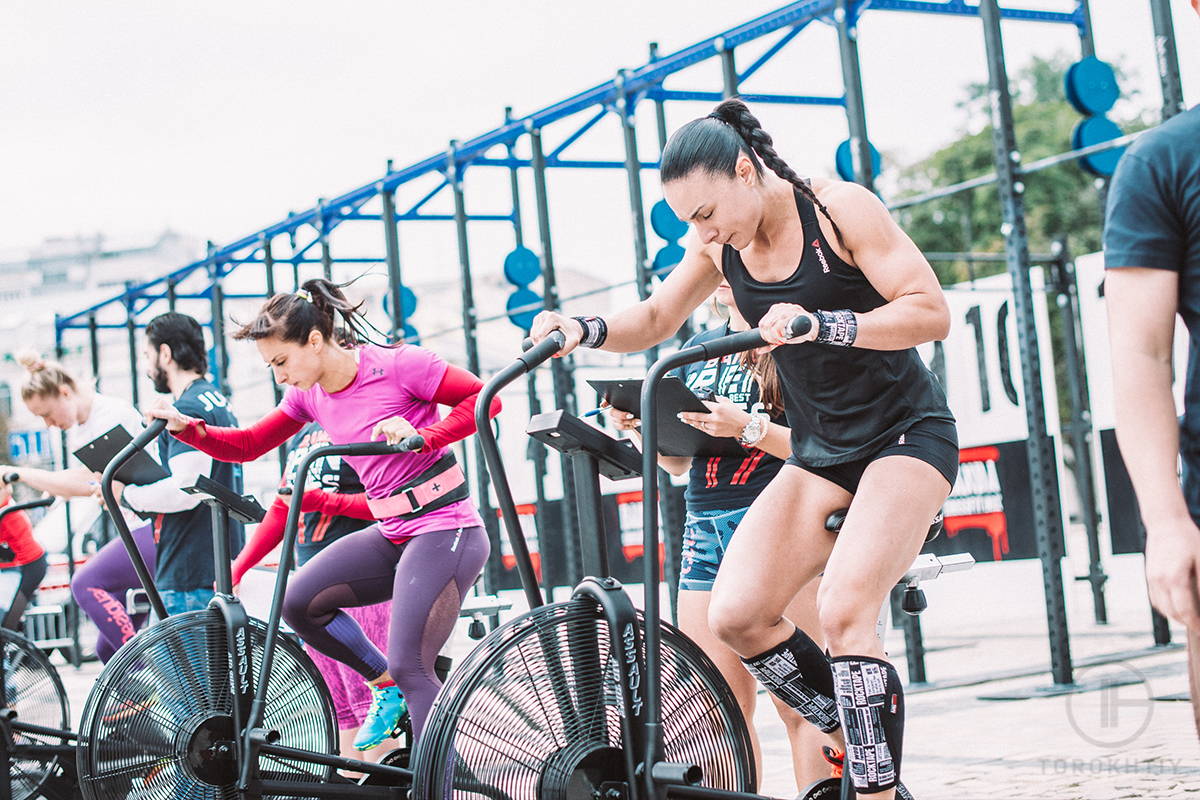 Assault Airbike Classic vs Pro vs Elite
Assault Airbike Reviews Compared To Pro
There are many similarities between the two products, however the pro series costs more than the classic airbike and there are a few reasons for that. First, the pro series is slightly wider and has more height than the classic, which is needed to hold the extra weight with the pro series. So, if you're looking for something with less footprint and easier to transport, the classic will do better than the pro.
One area the pro has a slight edge on the classic is the seat adjustment as it offers an additional variation than the classic version. So, if you really value your comfort, you could go with the Pro, but of course it'll come at a higher price.
The pro is also more technologically savvy. It comes with bluetooth and is compatible with the Assault fitness app.
The last difference is in warranty. You get an additional 2 years with the pro series. But, with that being said, in terms of quality and the usage of the product, the two are pretty much the same as the classic. But the classic comes at a cheaper price tag.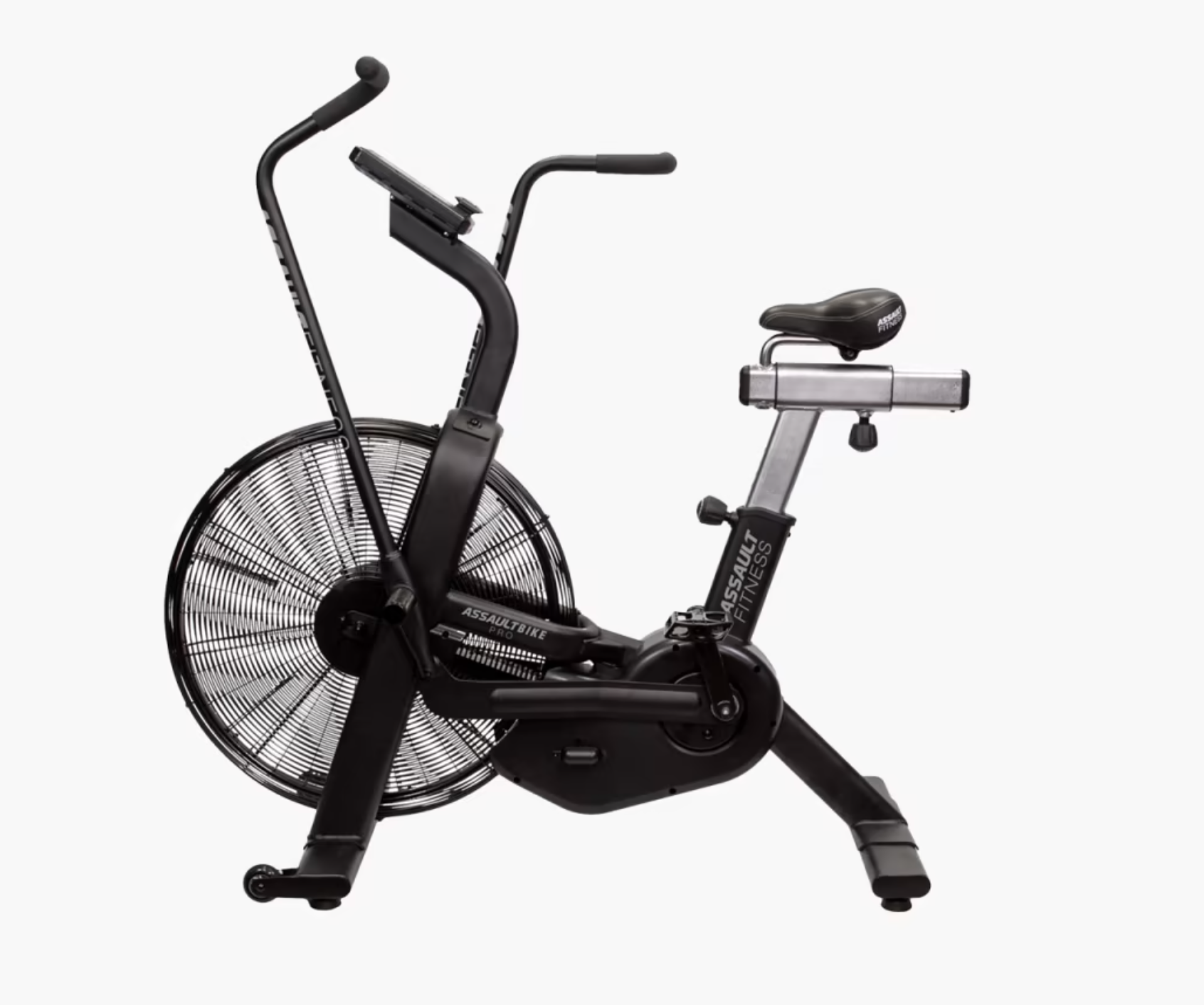 Assault Airbike Reviews Compared to Elite
The elite has an even larger footprint compared to both the classic and pro series, while also being much heavier. So, you're definitely giving up portability with this selection. However, unlike the classic, you get the wind guard with the purchase, which makes up somewhat for the more expensive price tag.
While the weight limit for users for the classic bike caps at 300 pounds, you can add an additional 50 for the elite bike as users up to 350 pounds can use the product safely.
The seat has been an issue with previous models, but the elite series comes with an ergonomic seat to provide more comfort for the user. While it also has the similar technological additions as the pro bike.
Once again however, the build and quality of both the machines stays the same, so it really only depends if you find a couple of small changes valuable enough to splurge much more.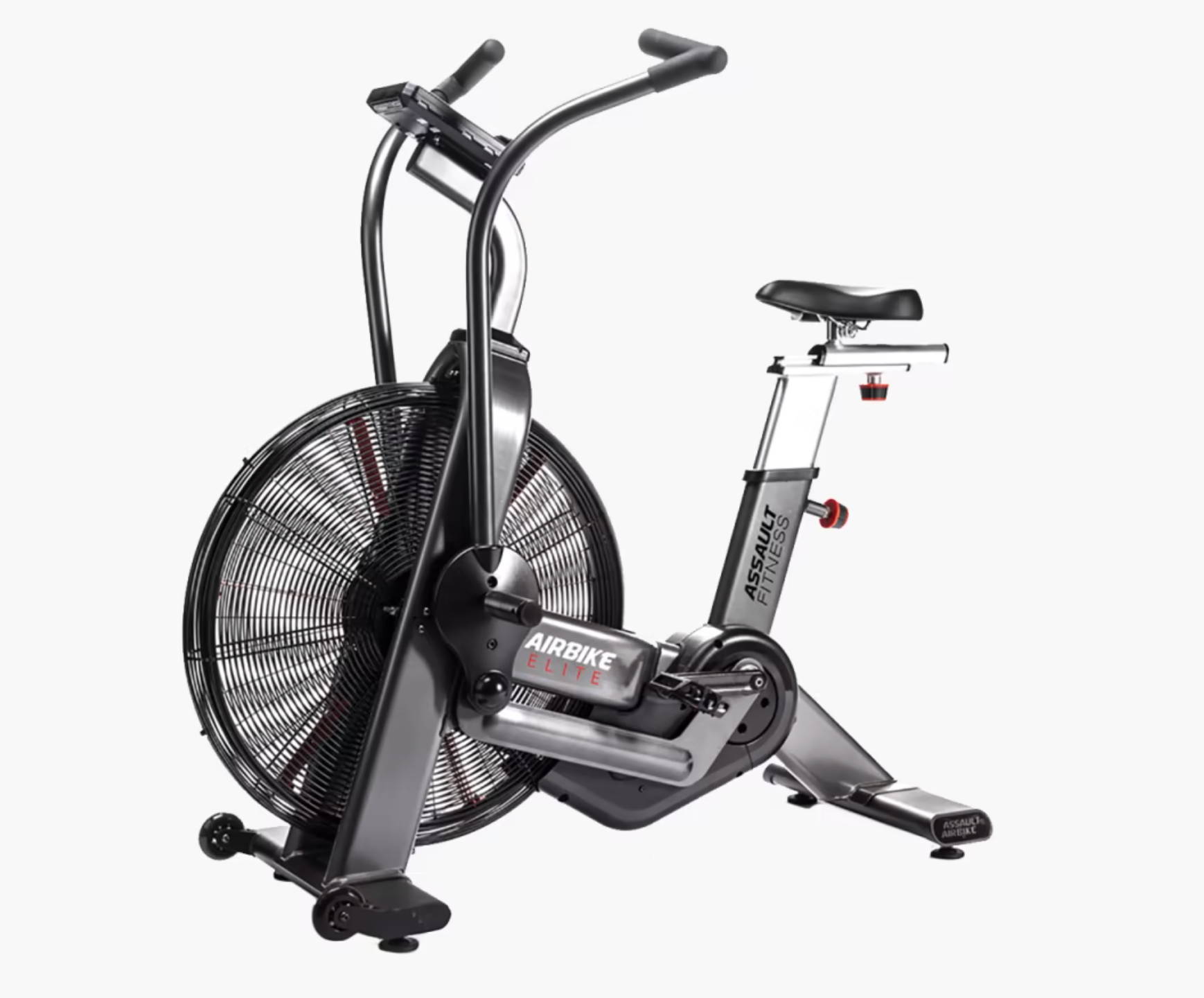 Who Is The Assault Airbike For
In recent years, one form of cardio that has gotten extremely popular is H.I.I.T otherwise known as high intensity interval training. This type of cardio training requires you to do interval sprints with short rest periods for multiple rounds. This is perfect for an Assault Airbike as it's practically designed to give you a hard cardio workout in a short amount of time. The reason being, if you're pushing yourself on the assault bike, it's almost impossible to go for a long time. So short bursts of explosive effort work best, which is what interval training is.
An Assault Airbike is a perfect tool for athletes whose sport has a high cardio demand in short intervals. For example, MMA fighters use Assault Airbikes regularly because it helps them simulate the actual ebb and flow of cardio during a fight. The same goes for fitness athletes whose heart rate spikes often as they go from one obstacle to the next. Athletes workout several times a day, so to save some time, an airbike comes in handy for a quick and intense workout.
If you live a busy life and don't have a lot of time to dedicate to training, you can get an extremely good cardio workout on an Assault Airbike in under 15 minutes. The bike is perfect for sprinting and pushing the limits of your cardiovascular system, while being both time and space efficient for your home gym.
Cardio and diet are two important factors when it comes to losing weight. In terms of cardio, machines like treadmills can be tough on your knees and ankles and can stop you from doing your cardio properly. An Assault Airbike is a better cardio tool because your joints won't take a pounding, while your entire body will be working during the cardio portion of your program.
As briefly mentioned above, several forms of cardio can be too tough on the joints, especially the knees. But if you're rehabbing an injury or trying to get back into the groove of things, an airbike works wonders for recovery as you tax your joints less, but get a great cardio and muscle workout.
Assault Airbike Alternatives
Echo Bike vs Assault Airbike
The Rouge echo bikes puts more emphasis on comfort as it comes with a rubber grip handle and more variations for the seat. While the Assault Airbike is more focused on delivering a budget friendly product that is also of high quality.
The biggest difference between the two bikes would be the drive system. The Assault Airbike has a chain driven system, while the Echo has a belt driven one. So, you'll spend less time on maintenance and there will be less noise pollution. But you would spend more money initially to purchase the Echo bike.
Assault Airbike vs Schwinn Airdyne AD7
The Schwinn Airdyne AD7 is also a belt driven bike. This is once again the major difference between it and the Assault Airbike. So, you would be saving time on maintenance of your equipment, however there is also a difference in steel quality. The Schwinn product is made of alloy steel, which is lighter, but also of slightly poorer quality than that of the Assault product. So, there might be more durability concerns when it comes to the Schwinn bike.
There are also fewer seat variations in the Schwinn bike, despite it having a larger user weight capacity than the airbike.
Assault Airbike vs Concept 2 BikeErg
The big difference between the two products comes down to portability and design. With the Concept 2 BikeErg, you're getting a much lighter product, so you can move it around easily and it is smaller in frame, which gives you more options in terms of storability. The reason why the BikeErg is so light is because it has an aluminum frame. So, you get a more portable bike, but of lesser quality. This is despite the BikeErg having a larger price tag than the Assault Airbike, as well.
The second difference between the two bikes is in the design. The BikeErg comes without handles, so you're just using your legs during the workout. While, with an Assault Airbike, you use both your upper body and lower body.
Is the Assault Airbike Better Than A Rower?
It really depends on what kind of workout you're planning on doing. Typically, it's easier to do high-intensity interval training on an air bike because of how the resistance works. While a rower is better for a longer cardio session, even though you can do sprints on it.
Also, an air bike makes it easier to target specific muscles, as you can use just your lower body or just your upper body during the workout. But with a rower, it's more difficult to target specific muscles as the equipment requires you to use your entire body as one.
Does The Assault Airbike Build Muscle?
The air bike definitely is a challenging workout where you'll feel your shoulders, backs, and legs pumped up after a good session. However, if you're using the air bike as your primary muscle building tool, you will be disappointed as there are other, more efficient methods of muscle building.
But what the air bike does really well is that it builds endurance within the muscles. So, you can go longer when you're lifting weights and even break through plateaus.
Is It Worth Buying An Airbike?
Cardio is an important component for a long and healthy life. However, several forms of cardio are either unrealistic because of weather and things of that nature, or they are tough on your joints. So, the best solution for this is to have an air bike at home that allows you to complete your cardio workout without damaging any joints or worrying about if it's too cold or too hot outside.
Besides, a high quality air bike should last you a long time, so it's worth the price.
An Assault Airbike is a valuable piece of equipment to have. In order to maximize the product, make sure it has a high quality build, but is light enough to be portable, and come with some added technological features that allow you to pinpoint your workout progression.
Air Bike vs Treadmill // The Home Fit Freak:
https://thehomefitfreak.com/air-bike-vs-treadmill/
Rowing Vs Cycling // Garage Gym Reviews: https://www.garagegymreviews.com/rowing-vs-cycling
My name is Ihor and I have been a professional weightlifter since 1996. With over 20 years of competition experience, my resume includes European Champion in 2009 and the silver medalist at 2011's Senior World Championships – 105kg division.
I competed at the 2008, 2012 and 2016 Summer Olympics.
After hanging up my own competitive lifting shoes, I decided to share my huge background as a coach. I am currently coaching multiple athletes who are competing at national and international competitions.