Ellipticals can be a great piece of exercise equipment to help improve your overall cardiovascular health as well as activate multiple muscle groups without putting stress on your joints. So, if you are looking to purchase an elliptical, make sure to check out this article!
The biggest difference between front and rear drive ellipticals is the incline and impact resistance. Front drive ellipticals offer higher incline capabilities, which can serve as an easy way to increase resistance in your training. This may be harder on your joints. Rear drive ellipticals provide a lower exertion exercise option at a base level with less incline options overall.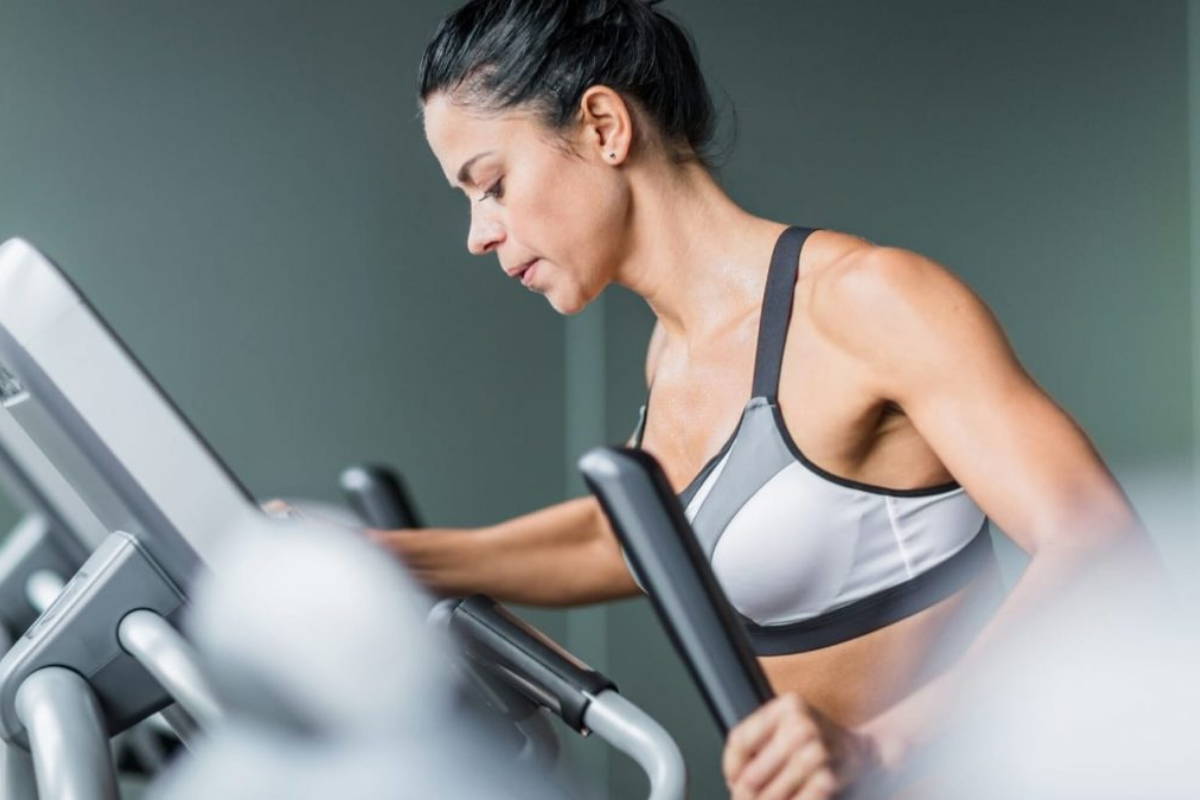 What is a Rear Drive Elliptical Used for?
When considering a rear drive elliptical, the biggest usage for the equipment is of course cardiovascular and aerobic exercise. Designed with a flywheel in the back of the machine, the elliptical is ideal for those looking to replicate the feeling of running or jogging on a flat surface.
Like any elliptical, rear drive ellipticals activate muscles across your entire body. Your legs, arms, back, core, and even chest are activated when using an elliptical due to the construction of both rotating foot pedals and connected arm handles.
Rear drive ellipticals typically have fewer total parts than their front drive counterparts, so, as a result, tend to make less noise when in operation. This is especially true when looking at models with noise-reduction design built in.
Beyond this, rear drive ellipticals provide low impact, longer strides when in use. This allows you to further reduce impact on your knees and joints.
What is a Front Drive Elliptical Used for?
Very similarly to a rear drive elliptical, the main use for a front drive elliptical is cardiovascular and aerobic exercise. The big difference between a front drive elliptical vs rear drive is the location of the flywheel. Front drive ellipticals have a flywheel located in the front of the machine.
This construction allows for the exercise equipment to have a natural incline to it. This oftentimes also means that the elliptical has a number of incline levels for you to choose between. This could lead to higher intensity workouts and improve the effectiveness of your exercise.
Front drive ellipticals are also effective at activating many muscle groups in your body including your legs, arms, core, back, and chest.
If you are choosing front or rear drive elliptical, you may also want to keep in mind that there are several incredibly compact front drive options due to the machine design if you do not have much space in your home gym.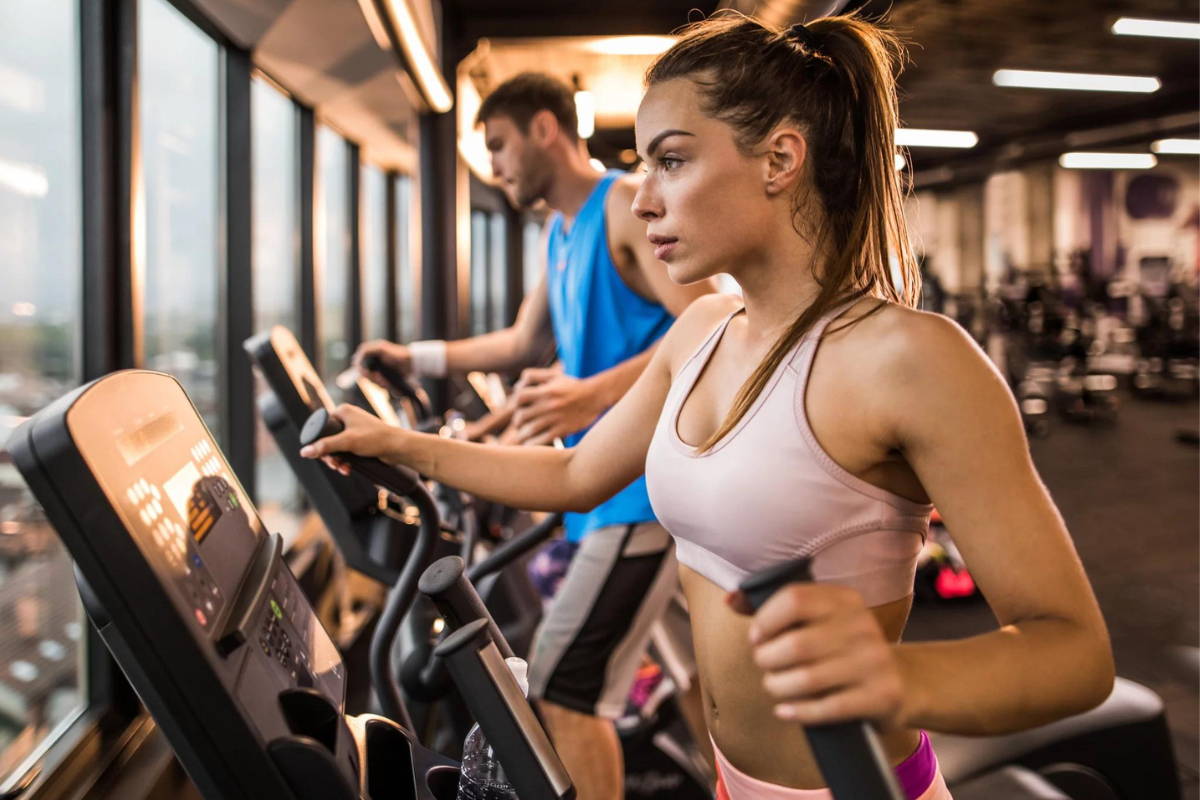 Rear Drive vs Front Drive Elliptical Use
While both a front or rear drive elliptical will be much easier on your joints than other forms of exercise such as jogging, there is a slight difference in overall impact between the two. With the front drive elliptical having a natural incline to it, the machines may be tougher on your joints than a rear drive option. Additionally, rear drive ellipticals tend to have longer strides, which may also reduce overall impact on joints.
Incline and Resistance Levels
When comparing between a front wheel vs rear wheel elliptical, one of the biggest key differences is the incline and resistance levels. Front drive ellipticals have a natural incline capability due to the placement of the flywheel. Additionally, most front drive options also come with a number of adjustable incline and resistance levels to increase the intensity of your workouts. While rear drive ellipticals may often come with a number of resistance and incline levels as well, the typical front drive option usually offers more variety.
When it comes to noise, rear drive ellipticals tend to be quieter machines. This is often due to the less overall parts and mechanisms needed to make a rear drive elliptical run smoothly. The lower overall number of parts has a second advantage to just reduce noise when in use. Rear drive ellipticals tend to have higher overall durability than many front drive models because of the lower number of parts used. As a result, they require fewer repairs and needs for replacement on average.
While ellipticals come in a wide variety of sizes regardless of whether it is a rear drive or front drive model, there are some differences to take note of. More specifically, front drive models are capable of smaller sizes than rear drive models. Because the flywheel is at the front of the machine, it is easier to create a more compact elliptical with short strides.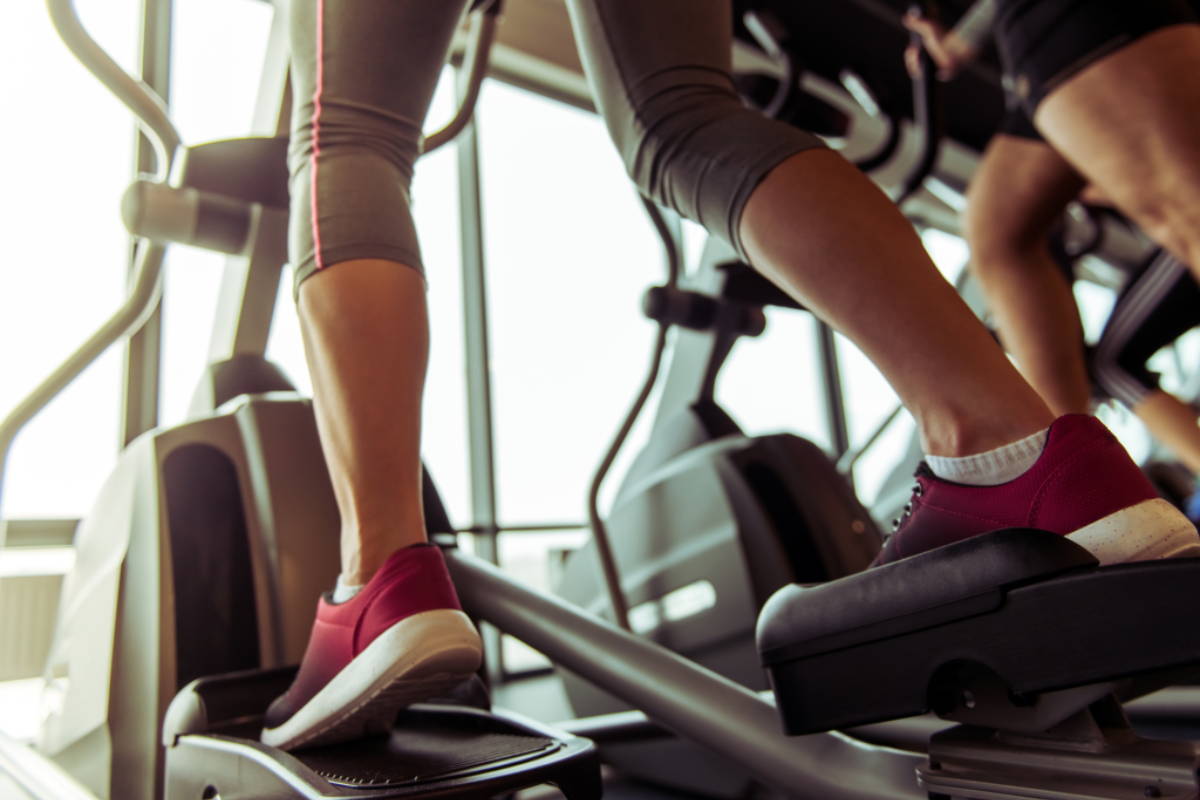 Rear Drive Usage vs Front Drive Usage: Summary
Pros/Cons of Rear Drive Elliptical
Higher overall durability
Lacks incline and resistance levels

Has lower workout intensity ceiling

Oftentimes larger and longer machine
Pros/Cons of Front Drive Elliptical
More portable and smaller options
May lack long-term durability

May force a more unnatural posture when in use
If you are not sure which elliptical to buy, make sure to check out the Niceday Elliptical Machine. The Niceday Elliptical Machine is a sturdy and quiet rear drive elliptical built to operate at just 20 decibels. The equipment also comes with 16 resistance levels to tailor your workouts to your fitness level and a digital display to monitor your vital statistics. Additionally, the device does not need any electrical outlet to be used, making it an incredibly energy efficient option as well.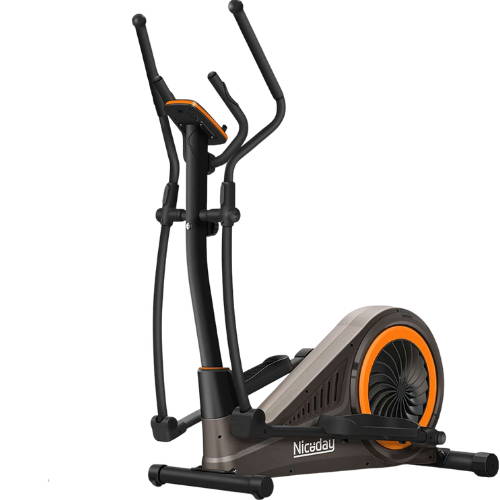 If you are more interested in a front drive elliptical, the Schwinn Fitness 430 Elliptical is a great option to check out. The Schwinn Fitness 430 Elliptical is a high quality front drive option that offers 20 resistance levels as well as an adjustable incline. In addition to this, the elliptical comes with 22 preset workout programs to help you build specific regiments that fit your needs.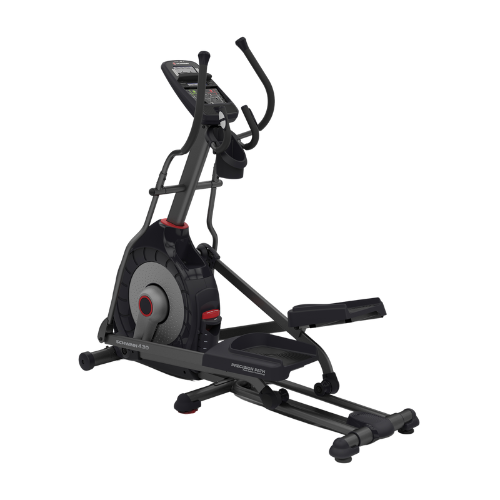 Is Rear Drive Elliptical Usage Better than Front Drive Elliptical Usage?
There is no clear indication that rear drive or front drive ellipticals are inherently better than the other. Each comes with its own set of features and design choices that give it advantages over the other. As a result, it would be hard to say whether rear drive or front drive ellipticals are as a whole better than the other.
Are Rear Drive Elliptical and Front Drive Elliptical the Same?
While very similar, rear drive and front drive ellipticals are not the same. The different placement of the flywheel and overall construction lead to many differences between the two that may impact your own decision on which one to buy.
Choosing a rear drive vs front drive elliptical can be a difficult choice. Depending on your personal fitness goals and what features you decide are the most important, both types of ellipticals can be a solid option. That being said, if you are unsure of which elliptical to purchase, we recommend the Niceday Elliptical Machine or Schwinn Fitness 430 Elliptical. Both models offer some of the best that either a rear drive or front drive elliptical can provide. Let us know your own experiences with rear and front drive ellipticals, or if you have any questions, in the comments below!
10 Benefits of an Elliptical Machine Workout // Healthline: https://www.healthline.com/health/fitness-exercise/elliptical-benefits
6 Benefits of Elliptical Machines // verywellfit: https://www.verywellfit.com/why-use-elliptical-trainers-3436596
Front Drive vs. Rear Drive Elliptical // CardioCapital: https://www.cardiocapital.com/cross-trainers/front-drive-vs-rear-drive-elliptical/
Benefits of Front Drive Elliptical Trainers // Proform Elliptical Blog: https://www.proformellipticalblog.com/benefits-front-drive-elliptical-trainers/
What Is Rear-Wheel Drive? – The Pros And Cons // Engineering Choice: https://www.engineeringchoice.com/what-is-rear-wheel-drive/
My name is Ihor and I have been a professional weightlifter since 1996. With over 20 years of competition experience, my resume includes European Champion in 2009 and the silver medalist at 2011's Senior World Championships –105kg division.
I competed at the 2008, 2012 and 2016 Summer Olympics.
After hanging up my own competitive lifting shoes, I decided to share my huge background as a coach. I am currently coaching multiple athletes who are competing at national and international competitions.