Whilst oats are generally associated with breakfast time, they can be consumed at any point in the day and mixed with a large variety of foods and liquids to make a delicious meal. Mixing oats in protein shakes is something that's becoming more popular as people realize the health benefits and variety of different flavor combinations.
Combined with protein powder and other ingredients, adding oats to protein shakes can make an ideal breakfast, post-workout meal, or an on-the-go snack. I've discussed the reasons to put oats in protein shakes and which combinations to choose down below. Let's take a look in more detail.
Oats in Protein Shakes: Oats provide a great source of energy, vitamins, minerals and fiber. Adding protein powder allows you to make a delicious snack or meal that offers a full nutrient profile and tastes great with other foods.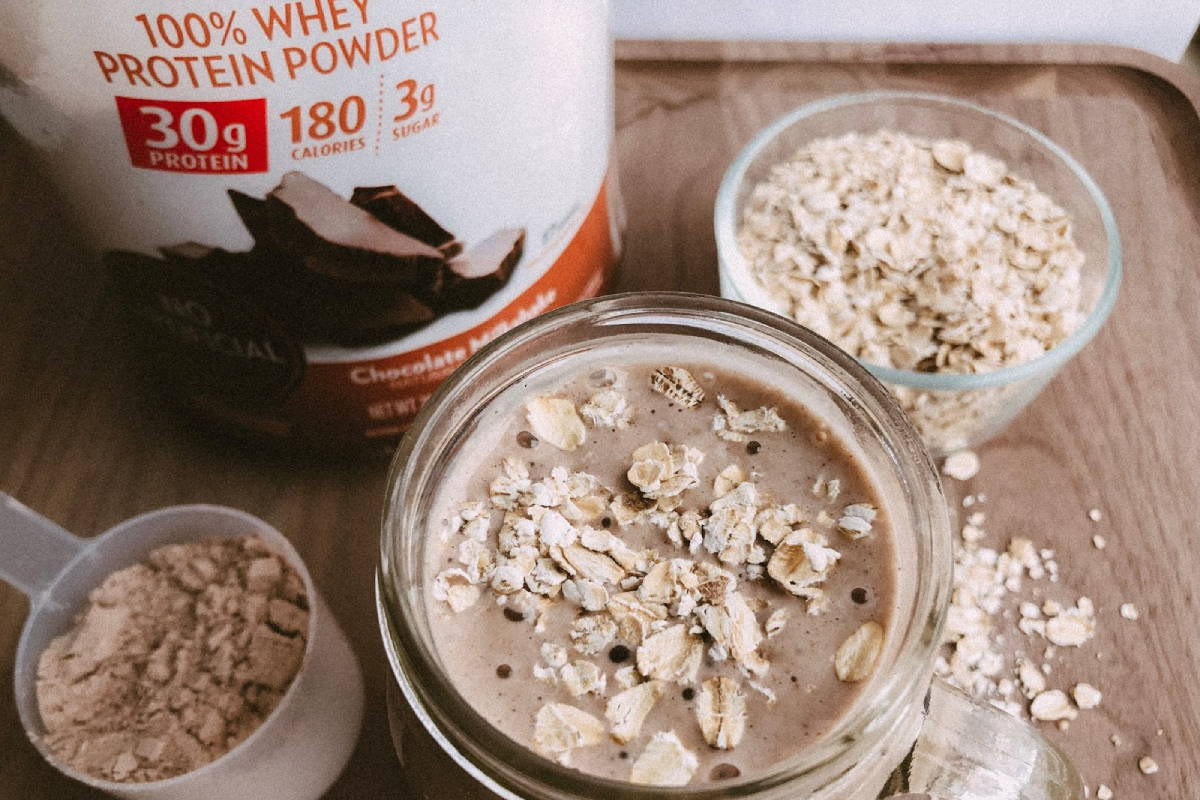 Can You Put Oats In a Protein Shake?
Different types of oats can be combined with protein powder to make delicious oat-based protein shakes that can be combined with other food ingredients as a meal, snack, or post-workout drink.
Oats can be put in a protein shake as and when you need them. The correct use depends on your taste and texture preferences, nutritional needs, and workout goals.
Reasons to Put Oats in a Protein Shake
Here are the benefits of mixing oatmeal with protein shakes:
In terms of nutrition, the combination of oats and protein provides a well-balanced meal. Oats contain carbohydrates as a great source of energy, and fiber which help slow digestion, increase satiety and even increase the diversity of gut microbiota.
Protein powder contains a big amount of high-quality protein that helps with muscle building and satiety. Oats also contain protein, but in a much lower amount, and with suboptimal amino acid profile. Combining them with protein powder adds more protein to your meal or snack, and improves the amino acid profile of oats.
Combined, they provide a nutritious meal with a great macronutrient profile.
Oats are packed with several vitamins, minerals, and antioxidants. These include phosphorus as a key element of bones, teeth, and cell membranes, and zinc which is required for the activity of hundreds of enzymes and for immune function.
Oats also contain a fiber known as beta-glucan, which may contribute to reducing the risk of coronary heart disease (CHD).
Protein is known as the most satiating macronutrient, helping to keep you full for a long time. It also helps with muscle building, muscle maintenance, and recovery. Putting oats in your protein combines the benefits of both into 1 delicious shake.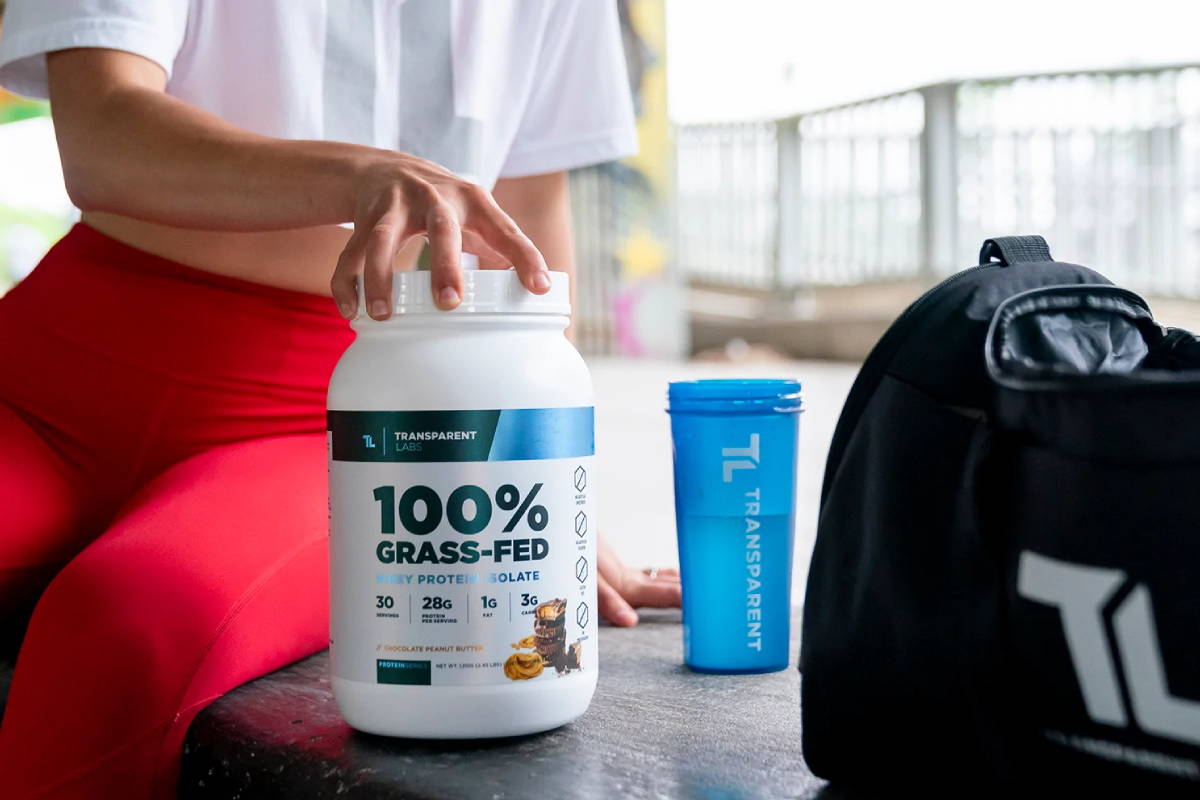 Perhaps one of the biggest benefits of putting oats in your protein shake is convenience. Oats can be added to your shake raw or cooked with little preparation needed. Both oats and protein powder are easily mixed using water, milk, or juice. If you're looking for some healthy fats, you may add avocado and peanut butter into the mix.
Several types of oats can be mixed into protein shakes, including rolled oats, fine oats, oatmeal, and quick oats. Protein powder choices include several types of whey protein, casein, and plant protein. Alongside this, you're able to mix them with multiple vegetables, fruits, and healthy fats.
This gives you various
recipe options
which I'll discuss in more detail below.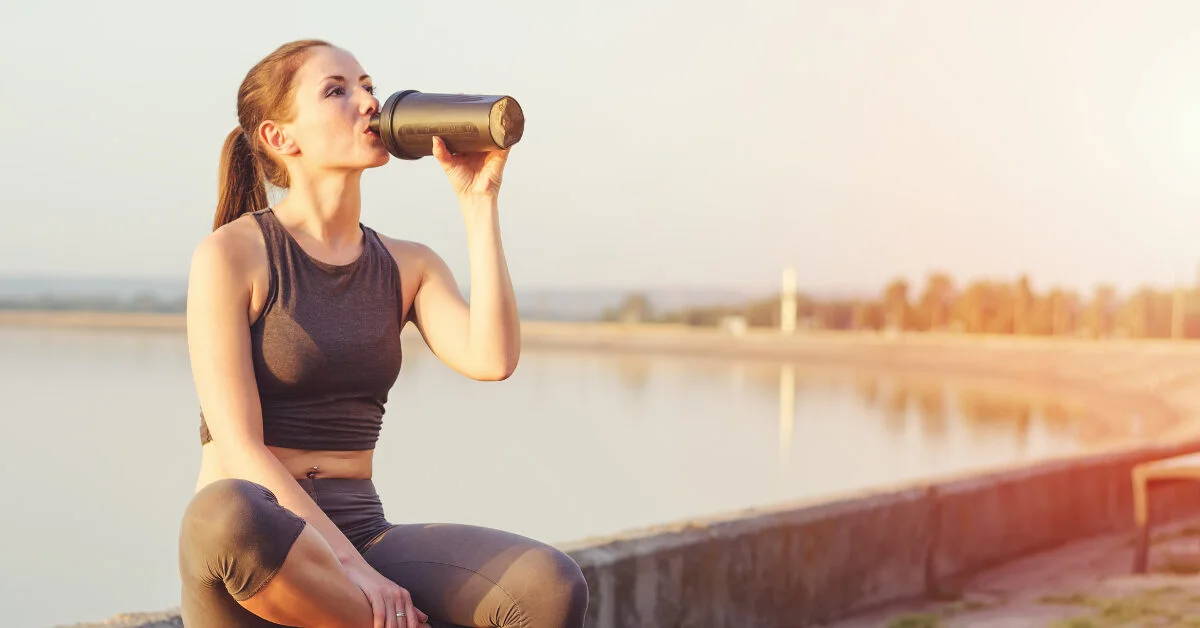 Who Should Not Mix Oats With Protein Shakes?
The answer to the question 'Can you put oats in a protein shake?' is clearly yes. However, there are people and certain situations where mixing the two might not be the best choice. Here are some examples:
Depending on your goals, adding oatmeal to your protein shake might not be the best option. If you're looking to reduce your caloric intake, make sure you're hitting your protein goals first before considering adding oats.
Whilst the fiber in oats can help to keep you fuller for longer, protein also has the same effect. Therefore, if you don't have the calorie budget and want to spread your intake out more, stick with just the protein shake, without adding oats.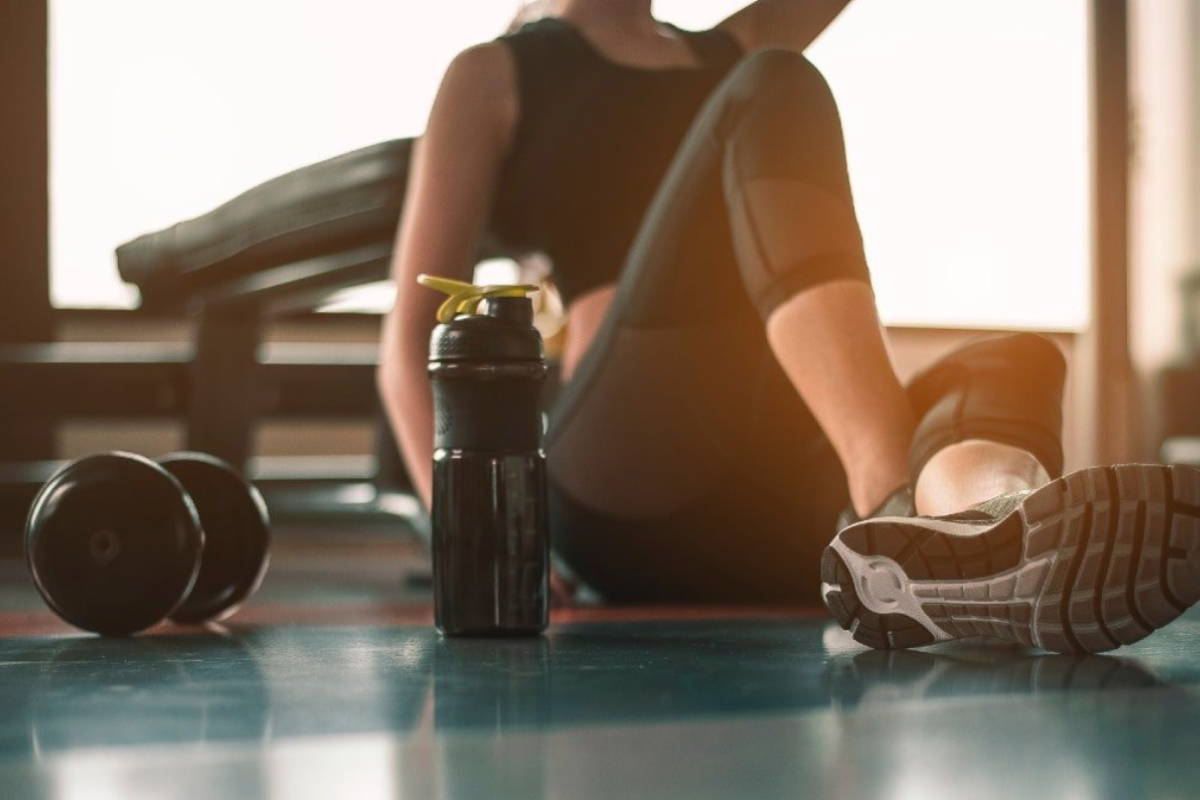 Certain Diseases or Sensitivity
If you have celiac disease or gluten sensitivity, it's a good idea not to add oats to your protein shake. Despite the fact that unprocessed oats do not contain gluten, during commercial production they are often processed in the same facilities as wheat, rye, and barley, which contain gluten, so oats may become contaminated with these grains. For this reason, it is best for people with celiac disease or gluten sensitivity to buy oats with the specified "gluten-free" label.
If you don't have celiac disease or gluten intolerance, but you still experience gastrointestinal discomfort after eating oats, you can either avoid it or reduce its amount in your protein shake. A good idea would be to add a small amount to start with and increase gradually each day while monitoring your GI tolerance. This allows you to see what amount you can handle without negative effects.
Even if you don't have any problems with oats, but you don't like the thickness and texture when you add it to a protein shake, it might just not be for you. In this case, you can also reduce the amount of oats to a minimum, for example, to one tablespoon. Gradually adding half a spoon, you will be able to find your perfect ratio of oats to protein powder and other ingredients. There will be just enough oats to get nutrients from it, while not having problems with the texture of the shake.
How to Choose the Best Oats and Protein to Mix Together?
The great thing about combining oats and protein together is the number of different combinations and flavor choices.
Oats that can be added to protein shakes include:
Rolled Oats
Oatmeal
Raw Oats
Fine Oats
Oat Bran
Different protein powders include:
Whey Isolate
Whey Concentrate
Whey Hydrolysate
Casein
Plant Protein (pea, pea + rice, hemp and other)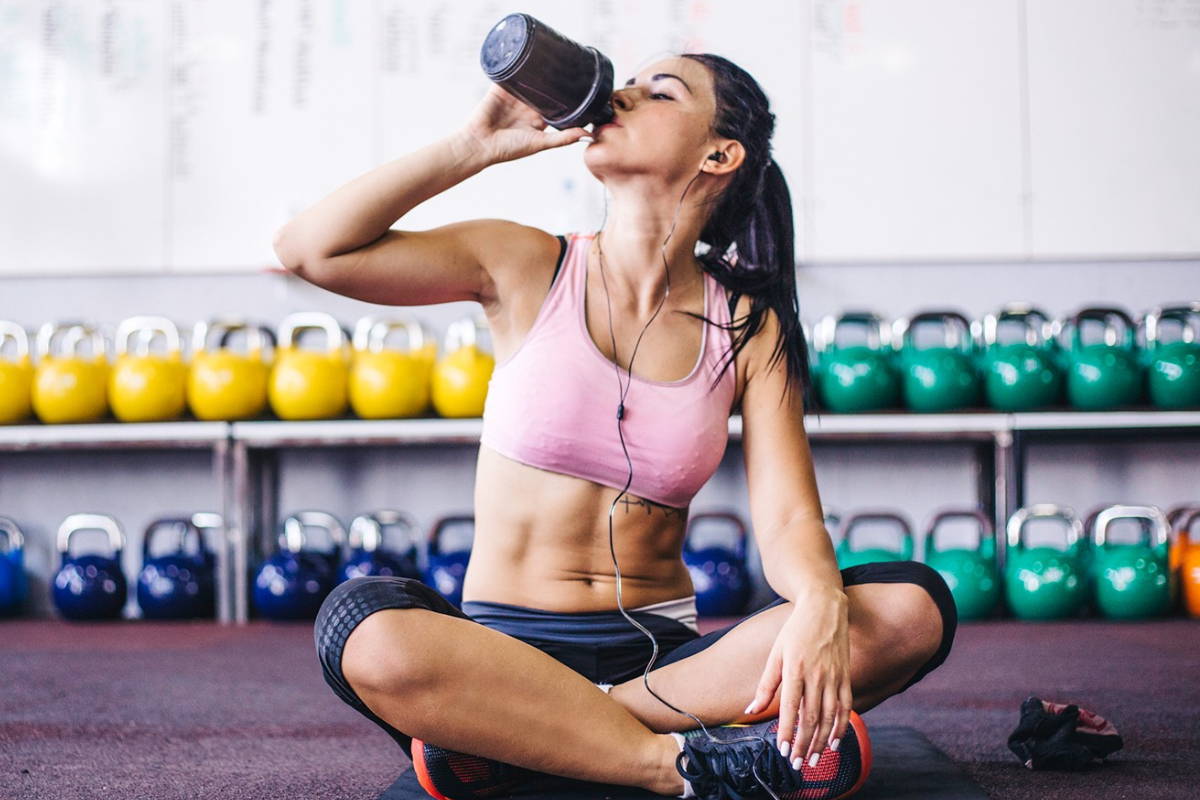 When choosing the best ingredients to mix together, it's mostly down to your personal preference, goals and gastrointestinal tolerability.
If you want a protein shake with oats before bed, better go with casein. However, due to the thick texture of casein, it is better to add more water or milk so that the shake can be mixed well and has a good texture. If you're looking for a shake in the morning, whey and oatmeal make a great combination.
Optional extras include peanut butter, avocado, fruits, and vegetables depending on your preference.
Protein Powder We Recommend
I recommend Transparent Labs Grass-Fed Whey Protein Isolate and there are many reasons for this: it contains only 100% protein isolate (not a mix of concentrate and isolate), a whooping 28 grams of protein per serving and zero grams of fat. This product has versatile macro breakdown and this is why it's suitable for any goal. Another additional bonus - very high score on Labdoor (which means that this protein is third party tested).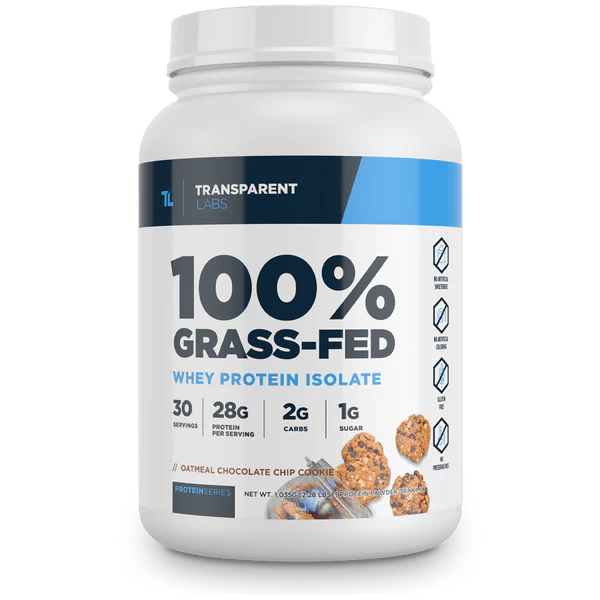 Can I Put Raw Oats in My Protein Shake?
Raw oats are fine to put in a protein shake if you want and have no digestion issues, but taste may be best when soaked in water, milk, or juice first. And keep in mind that if you want to eat raw oats, it is better to choose rolled oats that have been steamed and are safer to eat.
How Much Oats Do You Put in a Protein Shake?
You can vary the amount of oats depending on the shake thickness you're going for or your carbs and calorie goals. However, a general rule is to add around ½ cup of oats to 1 scoop of protein powder. You need to experiment.
Can I Mix Oats With Protein Powder?
Protein powder tastes great when mixed with most types of oats or oatmeal. When mixing oats with protein powder, use a liquid such as water or milk to reduce the dryness and help the oats to bind to the powder.
Summary - Putting Oats in Protein Shakes
Putting oats into your protein shake provides an excellent source of energy, has a number of nutrients, and tastes delicious when combined with other ingredients. Oats can be added to protein shakes to make a great snack or meal.
The Transparent Labs Grass-Fed Whey Protein Isolate is our recommended protein source to add to oats.

Do you add oats to your protein powder, and how do you like the taste and texture? Tell me about your experiences.
The Nutrition Source // Hsph: https://www.hsph.harvard.edu/nutritionsource/food-features/oats/
Zinc - Health Professional // Ods: https://ods.od.nih.gov/factsheets/Zinc-HealthProfessional/
The future of oats in the food and health continuum // Cambridge: https://www.cambridge.org/core/journals/british-journal-of-nutrition/article/future-of-oats-in-the-food-and-health-continuum/16CD4C551B9F6F9DA6FE5620723A8764
5 Ways to Make Protein Oatmeal // Eatingbirdfood: https://www.eatingbirdfood.com/protein-oatmeal/
The safety of raw oatmeal // Fyi: https://fyi.extension.wisc.edu/safefood/2019/01/14/the-safety-of-raw-oatmeal/
Oleksandr is a professional fitness nutritionist, certified by FPA (Fitness Professional Association). Oleksandr adheres to the principles of evidence-based dietetics and instills in his clients a healthy relationship with food - without strict prohibitions on favorite foods and regular disruptions. His main task – not only get a result for you, but also maintain it for many years, enjoying tasty and delicious food.