We all want to get the best quality protein at the best prices, and there's a lot of confusion about which brand to choose when we walk through the aisles at stores. Talking about good-quality protein, Premier Protein vs Muscle Milk - what's better?
If we compare Premier Protein vs Muscle Milk, the former contains more vitamins and minerals and has many flavors to choose from, but the latter has slightly more protein and fiber at a lower cost per bottle. I would give an advantage to Muscle Milk.
Premier Protein's products have a wide variety in taste, from dessert-like flavors to fruity ones, and they're all rich in protein. Their shakes can be used as a meal replacement because they contain a great balance of vitamins, minerals, and fiber. To make things healthier, they have been sweetened with the use of sucralose and acesulfame potassium instead of added sugar. There's no added sugar, and the total sugar (which is present naturally) content rarely exceeds 1 gram.
In addition, 12 of the 14 flavors presented have 3g of fiber per bottle. Given that this is a protein drink and not a vegetable, fruit, or legume (which naturally contain a lot of fiber), 3 grams of fiber is a great bonus.
It contains protein in the form of milk protein concentrate with the addition of calcium caseinate. One serving (11.5oz or 340ml bottle) contains only 160 calories and you'll get 30 grams of protein.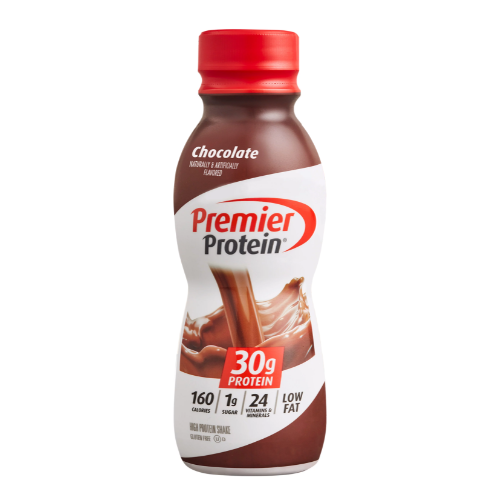 Muscle Milk products have a wide variety of ready-to-drink options. There are different ranges from Genuine to Light Calorie and Collegiate. The drinks contain milk-derived protein, which is a blend of milk protein isolate, calcium caseinate, and sodium caseinate.
Just like Premier Protein, these drinks are also sweetened with sucralose and acesulfame potassium. Muscle Milk Pro Advanced Nutrition Series has 3 flavors options, and also contains a significant amount of vitamins and minerals. However, compared to the previous product, Muscle Milk contains less micronutrients. On the other hand, one bottle contains a whopping 5 grams of fiber.
Lastly, one 330ml (11.2oz) bottle has 170 calories, and you'll get 32 grams of protein out of it.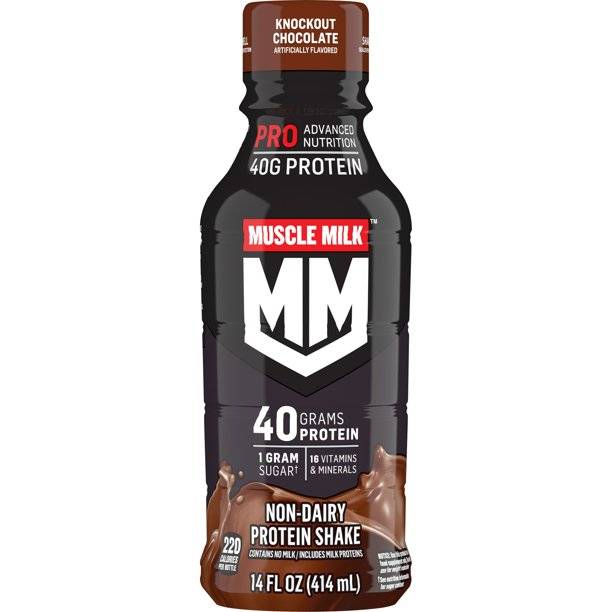 Premier Protein vs Muscle Milk
Now that we have looked at a brief on both the products let's compare them in all the essential aspects and see which one comes out on top - Muscle Milk or Premier Protein?
Both products use milk protein concentrate or isolate, as well as calcium caseinate and/or sodium caseinate. Milk protein concentrates (MPCs) and isolates (MPIs) are manufactured by concentrating milk proteins (whey proteins and caseins) from fluid milk by membrane processing, followed by spray drying.
Although they have different names (concentrate or isolate), the actual difference between them is small. Isolate has a slightly higher protein concentration than concentrate, and usually less lactose.
Both of these products are sources of high-quality protein, which contain whey protein and casein in the same ratio that milk protein has: 20% - whey protein, 80% - casein. Therefore, if you want to consume a mix of whey protein (which is quickly digested) and casein (which is slowly digested) at the same time, any of these two products is perfect!
Milk protein is high in BCAAs, but these products also contain lactose. Although milk protein isolates usually contain less lactose than concentrates, Muscle Milk (with milk isolate) does not indicate the amount of milk sugar in their shake. Therefore, we can only assume that this product contains less lactose. This can be very important for people with lactose intolerance.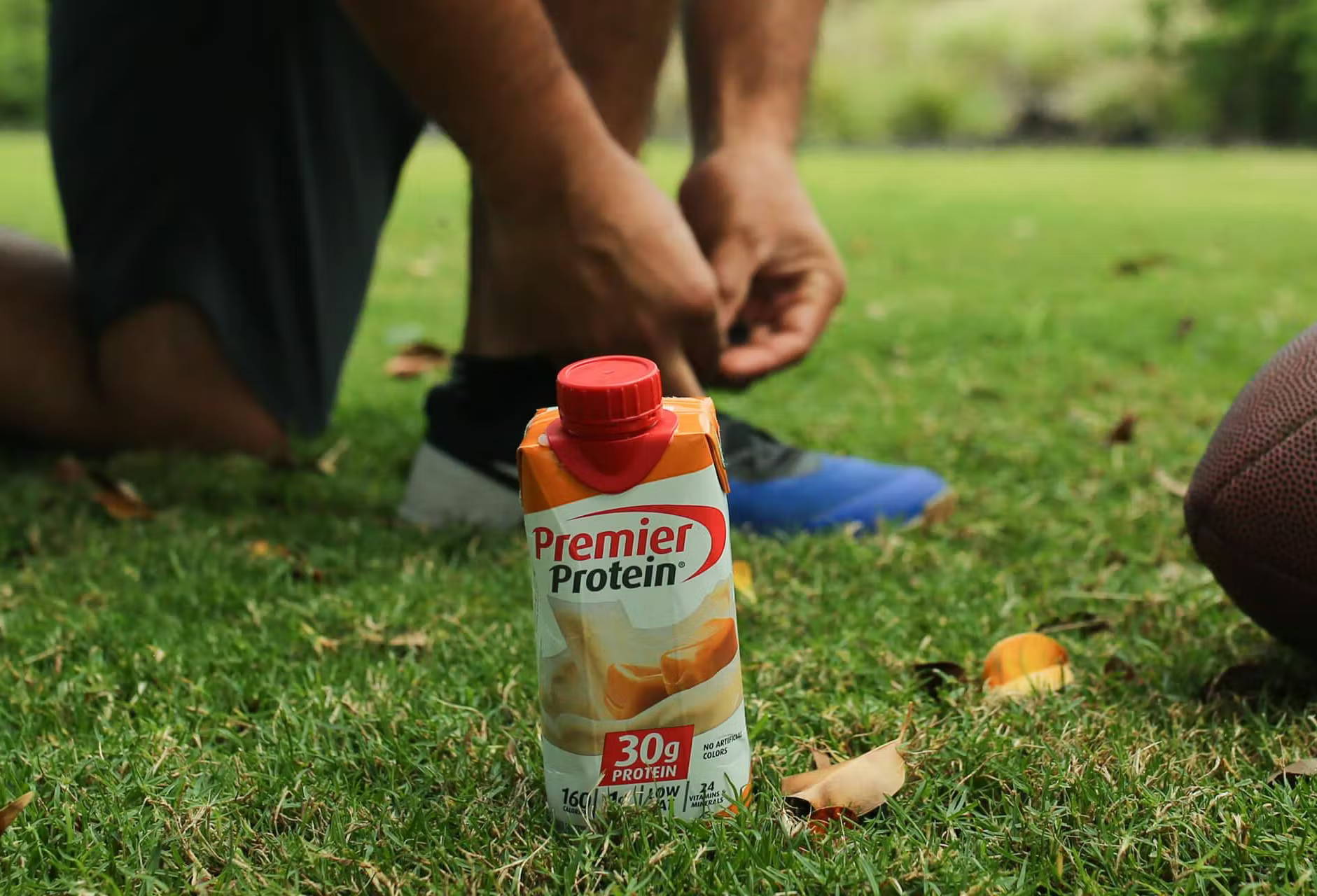 Average % of Protein/Carbs/Fats (in 100 grams):
The amount of Macros is an essential aspect for comparing two products. When we look at Premier Protein's macronutrient content, each shake contains 30 grams of protein, 3-6 grams of carbohydrates (depending on flavor), and 3 grams of fat (of which 0.5-1 g are saturated fats). A serving is 160 calories, has 1 gram of total sugars and zero added sugar. This product is also enriched with 25 vitamins and minerals.
Coming to Muscle Milk's macronutrient content, one serving contains 32 grams of protein, 8-9 grams of carbohydrates (depending on flavor), 2 grams of fat (of which 0-0.5 g are saturated), and 5 grams of fiber. It's 170 calories, and it also contains 19 vitamins and minerals. Just like its opponent, this product contains no added sugar.
If we look at the pricing of Premier Protein Shake on Amazon, most flavors, including much-loved chocolate or banana, cost from $29.88 for a 12-pack of 11.5 oz bottles. That's about $2.50 per bottle. Some individual flavors, such as Cake Batter Delight, Pumpkin Spice or Strawberries & Cream, cost $42-$50 for a 12-bottle pack. A bottle of such a drink will cost much more - on average $3.8.
You can get a Muscle Milk Pro Advanced Nutrition 12-pack for $26.99 on Amazon, and at that rate, one bottle would cost $2.25. That is, the cost of one bottle is slightly cheaper than that of the competitor (for the cheapest flavors), while the amount of protein is slightly higher.
Added sugar is always a concern with beverages. However, neither of the drinks contains added sugar, and this is a point where both brands share an absolute similarity. Both drinks have been sweetened with sucralose and acesulfame potassium.
Premier Protein vs Muscle Milk: Summary
If you compare all the main aspects between Premier Protein or Muscle Milk, you'll see that Premier Protein gets the upper hand in terms of flavor options and enrichment with vitamins and minerals, whereas Muscle Milk contains more protein at a lower price per bottle.
Overall, both products have a lot in common, but have slight differences in some aspects. In the end, it depends on your goals and what you're looking for in a drink like this one. So, either one of them could suit you better.
Pros/Cons of Premier Protein
Enriched with 25 vitamins and minerals (better suits as a meal replacement shake)

14 flavors to choose from
Due to the use of milk protein concentrate, it may contain more lactose (can be a problem for lactose-intolerant people)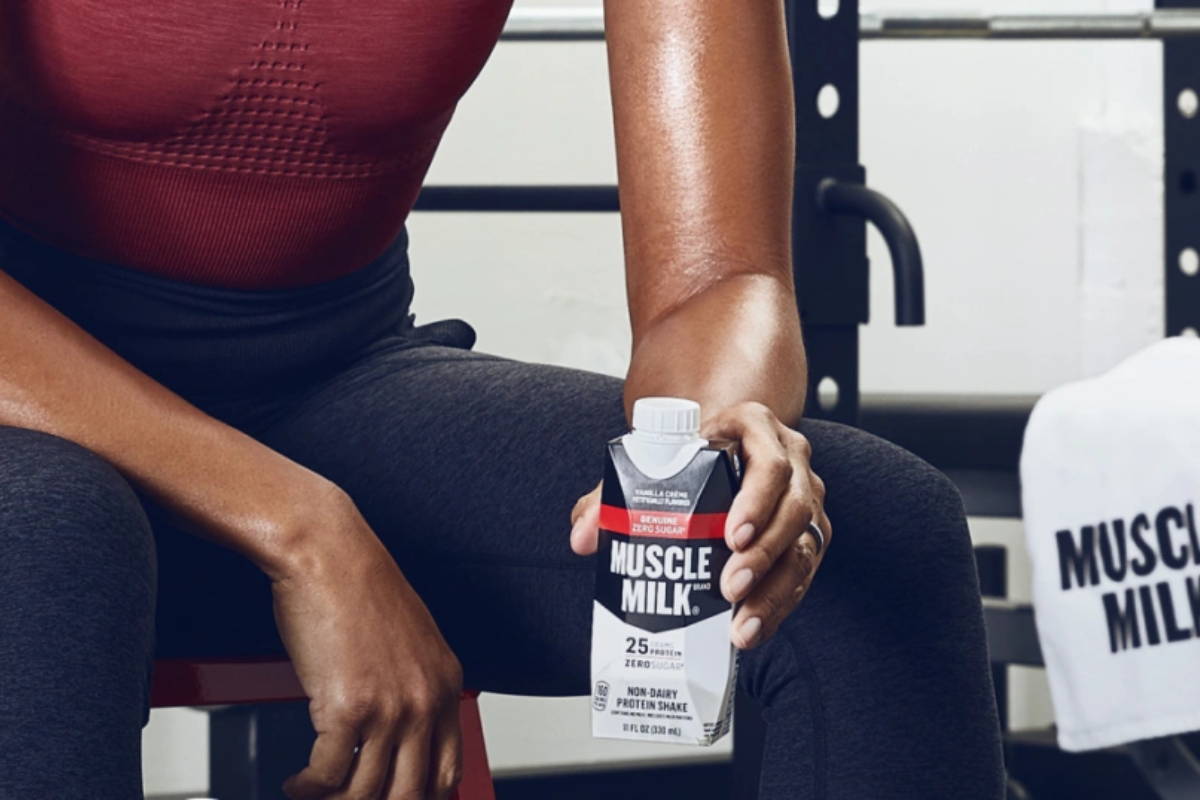 32 grams of protein per bottle

Milk protein isolate as a source of protein (​​better suited for people with lactose intolerance)

5 grams of dietary fiber per bottle

Lower price per bottle, while the amount of protein is slightly higher compared to the opponent
Very small selection of flavors

Fewer vitamins and minerals compared to the opponent
Is Muscle Milk better than a protein shake?
This product is neither worse nor better. However, one bottle of Muscle Milk contains more protein than regular serving of whey protein powder - 32 grams versus 25-28 grams. Also, Muscle Milk comes in a convenient, ready-to-use package. And you don't need to wash the blender or shaker.
Is Premier Protein good for muscle gain?
Absolutely. These shakes are perfect to be taken before or after a workout, or as a high protein snack. So, it will help you get the most out of your workouts and also help put on lean muscle mass.
So, we compared Muscle Milk vs Premier Protein, and although there's no clear winner, I would give an advantage to the first product. If you have any other high-protein drinks that should be compared, let us know in the comment section.
Milk Protein Concentrate // ScienceDirect: https://www.sciencedirect.com/topics/agricultural-and-biological-sciences/milk-protein-concentrate
How Does Muscle Milk Work // PowerUpCook: https://powerupcook.com/how-does-muscle-milk-work/
Is Premier Protein Good or Bad For You? – Here Is The Answer… // WellnessWarrior:
https://www.wellnesswarrior.org/is-premier-protein-good-for-you/
Oleksandr is a professional fitness nutritionist, certified by FPA (Fitness Professional Association). Oleksandr adheres to the principles of evidence-based dietetics and instills in his clients a healthy relationship with food - without strict prohibitions on favorite foods and regular disruptions. His main task – not only get a result for you, but also maintain it for many years, enjoying tasty and delicious food.