This article has been created in collaboration with our esteemed partners at Tuff Wraps, combining expertise to bring you valuable insights and useful information about the product.
Do you face the problem of weak wrists during barbell instant lifts without losing speed and tempo? This article will help you resolve the issue! Check out our Tuff wrist wraps review and learn that this is exactly what you need for intensive lifting sessions.
The Tuff Wrist Wraps Review Quick Summary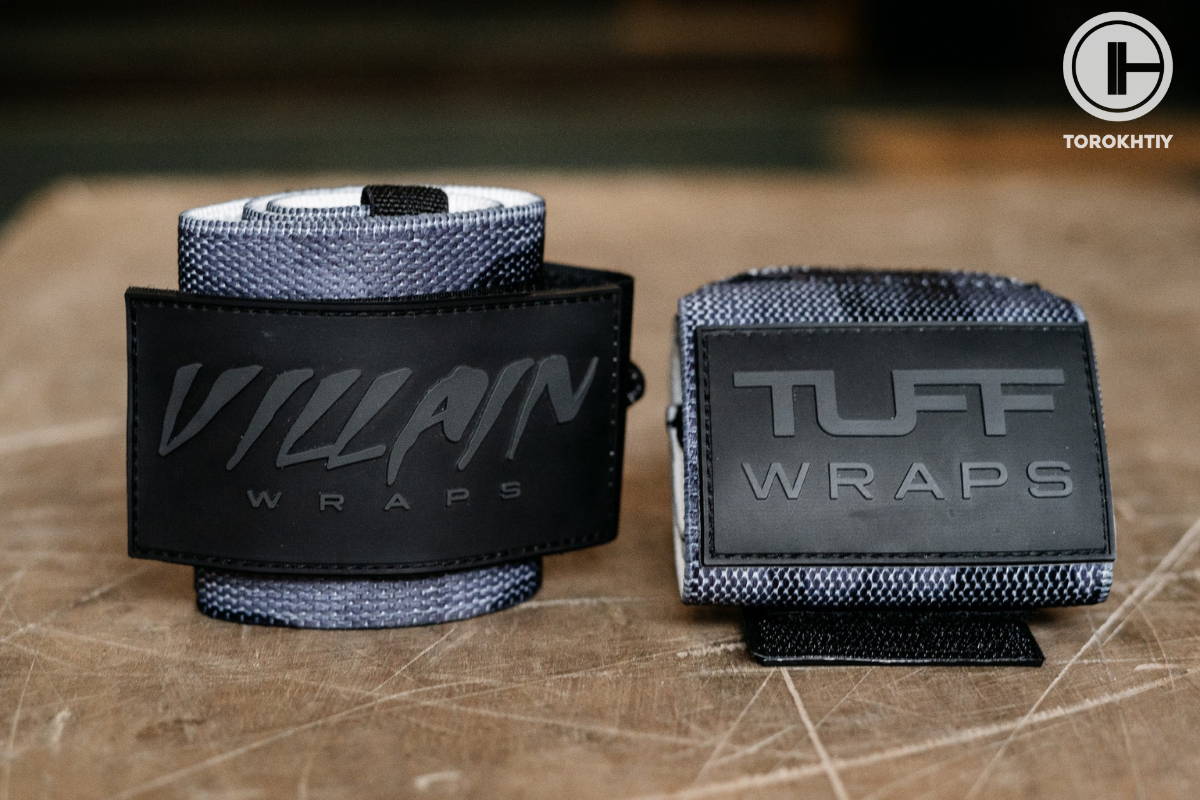 Established in 2013, TuffWraps is a fitness lifestyle brand created by Jaysen and Sonia Sudnykovych. Dr. Jaysen has been an athlete for most of his life.
When he was a senior in high school, Dr. Jaysen seriously injured his back while wrestling and saw a chiropractor for the first time: "I walked into the office, bent over, and walked out upright." He was impressed with such care and subsequently earned that a healthy lifestyle is more than just how you look or feel. As a result, he was inspired to become a Doctor of Chiropractic.
Sudnykovych began focusing his career on treating sports injuries. He saw many patients with all types of injuries, and wrist injuries were among the common ones he treated. Dr. Jaysen has been using Active Release Technique (ART) since 2002, but it doesn't prevent injury.
Because of his wife's concerns, Jaysen joined a CF box in 2012. After seeing multiple wrist injuries, they began researching various wrist wraps, looking for one that would give them ultimate support to prevent injury while allowing free movement. When none of the wrist wraps did what they needed, they designed their own product: Tuff wrist wraps.
Length: 20" (16" fabric, 4" velcro)
Width: 3"
Material: Cotton/poly elastic blend fabric
Tuff wrist wraps are a superb solution for athletes who require the best training accessory. They provide excellent support when doing Olympic movements, so you'll keep your wrists more stable when putting up weights.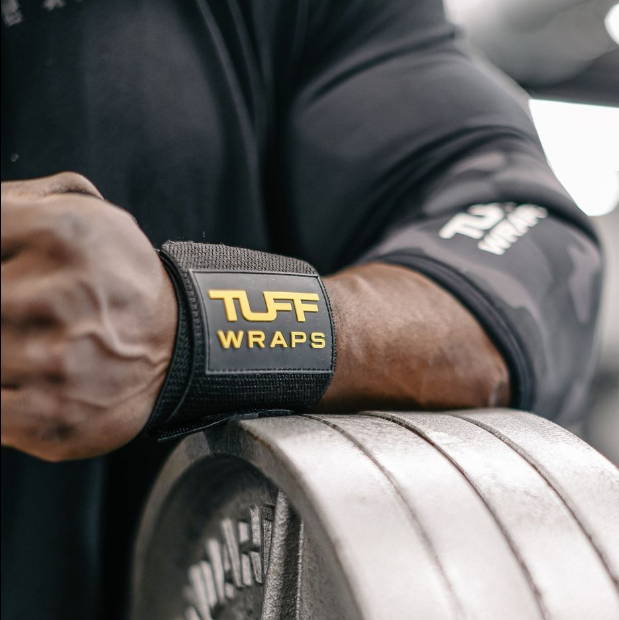 Tuff wrist wraps act like a belt for your wrists. Even the absence of thumb loops won't influence the efficiency of your workouts. In addition, they have a silicone label patch that provides maximum durability during the heaviest lifts.
The blend of cotton and polyester enables wrist wraps to absorb sweat and moisture, without worrying about skin irritation.
You can also choose 24" and 30" wraps that differ a bit regarding your training goals. These options will be perfect for serious weightlifters and powerlifters. The longer the wrap, the more extra support and wrist stability it provides for powerlifting and strongman training. Many athletes who lift over 600 lifts use these wraps, and even the world record for bench press was broken in Villain Wrist Wraps.
Tuff wrist wraps act like a belt for your wrists. Even the absence of thumb loops won't influence the efficiency of your workouts. In addition, they have a silicone label patch that provides maximum durability during the heaviest lifts.
The absence of thumb loop makes adjustments easier

16", 24", and 30" length options
A tab at the end could help to take them off easier

A silicone label patch makes them feel bulky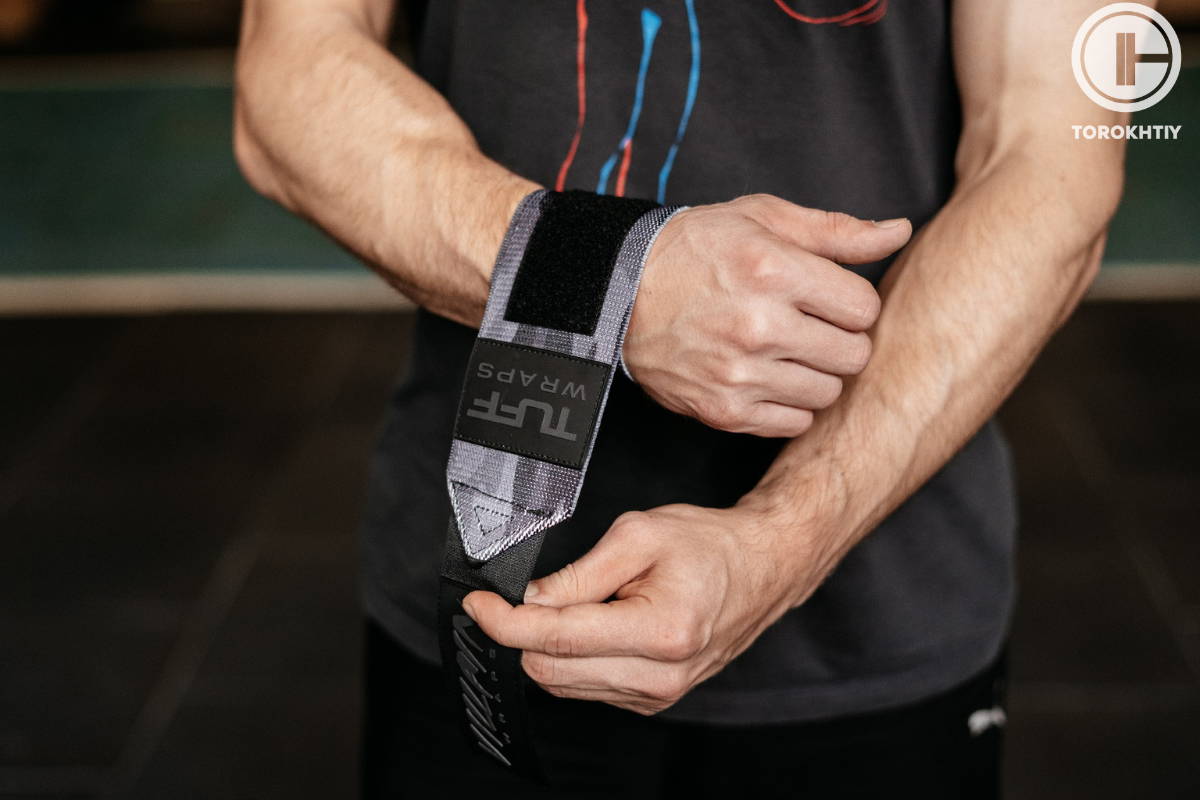 Who and What Are Tuff Wrist Wraps For?
A unique belt loop tightening system provides superb wrist stability, making them the perfect choice for powerlifters, weightlifters, cross-training, and strongman training athletes. Moreover, the Tuff wrist wraps are USPA & IPF approved, so there's no hesitation in using them for serious weightlifting and powerlifting competitions.
The Tuff Wrist Wraps Review
Tuff wrist wraps have a silicone label patch that provides maximum durability and makes them visually bulkier. Those rubber prints provide extra support when positioned correctly. However, it doesn't affect their reliability and overall comfort while lifting weights.
In addition, there's a tab at one side you need to place through when wrapping around the wrist. The major feature of these wraps is the absence of thumb loops, which makes them much better and easier to wear than those with thumb straps.
The belt loop system of these wrist wraps is much superior to any thumb loop ones. They are wider than normal wraps, which is their advantage, and are made extremely well and solid.
Tuff wrist wraps offer great support that is required when doing Olympic-type movements and for everyday lifting exercises, i.e. front squats, bench, cleans, snatches, deadlifts, bicep curls, etc. They provide a heavy duty durable feel by keeping your wrists tight under heavy load.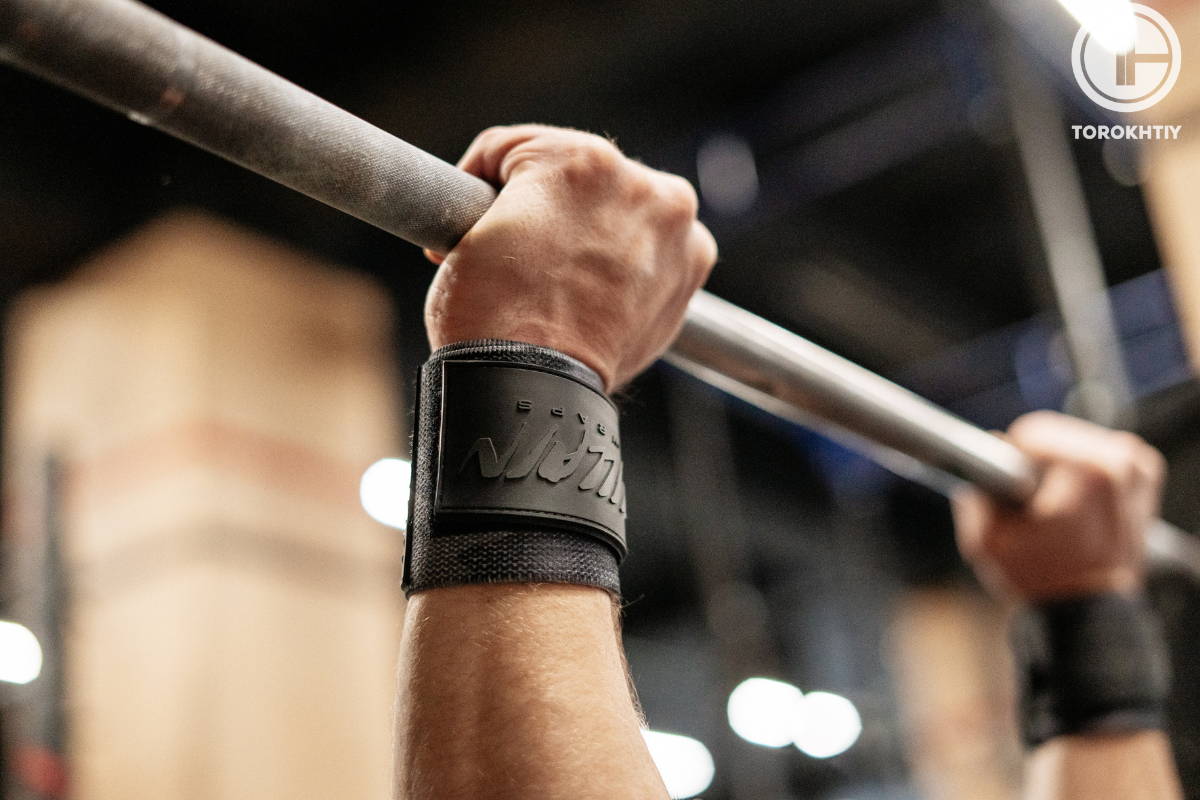 As the manufacturer claims, these wrist wraps will help you forget about wrist pain and discomfort, enabling you to achieve your fitness goals. The wraps keep your wrists stable from bending under heavy loads. No thumb loop wraps will control your wrists' stable and straight position, so you'll experience the difference yourself compared to the standard thumb loop ones.
Wrist wraps come with reinforced stitching. The stitch quality and pattern ensure that these wraps will support your wrists and forearms better while making them very comfortable. The stitching quality refers to the garment's elasticity. With such a stitch pattern, you get less elastic wrist wraps for more stability when you need it most.
These wrist wraps are highly reliable: the manufacturers found a material that offers more durable support than cotton ones. It prevents over-extension yet provides the support an athlete needs in order to hit the heavy lifts. These wraps are strong and flexible.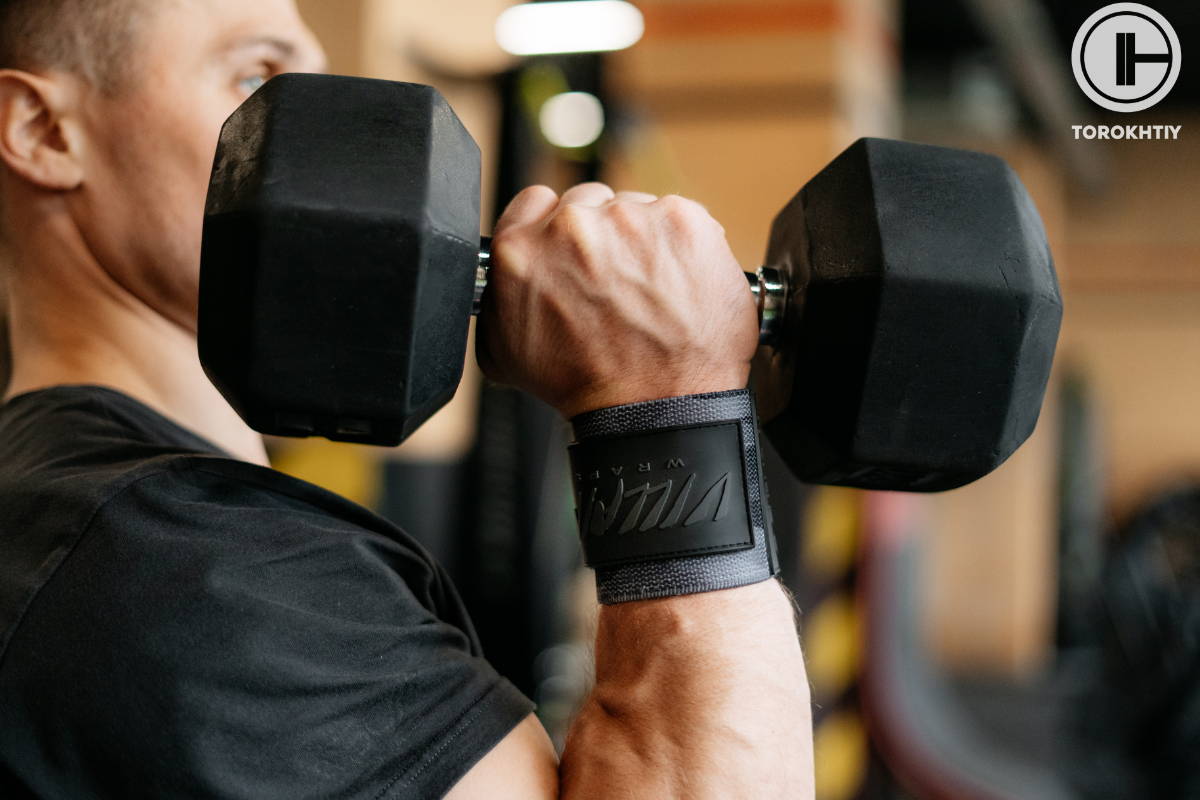 How Do You Use Tuff Wrist Wraps?
To start with, you should keep your wrist in a neutral position when you're lifting to be able to lift heavier weights. However, when your wrist goes too much into the extension position, known as hyperextension, it creates weakness and imbalance in your arms. The gold rule of a wrist wrap is to keep it straight.
So, you have 16" Tuff wrist wraps: you can make a little loop in one end, you take a tab in the other end and put it through the loop, so you create a hole. It's recommended to keep that loop on the inside of your forearm. Place a wrist wrap a little bit above the wrist joint, pull the section away, and at the same time you pull your wrist in the opposite direction.
Do not grab the tab but the midway of the wrist wrap and pull it slightly by tightening the loop down and working with your wrist as you're going to roll it on the inside. While rolling the wrist wrap, don't pull it with too much tension. Here we go: a wrist wrap fits tightly on your wrist and you feel great support in this area.
If you wrap your wrist too tight, feel numbness or coldness, or your hands turn blue, loose it a little bit and adjust, and it should work well.
Tuff Wrist Wraps Alternatives
Tuff 16" Villain Wrist Wraps vs WBCM Premium Velcro Wrist Wraps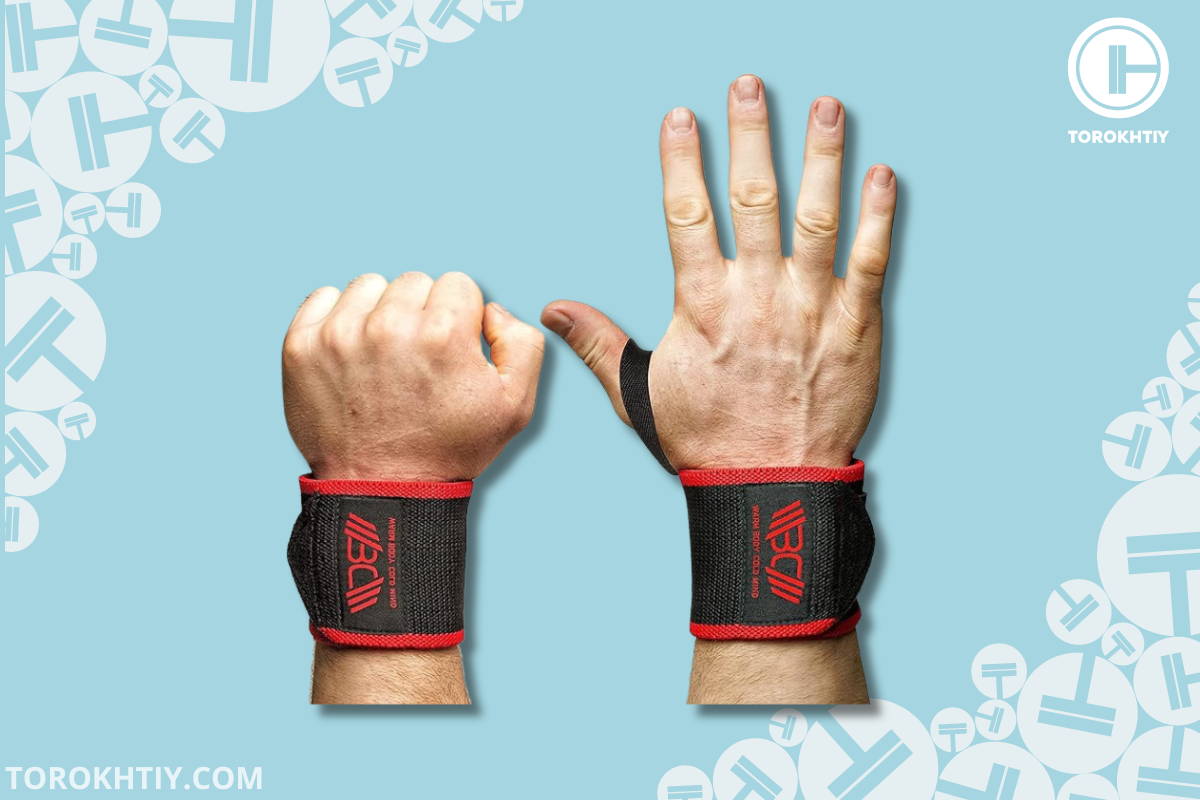 Premium Velcro Weight Lifting Wrist Wraps are made from high-quality cotton and equipped with velcro fastening for reinforced fit on your wrists.
Designed by the winner of the World and European Weightlifting Championships Oleksiy Torokhtiy, these wrist wraps meet the needs of professional athletes while being fitting for amateurs and recreational lifters.
With a 3.15" width, they come with two length options — 12" and 18" — which provide excellent wrist support and stability during lifting weights.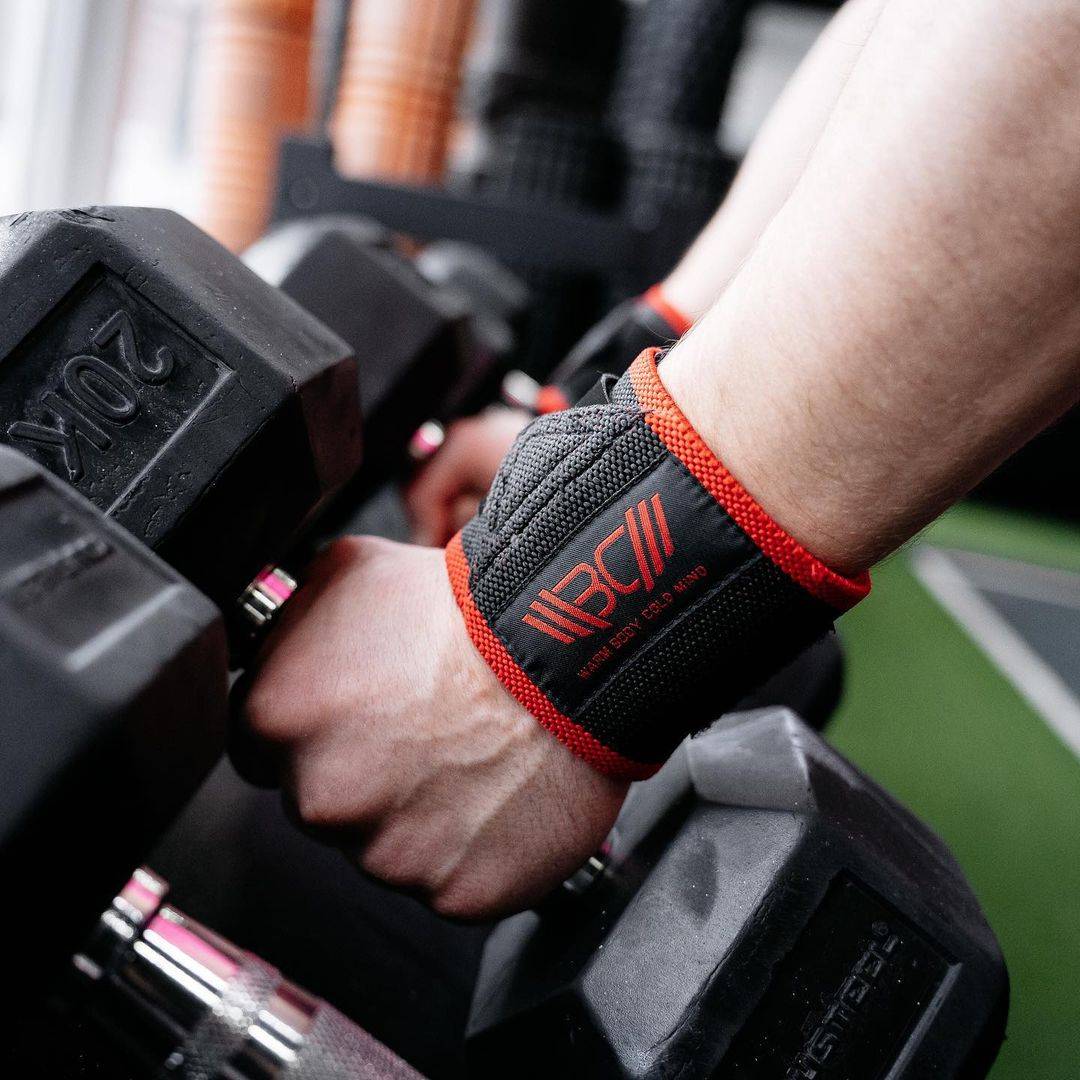 They're highly versatile as they fit both men and women and can be used in weightlifting, cross-training, powerlifting, bodybuilding, and functional fitness workouts.
Comparing these two models of wrist wraps, we can conclude that TUFFWraps will give you a little bit greater support and wrist stability due to the silicone label patches. Also, you'll have no hassle with the thumb loop as Tuffs have a belt-loop tightening system. You won't waste several seconds on releasing your thumb out of it after wrapping the wrist.
An optional perk of TUFF wraps is greater color options and the availability of 24" and 30" wraps for those who are searching for more rigid variants.
What are wrist wraps good for?
Wrist wraps help to prevent the wrists from bending when doing pressing and lifting movements. Additionally, you can wear wraps to enhance your grip and overall lifting strength.
What are the rules for wrist wraps in powerlifting?
All powerlifting federations allow a max width of 3 inches and a length of 39 inches. Not all brands are approved for powerlifting competitions, so an athlete should check the list of the allowed brands. There are also rules regarding wearing them, e.g. not too high or too low on the wrist.
What are the rules for wrist wraps in powerlifting?
Hand-wash wrist wraps with warm water and light detergent and let them air dry. Exclude machine wash, as it risks the strings winding around other clothing items.
If you want to secure your wrists and forearms during intensive weightlifting training, consider buying Tuff 16" Villain Wrist Wraps. This lifting accessory will provide you with the ultimate support and stability during everyday workouts.
You'll benefit from the unique belt loop tightening system and no thumb loop design, while its silicone label patch will bring you maximum stability even during heavy lifts. So, the problem of weak and unstable wrists and forearms will be fixed once and for all.
With over 20 years in Olympic Weightlifting, our team does its best to provide the audience with ultimate support and meet the needs and requirements of advanced athletes and professional lifters, as well as people who strive to open new opportunities and develop their physical capabilities with us.
All products we select are primarily approved and tested by the Olympic Weightlifting Champion Oleksii Torokhtiy. Under his guidance, we provide honest and reasonable assessments of the products we review by checking their characteristics, packaging, design, comfort and durability features, and general product rating. We select products from only high-quality and trusted sports brands, thus vouching for their quality.
The product testing process is described in more detail here
Olympic Weightlifting Champion
Experience: 21 years
Best Results: Snatch – 200 kg,
C&J - 240 kg
My name is Oleksiy Torokhtiy. I am a professional athlete with 20 years of experience in Olympic weightlifting. I have won multiple European, and World titles and have taken part in two Olympic Games (Beijing 2008, London 2012).
After finishing my career, I have committed myself to coach, and as of 2022, I've hosted 200+ weightlifting seminars all over the globe. I'm the founder of an international sportswear and accessories brand, Warm Body Cold Mind (my motto), author, and creator of a series of training programs and eBooks.
If you have any questions/suggestions/any other inquiry, you can reach out to us via email - reviews@torokhtiy.com
This article was written by our qualified author and proofread by expert with proven experience. When writing the article we use our expertise and data from open sources with strong reputation, scientific or medical based. The list of references is provided at the end of the article.
Our team of authors and experts includes professional athletes (Olympians, winners of European and World titles) PhD in Sport Science, certified coaches, sports nutritionists, CSCP, physiotherapists and other. Read more about the team here, and more about how we test here.