Adjustable dumbbells provide many benefits when added to your home gym collection. Alongside coming at a fraction of the cost of purchasing each dumbbell individually, they help to save valuable gym space and make switching between different weight amounts effortless.
I've provided an in-depth Flybird adjustable dumbbells review, a budget-friendly set of adjustable dumbbells that are taking the health and fitness market by storm.
With so many different adjustable dumbbells to choose from, it's good to know exactly what they can offer in relation to their competitors so you're able to make the correct purchase for your home gym. Let's take a look at them in more detail!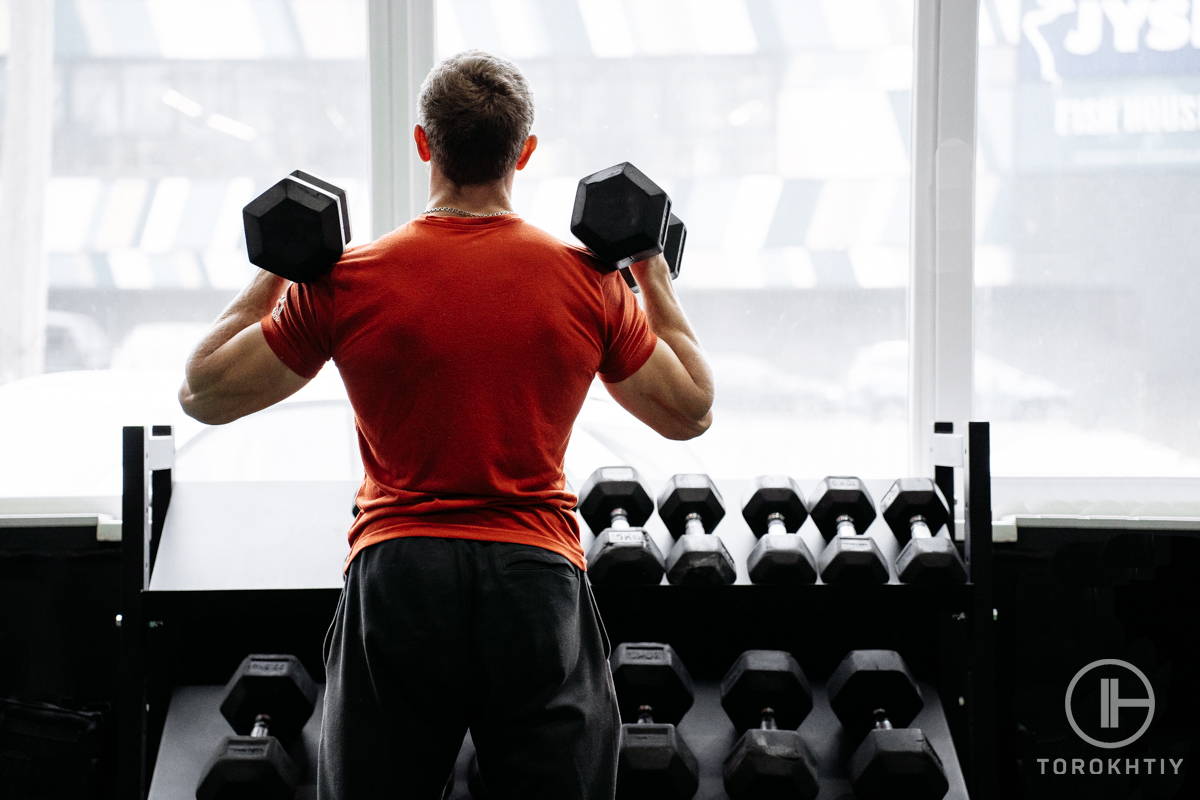 Flybird Adjustable Dumbbells Review Quick Summary
Founded in 2016, Flybird aims to bring high-quality, affordable workout equipment to the health and fitness industry. They believe that everybody deserves a healthy life without distinction of budget, training experience, and location in the world.
They manufacture and sell a wide range of equipment including adjustable dumbbells, weight benches, and pull-up bars.
Number of Settings

: Five

Weight Range:
5-25 lbs,
11-55 lbs
Weight Increments:
5, 10, 15, 20, 25 lbs,
11, 22, 33, 44, 55 lbs
Dimensions: 14.6" L x 7.9" W x 6.7" H
Adjustment Mechanism: Twist Dial Lockdown Mechanism
Materials:
Aluminum Alloy (Handle),
Plastic (Plate Casing, Handle, Cradle),
Cast Iron (Weight Plates)
Additional Features:
Weight Tray for Adjustments,
One-handed Adjustment Design,
Frosted Powder Weight Coating
Warranty:
30-Day Full Return,
1-Year Manufacturer Warranty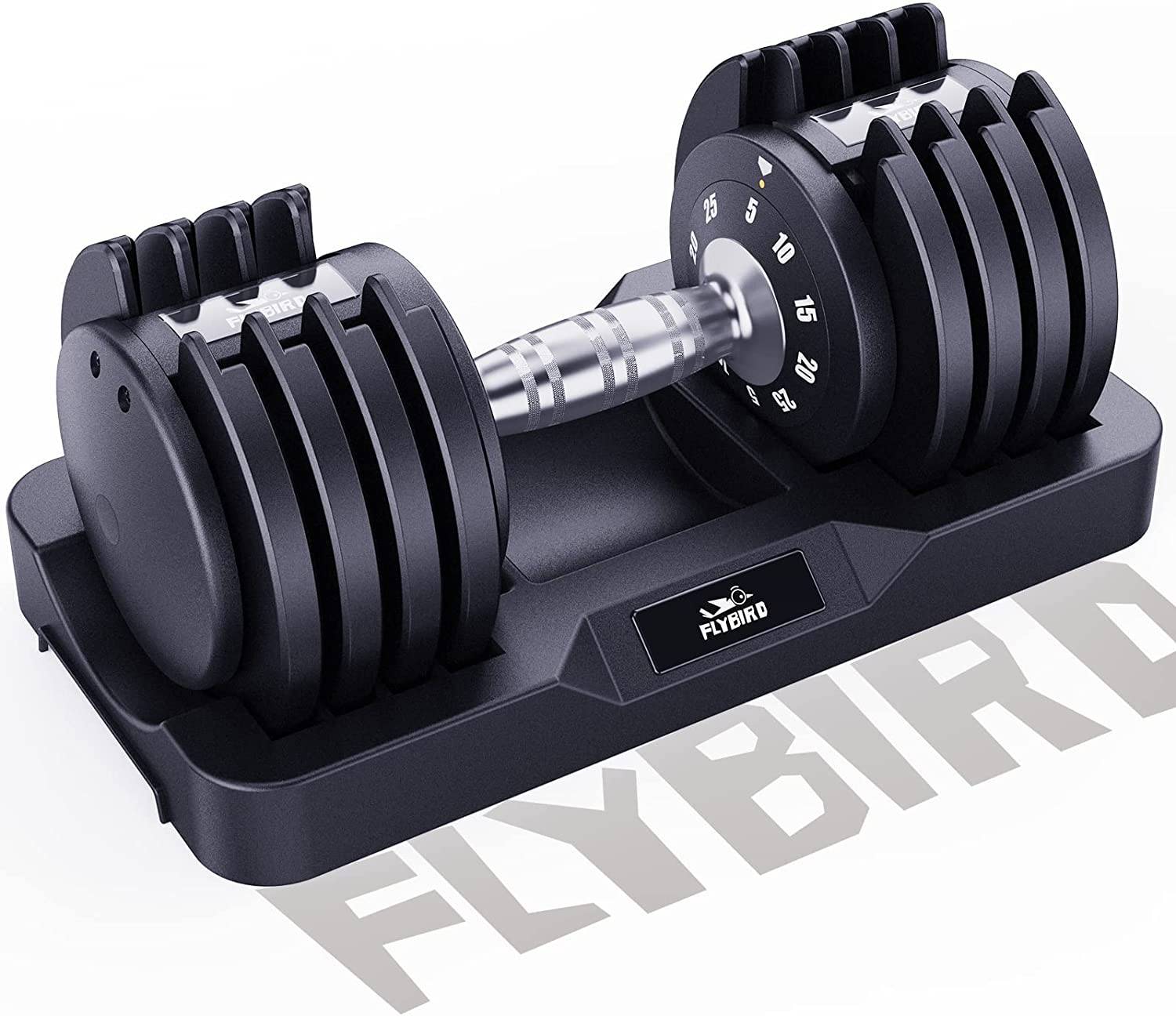 The Flybird Adjustable dumbbells have been manufactured as a space-saving, budget-friendly dumbbell alternative that's designed to replace multiple dumbbells.
Instead of searching for the correct dumbbell weight between sets, the Flybird adjustable dumbbells come with adjustment cradles that keep the dumbbell secure and allow you to change the weight with a quick turn of the central dial. The 25-pound dumbbell includes 5, 10, 15, 20, and 25 pounds increments. The 55-pound dumbbell version includes 11, 22, 33, 44, and 55 pounds increments.
The lockdown adjustment design means the dumbbells can only be changed in the weight tray, with a buckle structure on each weight plate to keep them attached to the handle.
The dumbbells come with a black frosted powder coating, with the Flybird branding in white on the front of the cradle. The 25-pound dumbbells can be purchased as singles or a pair whilst the 55-pound dumbbells need to be purchased separately.
The Flybird Adjustable dumbbells have been manufactured as a space-saving, budget-friendly dumbbell alternative that's designed to replace multiple dumbbells.
The lockdown dial adjustment mechanism is built into the handle, allowing you to change the weight single-handed once in the safety cradle

The lockdown dial adjustment mechanism is built into the handle, allowing you to change the weight single-handed once in the safety cradle

The compact 14.6" L x 7.9" W x 6.7" H dumbbell footprint means they take up no space at all and have less chance of catching your body during overhead movements
The large 11-pound weight increments on the 55 lb dumbbell might be a too big jump for some exercisers
Flybird Adjustable Dumbbells Review
Now that I've given you a quick overview of the Flybird dumbbells, let's take a look at the key features in more detail: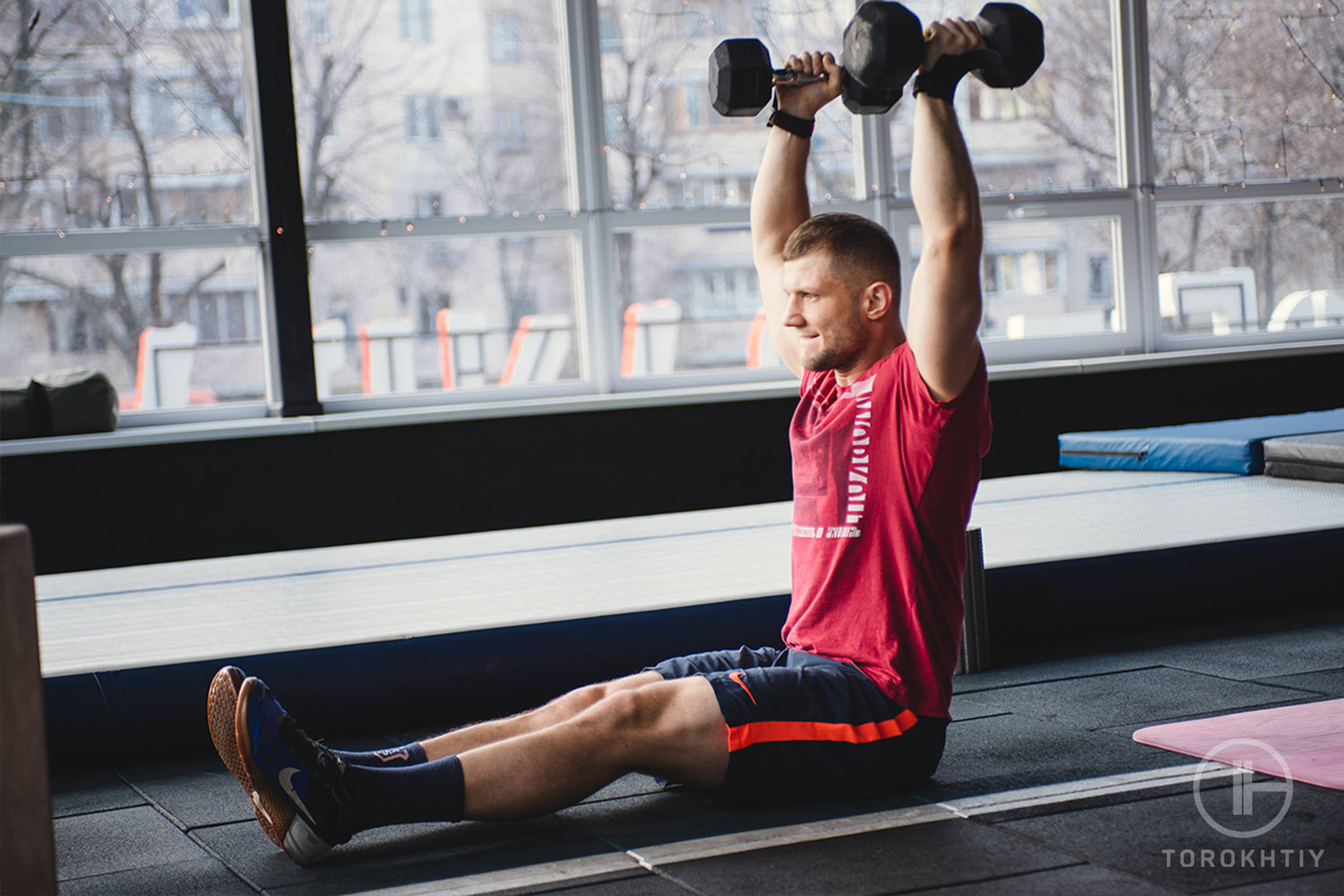 The Flybird adjustable dumbbells are marketed as budget-friendly weight options. However, this doesn't mean to say they can't be constructed using quality materials like some of the more expensive choices out there.
The plates are made from durable cast iron with a frosted black powder coating. This helps to protect them against repeated impact, temperature changes, and different environments. Compared to more expensive options, this is the standard for adjustable dumbbell
weight plates
.
Flybird has changed the handle material based on the dumbbell weight you choose. I'm not sure exactly why this is, but both handle materials are good enough for the price you pay.
The 25-pound dumbbell uses an aluminum alloy handle with textured grip lines throughout the shaft. The 55-pound dumbbell is made from plastic, with raised notches in the center to help provide extra grip.
Due to the large plastic construction, these dumbbells won't feel the same as gripping commercial ones. However, they do exactly what's needed for a pair of budget-friendly home adjustable dumbbells.
The handle dimensions haven't been provided by Flybird, but they seem to be in line with standard dumbbell handles, with a slightly larger center.
This is where the dumbbells excel or fall short depending on your goals and ability level. Both the 25-pound and 55-pound dumbbell choices offer five weight choices.
Initially, this may seem small, but for most gym users it provides a great range of lower-weight options in one budget-friendly dumbbell.
The Flybird 25-pound dumbbell goes up in 5-pound increments from 5 to 25 pounds, catering to the lower weight ranges. The 5-pound increments should provide the right jump for suitable progressive overload without being too much of a change in difficulty.
The 55-pound adjustable dumbbell goes up in 11-pound increments from 11 to 55 pounds, which is less commonly seen in adjustable weight products. Whilst this is quite a jump and may be too much for some athletes, it does offer some advantages for certain situations.
Imagine you want to perform some chest presses or one-handed rows using a normal set or even triple drop set method. The 55-pound dumbbells make a great fit, allowing you to finish your first set, quickly click the next weight into place, and keep going with little downtime between.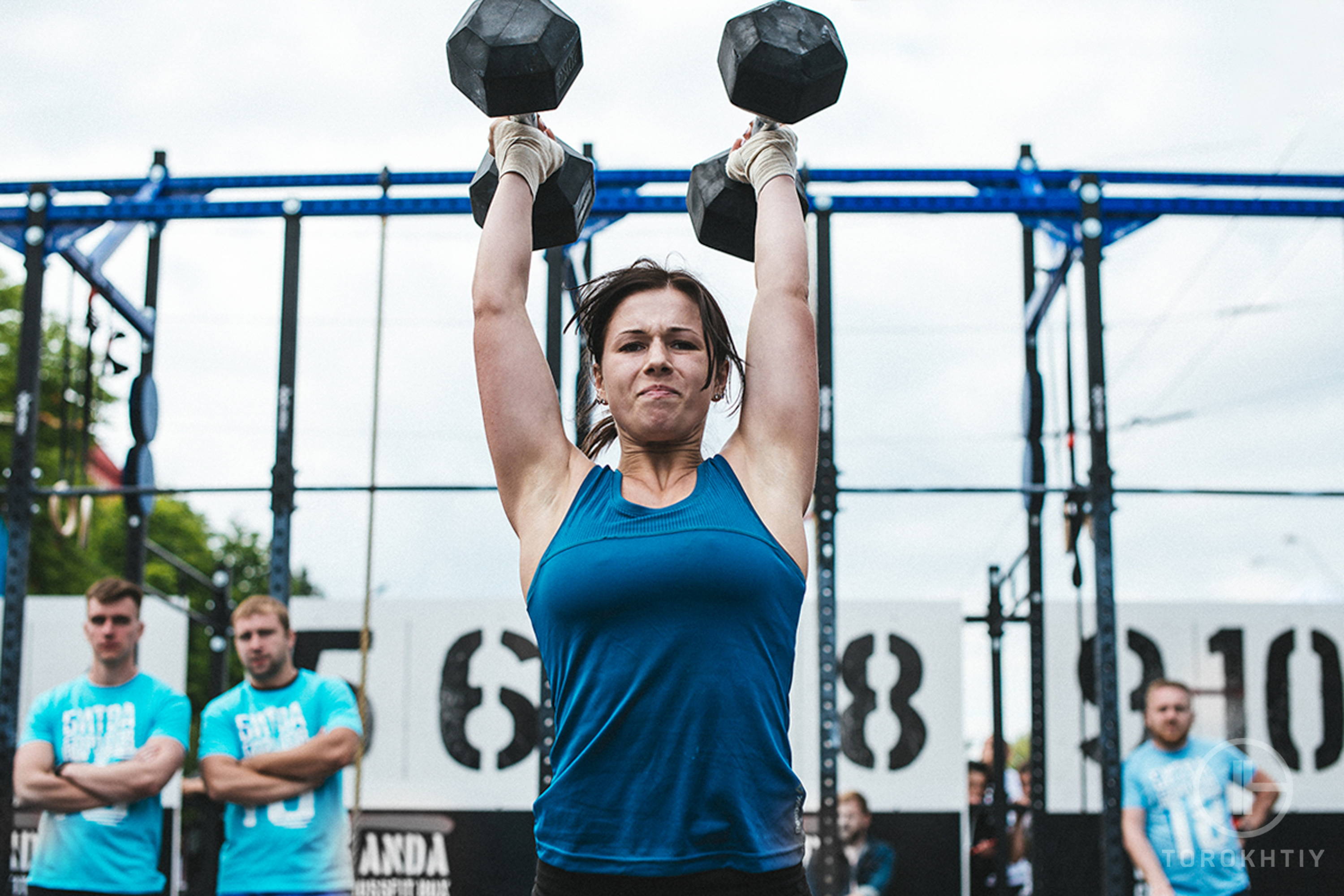 Flybird has used a simple dial adjustment mechanism that's built into the handle, allowing you to change the dumbbell weight single-handedly.
To change, you simply place the dumbbells into the adjustment cradle until you feel them fully slide in. Following this, you twist the handle to select the desired weight and listen for the click.
Once you've heard the click, the weight plates should be firmly attached to the handle meaning you're ready to go. The tray and adjustment mechanism are made of mainly plastic, which shouldn't be an issue when used correctly.
One thing you notice straight away is the compact and streamlined dumbbell design. The rectangular cradle is simple but nicely designed with the Flybird branding at the front.
The dumbbell itself fits nicely inside without sticking out, with each plate measuring the same length to help stop the dumbbell from getting in the way of certain exercises or catching your foot on it when walking around.
The Flybird dumbbells are slightly smaller than most comparable options, measuring 14.6" L x 7.9" W x 6.7" H for both choices. The handle is long enough to give you a comfortable grip and balanced feel without restricting your movement.
If you're looking for a pair of dumbbells that don't cost too much and perform the basics well, the Flybird adjustable dumbbells tick all the boxes. They can be bought individually or as a pair and come with a one-year warranty despite the budget-friendly price.
They may offer fewer weight options than their more expensive counterparts, but this shouldn't matter if you don't need the extra weights the others offer. The two weight range options still provide plenty of weight for a wide range of dumbbell exercises including curls, rows, presses, and weighted carries.
The Flybird adjustable dumbbells come ready to use, with no setup required to get started. The dumbbells come in their tray with the weight plates securely locked throughout the shipment.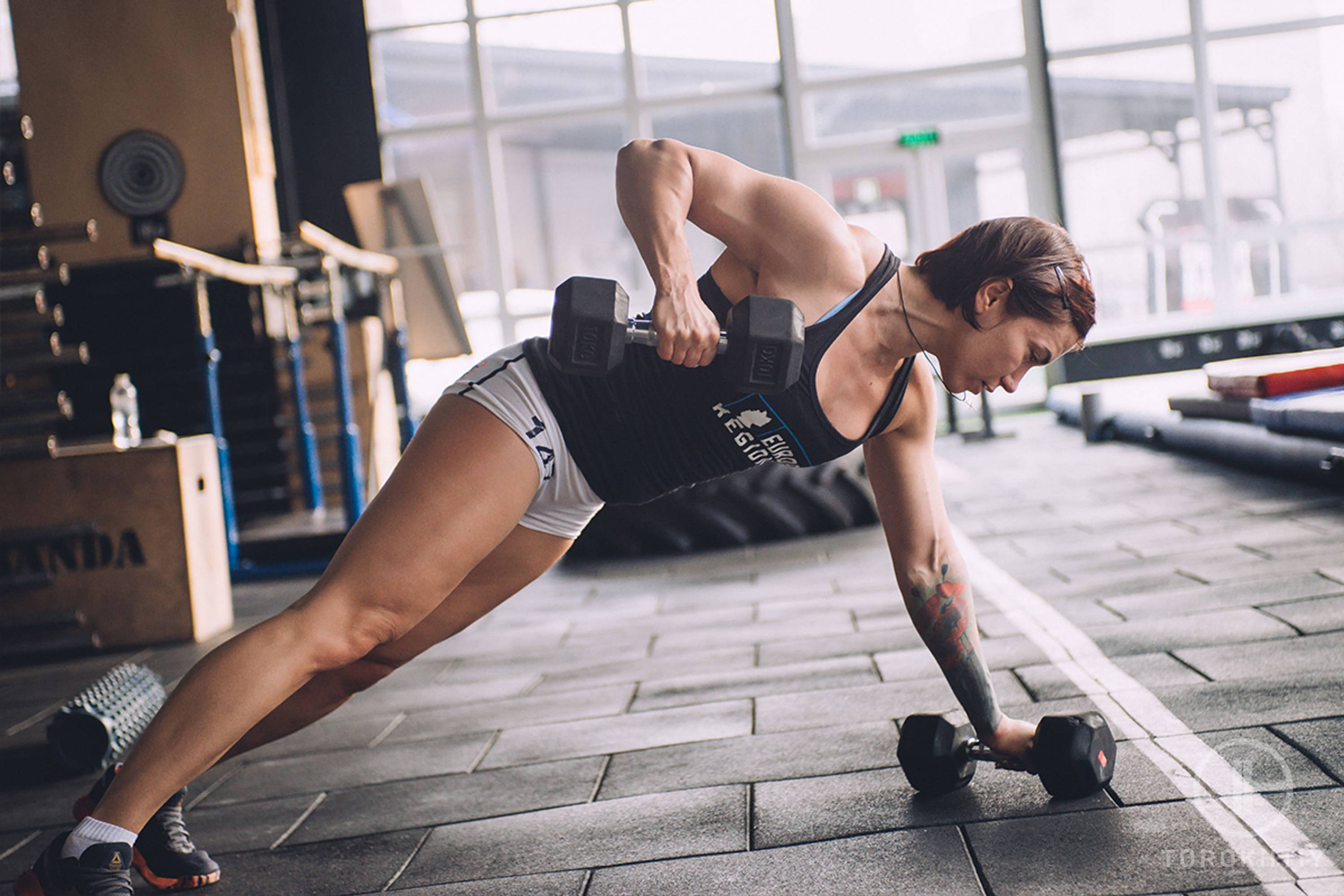 The Flybird adjustable dumbbells feature a compact design, a built-in adjustment handle dial, and a weight cradle that allows you to change the weight with one simple click.
The dumbbells are easy to use, have a decent amount of weight choices at the lower end, and come ready-made in the box.
Overall, I think Flybird have done an excellent job at designing a simple pair of reliable dumbbells that cost much less than most of their competitors.
They do feature a large amount of plastic, so take care to use them correctly and not throw them around like you may be able to with other weights.
Who Will Benefit From Flybird Dumbbells the Most?
If you're a budget-conscious shopper, the Flybird adjustable dumbbells make a fantastic investment. Most gym goers looking for a decent workout will find that the dumbbells work just fine.
Despite the lower weight range, the five weight choices on each dumbbell offer plenty of weight options for building muscle and strength.

For those who don't need the extra weight options, the extra money saved can be put towards other useful home gym equipment or saved up for emergencies.
What makes the Flybird dumbbells stand out is the ease of adjustment compared to their competitors. With the dial built into the handle, you're able to adjust them easily with one hand.
With these points in mind, I believe the Flybird dumbbells are great for:
Home gym owners who are on a budget or want to save money
Home gym owners with smaller gym spaces or who need room for other equipment
Those who are looking for a compact adjustable dumbbell that has less chance of getting in the way when lifting
Gymgoers who don't need the heavier weight choices that other adjustable dumbbells can provide
People who don't like using the separate dial adjustment mechanism on comparable dumbbell choices
Flybird Adjustable Dumbbell Alternatives
If you're looking for alternatives, here are a few decent competitors. Take a look at what pros and cons they can offer compared to the Flybird Adjustable Dumbbell.
Flybird Adjustable Dumbbells vs Bowflex Dumbbells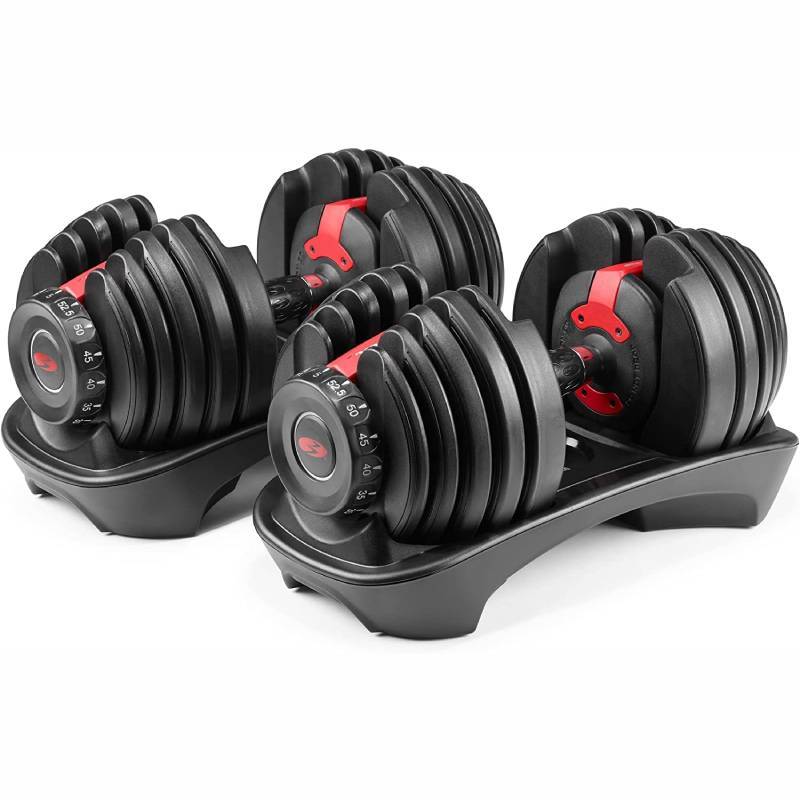 Both adjustable dumbbells offer similar durability with largely plastic construction and cast iron weight plates. Both feature the same plastic adjustment cradle where the weights lock into place, allowing you to change the weight by turning the dial.
Besides these similarities, there are also some big differences. The Bowflex SelectTech 552 dumbbells have the adjustment dial on the outside, meaning you need to use two hands or fully let go of the handle to change the weight.
The Bowflex dumbbells don't go as heavy as the 55-pound Flybird ones but they feature a much larger selection of weight increment options, replacing 15 sets of dumbbells.
When it comes down to price, the Flybird dumbbells are a much cheaper option. The Bowflex SelectTech dumbbells have an adjustment dial on the outside, and don't go quite as heavy as the Flybird ones.
Flybird Adjustable Dumbbells vs Weider Adjustable Dumbbells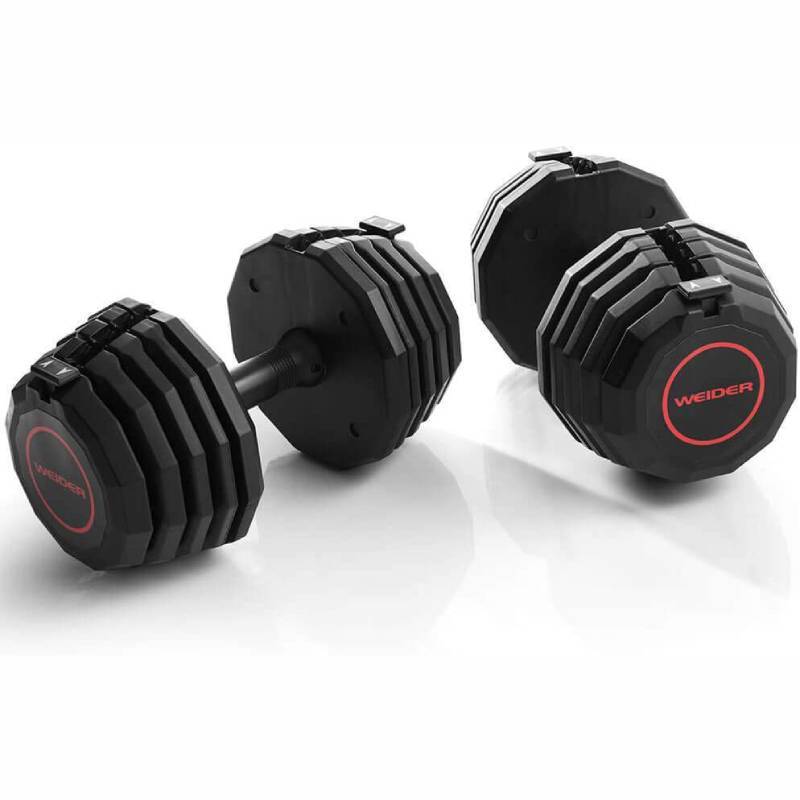 The Weider adjustable dumbbells have the same plastic construction and adjustment cradle, but use a much different adjustment mechanism than the Flybird dumbbells.
Instead of a dial, the Weider dumbbells use a selector mechanism where you move the red switch to the top of each weight plate. Instead of having weight amounts on a dial, the weight amounts are on the cradle next to each plate.
Similar to the Flybird dumbbells, the Weider ones have five weight options but with a much bigger range from 10 to 50 pounds. They are also much bigger at 23.6" L x 19.3" W.
If you're someone who prefers trainer-led workouts, the Weider dumbbells come with the iFit app which allows you to follow along.
Overall, the Weider dumbbells use a single-weight selector mechanism and feature a decent weight range. However, they are much bigger and cost more than the Flybird ones.
Flybird Adjustable Dumbbells vs NordicTrack Adjustable Dumbbells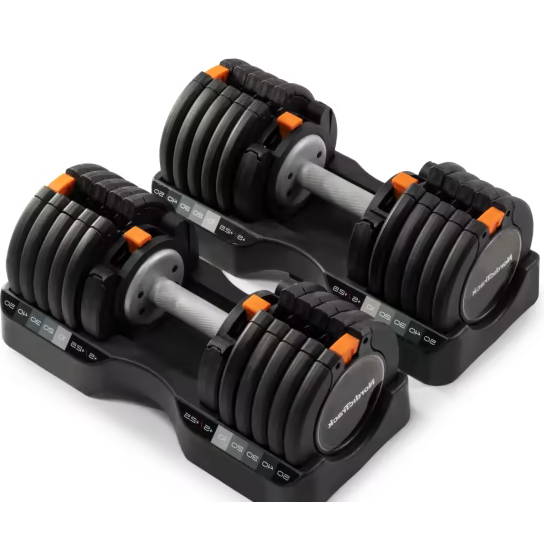 At first glance, the NordicTrack Adjustable dumbbells look fairly similar to the Flybird ones. They have the same plastic storage cradle and hardened plastic casing around the weight plates.
The handle material is slightly different. NordicTrack uses stainless steel, while Flybird has used an aluminum alloy or plastic material on their dumbbells.
The biggest difference is the adjustment mechanism. The Nordic track dumbbells have two adjustment selector pins - one on the inside next to the handle and the other one on the outside. The outside adjustment selector pin allows you to change the weight range from 10 to 50 pounds whilst the inner slide pin lets you add or take off 2.5 pounds.
With these two adjustment pins, you have 15 different weight options going up in 2.5-pound increments, giving you a huge range of choices. Compared to the Flybird dumbbells, the adjustments require more time and both hands.
Overall, they offer an excellent range of adjustment options but take much longer to change and cost slightly more than the Flybird dumbbells.
Do Adjustable Dumbbells Break Easily?
Adjustable dumbbells are made using a large amount of plastic, which means they won't be as durable as traditional metal dumbbells.
However, when used correctly, adjustable dumbbells can last your entire lifting career. Make sure to avoid dropping the dumbbells or aggressively changing the weight plates to ensure the intended life expectancy.
Are Cheap Dumbbells Worth It?
Cheap dumbbells can provide excellent budget-friendly weight options if you want something that covers the basics well and doesn't break the bank.
If you want something in the lower weight range that isn't going to be used 24/7, cheap dumbbells can be well worth the initial investment when used correctly.
Summary - Flybird Adjustable Dumbbell Set
The Flybird adjustable dumbbells offer a fantastic budget-friendly addition to your home gym setup. They are constructed using a cast iron and plastic combination, with an aluminum alloy handle on the heavier pair.
Some of the dumbbell's big selling points include the adjustment dial that's cleverly built into the handle, allowing you to change the weight using one hand. They are also much more compact than comparable options, measuring 14.6" L x 7.9" W x 6.7" H.
The weight range choices of 5-25 pounds and 11-55 pounds are on the lower end of some of their competitors but should provide plenty of options for normal at-home use.
Now it's time to ask you some questions! Have you used any of the dumbbells I mentioned above? What do you think of the designs? I'll be answering any questions you have down below!
What to Know About Adjustable Dumbbells // Webmd: https://www.webmd.com/fitness-exercise/what-to-know-about-adjustable-dumbbells
About FLYBIRD // Flybirdfitness: https://flybirdfitness.com/pages/about-us
27 Best Dumbbell Exercises for Building Muscle // Menshealth: https://www.menshealth.com/uk/building-muscle/a755117/the-10-best-dumbbell-exercises/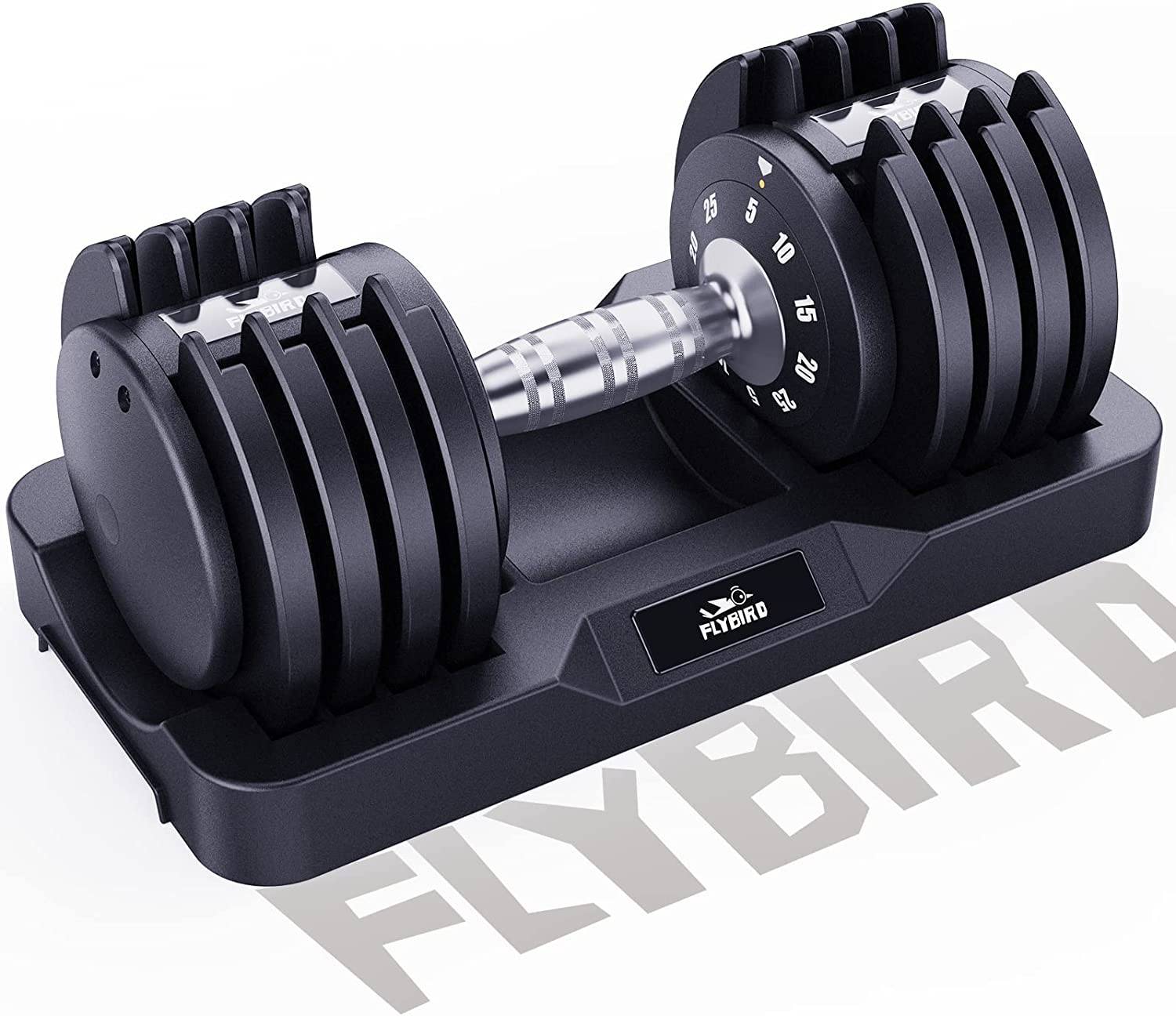 My name is Ihor and I have been a professional weightlifter since 1996. With over 20 years of competition experience, my resume includes European Champion in 2009 and the silver medalist at 2011's Senior World Championships – 105kg division.
I competed at the 2008, 2012 and 2016 Summer Olympics.
After hanging up my own competitive lifting shoes, I decided to share my huge background as a coach. I am currently coaching multiple athletes who are competing at national and international competitions.