Power racks are versatile pieces of gym equipment that provide the user with multiple exercise choices. They are suitable for any level of lifter from complete beginners to elite professionals and are easy to use safely.
Power racks differ in overall look and dimensions, but also in the type and amount of attachment options offered. I've reviewed the best power rack attachments offered by a range of brands and presented them below.
Some brands make their own attachments, whilst others may be suitable on a range of racks. Let's look at the different attachments in more detail.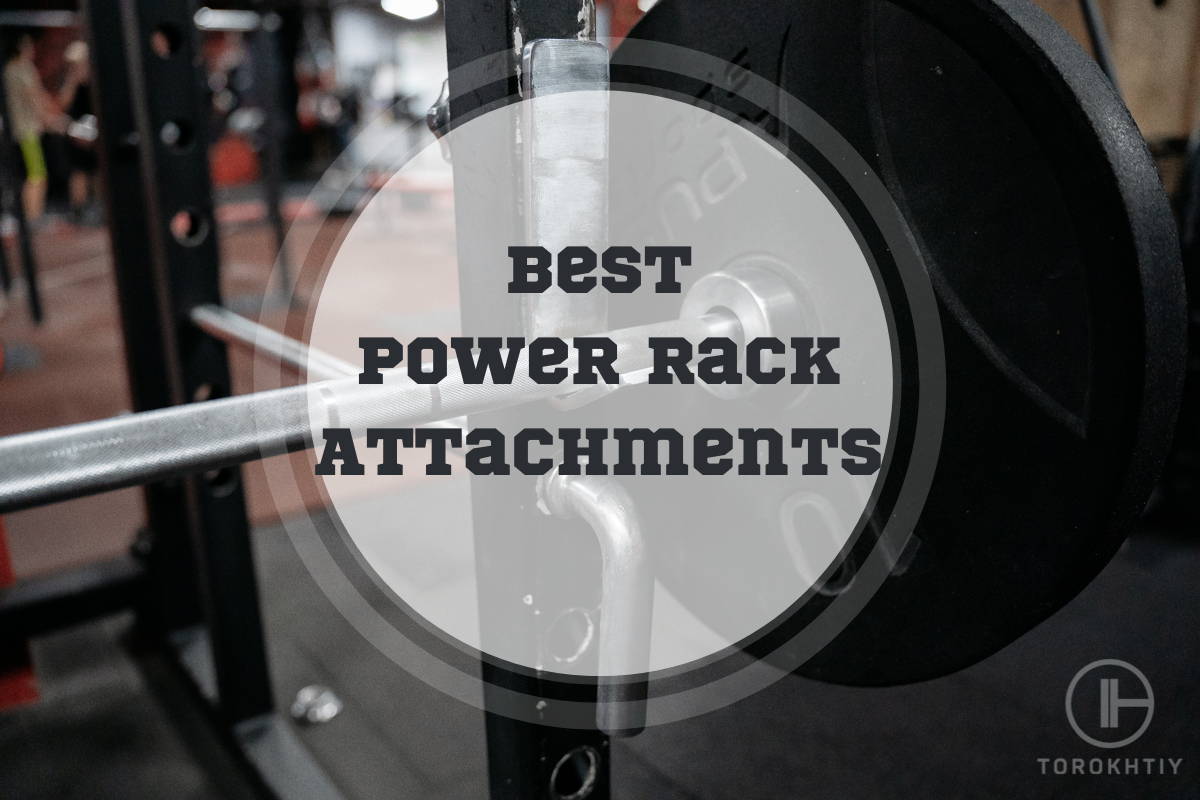 Power Rack Attachments: Types
There are many squat rack accessories and squat rack attachments.
J cups are designed to hold the barbell onto the rack uprights. They can be adjusted to different heights depending on your body height, preferences and the exercise you're performing.
They can be padded to provide barbell protection and allow you to perform exercises including squats, bench presses, and overhead presses.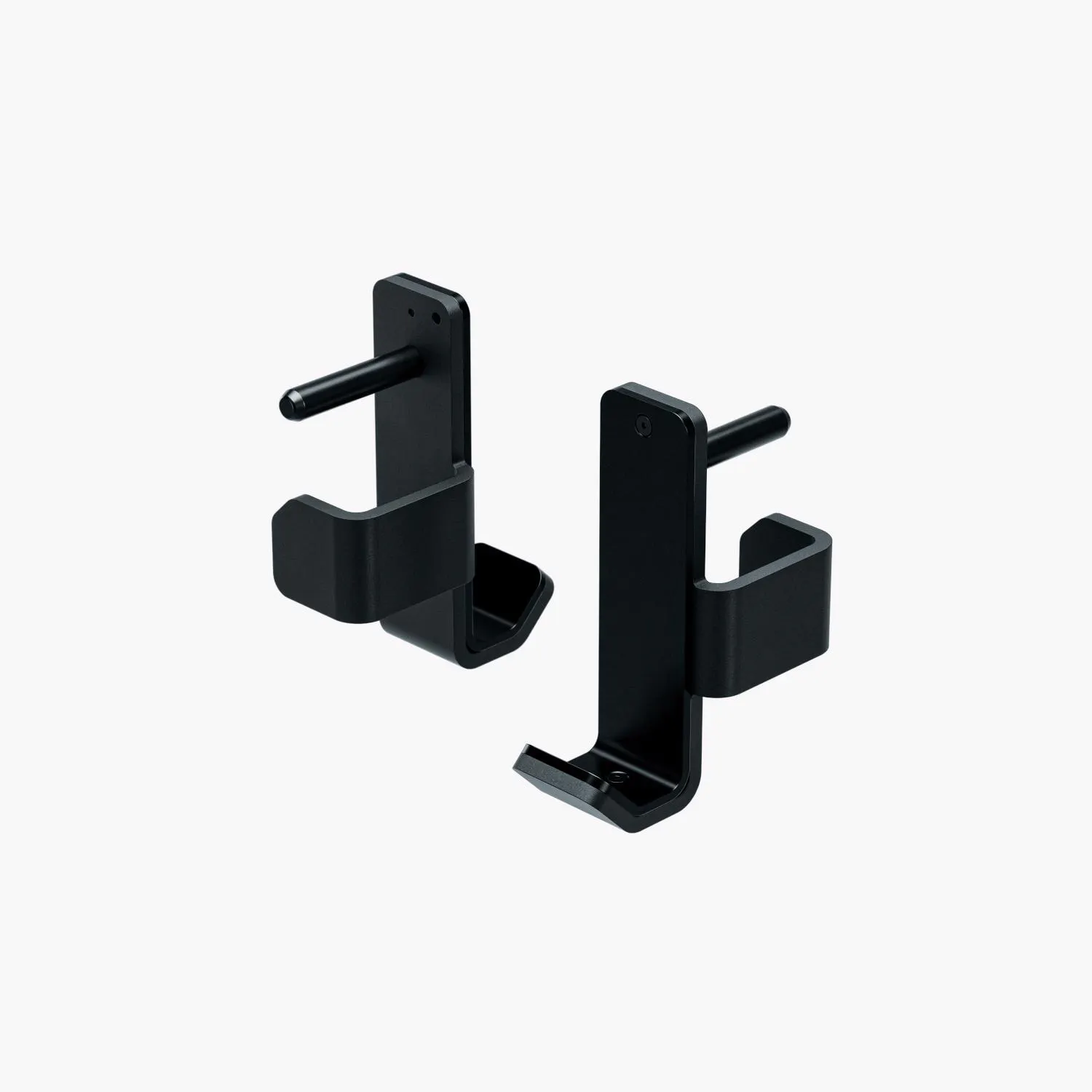 The
Eleiko Prestera J-Cups
are made from durable bent steel and finished with a black protective powder coating.
Dimensions:

2.83" L x 6.1" W x 7.87" H

Material:

Bent Steel

Features:

UHMW Protective Rubber, Powder Coated
They feature
UHMW rubber
to provide barbell protection when lifting and can be easily positioned on your power rack uprights by sliding the pin into the hole and rotating to secure the J-cups in place.
Power rack dip attachments are designed to attach to the uprights of the power rack by hooking into the holes at your chosen level. They allow you to perform body weight and weighted dips, proving an excellent compound chest, shoulder, and tricep workout.
They can be narrow, wide, or adjustable depending on the brand.

Our Recommended Dip Attachment - Titan Fitness T-2 Series Dip Bars
The Titan Fitness T-2 Series Dip Bars are made from 11-gauge steel and use a J-hook type mount to attach securely to your power rack uprights. With the J-hook mounts, you're able to attach and take off the dip bars within seconds, providing a hassle-free attachment option.
Dimensions: 14.75" L x 15" W x 10.25" H
Material: 11-Gauge Steel
Features:

Non-slip Rubber Grips,

J-hook Style Attachments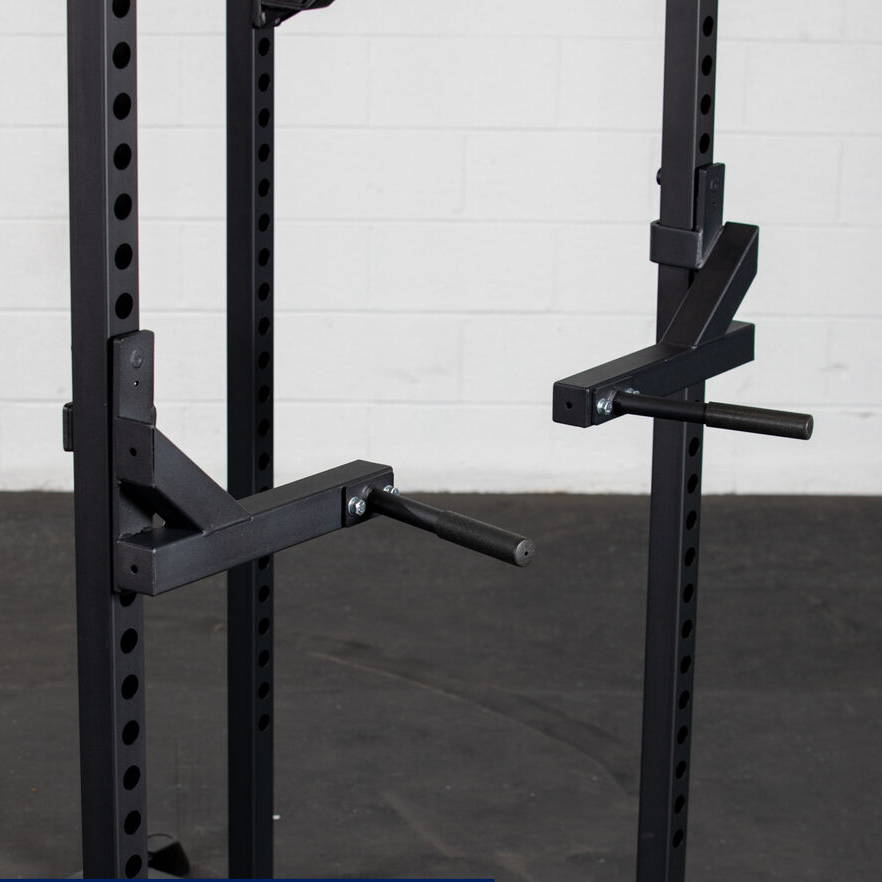 The bars can handle up to 880 lbs and are finished in a black powder coating. The grips feature non-slip rubber with the attachment points featuring UHMW rubber to protect the uprights.
Weight plate storages provide convenient plate storage options that attach to the uprights of your power rack. They are designed as space-saving solutions that are easy to access during a workout or keep your plates safely stored when not in use.
Our Recommended Dip Attachment - Rep Fitness 1000-SERIES WEIGHT STORAGE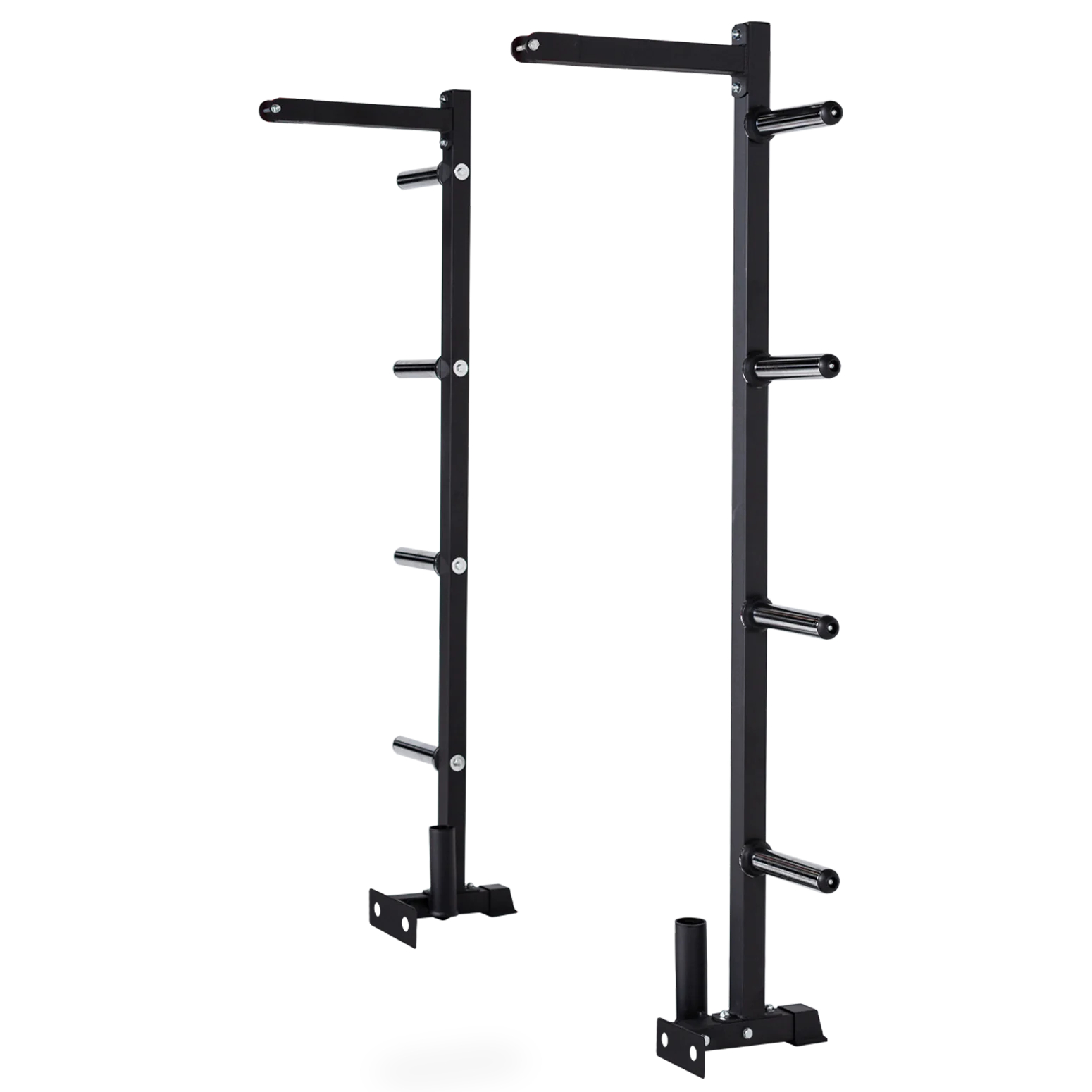 The
1000 Series Weight Plate Storage
allows you to efficiently organize your gym using a small and efficient storage option. The 1000 series is designed to provide multiple plate storage pins by attaching to a power rack via 4 brackets.
Dimensions: 64" L x 12.9" W x 76.4" H
Material: Steel
Features:

Protective Grooved Feet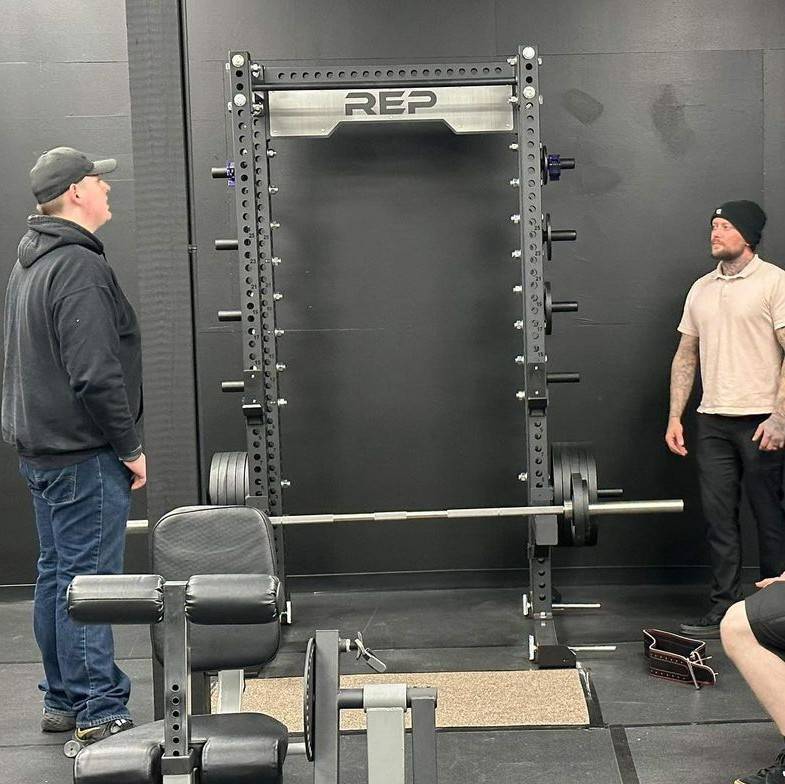 Made from Steel, the 1000-series can handle up to 2000 lbs, with 8 chrome-plated steel weight horns. The horns feature rubber protection on the end and have grooved rubber feet to protect your gym floor.
Pip Pipe Safeties provide extra lifting security when performing heavy compound exercises in the power rack. They are designed to fit between the metal uprights and also allow you to perform additional rack exercises such as rack pulls and pin squats.

Our Recommended Pin Pipe Safeties - REP Fitness Pin Pipe Safeties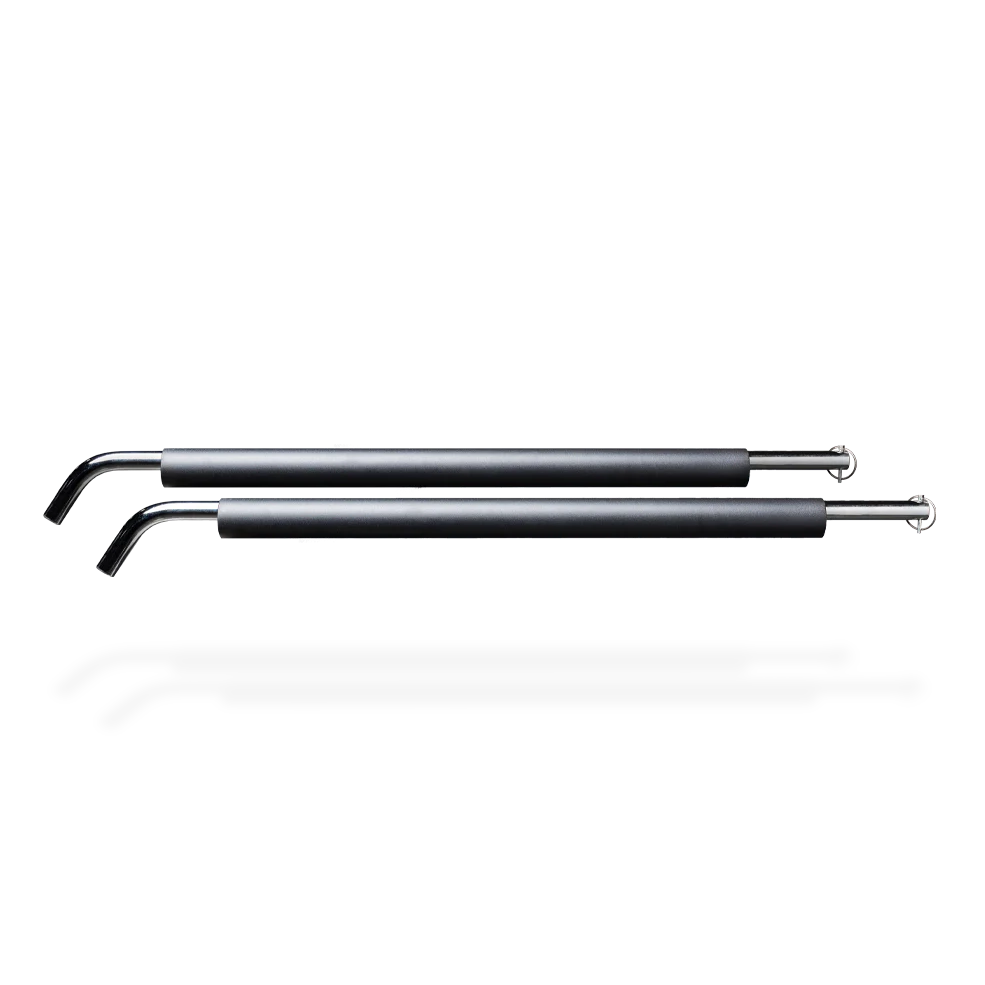 The
REP Fitness Pin Pipe Safeties
are designed to add an extra safety layer when working out. Made from 11-Gauge steel and finished in chrome, simply slide the pipes through the uprights and secure them with the pins included.
Dimensions:

2" Diameter and

3 mm Thick Wall

Material: 11-Gauge Steel
Features:

Matte Black Finish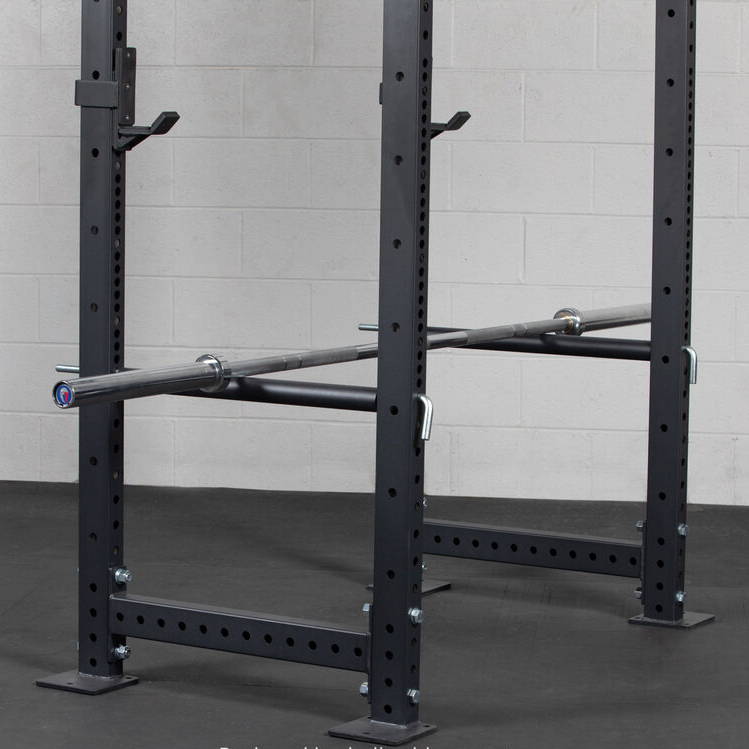 Safety Spotter Arms
provides another added safety attachment option that attaches to a power rack. Instead of going between the power rack uprights, they are half safeties that attach to the outside.
They are designed for lifting that requires more space than the inside of a power rack can offer. If you fail a rep outside the cage, they can catch the barbell and stop it from falling onto your body.
Our Recommended Safety Spotter Arms -
Titan Fitness T-2 Series Safety Spotter Arms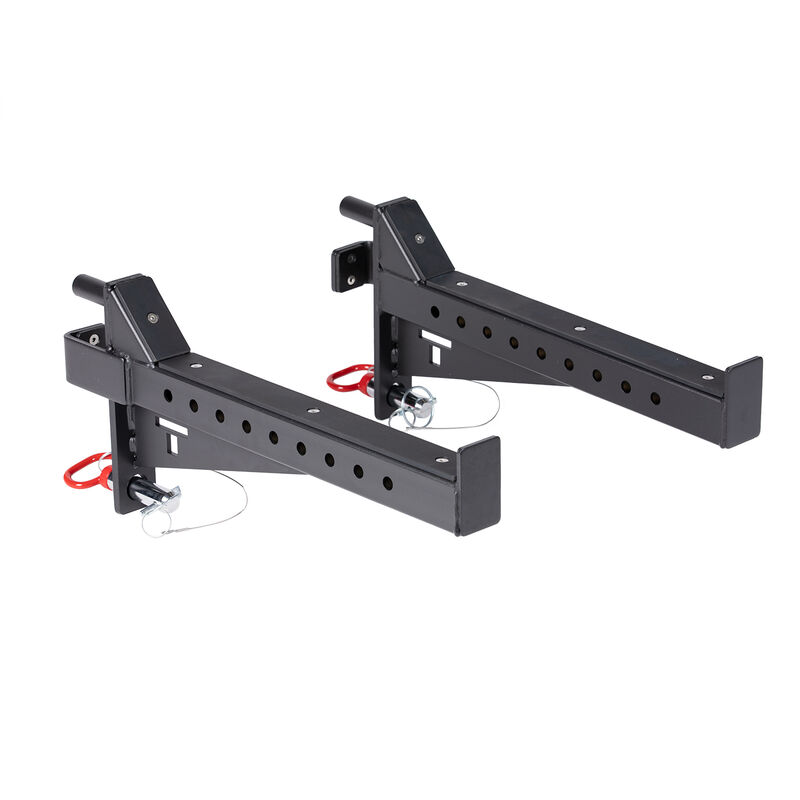 The
Titan Fitness T-2 Series Safety Spotter Arms
are constructed from heavy-duty 11-Gauge steel and can hold a weight capacity of up to 800 lbs. They feature UHMW plastic lining that protects the barbell and safety arms from damage during prolonged use.
Dimensions: 23" L x 2" W x 9.75" H
Material: 11-Gauge Steel
Features:

Quick Pin Adjustments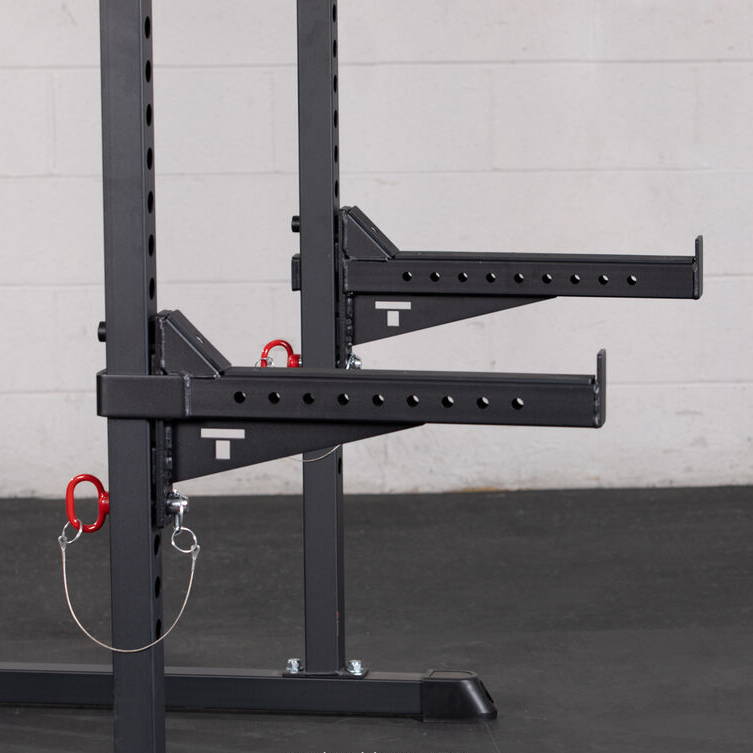 To adjust the safety spotter arms to the correct height, simply take out the quick pin adaptors and place them back in.
Step Up Plates provide you with a great range of cardio-based exercise options, including step-ups, box jumps, and box squats. The variable height allows you to perform dynamic movements to build muscular strength, power, agility, and balance.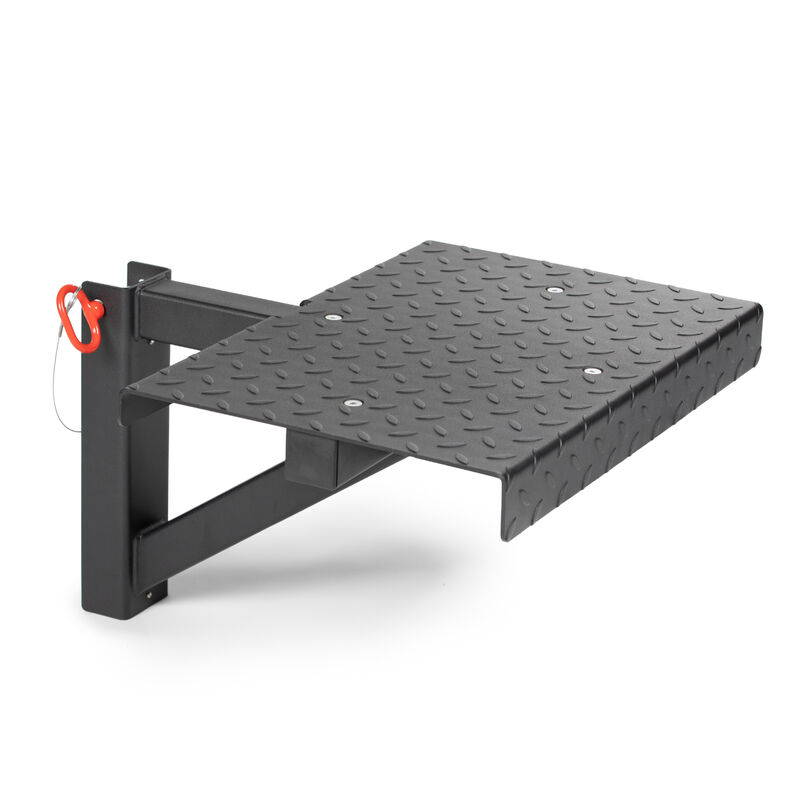 Dimensions: 22" L x 23" W x 14" H
Material: 11-Gauge Steel
Features:

Diamond Textured Platform,

Quick Release Pins
The Titan Fitness T-3 Step-Up Platform features an easily-adjustable bracket, allowing you to attach the T-3 Step-Up Platform to a power rack upright. The quick pin at the back secures the platform in place without moving during dynamic exercise.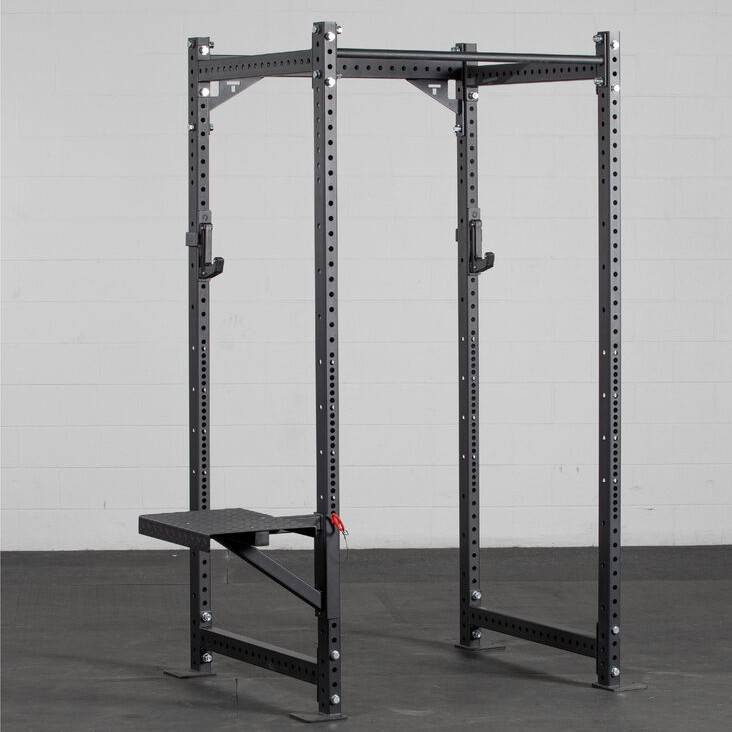 Featuring a diamond-textured platform, the T-3 series can handle up to 550 lbs of weight and has a black powder-coated finish.
Barbell Hangers provide a convenient barbell storage option, allowing you to safely store your barbell when not in use on the power rack. They can be placed next to the power rack by mounting them on the wall.
By storing the barbells vertically, you're able to save a large amount of gym space and easily access the barbells at a neutral body position.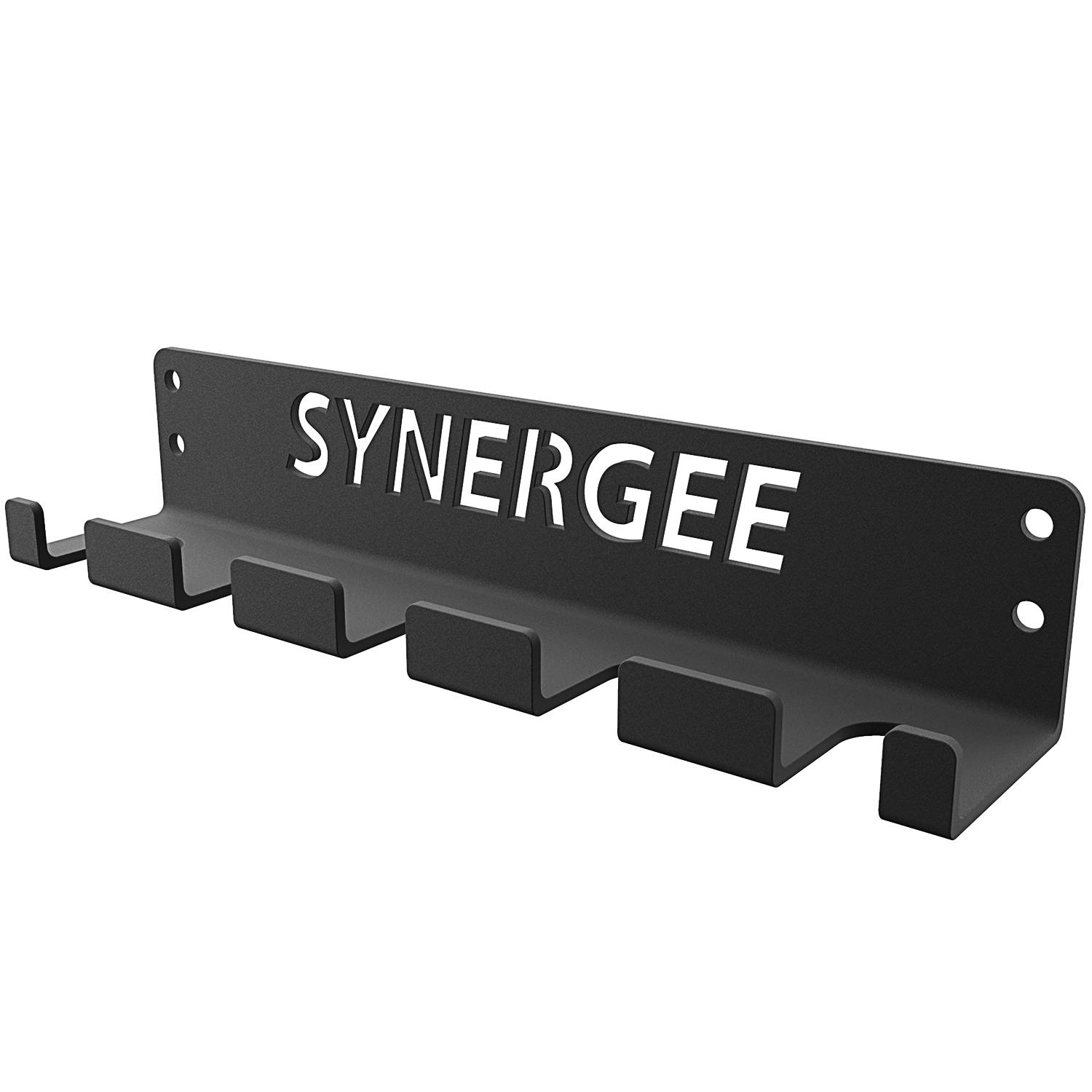 Dimensions: 3.5" L x 17.8" W x 3.3" H
Material: Steel
Features:

Lightweight Design;

1, 2, and 5 Barbell Holder Model Options
The Synergee Barbell Holder provides an excellent vertical storage option, with designs using 1, 2, and 5 barbell holders. Constructed from 4.5 mm steel, the vertical barbell holders are strong, durable, and look great when mounted on the gym wall.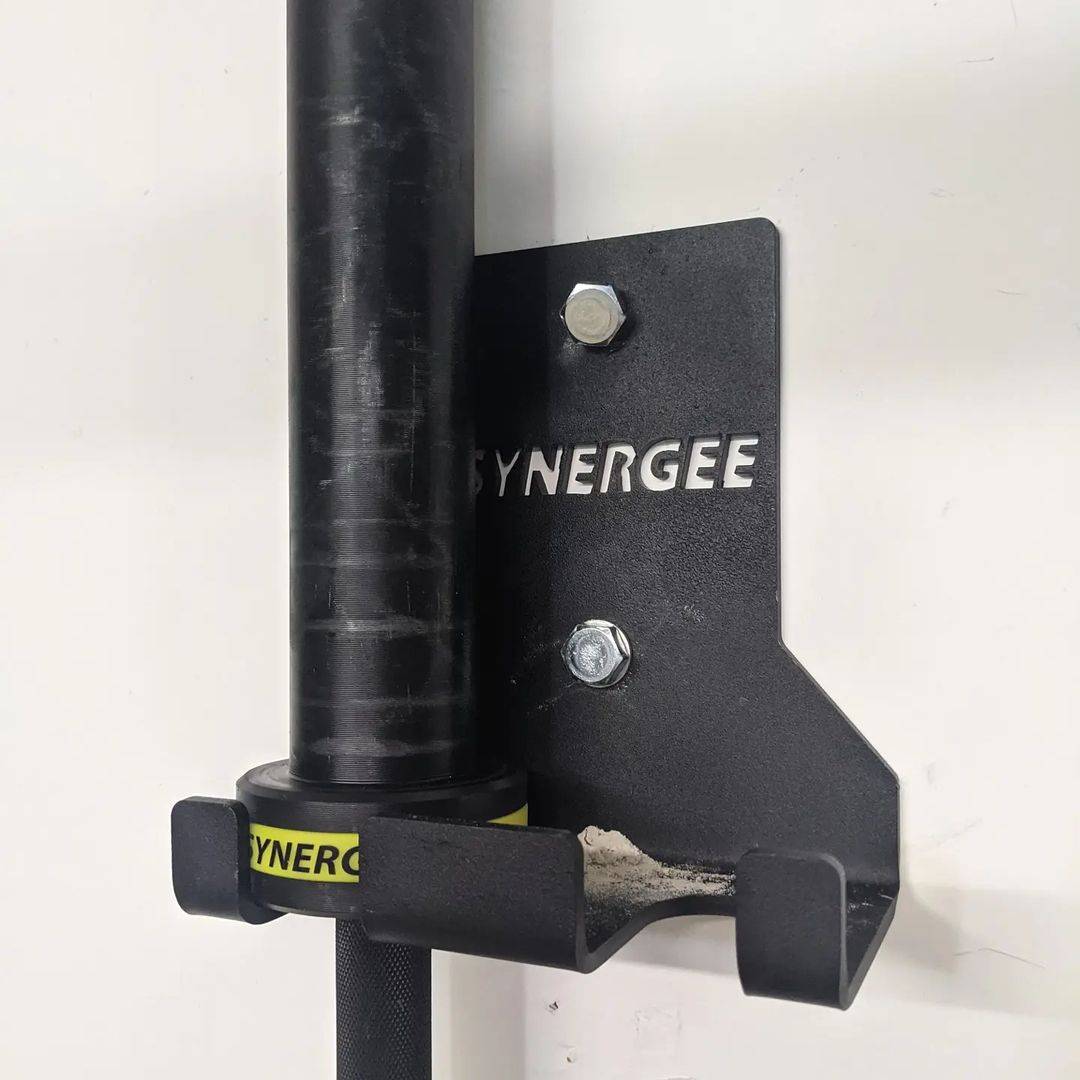 It is compatible with Olympic bars, powerlifting bars, curl bars, and tricep bars. Finished in a black powder coating, it should last your whole lifting career.
Landmine Attachments attach to the bottom of the power rack upright, providing a space to slot the end of a barbell in. This leaves the other barbell end free to move around or load with a weight depending on the movement you want to perform.
They can be used for a wide range of dynamic strength training exercises including landmine squats, rows, presses, and core exercises.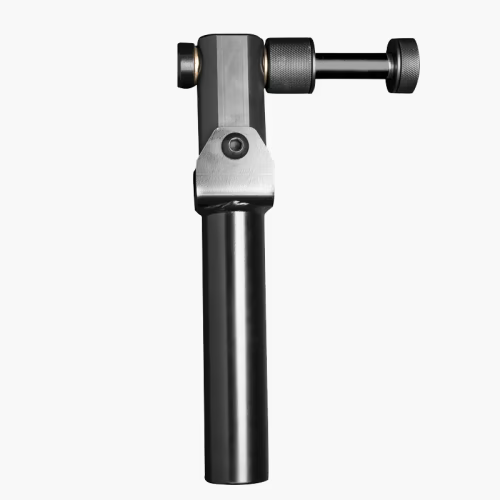 Dimensions:

10" Length and

2" Diameter

Material: Steel Tubing
Features:

Bronze Bushings,

Machined Aluminum Joint
The
Rogue Fitness Monster Landmine 2.0
attaches to a 3 x 3" upright using a secure knurled knob. It's compatible with standard Olympic barbells, with the 10" long pivot sleeve creating a stable barbell station.
The Monster Landmine comes with bronze bushings and a machined aluminum joint for smoother and quieter movement.
Leg holder kits provide a handy solution to a common problem of keeping your body still when performing heavy lat pulldowns. If your power rack contains a pull-down attachment, a leg holder kit helps to keep your legs secure, so you're able to focus on bracing your core and using your back muscles.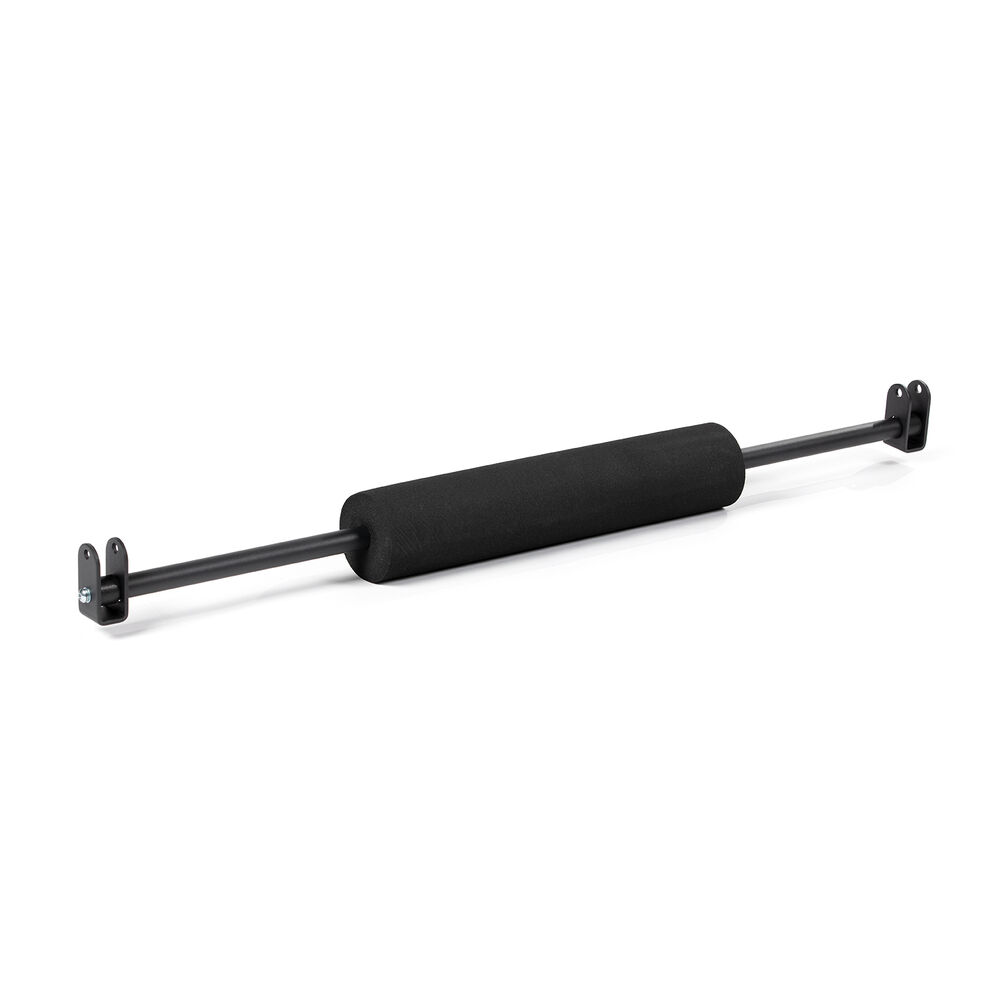 Dimensions:

46.5" Length and

5" Roller Diameter

Material: Steel + Foam
Features:

L-shaped Detent, Pins

Foam Padding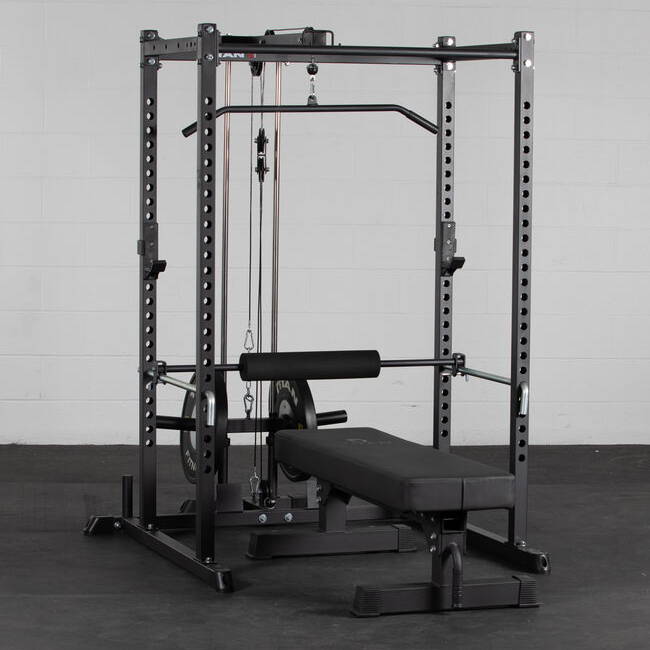 The foam pad in the middle makes sure the bar doesn't dig into your legs, providing a comfortable workout experience. The leg holder kit can also shift up and down the safety bar, making it easily adjustable.
Strap Safety Systems provide an alternative safety option compared to pins and spotter arms. Instead of the bar being able to bounce against the metal, strap safety systems allow the bar to drop onto the strap with little impact on the power rack frame and safety mechanism.
Dimensions: 24 or 36" Strap Length
Material: Nylon Webbing
Features: J-hook Style Brackets
The Titan Fitness T-3 Series Strap Safety System uses 2" reinforced nylon webbing to catch a barbell rated up to 6,200 lbs, giving you a huge weight limit for any powerlifting movement. It uses a J-hook-style bracket, allowing it to be moved around within seconds.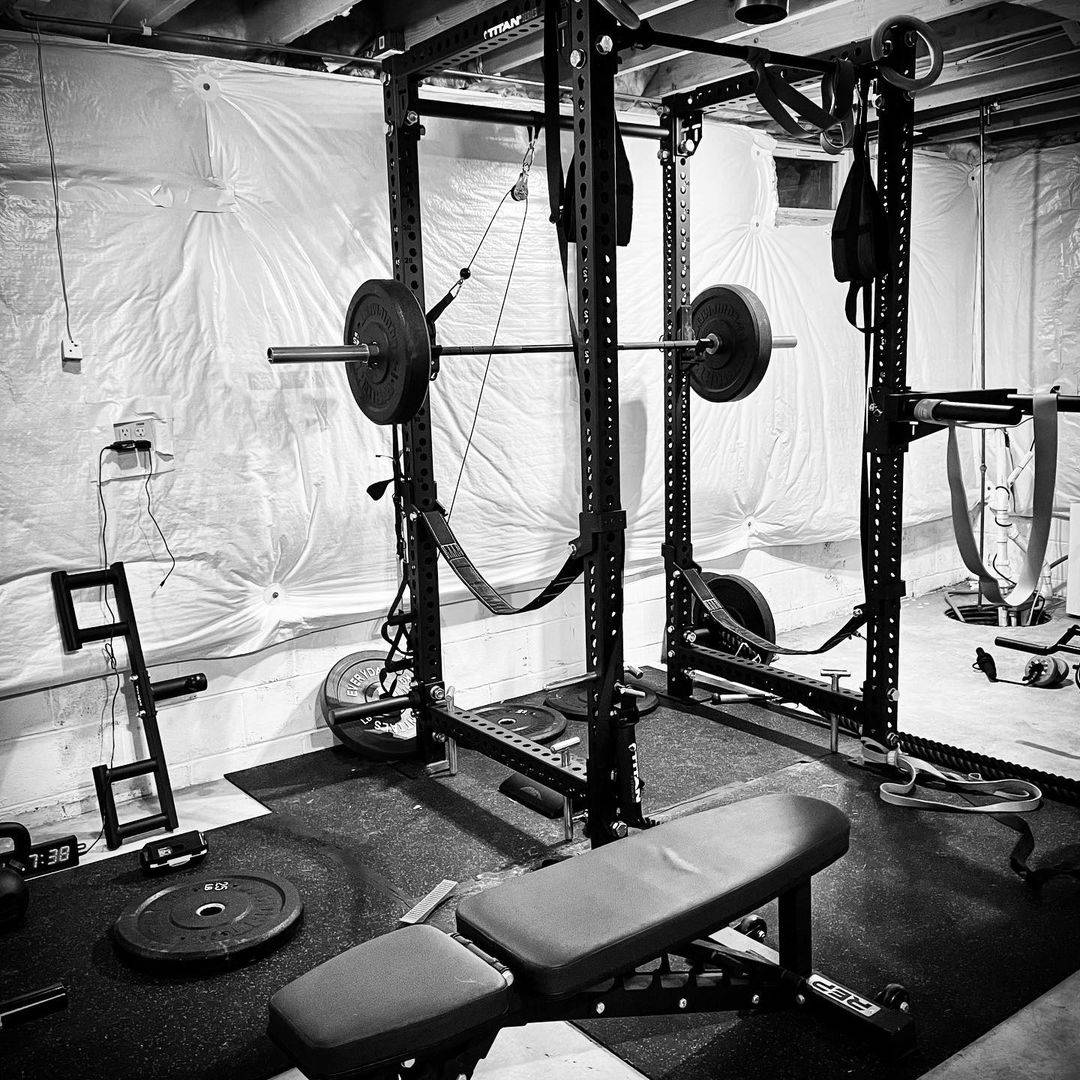 The T-3 system offers a range of advantages compared to other safety mechanisms, including less impact on the barbell knurling and reduced noise when working out.
A stealth Leg Press is an all-in-one mountable rack attachment that can be operated as a fully functional leg press or arm press machine. It's also suitable for other push and pull exercises such as kickbacks, dips, and
dragging exercises
.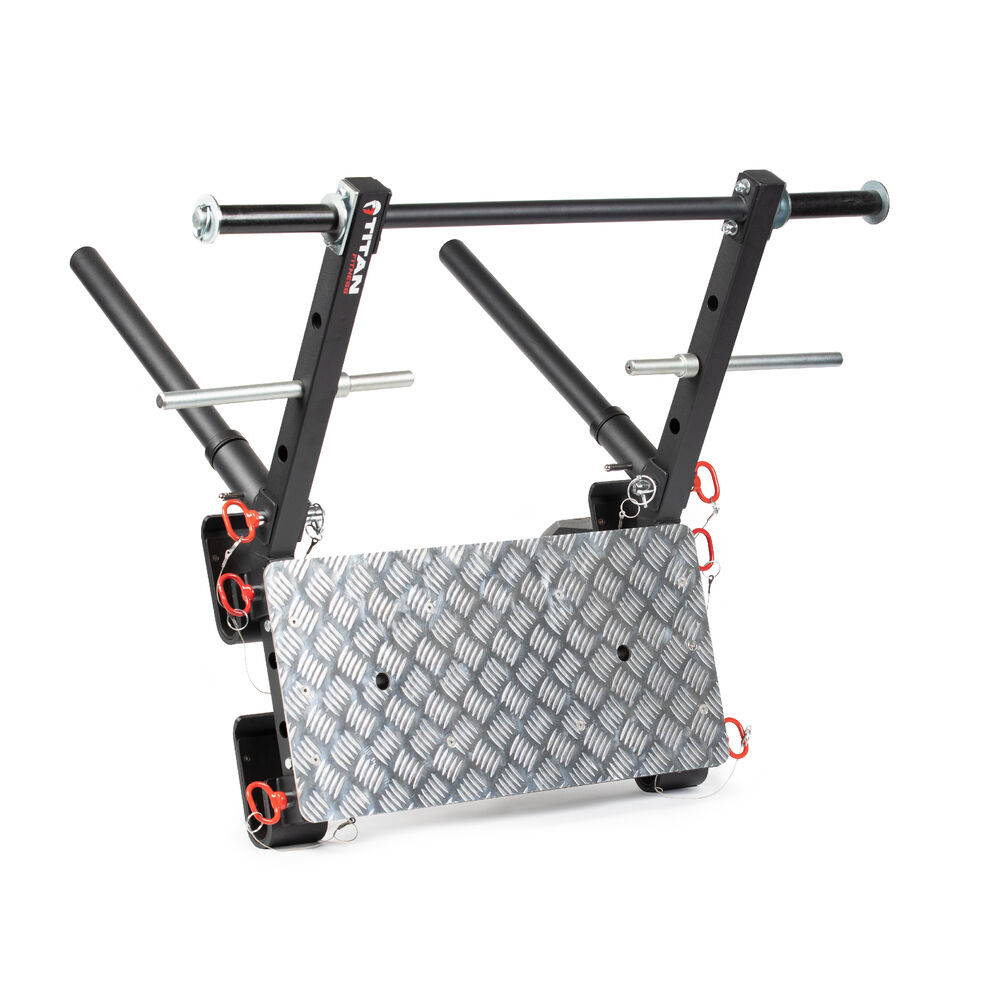 Dimensions: 36.5" L x 49" W x 13" D
Material: 11-Gauge Steel
Features:

Diamond Textured Footplate,

Safety Stoppers
The
Titan Fitness Stealth Leg Press
offers an all-in-one mounted attachment that provides multiple added workout options to your home rack setup. Made from 11-Gauge steel, the stealth leg press can handle up to 500 lbs of weight.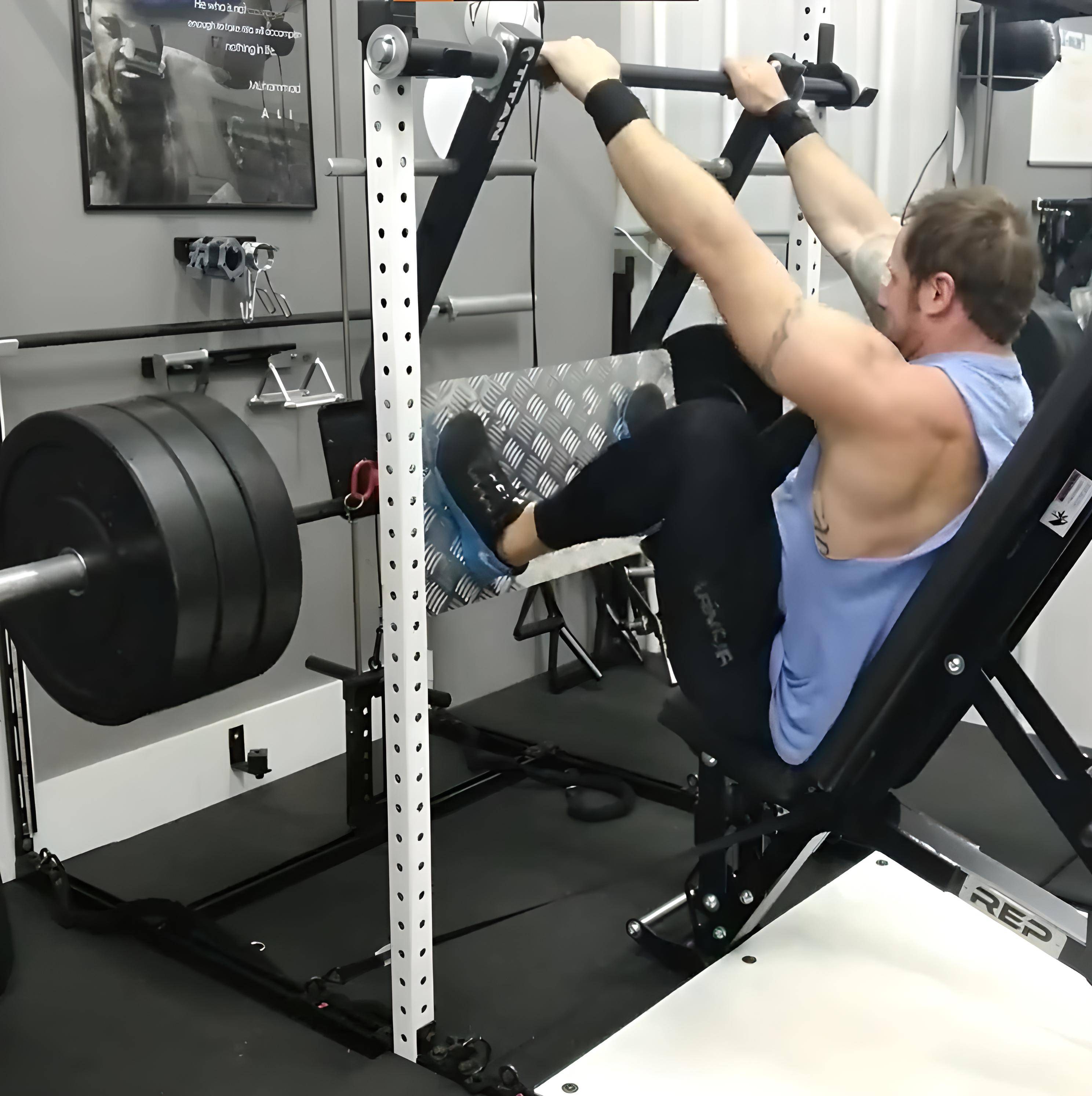 It features a large foot plate with diamond texturing, adjustable weight sleeves, and safety stoppers.
12. Multi-grip Pull-up Bar
Multi-grip pull-up bars provide an excellent range of added compound exercise options once attached to the top of the power rack.
With multiple angled handles, you're able to work different muscle groups by pulling your body up whilst using the rack as the anchor point.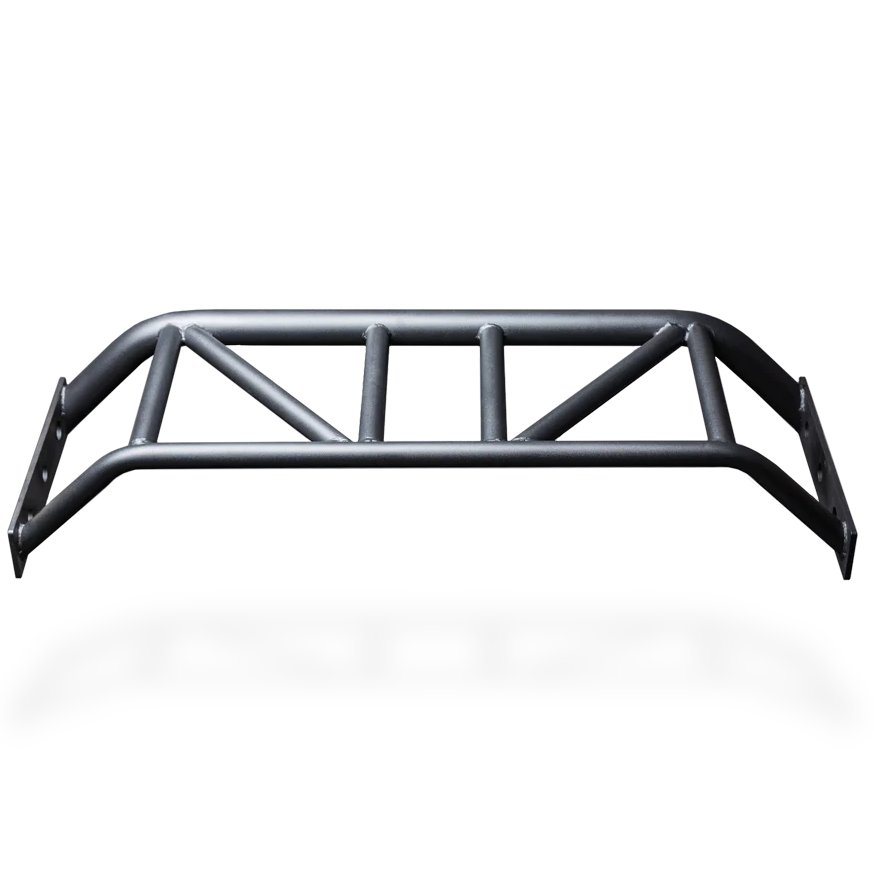 Dimensions: 41.4" L x 14.6" W x 7.3" H
Material: 14-Gauge Steel
Features: Thick Grip Bar Option
The
REP Fitness Multi-grip Pull-Up Bar
provides multiple pull-up options, with 4 different bar angles and thicknesses to choose from. The grip spacing options range from 6" - 28.4", with the pull-up bar measuring 41.4" L x 14.6" W x 7.3" H.
The durable bar is constructed from 14-Gauge steel and attaches with ease to the top power rack upright.
A Battle Rope Anchor provides a suitable attachment point for a battle rope, a cardio-based piece of gym equipment that works muscular strength and endurance.


After attaching the D-shaped anchor point to the power rack frame, thread a battle rope through and use it alongside each exercise as a circuit workout or on its own.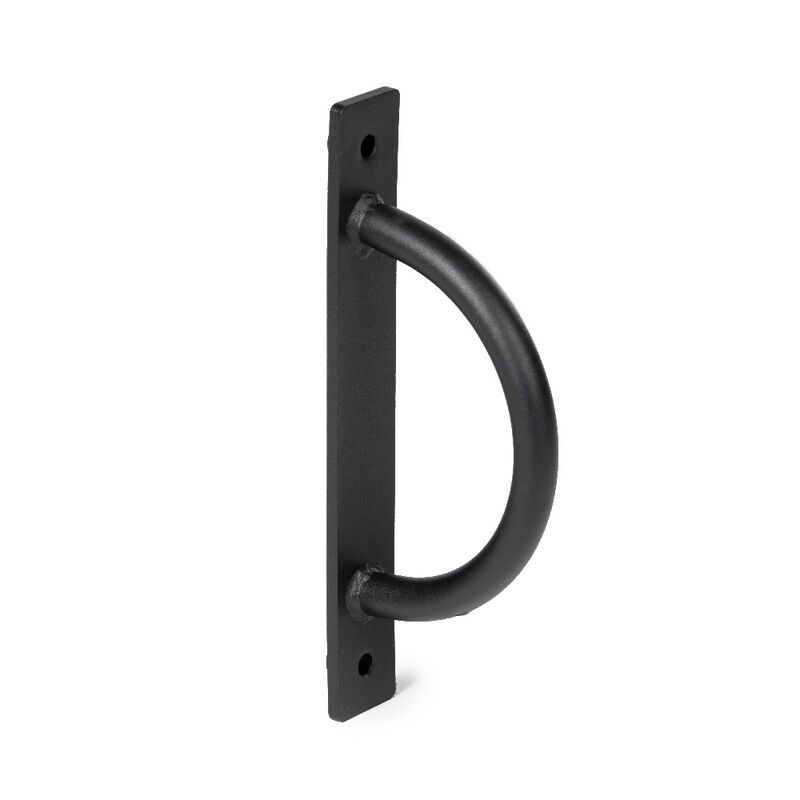 Dimensions: 14" L x 2" W x 5.3" H
Material: Steel
Features: Black Powder Coated Finish
The
T-2 Series Battle Rope Anchor
from Titan Fitness is a great anchor choice. It's made from durable steel and mounts to a power rack via the thick mounting plate: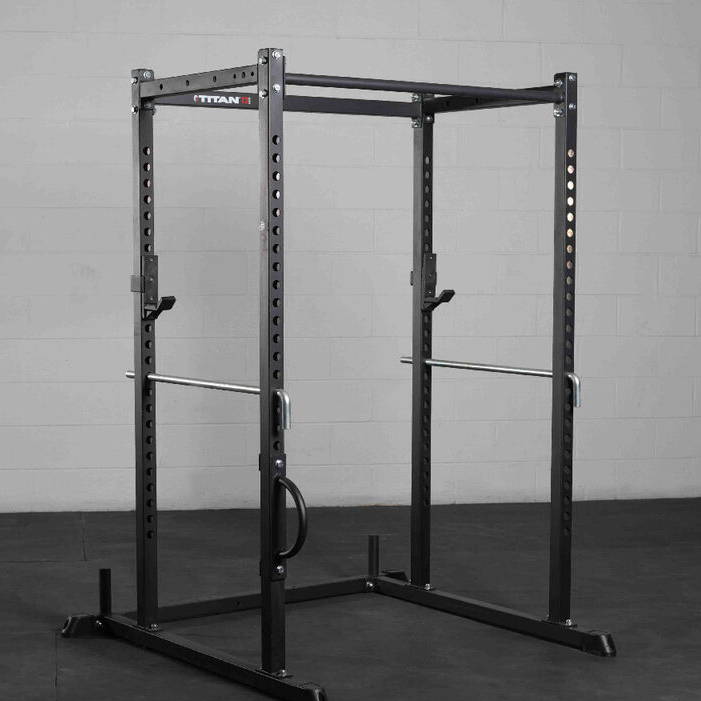 With a 26 mm ring space, you have plenty of room to thread through a suitable battle rope and perform exercises such as rope slams, lateral whips, and spirals.
Band Pegs are used as a resistance band anchor point. By attaching them to various points on the power rack, you're able to add resistance to compound rack exercises or use the bands on their own.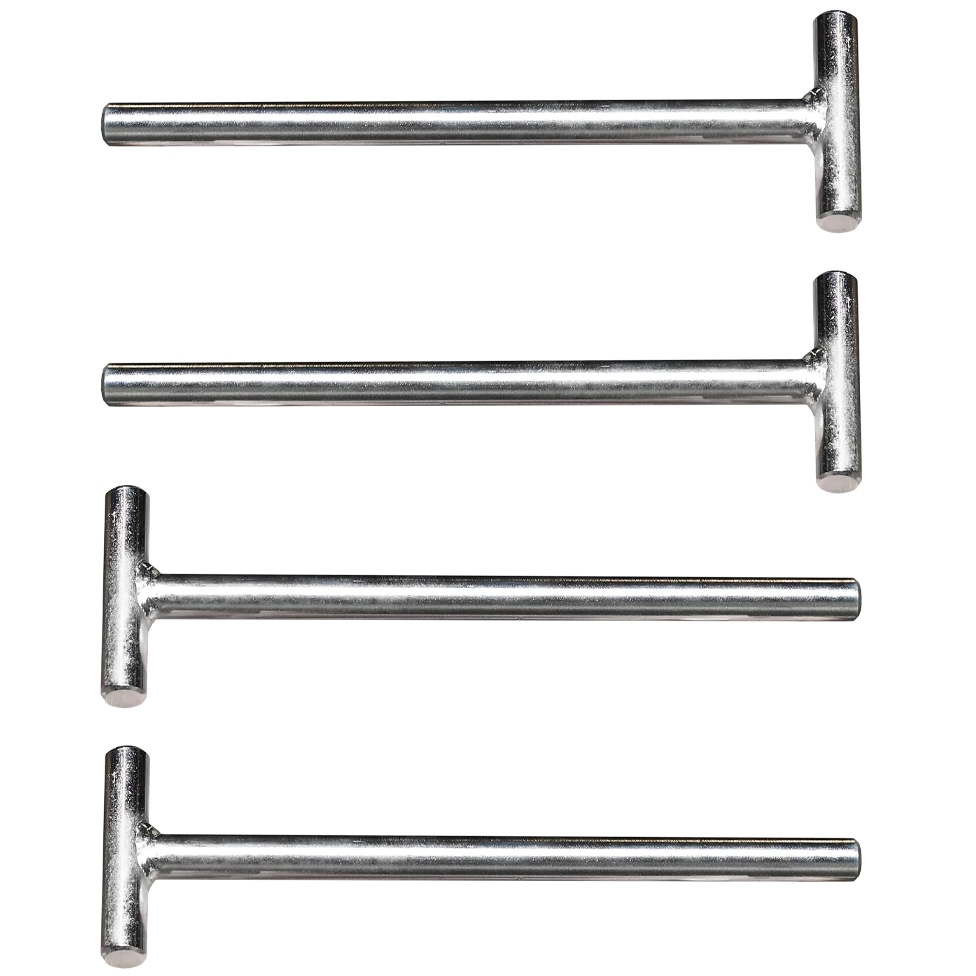 Dimensions:

8.6-12" Length and

⅝-1" Diameter

Material: Chrome Plated Steel
Features: T-shaped Design
The
REP Fitness Band Pegs
are chrome-plated, solid steel legs that are easy to install by sliding them into the rack uprights.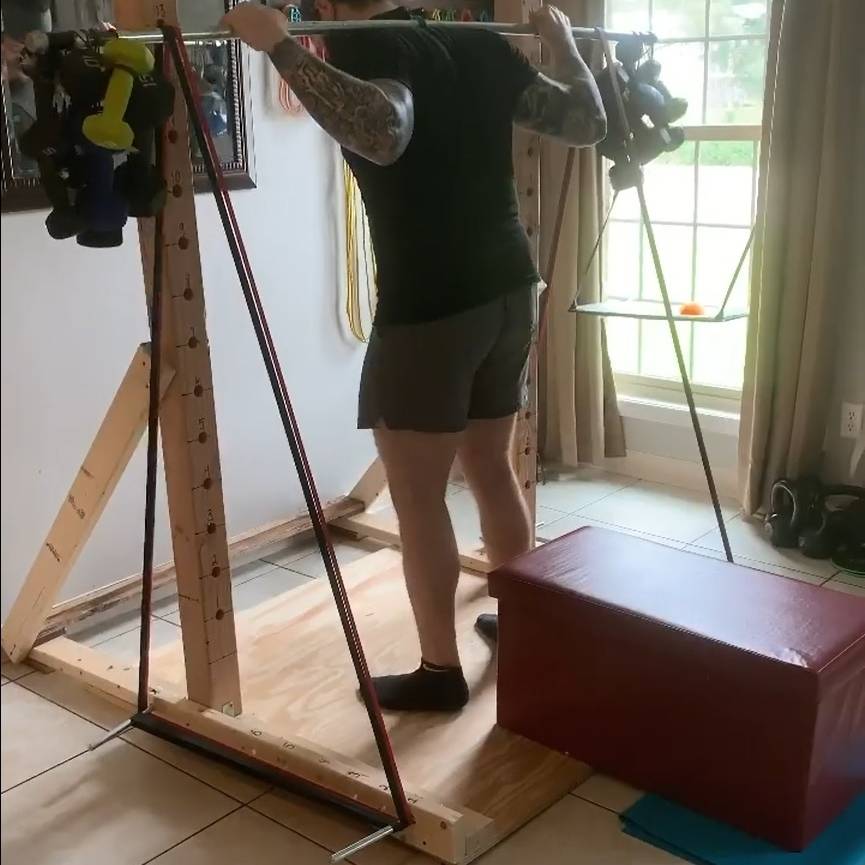 They feature a T-shaped design allowing you to lock them into place without the use of a pin and come in packs of 4.
15. Mounted Wall Ball Target
A Mounted Wall Ball Target gives you a great functional fitness exercise option by providing a solid target point that attaches to your power rack upright.
Once mounted, you can throw a weighted ball at the plate to provide a dynamic, full-body conditioning workout.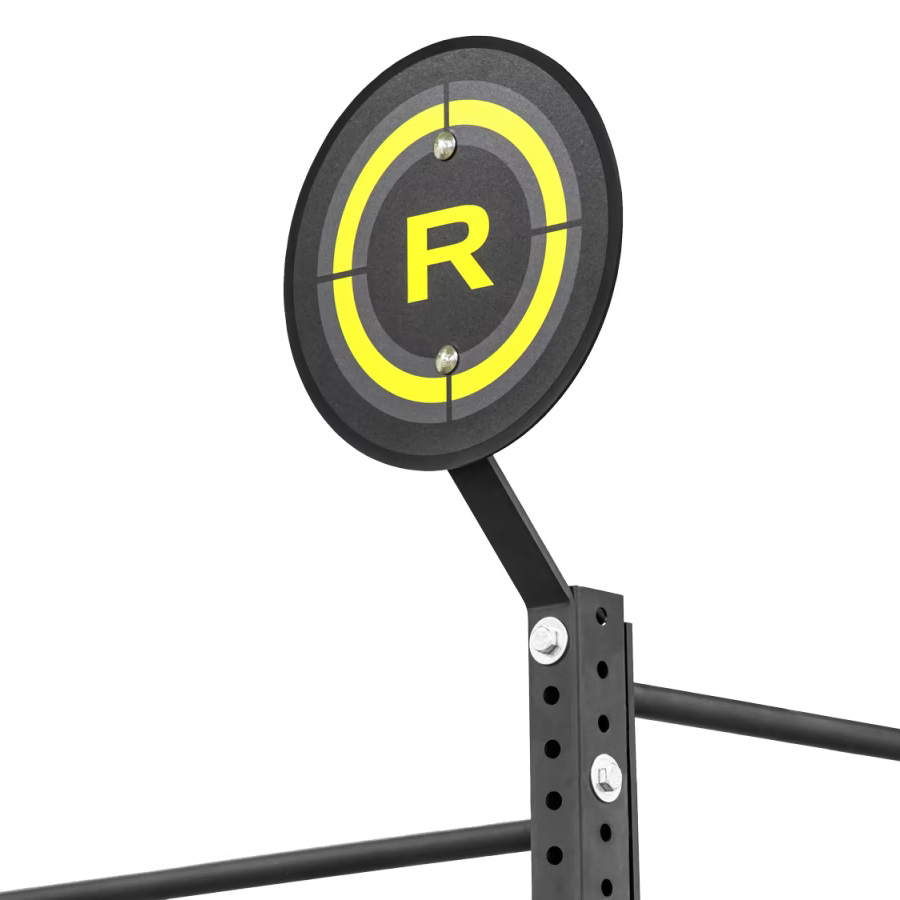 Dimensions:

16" Diameter and

3/16" Thick

Material: Steel Plate
Features:

Crosshair Sticker,

Vertical + Horizontal Mounting Options
The
Wall Ball Target
from Rogue Fitness features a bolt-together design that's constructed using a steel plate made for regional CrossFit competitions. The plate can be rotated both upwards and sideways and has a crosshair sticker, allowing you to improve your
wall ball accuracy
.
It's another great choice from the range of Rogue rack attachments.
A Mono Lift Attachment is essentially a pair of hooks that attach to the power rack and function as a way to remove the walk-out portion when lifting the barbell weight off the rack.
Once the weight is lifted, the hooks move away, allowing you to stay in the same place throughout the movement.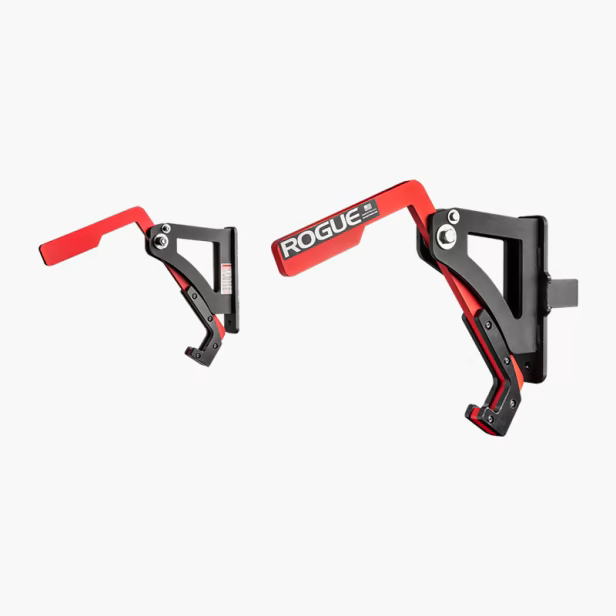 Dimensions: 16.75" L x 4" W x 17" H
Material: Stainless Steel
Features:

J-cup Function,

Backstop Bolts,

U HMW Protective Plastic
The
Monster Lite Monolift Attachment
from Rogue Fitness uses a pair of steel mono lift jaws that have been tested at over 1000+ lbs. They are mounted to the power rack via a pair of ¼" steel brackets and ⅝" detent pins.
By using a stainless steel key to lock the jaws in place, they can be used as a traditional mono lift or as a pair of functional J-cups, provided multiple uses in 1 attachment. The steel counterweights allow the hooks to swing back once unracked, with the unique backstop bolts allowing the user to move further away from the rack during setup.
A Belt Squat is a type of squat variation where weight is loaded around the hips using a belt rather than on the back. This allows you to load the squat movement without placing too much pressure on the
lumbar spine
area, providing a great alternative back-friendly exercise option.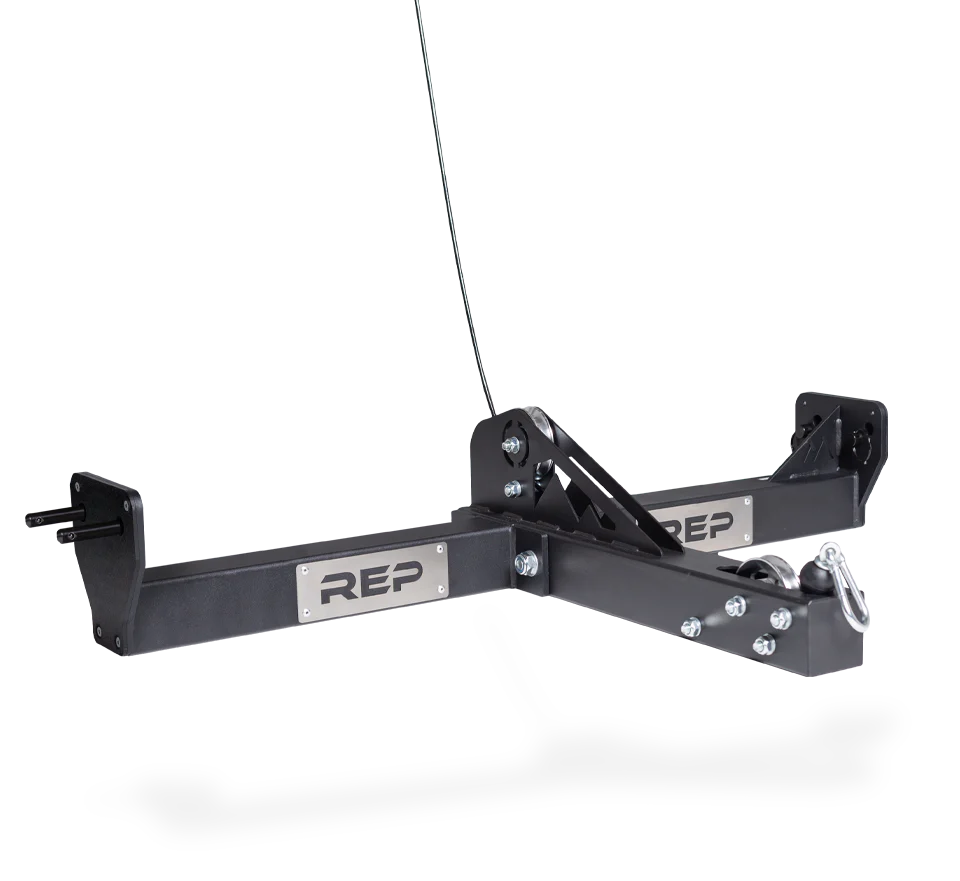 Dimensions: 25.3" L x 41.3" W x 8.1" H
Material: 11-Gauge Steel
Features:

Quick Release Pins,

Black Powder Coating
The REP Fitness Belt Squat attaches to the lat pulldown/ low row attachment points of the REP Fitness power racks to provide squat training variation. It features a space-saving design that's made from 11-Gauge steel with up to 300 lbs of constant resistance via the galvanized cable rope.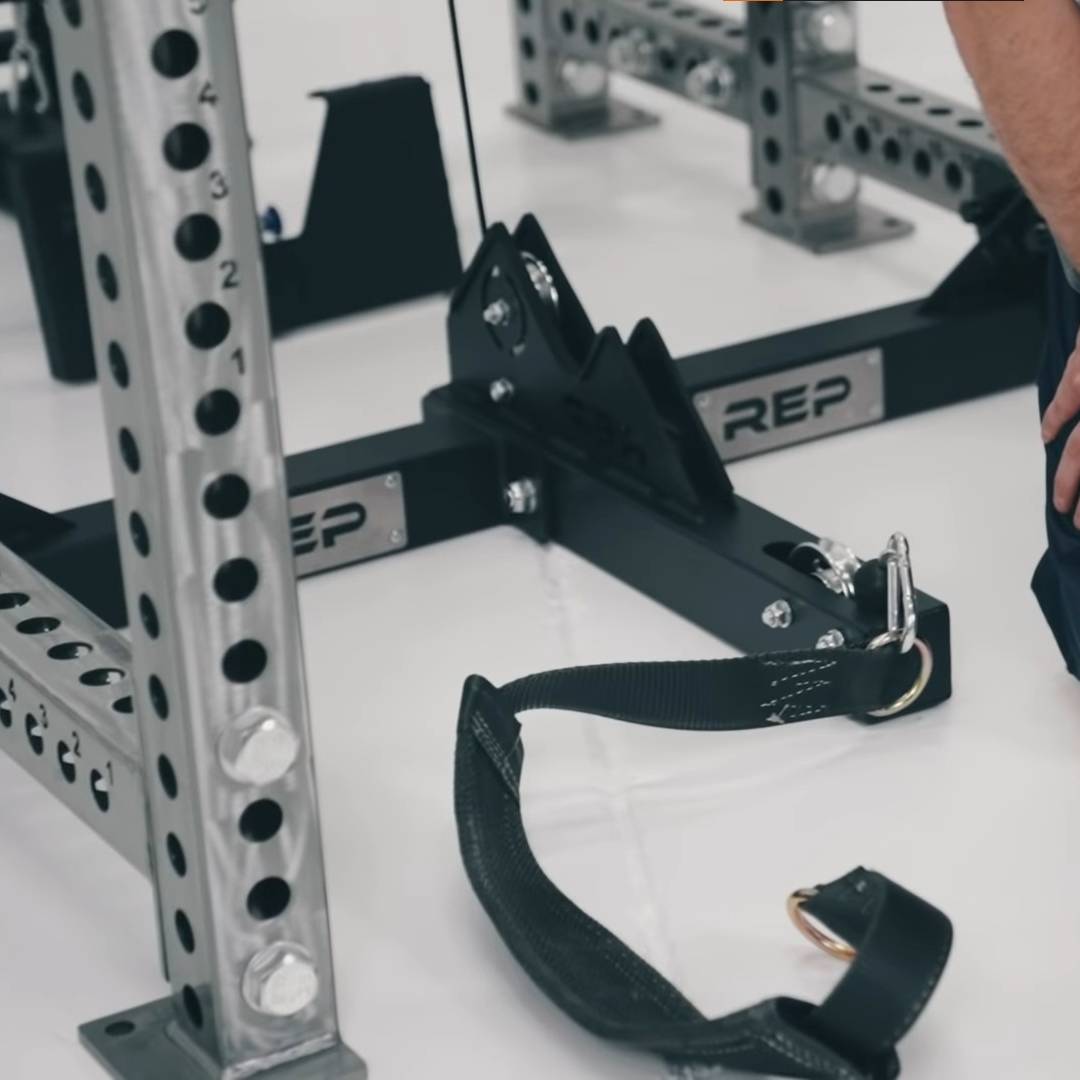 It's easy to assemble and features quick-release pins to remove it when you're doing other exercises. It has a max load capacity of 600 lbs using iron plates or 300 lbs using bumpers.
A chain hanger gives you some handy storage options for your rack chains, so they don't need to be left on the ground or moved around when not in use. They usually bolt onto the power rack and feature various holes allowing the chains to be clipped into place.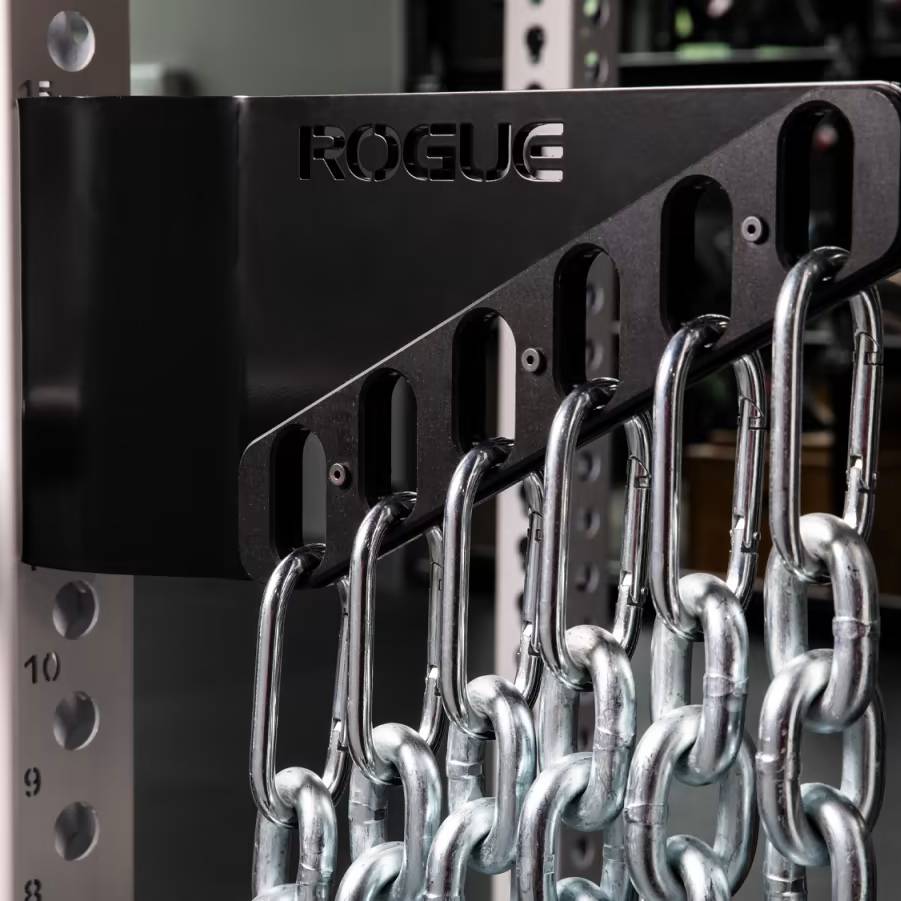 Dimensions: 17.5" L x 2.75" W x 8" H
Material: Formed Steel
Features:

UHMW Plastic,

Jog Bend Bracket
The
Rogue Fitness Monster Chain Hanger
is constructed from 0.25" thick laser-cut, formed steel, with a jog bend in the bracket providing extra strength to hold all the chains in place. It features 6 x 1" carabiner attachment points, with protective UHMW plastic on either side of the chain hanger.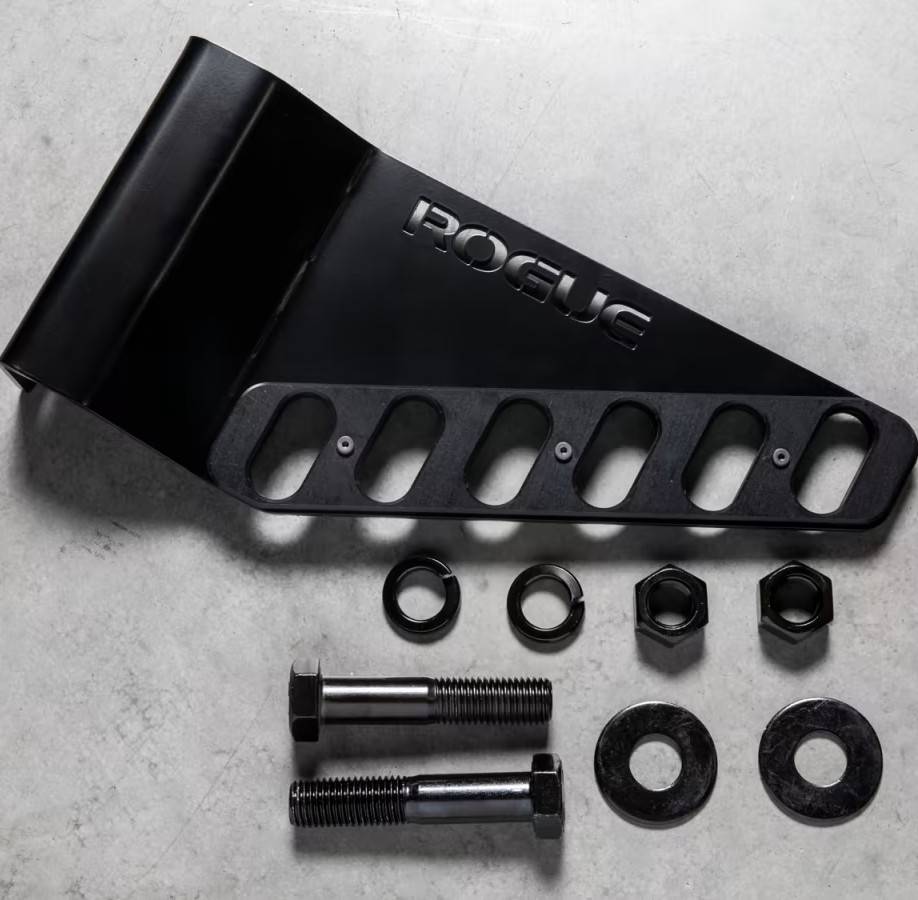 It's finished with an MG black powder coating and has the laser-cut Rogue branding on the side.
19. Rack Cable Attachment
A Rack Cable Attachment uses multiple attachment points to provide a range of exercise options using the power rack frame as an anchor point. It allows you to perform cable exercises such as tricep pushdowns, bicep curls, lat pulldowns, and chest flies.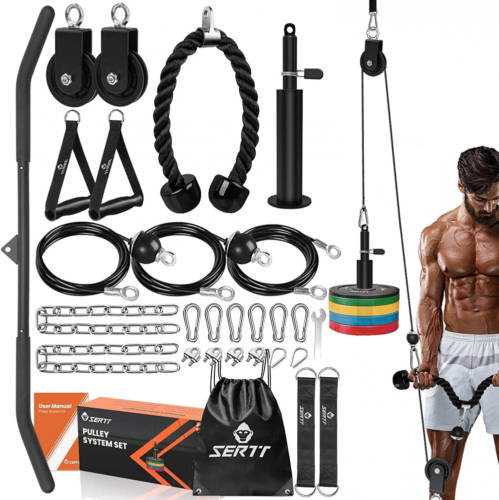 Dimensions: 17.5" L x 2.75" W x 8" H
Material: Formed Steel
Features:

UHMW Plastic,

Jog Bend Bracket
The
SERTT Weight Cable Pulley System Attachment
features 2 pulley systems, a range of handle attachments, and a handy carry bag to store them all in. It also comes with 2 chains and adjustable tools allowing you to set the cables to your required length.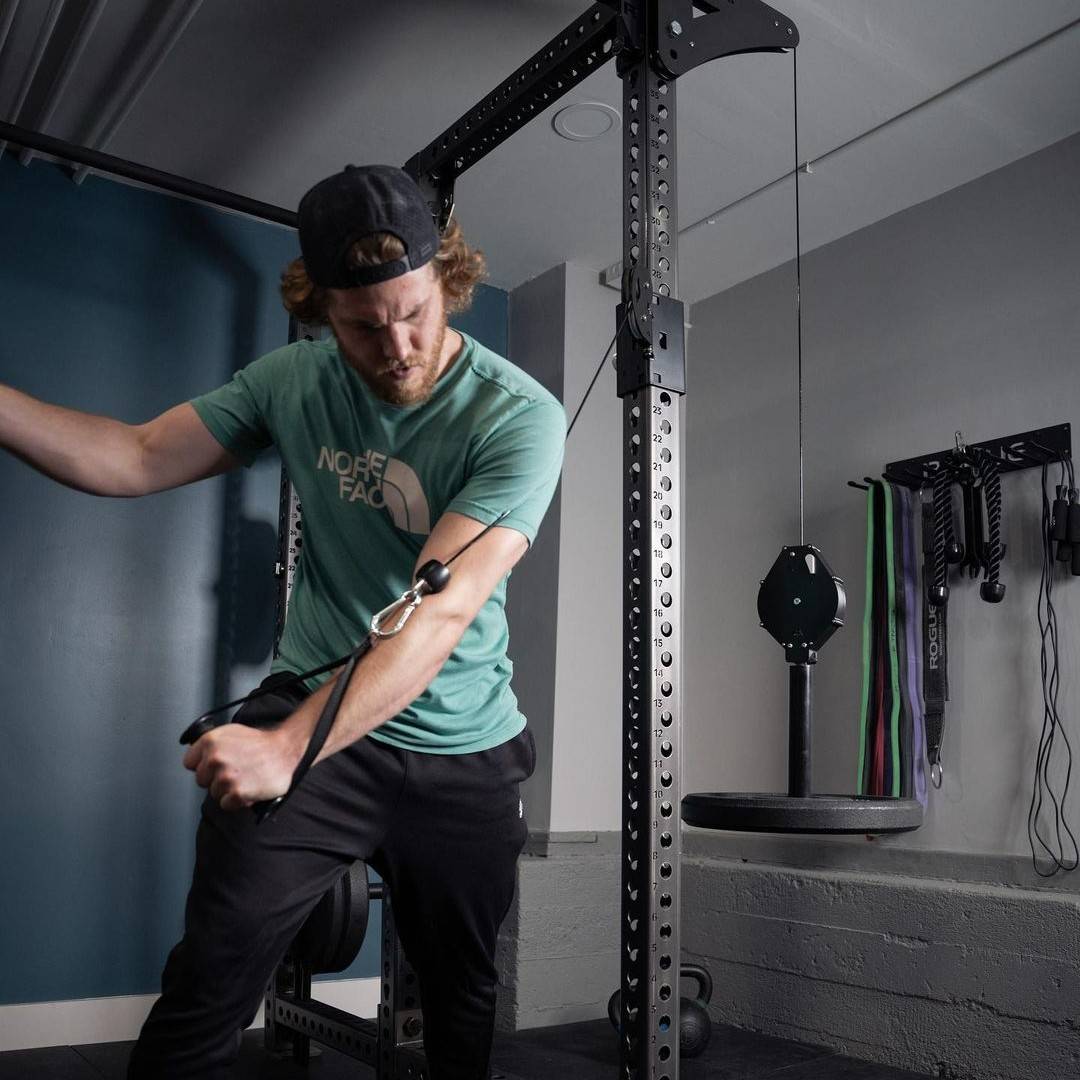 The plate loading pins are compatible with both standard and Olympic-sized plates and can be secured firmly in place using the plate clamp provided.
Are Power Rack Attachments Universal?
No, they are not. The power rack holes and size of attachment may vary between type and brand. It's always best to check to see if the attachment you want is compatible with your home gym gear before purchasing.
Are Power Racks Worth It?
Power racks provide an excellent way to perform multiple compound movements and different accessory movements depending on the attachment options offered. Whether a power rack is worth it depends on what you want to use it for and what your training program looks like.

For most people, a power rack is a great investment that can save space, perform a range of versatile functions, and last for a lifetime.
The power cage attachments I've described above are some main types available to add to your power rack. They provide excellent power cage accessories that add some more workout variety to your power cage and cost a fraction of comparable stand-alone equipment.
What do you think of the power rack accessories I've reviewed above? Have you used any on your own power rack? Let me know down below!
What Is A Power Rack And Does My Home Gym Need One? // The Home Gym: https://the-home-gym.com/what-is-a-power-rack
What is UHMW Polyethylene Plastic and What is it Used For? // AcmePlastic: https://www.acmeplastics.com/content/what-is-uhmw-polyethylene-plastic-and-what-is-it-used-for/
Spotter Arms for Squat Racks: What Are They, Benefits, and How to Use Them Properly // YourWorkoutBook: https://www.yourworkoutbook.com/spotter-arms-for-squat-racks/amp/
Endless Sled Dragging Variations That Will Dramatically Improve Your Performance // EliteFTS: https://www.elitefts.com/education/endless-sled-dragging-variations-that-will-dramatically-improve-your-performance/
The Many Benefits of Wall Ball and 3 Great Variations // HealthLine: https://www.healthline.com/health/fitness-exercise/wall-ball
My name is Ihor and I have been a professional weightlifter since 1996. With over 20 years of competition experience, my resume includes European Champion in 2009 and the silver medalist at 2011's Senior World Championships – 105kg division.
I competed at the 2008, 2012 and 2016 Summer Olympics.
After hanging up my own competitive lifting shoes, I decided to share my huge background as a coach. I am currently coaching multiple athletes who are competing at national and international competitions.