Buying the wrong lifting shoes can be a disaster for your training and your money: they're a huge investment, so you want the best olympic lifting shoes for your training – whether you're an elite weightlifter or a beginner powerlifter.
We're going to discuss the best products on the market, what is worth your money, and what you should look out for when buying shoes for lifting weights in. Let's start with the most important examples on the market...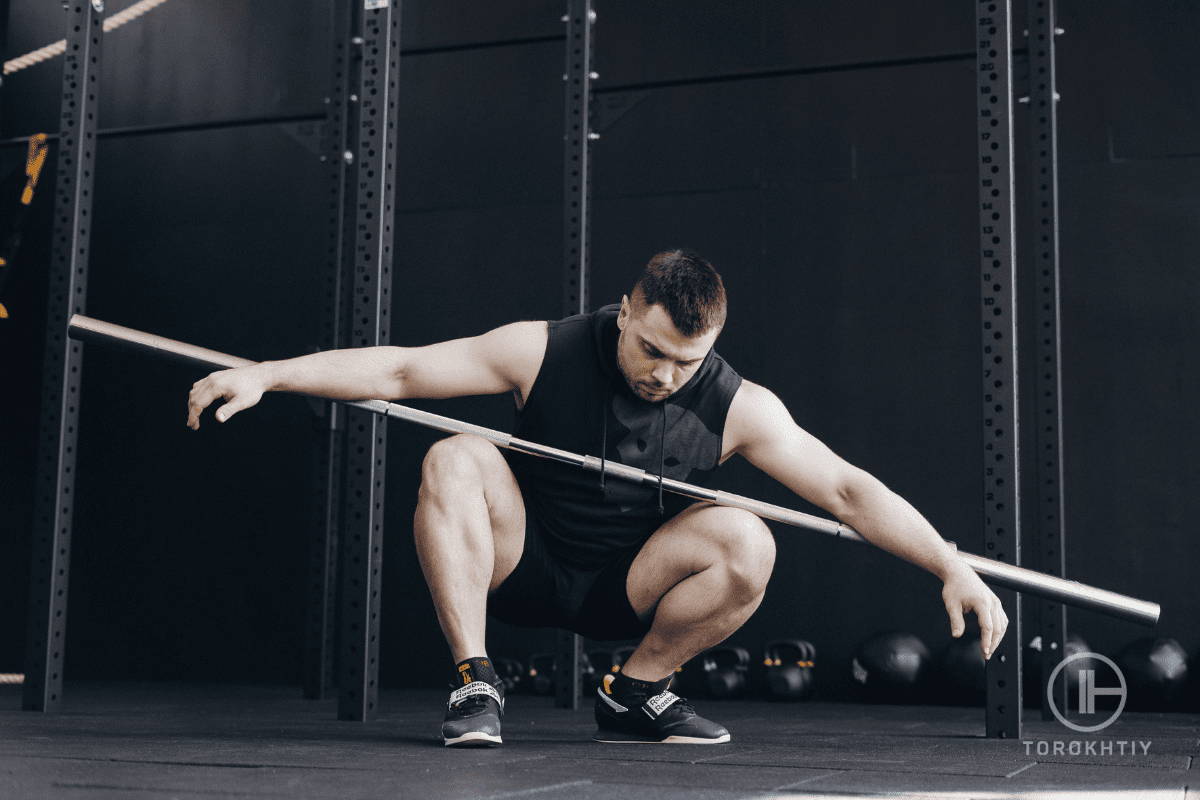 Top 7 Best Olympic Lifting Shoes Reviewed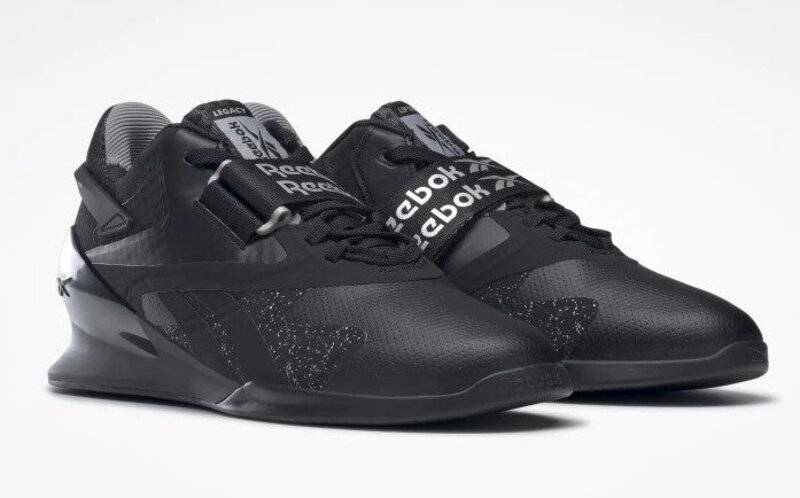 Effective heel height: 0.75 inches
Sole material: Anti-slip rubber
Heel material: TPU thermoplastic
Sizing: True fit
Weight: 620g
The Reebok Legacy Lifter is our top pick for how it blends quality with affordability. I think this makes them the best Olympic weightlifting shoes on the market.
Even as a beginner in weightlifting, the Reebok Legacy Lifter is a great choice to give you access to a high-quality shoe with the most important features, good build quality, and a price tag that is better than many other premium Oly lifting shoes on the market.
The Legacy Lifter has a solid heel and a semi-flexible forefoot to help you move with more freedom than old designs like the first generation Nike Romaleos. Reebok is owned by Adidas and has comparable build quality to products like the Adipower, but trades off the most-premium build with a better price to offer the best value for money on the market.
The Legacy Lifter has a standard heel height of 3/4 inch, with a rubberized sole with simple grip pattern. The heel is a vulcanized hard-plastic with small inlets to provide good stability. Unlike wooden heels, this does mean you can't reheel it without replacing the pair, however.
The upper material is a faux leather, as in many other forms of weightlifting shoe, and this is one of the more breathable on the market. The legacy upper is a good material without being too thick, but still offers good durability around the lace eyelets to produce good durability.
The heel cup is not as strong as the Adipower or Romaleos, but is still very good quality. This is one of the concessions made to lower prices and the result is still a very well rounded and effective product with a great feel and some of the best comfort on the market. The grip against the floor and total stability are also excellent – even more so when compared to the price.
Verdict. I think the Reebok Legacy Lifter 2s are the best shoes for Olympic lifting on the market. They're equally appealing for Olympic lifting and powerlifting, since the cost is only a small bump from entry level shoes – but the quality is much better.
The Reebok legacy lifter gets a 9.8/10 for its premium features at a great price point, making it one of the best choices for anyone interested in lifting heavy weights.
(Show More)
Fits most feet with a wider build than the Adipower
Heel cup may not be as 'aggressive' as other competitors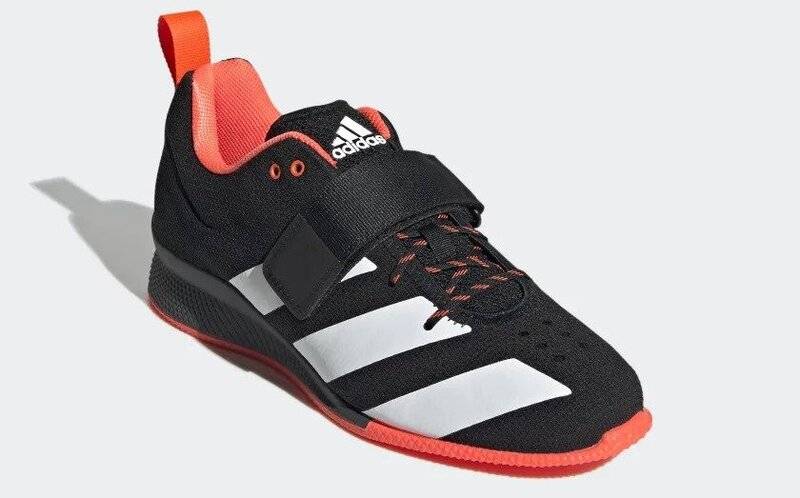 Heel lift: 0.75 inches
Sole material: Rubberised with a TPU midsole
Heel material: TPU thermoplastic
Upper material: reinforced recycled synthetic weave and paneling
Sizing: True fit with a narrower toe box
Weight: 460g
The Adipower is the premium shoe for those with 'normal' feet that don't require an expanded toe box. They're a popular contender for the best Olympic weightlifting shoes on the market.
They're relatively narrow compared to both the Reebok Legacy and the Nike Romaleos and Savaleos. This makes them a great choice for a super stable shoe with excellent 3-dimensional stability. They're also more expensive than the Legacy lifter, which is why they're our runner up.
The Adipower design has only changed a little since the new models dropped in the lead-up to the 2008 Olympics. The heel height on newer Adipower models is a little higher and they have the same .75 inch TPU heel as many of their other competitors, with a deeper heel cup than most, and excellent sole build for grip.
The Adipowers are sized similarly to the legacy aside from the width, with added build quality to reflect the higher price. The breathability is also excellent, though the tight heel cup can get a bit sweaty. The upper material is generally excellent with a well-made multi-layer upper that lasts for years, with normal use for weightlifting. Longer still for powerlifting!
Verdict. The Adipowers are popular with elite lifters and offer a very high stability shoe with great durability. They're a little more expensive than the Reebok Legacy Lifter 2, and are specialized for people with narrower feet, which combine to put it in 2nd place on our list.
These are great shoes but require more investment and may not be the best for your feet, depending on size and shape. We give the Adipower 2 a 9.5/10 for premium performance!
(Show More)
Great shoes with amazing quality and durability

"Aggressive" heel cup for fantastic rear-foot stability

Good company with a reliable customer service and product design reputation

Perfect for people with narrower feet
More expensive than the Legacy lifter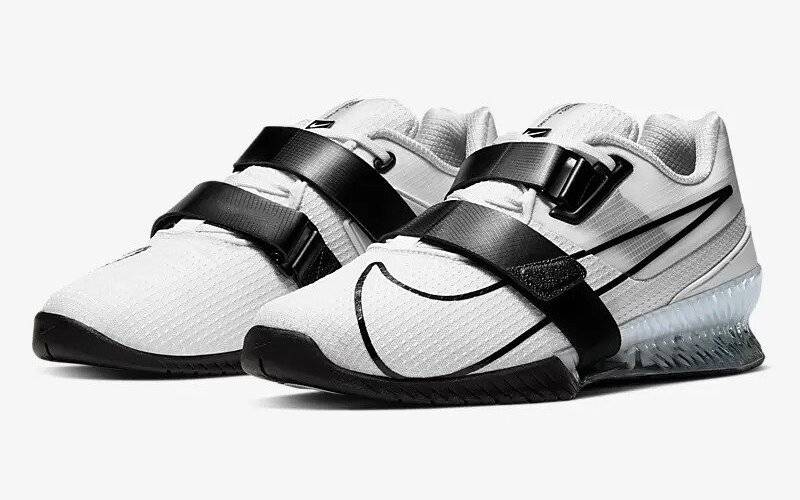 Heel lift: 0.78 inches
Sole material: Anti-slip rubber
Heel material: TPU thermoplastic
Upper material: Synthetic paneling with reinforced, breathable synthetic weave outer
Sizing: True fit
Weight: 592g
The Nike Romaleos are the historic competitor for the 'best weightlifting shoe' with the adipowers. They've been around for nearly 2 decades and have offered a great alternative to the adipowers for people with larger feet. These are typically wider than either the Adidas or Reebok lifting shoe in the toe box.
The Romaleos have gotten narrower with the more recent designs. The Romaleos 1 and 2 were very wide, while the 3s and 4s are narrower and more true to fit. They offer an excellent quality similar to the Adipower with a strong TPU heel, great grip, and a strong heel cup for stability in the foot.
The Romaleo 4s are lighter than their predecessors and feel more nimble, but less stable, than earlier models. These are the shoes that are typically best for athletes with wider feet looking for a true to size fit without having to go up and lose stability (as they might have to in Adipowers).
These are breathable and durable, with the strength of sole and good upper materials to last for years. Overall, this is an excellent alternative to the Adipower with a similar material and build quality but with a different design and a wider build to accommodate a wide foot.
These are still more expensive than the Legacy lifter, which also has a similar amount of foot-space. This is why the Romaleo 4s are below the Legacy 2.0 on this list. They offer many of the same benefits but with a higher price – and one that just puts them lower in value for money!
Verdict. While they're not as well liked among weightlifters as the Nike Romaleos 2, the new Romaleos 4 offer a high-quality build with a lighter construction than the Legacy lifter. They're well made and high quality, but they lack the defining stability and weight that made earlier models so well-loved.
We give the Nike Romaleos 4 an expert score of 9/10 – not as good as the Romaleos 2, but still a great premium shoe.
(Show More)
Very high quality build style

2 Straps for better midfoot stability (unlike other options on the market)

Great brand with a good reputation for quality and durability

Wider toe box than the Adipower for a true fit on wider feet

Excellent stability with a good heel cup – but lighter than the Romaleos 1 or 2s
Not great for narrower feet

More expensive than the Legacy lifter (comparable to the adipower)

Recent versions have more flexible soles, which isn't always a good thing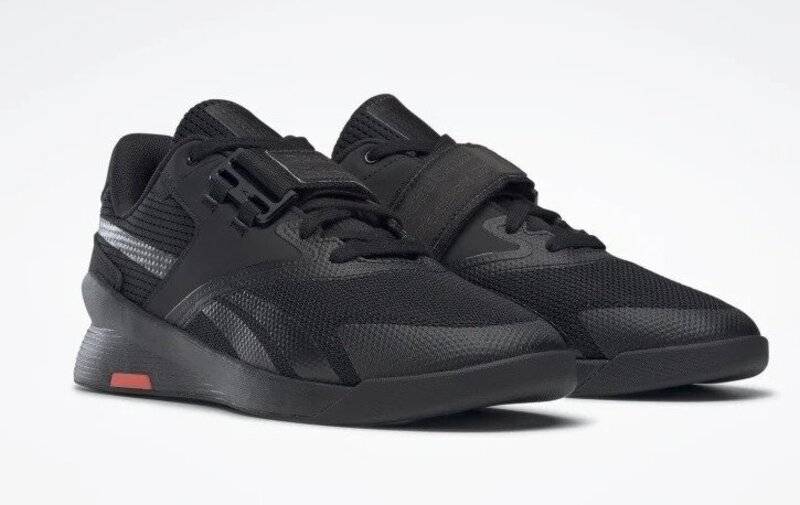 Heel lift: 0.6 inches
Sole material: Anti-slip rubber
Heel material: EVA high-density foam
Upper material: Reinforced textile
Sizing: True fit but may be a little narrow for most
Weight: 408 g
The Reebok Lifter PR2 is a downgrade on the Legacy 2.0 but offers excellent entry level weightlifting shoe design for beginners. It's also a good choice for a 'squat shoe' – perfect for powerlifters and CrossFitters who aren't doing as much weightlifting but want excellent foot support and a cheaper price.
These are definitely some of the most comfortable weightlifting shoes on the market but they have more 'give' than you'd expect from a Legacy lifter. They are far more pliable through the midfoot and front foot, which makes them worse Oly lifting shoes but a better choice for your everyday gym shoe.
These are great beginner shoes for non-weightlifting specialists and offer some great support. The upper is very breathable and quite durable, though not on a par with the 3 weightlifting specific shoes above – it has a softer texture and less durability.
The price of these shoes is the lowest on our list so far, which makes them perfect as a place to start if you're not sure how seriously you want to take weightlifting – or if you're a powerlifter or CrossFitter looking for a hybrid lifting shoe. This saves you money compared to the big investment of a Romaleos or Adipower, and slightly less than Reebok's own Legacy lifter 2.
The quality is good for the price, but not the best on the market. They're down here on our list because they're not as good for Olympic weightlifting, but they're an excellent beginner squat shoe and for those who want to get some shoes for weightlifting on a budget. The value for money is good, and you'll have a great time with these shoes if you're a novice.
Verdict. The PR2 are a very strong shoe for beginner weightlifters and for squatting in. They're a great choice if you're trying to improve your lifting and keep your knees, hips, and ankles healthy. They're not much cheaper than the Legacy lifters, but have a narrower appeal and set of features.
Getting better quality is always better but these could be the perfect budget option if you only need a shoe for squatting or practicing the weightlifting basics. For that reason, we give them an 8.4/10!
(Show More)
Some similar design ideas to the Legacy Lifter 2

Lower price than other lifting shoes discussed on this list so far

Perfect squat shoes for CrossFit and powerlifting

A good balance of value and quality
Not as good for Olympic lifting as the previous shoes

EVA foam is not as effective for heavy lifting due to compression

Lower price does trade off some quality in the heel cup and build-quality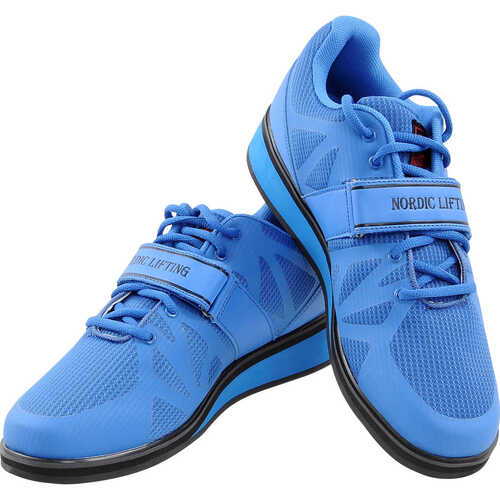 Heel lift: 1.1 inches (effective)
Sole material: Anti-slip rubber
Heel material: EVA super-dense foam build
Upper material: Super breathable mesh, faux leather, and textile weave
Sizing: True to size
Weight: 635 g
The Nordic Lifting Weightlifting Shoe (MEGIN) is equipped with a 1.4" inch heel. This is very high and offers more ankle and knee travel than other shoes, which may be useful if you're very restricted in the ankles, but can be quite a shock when transitioning over from other weightlifting shoes.
This is for squatting primarily, and may cause some technical issues with snatch, clean, and jerk, in some newer lifters. It's a brave attempt but can easily lead to unwanted forward travel of the knee.
However, these shoes are inexpensive at around half the cost of the Adipowers (depending on your source). It has a single strap, which is not as good for foot stability, but the upper is very breathable and durable. This is fine for powerlifting but not as strong as the Nike Romaleos 4s
The MEGIN are great squat shoes but are definitely more suited for powerlifting and general gym use. They're a great quality shoe with a durable upper and grippy sole that can withstand regular gym training for years to come – with specific use for powerlifters and bodybuilders.
They're also relatively wide – more so than the adipower, making them a comfortable choice for a true fit, or a half-size down. These are great for entry level shoes which typically need to offer good comfort and fit to account for fewer premium features.
Nordic lifting are starting to gain traction as a popular shoe manufacturer, so they're definitely worth looking at if you want to save money and still get some of the best lifting shoes for powerlifting and bodybuilding.
Verdict. These are a great choice if you just need a beginner weightlifting shoe, a squat shoe, or Olympic-powerlifting shoe hybrid. They can be a fantastic introduction to heeled lifting shoes and offer a fantastic build relative to their price.
You'll be saving money by trading off on premium features and build, but this is fine at half the price of some premium shoes like the adipowers – so they get a solid 7.9/10.
(Show More)
High heel can support better mobility in the ankles and uses more quads

Great balance of price and quality due to the very low price tag

Good stability with a breathable upper

A good true-fit with a balanced width and size
Not as good as other Olympic lifting shoes with singular design focus

Trades off quality and heel cup comfort for price

Doesn't offer some of the premium features of other shoes on this list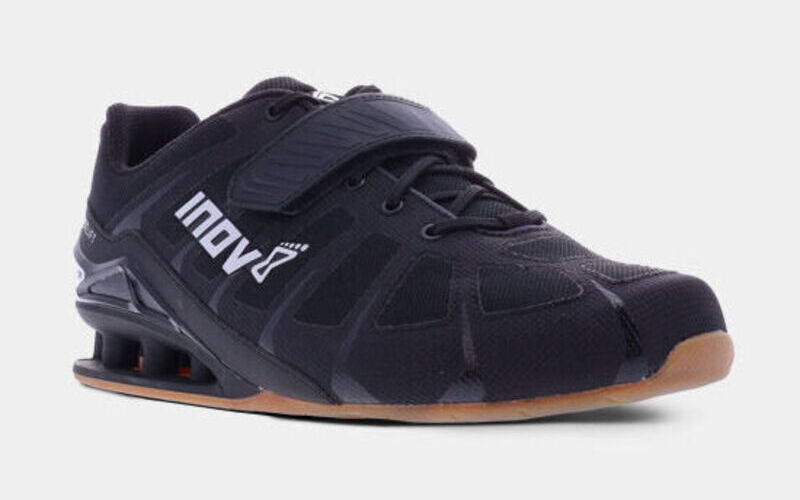 Heel lift: 1 inch
Sole material: Anti-slip rubber with graphene
Heel material: TPU thermoplastic
Upper material: Custom 'ripstop' high-strength synthetic weave
Sizing: True to size but narrower
Weight: 360 g (hence the name)
The Inov 8 Fastlift have been an entry level weightlifting shoe since the early days of CrossFit, when they competed with the original Reebok Lifter shoe. They're a more flexible and multipurpose shoe that is mostly useful as a squat shoe but can be used as an Olympic weightlifting shoe, with a lower heel and a higher quality build than previous models.
The Inov 8 Fastlift 360 is a cheaper alternative to the Legacy Lifter, the Adipowers, or the Romaleos.
It doesn't offer the same premium build, but the price point is significantly lower and it provides a mid-point in the market in a similar way to the legacy lifter. However, this product loses to the legacy lifter since the fit is narrower in the foot by nearly half an inch, which can feel quite restrictive.
This means some people will be required to compromise on length (going a half size up) to fit the foot properly. Otherwise, the TPU heel and reinforced 'Ripstop' upper are both high quality. The only concern here is that there's no elevated TPU or rubberised front-toe stop, which is a durability feature seen on products like the Reebok Legacy Lifter or the Nike Romaleos.
Verdict. Overall, this is a well-balanced product and offers a great upgrade on the earlier forms of Inov 8 Fastlift and their best weightlifting shoe to date. The difference is a stronger total build, which makes it a great competitor with premium quality weightlifting shoes, but with a lower heel that makes the G380 an outstanding squat shoe for non-weightlifting use!
Overall, this is a well-balanced product and offers a great upgrade on the earlier forms of Inov 8 Fastlift and their best weightlifting shoe to date.
(Show More)
Lacks some of the premium quality heel cup support seen in the Adipower, for example

TPU heel is a rare sight on less-expensive lifting shoes

The lightest product on our list due to streamlined design and graphene reinforcement

Great competitor with the Legacy Lifter with a lower heel at 0.6 inches
The heel cup is lower quality than premium products like Reebok and Nike

Price point is medium, but it doesn't compete well with the Legacy, for example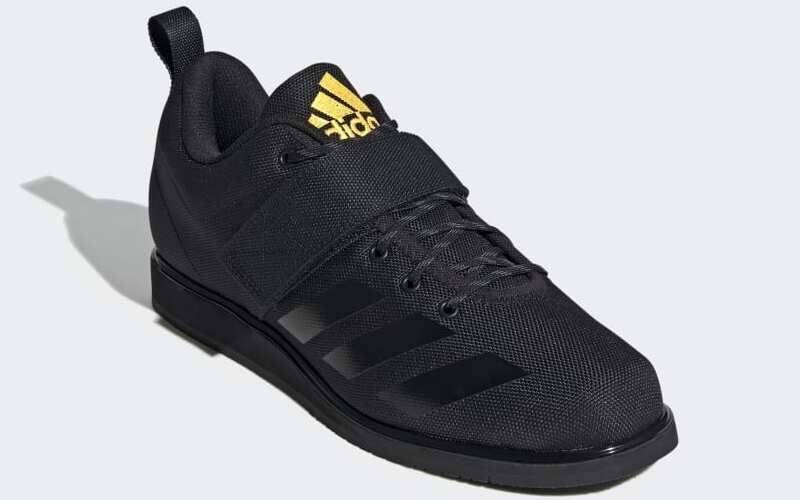 Heel lift: 0.6 inches
Sole material: Anti-slip rubber
Heel material: EVA super-dense foam
Upper material: 50% recycled rubber and synthetic weave
Sizing: True to size
Weight: 436 g
The powerlifts are Adidas' entry level lifting shoes for general gym use and have been updated with the most recent version to improve durability and construction quality. They offer great style, a comfortable build, and good quality for the money.
While the design is lower quality than Adipowers, these shoes are significantly cheaper and have a similar fit, though a bit wider. The heel of the powerlift is lower than the TPU heel of the Adipowers, a 0.75-78inch (2 cm) heel made of high-density foam. This is a problem for very heavy lifting where it lacks the strength and stability of the Legacy lifter or Adipowers.
The Powerlift is a good lifting shoe for beginners but is not for super-heavy lifters like weightlifters and powerlifters. The durability and heel material will make them a little limited for top end lifting – with the sole and upper separating more easily than in other weightlifting shoes (especially during jerks, for example).
Verdict. These are not the best lifting shoes on the market but they're relatively cheap and come with the Adidas name on them. This means they're a great entry level shoe but don't stack up to some of the historical Adidas cheaper lifting shoes like the Power Perfect 2.
The Powerlift live up to their name: a good shoe for powerlifting, but not the best choice for Olympic weightlifting or serious heavy-lifting athletes. These are 7.25/10 for the price and purpose!
(Show More)
A great value option from Adidas – guaranteeing good build quality

Saves a lot of money while offering the core benefits for a squat shoe

Makes a great Olympic powerlifting shoe hybrid
High density foam is not as reliable as a solid plastic heel and may compress

Upper-sole attachment is weaker than in other products with a higher price

Not the best shoes for elite weightlifters and rarely seen in professionals
Weight Lifting Shoe Buyer's Guide
Why Get Olympic Lifting Shoes?
You should get Olympic weightlifting shoes because they support foot stability, have a raised heel for better mobility and technical performance, and they are far more durable than normal trainers. These make them perfect for regular heavy lifting and the Olympic lifts, which require some very challenging positions.
You can also use Olympic weightlifting shoes for squatting – as most elite powerlifters do. This is because they put the body in a better position to strengthen the legs and maintain good balance in the lifts – especially in the bottom position.
How to Choose the Best Olympic Weightlifting Shoes?
You choose the best Olympic weightlifting shoes based on their benefits-per-dollar, which comes from the cost, the strength of the heel, the stability they provide, the materials and build quality, and then how well they suit your intended style of training (powerlifting, bodybuilding, crossfit, or Olympic weightlifting).
The best lifting shoes offer more benefits for the cost and suit your needs. Keep your own style of training, experience levels, and budget in mind. All of the items on our list today have a place, but the one that suits you depends on these personal factors.
You should always choose quality if possible, as the best Olympic lifters are going to see significant use. You may own the same pair for years, and buying for quality prevents you buying twice – which is why our top 3 options are all premium lifting shoes.
Olympic Lifting Shoes: FAQ
Are Olympic Weight Lifting Shoes Necessary?
Olympic weightlifting shoes are not necessary, but they're the best shoes for any Olympic lifts and are required to lift the most weight with the best technique. Some competitors will use non-lifting shoes such as Nike Metcons or similar, which are flat-soled.
The heel lift, heel cup, stability, and sole construction are perfect for weightlifting. They have none of the compression and force-waste that you'd get lifting in normal trainers, tennis shoes, and other shoes.
Olympic shoes aren't necessary but they're functionally necessary: if you want to lift the most, in the best way, with the best effect, then you should use them.
What Shoe Brand Do Pro Weightlifters Wear the Most?
Most professional weightlifters use Nike, Adidas, or Reebok. These are the best premium weightlifting shoe builds, while some like Anta and Asics have specific popularity within different countries (China and Korea respectively).
Adidas are the most commonly seen shoes for professional weightlifters because they have the widest range of shoes and the longest production history. Adidas offers a range from entry level to super-premium, meaning that they're the most common shoes.
Nike and other brands are getting more exposure since they released the original Romaleos, and the Savaleos are also becoming more popular.
Should I Deadlift in Weightlifting Shoes?
You should not train conventional deadlifts in your weightlifting shoes – but they're perfect for snatch pulls and clean pulls. These are weightlifting-specific deadlifts that are used to train the positions of the classic lifts and strengthen the legs, hips, and back to lift more weight.
Weightlifting shoes are bad for conventional powerlifting-style deadlifts since they pitch your balance of weight forwards and lack the flat foot favored for heavy deadlifts. They make any deadlift more like a clean deadlift, which is not useful for most powerlifters.
Weightlifting shoes emphasize the use of the legs, which isn't always good for deadlifting, but some powerlifters do lift in heeled shoes. This is down to personal preference but – for most people – flat shoes are best for deadlifts.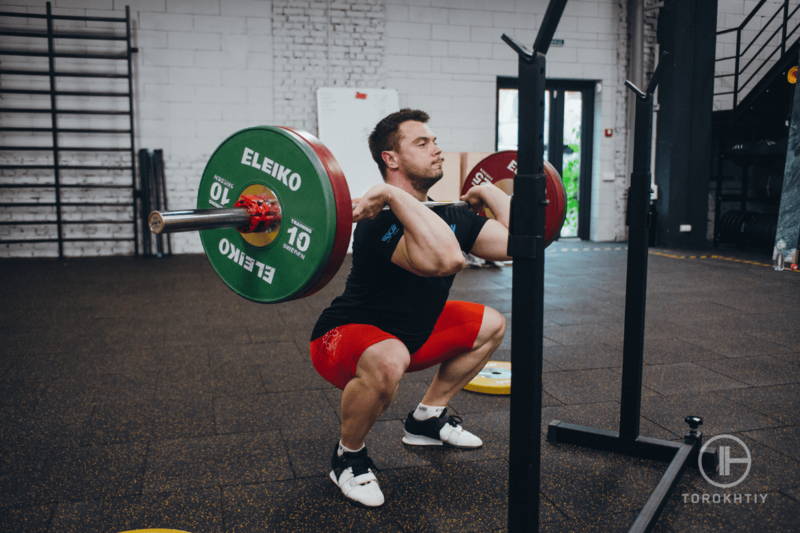 The best Olympic lifting shoes are the Reebok Legacy Lifter: they offer the best compromise of quality and price that lets more people get into the Olympic lifts – or just heavy squats – with the best equipment. This lets you get more results for less money, and that's our focus.
Alternatives like the Adidas Adipower weightlifting shoes or the Nike Romaleos can be used for super-premium training but don't offer much more than the Legacy lifters. They're also specific to the shape and size of your foot, while the Legacy lifter is more universally well-fitted.
You can get a cheaper choice if you're looking for squat shoes, with brands like Inov8 and Nordic lifting offering interesting alternatives. The entry level market also includes the powerlift and PR2, which may suit your budget for a beginner weightlifter, CrossFit enthusiast, or Powerlifter.
Keep your needs and style of training in mind, and always focus on what you're getting for each dollar you spend. We've put value for money first, and that's put the Legacy lifter first on our list!
6 Olympic Lifting Movements // SMAI:
https://www.smai.com.au/blogs/news/6-power-lifting-movements
Conventional Deadlift Video Exercise Guide // Muscle & Strength:
https://www.muscleandstrength.com/exercises/deadlifts.html
My name is Ihor and I have been a professional weightlifter since 1996. With over 20 years of competition experience, my resume includes European Champion in 2009 and the silver medalist at 2011's Senior World Championships – 105kg division.
I competed at the 2008, 2012 and 2016 Summer Olympics.
After hanging up my own competitive lifting shoes, I decided to share my huge background as a coach. I am currently coaching multiple athletes who are competing at national and international competitions.