Whether you are looking to burn calories and lose some unwanted weight, or if you are looking to improve your fitness sessions, the stair climber vs elliptical debate is something that you will eventually need to deal with. Both are effective tools in the world of cardio, but we should also look to see which one is best for you to buy.
Elliptical Vs Stair Climber – Which One Is Best? Both the elliptical and stair climber would be a great way to raise your heartbeat and burn some additional calories that you wouldn't burn otherwise. The elliptical is the better option for those looking to activate more muscle groups, whereas the stair climber should be ideal for the lower body.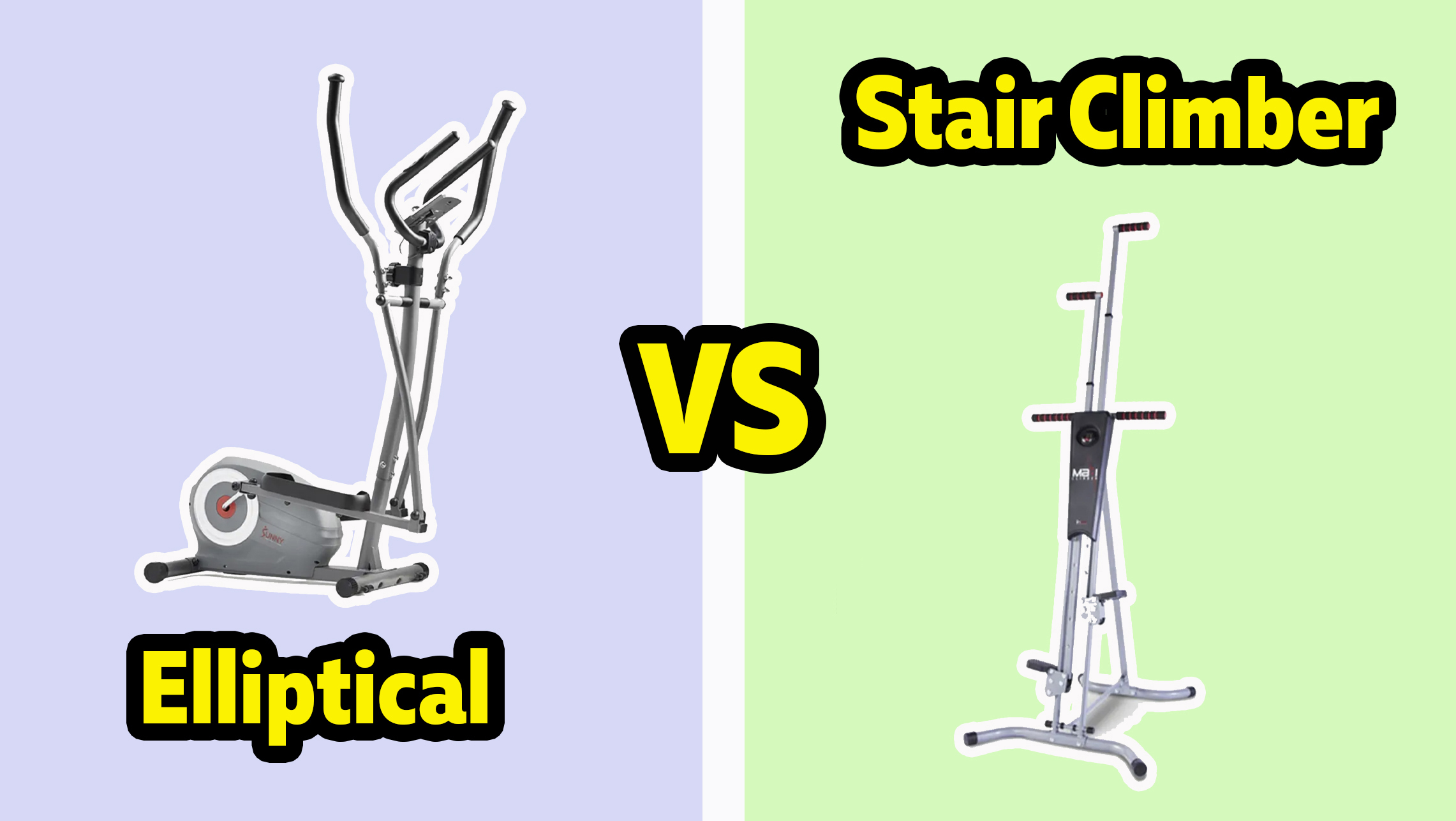 An elliptical is a solid option when you are looking to put more emphasis on full-body cardio. It features two suspended pedals and handlebars, which would allow you to slide each foot into one of the pedals and your hands on the handlebars.
The main idea of the elliptical is to mimic the movements of skiing, and you will use your arms and feet to pump forward, which builds momentum to increase the efficiency of the workout machine. If you don't feel like using the suspended handles, you will have access to fixed handles, which is ideal to focus on the lower body only.
There are two types of stair climbers, namely the stepmill and the pedal stair climber. The stepmill will mimic the motion of walking upstairs and often features cascading stairs, which move in the same way as an escalator would. It is one of the best options for the lower body.
As each footstep down one of the stairs, the wheel inside the system would rotate and bring out another one of the stairs for you to climb. Adjusting the difficulty and effort needed to push down a stair is done on the console. The focus of the stair climber is to put heavy emphasis on the lower body.
On the other hand, the pedal stair climber is great for activating the upper and lower body due to the handles incorporated. These mimic climbing up a wall and the steps would move up and down.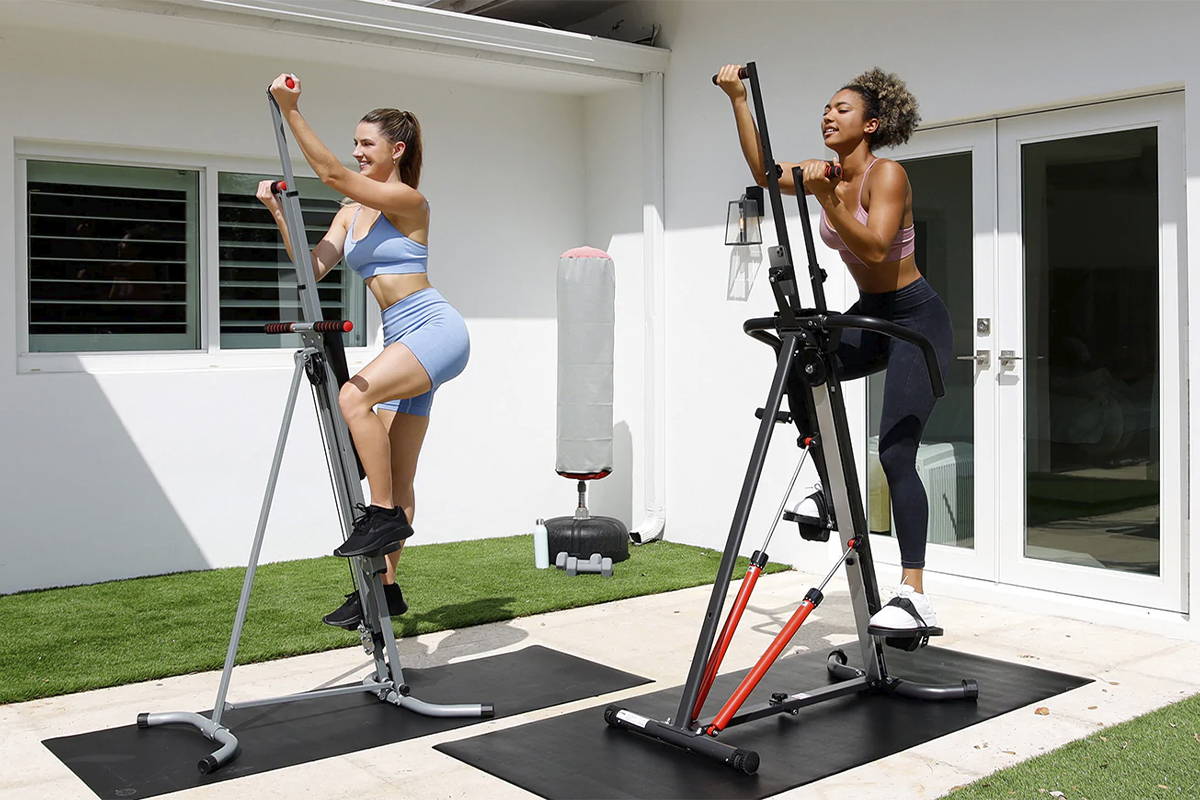 Elliptical vs Stair Climber Comparison
As a way of helping you choose the right option, we should take a few common features and compare them to one another. These are the goals that many people set for themselves before buying workout equipment. Here is how the elliptical or stair climber would compare to each other:
1. Calories Burnt Per Session
One of the main things that are important when you are doing cardio is the number of calories that you burn per session using the equipment. Whilst this is your main goal, you might also need to focus on the size you are and your body weight. These things would play a significant role when it comes to predicting the precise calories you would burn.
Harvard Health estimates that a standard person, with a weight of around 155 pounds, should be looking at burning about 324 calories every thirty minutes they spend on the elliptical. The same person would only burn around 216 calories when it comes to a stair climber, and every thirty minutes spent on the stair climber should deliver this result.
Also, your effort level will have a big impact, and the more effort you put in, or the higher you set the difficulty level for your equipment, the more calories you burn. Keep this in mind when choosing between the stair climber vs elliptical.
Winner: Elliptical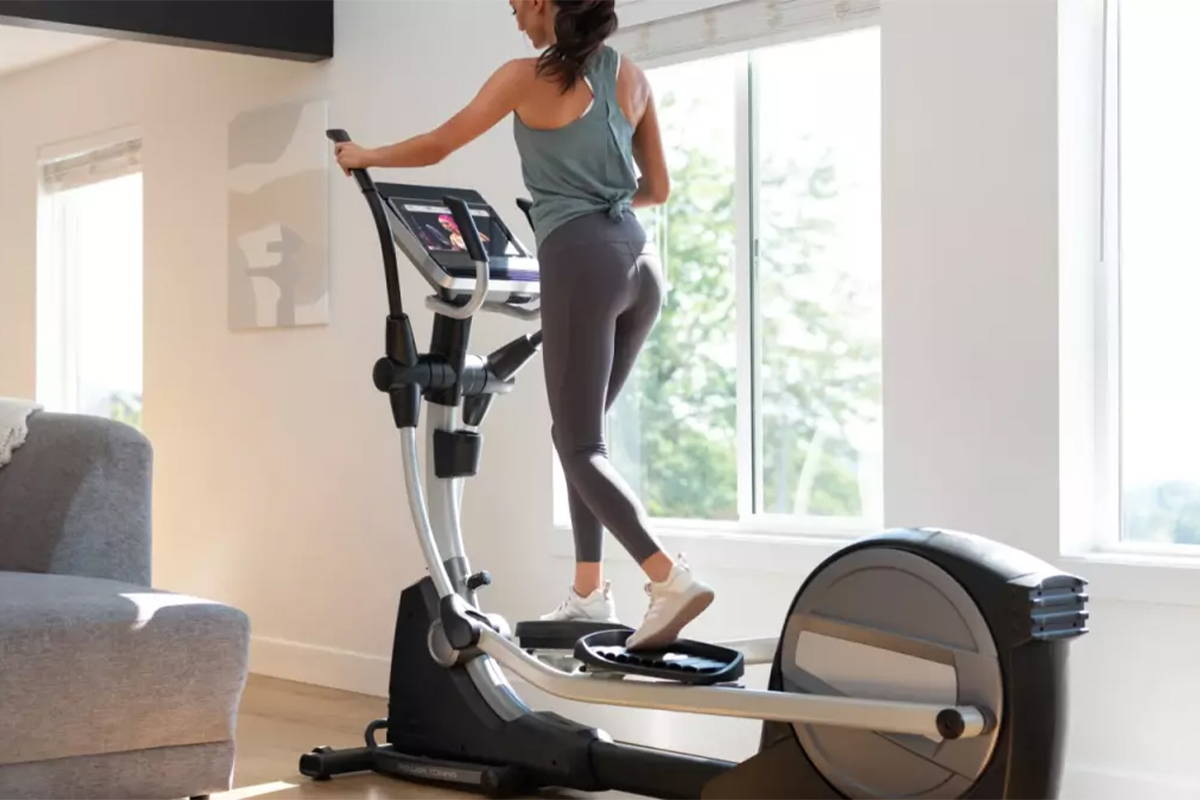 Many beginners simply do not understand where to begin. Fortunately, manufacturers have tried to make life easier, and they have focused on designing preset programs that you could readily access to make sure you can use the equipment.
Elliptical tends to have more programs that you can choose from, and these would also depend on the quality of the product you are selecting. The more valuable the elliptical you choose, the more programs it should have, which would allow you to have more versatility. It is estimated that the average elliptical should have anywhere between 5 and 10 different programs to help you.
On the other hand, your stair climber might not be as efficient. However, it would depend on the one you choose, which determines efficiency. The workout programs on your stair climber tend to be linear and most focused on the difficulty of the climbs being heavier or lower. Between the stair stepper vs elliptical, the elliptical takes an easy win.
Winner: Elliptical
Another important area that you should look into is price comparison. Unfortunately, not everyone can afford the most expensive elliptical or stair climbers that your mega workout center would have.
After considering some of the prices, you will find that both the stair climber or elliptical would have prices that vary between about $200 and $2,000 give or take a few hundred bucks. However, elliptical machines are more common on the lower end of the price spectrum, and this is what makes them effective for working out on a budget.
Keep in mind that the cheaper the cardio machine that you choose, the fewer features it would have. For instance, the cheaper options might lack some solid preset programs. The price is a good indication if you should choose the stair stepper or elliptical.
Winner: Elliptical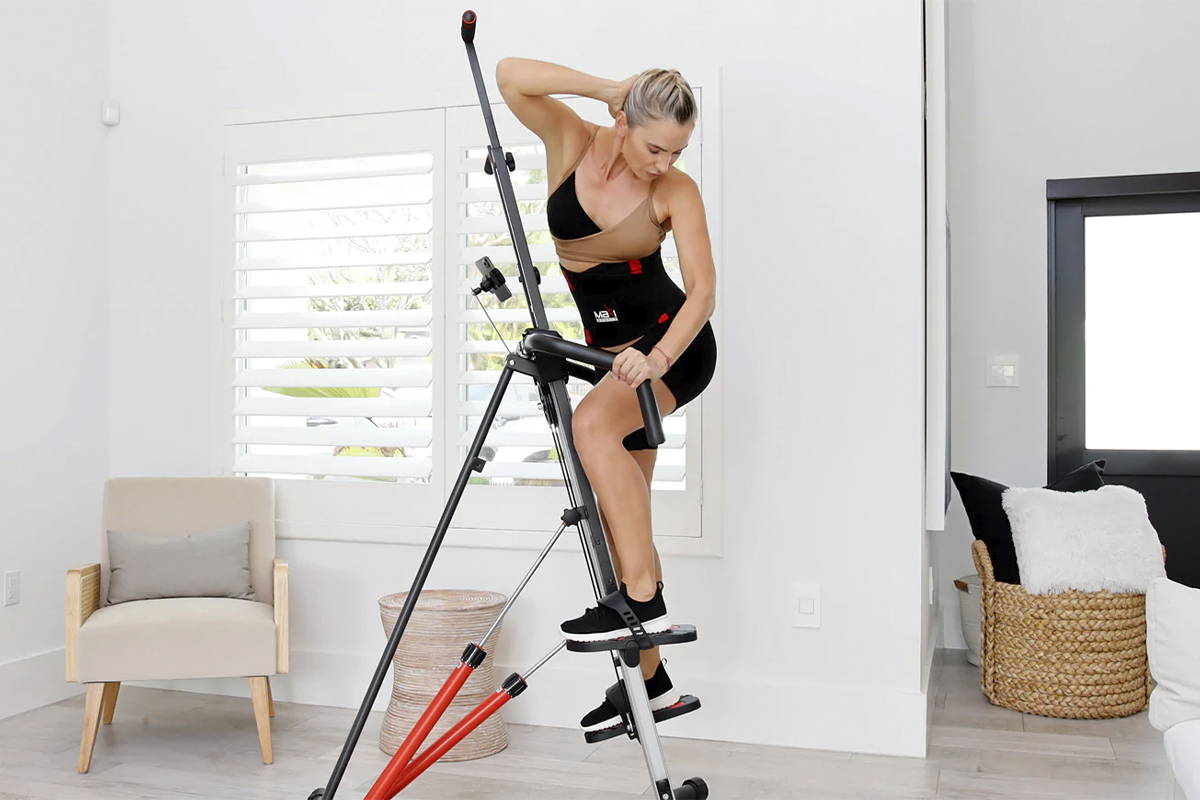 Whether you choose the elliptical or stair climber, both of these workout machines would have a profound effect when considering targeted muscles. However, the elliptical does target more muscles than your stair climber. From what we have seen, the elliptical can target muscles like the rhomboids, traps, and pectoral muscles, which cannot be targeted by the stair climber.
Depending on which stair climber you choose, it would be heavily geared towards targeting the legs (quadriceps, glutes, hamstrings, and calves). Those interested in a solid full-body workout should find that the elliptical or stair climber can be useful.
Winner: Tied
When you choose between the stair stepper or elliptical, the joints are important to keep in mind. There is a significant difference between elliptical and stepper to how they affect the joints.
As we get older, niggling issues can often pop up in our joints. Many people are struggling with joint problems in the United States, and this can often be a hindrance to exercising effectively. The stair climber symbolizes climbing stairs, and this could have the same impact on your joints as walking or climbing real stairs would have.
However, the elliptical features foot pedals, which move with the motion of your legs. This means that there would be no direct stepping or putting pressure on your specific joints. Those suffering from joint pain issues or looking to avoid future issues related to the joints would find that the elliptical is the safest option.
Winner: Elliptical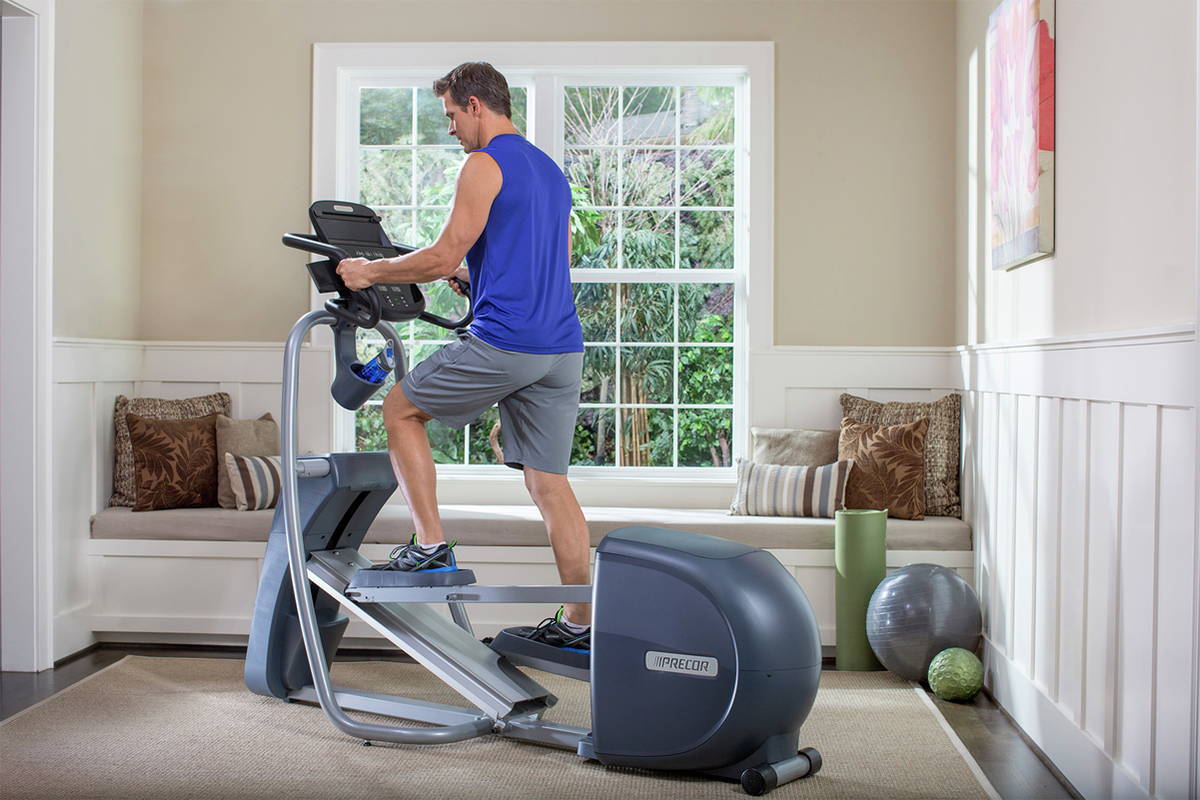 Elliptical Vs Stair Climber Summary
As I have previously mentioned, both these cardio pieces are great for burning calories and for helping you improve fitness sessions. They will both allow you to get the heart going and improve the fitness training of the individual. However, the elliptical tends to burn a few more calories for the same time and effort, and this is because it targets all the major muscle groups in the body.
To give you an even better run down of the differences between these two cardio units, we should consider looking at the pros and cons that each of them brings to the table. This would break it down into easily digestible information, which could ultimately help you to make the best decision between the two:
Pros and Cons of an Elliptical:
Offers you low-impact cardio

Does not put any strain on the joints

Burns more calories per workout than the stair climber

Offers more versatility when determining what you want to train
The movements can feel unnatural
Pros and Cons of a Stair Climber:
Movements tend to feel more natural

It is easy to get started, and you don't even need a preset program
They can be very expensive with limited low-budget options
Elliptical vs Stair Climber: When to Use Each?
When considering the elliptical or the stair climber, you will know when to use each of these items. Those not suffering from any drastic joint issues or those that want to simulate climbing stairs would find the stair climber to be the better option. Bear in mind that it does not burn the same amount of calories and could affect the joints.
Alternatively, someone looking to burn more calories in a shorter period would find that the elliptical is the better option. The elliptical creates a frictionless movement for your joints, which allows your body to move with the unit. Not only does it burn more calories, but it also provides a comfortable workout routine.
If you are interested in a stair climber or elliptical, here are two of the main products that we would recommend:
The Sunny Health & Fitness Essentials Series Elliptical Machine is a great option for beginners. It features access to the SunnyFit App, which enables users to connect their mobile devices via Bluetooth. The APP also enables beginners to make use of the expert features, which allows you to workout with experts.
It features 8 levels of magnetic resistance and a bidirectional stride feature, which gives an 11-inch stride for optimal efficiency with the workout. Finally, the transportation wheels make it great for moving around in your home and the monitor features would allow you to track your performance.
Stair Climber We Recommend
The MaxiClimber Vertical Climber is one of the most basic options and features a design, which does not include many preset programs for you to use. It arrives about 90% pre-assembled, which should spare you the effort of having to set it up, and is compatible with the MaxiClimber Fitness App.
With this unit, you can easily adjust the height, and it holds a massive 300-pound overall weight. This is a great entry-level option for those looking to lose some weight and improve overall fitness.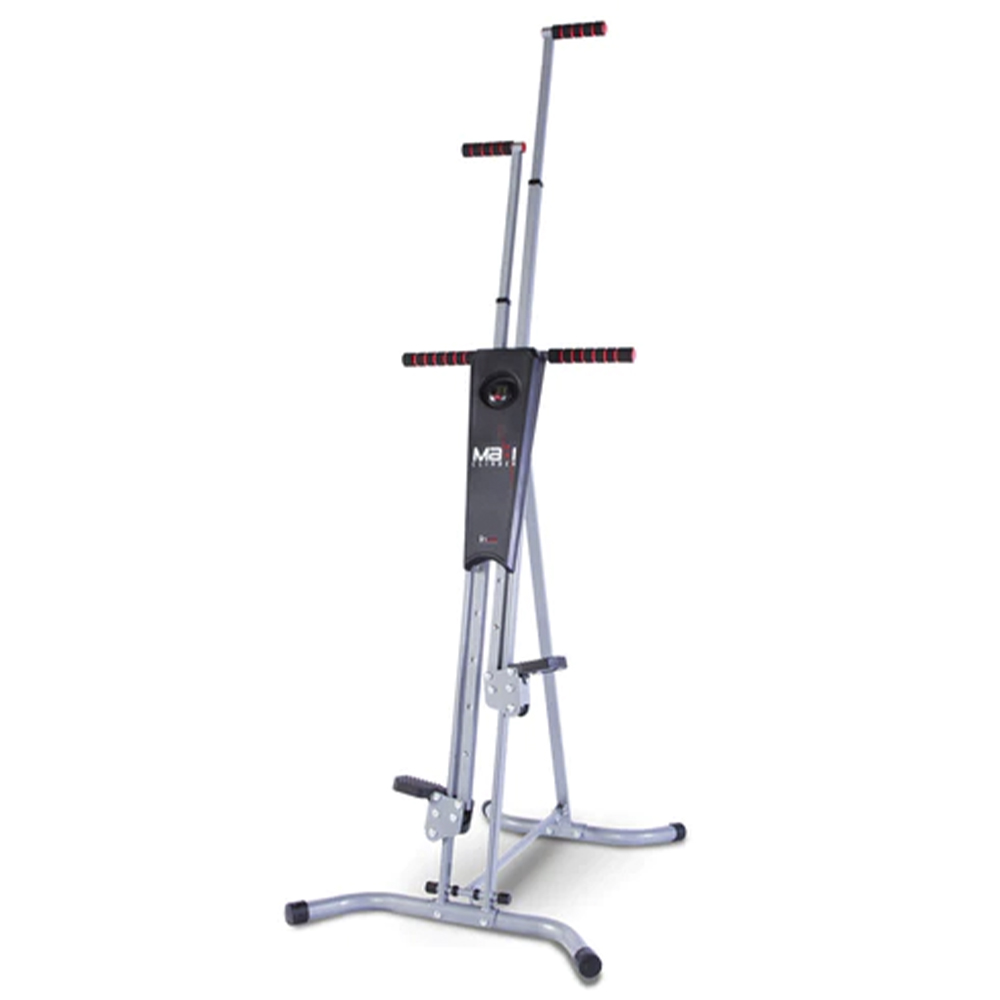 Is A Stair Climber Better Than an Elliptical?
It would depend on who you ask, and some people would swear by the stair climber, whilst others prefer the elliptical. The elliptical could have a limited effect on your joints, which could reduce the pain you might experience. The elliptical is also better in terms of price when you need a low-budget option.
Are Elliptical And Stair Climbers The Same?
No, the elliptical focuses more on a gradual motion, which helps you to move your hands and feet in a rhythm. It does not require any physical stepping, and the stepping pedals will glide forward and backward. Stair climbers simulate climbing stairs and will have a similar feeling to those that are used to climbing plenty of stairs. This could help when choosing between a vertical climber or elliptical.
Whether you want to use the stair climber or the elliptical, both of them would be effective for helping you achieve your goals. While the stair climber can be more daunting to use, it is still effective. Now that you have seen the direct comparison and some of my thoughts, I would love to read some of your comments to see which one you would choose and why?
Calories burned in 30 minutes for people of three different weights // Harvard Health Publishing: https://www.health.harvard.edu/diet-and-weight-loss/calories-burned-in-30-minutes-for-people-of-three-different-weights
Comparison of muscle activation during elliptical trainer, treadmill and bike exercise // ResearchGate: https://www.researchgate.net/publication/47369056
Movement direction impacts knee joint kinematics during elliptical exercise at varying incline angles // National Library of Medicine: https://pubmed.ncbi.nlm.nih.gov/33640619/
My name is Ihor and I have been a professional weightlifter since 1996. With over 20 years of competition experience, my resume includes European Champion in 2009 and the silver medalist at 2011's Senior World Championships –105kg division.
I competed at the 2008, 2012 and 2016 Summer Olympics.
After hanging up my own competitive lifting shoes, I decided to share my huge background as a coach. I am currently coaching multiple athletes who are competing at national and international competitions.