If you upgrade your home gym, you should choose good dumbbells. With so many dumbbells available, people often need help choosing between a regular set of dumbbells and other adjustable models. If you prefer adjustable dumbbells, you need to know how to pick the right option. Everyone is talking about Bowflex SelectTech 552 vs. 1090 adjustable dumbbells. A must-have for any home gym, they allow you to perform various lifting exercises to develop your muscles and strengthen your joints. If you set different workout goals, you need adjustable dumbbells to select many weight options and save space.
But what are the differences between these two models? What advantages and disadvantages do you need to know? We will discuss all the details in this article, so let's wait no longer.
Bowflex SelectTech 552 vs. 1090 – how to choose the right one? BothBowflex SelectTech 1090s and 552s are easy to use, take up little space, and replace many regular dumbbells. The main difference is that the 1090s top out at 90 pounds, almost 40 pounds heavier than the 552s. The 1090s start at 10 pounds and allow you to make 5-pound steps up to 90 pounds.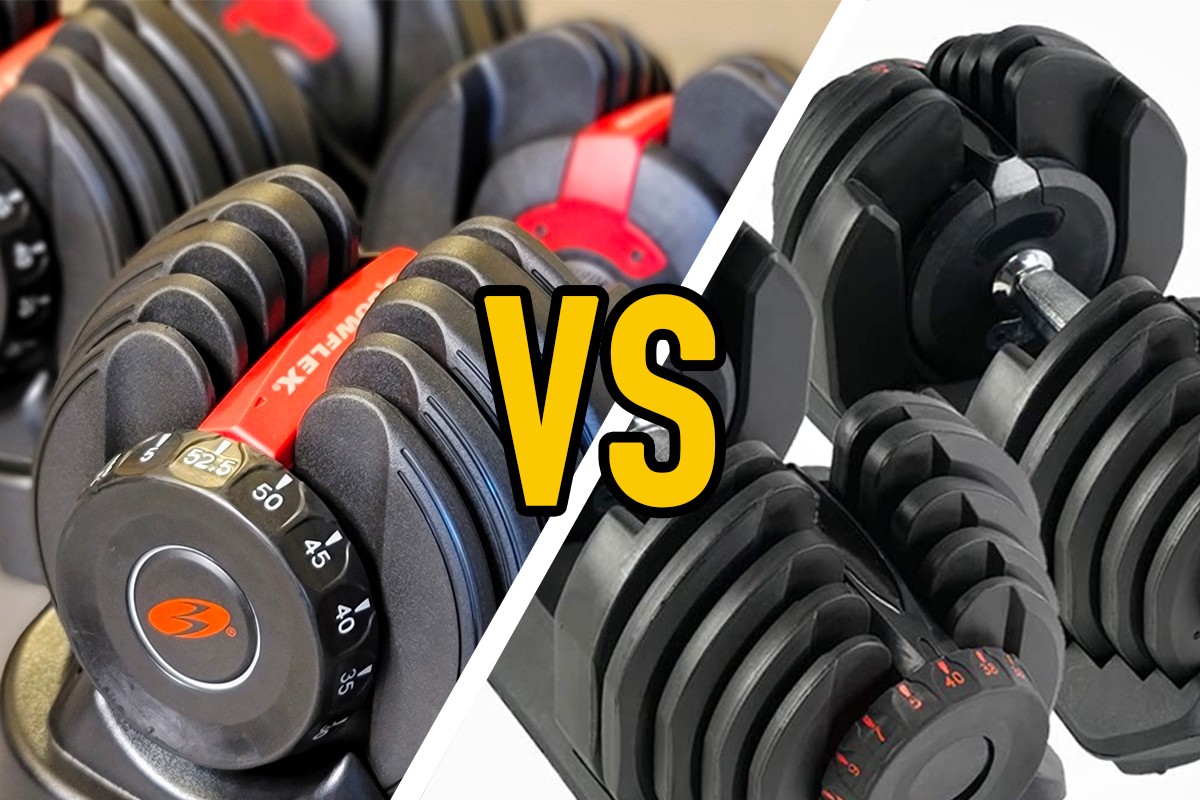 Bowflex SelectTech 552 vs. 1090 – Which One Is the Best for You?
Bowflex SelectTech 552 vs. Bowflex SelectTech 1090 is a competition of two popular models of adjustable dumbbells that will boost any home gym. These two dumbbell models are very similar but differ in total weight and weight increments (steps). They also have some differences in materials and design.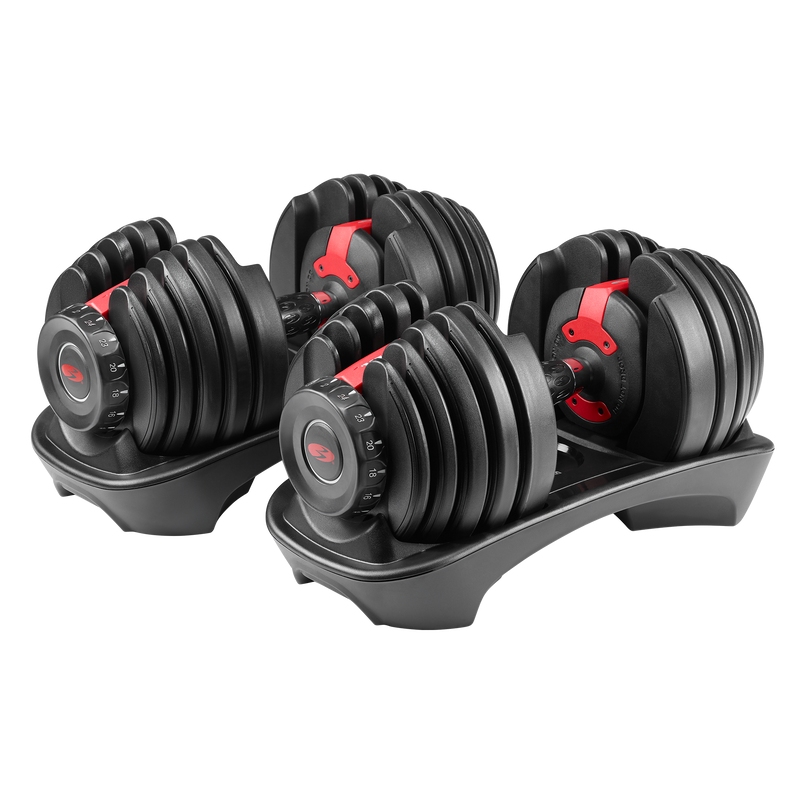 Let's discuss the main details to help you decide which model suits you best.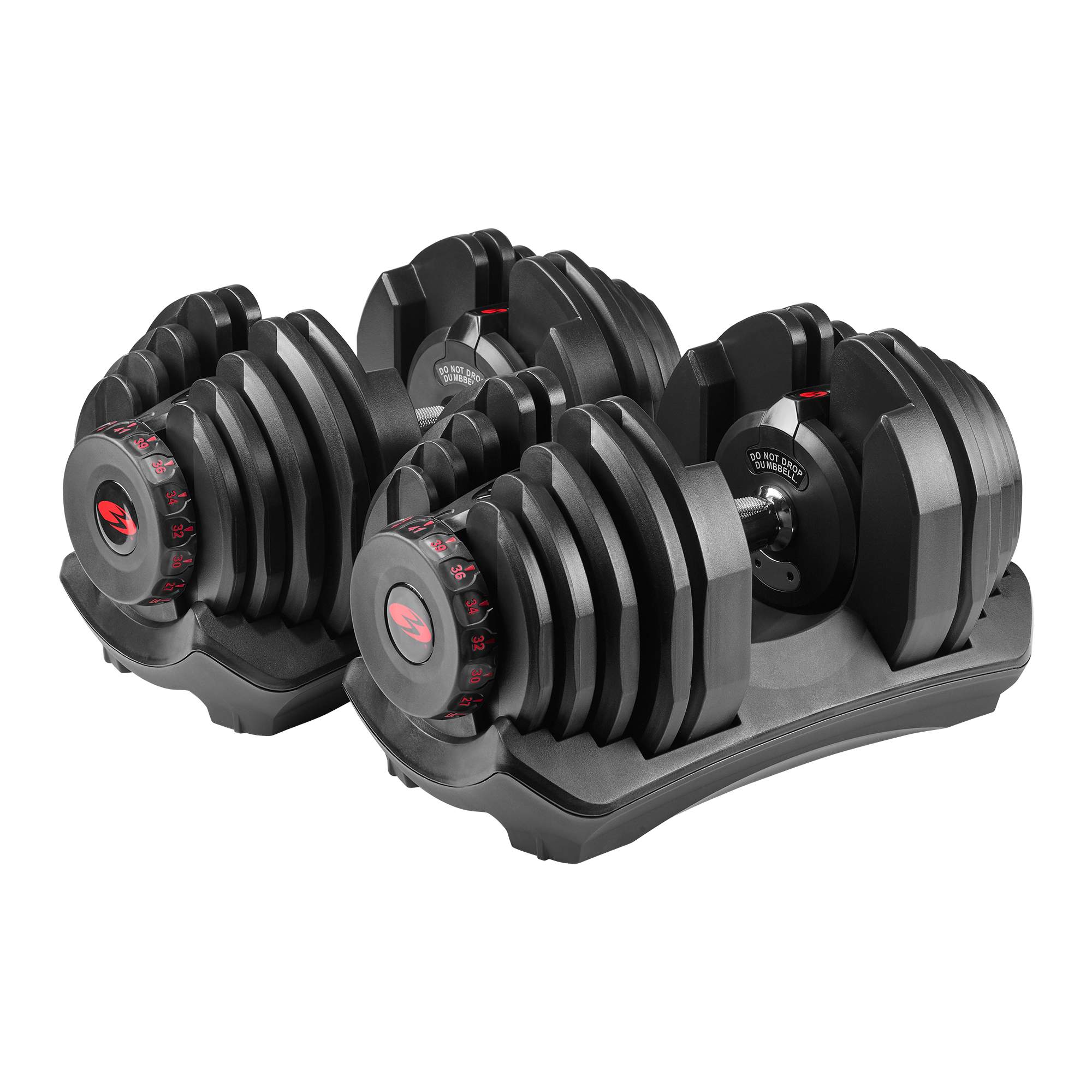 As mentioned above, the main difference between Bowflex 552 and Bowflex 1090 is the weight you can use. The 552 model has a maximum weight of 52.5 pounds and can replace 15 sets of dumbbells, while the 1090s increases that number to 90 pounds and replaces a set of 17 dumbbells.
As for the weight increments, there are also differences here. The Bowflex 552 has 2.5 lbs increments up to 25 lbs for a smooth load increase. This allows you to use dumbbells even if you are a beginner and cannot handle a powerful increase in weight.
After 25 pounds, the 552 has increments of 5 pounds to 52.5 pounds total weight (55.6 pounds with base). Here is what the weight range of the 552 looks like - 5, 7.5, 10, 12.5, 15, 17.5, 20, 22.5, 25, 30, 35, 40, 45, 50, and 52.5 lbs.
Bowflex 1090 is equipped with a larger increments mechanism. It has a minimum weight of 10 pounds and 5-pound increments to 90 total (92.3 lbs with base). This option is suitable for those who can cope with a solid increase in weight without harming the muscles. Here's what the 1090 weight range looks like - 10, 15, 20, 25, 30, 35, 40, 45, 50, 55, 60, 65, 70, 75, 80, 85, and 90 lbs.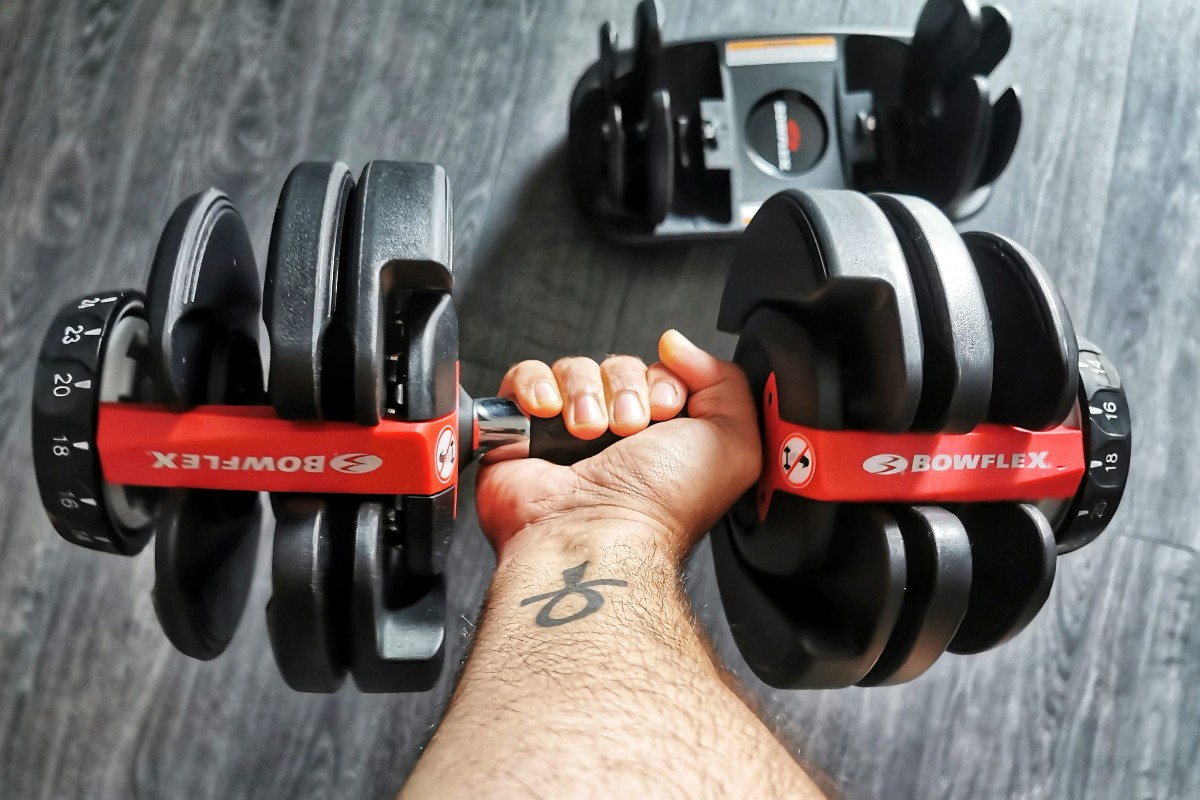 If you've ever used loadable dumbbells, you know how long it can take you to change weight. Sometimes it prevents you from maintaining the desired pace of your workout. However, Bowflex dumbbells have a reliable adjustable mechanism that makes weight changes effortless.
They allow you to adjust it in seconds, which saves a lot of time between exercises. You no longer need to load dumbbells to continue your workout.
Both the Bowflex 552 and 1090 have a handy dial mechanism that allows you to select the right weight with just one hand. Simply turn the dial to the smooth click, set it to your desired number, and continue. What could be easier?
Bowflex Selecttech dumbbells look very stylish with the red and black color combination. The Bowflex 552 has white numbers on the dial, while the 1090 SelectTech option has red numbers. These dumbbells have some handle differences that may be important to some users. The 552 model has a comfortable rubber handle that protects you from slipping and dropping the dumbbell during exercise.
The 1090 model has a classic knurled metal handle. In general, this option is also safe. However, some users note the discomfort of using a metal handle while exercising with large weights.
The 1090 model is slightly larger than the 552. It is 17.5 inches long, 9.5 inches wide, and 10 inches high, while the Bowflex 552 is 16.9 inches long x 8.3 inches wide and 9 inches high.
Both models have convenient trays for dumbbell placement and storage. If you need to move your dumbbells, you can lift them by the handles along with the storage trays. This solution allows you to save space because you no longer have to look for your dumbbells after the last set. The trays also hold parts you're not using, making changing weights easier.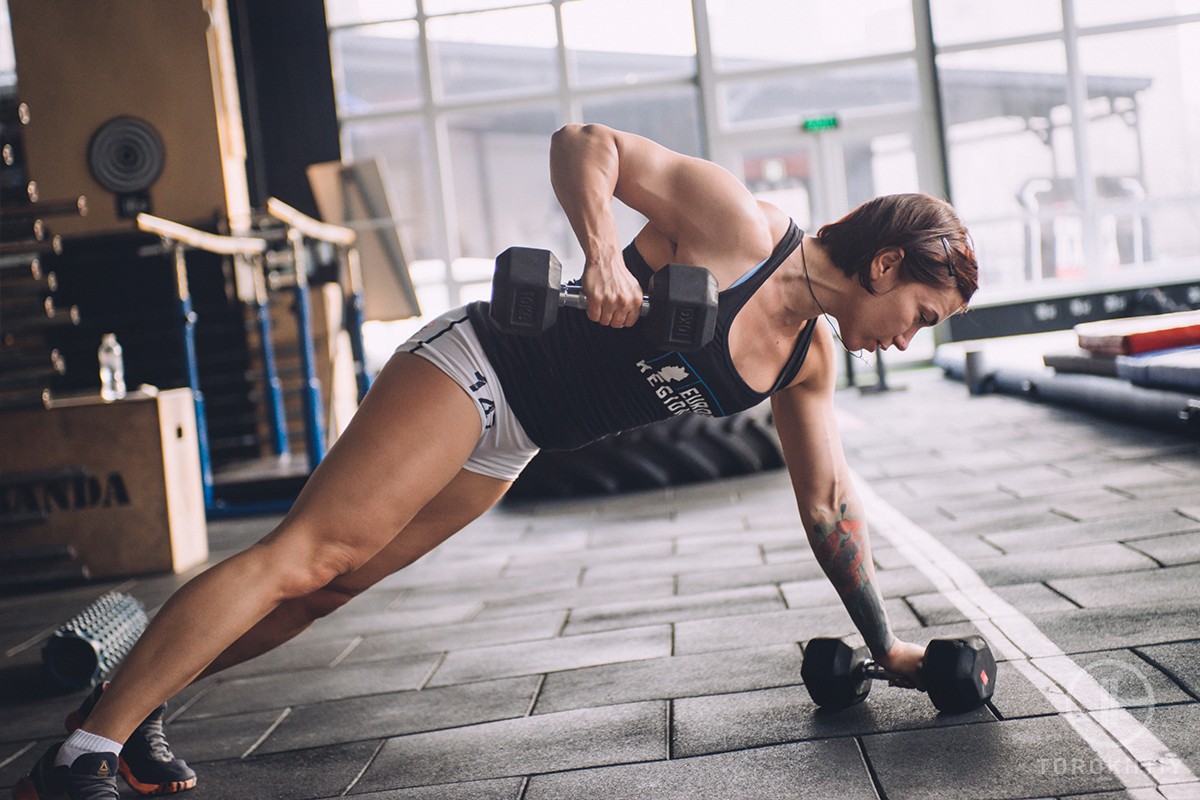 Bowflex dumbbells are made from thermoplastic rubber, steel, nylon, and ABS plastic. Both models have a plastic coating on the metal plates, helping you avoid unnecessary noise during your workout. However, the plastic coating has some drawbacks, as it is very easy to break by dropping the dumbbells or hitting them too hard during some exercises.
Working with all adjustable dumbbells has some safety rules. For example, you can't use them to do push-ups and hold your body weight, as well as you can't hit them together. These rules apply to any adjustable dumbbell, whether plastic coated or not. So if you follow them, you don't have to worry about breaking anything.
The 552 model has a plastic lock mechanism, while the 1090s is equipped with a metal one. According to some reviews, plastic locking mechanisms are short-lived and can break, but ABS plastic will last a long time if handled carefully.
What else do you need to know about these dumbbells? Whichever model you choose, you'll get a JRNY membership with access to trainer-led workouts. The app can count your reps, advise on how to complete the exercises, and encourage you to perform better. The purchase includes a one-year membership and access to a new feature - motion tracking - that allows you to track your workout using a camera in real time.
Bowflex 552 is sold as a set of two dumbbells and has a rather fair price for 15 different weight options. The 1090 model is usually sold as single and costs twice as much as 552s, equivalent to a set of 17 weight options with a maximum weight of 90 pounds. Both the Bowflex SelectTech 552 and 1090 have a warranty, but the 552 has two years, while the 1090 model has a three-year alternative.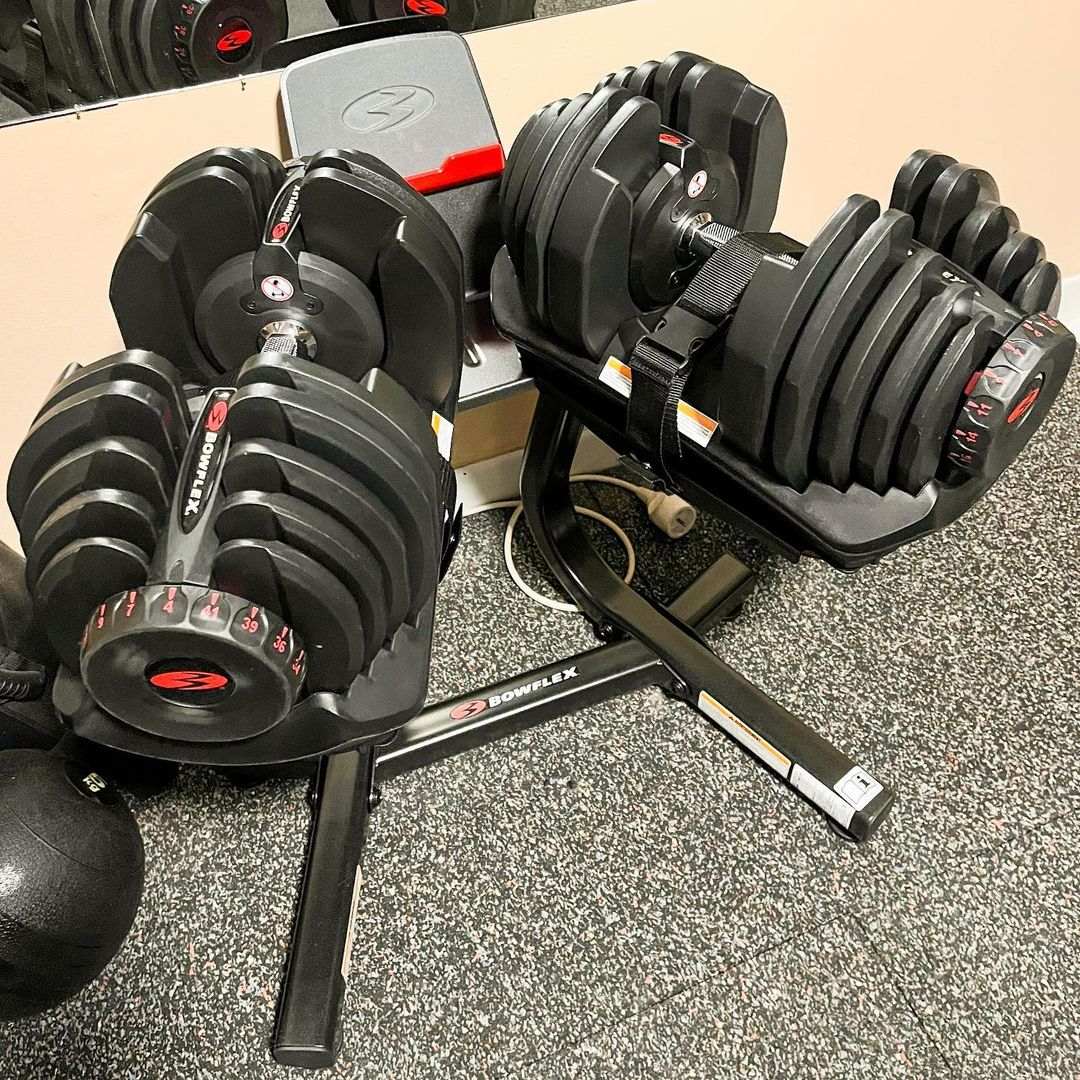 Bowflex Selecttech 552 vs. 1090 Dumbbells Summary
Let's recap and summarize the pros and cons of the Bowflex dumbbells and their advantages and disadvantages over a regular set.
Advantages of Bowflex dumbbells in comparison with a regular set of dumbbells:
Easy and fast weight change.

Take up a little space in your home gym.

Affordable price for a large weight range (15 sets of dumbbells in the 552s and 17 sets in the 1090s)

Trays for compact storage.

Warranty and 1-year JRNY membership with interactive workouts.
Cons of Bowflex dumbbells compared to a regular set:
Less durable than traditional dumbbells.

The plastic coating on metal plates may break if struck or dropped.

May be too expensive if you don't need such a wide weight range.
Now let's summarize the difference between Bowflex 1090 vs. 552:
Are Bowflex 552 Heavy Enough?
The Bowflex 552 has a maximum weight of 52.5 pounds which is enough for intense strength training if you are a beginner. This weight allows you to perform most exercises with a high load, gradually increasing it.
What is The Difference Between Bowflex 552 and 1090?
The main difference between these two models is the maximum weight of the dumbbell. The 552 model ranges from 5 to 52.5 pounds, while the 1090 model can give you 10 to 90 pounds in each dumbbell. Also, the Bowflex 552 has a smaller weight step (2.5 lbs up to 25 lbs and 5 lbs after 25 lbs), and the 1090 has 5lb increments.
Also, these two models have a slight difference in the design and materials of the handle.
Summing up, we can say that Bowflex dumbbells will perfectly complement your home gym and provide you with a variety of exercises and weight options that are ready to use. You should choose Bowflex SelectTech 552 if you are new to weightlifting, and 52.5 lbs are enough for you.
If you're looking for heavy loads, including your leg day, opt for the Bowflex SelectTech 1090 and get 17 weight combinations for any exercise.
Which model do you like best? Be the first to share your thoughts on Bowflex SelectTech 552 vs. 1090 in the comment section below!
Loading Recommendations for Muscle Strength, Hypertrophy, and Local Endurance // Sports (Basel): https://www.ncbi.nlm.nih.gov/pmc/articles/PMC7927075/

JRNY // The adaptive fitness membership that evolves with you: https://global.bowflex.com/en/jrny.html
My name is Ihor and I have been a professional weightlifter since 1996. With over 20 years of competition experience, my resume includes European Champion in 2009 and the silver medalist at 2011's Senior World Championships – 105kg division.
I competed at the 2008, 2012 and 2016 Summer Olympics.

After hanging up my own competitive lifting shoes, I decided to share my huge background as a coach. I am currently coaching multiple athletes who are competing at national and international competitions.