There are many types of exercise bikes out there, but when it comes to the top two brands, the Peloton and the Assault bikes have a strong following. If you're looking to get fit at home, we discuss the differences between Assault bike vs Peloton.
What makes the Peloton vs Assault bike different? Assault bikes utilize air resistance that increases as you pedal harder and faster. On the other hand, Peloton bikes use a manually-controlled magnetic resistance to increase the intensity of the user's workout.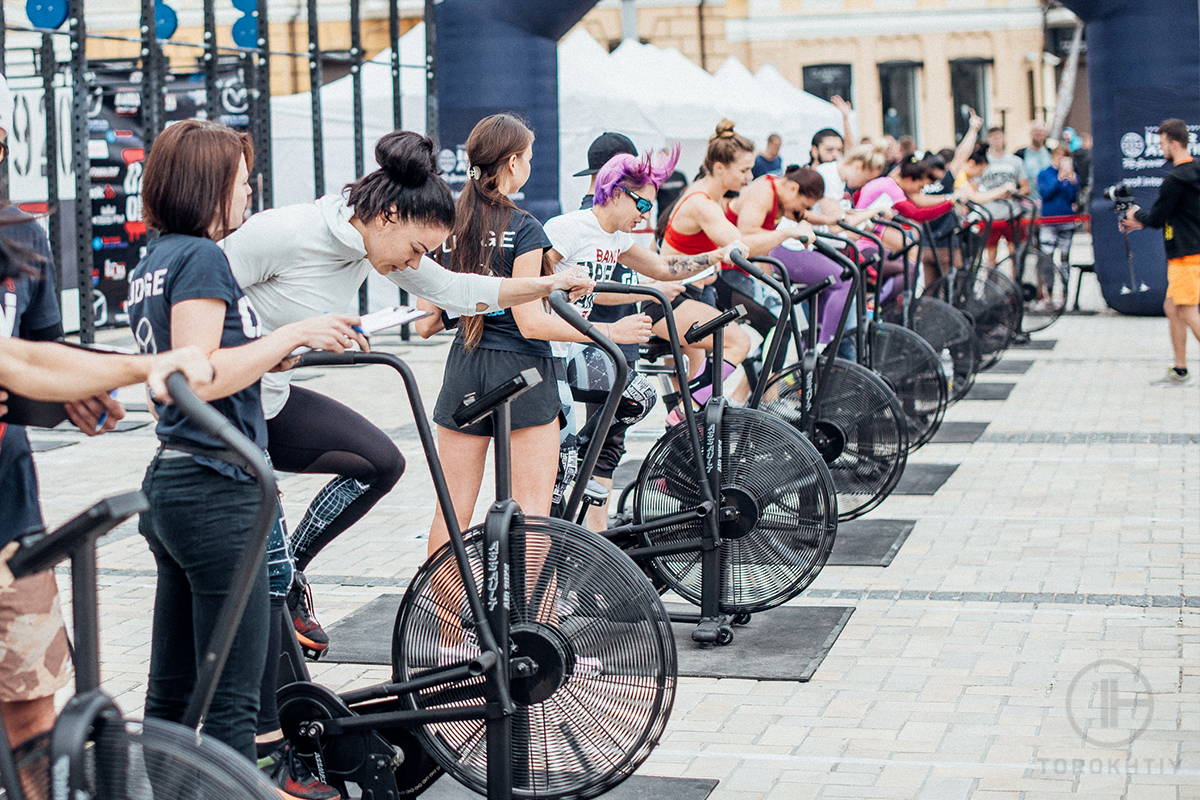 The Assault bike is a heavy-duty air bike designed and manufactured by Assault Fitness. As the term implies, it utilizes the resistance in the air as you pedal. The greater the force of your pedal, the higher the air resistance it provides. With an Assault bike, your upper body isn't left behind since it comes with push and pull handles to exercise your arms. Therefore, using an Assault bike alone can give you a full-body workout.
Air bikes, in general, are made of durable material that can support up to 350 pounds of weight. The frames are typically constructed with high-quality steel for durability and longevity; the Assault bike also comes with 20 sealed cartridges to smoothen out the whole riding experience. It is also designed to offer an unlimited amount of resistance so you can keep on progressing as much as you'd like.
Another useful feature of the Assault bike is the adjustable seat—it can be positioned horizontally or vertically. It can also be tilted to accommodate your preference, depending on what feels most comfortable for your behind. All these adjustments can be done easily without any tools because there are easy-to-use levers for quick adjustment.
Moreover, the display monitor offers a number of helpful fitness data such as distance covered during your workout session, calories burned, heart rate, time, and intervals. This way, you can easily track your performance with every ride.
Since the user is in control of the intensity, Assault bikes work great for people of varying fitness levels, weights, and ages. This is also the cardio exercise of choice for fitness events around the world.
No need for a power source

Suitable for various workout programs

Durable, sturdy, and stable frame

Provides a full-body workout

LCD display is easy to use and highly customizable
Saddle can be a bit uncomfortable and may require frequent tightening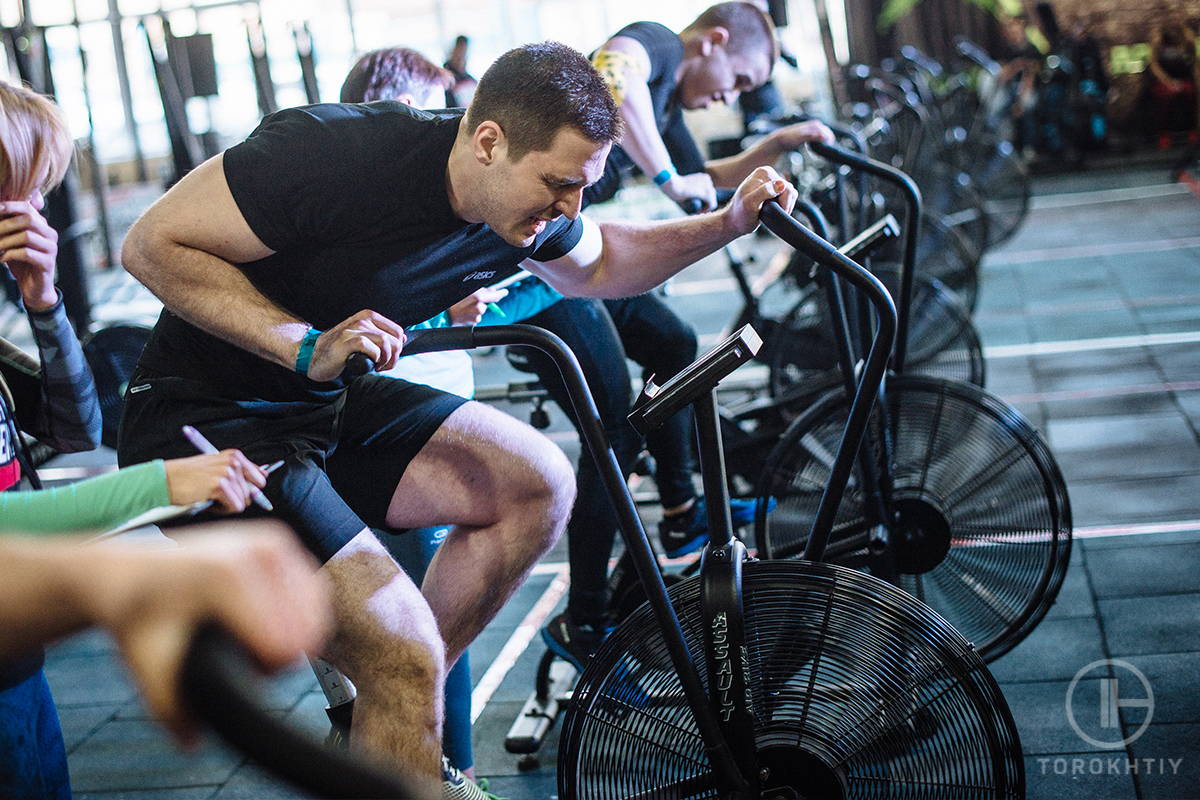 This Assault Airbike is my go-to air bike for all the good reasons. The LCD display is far from being clunky and is incredibly easy to customize. It feels sturdy and stable enough that tipping over is the least of my worries. Overall, this one's a great air bike!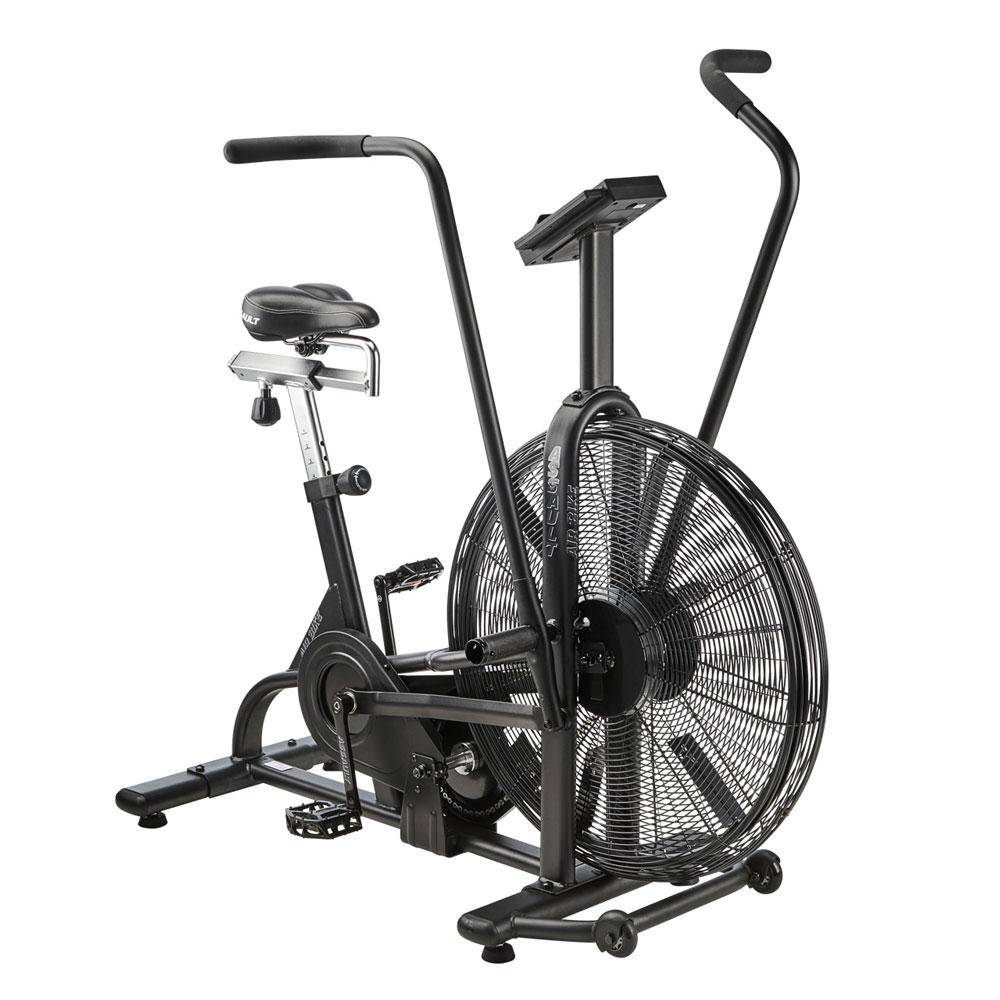 Peloton's indoor spin bike is a stationary piece of equipment designed to be used at home. The Peloton is built with a durable frame that intends to mimic the feel of a street bicycle. But rest assured that it still remains incredibly stable, so you can focus on pedaling without worrying about falling off or tipping over. It is also designed with an adjustable seat suitable for people within the 4'11" to 6'4" height range.
Peloton has an All-Access Membership which offers a comprehensive exercise app with thousands of workout videos that customers can live-stream on the large touchscreen attached to the bike. Numerous video sessions are available to all members, including everything from yoga and weight training to different cycling drills with their esteemed trainers.
You can also access tutorial videos that help you learn more about proper form and technique when on the bike. The app also allows you to ride virtually with friends—or compete against them!—throughout all class levels. Additionally, it lets you track your progress over time which is a useful feature for every fitness enthusiast out there.
The Peloton indoor bike is perfect for people who enjoy spin classes and appreciate the option to get quality ride classes in the comfort of their homes.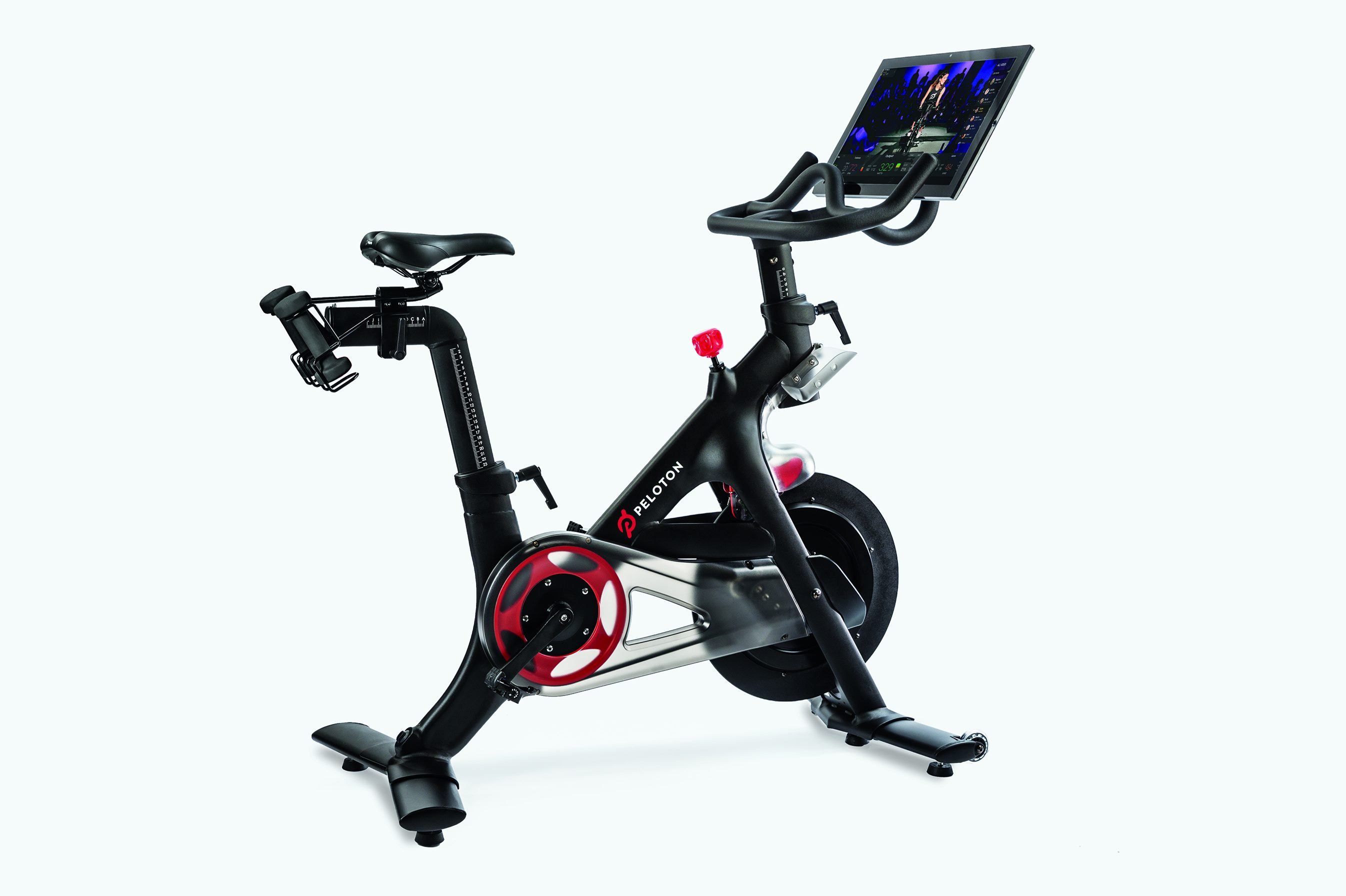 Provides a convenient way to work out at home

Offers an app with thousands of workout classes

Allows users to ride virtually with family and friends

Durable and stable indoor bike to support your rides

Easy to assemble and transport
Paid membership is required to access workout videos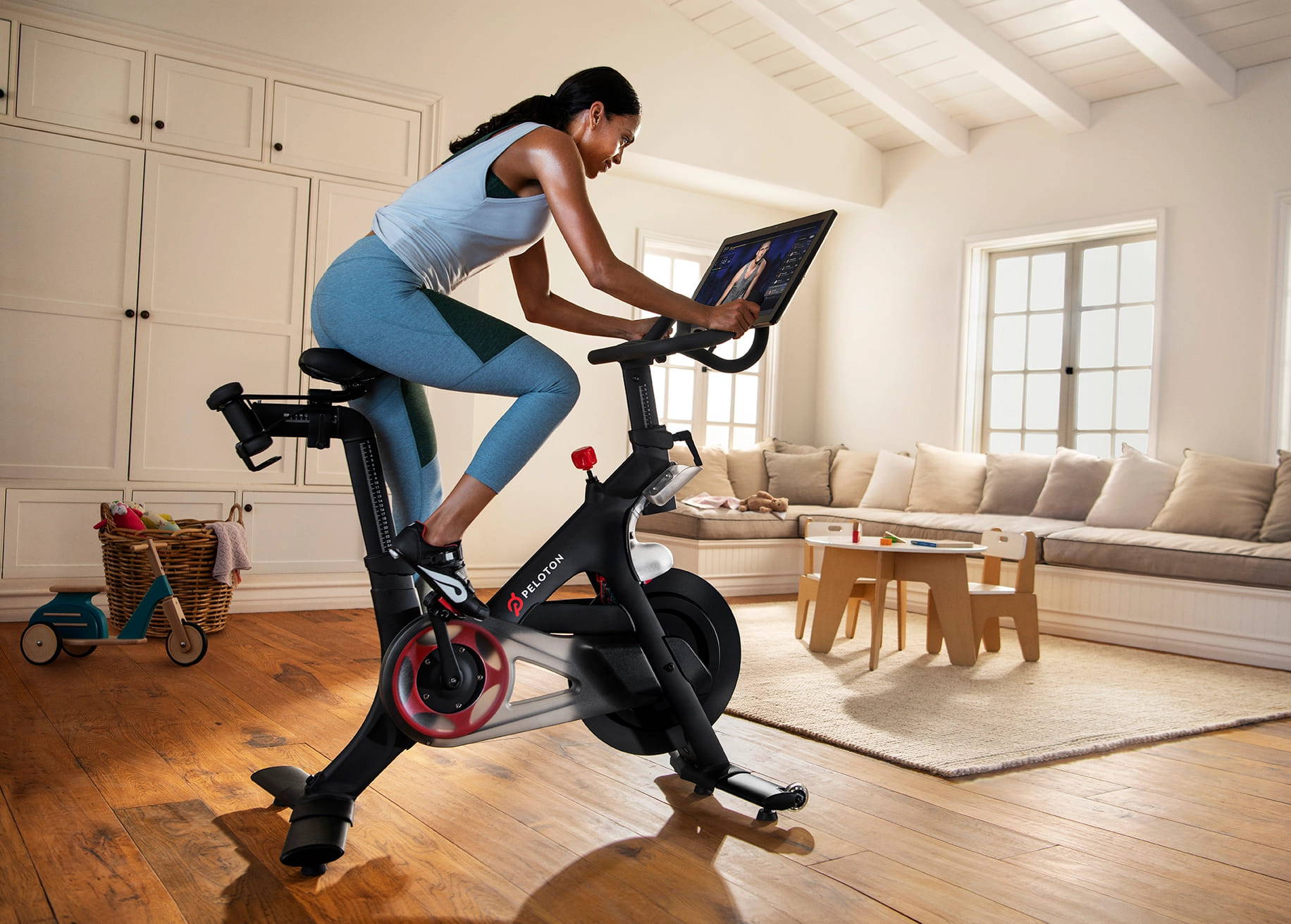 Assault bike vs Peloton Comparison
The Assault bike vs Peloton design is where the two differ most. The Assault bike comes with a wheel with fan blades while the Peloton has a magnetic flywheel.
The Assault bike's frame is constructed from lightweight aluminum and steel alloy, which keeps the bike light and portable. Despite this, you can expect an Assault Bike to be durable and sturdy. It also comes with an adjustable seat height for riders of all sizes.
The Peloton bike features a sturdy steel frame and a carbon steel build with an integrated touchscreen console. The materials used to construct this bike make it heavy and bulky. It's also designed to have an adjustable handlebar and seat for the user's convenience. Additionally, you can watch on-demand classes or play music through its speakers while working out.
The Assault bike has a square-tapered drive train with a belt drive that makes using it a bit noisy, producing about 40 to 50 dB of sound. On the other hand, the Peloton does not have a belt drive since it uses magnetic resistance. For this reason, the latter is a lot quieter to use, which can be important if you don't want to disturb anyone in your household when you work out.
Assembly and Installation
Assembling an Assault bike isn't at all complicated. It comes with an instruction manual you can use to guide you during the process. If that's not enough, there are various videos you can look into that shows how it's done.
On the other hand, the Peloton wins when it comes to convenience. While it's straightforward to put together, a technician can come to your house to do the assembly and installation for you if needed.
Assault Fitness offers a 3-year warranty on components and a 5-year warranty on the frame. Meanwhile, the Peloton comes with a 5-year warranty on the frame and a 12-month warranty on the HD screen.
The Assault bike is smaller than the Peloton, so it will take up less space in your home. The Peloton measures 59" x 23" x 53", while the Assault bike is 50.9" x 23.3" x 48.4" in dimension.
If you have limited space to work with and need a small exercise machine that can be stored away easily, then the Assault bike may be a better consideration for you.
Between this air bike vs Peloton, the Assault Bike comes at an obviously cheaper price. The Assault bike starts at $749, while a basic Peloton is priced at $1,445—that's about half the price. The main reason for this is that the Assault bike does not offer a screen and live classes like the Peloton.
Can you lose weight on an Assault bike?
Since an Assault bike is an effective calorie-burner, it can definitely support your weight loss journey. However, keep in mind that losing weight is only possible if both your physical activity and nutrition are on point.
How long do Peloton bikes last?
You can expect a Peloton bike to last many years with proper maintenance and usage. Some users who got a bike from the company when it launched in 2013 report that their bike is still working fairly well after all these years.
What is the difference between a Rogue Echo bike vs Peloton?
Much like an Assault bike, a Rogue Echo bike is another type of air resistance bike that offers a calorie-burning workout. Air bikes include push and pull handles that give the arms a good workout as well.
Meanwhile, the Peloton bike is a magnetic resistance exercise bike filled with advanced features. It is best for people who enjoy spin classes.
The Assault bike and the Peloton are great bike options in their own ways. If you like the idea of having a huge screen that shows you various exercises as you pedal, the Peloton may be your best bet. Otherwise, the Assault bike can give you just as great of a workout at a lower price point.
Any questions? Suggestions? Let us know in the comment section below!
AssaultBike Review: Which Air Bike Is Right for You? // Healthline: https://www.healthline.com/health/fitness/assault-bike
My name is Ihor and I have been a professional weightlifter since 1996. With over 20 years of competition experience, my resume includes European Champion in 2009 and the silver medalist at 2011's Senior World Championships – 105kg division.
I competed at the 2008, 2012 and 2016 Summer Olympics.
After hanging up my own competitive lifting shoes, I decided to share my huge background as a coach. I am currently coaching multiple athletes who are competing at national and international competitions.