7 Best Vegan Creatine Supplements in 2023
We made a review of the 7 best vegan creatine for you, and also added an explanation on choosing a vegan creatine supplement. You'll also learn what to look for and why creatine can be an even more powerful supplement for vegans than omnivores!
In a hurry and can't keep reading? How about you check out the Transparent Labs CREATINE HMB.
Creatine HMB from Transparent Labs is a top-rated supplement for muscle growth and prevention of muscle loss, particularly in vegans, due to its unique combination of creatine monohydrate, HMB, and vitamin D.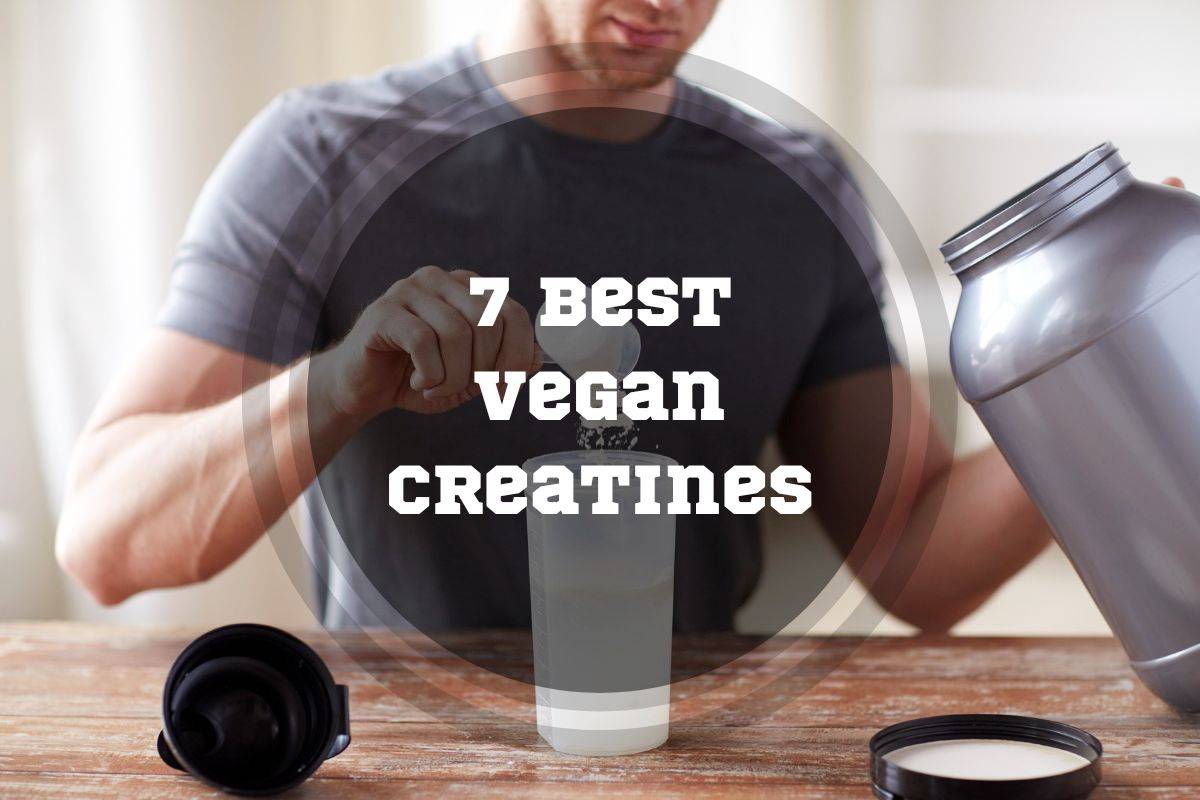 Top 7 Best Vegan Creatines Reviewed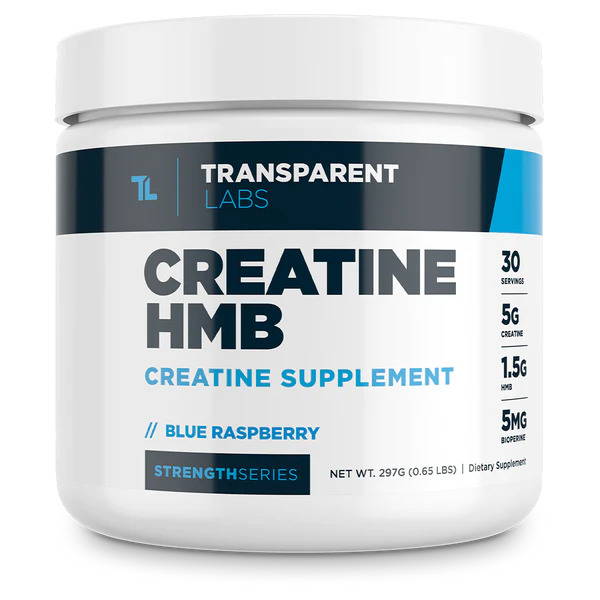 Form: Powder
Type: Monohydrate
Other Ingredients: HMB, Vitamin D

Price per Serving (for 5 g): ~$1.35
Servings per Container (for 5 g): 30 or 60 servings
Company Founded: 2015
Recommended by Athletes: Hafþór Júlíus Björnsson, Pat Li, P A U L I N A
Creatine HMB from the Transparent Labs brand contains not only creatine monohydrate, but also additional ingredients - 1.5 g of ß-hydroxy ß-methylbutyrate (HMB) and vitamin D in a dose of 50 IU. This composition makes this supplement the most interesting in our rating, because HMB is a metabolite of the most anabolic amino acid leucine, and may increase muscle protein synthesis with reducing muscle protein breakdown, especially in conditions of insufficient consumption of high-quality protein, which is of great importance for vegans. Overall it is supposed that HMB supplementation may promote muscle mass growth and prevent muscle loss.
We do not want to speculate and make loud statements, because the scientific data is still inconclusive. However, combining creatine with HMB may have potential benefits. Results from this systematic review indicates that combining creatine with ß-hydroxy ß-methylbutyrate may provide benefits in terms of strength performance and improvement of body composition that may exceed the effects of taking creatine or HMB in isolation.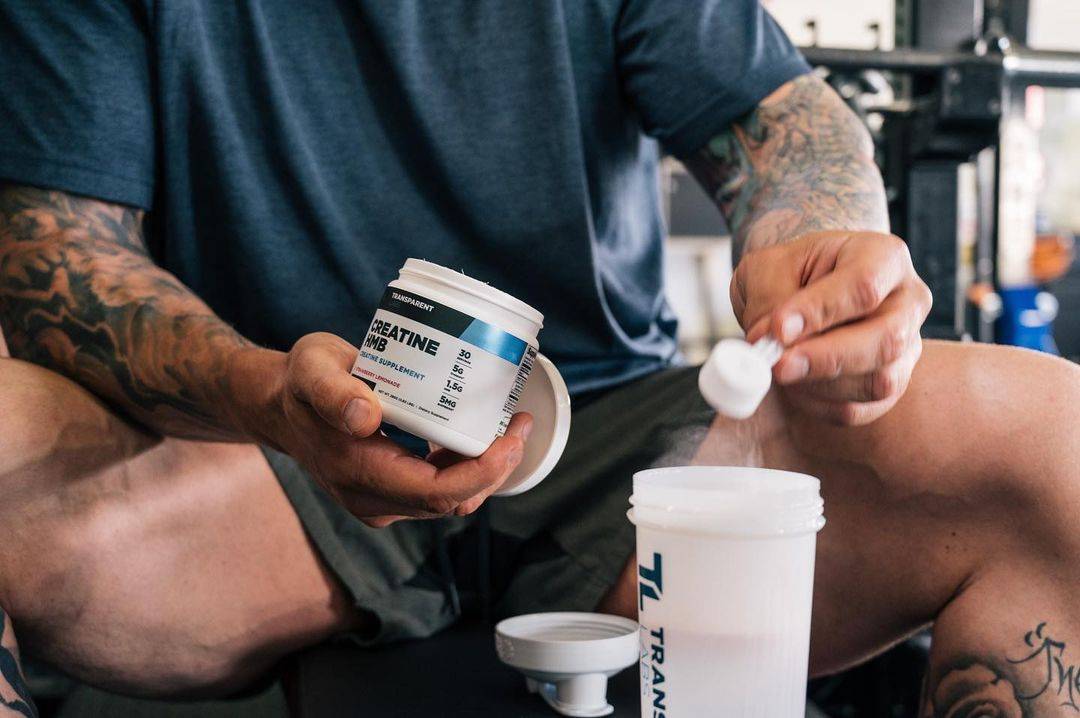 As for vitamin D, in conditions of insufficient levels, taking this vitamin in the form of a supplement may have beneficial effects on athletic performance. However, when taking a vitamin D supplement, it's important to consider factors such as the season of the year, your exposure to the sun with exposed parts of your body, your skin tone, the use of sunscreen, and of course your doctor's recommendations.
One serving of Creatine HMB contains 5 g of creatine monohydrate. Despite the relatively high cost per serving, you're getting creatine in combination with HMB, which may have additional benefits. Throw in a hefty dose of vitamin D and as many as 10 flavors to choose from and you've got a vegan creatine monohydrate with reasonable value for money (to save the budget, choose a package of 60 servings).
Transparent Labs' Creatine HMB supplement combines creatine monohydrate, HMB, and vitamin D to enhance muscle growth and prevent muscle loss, particularly for vegans, while considering important factors for vitamin D supplementation.
Nutrition Label Transparency:
9.5
Contains a combo of creatine + ß-hydroxy ß-methylbutyrate (HMB)

10 flavors + unflavored option
Highest price per serving in this ranking

The maximum number of servings in a package is only 60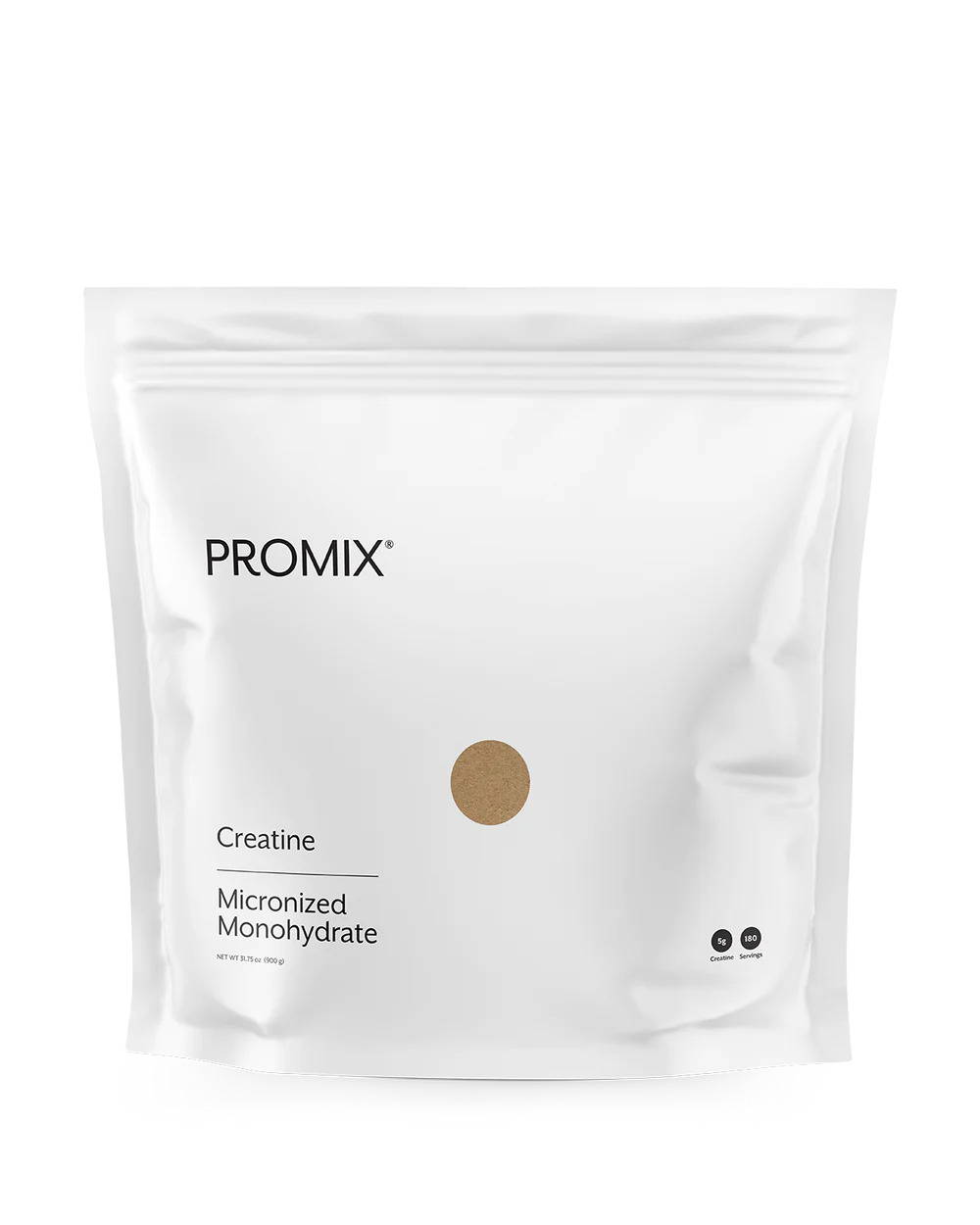 Form: Powder
Type: Monohydrate (Micronized)
Other Ingredients: None

Price per Serving (for 5 g): ~$0.33
Servings per Container (for 5 g): 180 servings
Company Founded: 2011
Recommended by Athletes: Devon M Lévesque, Kelly Matthews
The second position of our best vegan creatine rating is occupied by micronized creatine monohydrate from Promix. There is nothing extra in it - just creatine monohydrate and nothing else. The product is certified by the NSF for Sports. This means that it has been tested for unsafe levels of contaminants, prohibited substances or masking agents.
Note that this is micronized creatine monohydrate. Non-micronized creatine does not dissolve well, so part of it often remains at the bottom of the glass in the form of sediment. So after emptying the glass you may need to add liquid again, swirl and take a quick sip to make sure you have consumed all of the remaining creatine from the bottom of the glass. In this case, micronized creatine may be a better choice, although it does not have better bioavailability than non-micronized creatine.
I declare with confidence that this product has everything you really need: micronized for better solubility, certified by the NSF for Sports, large packaging and worth only $0.33 per serving. What could be better! In general, this is the best product in this rating in terms of value per serving. If it weren't for the advantage of flavors in creatine from Transparent Labs, Promix would definitely take first place!
Promix Micronized Creatine Monohydrate is a top-rated, certified pure product that dissolves easily and provides maximum value at $0.33 per serving, making it an excellent choice for anyone seeking a high-quality creatine supplement.
Nutrition Label Transparency:
10
Micronized for better solubility

Certified by NSF for Sport

Packaging for 180 servings (will last a long time)

Best overall value per serving in our ranking
Packaging with a zip lock, which not all users will appreciate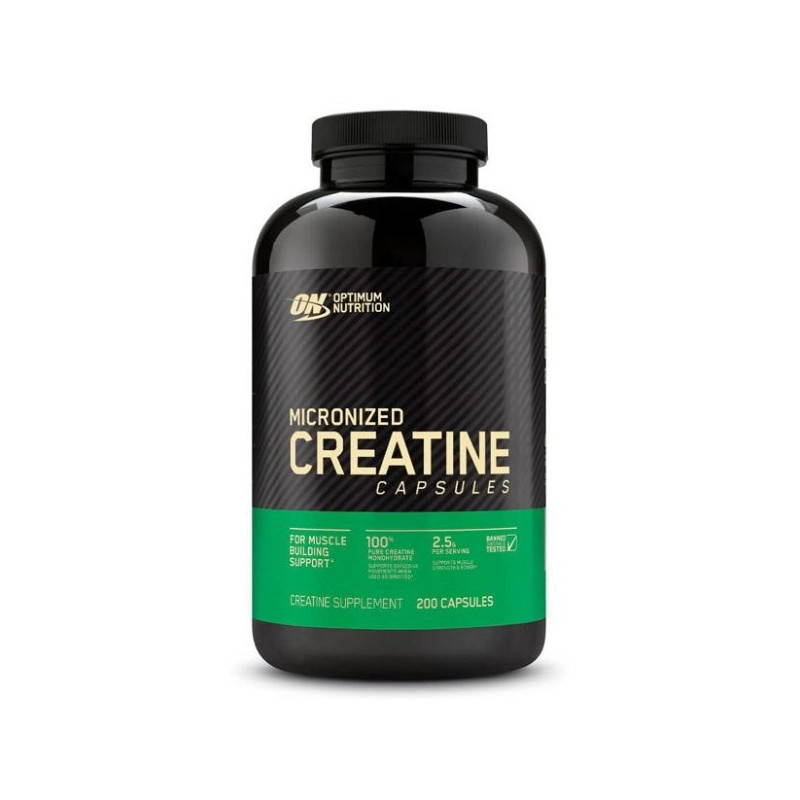 Form: Powder
Type: Monohydrate (Micronized)
Other Ingredients: None

Price per Serving (for 5 g): ~$0.55
Servings per Container (for 5 g): 60 or 120 servings
Company Founded: 1986
Recommended by Athletes: Nick Cheadle, Evan Johnson, Tom Bramwell
No rating can do without one of the most popular creatines in the world - Micronized Creatine from Optimum Nutrition brand! This creatine has long been valued among both amateurs and professional athletes.
Compared to some of the other products in this ranking, this supplement has the advantage of being third-party certified by Informed Choice. This means that it has been tested for the content of prohibited or potentially dangerous substances. Overall, this is a great product at a reasonable price per serving.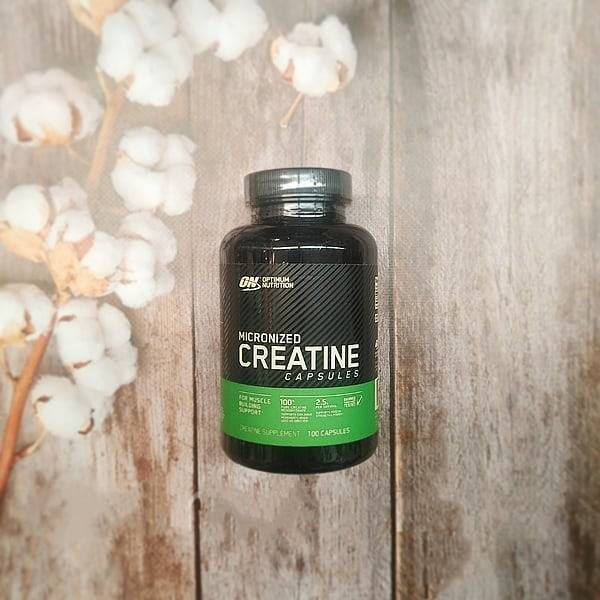 Note that this creatine is also available in capsule form. However, the capsules contain gelatin, so this product is not vegan creatine monohydrate. Only the powder form of this product is suitable for vegans!
Optimum Nutrition's Micronized Creatine is a highly popular and certified pure supplement, available in both powder and capsule form (not vegan), offering excellent value for its reasonable price per serving.
Nutrition Label Transparency:
10
Creatine with great reputation among amateurs and professional athletes

Micronized for better solubility

Certified by Informed Choice

Reasonable price per serving
Much more expensive per serving compared to the previous product

Does not contain a measuring scoop
Why Might Vegans Benefit More From Creatine Than Omnivores?
Vegetarians (especially vegans) have reduced muscle creatine stores compared to omnivores. Despite the fact that our body synthesizes ~1 g of creatine per day, this is not enough for muscle saturation, even in omnivores who consume about 1-2 g of creatine per day from the diet. Endogenous creatine synthesis and its intake from fish, red meat and poultry are still insufficient to saturate skeletal muscle with creatine, as even in omnivores creatine reserves in the muscles are filled by about 60-80%.
Given that the key dietary sources of creatine are red meat, fish and poultry, it is not surprising that vegetarians have been reported to have lower intramuscular creatine stores and therefore have more room for muscle saturation with creatine. If you're vegan (who avoids all animal products and eats only plant foods), you may have the most room to saturate your skeletal muscles with creatine. You see, plant foods are not vegan creatine sources, because this non-proteinogenic amino acid is absent in plants.
In fact, vegetarians have the largest potential for response to supplementation. Therefore, by adding creatine to diet and training regimen, they can expect to see greater improvements in such endpoints as increasing high-intensity training performance, strength, and lean mass gains than omnivores.
So if you're not already using creatine, you can significantly improve your results by adding this supplement to your plan. You can also expect additional benefits such as improved recovery after intense training, prevention of injuries and even brain neuroprotection.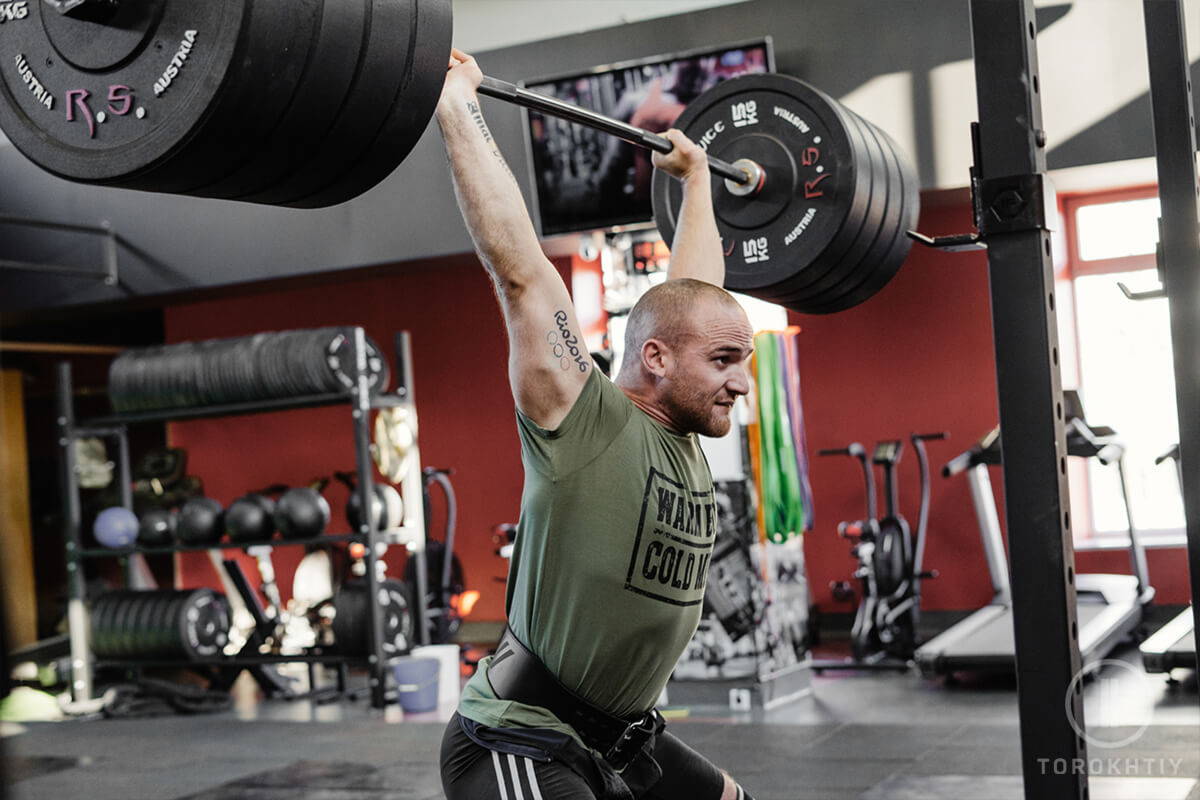 Which Form of Creatine Is the Most Studied and Safest?
As noted in the 2022 critical review by R. Kreider et al:
"Creatine Monohydrate continues to be the only source of creatine that has substantial evidence to support bioavailability, efficacy, and safety".
Some forms have some evidence to support bioavailability, efficacy and safety. Other forms have no evidence of efficacy, and for certain forms, such as Free Acid Creatine, scientific data is not provided or not available at all.
Forms with some evidence include:
Creatine HCl (creatine hydrochloride)
Creatine Nitrate
Buffered Creatine Monohydrate (KreAlkalyn®)
Creatine Ethyl Ester
Magnesium Creatine Chelate
Creatine Citrate
Creatine Pyruvate
Forms with no evidence include: Creatine Serum, Creatyl-L-Leucine, Creatine Alpha-Ketoglutarate, Creatinol-O-Phosphate, Creatine Fumarate, Creatine Tartrate, Creatine Malate, Tri-Creatine Orotate and others.
Overall, some forms from the "Some Evidence" category have comparable effects on performance, but none of them showed better efficacy than good old creatine monohydrate. Moreover, some forms, such as Creatine Serum, are not bioavailable and have no creatine-related efficacy at all. Unfortunately, this form is still available on the supplement market.
The only advantage that is most often found in the scientific literature is that some creatine salts (e.g., creatine HCL) outperform monohydrate in terms of solubility in liquid. At the same time, micronized creatine monohydrate has better solubility than non-micronized.
Also keep in mind that creatine monohydrate is the cheapest form on the market.
What to Look for When Choosing Creatine for Vegans?
To choose the best vegan creatine supplement, you need to pay attention to some details, one of which is of key importance for vegans.
Key Consideration: Powder vs Capsule
Have you ever wondered: "Is creatine vegetarian friendly"? In general, the powder form is suitable for vegans, because it is chemically synthesized from sarcosine and cyanamide, which does not contain any animal by-products. However, in the description of some products there is a disclaimer that the supplement was processed in a facility that also processes products of animal origin. Therefore, it is not superfluous to additionally study the information even for the powder form.
As for the capsule form, it depends on whether the capsule contains gelatin, as gelatin capsules are typically of animal origin. In addition, capsules sometimes contain magnesium stearate, which historically was made from rendered animal fat, but can now be made from plant-based products. On the other hand, some brands use cellulose or other components of plant origin for the production of capsules. Such products can be considered plant-based creatine and suitable for vegans.
In general, it is better to study a specific product a little. Sometimes the mark "vegan" is indicated on the package, and sometimes this information is displayed on the manufacturer's website, for example, in the FAQ category.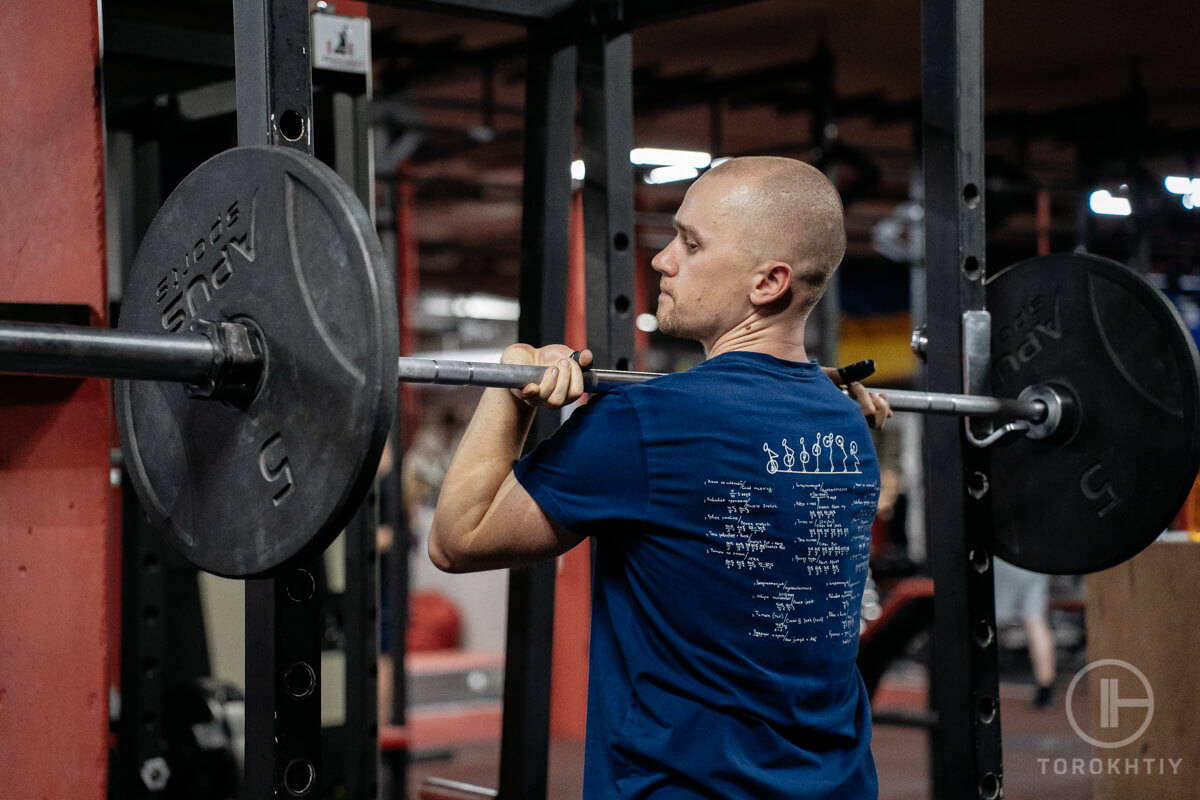 Creatine Form and Third Party Testing
No form is better than monohydrate, and if you want a more soluble powder that does not settle in a thick layer on the bottom or on the walls of the glass, give preference to micronized creatine monohydrate.
Although creatine is usually a one-component supplement and contains nothing but creatine itself, third-party testing still minimizes the risks of purchasing a product that may contain banned substances or higher than permitted concentrations of contaminants. This is important both for those who care about minimizing their health risks and especially for professional athletes who pass doping control before competitions.
Informed Choice / Sports, as well as NSF for Sports and Banned Substances Control Group (BSCG) are internationally recognized third party testing organizations.
Number of Servings per Package
For convenience, it's best to buy a larger serving pack, especially if you are using a loading phase or are a larger athlete, who may need 5-10 g of creatine to maintain high creatine stores.
By buying a larger package, you will be able to provide yourself with creatine for several months ahead.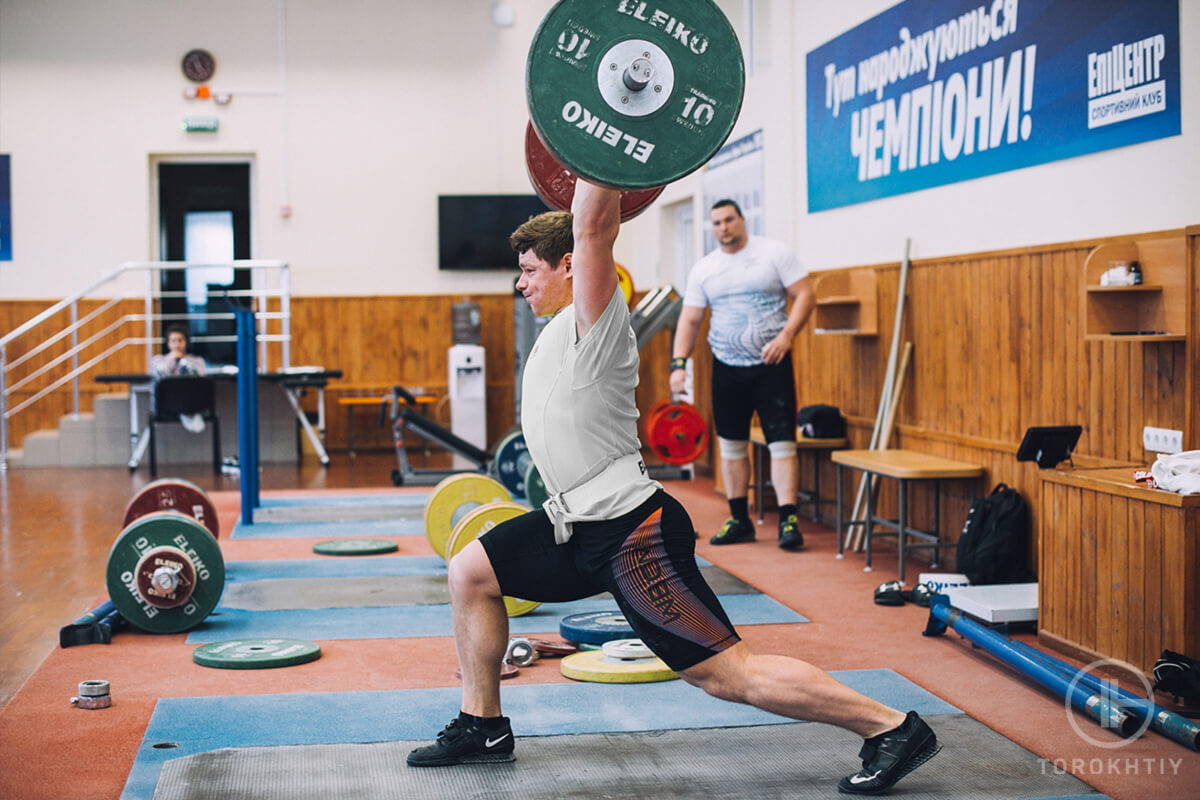 After you have made sure that you have a powder form or a capsule form of plant based creatine, choose the product that has the lowest price per serving. Ideally, the product should be tested for purity and absence of banned substances, and also be micronized for better mixing in the liquid.
Is Vegan Creatine Effective?
There really is no such thing as "vegan creatine", because it is synthesized chemically from substrates of non-animal origin. You just need to pay attention to the components used for the capsule forms of this supplement. And if you choose a powder form, see if it has not been processed in facilities that process products of animal origin.
Do Vegan Bodybuilders Use Creatine?
Of course, and as it was said before, vegans have an even greater potential to benefit from creatine than omnivores.
Is a Water Rower Better Than a Magnetic One?
Despite the pros and cons of each rowing machine, the assessment may occur quite relatable. Unlike the water rower, a magnetic-resistant machine can't provide you with such a real water rowing and natural feel of water pressure. It's electric-powered and provides you with a consistent resistance level you set at the beginning of the workout. A big advantage of a water rowing machine is its ability to provide athletes with the combination of natural resistance and their personal output, so they can control the tension level during the rowing session.
Vegans can benefit from taking creatine, and these benefits can be even greater than omnivores. In order for the muscles to be saturated with creatine and you can improve your intensive training performance, as well as increase strength and lean muscle mass, we recommend creatine monohydrate.
When choosing the best plant based creatine, look at the components beside creatine (plant vs animal-based components), form (monohydrate is best), whether it is micronized (for good solubility), and whether it has been third-party tested. Each of these points is perfectly matched by creatine from Promix (and it is also one of the cheapest in this rating), so this is my personal favorite in this ranking.
If you want to try the combination of creatine with HMB and get an additional dose of vitamin D (including it in the total daily intake), then pay attention to Creatine HMB from the Transparent Labs, which is the leader in the number of total points scored.
Which product from this rating do you like the most? It is very interesting to know your opinion in the comments!
Benefits and risks of using supplements and sports foods // AIS: https://www.ais.gov.au/nutrition/ supplements/group_c



Effect of the Combination of Creatine Monohydrate Plus HMB Supplementation on Sports Performance, Body Composition, Markers of Muscle Damage and Hormone Status: A Systematic Review // NIH: https://www.ncbi.nlm.nih.gov/ pmc/articles/PMC6835217/
Bioavailability, Efficacy, Safety, and Regulatory Status of Creatine and Related Compounds: A Critical Review // NIH: https://www.ncbi.nlm.nih.gov/ pmc/articles/PMC8912867/
International Society of Sports Nutrition position stand: safety and efficacy of creatine supplementation in exercise, sport, and medicine // BMC: https://jissn.biomedcentral.com/ articles/10.1186/s12970-017-0173-z
Ais sports supplement framework creatine monohydrate // AIC: https://www.ais.gov.au/__data/assets/ pdf_file/0007/1000501/ Sport-supplement-fact-sheets-Creatine-v4.pdf
Important roles of dietary taurine, creatine, carnosine, anserine and 4-hydroxyproline in human nutrition and health // Springer: https://link.springer.com/article/ 10.1007/s00726-020-02823-6
Bioavailability, Efficacy, Safety, and Regulatory Status of Creatine and Related Compounds: A Critical Review // MDPI: https://www.mdpi.com/ 2072-6643/14/5/1035
Analysis of the efficacy, safety, and cost of alternative forms of creatine available for purchase on Amazon.com: are label claims supported by science? // ScienceDirect: https://www.sciencedirect.com /science/article/pii/ S2405844022034016
 Are your capsules vegetarian or nonvegetarian: An ethical and scientific justification // NIH: https://www.ncbi.nlm.nih.gov /pmc/articles/PMC5830853/
Why can't all drugs be vegetarian? // BMJ:  https://www.bmj.com/bmj/ section-pdf/752705?path=/bmj/348/7944/ Analysis.full.pdf
Oleksandr has a master's degree in "Sport Dietetics" and graduated from the National University of Physical Education and Sports of Ukraine. He is also a Certified Fitness Nutritionist and Sports Nutritionist from the Fitness Professional Association (FPA). His professional concept is based on a combination of evidence-based practice and common sense.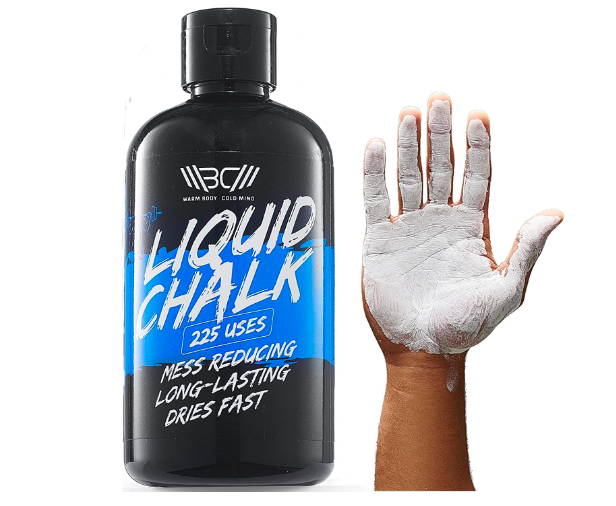 ---