The best resistance band handles need to be comfortable, reliable, easy to grip, and well-priced. Resistance bands are widely used in the health and fitness world for a wide variety of upper and lower body exercises, whether you're at work or moving around.
Resistance bands come with various handle types or as a continuous loop which changes the suitable exercise choices. The addition of handles for resistance bands that don't feature them can increase the number of exercises you can perform safely by protecting your wrist and hand joints from bending at unnatural angles.
To help you pick the right handles, I've done the hard work and methodically reviewed them down below. Let's take a look.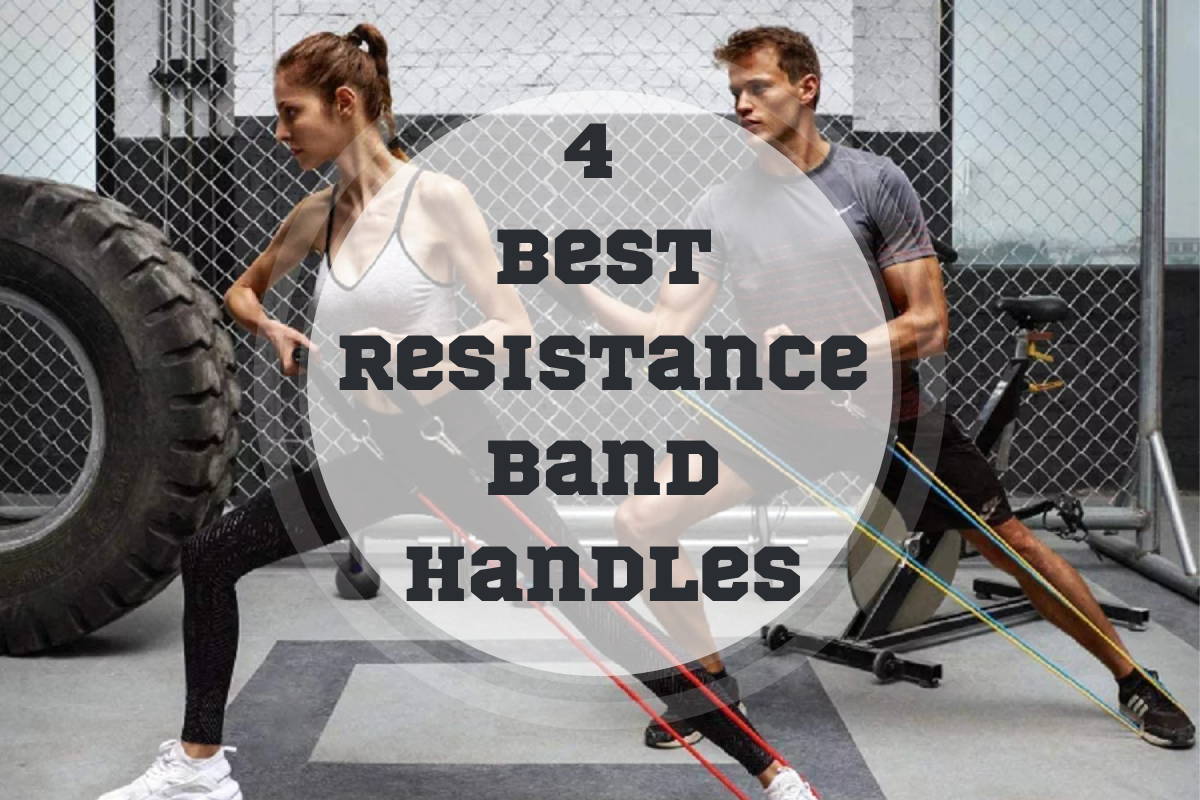 Top 4 Best Resistance Band Handles Reviewed
The table below shows my top 4 exercise band handles that I've ranked according to comfort, grip, reliability, price, and quality.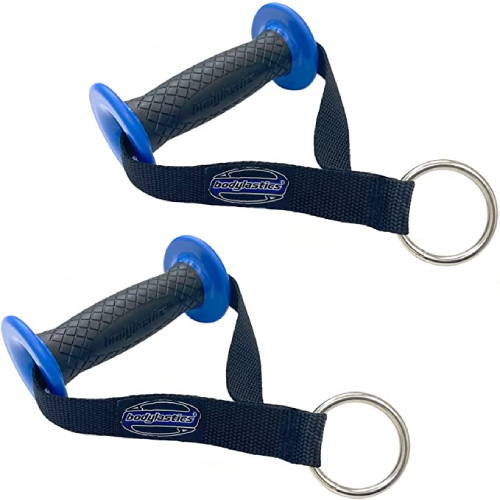 Founded in 1998, BodyLastics aims to help people look better and feel better by manufacturing new, exciting products such as stackable bands used for muscle building. They also sell curl bars, band sets, and band accessories such as handles.
Material

: Nylon, Plastic, Rubber



Weight: 0.2 kg (Package)
Color: Black, Blue
Features:

ABS Core

/ TPR Grip /

Welded O-Rings
The BodyLastics Resistance Exercise Band Handles have been constructed with durability and comfort in mind. They are made from nylon webbing that's attached to durable metal welded O-Rings to provide easy attachment to different types of resistance bands.
The TPR rubber grip features a waffle pattern that's designed to be sweat-resistant, keeping your hands dry and your grip secure. It's made of sturdy ABS plastic with an extra wide side flange to prevent your hands from touching the nylon webbing during use.

The resistance band handles are designed for all hand sizes and come in a black/blue color with the BodyLastics branding on the side. Overall, the BodyLastics handles feature premium design materials and are my top pick handle choice.
The BodyLastics Resistance Exercise Band Handles have been constructed with durability and comfort in mind.
TPR waffle pattern is sweat resistant, providing a stronger grip

Extra wide flange to prevent contact between hands and nylon webbing

Handle made of sturdy ABS plastic
Some included carabiners would be a good package option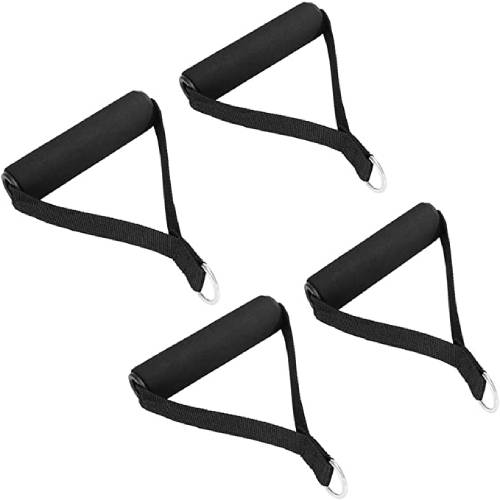 Cicife manufactures top-quality exercise accessories for bodybuilders and gym enthusiasts, including the resistance band handles I've reviewed below.
Material: Nylon, Natural Rubber, Acrylonitrile Butadiene Styrene

Weight: 75 grams
Color: Black
Features:

Large Metal O-Rings /

Foam Handle Cover
The Cicife Resistance Band Handles are a close runner-up, featuring nylon webbing that's attached to large metal galvanized O-Rings that can handle up to 150 kgs of resistance.
The industrial ABS plastic handles have been nicely finished with high-density foam handles, perfect for people who don't like rubber or prefer a softer handle grip. The foam handles are slip-proof and can absorb sweat from high-intensity workouts. Each lightweight handle weighs 75 grams, measures 12.5 cm from side to side, and comes in black.
Overall, the Cicife Resistance Band Handles are well constructed and provide a great handle option for people who prefer a softer foam material.
High-density soft foam handle

Lightweight handle design at 75 grams

Large metal O-Rings hold up to 150 kg
Plain black design is a little plain for some people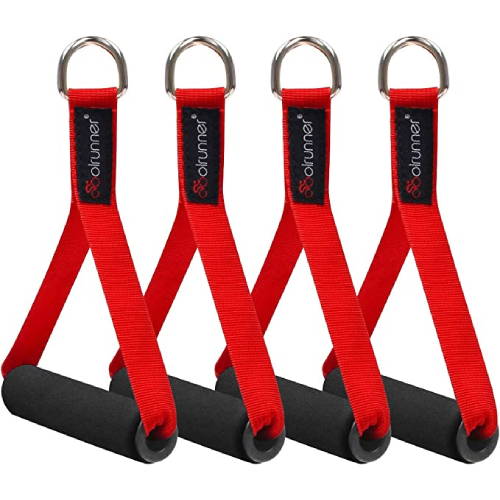 CoolRunner produces a wide range of fitness products and vehicle accessories which mainly include durable grips designed to be functional and durable.
Material: Nylon, Acrylonitrile Butadiene Styrene
Weight: 0.16 kgs (Package weight)
Color: Red, Blue
Features:

Wide Handle Design /

Thick Nylon Webbing
The resistance band handles from CoolRunner offer an excellent budget-friendly handle choice and come as a 4 piece set, providing an excellent option for people who own multiple resistance bands.
They are designed with thick nylon webbing that's attached to D-Rings, helping to keep the carabiner and attached resistance band in place.
The ABS plastic handles are finished with soft foam padding that's non-slip and wider than normal handle designs to cater to different hand sizes. The CoolRunner handles come as a set of 4 in red or blue with a black foam handle with the brand logo on the sides.
Overall, the CoolRunner handles are a good option for people with multiple resistance bands and feature metal D-Rings that help to keep the bands secure.
Solid metal D-Rings to keep the bands secure

4-piece set provides multiple handle options for different band workouts

Budget-friendly resistance band handle option
The wide handle design has been reported to still be too small for some hand sizes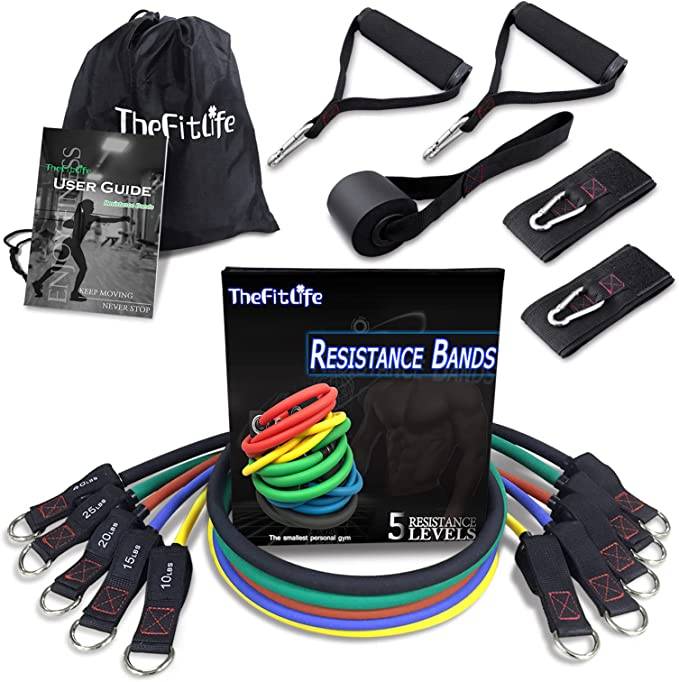 TheFitLife looks to provide solutions for athletes looking for durable, compact, lightweight products. They mainly manufacture fitness, sport, and outdoor products.
Material: Nylon
Weight: 1.25 lbs (Handles and cables)
Color: Black
Features:

Eco-friendly Foam Handle /

Reinforced D-buckle
TheFitLife Exercise Resistance Bands come with multiple different band accessories, offering a fantastic package choice for people looking for a complete band set. Each package includes band handles, ankle straps, resistance tubes, and a door anchor attachment that comes with a convenient carry bag to store them all in.
The handles are constructed with nylon webbing with reinforced stitching around the nylon carabiner inserts. The carabiner and handle buckle design allows bands to be stacked from 10-110 lbs, giving you a wide range of exercise choices with one pair of handles. Each resistance band handle is encased in soft, eco-friendly foam that's odor free and skid-resistant.
Overall, TheFitLife Exercise Resistance Band Handles are designed with durable material and reinforced stitching and come as part of a resistance band set with a handy carry bag.
Excellent resistance band package set

Durable reinforced stitching around the D-Ring area

Multiple stackable band options onto the handle
Only 1 plain black handle color choice with no branding
What Are the Benefits of Resistance Band Handles?
Due to the more natural hand and wrist position when using handles, they are much more comfortable to use compared to gripping bands. This allows you to focus more on the exercise technique rather than the comfort of your hands.
Most resistance band handles are designed using textured grip technology that helps you to keep a firm grip during intense, sweaty exercise sessions. The addition of handles will improve your grip strength compared to just using the bands alone.
With some resistance band exercises placing your hand and wrist joints in unnatural positions, the addition of handles allows you to perform a much wider range of movements with more comfort and added grip. These include pressing, pulling, and rotational movements.
Resistance band handles consist of different grip materials, giving people who have skin allergies or are sensitive to latex more options to use resistance bands without causing skin issues.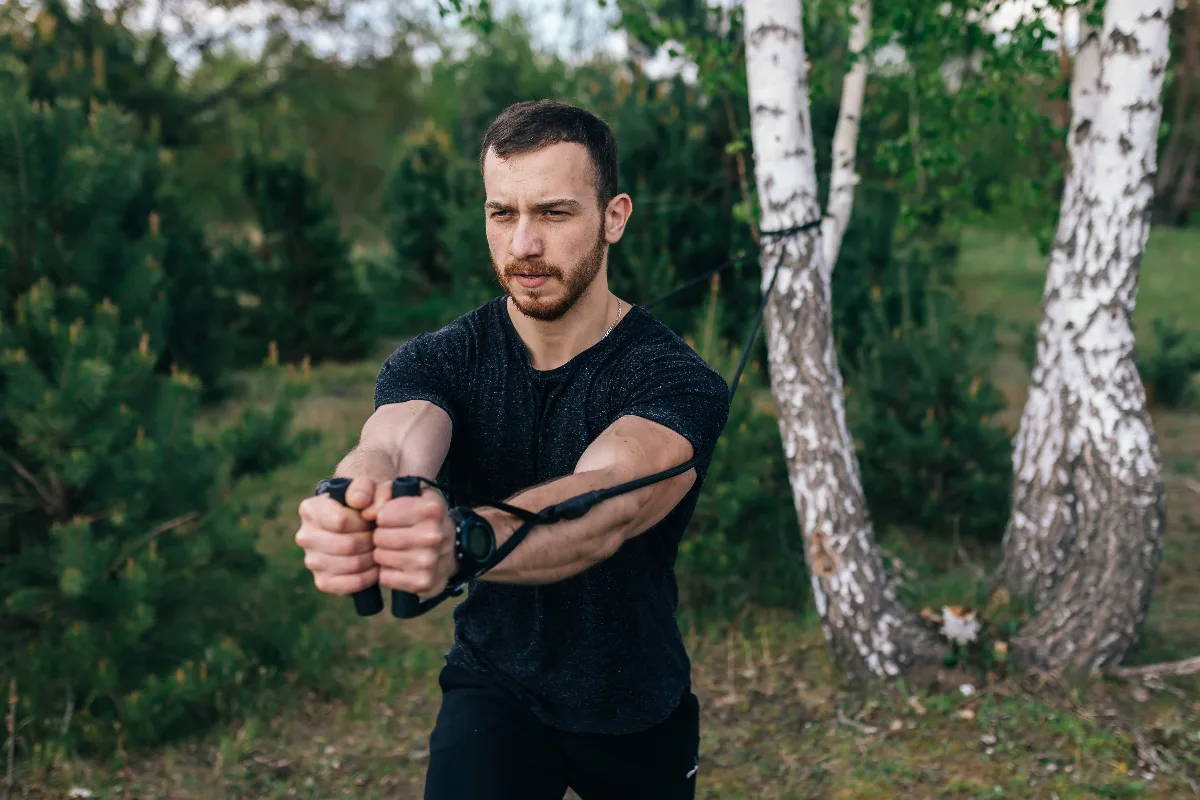 When Do You Need Resistance Band Handles?
Resistance band handles are suitable for all levels of health and fitness athletes including:
Sports performance athletes looking to build strength and improve fitness
Recreational gym goers who enjoy using resistance bands
Bodybuilders wanting to superset exercises
Normal people who enjoy using resistance bands
People with wrist and hand mobility issues
The resistance band exercises that are most suitable for the addition of handles are:
Pressing movements (Chest presses, Shoulder presses)
Pulling movements (Back rows, Lat pulldowns)
Rotational exercises (Russian twists, Woodchoppers)
Crossovers and Chest flys (Anchor movements)
What to Look For in Resistance Band Handles?
Resistance band handles need to provide added comfort compared to gripping the bands without handles. Make sure to check the handle dimensions, with some handles featuring a wider grip for larger hands.
Resistance band handles offer different grip types and materials depending on the brand. These include textured TPR, foam, and rubber. Experiment using different grip types and work out which one works best for you.
Resistance tube handles should be made of durable material that's designed to withstand repeated heavy resistance. Check the handle for material quality, stitching, and the addition of heavy-duty metal ring attachments which increase the handle's reliability.
Compare the price of the resistance band handles to the product quality offered and make sure you're happy with what the brand is offering for the money you're paying.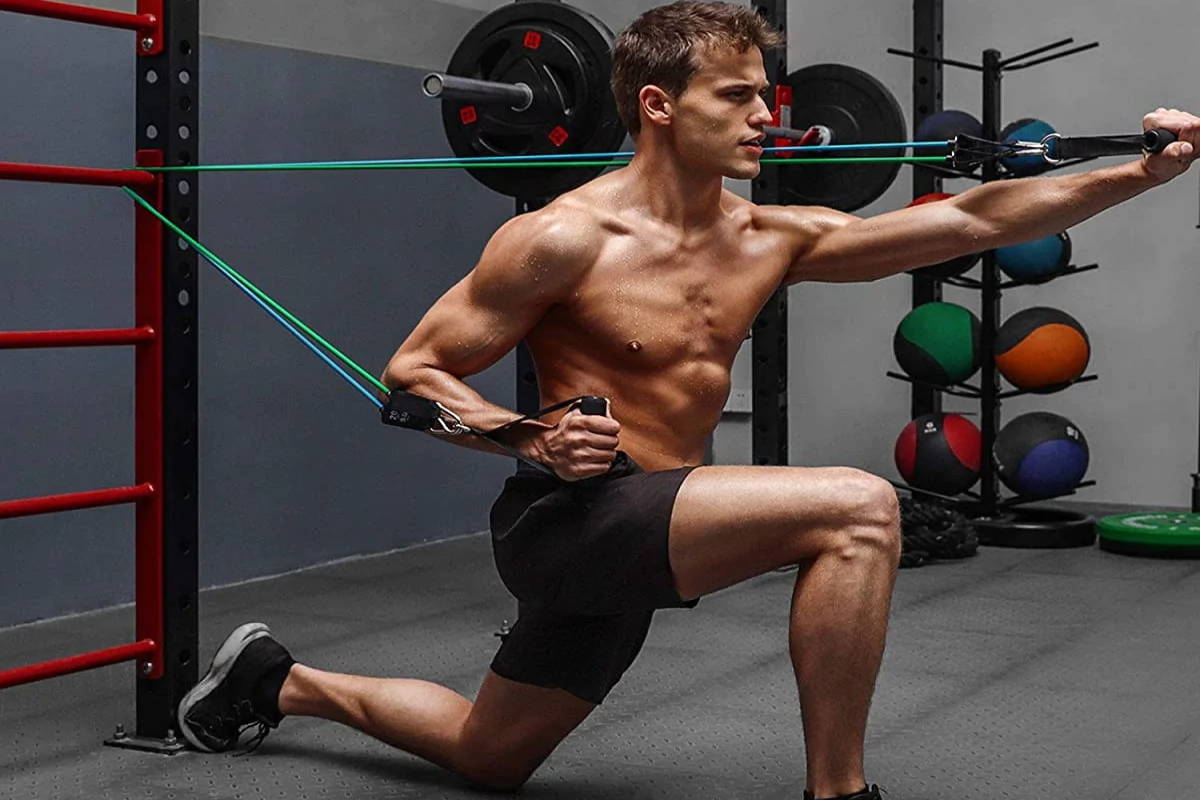 How to Use Resistance Band Handles?
Attach the handle using the metal ring provided, making sure the O-ring is firmly against the closed band carabiner.
Assume the correct exercise position using a suitable anchor or your own body.
Grasp both handles with your hands, making sure both are in the middle of the handles and firmly against the handle grip
Whilst keeping your hands secure, perform the exercise using the correct technique in a controlled manner.
When finished, release the handle tension before placing the handles back onto the exercise floor.
Are resistance bands with handles better?
Resistance bands with handles help to keep your hand and wrist joints in a more natural position when performing certain exercises. They are also more comfortable to use and provide added grip.
This makes them better for movements that would force your hands and wrists into unnatural positions without them.
What do resistance bands with handles do?
What do resistance bands with handles do? Resistance bands with handles provide a convenient and effective workout option that can be done at your home gym or when travelling. The added handles are useful for pushing, pulling, and rotational gym exercises.
Summary - Which Resistance Band Handles Are the Best?
Workout band handles make an excellent addition to resistance bands by increasing comfort, grip, and the range of exercises that can be performed correctly.
The BodyLastics Resistance Exercise Band Handles are my top pick choice, scoring the highest total for comfort, grip, reliability, and price/ quality.
Have you used resistance bands with handles before? What do you think of my choices? Let me know!
What are the benefits of resistance bands? // Livescience: https://www.livescience.com/benefits-of-resistance-bands
How To Attach Your Resistance Bands // Youtube: https://www.youtube.com/watch?v=3aLcs0oe9ak
Resistance band exercises // British Heart Foundation:
https://www.bhf.org.uk/informationsupport/heart-matters-magazine/activity/resistance-bands
My name is Ihor and I have been a professional weightlifter since 1996. With over 20 years of competition experience, my resume includes European Champion in 2009 and the silver medalist at 2011's Senior World Championships – 105kg division.
I competed at the 2008, 2012 and 2016 Summer Olympics.
After hanging up my own competitive lifting shoes, I decided to share my huge background as a coach. I am currently coaching multiple athletes who are competing at national and international competitions.