You may be thinking that resistance band back exercises are something that belongs mostly in the gym, and they're used to strengthen your core and back. Well… You're partly right.
These workouts will strengthen your back, but they do a lot more than just building muscle and strength. And they don't just belong in the gym – resistance bands are famous for their versatility, and if you're informed/creative enough, you can use them almost anywhere.
This is because they fit in any pocket and you can even take them with you when you travel.
A strong, healthy back is essential not just for fitness, but for overall health. So, it doesn't matter if you're an athlete looking to improve your performance, someone struggling with back pain, or you just want to improve your posture – resistance bands are suitable for everyone.
Today, we'll take a closer look at the back exercises you can do with resistance bands, and we'll explore which muscles they target and how they can help you.
What are resistance band back exercises? They're a series of strength and flexibility workouts that use resistance bands to target the muscles in your back. They improve posture, help with back pain, and build a strong, toned back.
7 Benefits of Resistance Band Back Training
For anyone that's new to resistance bands, it's going to take a bit of convincing to help them see just how versatile and useful they are.
If you care about your fitness (and health in general) then you probably already have some back exercises incorporated into your fitness routine. But if you add bands stretches for back to your workouts, not only is it going to refresh your routine, but it can also improve your results.
Let's see exactly what resistance bands do when you use them for back exercises.
Your posture is definitely something that can benefit from back exercises with resistance bands because they target and strengthen the muscles that are responsible for supporting your spine.
Stronger muscles will help you keep your posture upright and aligned, which means you're at less risk for hunching or slouching. Both can lead to back pain so, if you think about it, these workouts help keep your back pain-free.
Resistance bands can also help with making your back stronger. Since they can target specific muscles in your back (those covering a wide area of the upper and middle back), you'll notice the overall strength of your back improving as the muscles grow stronger.
This change will be especially noticeable in your daily activities that require you to engage your back.
There are a lot of things that can cause back pain, especially if it's chronic. Back exercises with bands can not only help with pain relief, but also with preventing the pain from setting in altogether.
If you keep up with the workouts, the muscles around your spine will get stronger, which can be a big help with lower back pain.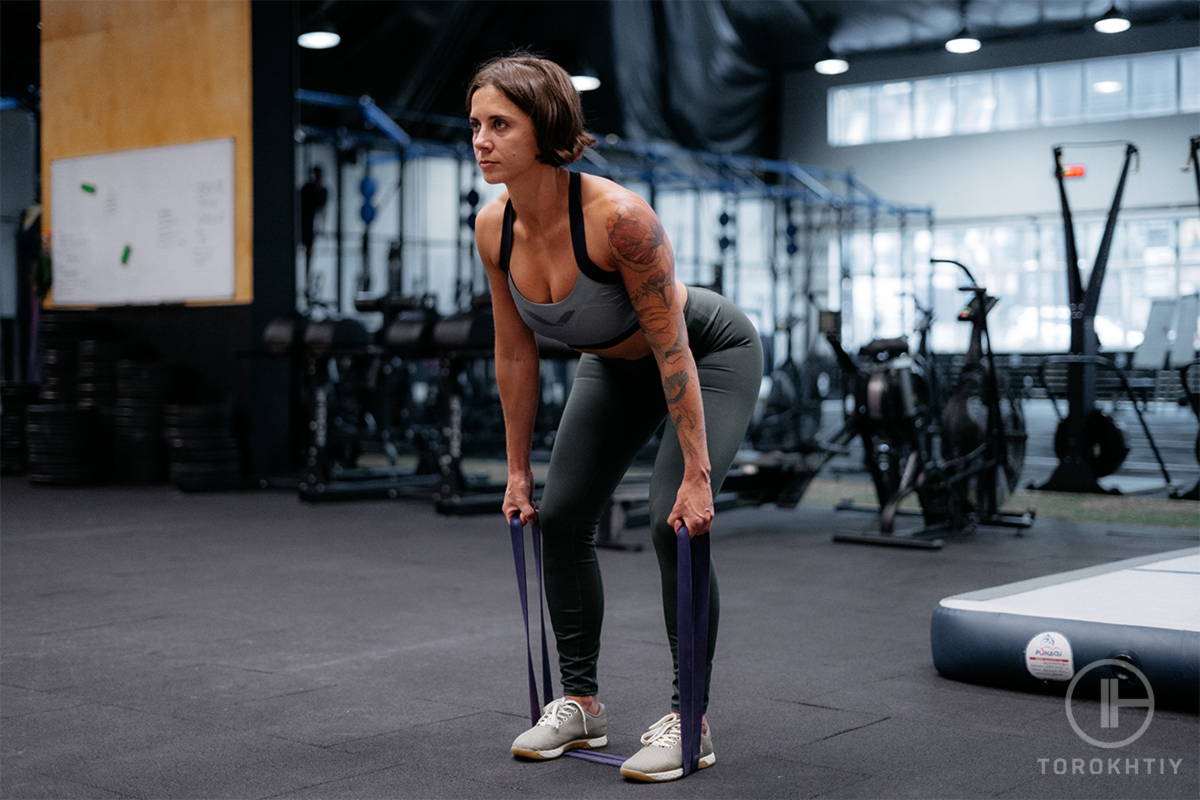 Resistance bands are popular because they're extremely versatile. So, no matter what type of workout you decide to include them into, you can bet that your routine will be refreshed and more interesting.
Regardless of what you're trying to do – targeting specific muscle groups or working on different aspects of your back fitness, resistance bands can help.
Bulkiness is a common denominator when it comes to most fitness equipment. Resistance bands, however, don't have this issue.
They are light and easy to carry, which means you can use them at home, or in the gym. You can also take them with you when you travel.
6. Balanced Muscle Development
Muscle imbalances can be an issue even for professionals. If you don't pay close attention to your workouts, your muscles will develop unevenly and that can cause problems.
But resistance bands help the muscles across your back develop evenly because they engage a lot of different muscle groups. This means that your entire back is getting a good workout.
Generally, resistance bands help with flexibility, even in elders. When used with back exercises, you'll get controlled resistance that you can increase as time goes on and your muscles get stronger, which will slowly increase your range of motion.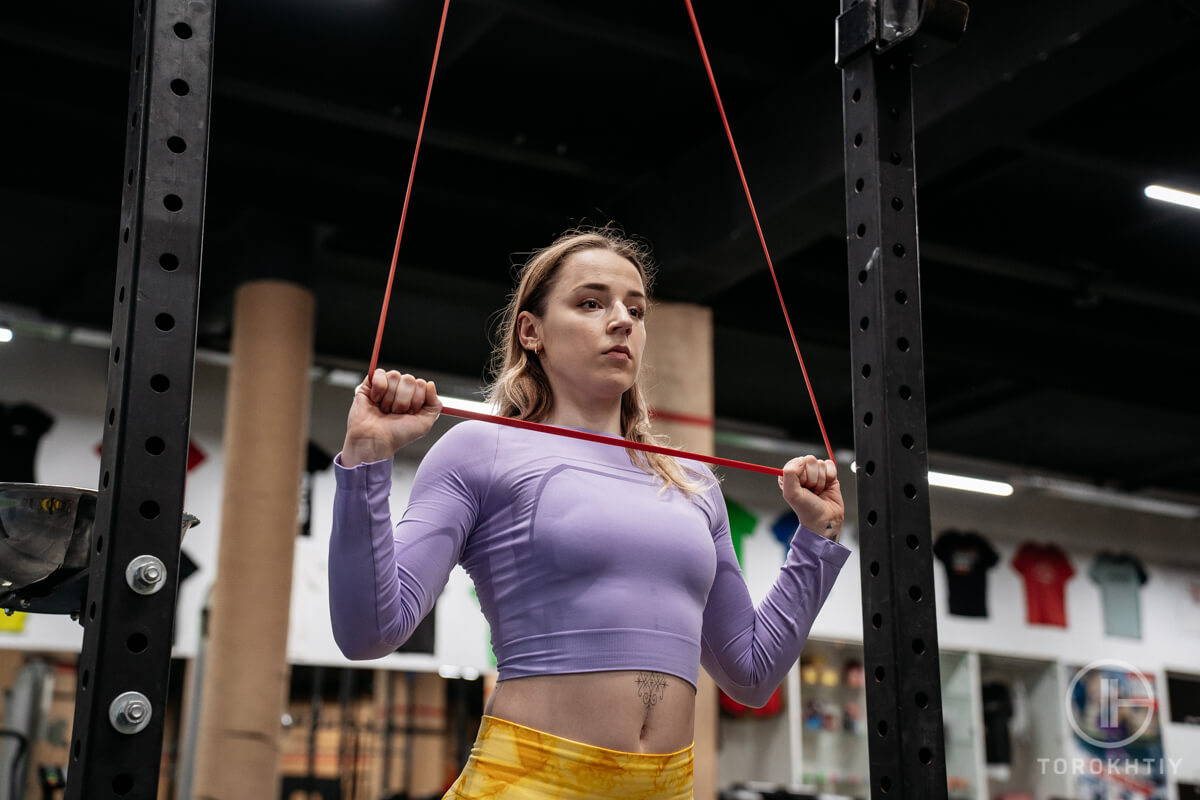 Effective Resistance Band Back Exercises
Since you're now familiar with some of the major benefits resistance band exercises for back can provide, let's get into the workouts themselves and see what it is you can do with resistance bands when it comes to working your back.
Superman With Resistance Bands
Lie face down and anchor the resistance band under your feet. Hold the other end with your hands. Then, lift your chest and legs off the ground at the same time while keeping your arms extended. Hold for a moment, then lower back down.
This workout strengthens the muscles along your lower back and promotes stability. It's definitely one of the most effective lower-back resistance band exercises.
Deadlift With Resistance Bands
Stand on the band with your feet hip-width apart and hold the handles of the band in your hands. Bend at the knees and hips, keeping your back straight, and then stand up and extend your hips and knees.
Anchor the band over your head and sit on a bench (or you can kneel). Grab the band with both hands and pull it down towards your chest while keeping your elbows close to your sides. Slowly release.
This acts like a lat pulldown machine and builds a wider, more defined back.
Step on the band and hold it while being bent over. Pull the band to your ribcage, squeezing your shoulder blades together.
Bent-over rows improve the strength of your upper back and posture.
3. Rhomboids and Middle Traps
Anchor the band at chest height and grab it with both hands (make sure your palms are facing down). Pull the band towards your face while you squeeze the shoulder blades together.
This resistance band back workout is great for correcting posture and preventing shoulder injuries.
Anchor the band and hold the handles with your palms facing each other. Raise your arms to form a "Y" shape with your body. After that, focus on squeezing your shoulder blades.
There's a lot of shoulder squeezing going on, but Y-raises (in particular) are fantastic for strengthening your upper back and they also improve shoulder stability.
4. Overall Back (Comprehensive Workout)
Sit with your legs extended and loop the band around your feet. Hold the band with your arms extended in front of you and then pull the band to your torso while squeezing the shoulder blades.
This will engage your entire upper back and provide a full back workout.
Hold the band with both hands at chest height and extend your arms. Then, pull the band apart by moving your hands away from each other.
This will improve the strength of your upper back and posture.
Sample Resistance Band Back Workout Plans
All of the workouts above are absolutely fantastic if you want to improve the health and strength of your back.
However, they can be too much for beginners or they may not be as challenging as someone with an advanced fitness level would want them to be.
You now have a general idea of what workouts to do, but in this section, we'll divide the workouts based on individual fitness levels. This way, you can be sure the workouts you're doing are suitable for you.
7 Common Mistakes to Avoid
All of these banded-back exercises can be incredibly beneficial, and they can transform your fitness routine and overall health. But keep in mind that you can only see the benefits if you are training properly.
To prevent mistakes from happening, you need to be aware of what they are and how to prevent them.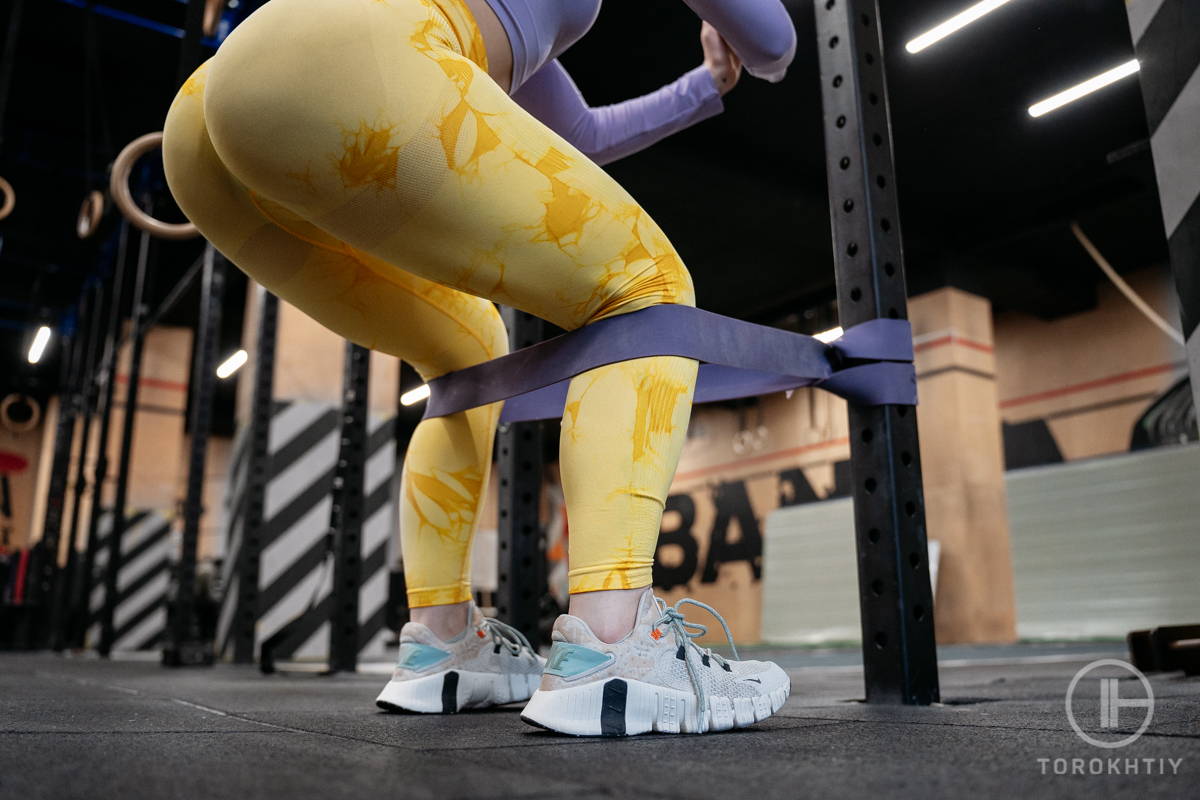 This is one of the most common mistakes in fitness overall – people forget the importance of maintaining proper form. This can make your workout ineffective, and it can even cause injuries.
With back workouts, the mistakes usually include rounding your shoulders, hunching the back, and over-arching the spine.
To avoid this, make sure to always keep your spine neutral and engage your core. Form should be a priority and the number of repetitions comes in second place. If you're a beginner, learn about proper form first because that's the foundation of an effective workout.
Tension level needs to correspond to your fitness level. You want a band that challenges your muscles but that doesn't compromise your form.
As you get stronger and more comfortable with the workouts, you can increase the tension.
3. Not Warming Up and Cooling Down
Skipping the warm-up before the workout can cause strains and injuries and not cooling down can make your muscles stiff and will make them recover slower.
Each workout needs to start with a warm-up. This can include cardio and/or dynamic stretches.
When you're done with the workout, take a few minutes to do some slow-paced step-ups, wall push-ups or you can even take a 5-minute walk on a treadmill to reduce your heart rate.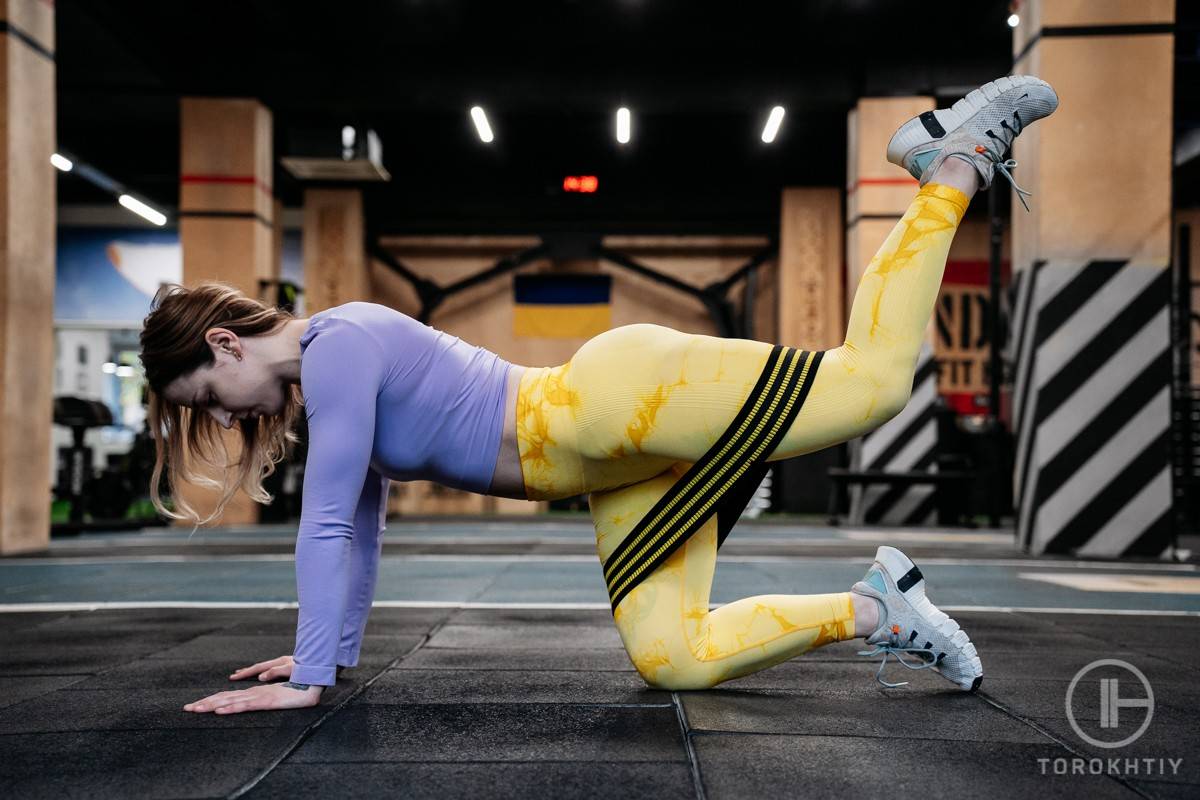 Doing the workouts too quickly can make them ineffective and you can even end up injured.
Your movements need to be slow and controlled. Avoid momentum and make sure you feel that your muscles are engaged throughout the entire workout.
Overtraining means you're working the same muscle groups too frequently and you don't allow them enough time to recover. This leads to injuries, plateaus, and fatigue.
Every good workout routine needs to include rest days, but it also needs balance – you want to work all of your muscles evenly. This is why you need variety in your routine and why it's advisable to target different muscle groups on different days.
If you've ever done any kind of workout, you know you need to feel it in your muscles to know you're doing something. Basically, it needs to be a little uncomfortable.
However, there's a difference between normal discomfort that comes from working out and actual pain caused by an injury. If you feel pain, you need to stop the workout immediately and possibly make a visit to your doctor.
7. Not Anchoring Properly
Your resistance band needs to be anchored and stable for the workout to be effective. An anchor point that's not secure can lead to accidents and injuries.
Make sure to double-check your anchoring setup before you start your workout and make sure that it can withstand the tension.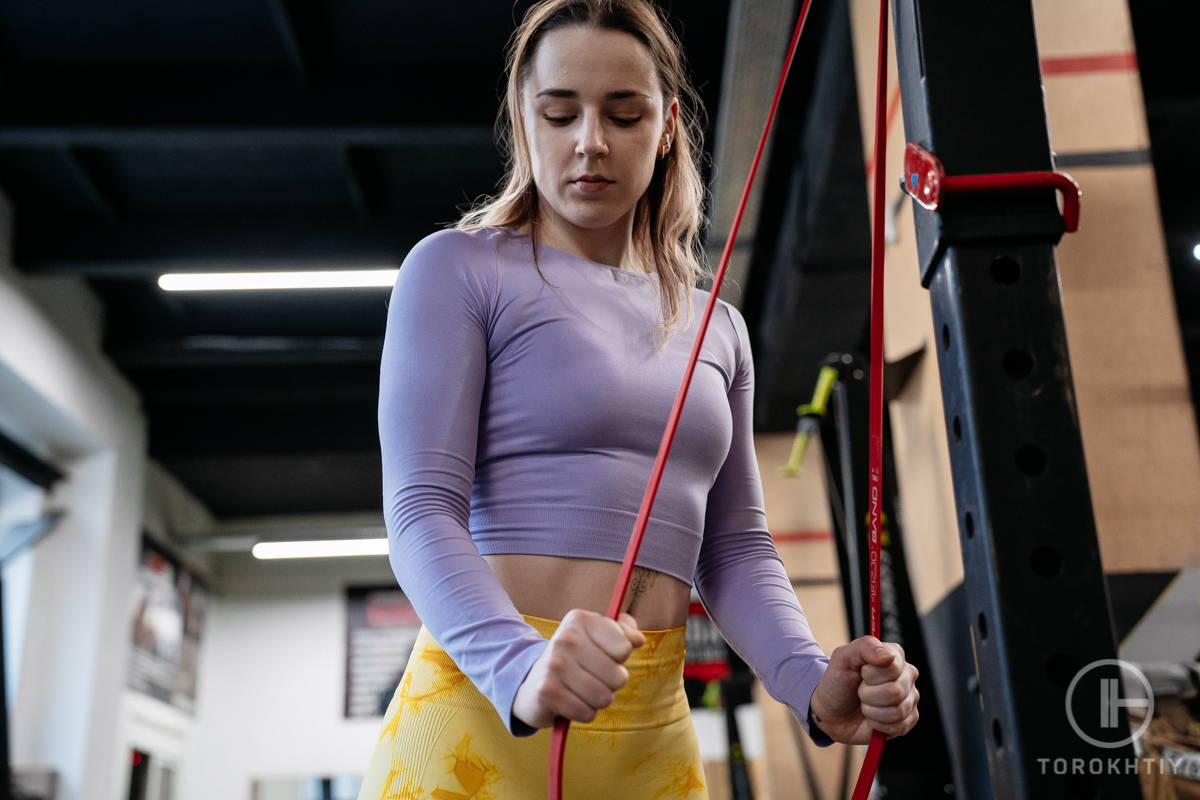 Choosing the Right Resistance Bands
This can make or break your workout routine. There are tons of resistance bands on the market, and it can be overwhelming and difficult to choose the right one. Luckily, there are things you can pay attention to so you can make sure you're choosing the band that will work for you.
The first thing you should do is to be honest with yourself about your fitness level. A lot of people will overestimate this, but that won't do you any good.
If you're a beginner, then it's best to start with light resistance. You may think they can't do much, but you'd be surprised at how effective and versatile they are. Light resistance bands are great for mobility work, stretching, and rehabilitation.
If you're not quite a beginner but not quite advanced either, then you're intermediate. This level won't have too many benefits from light resistance bands, so you need ones that offer a moderate challenge to your muscles. Medium resistance bands are good for a lot of different workouts, including strength training and muscle toning.
Advanced fitness levels will benefit from heavy or extra-heavy bands. They produce significant tension and are best for compound movements and very challenging workouts. They should only be used by very experienced people who want super intense workouts.
If you want to make your life easier and not dig through a ton of resistance band offers and online reviews, you can go with resistance bands we wholeheartedly recommend – Gymreapers Military Resistance Band Set.
They're super lightweight and made of latex. You may think they won't be that durable considering how lightweight they are, but durability isn't going to be an issue - these are exceptional in that regard.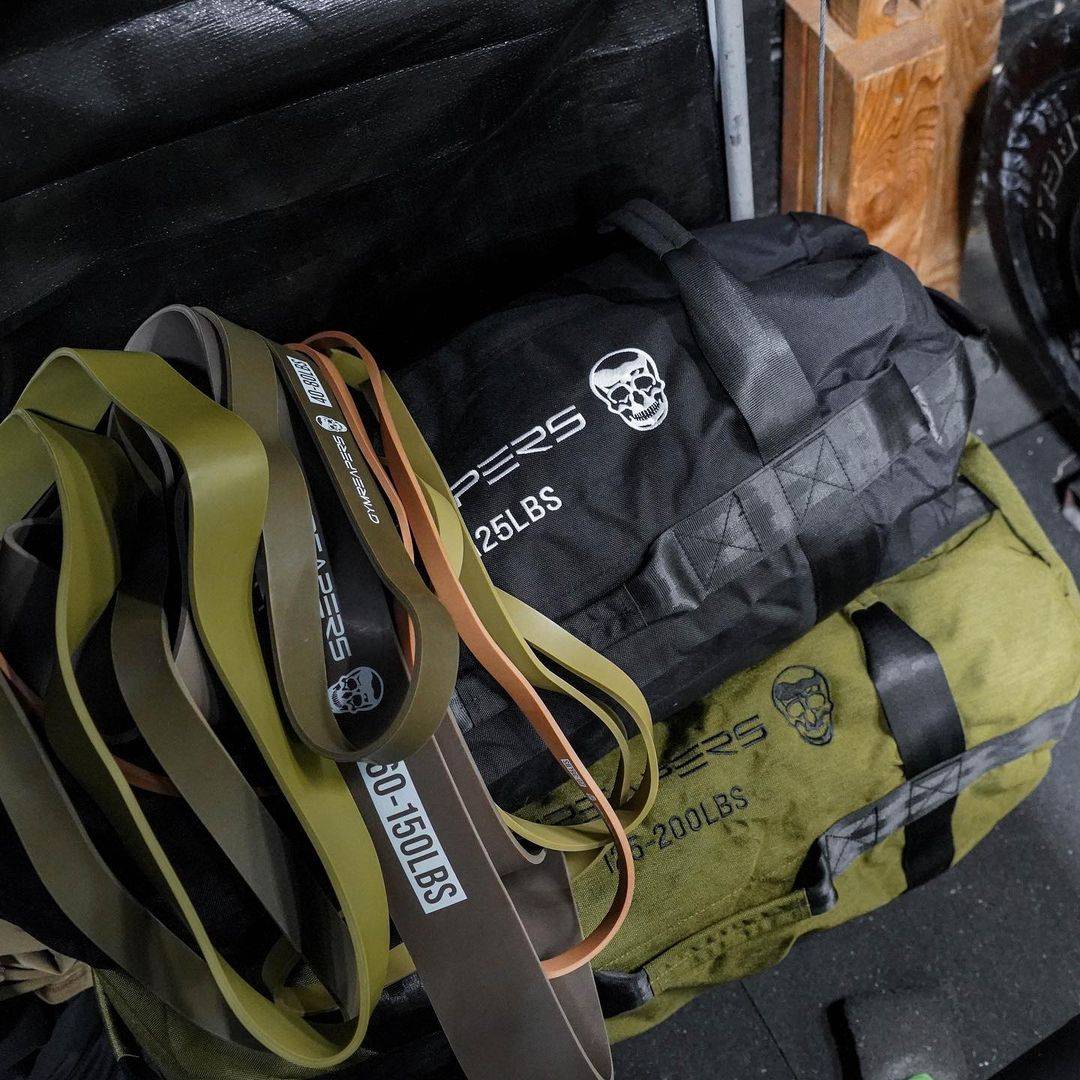 Another great thing about these is the length. At 41'', they won't be too short, no matter what you decide to use them for. And if you want to take them with you, that won't be a problem at all because they roll up to only 10'' and will fit anywhere.

You may notice they smell a bit funny when you first get them, but that's just how latex bands are sometimes. The smell airs out in a few days, however, so this shouldn't be that big of a deal.
Overall, these resistance bands are fantastic and they're going to be a great addition to anyone's workout routine!
Weird smell that takes a few days to air out
Can You Train Back With Resistance Bands?
Yes, you absolutely can, and the workout can be incredibly effective. Back exercises that use resistance bands are fantastic at targeting your back muscles, they strengthen your back, improve posture, and can even be used as part of physical therapy.
Are Resistance Bands Good for Bad Back?
Resistance bands can be very beneficial for people struggling with back pain, even if it's chronic.
Workouts that include resistance bands are usually low impact, so they're a great way to safely strengthen your back muscles, improve posture, and even help with pain.
Of course, if you're dealing with any kind of condition or chronic pain, make sure to consult a medical professional before starting your workouts. Always make sure to choose the correct level of resistance and to maintain proper form.
If you've never used resistance bands – take a leap of faith and start using them for your back workouts. If you choose the resistance level correctly and keep your form correct, you'll wonder how you ever worked out without them.
What are your thoughts now that you've read the entire article? What workouts are you most excited to include a resistance band in?
Do you use resistance bands already, and for which workouts? How have they helped your fitness routine? What are your favorite resistance band exercises for posture?
Don't shy away from sharing your opinions and tips with us, we'd love to hear and learn from your experiences!
Holger Cramer, Wolf E. Mehling, Felix J. Saha, Gustav Dobos, Romy Lauche, "Postural awareness and its relation to pain: validation of an innovative instrument measuring awareness of body posture in patients with chronic pain"; National Library of Medicine, https://www.ncbi.nlm.nih.gov/pmc/articles/PMC5889545/ (accessed 7 September, 2023).
Venkat S.R., "What Are Muscle Imbalances?"; WebMD, https://www.webmd.com/fitness-exercise/what-are-muscle-imbalances (accessed 23 August, 2023).
Young Ran Yeun, "Effectiveness of resistance exercise using elastic bands on flexibility and balance among the elderly people living in the community: a systematic review and meta-analysis"; National Library of Medicine, https://www.ncbi.nlm.nih.gov/pmc/articles/PMC5599848/ (accessed 7 September, 2023).
Hyoung-Kil Park, Min-Kyung Jung, Eunkyung Park, Chang-Young Lee, Yong-Seok Jee, Denny Eun, Jun-Youl Cha, Jaehyun Yoo, "The effect of warm-ups with stretching on the isokinetic moments of collegiate men"; National Library of Medicine, https://www.ncbi.nlm.nih.gov/pmc/articles/PMC5833972/ (accessed 7 September, 2023).
Jamil R. Neme MD, "Balancing Act: Muscle Imbalance Effects on Musculoskeletal Injuries"; National Library of Medicine, https://www.ncbi.nlm.nih.gov/pmc/articles/PMC9324710/ (accessed 7 September, 2023).
With over 20 years in Olympic Weightlifting, our team does its best to provide the audience with ultimate support and meet the needs and requirements of advanced athletes and professional lifters, as well as people who strive to open new opportunities and develop their physical capabilities with us.
All products we select are primarily approved and tested by the Olympic Weightlifting Champion Oleksii Torokhtiy. Under his guidance, we provide honest and reasonable assessments of the products we review by checking their characteristics, packaging, design, comfort and durability features, and general product rating. We select products from only high-quality and trusted sports brands, thus vouching for their quality.
The product testing process is described in more detail here
Coach, PRO Olympic Weightlifter
Experience: 26 years
Best Results: Snatch - 208 kg,
C&J - 240 kg
My name is Ihor and I have been a professional weightlifter since 1996. With over 20 years of competition experience, my resume includes European Champion in 2009 and the silver medalist at 2011's Senior World Championships – 105kg division.
I competed at the 2008, 2012 and 2016 Summer Olympics.
After hanging up my own competitive lifting shoes, I decided to share my huge background as a coach. I am currently coaching multiple athletes who are competing at national and international competitions.
If you have any questions/suggestions/any other inquiry, you can reach out to us via email - reviews@torokhtiy.com
This article was written by our qualified author and proofread by an expert with proven experience. When writing the article we've used our expertise and data from authoritative, scientific, and evidence-based sources. The list of references is provided at the end of the article.
Our team of authors and experts includes professional athletes (Olympians, winners of European and World titles), PhDs in Sports Science, certified coaches, sports nutritionists, CSCSs, physiotherapists, and others. Read more about the team here, and more about how we test here.