The bosu ball is a super versatile and effective piece of fitness equipment that can help you train several muscle groups and enables you to work on your stability and balance. Because of that, it's often a vital part of the training plans of elite athletes who need a stable core and good balance.
In today's article, we will be discussing what a bosu ball ab workout consists of, and we will also be recommending some exercises that you can do on the bosu ball depending on your fitness level and goals. It's worth mentioning that bosu ball core exercises are some of the most effective but challenging ones, and that marks them terrific for adding both difficulty and variety into your standard sessions.
What Are the Key Bosu Ball Ab Workout Exercises?
A good bosu ball ab workout includes exercises that challenge your abs & core while also helping you train for stability and balance. Those include exercises such as the plank and side plank, along with Russian twists, bosu ball boat pose, and mountain climbers.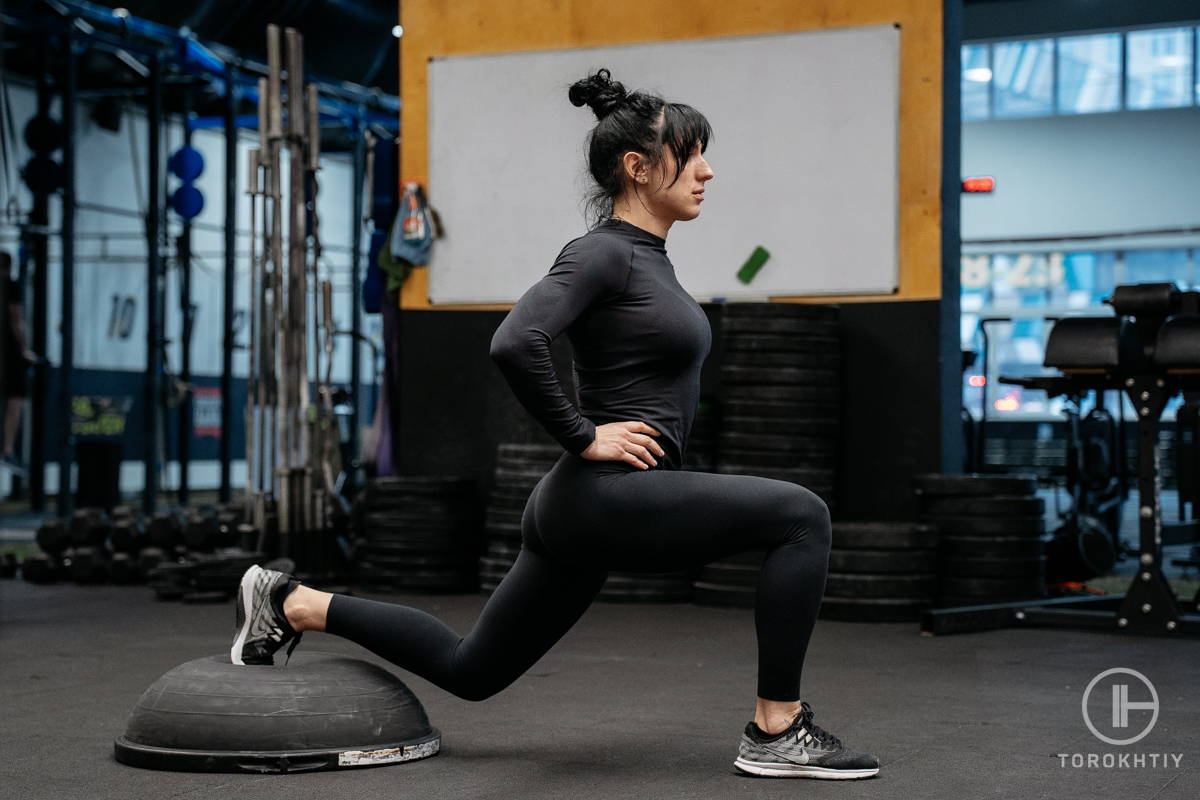 If you want to spice up your gym workouts, but you're stuck and not sure how to do that exactly, then the bosu ball is your next best friend. Bosu ball abs exercises are complex, fun to do, and quite challenging, so it's certain that you will not get bored while performing them.
Bosu is actually shortened for "both sides up," and that pretty much can describe how this piece of equipment is used. It essentially means that you can turn the bosu ball to either side and still perform different exercises with it. Typically, it's used to engage your core while utilizing your entire body for balance and stabilization. Incorporating just a few minutes of bosu ball training per session can help you strengthen your core muscle and improve your athletic posture. And so, let's take a look at a few half-ball ab exercises that you must know about.
Bosu ball exercises can be quite challenging, especially for people that haven't been to the gym in a while and don't have particularly strong core muscles. However, there are some of them that are suitable for people just starting out, and that will help slowly build that ab strength so that, over time, an athlete can progress to the more advanced exercises.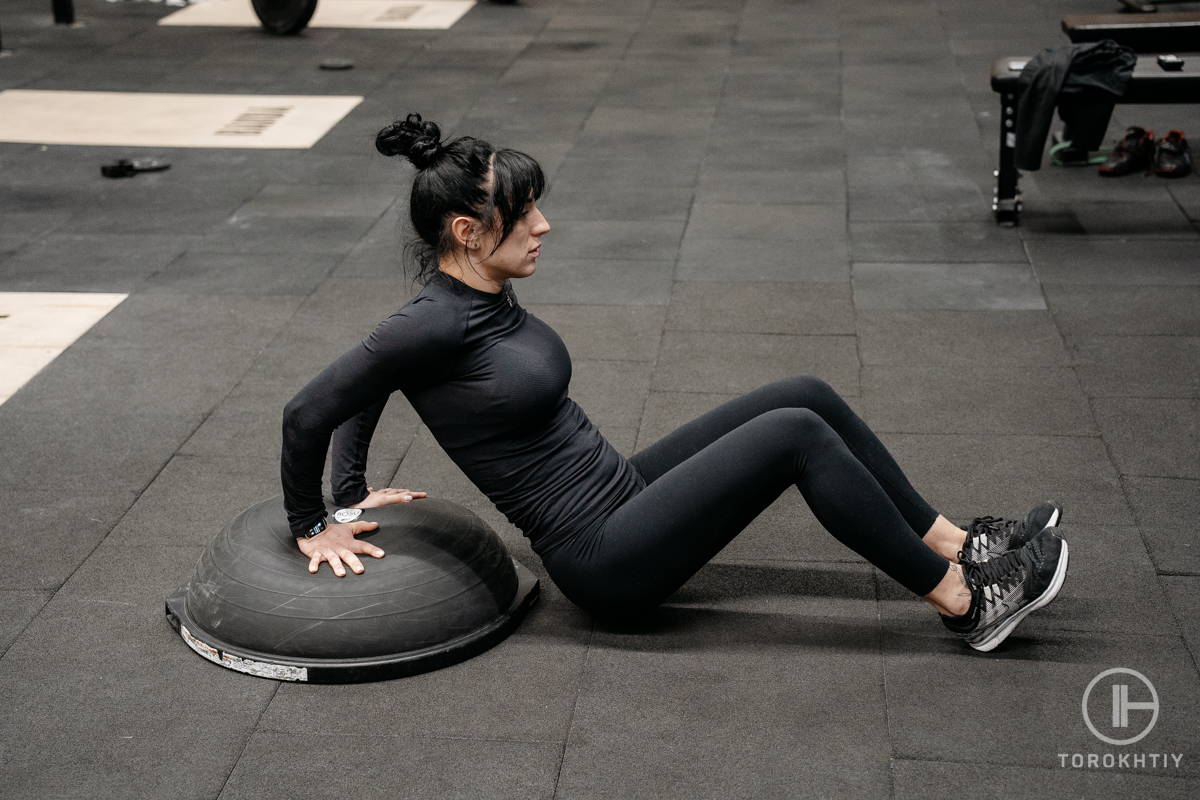 Bosu Ball Mountain Climbers
The mountain climbers are a standard movement that requires you to stand in a plank position and then alternate, moving your legs so that your knees touch the elbows. When doing it on a bosu ball, instead of placing your hands on the floor, you have to put them on the bottom of the bosu ball, as shown here. This is a fantastic, dynamic core exercise that trains your ab muscles while also working up a sweat and challenging your coordination.
The sit-up is considered to be the most essential core move there is. In order to perform it on a bosu ball, you have to start in a seated position with your feet on the floor and your lower back resting on the round part of the Bosu ball. Then you have to curl your upper body towards your knees while keeping your hands behind the head with elbows wide. It's essentially the same exercise as the regular sit-up, but you will feel more of a challenge thanks to the instability that the bosu ball provides.
Bosu ball shoulder taps require you to stand in a plank position with feet wider than your shoulders and hands on top of the round side of the bosu ball. From there, you have to alternate your hands touching your shoulder, starting with the left hand to the right shoulder and then alternating. This is a terrific core stability exercise that also helps you learn how to balance on the one hand.
When it comes to more advanced athletes, you can start to target specific parts of the core - there are bosu ball lower ab exercises, upper ab exercises, and of course, ones that target the obliques.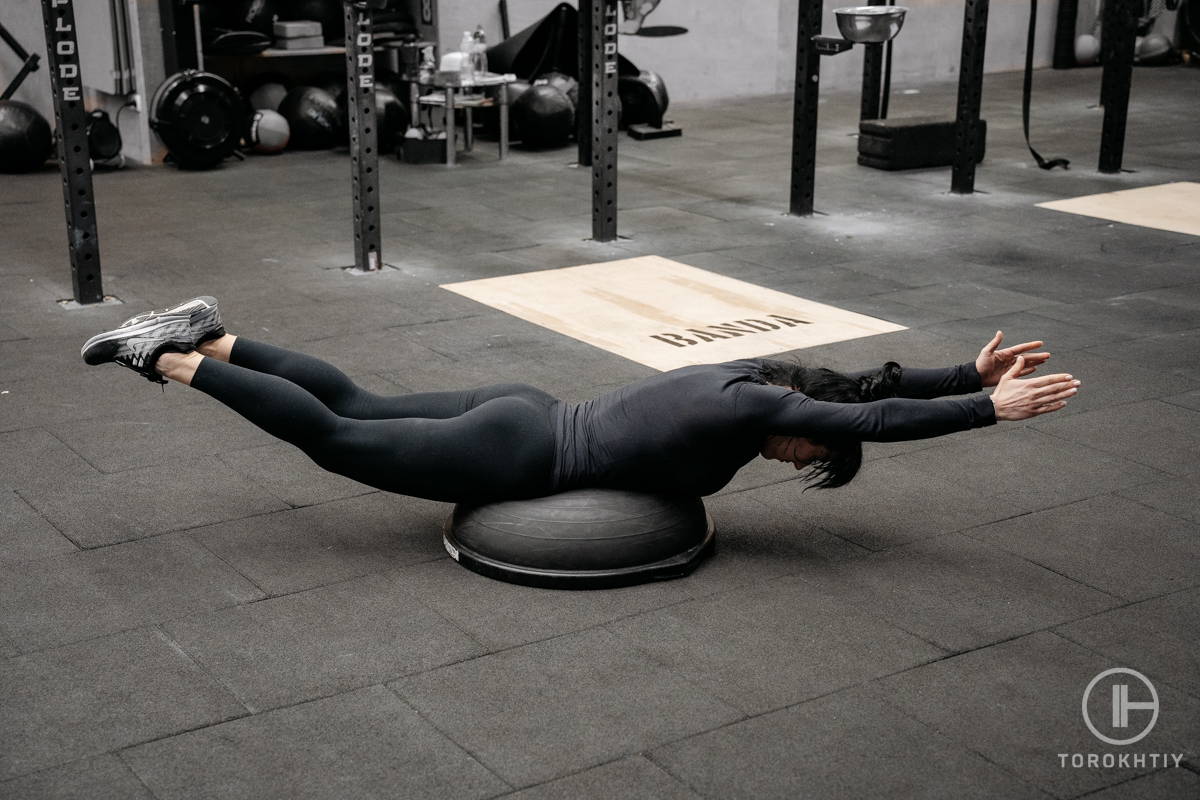 To do a bosu ball side plank, you have to start by lying on your side with your legs extended and kept together straight on the mat. Your left foot should rest on top of the rest with your torso upright and your forearm in the center of the round side of the bosu ball. To perform this move, you have to press your forearm into the ball, then lift your hips off the floor until your body forms a straight line. You should hold this position for 30 seconds or more and then alternate to the other side.
For this move, you need to stand in a plank position with feet wider than your shoulder and your forearms resting on the round part of the bosu ball. From there, you need to alternate, moving your arms forward as if you're reaching to grab something in front of you. This is a really challenging move as it engages your core, trains your balance, and exercises your coordination.
Start by sitting on top of the round part of your bosu ball with hands resting behind your glutes and feet bent at 90 degrees and lifted into the air so they're parallel to the mat. You need to engage your core then and hold this position for 30 or 60 seconds, depending on your fitness level - this move is quite a challenging one, and you should attempt it only when you already have well-developed core strength.
If you're wondering what bosu ball to get for your home workouts, then our recommendation is to go for the one from Yes4All. It's made from high-grade PVC material that can support up to 880 pounds; it's fairly large and with a textured design which makes it less slippery than other options on the market. Along with that, it comes in several colorways and is priced well for its durability and quality. It comes with components such as a plug, air pump, and ruler tape, which are necessary for its use and ensure that you can start utilizing the bosu ball right away.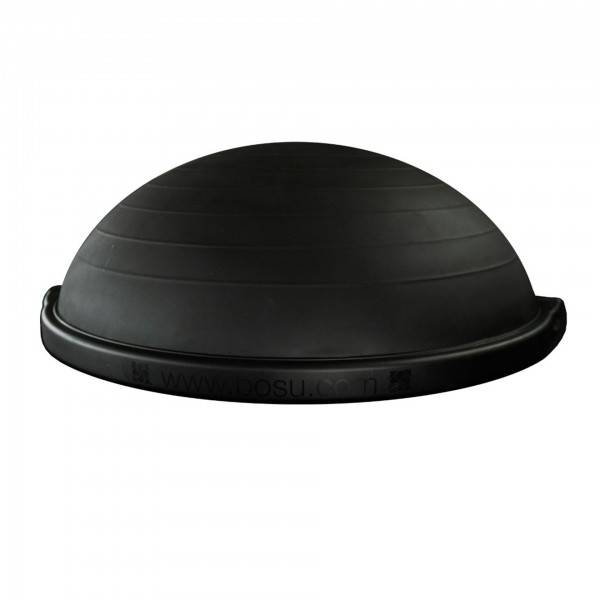 Is Bosu Ball Good for Abs?
Most bosu ball exercises engage your core and work your abdominals, which makes it a terrific piece of equipment for those of you who want to increase your ab strength.
Are You Able to Work Out Your Whole Body by Using the Bosu Ball?
Yes. There are many exercises that you can perform on the bosu ball, and it allows you to work out all muscle groups in the lower and upper parts of the body, along with your core.
The bosu ball is a great piece of fitness equipment that enables athletes to train for stability and balance and increase muscle strength. It's super versatile and can improve the performance of almost any athlete, regardless of the sport they compete in. With that said, we'd like to know what your favorite bosu ball exercise is and why? Let us know in the comments.
Two Keys to Athletic Posture and Explosive Performance: Muscle Contractility and Breathing // Just fly sports: https://www.just-fly-sports.com/two-keys-to-athletic-posture/
The Benefits of Balance and Stability Training // Oxygenmag: https://www.oxygenmag.com/training-tips-for-women/training-advice-for-women/the-benefits-of-balance-and-stability-training/
Bosu ball side planks // Workoutlabs: https://workoutlabs.com/exercise-guide/bosu-ball-side-planks/
I'm Tanya, and I love lifting weights. 6 years ago, I picked up Olympic weightlifting and training. Weightlifting is a unique sport because it's just you against the bar. There are no teammates to help you out; it's all on you.
I'm also passionate about helping other women achieve their fitness goals. That's why I started my blog and write some products reviews. I want to show other women that they can do anything they set their mind to!