Choosing a cardio machine for your home gym can be a daunting task. Treadmills are too loud, and the typical indoor exercise bikes simply don't pose enough of a challenge. That's why many gym regulars and athletes turn their heads to assault and echo bikes. However, the choice between those two isn't that easy too.
That's why in this article, we will talk all about assault bike vs. airdyne - which one is more suitable for your home gym and what their pros and cons are. So stick around, and let's get started.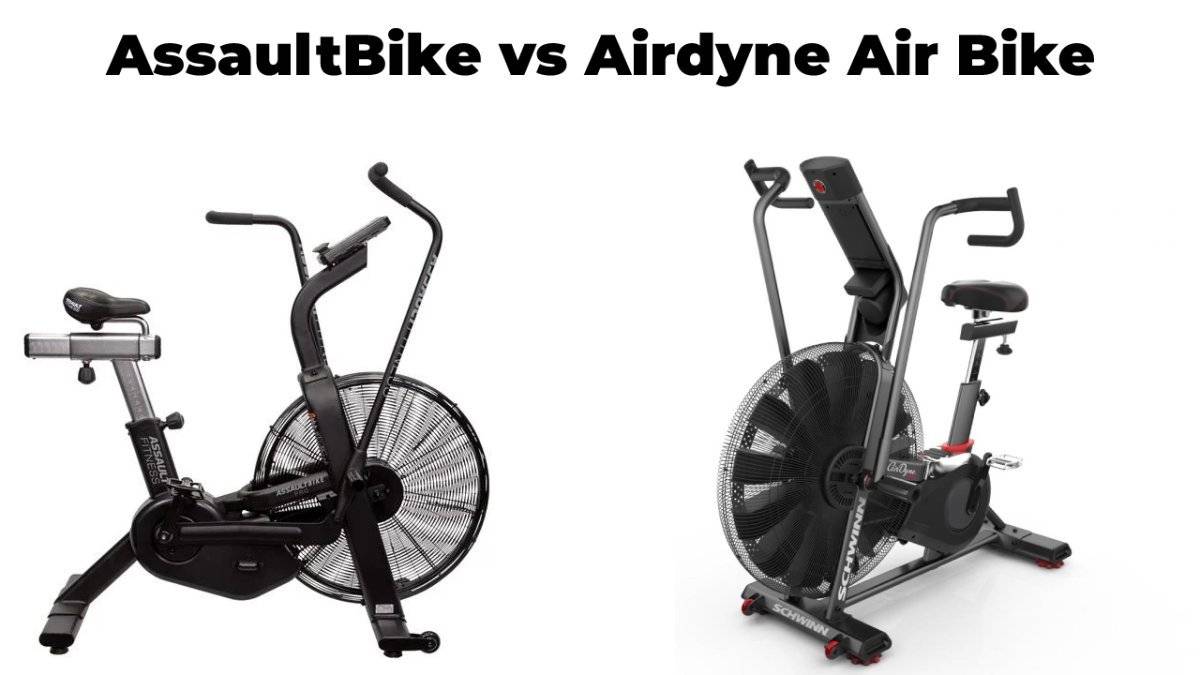 Schwinn AD7 Airdyne vs. Assault Airbike - A Detailed Comparison
Both the Schwinn ad7 and the Assault Airbike are great products that will fit nicely into any home gym. However, they do differ from one another, and you may find that one option is better for you simply because it either suits your home or your training style better. In order to help you make the best possible choice, in the paragraphs below, we will be taking a deeper dive into both of these bikes. We will be looking at their main characteristics, features, and overall quality. Along with that, we will be listing both their advantages and disadvantages so that you don't end up getting a cardio machine that you rarely, if ever, use.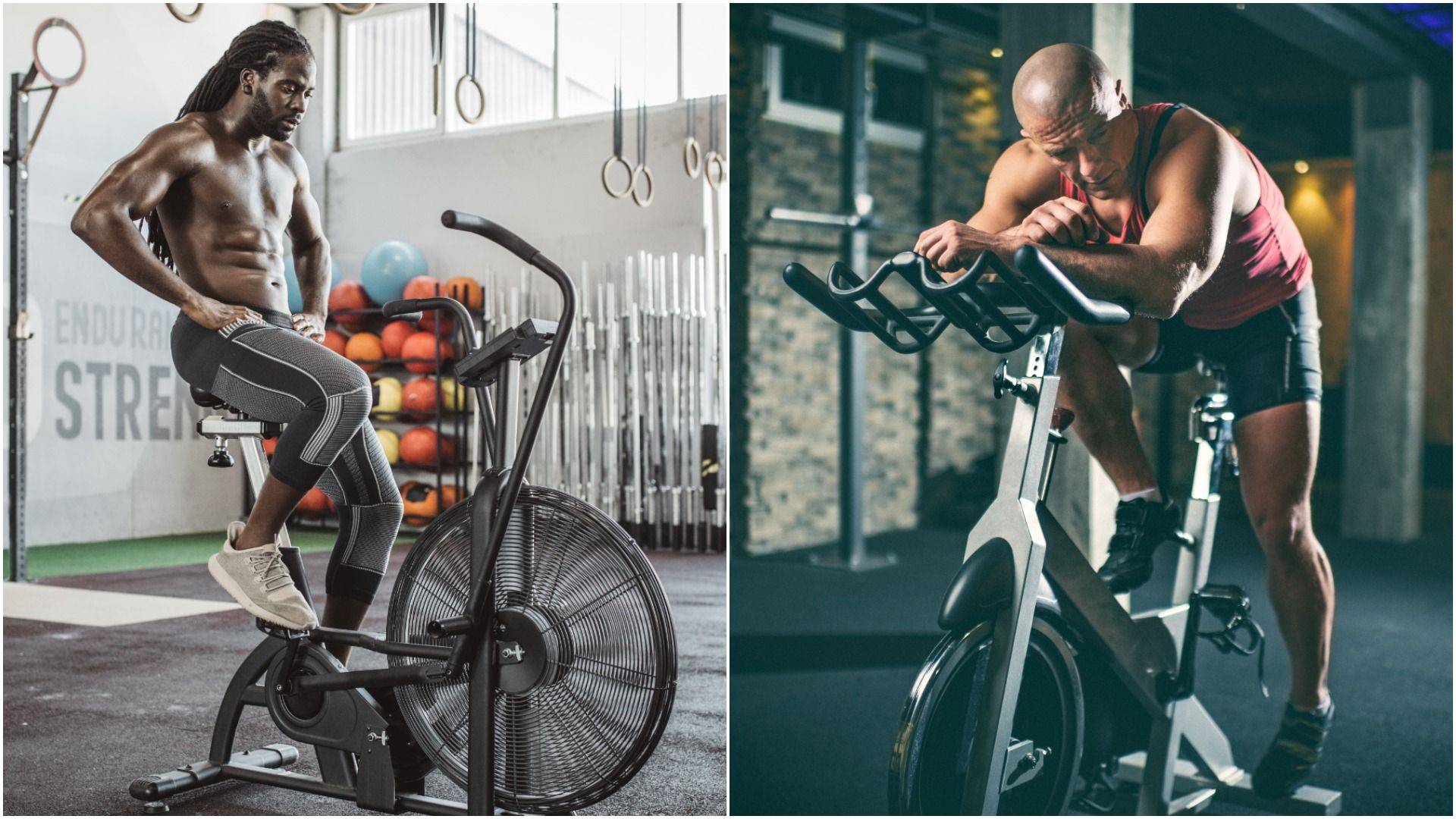 The Assault Airbike is one of the most durable machines that you could ever get. Its entire frame is made out of durable steel, thus making it both high-quality and highly durable. Along with that, it has an incredibly comfortable adjustable seat and a decent LCD screen that shows you vital workout stats such as your RPMs, speed, time, and calories. In the newer models, the Assault Airbike also has a dock for tablets and mobile phones so that you can enjoy some Netflix or YouTube while doing your cardio session. Overall, when it comes to the build quality, we can safely say that the Assault Airbike is one of the best value-for-money machines on the market and that it will definitely last you a long time if you choose to buy it.
On the other hand, with the Airdyne, the main priority was comfort, and so it offers multi-position hand grips for a variety of workouts, a highly adjustable, comfortable seat, and a single-stage belt drive that helps the machine run smoothly. Its body is made out of alloy steel, and much like the Assault Airbike, it has a high-resolution display that shows your workout variables; however, it's much more detailed, giving you information about the watts, distance, time, speed, RPM, heart rate and calories.
To conclude, we can safely admit that both of these bikes have excellent build quality and are likely to stay with you for a long time.
Footprint and Portability
It's likely that once you've found one place where you want your air bike to be, you won't spend that much time moving it around the house. However, that doesn't mean that portability isn't important - after all, you might decide to sell it, or you might end up moving to a different location, and in those scenarios, it's vital that you know that the bike can be easily moved. Usually, the addition of wheels to a piece of equipment, along with how heavy it is, makes a piece of equipment more portable.
Here, the latter wins the battle when it comes down to Schwinn ad7 vs assault bike. Not only is it lighter (98 lbs for the Assault Airbike compared to 113 lbs for the Airdyne), but its wheels are designed in a much better way, which makes moving it around your home a lot easier.
If you don't love assembling furniture, you probably won't enjoy assembling these bikes as well. However, the process is not difficult at all, and you have guides for both. Having said that, assembling the Airdyne might be a little bit more difficult due to the adjustable handles and the much more complex screen.
Both of these bikes are "air bikes," meaning that they use air resistance technology in order to make the workout easier or harder for you. The Assault Airbike is the "original" one in a sense because it was Assault Fitness that introduced this technology back in the 90s. Its current models have a 25" diameter steel fan, and you can adjust how difficult your workout is on your own - it only depends on how hard you're pushing the pedals. On the other hand, the Schwinn ad7 Airdyne has a belt drive system and a perimeter weighted fan that allows you to start a workout easily and keeps the ride smooth at all times. Additionally, the Airdyne ad7 has an optimized fan that produces less noise compared to other models while offering high resistance.
Overall, when we compare Schwinn Airdyne vs Assault Bike, we can conclude that the ad7 has an improved and better drive system compared to the classic Assault Airbike.
As already mentioned, the Assault Airbike has a 25" diameter steel fan, and the same applies to the Airdyne Ad7. There's not a ton of difference between these two particular models when it comes to the fan and the blades. However, the Pro version of the Airdyne does have a customized 26" diameter fan that allows you to burn more calories for a similar effort.
Both bikes are optimized for comfort, and so they offer seats that can be easily adjusted in a way that suits your body best. With that said, the Schwinn Airdyne Ad7 is slightly better at providing comfort, as some users complain about the Assault Airbike's seat being too sturdy.
The handles of the Assault Airbike are pretty standard and are exactly what you would imagine an air bike should have for handles. On the other hand, the Schwinn Airdyne Ad7 has multi-position handlebars, which can be adjusted in a way that's most comfortable for you and can be used for a variety of workouts.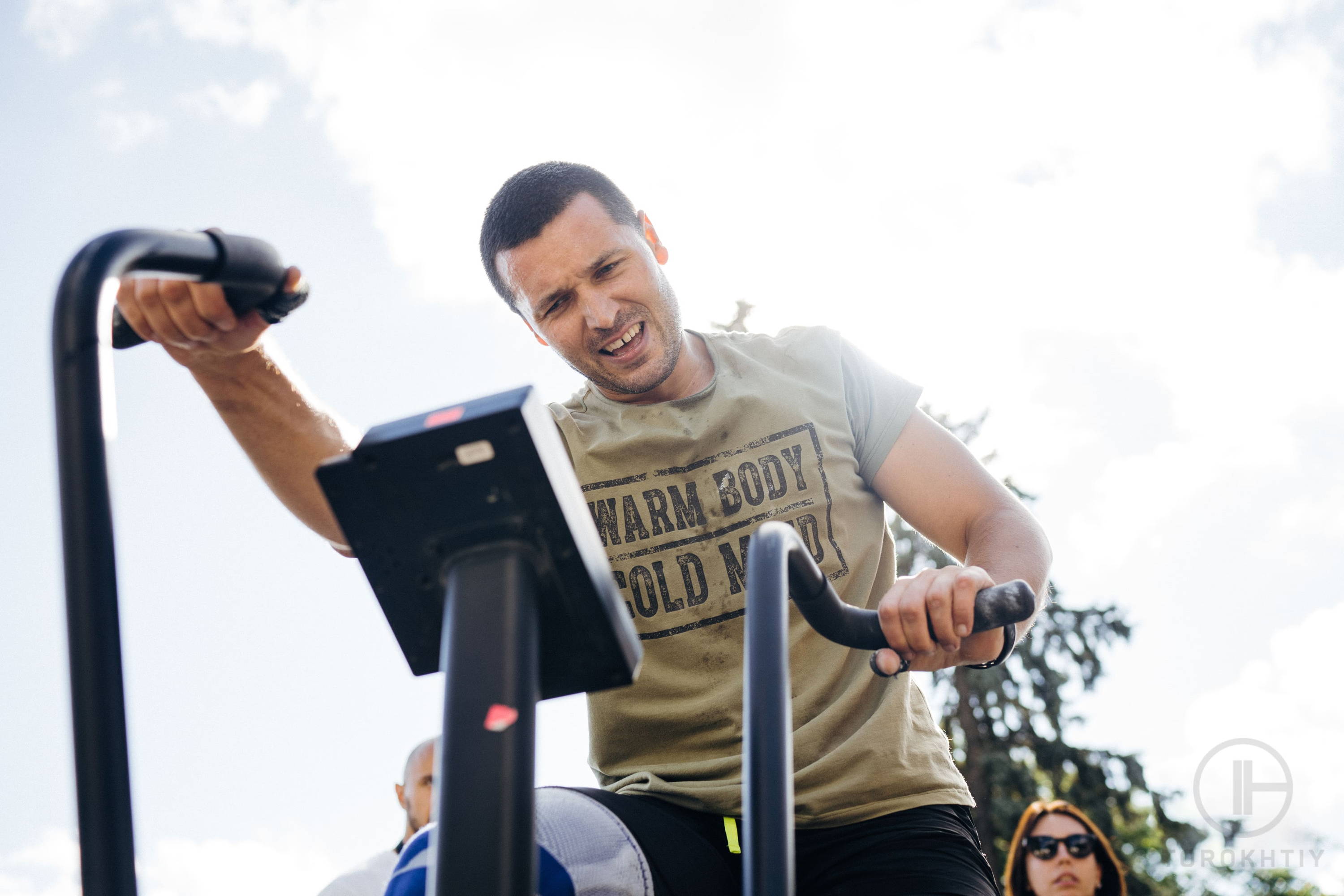 Both the Assault Airbike and the Schwinn Airdyne AD7 have large LCD screens that display essential variables such as time, distance, calories, watts, pulse, speed, and calories burned. The big difference comes in how these numbers are shown to you. With the Airdyne Ad7, you're getting an LCD screen that looks very modern and well laid out. On the other hand, the Assault Airbike's presentation is a lot less cluttered and more user-friendly, as you can easily control what you see on the screen.
Both bikes have integrated workouts in their settings; however, the Airdyne Ad7 offers a bit more variety.
There aren't a ton of accessories you can buy for either of these two bikes. You can get a windscreen attachment for the Assault Airbike and some custom Shimano bike accessories, but that's basically it.
The Assault Airbike has a 5-year warranty period, and the same applies to the Schwinn Airdyne Ad7. However, the first bike's parts come with a two-year warranty, while the latter offers only one year.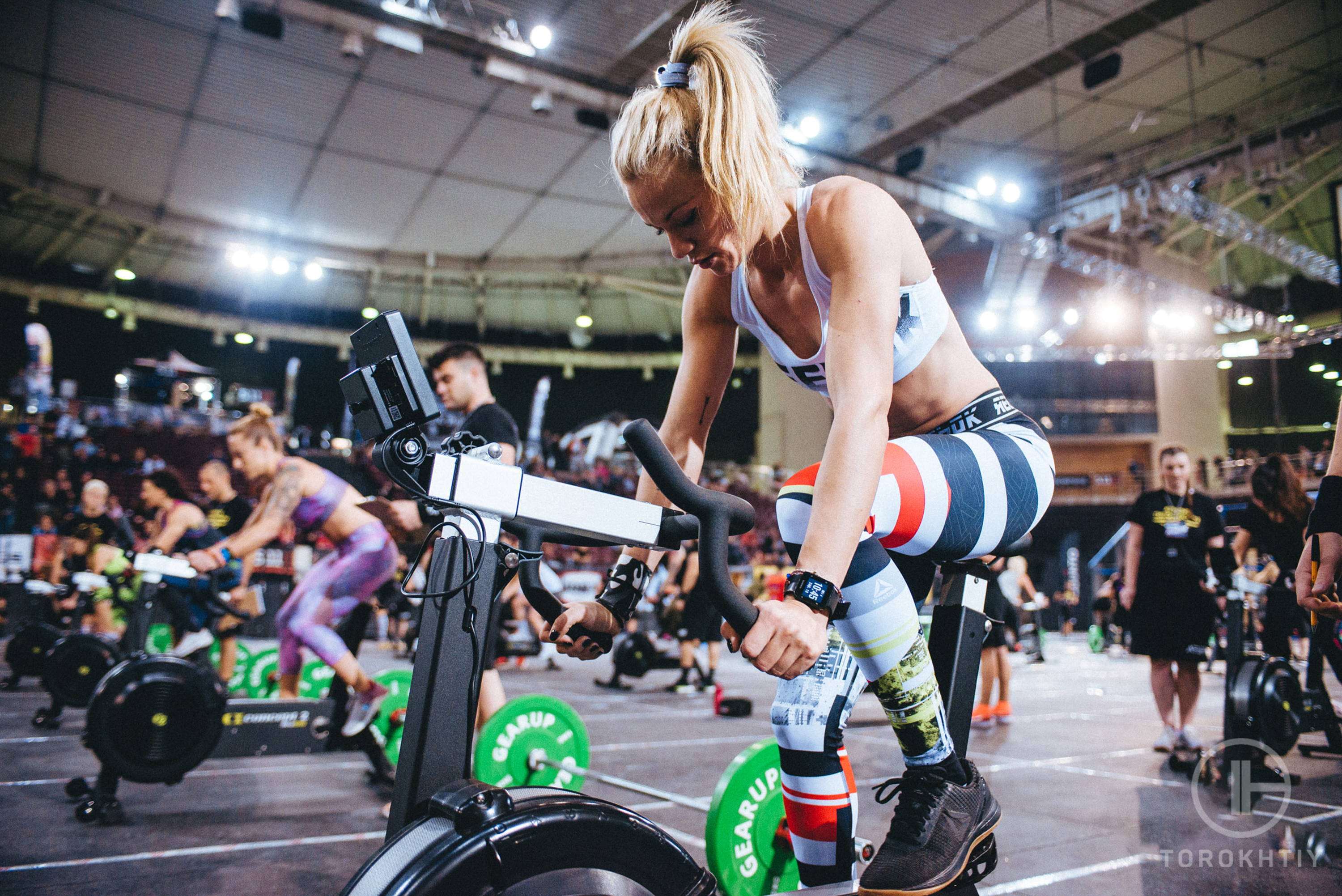 Schwinn Airdyne vs Assault Bike Summary
The differences between those two bikes are not that many. While the Assault Airbike takes the more classic approach and offers more utility and less modern features, the Schwinn Airdyne Ad7 is a tad more modern and has a bit more features that enable users to do different types of workouts.
Both bikes are suitable for home gyms and are definitely a worthy investment. Having said that, let's take a look at their pros and cons so that you can make your final decision.
Incredibly user-friendly features

It can easily be moved around thanks to its lighter weight and excellent transportation system

Sturdy and durable thanks to its high-quality steel build
Less comfortable seat and handles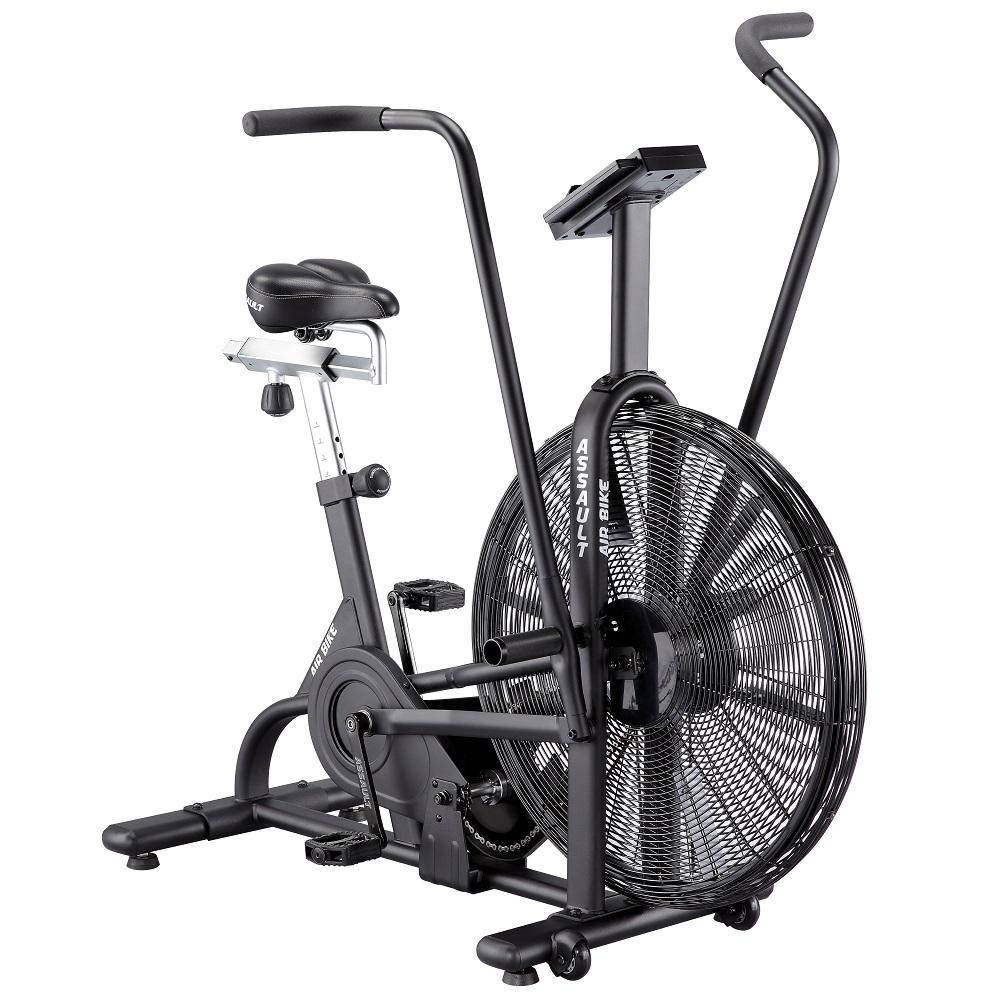 More pre-programmed workout programs

More comfortable seat and better handles
Heavier, thus more challenging to move around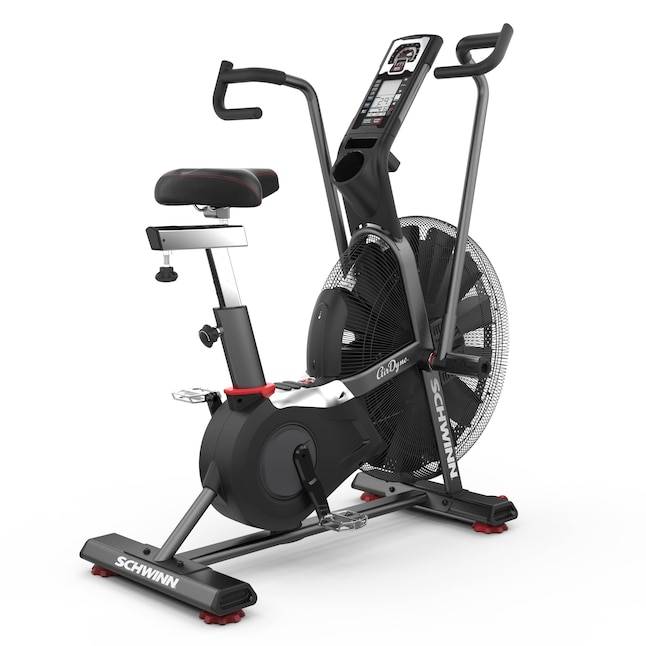 Assault Airbike vs Airdyne Pro - Quick Comparison
Along with the Airdyne AD7, Schwinn also offers another bike model that's suitable for your home gym, and that's the Airdyne Pro. Now, here the biggest differences between the classic Assault Airbike and the Airdyne Pro are the fan and its size. Schwinn's top-notch model comes with a 26" diameter fan that allows you to burn more calories, thanks to the larger resistance.
So, when it comes to Assault Bike vs Airdyne - calories are more easily burned with the latter option. And if your fitness goals include fat loss, it may be a more suitable choice for you.
Are air bikes and assault bikes the same thing?
Yes and no. The Assault Airbike is a type of air bike; however, it's called "assault" due to the name of the brand that first created it; however, it's not an encompassing word for all air bikes on the market.
What is the best Schwinn Airdyne Bike?
The best Airdyne Bike on the market is perhaps the Pro model. It comes with a better design and screen and also has a customized 26" diameter offering more resistance and enabling you to burn more calories.
Getting a good cardio machine for your home gym is vital if you want to be able to do a full range of workouts and keep fit all year long. The best choice for most people is to get an air bike. However, choosing which one to purchase is difficult. Hopefully, this article gave you key insight into the differences between two popular models - the Assault Airbike and the Schwinn Airdyne AD7. If you're looking to get the best of the basics, then the classic Assault Airbike is just for you. On the other hand, if you're looking for something more modern and customizable, the Schwinn Airdyne AD7 is the right bike for your home gym. And for those of you who have already used one of the two bikes - what are your impressions? Share them with us down in the comments section.
Airdyne Bike and Assault Bike: Technique, Benefits and Common Mistakes // FITZABAUT:
https://www.fitzabout.com/exercises/airdyne-bike-and-assault-bike/
I'm Tanya, and I love lifting weights. 6 years ago, I picked up Olympic weightlifting and Fitness. Weightlifting is a unique sport because it's just you against the bar. There are no teammates to help you out; it's all on you.
I'm also passionate about helping other women achieve their fitness goals. That's why I started my blog and write some products reviews. I want to show other women that they can do anything they set their mind to!