Rogue MG-1 Multi Grip Bar Review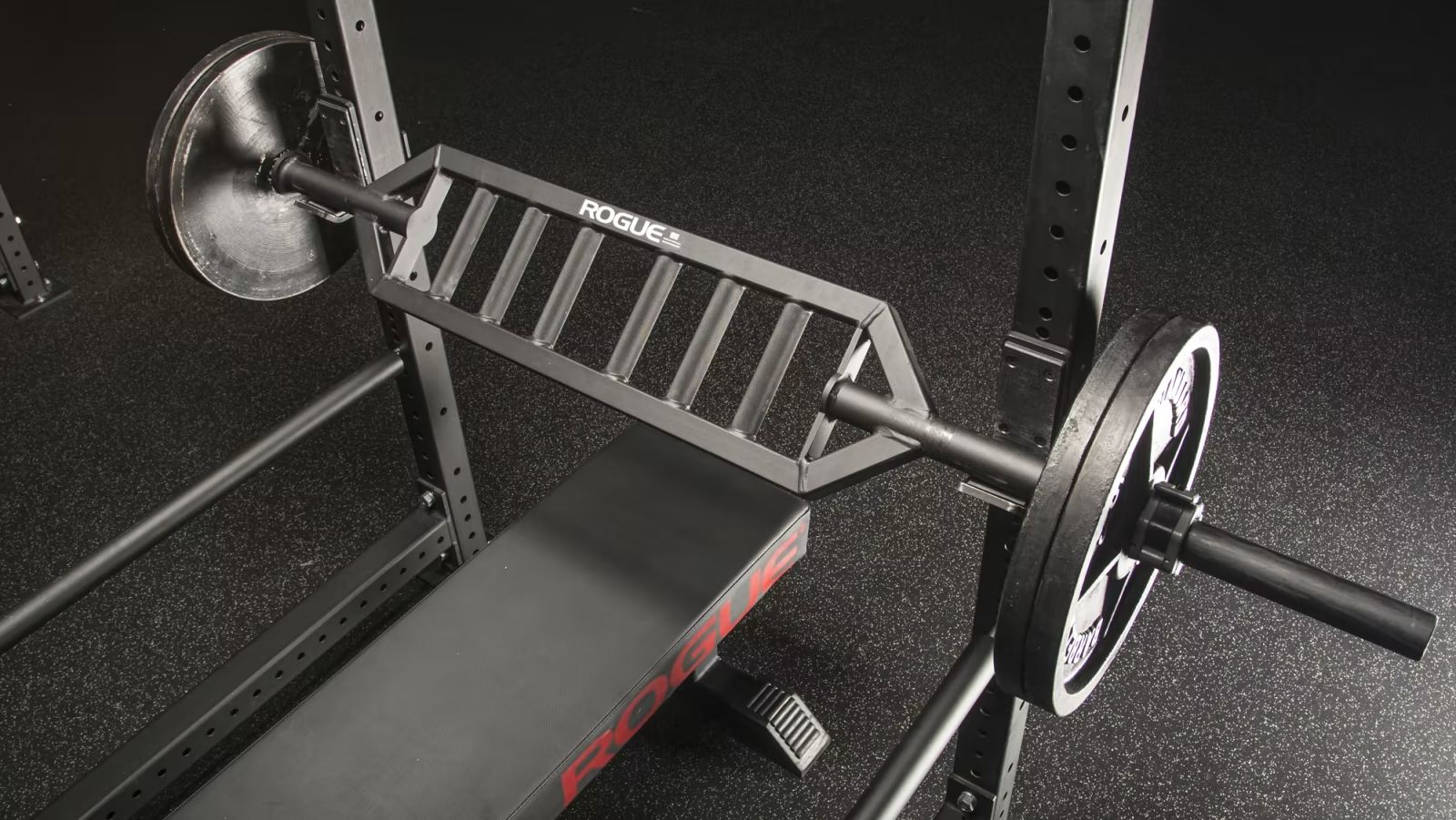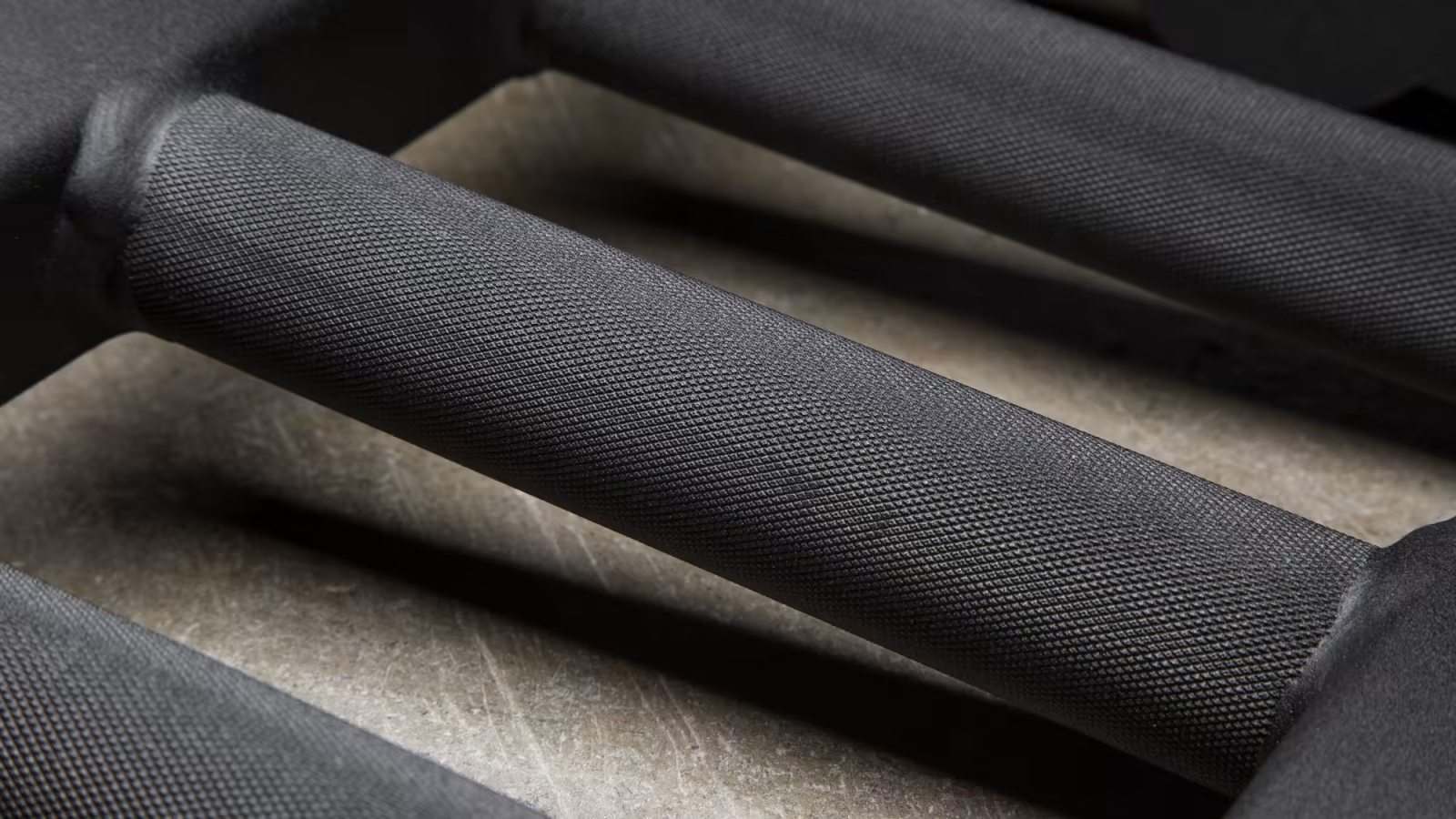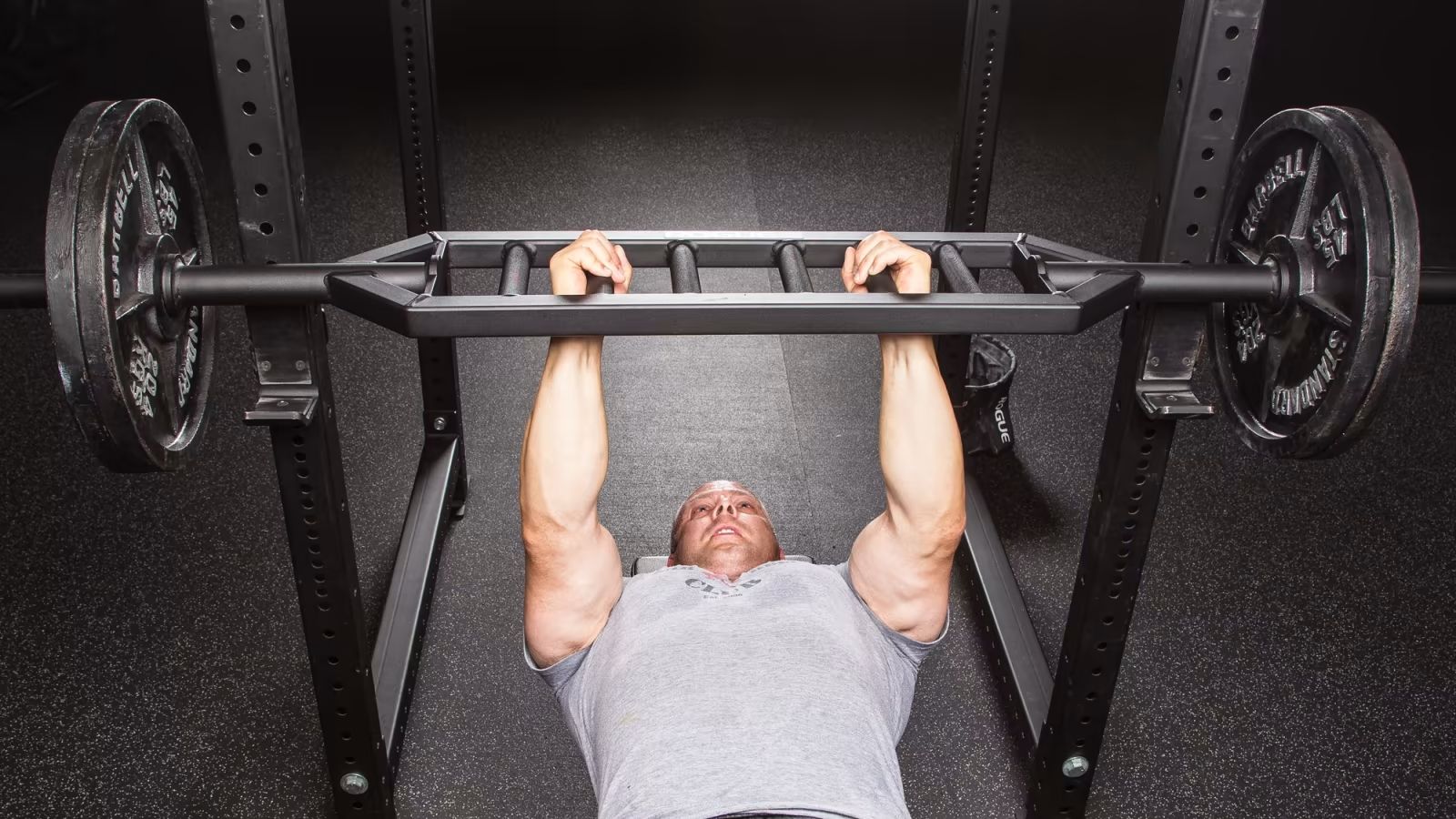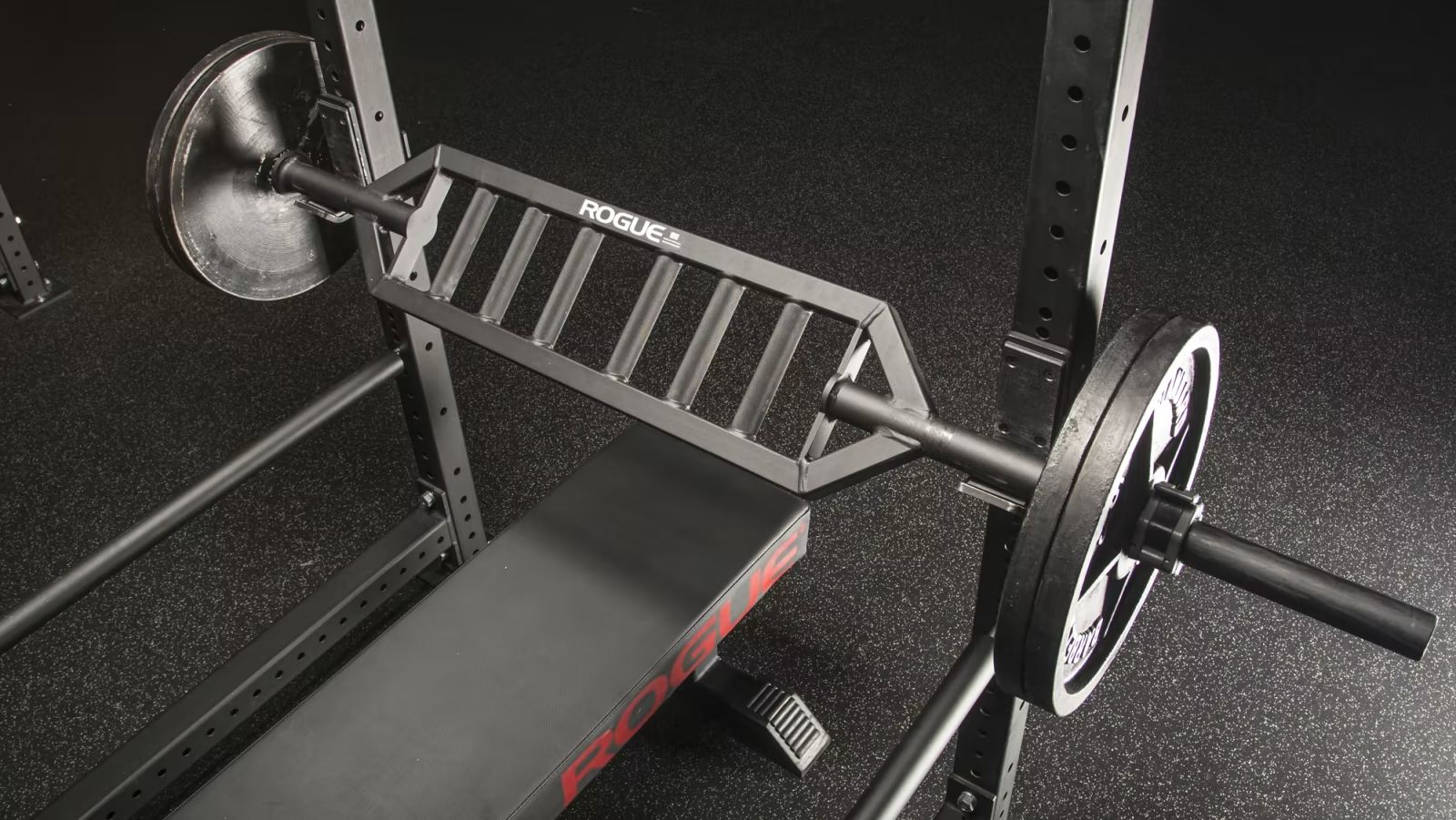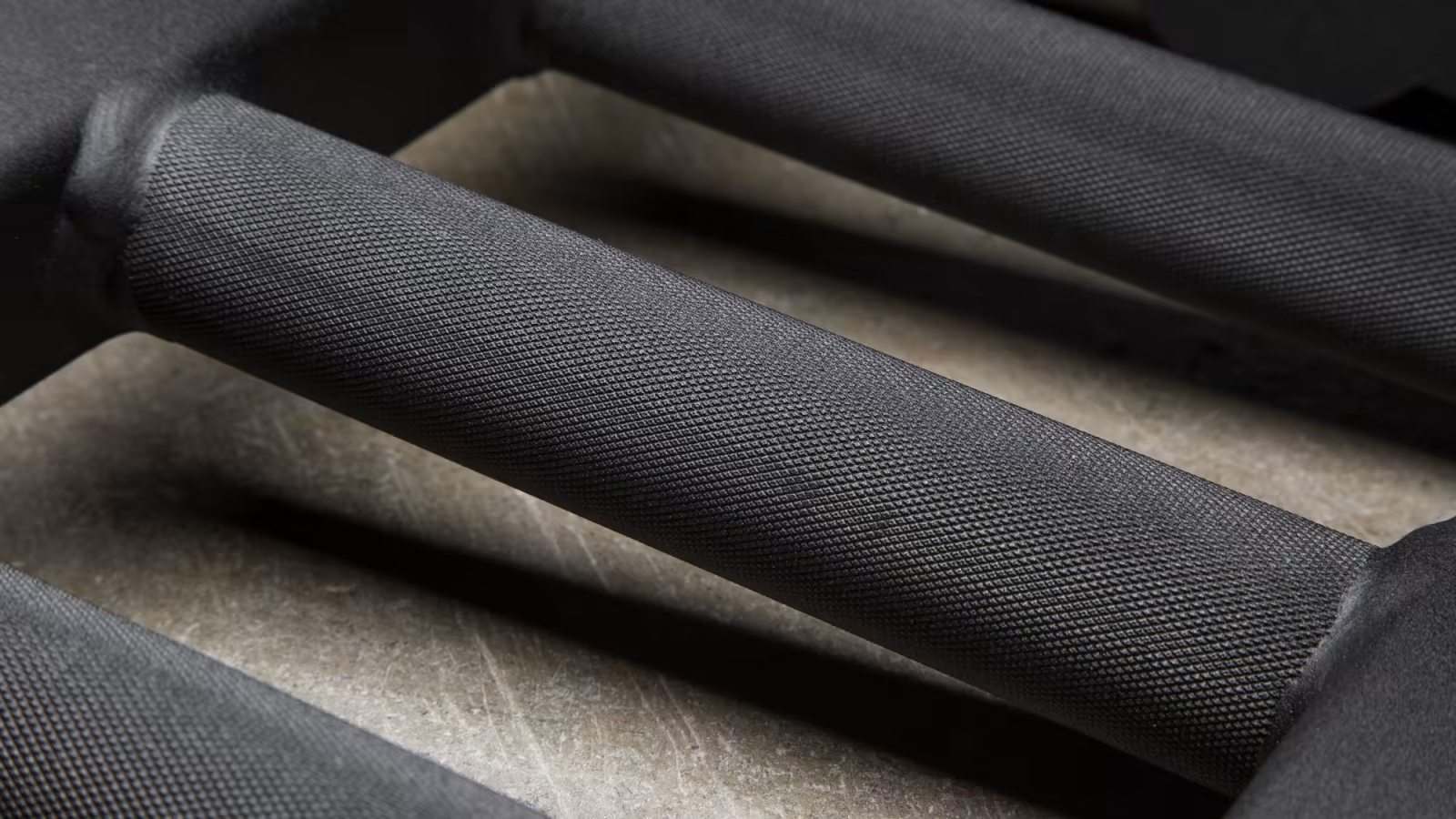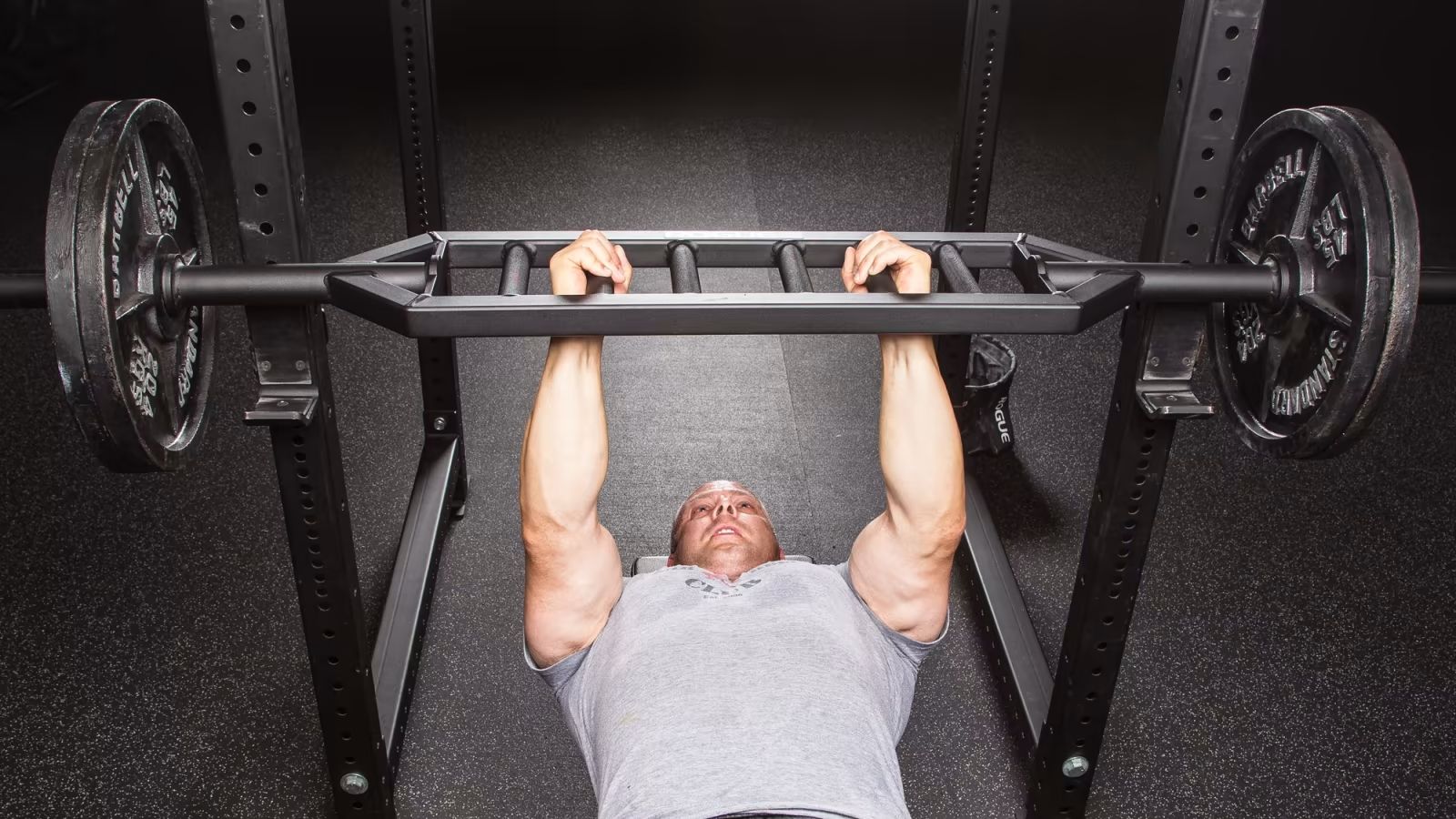 Today, in our repertoire, we are taking a closer look at
Rogue MG-1 Multi GripBar
. Multi-grip barbells, or Swiss/football barbells as they are commonly called, are designed to relieve stress from your shoulders while doing specific exercises such as bench presses, rows, curls, overhead presses, front squats, and tricep extensions.
The question is, "Is this multi-grip bar just another barbell?" or does it somehow stand out from the crowd?
I've used this particular one a lot recently and have a few things to say about it.
So make yourself an espresso because this will be a quick one!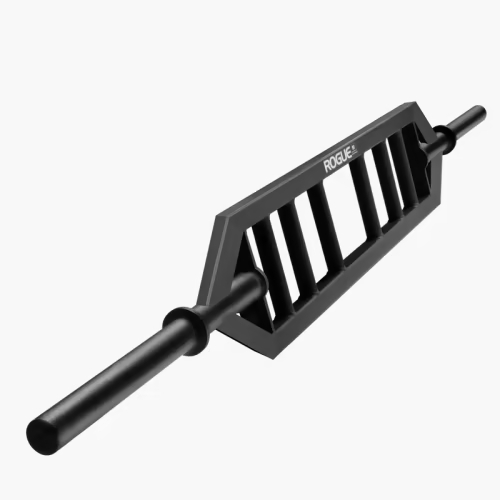 Tried it? Review this product
Rogue MG-1 Multi Grip Bar: Product Summary
Purpose: Bench press, floor press, lockouts, JM press, shoulder press, and more while relieving the stress of shoulders
Bar Weight: 39 lb
Length: 82''
Tensile Strength: 190,000 PSI
Yield Strength: n/a
Weight Limit: 1900 lb
Knurl Type: Medium diamond knurl
Center Knurl: Each grip handle is fully knurled without knurl marks (requires special collars because of the 48.5mm sleeve diameter)
Knurl Marks: No Knurl Marks
Shaft Finish: Powder-Coated Black
Shaft Diameter: 48.5mm
Sleeve Finish: Powder-Coated Black
Sleeve Type: Fixed sleeves (requires you to purchase new specialty clamps)
Sleeve Length: 14''
Rotation System: No rotation
Warranty: Lifetime Warranty
To begin, this beast has several potential uses in the gym. The workout routine includes everything from bench lifts and rows to hammer curls. Its adaptability is remarkable and frees you to devise novel exercise routines. So don't think 'barbell' when you look at a multi-gripper, don't think 'barbell'. Instead, think '3in1 barbell'. You can go even further with this one, 4in1, 5in1, etc. A Swiss bar is truly the jack of all trades when it comes to barbells.
When it comes to Rogue equipment, they really do radiate that premium feel. And it is not just because of the name. The quality of Rogue-branded products is usually top-notch.
The full knurling on each grip handle provides a secure hold, and the tensile strength is through the roof. No more reps will be lost due to the bar falling out of your hands. If it's super loaded and falls, you could be losing more than just reps. The knurling really is aggressive enough to provide a super secure grip, but funnily enough, it doesn't come with that drawback of causing blisters. The guys that engineered this knurling pattern were either super lucky, or they did some serious research to get to that sweet spot.
Regarding its tensile strength and yield strength, I've put the heaviest plates I could find, and I've loaded it to full. And I buddy lift the thing with a forklift. IT didn't budge. So if you're looking to break some world records, I guess you could use this Swiss bar for that.
So, what about the price? It's a touch pricey, but it's worth every cent. Spending money on improving your physical health is a good use. I suppose not everyone could afford it because of the hefty price tag, but if you look at it this way - It is a long-term investment, and once it is yours, it will likely last you your lifetime. Then it is easier to look past that.
However, there are a few drawbacks to consider. Because of its size, it may not be suitable for cramped gyms. Although the knurling enhances grip, it may be uncomfortable at first.
But in the long run, it's a good investment if you can afford it. It's like investing in a luxury sedan at a fitness center. Workouts with the Rogue MG-1 Multi Grip Bar 2.0 are unlike anything you've experienced. They feel solid. They feel nice, and they feel sturdy. If you don't own a multi grip bar, then I suggest you give it a go. And Rogue MG is the one I recommend.
High capacity to withstand heavy loads

Perfectly balanced, offering excellent grip without tearing up your hands

Its durability and versatility make it a worthy investment despite the higher price
Higher upfront cost compared to some alternatives

Might not fit all racks (check before buying)
There are two variations of this version: MG-23 and MG-24. The HExagonal MG-23 is an adaptation of the original MG-1 Heavy Duty Multi-Grip Bar 2.0. The 23 has six 1.25" angled handles. This allows the athlete three grips: near for triceps, broad for pectorals. For curls or "elbows-in" bench presses, spin the Multi-Grip Bar 180 degrees.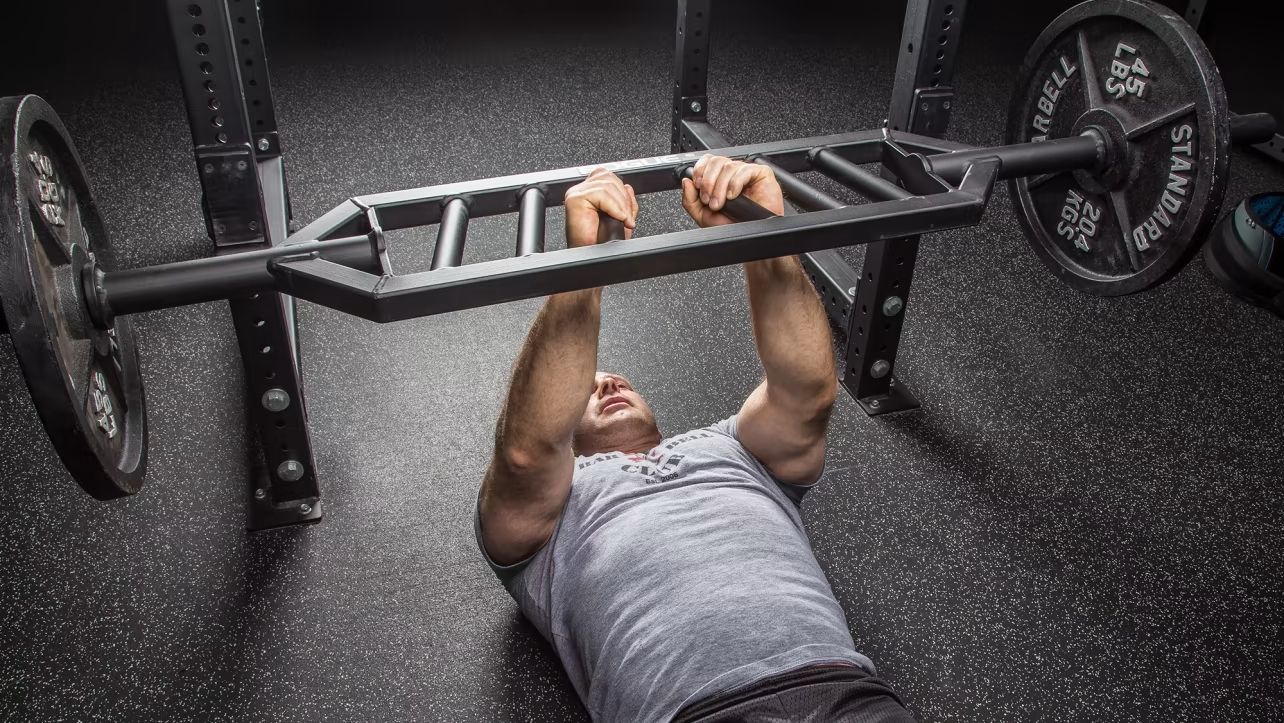 The rectangular MG-24 Bar has two extra handles at the same angle, with spacing possibilities at 6", 14", 22", and 30". It rotates for elbows-in, triceps-focused exercise like the MG-23. They also differ in bar weight (39lb/45lb) and loadable sleeve length (13.75"/14"). The bar length is 82" in both, and the shaft length is 52.75" in both. It comes with a matte black finish.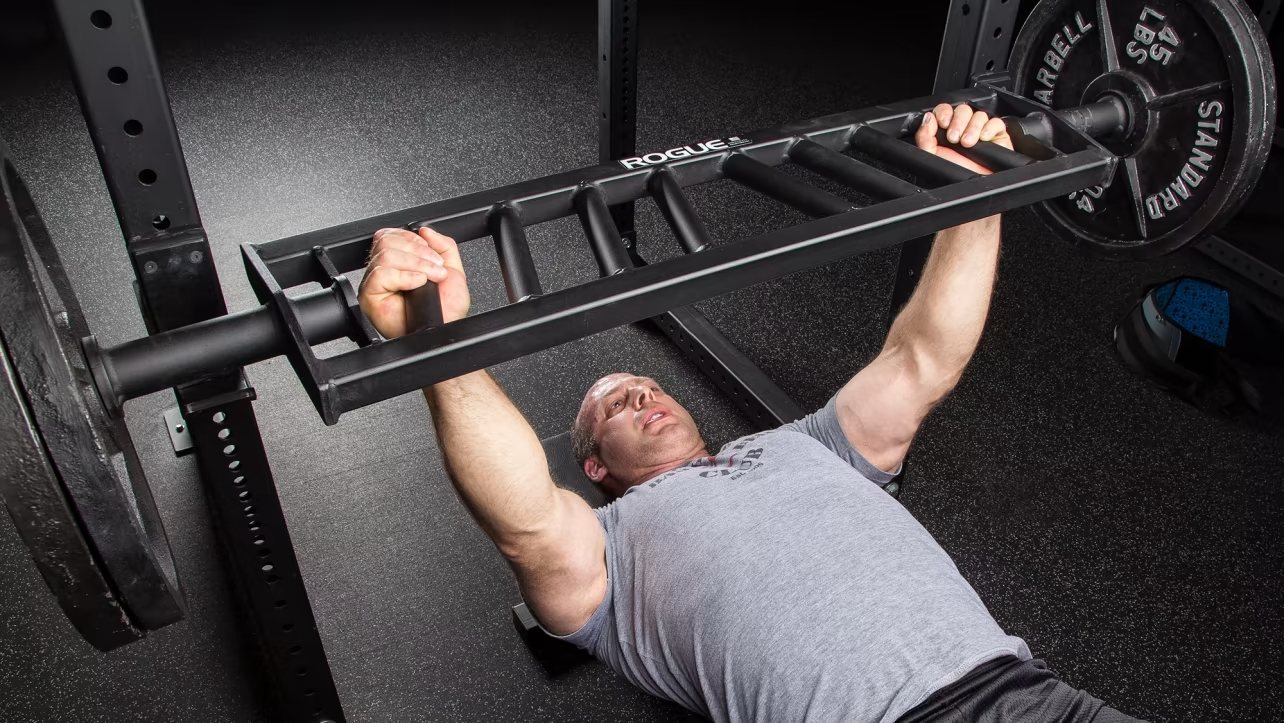 The Rogue MG-3 Knurled Multi-Grip Bar has one pair of internal angled handles, two sets of vertical neutral-grip handles, and 14" of loadable sleeve length. The knurled handles, spaced at 10", 20", and 28.5", allow an athlete to switch from a closed grip for triceps to a broader grip for pectorals. The interior handles of the MG-3 Bar may be reversed 180 degrees (with the Rogue logo upside down) for curls or "elbows-in" bench presses. The bar weighs 43lb, is 82" long, and has a diameter of 31.75mm.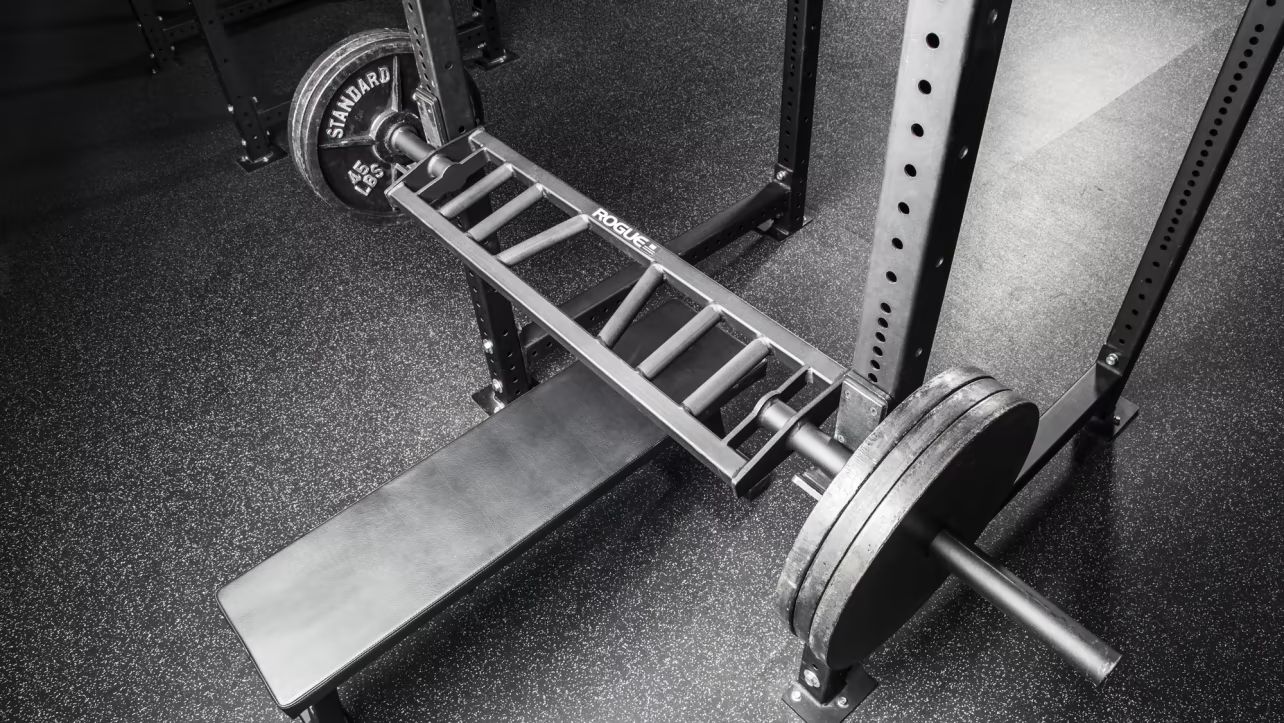 Rogue's Multi-Grip Bars fit regular power racks and Olympic plates, unlike specific Swiss or football barbells. It comes with a matte black finish. This bar reduces wrist and shoulder tension during press motions and strengthens the triceps for stronger lockouts.
This multi-grip bar is unique because it is almost entirely customizable. The regular one comes with a matte black finish, or you can pay extra for a stainless steel version. The newest Rogue specialty multi-grip barbell has a 3.5" cambered frame. You may also purchase a Flat Frame and Narrow Camber separately. The patent-pending design incorporates rotating sleeves and lets you choose handle width (28.5mm, 32mm) and angle (straight to 20 degrees). Stainless steel handles cost extra.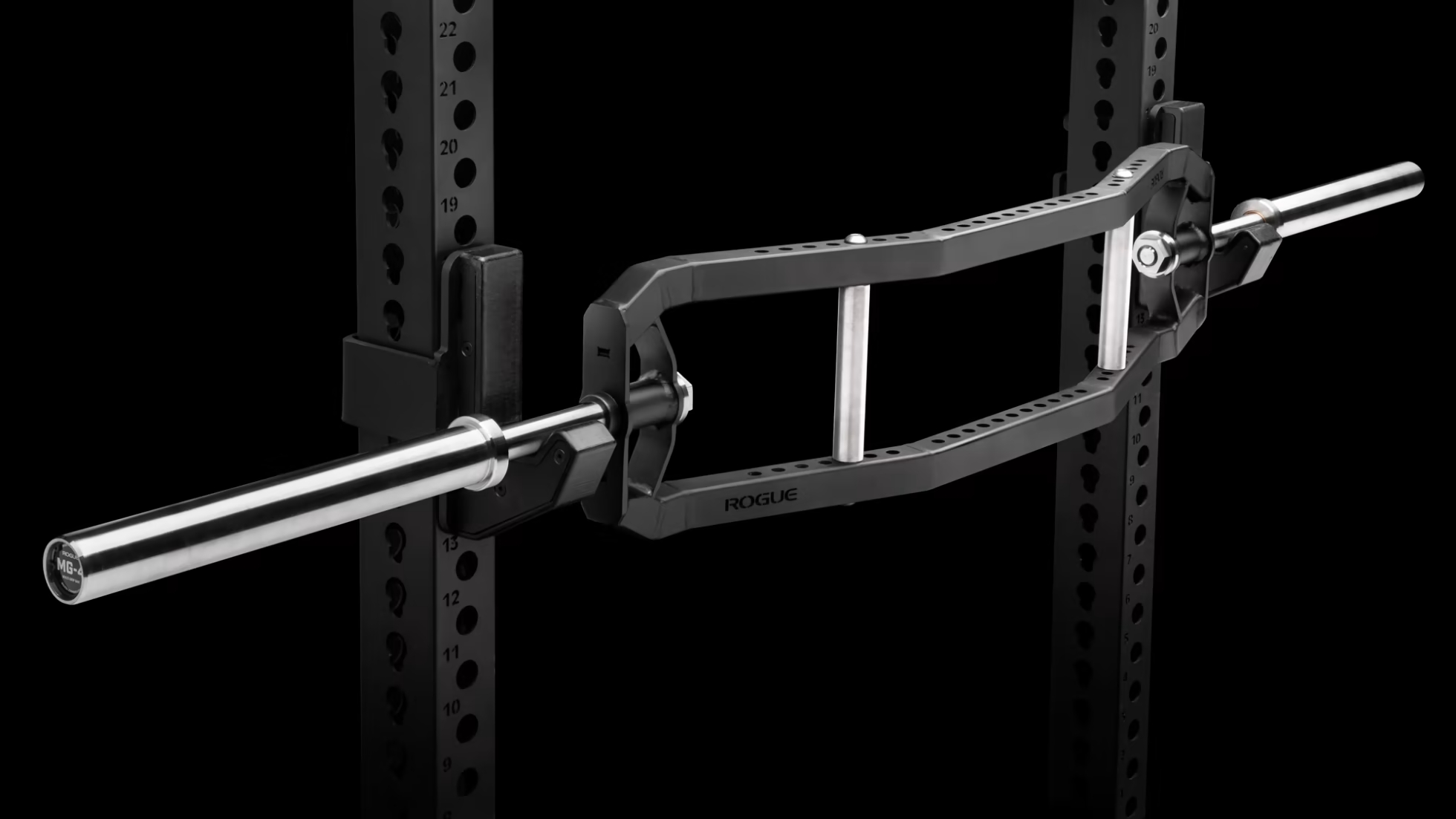 The MG-4C's friction welded sleeves, available with 9" or 15.5" loadable length, employ the same internal components as other standard Rogue barbells and revolve on stainless steel shafts like their power bars. The bar fits any Rogue power rack, squat stand, rig, or bench since the sleeves are 51.5".
All the above are great multi grip barbells with their own distinctive purposes, but my recommendation still stands firmly with the MG-1.
Rogue MG-1 Multi Grip Bar: Features & Highlights
So it's definitely a recommended piece of gym gear. But what about some specifics? I'll go through all the main points that you should look out for when buying any barbell. Let's break down the Rogue MG-1 Multi Grip Bar, feature by feature.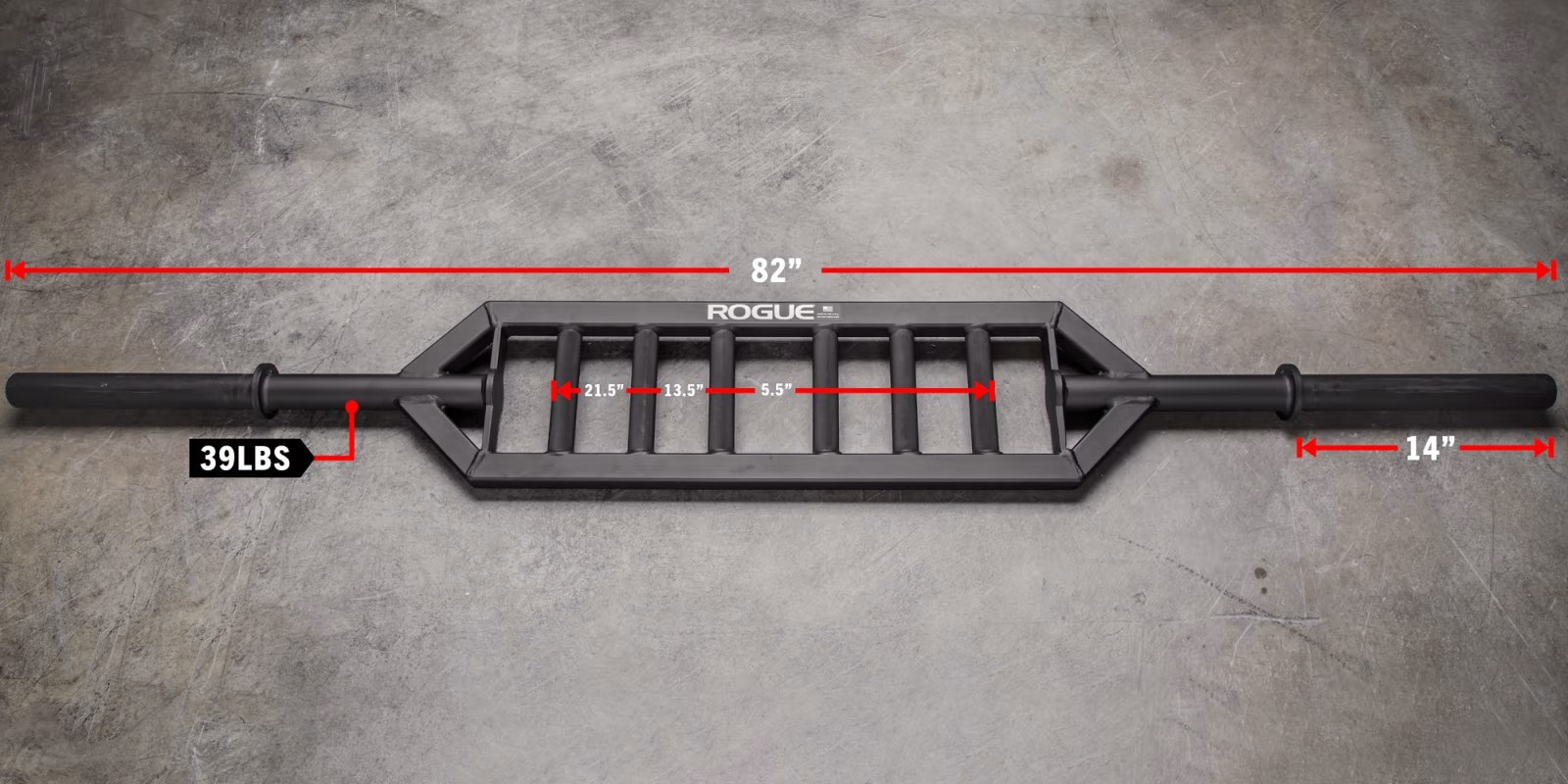 The MG-1's knurling is solid and confident, and you can feel the affects it has on grip. Much like the best handshake, without being overly pushy. You can hold on securely without appearing like you high-fived a porcupine.
Simply put, if the MG-1 were a playable character in a video game, it would have infinite protection. Its crushing resistance is really impressive. It's great for those "beast mode" workouts since it can take a beating and yet keep on ticking.
As a versatile fitness tool, this bar is unparalleled. The MG-1 can do a wide variety of exercises, such as deadlifts, bench presses, overhead presses, triceps extensions, rows, and bicep curls. And you can do all of them without the extra strain on your shoulders, as per the barbell design. This one bar replaces your personal trainer, exercise partner, and your typical gym.
With the price of gym equipment going up due to several economic factors, the Rogue MG-1 Multi Grip Bar is still an excellent purchase that will pay dividends in increased muscle mass and more enjoyment from your weightlifting sessions due to its longevity and adaptability. You may buy this high-quality piece of machinery without causing severe financial distress.
Rogue MG-1 Multi Grip Bar is an absolute monster. The high-quality steel, Hulk-like tensile strength, perfectly balanced knurling, and unparalleled crushing resistance make this an adaptable warrior ready for any challenge.
(Show More)
Simply said, the Rogue MG-1 Multi Grip Bar is an absolute monster. The high-quality steel, Hulk-like tensile strength, perfectly balanced knurling, and unparalleled crushing resistance make this an adaptable warrior ready for any challenge. Although it may need a more considerable outlay of funds, its longevity and adaptability make it a worthwhile investment in your pursuit of physical health.
Should you spend your money on it? That gets an enthusiastic endorsement from me! It's like paying once to unlock endless exercise options. So, why are you still delaying? Take hold of the bar and start lifting!
Do you own this model? Or are you just planning to get it? Share your thoughts and opinions in the comment section below. Also, I'm eager to learn about how multi grip barbells have affected your gym life.
Enjoy!
You can trust our reviews. Our website was founded by a real and well-known media person, Oleksiy Torokhtiy. We are responsible for our reputation.
When making a review of we focus on:
- Product quality
- Comfort of use
- Reliability
- Design
- Smell, tactile sensations
- Package
- Price/quality ratio