Kabuki Kadillac Bar Review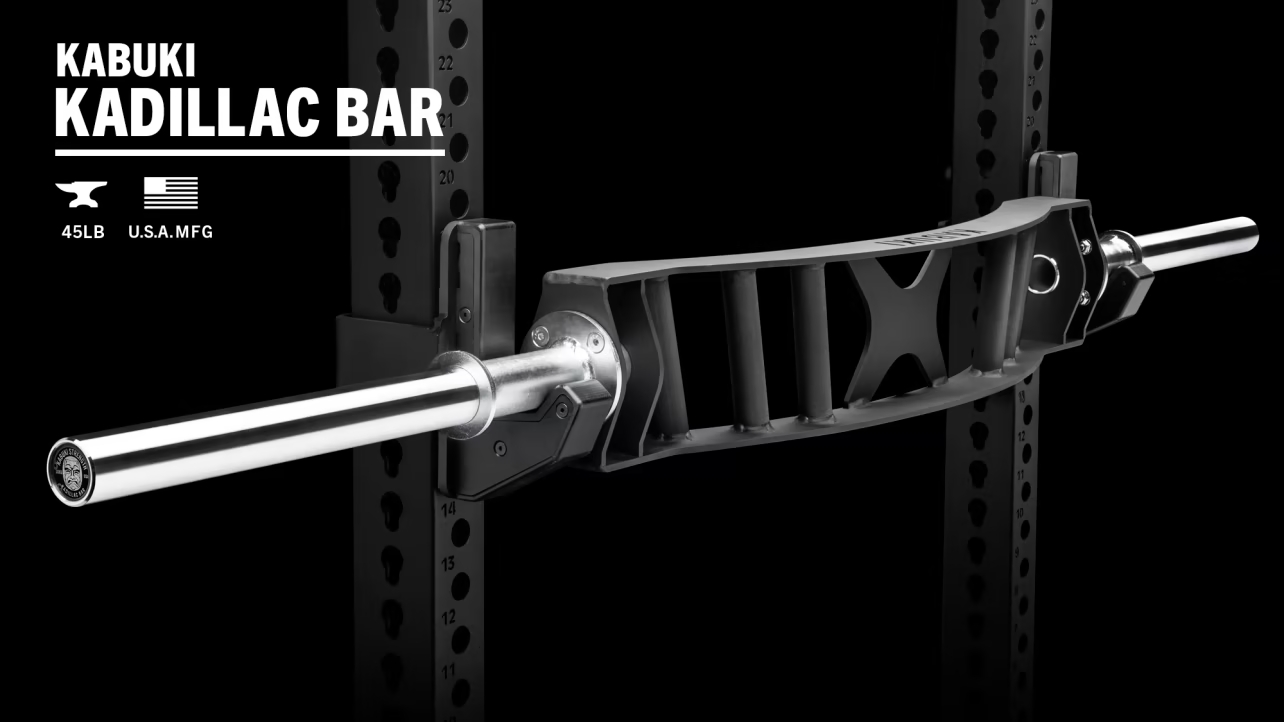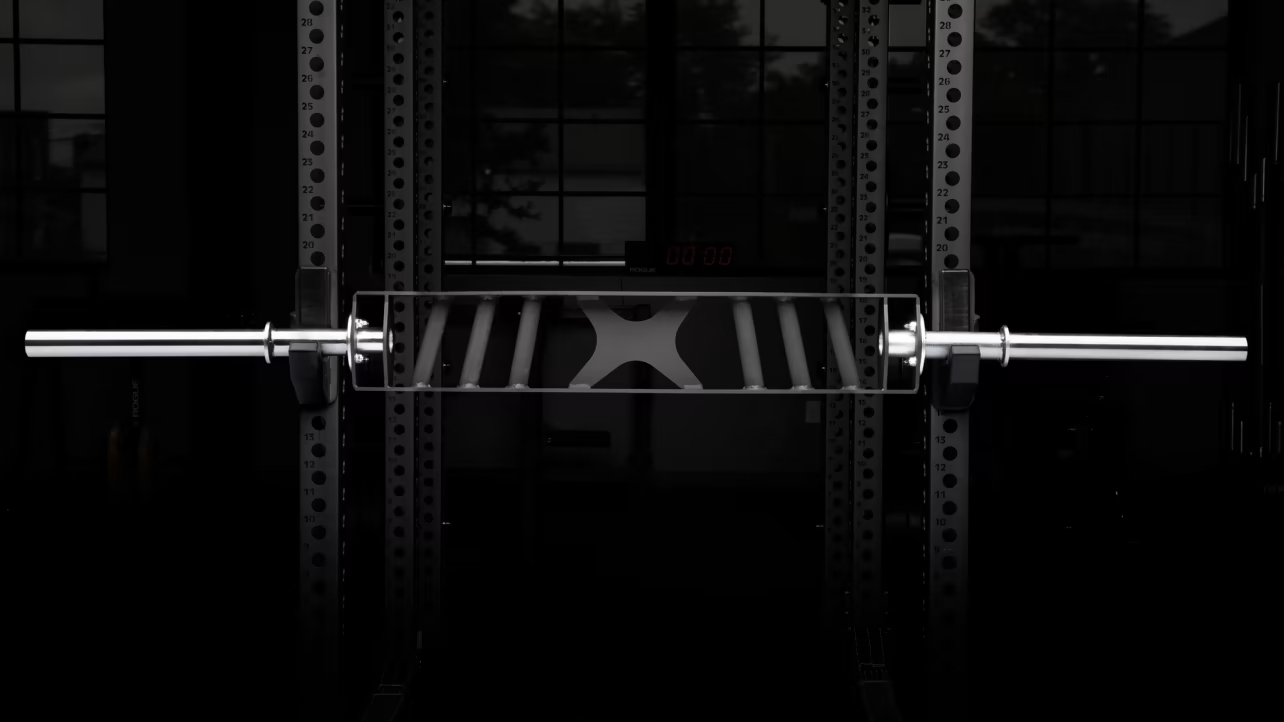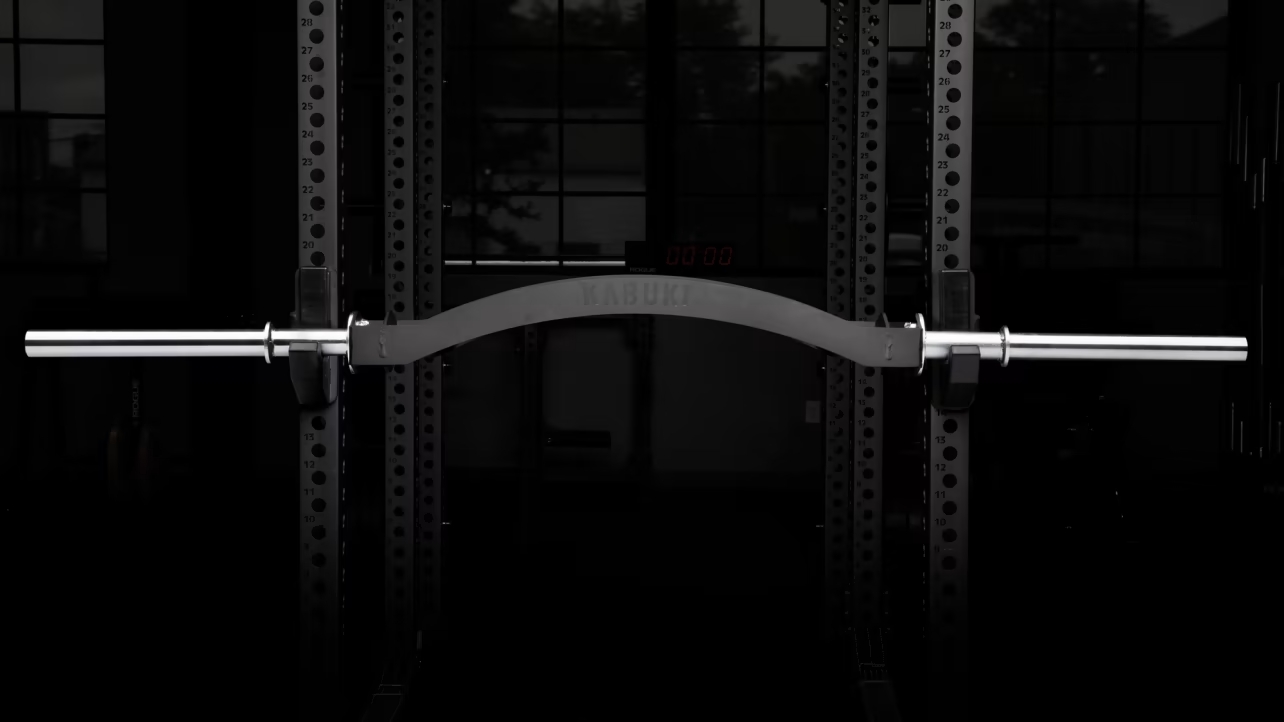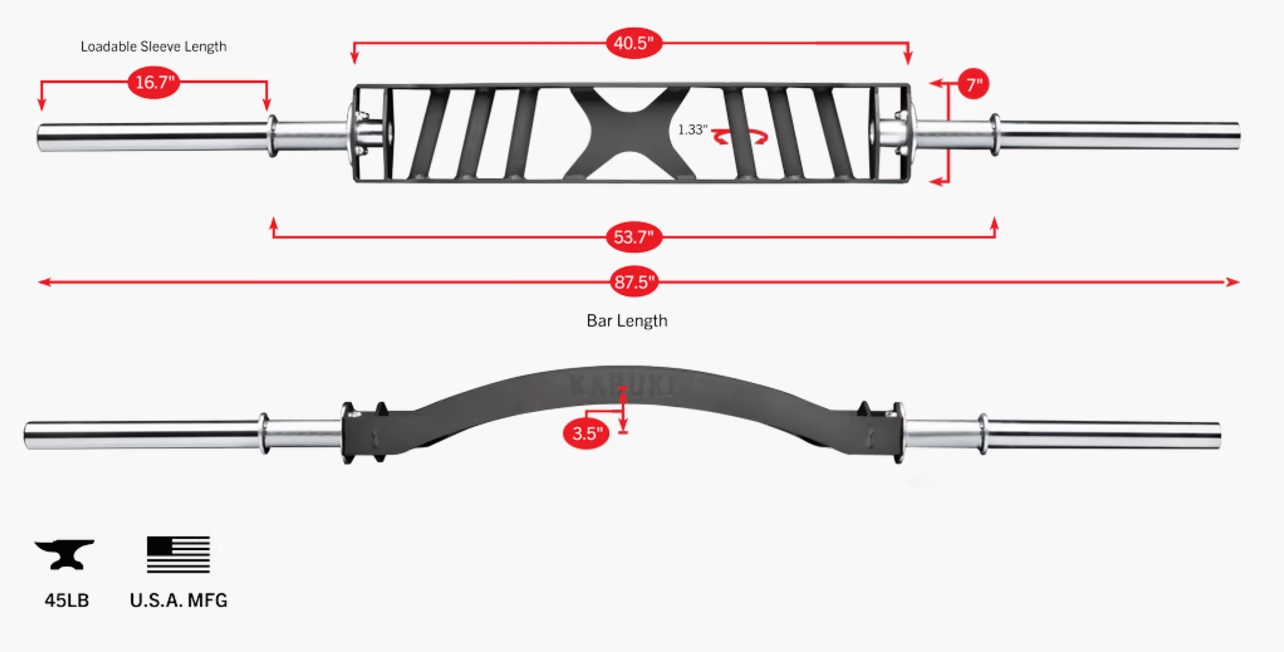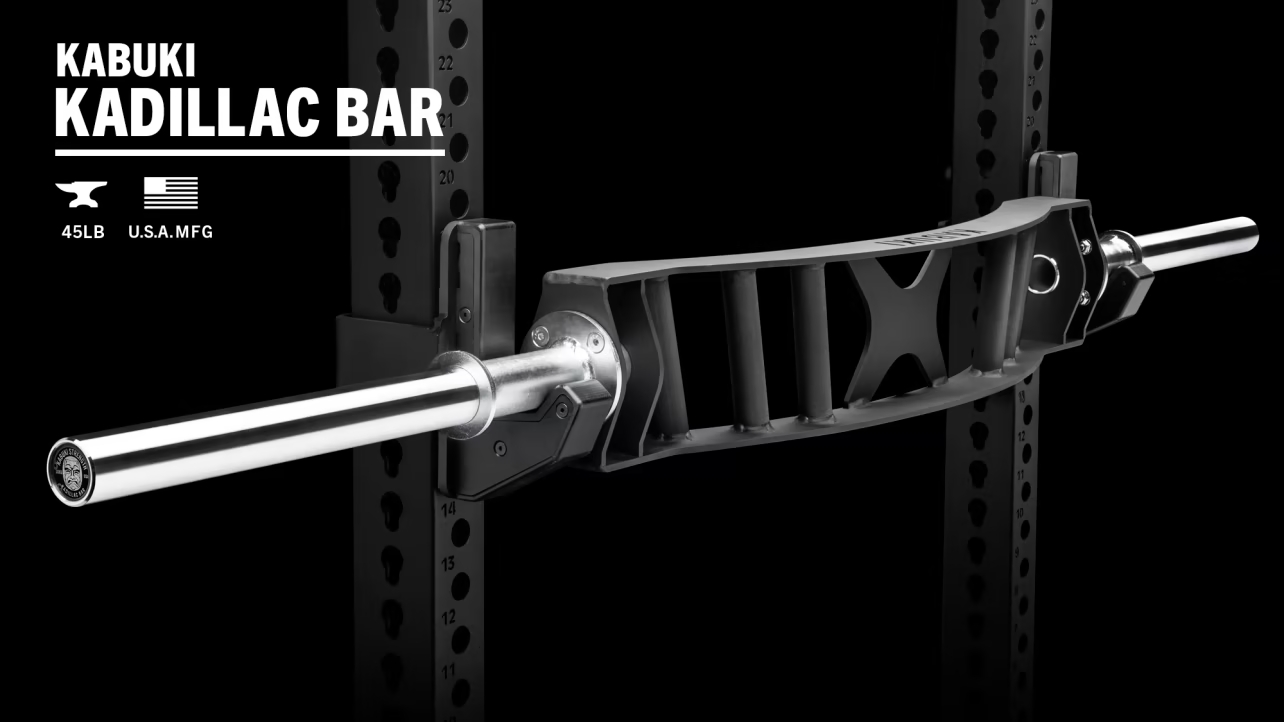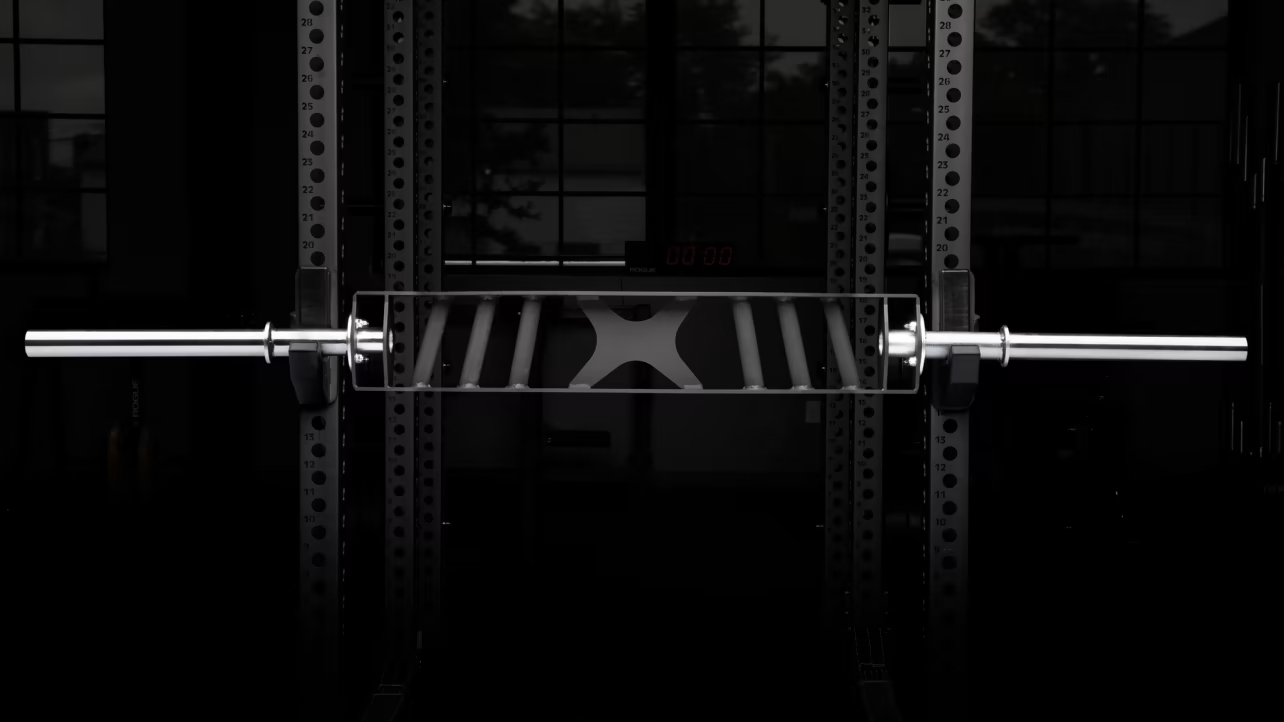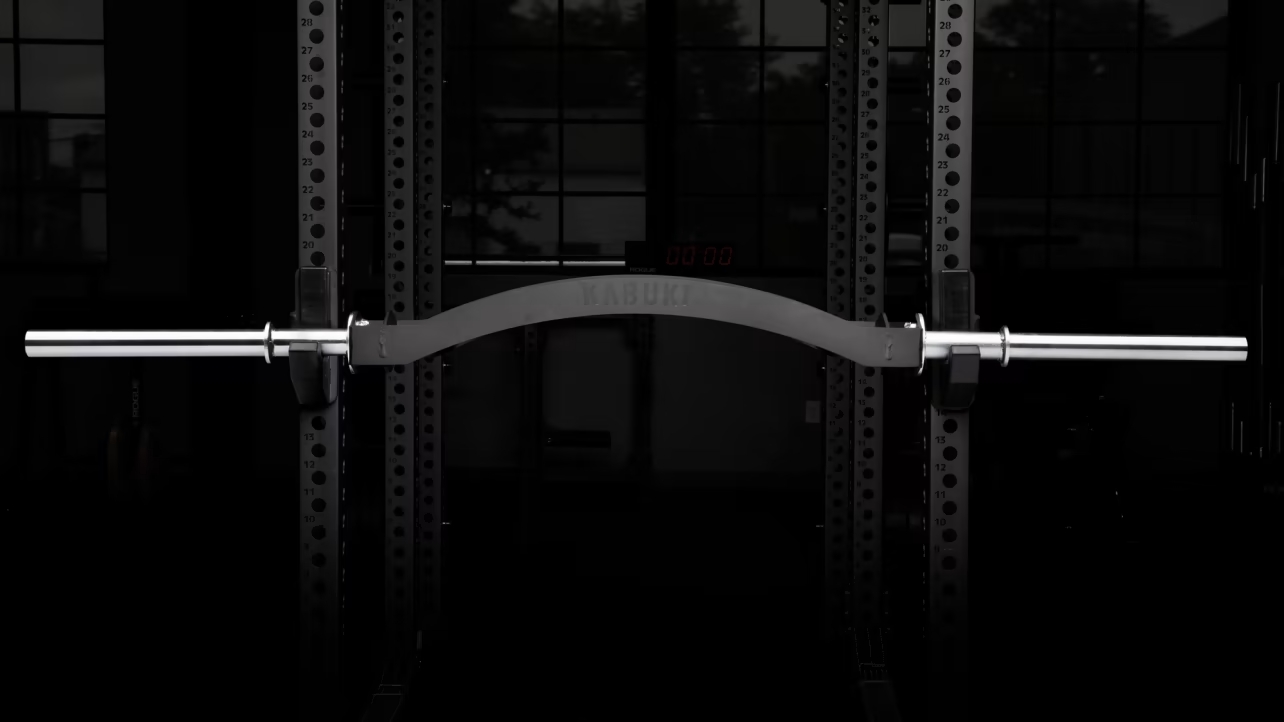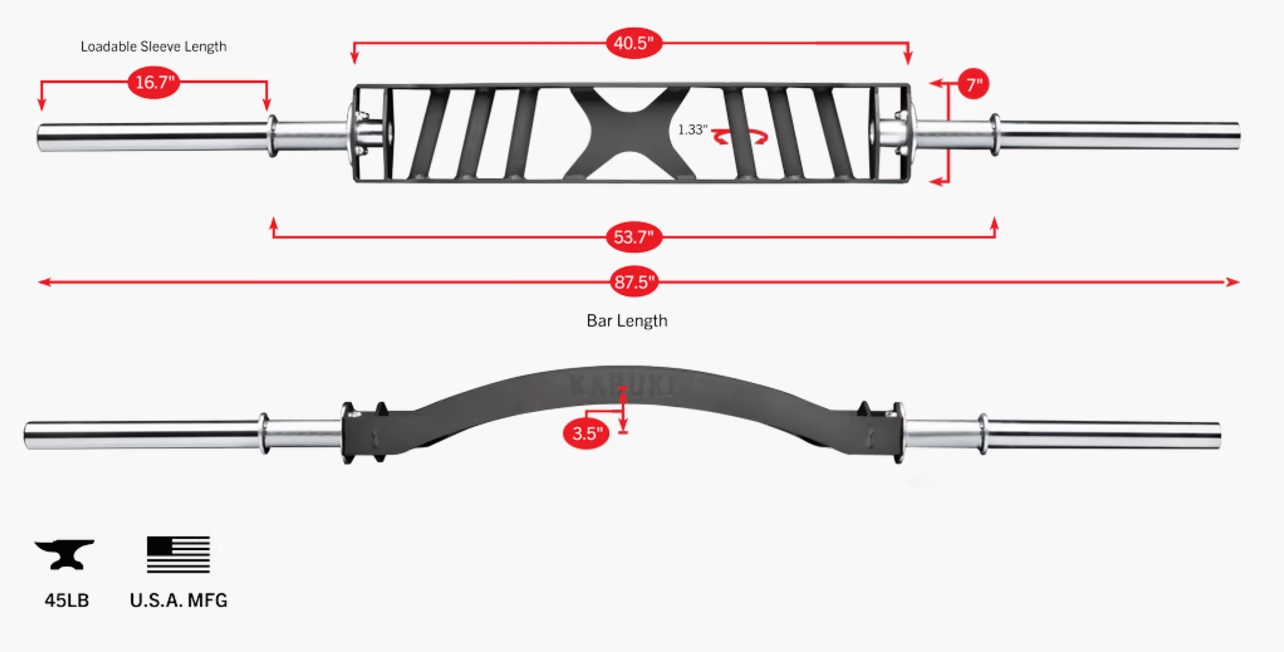 Choosing the right equipment is crucial to see the best results when weightlifting. A high-quality weightlifting bar is a vital part of any gym setup. In the following review, we will look closely at the
Kabuki Kadillac Bar
to see the available features.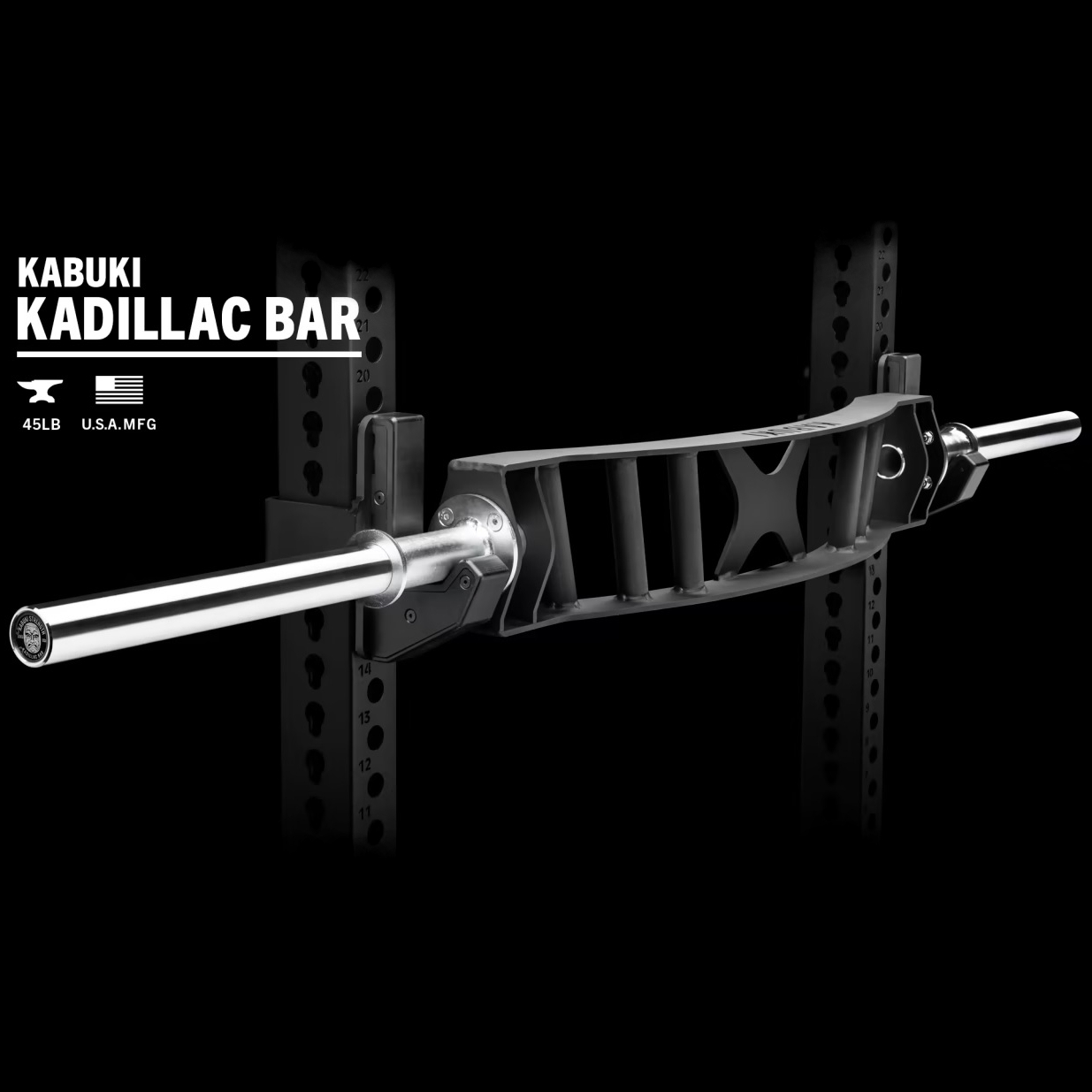 Tried it? Review this product
Kabuki Kadillac Bar: Product Summary
Kabuki Strength is a manufacturer based in the USA that sells a variety of strength and gym equipment. Their products are designed and engineered to improve performance and reduce injury.
Purpose: Multi-purpose barbell for strength training
Bar Weight: 45 pounds
Length: 87.5 inches
Weight Limit: 850 pounds
Knurl Type: Diamond
Shaft Finish: Powder-Coated
Sleeve Finish: Bright Zinc (Standard) or Proprietary Matte Black (Upgrade)
Sleeve Type: Fixed
USA Warranty: Lifetime
Fits Rack: 40.5 - 52.5 inches
Handle Spacing: 15.3, 22.3, and 29.2 inches
Grip Options: Standard and Reverse Grip
Grip Angles: 10°, 12.5°, and 15°
The Kabuki Kadillac Bar is a multi-purpose barbell manufactured in Ohio by Rogue Fitness. Originally this barbell came without knurling. However, this feature now comes as standard, along with a black powder coat finish.
This bar is made using high-quality materials and is highly versatile, with several different grip options to allow you to perform various exercises, for example, the bench press or barbell row with a full range of motion and a reduced chance of injury.
Bar is curved for a full range of motion

Three grip options so that you can perform various movements

Knurling on handles for excellent grip

Thinner than most multi-purpose barbells, making the bar less unwieldy

One of the best-looking knurled barbells on the market
Kabuki Kadillac Bar sleeves are narrow
Kabuki Kadillac Bar: Features & Highlights
Curved for Better Range of Motion
The Kabuki Kadillac Bar is curved or cambered (similar to the Buffalo Bar), offering a more natural range of motion. You may experience shoulder pain with a standard bar when performing exercises such as the bench press. However, this is less of an issue with this bar.
As the bar is curved, when flipped, it could be used for exercises requiring a limited range of motion, such as a board press.
This barbell has three handles at 10, 12.5, and 15-degree angles on each side. These angles promote an optimal, stacked joint position that will help your movement mechanics.
To begin, it will help find the most natural lifting position. At the same time, more experienced lifters can use the bar to hit their muscles at different angles and perform progressions.
Flipping the barbell will provide different angles; however, while this has its benefits, it can be a negative due to the limited range of motion.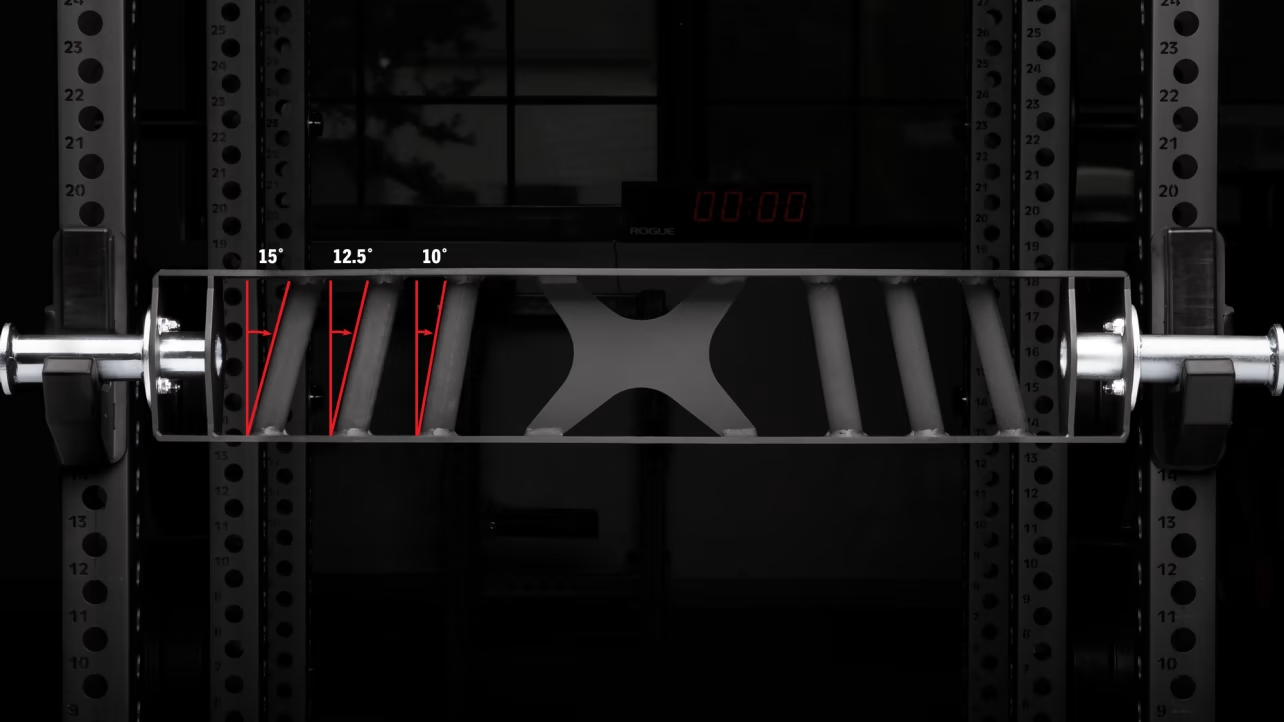 The Bar Can Handle Plenty of Weight
Not only has the Kabuki Kadillac Bar had its max capacity tested at 850 pounds there are reports that the bar could hold over 1,000 pounds.
The bar sleeves are also long (16.75-inch loadable sleeve), meaning that you won't have to worry about not having enough space for your plates, an issue you will find with those bars with shorter sleeves.
Machined to Olympic Standard
One issue with specialty bars, such as Swiss or multi-grip bars, is that the bar sleeves are often thin, requiring specialized collars. This is not an issue with the Kabuki Kadillac Bar, as its sleeves have been manufactured to Olympic Standards.
Not only does this mean that regular collars can be used, making the bar safer to use, but also it makes the bar look more aesthetically pleasing.
Another great feature of this bar is that the sleeves are finished in bright zinc. Most bars of this type are finished with a powder coating that quickly damages after a few uses.
A common complaint with the previous incarnation of this bar was the need for more knurling on the grips. However, this issue has been rectified as knurling now comes as standard.
If you are lifting heavy, you want to ensure the weight does not fall out of your hand, resulting in crush injuries. This knurling will help prevent this from occurring.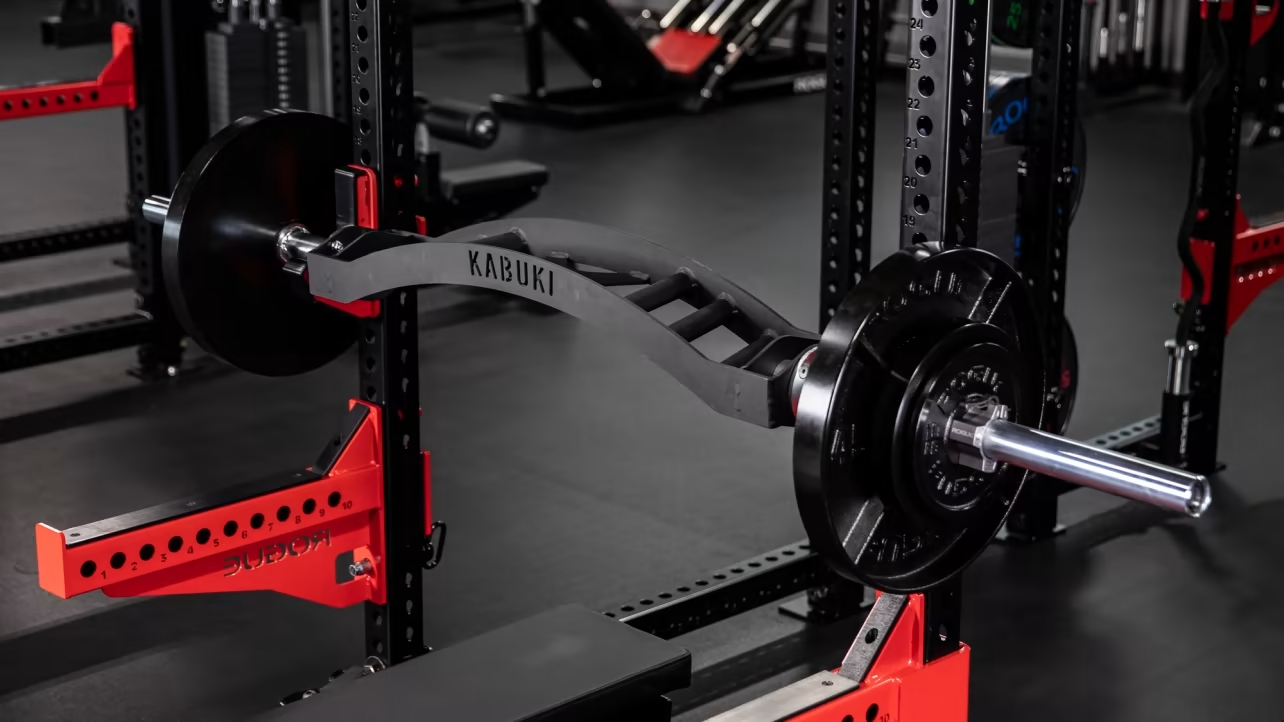 The Entire Bar is Powder Coated
Apart from the sleeves, the Kabuki Kadillac Bar is coated in a highly-textured powder coating that looks good and helps prevent corrosion.
You can also choose to upgrade the bar, which involves covering the sleeves in a matte black finish that helps transform the surface of the steel, making it more corrosion-resistant and improving color endurance.
Thinner Than Many Multi-Grip Bars
If you plan on using the Kabuki Kadillac Bar for overhead pressing or curls, you will appreciate that it is made using a 7" wide frame rather than the 10" frame found on most other multi-grip bars.
This smaller frame helps to increase the range of motion and makes the barbell easier to manage.
This barbell is rackable and should fit most standard racks. As long as your rack is less than 47 inches wide, you should be able to use this barbell.
This is one of the best-looking multi-purpose barbells available to buy. Its black powder-coating, and optional black sleeves are a sleek look. While the end caps with the Kabuki logo are some of the best-looking on the market.
The word "Kabuki" is also laser cut into the middle of the bar, which is something you won't find on many bars of this type and something that sets this bar apart from its rivals.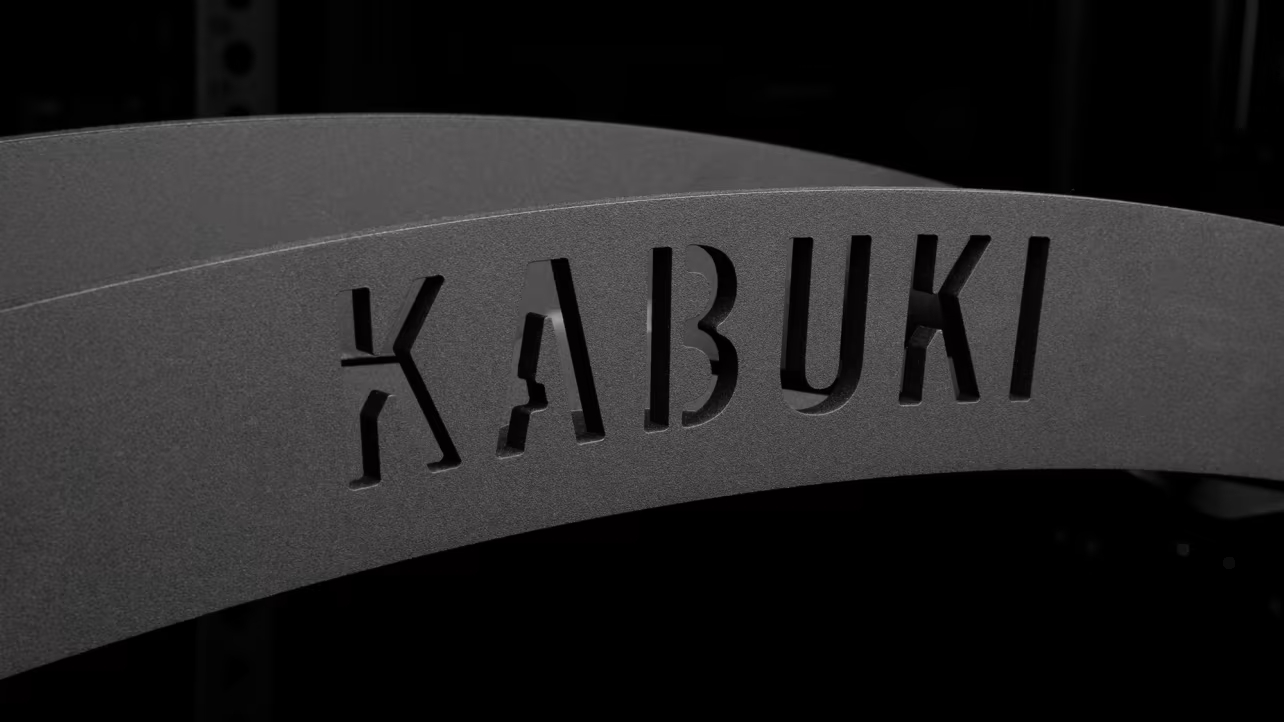 As the sleeves of this barbell are removable, you can get this bar shipped to you at a more cost-effective price.
Despite the sleeves being removable, there is no impact on their strength, and they can be easily reattached with the tools provided with each sale.
The Kabuki Kadillac Bar is a multi-purpose barbell manufactured in Ohio by Rogue Fitness. Originally this barbell came without knurling. However, this feature now comes as standard, along with a black powder coat finish.
(Show More)
Undoubtedly, the Kabuki Kadillac Bar is a premium product many experienced lifters would love. It has many benefits, including a greater range of motion than a standard weightlifting bar. However, the premium price may put a beginner or intermediate lifter off purchasing this bar.
Regardless, this would be a good option if you are looking for a multi-purpose barbell for strength training.
You can trust our reviews. Our website was founded by a real and well-known media person, Oleksiy Torokhtiy. We are responsible for our reputation.
When making a review of we focus on:
- Product quality
- Comfort of use
- Reliability
- Design
- Smell, tactile sensations
- Package
- Price/quality ratio