If you are into high-intensity fitness challenges such as CrossFit or want to go a step further by doing a Murph challenge, chances are you're already using a weighted vest.
On the other hand, if you are a beginner, you came here to find a weighted vest that will suit your needs.
Either way, you might wonder what the best weighted vest for CrossFit or the best weight vest for Murph is.
I've picked out 5 of the best products that will fit your needs, regardless if you're looking for an entry-level option or the best-weighted vest that money can buy. I will tell you all about how they perform in real-world conditions, the quality of the item you're looking to purchase, and their respective price points.
I will also give you pointers on what to look for when buying a weight vest.
Top 5 Weighted Vests for CrossFit Reviewed
My top pick out of the bunch is the Condor Sentry Plate Carrier. And there are several reasons why I've chosen this one for the number one spot.
Color: Black, Tan, Olive, Multicam Black
Weight: 2x 5-20LB Plates (1.5LB unloaded)
Width: 32''-54'' waist size
Height: 9.25''
Material: Reinforced Polyester
Closure Type: Adjustable shoulder straps + side buckles
Weight Type: Medium and Large ESAPI standard plates up to 10.25" x 13.25"
This one is, after all, one of the most popular weight vests out there. It might be different from the one with the best quality materials used. But if you are looking at versatility, it is simply a fantastic product.
For the amount you pay, you will get a flapjack-style vest that will fit you like a glove. It straight-up looks like body armor. So not only will it lean nicely against your body, but you'll also look very cool while doing your workout. I think it looks incredible.
If you are on a budget, this weight vest becomes even better.
In my experience, many people are just getting into CrossFit or are looking for budget options. And again, if you are – this is the best weighted vest for Murph that you can get. Compared to buying some other premium options out there, this one will not hit you hard on your wallet, and you'll get the added benefit of it lasting a very long time.
When buying your Condor Sentry Plate Carrier, you'll buy the vest and weight plates that work best for you. The best thing about this deal is – once you decide that you want a more premium vest, the plates stay with you. And you can use them in another weighted vest. It is a great buy and investment.
This one is, after all, one of the most popular weight vests out there. It might be different from the one with the best quality materials used.
Designed to be lightweight and adjustable; it isn't as bulky as other weighted vests

Amazing price point considering all the benefits you get

Fits very well against your body, preventing unwanted movement
Some of the connection points are plastic (they come to lose more easily and can break at times)

Not the longest lasting (some of the stitching is known to come out)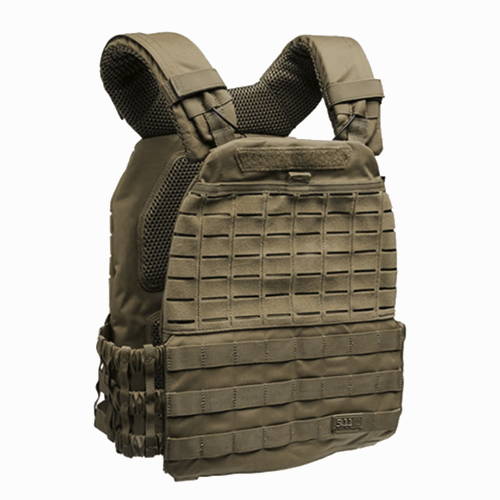 5.11 are pioneers in the industry regarding flapjack-style body vests. They're one of the original ones.
Color:

Ranger Green, Black, Camo, Kangaroo, Navy, Storm

Weight:

2x 3.75-20LB Plates (2.5LB unloaded)

Width:

52''-57'' circumference cummerbund

Height:

9.5''

Material:

500D Nylon Construction

Closure Type:

Hook/loop with Adjustable tensional bands (S-XL)

Weight Type:

Medium and Large SAPI plates up to 10.25" x 13.25"
5.11 Tactec Plate Carrier is one of the best weight plates on the market for CrossFit (and Murph too).
With 5.11, you can always count on superb quality. This is no exception. I've used this for over a year, and it still looks brand new.
It is made from a very sturdy nylon material that has been coated for extra water resistance. The 5.11 Tactec Plate Carrier can weight vest can carry up to 40lb (2x 20lb weight plates). It also comes in six military-inspired colors. You'll also have a bunch of stick-on badge attachments for further customization.
This weight vest has super comfortable padding on the inside. You'll feel the extra comfort this Murph vest offers once you load it with heavier plates.
Tactec Plate Carrier is fully adjustable based on your body size and type. It has adjustments on the shoulder straps and in the cummerbund.
Another handy feature it has is the quick-release cable. You grab it firmly and pull it to full extension. This comes in handy when you are entirely beat after a demanding exercise and don't have the strength to take the vest off the traditional way.
Putting it back together might challenge beginners and newcomers to weighted vests for Murph. In this video made by 5.11, Andy Stumpf shows how to fully take apart and put the Tactec Plate Carrier back together.
While this may look intimidating at first glance, once you do it a couple of times, you'll be able to do it with your eyes closed.
5.11 Tactec Plate Carrier is one of the best weight plates on the market for CrossFit (and Murph too).
Doesn't bounce as much, designed to be used for a variety of movements

Super comfortable padding on the inside

Used in many of the CrossFit games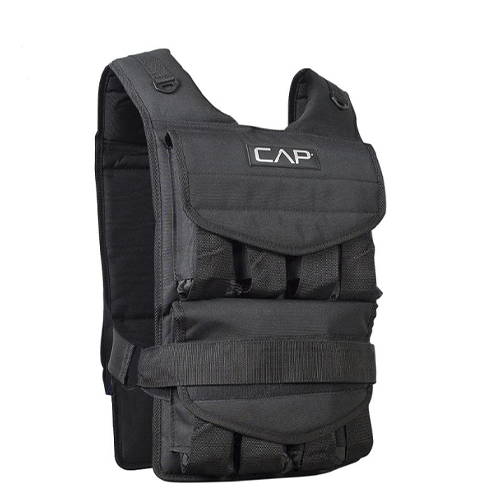 CAP Barbell Weighted Vest is our top pick for the 'Budget Pick' category. It is probably the cheapest weight vest that you can currently buy. But does that mean that it is automatically bad? Well, no. Not in my experience. durable.

Color:

Black

Weight:

2.5-4LB increments to a maximum of 40-150LB (1.5LB unloaded)

Width:

40'' waist size

Height:

13.78''

Material:

Polyester and Nylon

Closure Type:

Fully adjustable waist belt and padded shoulder straps

Weight Type:

Iron Ore Sand Bags
CAP has done something unique to reduce costs. Namely, when buying this weight vest, you don't have to buy the extra weight plates, nor do they come with the vest. This product uses bags of sand instead. And while this may come as a surprise to some, it is a genius way to make weighted vests available to everyone.
There are multiple weight range options that you can choose from. If you are a novice or a veteran, it will not matter. You will be able to find a load that will suit your needs.
It is straightforward to put on, and it is easy to fill. Put the weights into the back before placing the vest, then fill the front side with sandbags.
Once you place it on, you feel as you are supposed to – you feel heavier. The low cost has some drawbacks in questionable material quality and overall durability. So, it is hard to say how the CAP Weighted Vest will hold up over time.
The main thing that is important when doing lots of movement with a weighted vest is – that the vest doesn't throw you off balance and has no play. It is supposed to sit tight against your body without any movement. And this weight vest does a marvelous job in this area.
If you want to get into CrossFit, do a Murph challenge I suggest you contact the CAP Adjustable Weighted Vest.
It is probably the cheapest weight vest that you can currently buy. But does that mean that it is automatically bad? Well, no. Not in my experience. durable.
Great entry-level weighted vest option

No need to buy extra weight plates
Sandbags are known to not be stitched very well, so they tend to lose sand

Stitching on the vest can come out easily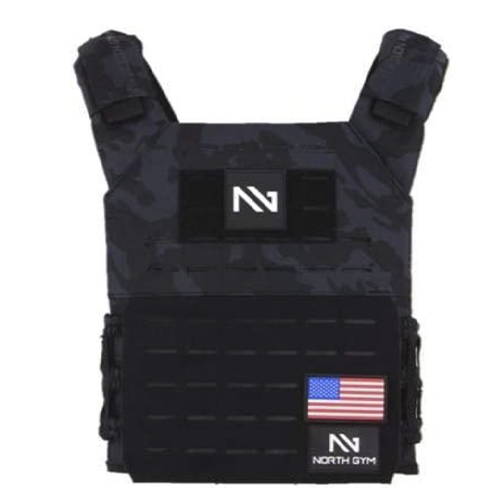 If you had to say one thing about North Gym Adjustable Weighted Vest, it would be, "It fits like a glove".
Color:

Black, Black Camo, Green, Green Camo, Grey, Navy Blue, Tan

Weight:

2x 8.75LB Plates (2.5LB unloaded)

Width:

12''

Height:

14''

Material:

Rubber

Closure Type:

Side straps + Adjustable shoulder straps

Weight Type:

North Gym Body Shaped Steel Plates 9.8" x 12.2"
Some weighted vests have trouble fitting every possible height, body type, and body size. And while you get this experience with many more premium weighted vests, you won't find one that fits you well without paying more.
This vest requires weight plates to work correctly. However, it comes with an untraditional way of loading the plates into the vest. While with most weight vests, you load the plate from the top, with the North Gym Weighted Vest, you load the plates from the side.
You get two belt straps that you place on the back side of the vest. You will use the short or long ones depending on your body type.
You can also adjust your shoulder velcro to your desired length. For taller athletes, you will use the buckle on the front of the Velcro, and for shorter athletes, you'll use the buckle on the back.
Ensure you've adjusted the vest, so the back plate is above your shoulders. If you aren't there yet, adjust both belts on the shoulder area until you are ready to go.
Comfort is also a significant factor with this vest. You have padding all over the place on both the front and back sides. And you also have plenty of padding in the shoulder area. This way, you are ensured to have a nice and cozy fit.
The weight is included with the vest once you buy it. That saves you some money because you must buy the plates with most weight vests separately, leading to extra expenses.
Also, as a bonus, the plates North Gym provided are 3D molded steel plates. They are very comfortable and fit better against your body – furthering the comfort you get while using this design.
Unsurprisingly, North Gym Weighted Vest is one of the most popular vests on Amazon.
While it might not be as pleasant as a more premium option because of a thinner cushion, if you are looking for an entry-level weight vest – you won't even notice. The benefits kind of camouflage the drawbacks it has.
If you had to say one thing about North Gym Adjustable Weighted Vest, it would be, "It fits like a glove".
Weight plates included with the vest

3d molded steel weight plate design (very comfortable); very similar to what you can see with Rogue higher-end plates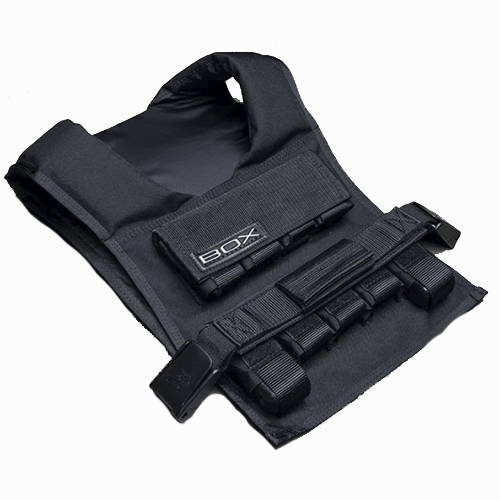 The BOX Weighted Vest is our top pick in the 'Best Adjustable' category. The first thing you'll notice is how small and compact it is. This is a unique approach by the US-based company Box to ensure an excellent fit for different body sizes.
Color:

Black

Weight:

2.5LB increments to a maximum 45LB (2.8LB unloaded)

Width:

8,5''

Height:

10,5''

Material:

Nylon

Closure Type:

Easy-adjust kipping-proof belt system

Weight Type:

BOX Steel Bars
Its compact design prevents it from flopping around while running or doing high-intensity exercises, which is vital as it prevents the weight plates from hitting your body. This is an issue many of the other weighted vests need help tackling.
It is effortless to put on. Just place it over your head. And unlike most other vests with straps you stick on, this CrossFit vest has a buckle on each side. Pull both snugly and use the Velcro holder on each buckle strap to hold the excess strap. The excess is placed in the front middle. You can fold the extra belt strap if needed.
When designing this weight vest, BOX ensured that it didn't go below your chest area to your belly. This is important if you breathe correctly, as other weight vests could hinder your diaphragm expansion.
Another praise the BOX Weighted Vest often gets is the material quality and toughness. The stitching is also excellent! The weight holders and straps won't tear or break as easily, ensuring you get high mileage out of this product.
The BOX Weighted Vest is our top pick in the 'Best Adjustable' category.
Great material quality and toughness

No unwanted movement during the workout
Velcro strap holder is known to break on the rare occasion



What to Look For in Weighted Vests for Crossfit?
Before you buy a weighted vest that will suit your needs the best, you should look at how tightly it will fit against your body. This is THE MOST significant part.
Before you look at the price point, before you look at quality, or any other factor – make sure that there is no play or flopping, or movement as you are doing any exercise.
There are many rapid movements in CrossFit and a Murph challenge. You will run a lot and change pace every so often. And if the weight vest is not snug against your body, you will have a tough time during the exercise.
Once you've made sure of the above, consider your budget. If you are a novice just entering CrossFit or Murph, you might also consider one of the budget options, as it will give you a great idea of what exercising with a weighted vest looks like. You will get the whole experience without spending a lot.
And then, should you choose to upgrade the experience and perhaps cover the drawbacks with the budget vest, you can opt for a premium one that retains all the benefits you had, plus removing some or all the things you didn't like with the budget weighted vest.
Material quality is also essential, as it is usually critical in determining how long it will last. Not only that, but it will also affect how breathable the vest is. And that can be a game changer depending on whether you're exercising outdoors in the sun.
If you buy something, you want it to last for as long as possible. The same goes for weighted vests. With the amount of movement you'll be doing with CrossFit or Murph. It would be best if you had your weighted vest not torn apart. You don't want the buckles or straps to break and cause possible injury suddenly. Durability is a crucial factor when it comes to safety.
You want your weighted vest to be nice and tight against your body and for it not to move – at all. You also enjoy lots of padding at the shoulder areas and behind the weight plates. This will prevent soreness the following day. You want the weighted plates to add an extra layer of resistance to your exercise without removing the comfort or the freedom of movement.
The material of your weight vest needs to be breathable. You are using the weight vest for training, and that is an open invitation for sweat. There will be lots of it, and keeping the material breathable adds extra comfort to your exercise. Therefore, a mesh design is often favored.
Some vests also have a waterproof or water-resistant layer on top of the base, which comes in handy if you are doing CrossFit in the rain or entering the water as part of your routine.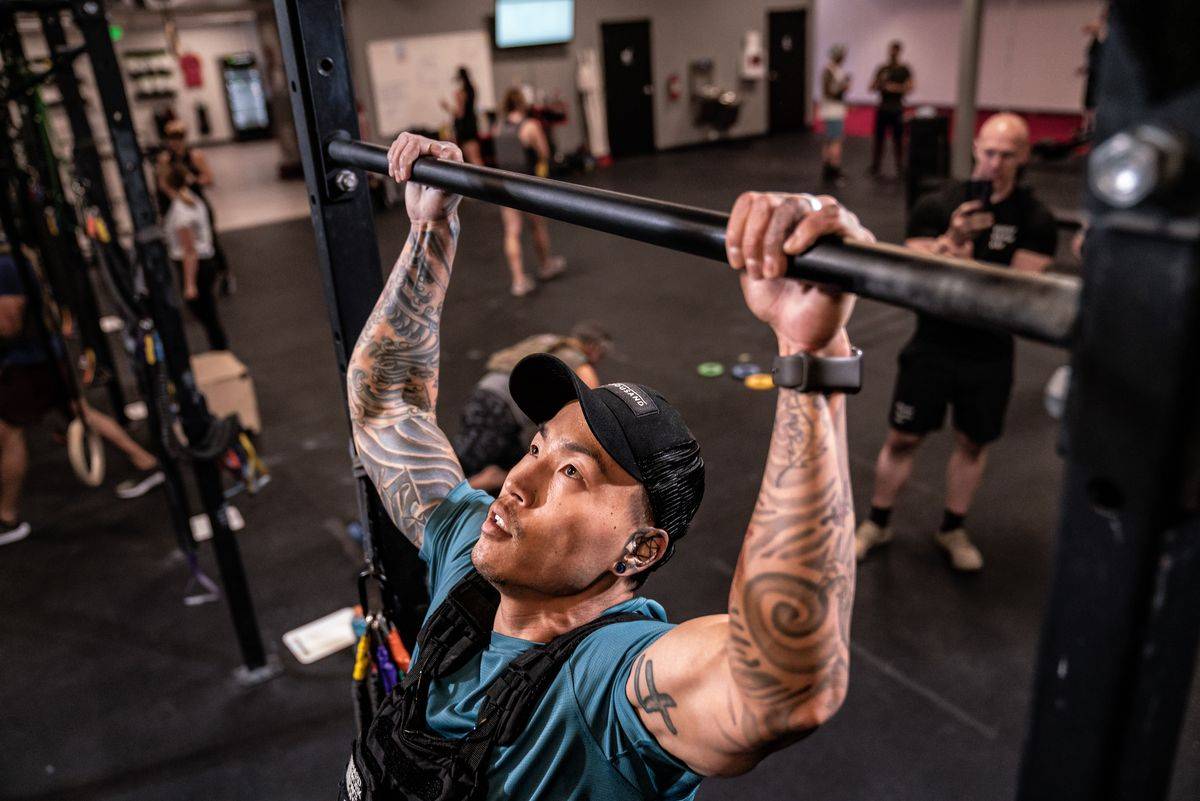 What Are the Benefits of Wearing Weighted Vests When You Do Crossfit?
Using a weight vest adds extra resistance to your body while doing your CrossFit routine. This way, you get those burns much faster and more often. And that burning sensation is what you feel when your muscles tear themselves apart on a micro level during training.
Once those micro-tears heal, your muscle grows with a proper diet. But unquestionably, weight vests are proven to build muscle tissue faster.
CrossFit is a high-intensity workout routine that keeps your heart rate high without much rest. Your breathing is more rapid, and your body's temperature is high. Keeping this up makes you burn calories faster than in a regular workout.
By using a weight vest, you are only upgrading this to the next level. You will get where you need to be faster and burn more calories in less time.
If the hours of your day are limited or reserved for other things, a CrossFit weighted vest can significantly decrease the time your CrossFit routine takes without sacrificing the desired result.
Murph Wod [Which Exercises Should It Be Used With?]
1-mile run
100 pull-ups
200 push-ups
300 squats
1-mile run
If you are doing the Murph Challenge as part of an event, you will likely use the weighted vest during the full extent of the exercise. This depends on the rulings, but usually, that is the case.
If you are doing a personal challenge, you should either use the vest in the running part of the challenge and skip during the rest or vice-versa. This is very important if you're new to the challenge. It is more important to finish the challenge than falling from muscle fatigue or exhaustion.
If a specific muscle group in your body is weaker, for instance, your legs, you might want to skip using the vest during squats. Or, if your shoulder muscles are weak, ignore them during pull-ups.
If you're a seasoned Murph-er, you'll most likely use the weigh vest for the whole challenge.
How heavy is the weight vest for Murph?
20LB. While some people opt for more weight in their Murph weighted vest, most will find 20 pounds more than enough for an extreme challenge such as Murph. Almost all weight vests can fit at least 20lb.
Why do CrossFit wear vests?
CrossFit is a high-intensity workout exercise. A way of life for many. And to improve the gains, one gets from such an exercise. People often use extra weights to add resistance.
Weight vests are the perfect way to add that extra resistance to your body without compromising form or balance. It also keeps your hands and legs free, which is essential to the entire workout routine.
Regardless of whether you're talking about a men's or women's weighted vest for CrossFit - you are referring to a tool athletes use to maximize their gains from their workouts. It's a great way to keep your mind and body completely focused during the whole exercise.
CONDOR SENTRY PLATE CARRIER receives the highest score and our TOP PICK rating. It is an inexpensive and reliable product that will fit any athlete doing body exercises - especially CrossFit and Murph.
If you are already using any of our 5 recommended weighted vests or have decided to buy any of them, please share your thoughts and impressions via the comment section below. I am eager to know how you've found them and how they affected your CrossFit or Murph experience!
TACTEC Plate Carrier Tactical Vest - How to Adjust with Andy Stumpf // YouTube:
https://www.youtube.com/watch?v=l6Hx4lKtRs4.html
Weighted vest size for running and workouts // Set for set: https://www.setforset.com/blogs/news/weighted-vest-size-for-running-and-workouts.html



I'm Tanya, and I love lifting weights. 6 years ago, I picked up Olympic weightlifting and CrossFit. Weightlifting is a unique sport because it's just you against the bar. There are no teammates to help you out; it's all on you.
I'm also passionate about helping other women achieve their fitness goals. That's why I started my blog and write some products reviews. I want to show other women that they can do anything they set their mind to!